Sonia Garcia
Sonia Garcia is Austonia's senior producer, where she works with reporters to assign, edit and publish stories daily. A Rio Grande Valley native, Sonia is a digital media innovation graduate of Texas State University, where she wrote and edited for The University Star. She has previously provided cultural coverage of the Austin area at the Austin American-Statesman. Twitter: @soniaaxgarciaa
Get connected with our daily update
Mysterious couple Elon Musk and Grimes are calling it quits.
If you thought you never saw these two space lovers together anyway, it's only going to stay that way. Tesla and SpaceX CEO Musk told Page Six that he and the musician are taking some time apart since they work in different areas.
"We are semi-separated but still love each other, see each other frequently and are on great terms," Musk told the outlet.
The almost richest man in the world spends most of his time in Texas between Boca Chica, otherwise referred to as Starbase, and Austin, where the newest Tesla Gigafactory is going up. While Grimes confirmed on social media she was living in Austin in February of this year, the life of a musician takes her to LA and overseas. She is currently filming a new Fox show, "Alter Ego," as a judge.
Musk says he and Grimes will continue to co-parent their one-year-old son and the two are currently staying with him.
The power couple made their debut at the 2018 Met Gala; this year Grimes walked the Met Gala red carpet on her own with Musk meeting her inside. What some called an odd match for a number of reasons—age, professions and different lifestyles—grew to be a three-year mostly private relationship, where they seemed to live different lives. They had child X Æ A-Xii in May 2020.
The two have mostly kept "X" out of the public eye, sharing minimal photos on social media, as they do their own couple photos. "I think having a baby was a big kind of like rebirth for me, like artistically," Grimes recently told Vogue.
Houston? Dallas? San Antonio? No, it has to be Austin.
We know Californians love Texas, but a recent string of posts on neighborhood platform Nextdoor in Santa Barbara, California, displays what the craze to move to Austin looks like.
When one user posted, "Hi neighbors, I want to buy a house in Houston, Texas any recommendations?" the responses flooded in displaying what the admiration for Austin looks like from the West Coast. Users mostly advised against a move to Houston; one person even wrote, "Austin is the ONLY place to consider!!"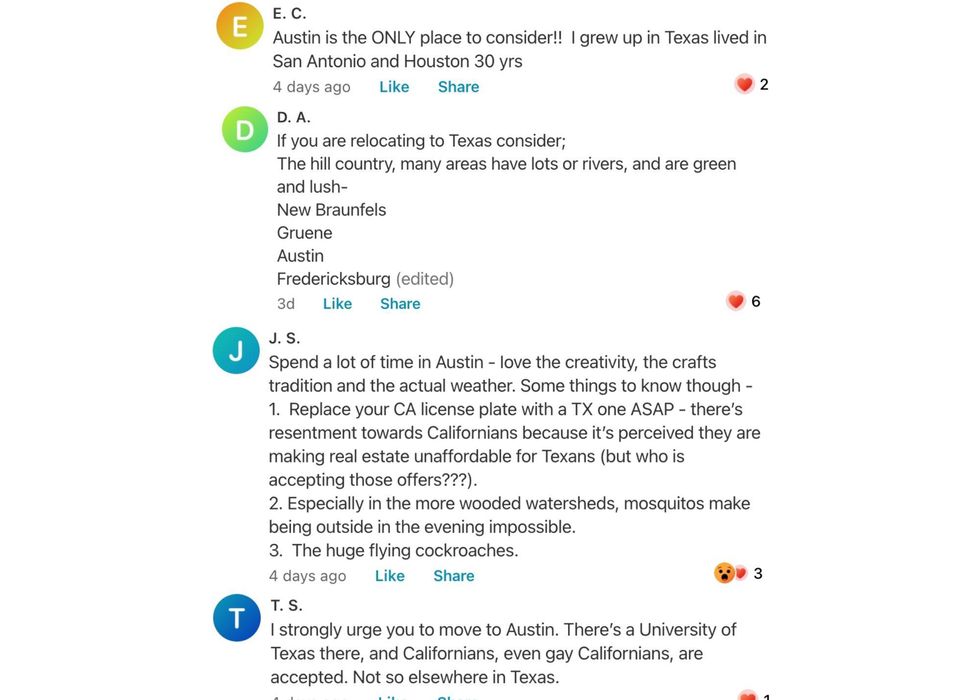 While some defended H-town, saying, "Awesome place to live," one person wrote, "WORST PLACE TO LIVE." Reasons to not move to Houston from Californians' perspective included:
"Foul air from refineries"
"horrible flooding due to the flat Gulf coastal shelf"
"crazy zoning"
"racial prejudice"
"super high humidity"
"very conservative"
The comments were shifted to Austin's lush greenery, weather and acceptance of gay people.
Over the last five years, Austin has seen more migrants from California than any other state, according to an Austin Chamber of Commerce report. The Austin appeal from residents living in more congested places like California became more prevalent during the pandemic when stay-at-home orders were issued and people sought more space.
It wasn't just Austin though; lots of other Sunbelt cities saw an influx in their housing market as a result of people working from home and looking for a lower cost of living. And that included Texas in general, with people flooding to various Texas cities.
But it hasn't come with resistance. The "Don't California my Texas" pleas are still alive and well, as Californians are blamed for raising the cost of living by outpricing current residents. The housing market has reached record numbers in the median home price year-over-year since the beginning of the pandemic. Austin was even predicted to be the most expensive city outside of California by the end of the year.
Still, Californians and even New Yorkers can't stay away. Companies and celebrities have followed, leading Texas transplant Elon Musk to label Austin's future as "the biggest boomtown that America has seen in half a century."
Concerning levels of cylindrospermopsin were discovered on Sept. 22 after a person got sick and samples were sent to get tested on Sept. 9. Signs will be posted at access points to Sculpture Falls that people and their pets should not injest or swim in the water.
Unlike the harmful algae making dogs sick in parts of Lake Travis and Lady Bird Lake in past summers, these toxins are found in the water, the city says. Barton Creek visitors are asked to avoid stagnant water especially.
The toxins also result in different health effects than the harmful algae in Lady Bird Lake, including liver and kidney damage. If exposed, people can feel:
Fever
Headache
Vomiting
Bloody diarrhea
If exposed, people should seek medical attention and report it to 311.
Austinites will once again be able to take a nonstop flight to London as Austin-Bergstrom International Airport resumes transatlantic travel this fall.
Starting Oct. 13, British Airways will offer its direct flight from ABIA to London-Heathrow Airport three times a week on Wednesday, Friday and Sunday. The airline, which has been operating in Austin since 2013, had halted service at the start of the pandemic over a year ago.
"We can't wait to welcome our customers back on board our Austin flights and we are honored to be playing our part in reuniting families and friends with their loved ones after such a long time apart," said Marie Hilditch, British Airways' head of North America sales.
Safety protocols the airline is taking include:
social distancing measures
wearing of facemasks
providing hand sanitizer stations
cleaning all surfaces after every flight
fully recycling the air once every two to three minutes through HEPA filters, which remove microscopic bacteria and virus clusters with over 99.9% efficiency
The announcement comes as COVID-19 testing requirements to enter the UK are scheduled to stop on Oct. 4. for vaccinated Americans.
Additionally, a Monday White House announcement allows fully vaccinated international travelers to enter the U.S. starting in early November with proof of a negative COVID-19 test. The ban, which was implemented in 2020, restricted travelers from a number of European countries, Iran and China throughout the pandemic.