Stephanie Schwartz
Stephanie Schwartz
Originally a geographer interested in agroecology and global development, Stephanie Schwartz began her journalism career at Bloomberg News in Zurich, covering technology companies. She went on to freelance for Swiss newspapers and magazines, teach economic geography and write episodic fiction. In recent years, much of her work has been long features about topics ranging from aerospace engineering to art and gourmet foods.
Get connected with our daily update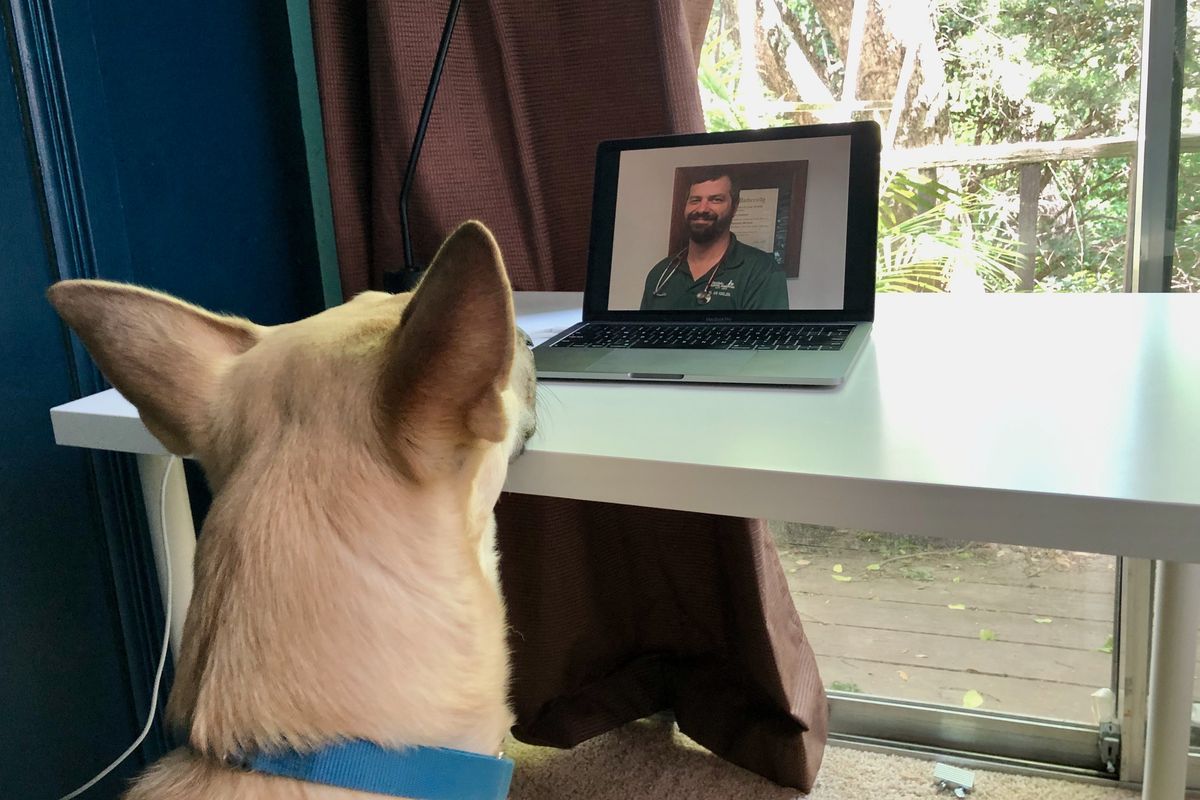 Stephanie Schwartz
It all started with an idea about Carfax reports, but for horses.
Steven Carter and Price Fallin had a friend who spent a lot of money on a high-performance horse, and it turned out that before the sale, the seller had medicated the horse to hide some problems. The group thought it would be good to have health records before a horse purchase—and in 2015, they founded Horse Facts.
Carter said that as part of this business, he and Fallin spent a lot of time in equine veterinary practices. There they observed that many people were traveling great distances, even across several states, to take their horse to the vet. The two partners then created an equine telemedicine product. And word spread.
"Through pure luck, some small animal vets found my phone number," said Carter, "and they would call, and literally every call they would say, 'Are these the horse guys?'"
Carter and Fallin renamed their business TeleVet in 2016, and they went on to serve mostly small-animal vets, along with a few large-animal vets and one vet that does telemedicine for 50,000 pigs.
In January, about 100 veterinary practices used TeleVet. As the coronavirus pandemic hit the U.S., that number rose quickly to over 1,000 practices. The company recently announced it is offering veterinary practices a free month of service during the pandemic.
TeleVet's system allows veterinarians to interact with animal owners through video, texts and phone calls. States set guidelines for veterinary telemedicine, and Texas requires that a veterinarian have an established relationship with an animal before treating it, which means having previously examined that pet in person.
Carter said that an increase in veterinary telemedicine was poised to happen, even before the pandemic.
"I think the veterinary practices as a whole knew that telemedicine was something on the radar," he said, "but they often thought they would put it off for a year or two."
Due to the rapid increase in demand, TeleVet is accelerating planned expansions to its platform. To bring in the necessary resources, the startup is raising more funding, after closing a $2 million seed round in January.
Ian Voelzel, veterinarian and medical director of Westlake Animal Hospital, said that he had been considering telemedicine before the coronavirus pandemic, but not all vets at the clinic were on board. Now the practice is using both TeleVet and curbside service to continue to treat its patients.
It is working well, allowing the staff to feel safe about coming to the practice for procedures that must be done in-house, such as a recent surgery on a cat's broken leg. Which is not to say that there are no challenges to veterinary telemedicine.
"Our patients don't talk," Voelzel said. "We are trying to get the information through the owner—a third party, basically."
He expects telemedicine to be a part of the clinic's practice even when social distancing requirements have relaxed. Voelzel said the platform is great for checkups after an operation, as well as a triage to determine whether an animal needs to be seen in the clinic.
There is a limit, however. Voelzel said that manipulating the limb of an injured animal, for example, can produce a dangerous reaction. Dogs with ear infections can also be very protective. There is an art, and sometimes the involvement of sedatives, to being able to examine an animal.
"Some things we can't train the owner to do," he said.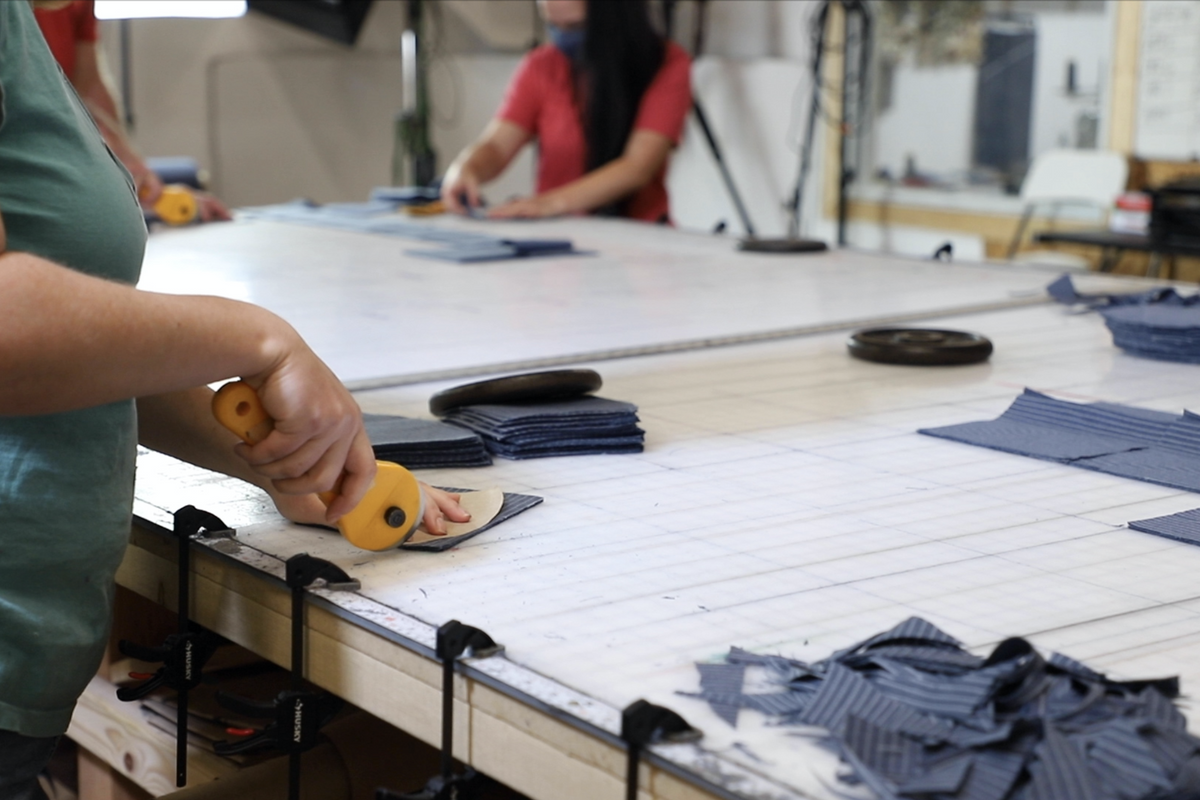 Chris Savittiere
For ten years, Chris Savittiere supplied upscale restaurants and hotels in Austin and around the country with aprons, uniforms and leather goods. To start, the self-taught designer converted his Austin house into a sewing studio. A couple of years ago, he opened a shop on Austin's east side for his business, Savilino.
Then, as restaurants and hotels were hit by coronavirus concerns and regulations, the business disappeared overnight.
"I laid off my staff," he said, "and asked if they would stick around for a couple of days and make some masks and see what happens. I said, 'It's either going to be a big dud because no one is going to wear one or it will keep us afloat for a while.'"
The first week they had enough work to keep people going. Then, in the first days of April, they made it onto the news one night, and the Centers for Disease Control issued the recommendation that people wear a cloth mask in public.
"And it just blew up," he said. "Immediately, we hired more people."
Savilino was suddenly receiving about 3,000 mask orders per day. Savittiere says the business has produced over 12,000 cloth masks, and that about 9,000 more are currently being made.
He is building "a small army of home sewers." So far, he has about 17, with more coming on board every day. He provides curbside pickup of the materials the sewers need.
Inside the shop, wearing masks and sanitizing frequently, is an eclectic team. A hairstylist is handling the phone, while another is in charge of orders. An old bartender buddy of Savittiere's, who is also an actor, is managing the shipping area. Lighting people are cutting fabric.
"It's a ragtag group of people," he says. "Everyone is just really dedicated."
Some of his customers are previous clients, who are still trying to stay in business, such as restaurants offering take-out service. Other orders are coming from the public as people call, write to him on Instagram, contact him on Facebook and text. To manage the process, he sends them all to the company's website.
He has donated masks to the ARCH, an Austin resource center for the homeless, and says that when he is ramped up and able to fill existing orders, he will begin to donate masks to other organizations. He has also made it possible for the public to use his website to commission masks for donation.
For now, he is navigating various bottlenecks in the supply chain, working to reduce the current 10-to-14-day wait for masks. He thinks his team will be caught up in about a week, and then able to fill orders more quickly.
At some point, when people are able to return to restaurants and hotels, he will have to face the question of whether to go back to his previous business. He is concerned that as these clients face harder times, custom goods may be one of the first things they cut. He also says that he is having a change of heart.
"I'm feeling more of a responsibility to the community and things that benefit the public," he says. "I feel there's a cultural shift that's going to happen after this."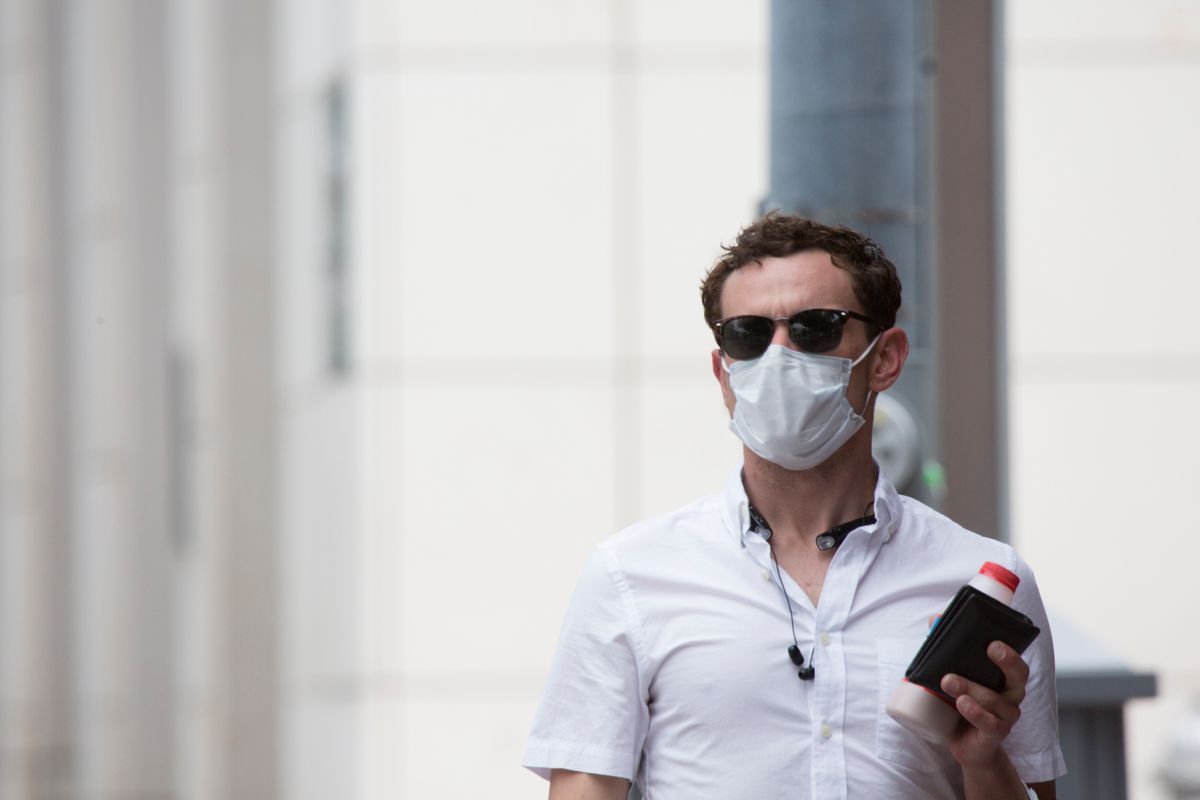 Charlie L. Harper III
The day after the city of Austin extended its stay-at-home order, adding that members of the public will be required to wear fabric face coverings in public places, Austin-Travis County Interim Health Authority Dr. Mark Escott said that masks will be a way of life in Austin for quite a while in response to the coronavirus epidemic.
"The requirement for facial coverings is likely to be a longstanding requirement," he said at a virtual press conference today. "Nobody expects that this thing is going to go away."
Escott said that the peak of COVID-19 cases in Austin will depend on how well residents adhere to the requirements in the stay-at-home order, and that city officials are trying to buy time to acquire more testing equipment, personal protective equipment and contact-tracing capabilities.
He said that things could go back to normal when there is an effective treatment and vaccine in place. In the meantime, a population comfortable with wearing masks could make it possible to gradually relax restrictions.

Austin Mayor Steve Adler said today at the press conference that masks were not necessary for outdoor activities such as jogging or walking, as long as the individual is either alone or with members of their household. The covering can also be removed while eating or drinking.
The fabric face coverings are not meant to protect the individual wearing the mask, but rather those nearby, in case the individual has an asymptomatic COVID-19 infection. The masks are not a replacement for maintaining a physical distance, officials have said.
In his April 6 "Got a Minute?" video post, Adler demonstrated two ways to make a mask from t-shirt material, with no sewing, in less than a minute.
It has been difficult to find masks at Austin stores, but there are hundreds of videos on YouTube showing how to make your own. On the local social networking platform NextDoor, many neighbors post that they are making masks for the community, often providing them at no cost. Etsy, an e-commerce site focused on handcrafted items, has over 350,000 listings for "masks."
Adler calls it a moral requirement to protect workers such as store clerks.
Kasey Pfaff, an employee at an Austin Home Depot, said that before this new facial covering order, she found herself reacting a little differently to customers walking into the store wearing a mask and those who were not wearing one. She is glad that customers should now all be wearing masks.
"It makes us feel like people are doing their jobs," she said. "They're protecting us."
Pfaff has an autoimmune condition that puts her at a higher risk of COVID-19 complications. She also needs to avoid bringing the coronavirus home to her roommate or over to her elderly mother's house.
She has been wearing a mask and gloves herself, and she knows it is not always easy. Her glasses fog up, and they fall off when she bends over. Sometimes she has to talk on the phone at work, and that is hard while wearing a mask. Yet she considers the mask mandate important both now and as Austin moves through other phases of the crisis.
"I see it just as much as a reassurance about the future," she said. "That everyone is doing this is a signal that Austin is trying to get back on its feet."