Never miss a story
Sign up for our free daily morning email...
...and afternoon text update
The Texas Tribune
The Texas Tribune is a nonpartisan, nonprofit media organization that informs Texans — and engages with them – about public policy, politics, government and statewide issues.
Get connected with our daily update
(Jordan Vonderhaar/The Texas Tribune)
By Sami Sparber
Texas-based anti-vaccine organization Informed Consent Action Network was among five anti-vaccine groups that collectively received more than $850,000 in federal loans from the Paycheck Protection Program, the Washington Post reported Monday. The organization received $166,000 in May 2020, according to founder Del Bigtree.
"Vaccine hesitancy" or "vaccine skepticism" poses a significant and ongoing challenge for health authorities trying to overcome mistrust within communities of color, by the anti-vaccine crowd and general uncertainty nationwide. Doctors and scientists say the coronavirus vaccines currently available in the United States are safe and effective.
"At a minimum, it's a mixed message from the government," said Timothy Callaghan, an assistant professor in the Department of Health Policy and Management at the Texas A&M University School of Public Health. "Those individuals who are hesitant are going to be looking to various pieces of information to help them make this decision...and if one of the key pieces of information coming out is the government funding anti-vaccine groups, it could send a signal to these individuals that maybe they shouldn't be vaccinating," he told The Texas Tribune.
The Austin-based nonprofit has more than 43,000 followers on Facebook and regularly posts information questioning the safety of the coronavirus vaccines. Bigtree's online anti-vaccine talk show was penalized by Facebook and YouTube last year for violating misinformation policies and downplaying the severity of the pandemic.
Facebook has cracked down on several of the groups that received the PPP loans, a spokesperson for the social network told the Post. Informed Consent Action Network's page, labeled with a link to Facebook's Coronavirus Information Center, is not being recommended to users by the company's algorithms, the Facebook spokesperson told the Post.
In an interview, Bigtree said his organization spent the funds on employees' salaries. "Just like everybody else, we were trying to keep employees employed instead of putting them on unemployment," Bigtree told The Tribune. He described the effect of Facebook's anti-misinformation efforts on his organization's content as "censorship" and a "dangerous" sign of the times.
Recent polling shows vaccine skepticism poses a public health threat in Texas, where Republican elected officials have largely echoed President Donald Trump's minimizing of the pandemic, said James Henson, head of the Texas Politics Project at the University of Texas at Austin. An October University of Texas/Texas Tribune Poll found that if a vaccine against the coronavirus became available at a low cost, 42% of Texas registered voters said they would try to get it and 36% said they wouldn't — a significant drop from the 59% who said in a UT/Texas Politics Project poll in June that they would get vaccinated against the disease.
That anti-vaccine groups received PPP funds "sticks out as being really at odds with public health, but the bigger problem here is that there has been a pronounced lack of consistent messaging on the safety, effectiveness and necessity of the vaccine from both national and statewide leaders, in particular Republicans," Henson said. "That's left a huge vacuum where there should be unambiguous messaging about the vaccine."
The five groups that received the loans are The National Vaccine Information Center, Mercola Com Health Resources LLC, Informed Consent Action Network, Children's Health Defense Co., and the Tenpenny Integrative Medical Center, according to the U.K.-based Center for Countering Digital Hate, the Post reported.
(Miguel Gutierrez Jr./ The Texas Tribune)
By Alex Samuels, Cassandra Pollock, Patrick Svitek
The 2021 session of the Texas Legislature will commence Tuesday under pervasive uncertainty.
Lawmakers have been waiting for months to see how it will be conducted safely as the coronavirus pandemic rages.
And after a pro-Donald Trump mob rushed into the U.S. Capitol last week, leaving five people dead and leading to dozens of arrests, some Texas lawmakers are on edge about the potential for unrest in Austin. The Texas Department of Public Safety is deploying additional resources and personnel to the state Capitol, and Gov. Greg Abbott promised Monday that DPS will "continue to remain on top of" safety at the building.
Meanwhile, three clear top priorities have emerged for the agenda: the budget, redistricting and the pandemic. But it remains to be seen how much space — or political appetite — there will be for more polarizing proposals, especially among Republicans coming off a successful November election.
Given all that, here are the five things to watch as the session kicks off:
Safety protocols
State legislatures across the country are looking for ways to conduct their business in spite of restrictions on indoor gatherings because of the coronavirus.
Already, two Texas House Democrats — Michelle Beckley of Carrollton and Ana-Maria Ramos of Richardson — have said they will not attend the opening day of the legislative session, calling the gathering of 150 House members a "superspreader event."
For Tuesday, the Texas House and Senate have put in precautions for members and invited guests in each chamber; it's unclear if leadership will relax such measures if the vaccine becomes more readily available.
In a last-minute change, the Department of Public Safety announced Monday that anyone who wants to enter the Capitol will be required to take a coronavirus test.
Beyond opening day, State Rep. Dade Phelan has asked a group of lawmakers to make recommendations and solicit input from members on what changes should be made to the chamber's rules. The Senate, meanwhile, has been more tight-lipped on what precautions will be in place during the legislative session.
Since the Capitol closed in mid-March, both Democrats and Republicans from each chamber have raised questions about the accessibility of the legislative process. State Rep. Briscoe Cain, R-Deer Park, asked the attorney general to weigh in on whether the Legislature has the power to close the Capitol and whether members could debate or vote on legislation from outside the chamber.
Some disability right's advocates, meanwhile, have raised concerns about the uncertain rules on testifying in committee hearings remotely and have expressed hesitancy about going to the Capitol in person.
Big-ticket items
Tackling the state's current two-year budget — and writing the next one — will be one of the largest items on the Legislature's plate, though lawmakers received better-than-expected news Monday when Texas Comptroller Glenn Hegar unveiled the biennial revenue estimate.
On top of that, the Legislature will also need to redraw the state's political maps, which is often a polarizing and draining process for lawmakers.
Lawmakers will also have to respond to the ongoing pandemic and address other policy issues that have been focal points throughout the pandemic, such as public education funding and health care. In 2019, the Legislature overhauled the state's school finance system, infusing $6.5 billion more into public schools and roughly $5.1 billion to lower Texans' property tax bills. State leaders have already said the Legislature will remain committed to continuing to fund those massive investments, regardless of the tough economic forecast.
Beyond that, debates over police funding and reforms following the death of George Floyd, a Black man who was killed in Minneapolis police custody, are expected to play a central role during the legislative session.
The Texas Legislative Black Caucus has already unveiled the George Floyd Act, a sweeping reform proposal that would, among other things, ban chokeholds across the state and address qualified immunity, which shields government officials from litigation. Meanwhile, Abbott has said he is considering a measure that would put the state in charge of policing a large area of Austin, including the Texas Capitol and the University of Texas at Austin — a move that came during a political fight against the capital city over its decision to trim its police budget.
After some Republicans argued that Abbott overstepped his authority over responding to the pandemic, proposals at the Legislature were filed to curb the emergency powers of a governor during a declared disaster. The more conservative faction of the GOP is also expected to again push a bill that would ban cities and local governments from using taxpayer dollars to lobby the state government after the measure failed during the 2019 session.
Lawmakers from both parties may also push election-related matters after fights over voter access and ballot integrity largely defined the lead up to the November presidential election.
And yearslong conversations over new revenue sources — such as legalizing casinos or marijuana — have also seemed to get a renewed focus, though it's unclear how seriously lawmakers will consider such options after Hegar's news Monday with a better-than-expected economic picture heading into session.
A new speaker
One of the House's first orders of business Tuesday will be to formally elect Phelan as speaker. Phelan, who has served in the lower chamber since 2015, announced he had the votes to win the gavel in the hours after Election Day, after Republicans maintained control of the House.
He's described among colleagues as a straight-shooter who's familiar with the legislative process and the policies at play, and who intends to lead the chamber by letting the members drive its business.
Beyond the budget and redistricting, Phelan said during an interview Monday with Texas Tribune CEO Evan Smith that public health issues that the pandemic has "put a highlighter" on what will be a focus this session, such as expanding telemedicine and telehealth and "improving rural health care options for Texans."
GOP family fights
Texas Republicans are beginning the session two months after a November election in which they beat expectations up and down the ballot, including holding on to their majority in the state House. Emboldened by the election results, will there be a renewed appetite among the most conservative in the party for hot-button issues, or will the Legislature continue on the middle-of-the-road policy path it stuck to for the 2019 session?
Early indications are that the Big Three — Abbott, Patrick and Phelan — are not spoiling for much intraparty conflict this session. That seems especially true with the trio of must-do issues already topping the legislative agenda: the budget, redistricting and responding to the pandemic.
Still, there is potential for some GOP family fights. Texas GOP Chairman Allen West plans to make an aggressive push for the party's eight legislative priorities, which include election integrity, the abolition of abortion and constitutional carry, or licenseless carry of firearms. Some of the priorities enjoy broad GOP support, others not as much.
Rallying support for the priorities Saturday outside the Capitol, West told Republicans he was preparing them for an "ideological battlefield" and that they needed to pressure lawmakers "so that you can become a powerful force and let people know in that building that they work for you, that you don't work for them."
West himself has been a critic of Abbott's coronavirus decisions, and the former Florida congressman is already being discussed as a possible challenger to the governor.
To that end, the 2022 primary season could also loom large over Republicans this session. Most statewide officials are up for reelection, including Abbott and Patrick, and their agendas could reflect how they would like to position themselves for March 2022.
Senate rules
One issue that could impact whether the GOP engages in such a fight is whether it holds onto its complete control of the Senate.
Right now, Senate rules require 19 members, or three-fifths of the body, to vote to bring legislation to the floor. With the reelection defeat of Sen. Pete Flores, R-Pleasanton, there are only 18 Republicans in the chamber.
Lt. Gov. Dan Patrick, however, has announced his intention to lower the threshold to align with the size of the GOP majority — a move that effectively strips Senate Democrats of the one tool they have to block legislation they unanimously oppose.
Patrick doesn't have unilateral control of the Senate threshold's fate. Such a change requires a simple majority — 16 senators — to go into effect. It's not immediately clear how many Republican senators are in favor of such a move, while some Democrats have already denounced Patrick's latest procedural proposal.
To be clear, this isn't the first time Patrick oversaw a decrease in the threshold. During his first session as lieutenant governor in 2015, the Senate dropped the threshold from two-thirds, or 21 members, to three-fifths, or 19 members. At that time, there were 20 Republican senators.
More on the legislative session: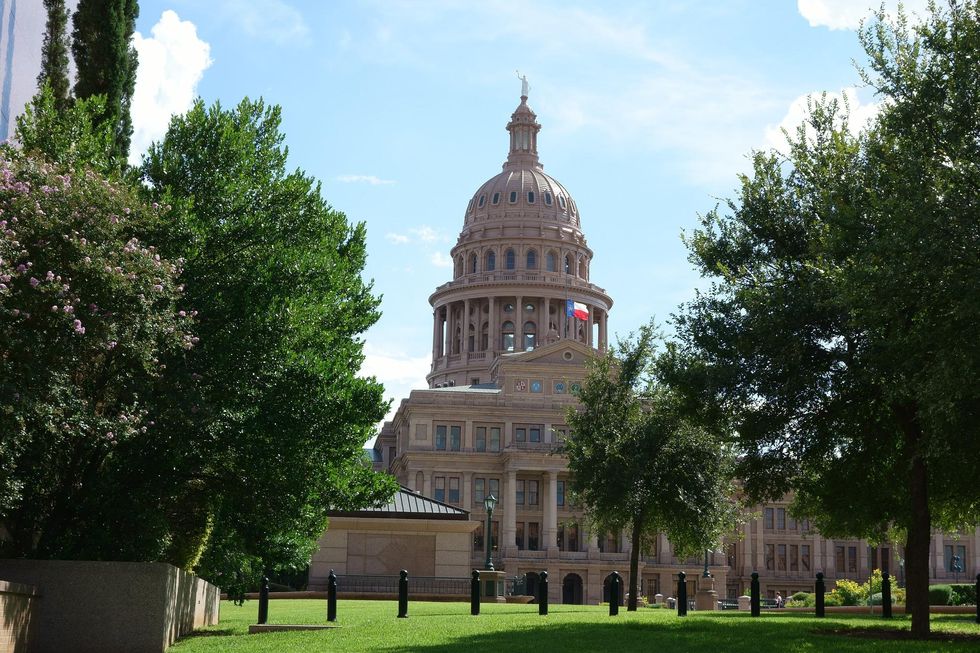 Austin, Travis County prepare for another contentious legislative session—with the added challenge of COVID-19
(The Texas Tribune)
By Juan Pablo Garnham
Texas Attorney General Ken Paxton said Wednesday that he has sued the City of Austin and Travis County, a declaration that came a day after local leaders declared new restrictions for when restaurants and bars can serve customers during New Year's weekend.
Paxton filed a petition for temporary injunction and a temporary restraining order in Travis County District Court targeting orders made by Austin Mayor Steve Adler and Travis County Judge Andy Brown. Citing an increase in COVID-19 cases, they announced that dine-in food and beverage service must be restricted indoors and outdoors from 10:30 p.m. to 6 a.m., starting Thursday and ending at 6 a.m. Sunday. The measure did allow drive-thru, curbside pick-up, take out, or delivery services.
"Mayor Adler and Judge Brown do not have the authority to flout Gov. [Greg] Abbott's executive orders by shutting down businesses in Travis County and our state's capital city," said Paxton in a statement. "The fact that these two local leaders released their orders at night and on the eve of a major holiday shows how much contempt they have for Texans and local businesses."
Announcing the restrictions for Austin at a Wednesday morning news conference, Adler said the order — which carries a maximum $1,000 fine but no jail time — doesn't violate state regulations because it's "just an operational constraint." He added that "the reason that we are doing this is because it focuses on the activity where people are together without wearing masks." Both the mayor and the county judge said they deemed the measure necessary given the increase of cases in the area.
"If the state is not going to act, then communities have to be able to act to protect themselves. Tomorrow, that's going to be the issue that's in front of the court," Adler said on Wednesday evening in a livestream, reacting to the lawsuit. "Even if the court rules tomorrow that everyone has a right under the governor's orders to go out and take your mask off when you are around other people at a restaurant on Thursday, Friday, and Saturday night, that doesn't mean that you have to do it. We are asking everyone in this community to really think hard about what they are doing, about what they can do to contribute during this peak time."
Abbott had tweeted on Tuesday that Adler doesn't have authority to issue such a local order. "My executive order stops cities like Austin from arbitrarily shutting down businesses," he said. "The city has a responsibility to enforce existing orders, not make new ones."
But the governor had previously remained silent about similar orders in El Paso County that covered the Thanksgiving, Christmas and New Year's holidays. The attorney general's office didn't immediately respond to a request for comment on why El Paso's orders didn't spark the same reaction.
A spokesperson for the governor said that the already-existing measures have worked in El Paso and the Midland-Odessa region.
"The proven course of action is to enforce the existing protocols. That strategy was effective in slowing the spread over the summer and containing COVID-19, while allowing businesses to safely operate," spokesperson Renae Eze said in a statement. "The protocols work, but only if they are enforced. The State of Texas has assisted with that enforcement by deploying additional TABC officials to ensure compliance with the protocols; but local officials have the ongoing duty to enforce occupancy limits under law, as they did before the pandemic hit."
Earlier on Wednesday, Paxton sent a letter to both Adler and Travis County Judge Andy Brown that said Austin's order was "unlawful and unenforceable" and threatened legal action if they don't "immediately rescind or, at a minimum, modify your orders" so they comply with the state's regulations.
During his press conference, Adler encouraged Austinites to support restaurants through delivery and take out and "tip and overtip, because these people and these businesses are taking a severe and significant financial hit for the greater good, and we as a community can help mitigate that."
Austin and Travis County officials warned that the area has seen a troubling rise in COVID-19 cases and they are worried about hospital capacity. In the last month, the county's positivity rate — the percentage of tests that come back positive for COVID-19 — and ICU bed usage have almost doubled. New daily cases have more than quadrupled in the same period, according to the county's COVID-19 dashboards.
"Today in Texas, COVID-19 represents one in five of every person hospitalized," said Mark Escott, interim health authority and public health medical director for the City of Austin and Travis County. "The policies that we've had have not worked to curb the spread of the disease … Now it's the time to reconsider those decisions so that we can protect Texas."
On Twitter, the Texas Restaurant Association called on Austin businesses to follow Abbott's guidance and said that "a curfew is not allowed."
"Restaurants are deeply invested within their communities, and so they continue to do all they can to prevent the spread of COVID-19, often at tremendous cost," the organization's tweet said. "Closing indoor dining will not prevent holiday celebrations; it will simply move them from highly regulated businesses into completely unregulated spaces at a critical time in our COVID-19 response."
Last month, El Paso County Judge Ricardo Samaniego announced a similar curfew for Thanksgiving as COVID-19 cases increased in the border county. And earlier this month, Samaniego issued a similar measure for Christmas and New Year's celebrations.
The county has banned all social activities — including restaurant dine-in services — from 10 p.m. to 5 a.m. between Dec. 30 and Jan. 4 but allows take out and drive thru service. After he issued the Thanksgiving order, Samaniego said that he did so after what he said was a "favorable" discussion with Abbott's office and a representative from the Texas Attorney General's office.
The U.S. Centers for Disease Control and Prevention has warned Americans to avoid crowds and poorly ventilated indoor spaces and recommended that people stay at home for New Year's Eve or celebrate virtually.
More on the curfew: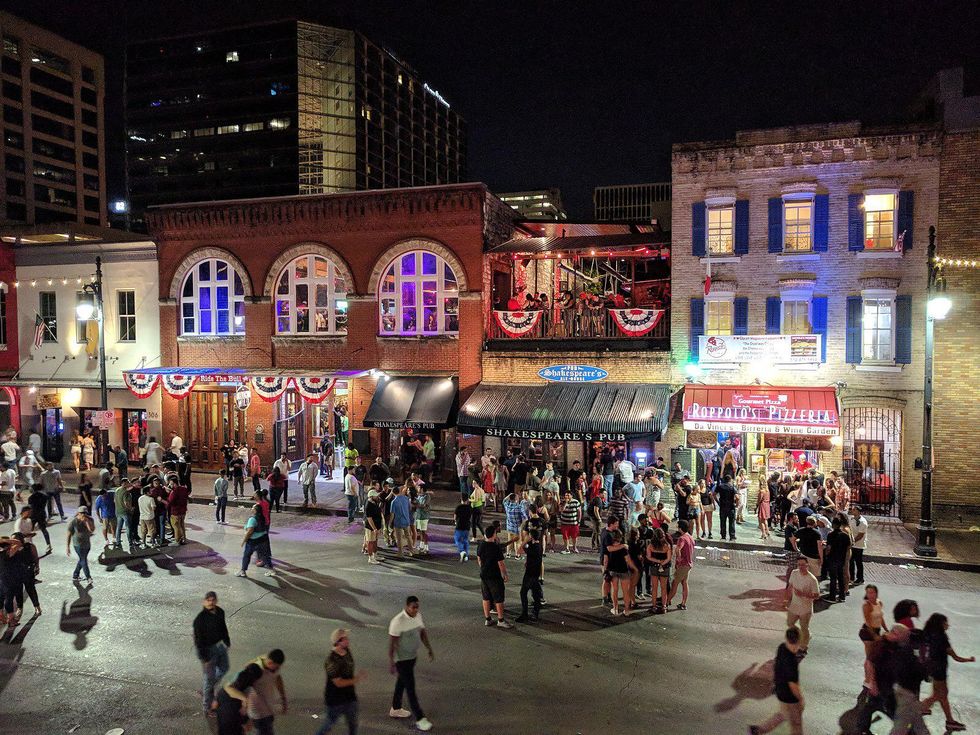 New Year's Eve city curfew falls in line with governor's order to not shut down cities, Austin officials say(Kevin Payravi/CC)
(Laura Buckman/The Texas Tribune)
The FBI is investigating Texas Attorney General Ken Paxton, the Associated Press reported Tuesday evening, vetting allegations made by eight of Paxton's former top aides that he illegally used the power of his office to benefit a political donor.
Two unnamed sources told the AP that the bureau was examining claims made by the whistleblowers that Paxton broke the law by intervening several times in legal matters involving Nate Paul, a real estate investor and friend who donated $25,000 to Paxton's campaign in 2018.
On Sept. 30 and Oct. 1, eight aides in total told authorities that they believed Paxton had committed crimes as part of his relationship with Paul, citing bribery and abuse of office. Since then, four aides have been fired, three have resigned, and one has been placed on leave — sparking a whistleblower lawsuit.
Paxton, a Republican in his second term, has denied wrongdoing and said he will not resign his post, even as some in his own party call on him to do so and the state's top leaders call the allegations "concerning."
Earlier Tuesday, before the FBI investigation was made public, Paxton said in a statement that he knows "a little something about being falsely accused" and dismissed the allegations made by the whistleblowers as "overblown, based upon assumptions, and to a large degree misrepresent the facts."
Paxton has been under indictment for more than five years on securities fraud charges but has yet to stand trial. He has dismissed the charges as politically motivated and entered a not guilty plea.
Neither a campaign spokesperson for Paxton nor a defense attorney who is working on his long-running securities fraud case returned a request for comment about the FBI probe Tuesday. A spokesperson for the FBI declined to comment.
The full scope of Paxton's relationship with Paul remains unclear, though Paul has characterized it as friendly. In a deposition earlier this month, Paul revealed that he had employed a woman at Paxton's recommendation, though he said it was not a favor to Paxton. The woman had been involved in an extramarital affair with Paxton, according to two people who said the attorney general told them of the relationship in 2018.
Since the allegations surfaced last month, four examples have emerged of Paxton using his 4,000-employee agency to benefit Paul.
The whistleblowers allege Paxton tried to help Paul on a pair of open-records disputes, urging state employees to release documents that should have been confidential, and that Paxton rushed a legal opinion on foreclosure sales during the coronavirus pandemic, which helped Paul avoid such sales on several of his properties.
The attorney general's office — at Paxton's direction, the whistleblowers say — also took the highly unusual step of intervening in a lawsuit between Paul and an Austin-area charity.
And in September, Paxton hired an outside attorney to evaluate a complaint by Paul that he had been mistreated during an FBI raid on his property in 2019. Paxton's staff, the whistleblowers say, had already vetted the allegations and found them meritless, but Paxton continued to push the investigation.