Never miss a story
Sign up for our free daily morning email...
...and afternoon text update
Get connected with our daily update
(Ubuntu Life)
For pastors Zane Wilemon and Jeremiah Kuria, 2020 wasn't all bad.
In November, their Ubuntu Life company's espadrille—a fabric-topped, rope-soled shoe—earned a coveted place on Oprah Winfrey's Favorite Things List and was featured in O, The Oprah Magazine's last print edition this month before the publication continues digitally in 2021.
---
"We've found dozens of gifts from Black-owned businesses that deserve to be celebrated," Winfrey announced. Fifty of the 72 products that made the cut were created by Black-owned or -led companies.
Ubuntu Life is in good company on the list that also features designer Telfar Clemens whose bags are used by U.S. Rep. Alexandria Ocasio-Cortez; Grace Eleyae's silk and satin pillowcases; foot care products from Foot Nanny that's making its seventh appearance on the tally; Ayesha Curry kitchenware; and gold door-knocker earring hoops created by Simone Smith.
The word "Ubuntu" represents the interconnectedness of people, and means, "I am because we
are." It became popular in South Africa after being cited by Nelson Mandela and Bishop Desmond Tutu at the end of apartheid.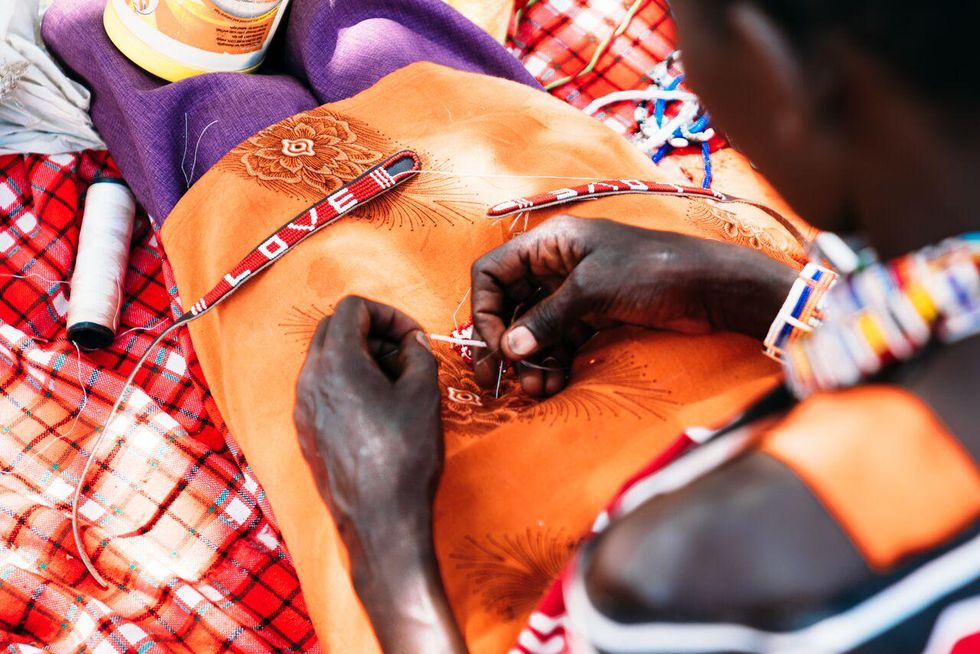 Detailed beadwork made by Maasai women is featured on bracelets produced by Ubuntu Life.(Ubuntu Life)
Kenyan Kuria and Austinite Wilemon met in the Republic years ago, eventually creating a Maai Mahiu center to provide education, pediatric therapy and medical care for children with disabilities. Once the facility was up and running, in 2011, nine mothers of the enrollees staffed manual sewing machines in a small, rented room and created shopping bags, coffee sleeves, bandanas and coasters for sale. Seeing success, the pastors bought and rehabilitated 11 acres nearby, transforming the property into the group's Maker Mum Sewing Studio that enabled the workers to produce more sophisticated products.
With a 2012 expansion in the Ngong Hills, Maasai women crafted beaded work, gaining income in the process. A cafe followed in 2013 and a water bottling plant in 2015. Their first shoe, a colorful espadrille dubbed the Afridrille, launched in 2018 on entrepreneur funding site Kickstarter and was soon accompanied by handmade bags and bracelets offerings, products sold under the public corporation Ubuntu Life formed in 2019. The stores are in Kenya as well as internationally, and the Ubuntu Life Foundation is a partner, a charitable organization that provides pediatric health and special needs education across the region.
In her magazine, Winfrey brings attention to the company's suede Lamu Mule, or a flat espadrille without a back piece, that sells for $95 and is available in assorted colors. The celebrity elevated the shoe as one she "can just slide on" when she's rushing out the door.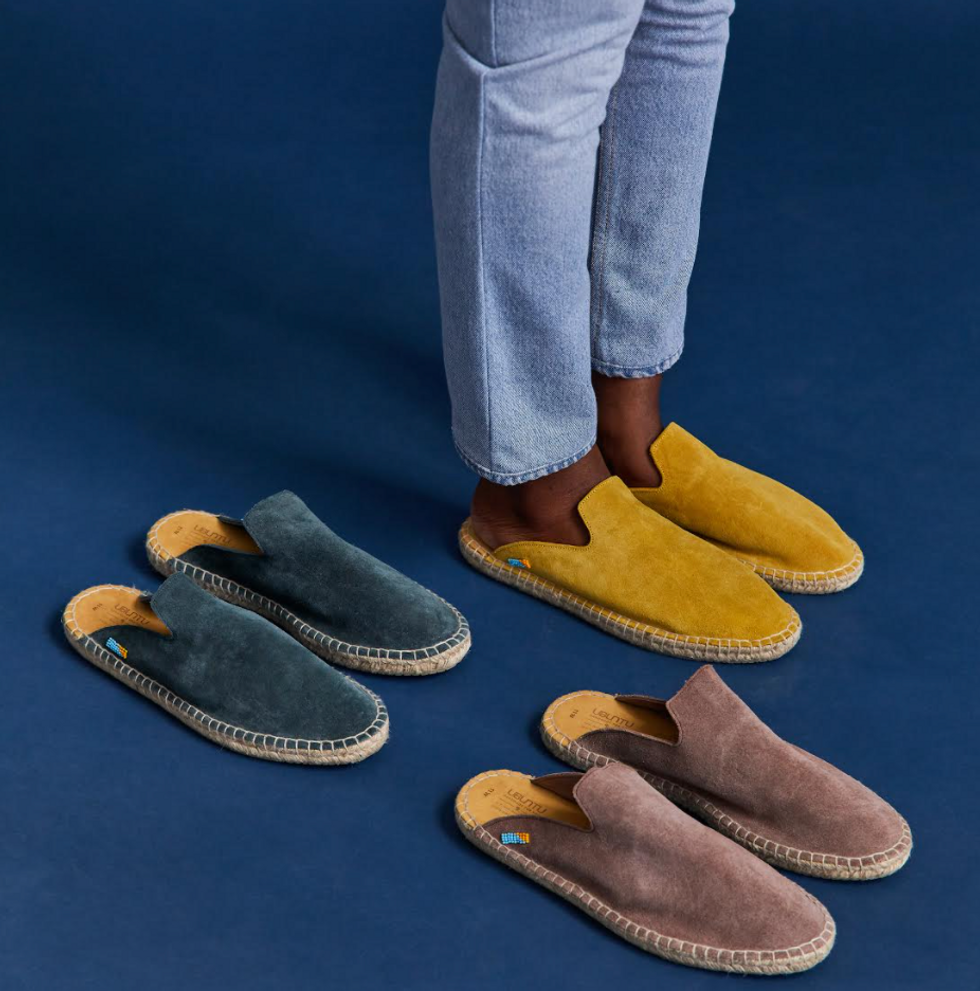 Mules produced by Ubuntu Life were featured on Oprah's Favorite Things 2020 List. (Ubuntu Life)
Wilemon said he found the recent accolades "amazing."
From the Nov. 6 launch of Winfrey's list through Dec. 13, the business reported a 90% increase in its sales, year over year. Currently, Ubuntu Life has six full-time and two part-time employees in Austin, with more than 200 full- and part-time employees in Kenya along with 300 Maasai Maker Mums who create the company's beaded products, he said.
But even that wasn't enough for the rise in public interest in the company following Winfrey's announcement.
"We hustled hard to prepare for the Oprah bump," Wilemon said.
Although he said the team was "totally caught off guard" by the list, they were notified about the selection a month prior to the publication. Staff expanded its production facility to allow for more shifts to manufacture shoes, increasing its volume from 120 shoes per day to almost 200 shoes per day, Wilemon said. The business worked to ensure that enough capital was available to buy the raw materials needed for the final product, he said.
"We are incredibly grateful for the opportunity, and what a way to end 2020 than saying we were selected as one of Oprah's favorite things in her last print edition of O magazine," Wilemon said.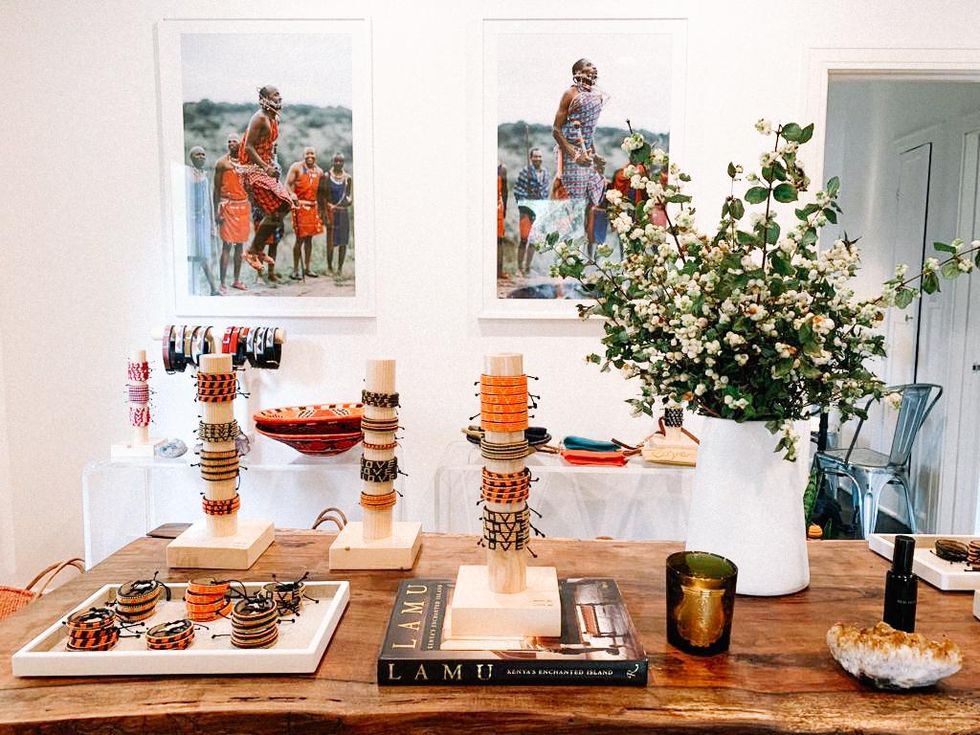 The U.S. headquarters for Ubuntu Life is in Austin and offers a showroom for its bags, bracelets and shoes.(Ubuntu Life)
Last December, in conjunction with Austin-based CBD company Canvas 1839, Ubuntu Life launched a line of products available in its local showroom as well as online, with part of the proceeds supporting its pediatric health programs.

This past year, more of Ubuntu Life's full product line has become available on Amazon and local stores, including its U.S. headquarters and showroom at 908 West Mary St., Austin. Retailer Nordstrom picked up the company's woven beaded bracelets depicting positive sentiments such as "peace," "believe," and "love," and, recently, the company added masks to its repertoire. Although Ubuntu Life transitioned to a for-profit business at the beginning of 2020, the Ubuntu Life Foundation remains a non-profit organization, Wilemon said.
In 2019, funds from the Foundation enabled 372 patients to be seen in medical camps; 486 children to be treated by the group's health program; 120 students to receive individualized education programming and/or physical therapy; and 103 full-time jobs to be generated.
But, Oprah isn't the only celebrity who has noticed the burgeoning business.

New Orleans Saints quarterback Drew Brees became an ambassador for the brand and organization following his family's 2019 trip to Kenya. He donned a pair of custom-designed Ubuntu cleats on the field as part of the National Football League's #MyCauseMyCleats to bring awareness to the charity.
Television host Jimmy Kimmel, professional beach volleyball player and U.S. Olympian Kerri Walsh Jennings and rocker Bono have supported the program, further expanding the brand's popularity, Wilemon said.
"We are thrilled when we see new people coming to learn about Ubuntu Life," he said. "Every new customer brings more opportunities for our team and we can't wait to share what we have in store for everyone next year."
First score made by LAFC. (Sonia Garcia/Austonia)
Austin FC couldn't find the stamina to fight off a 2-0 loss against LAFC for their inaugural match on Saturday.
The match, which saw No. 21 Austin FC go head-to-head with No. 2 LAFC in Los Angeles, was broadcast nationally on FOX and FOX Deportes.
Eleven players took the stage as Austin FC players for the first time, with five starters making their MLS debut. "Ringleader" Alex Ring took the captain's armband and wore it well. The defensive midfielder could be seen leading his teammates through their first ever match, but it wasn't enough to stage an Austin takeover in LA.
In the signature style of Head Coach Josh Wolff, the team played with quickness and intensity, nearly connecting on several fast breaks. It was harder for them to stay in front, however, something that Wolff credits with quick decision making and a tough LAFC defense.
"We have a quick attacking team, but I think when you make quick attacks and it fizzles it's just about some decision making," Wolff said. "Are we in position to finish attacks? If not, can we reestablish our attack and get stuff better?"
The club was given some generous breaks from No. 2 LAFC, who had one or both of their star DPs out for the half. While forward Diego Rossi is out for the entire match due to a hamstring injury, Carlos Vela was accidentally pulled too soon on what turned out to be a miscommunication.
"He gave us the sign that he needed to come off," LAFC Head Coach Bob Bradley said on broadcast. "I can't say more than maybe it's my fault."
LA pulled some dramatics and slowly gained more possession throughout the half, but ATXFC's defense wasn't initially as shaky as it seemed in preseason. Jhohan Romana has pulled his weight in getting the ball out of goal, and a 34-year old Matt Besler held his own in center back.
As the second half commenced, however, it became clear that LAFC had the advantage over Austin's first major league team.
Goalkeeper Brad Stuver had his work cut out for him, fending off 24 shot attempts, 11 of which were on goal. He didn't have much time to prepare, either: in the first 30 seconds of play, Stuver had already made a save to keep the match 0-0.
LAFC finally connected in the 61st minute of play as Corey Baird shot one into the bottom right corner. The team capitalized off their momentum and put one past Stuver a second time, drawing roars of approval from the LAFC crowd.
While some last-minute attempts from Jon Gallagher and others were made, Austin FC didn't have the endurance to bring a tie. After seven additional minutes of stoppage time, the club lost their first match 2-0.
While the scoreboard tells one story, Wolff said that the team did well considering the skill of LAFC and the pressure of their club debut.
"We've got to be realistic," Wolff said. "This is the first time this organization has been in front of TV with an opportunity to show itself and I think there were some promising moments. And we're going to maximize those and continue to try to develop those, but there's lots to build on."
The team may have lost, but it still won the support of thousands of Verde fans, dozens of which made it to watch their team's first match. When Stuver and the team made it to bthe stadium, Los Verdes fans were already there to show support, and Stuver said his wife saw the same back in Austin.

"The moment that we pulled into the stadium, we saw Black and Verde fans cheering us on as we got to the stadium," Stuver said. "During warm up, you can just look around and see different groups sitting in different sections of the stadium and it's just truly amazing to see the support in our first game. We know that we want to give the fans everything, because this we play for the city and we play for them."