Get connected with our daily update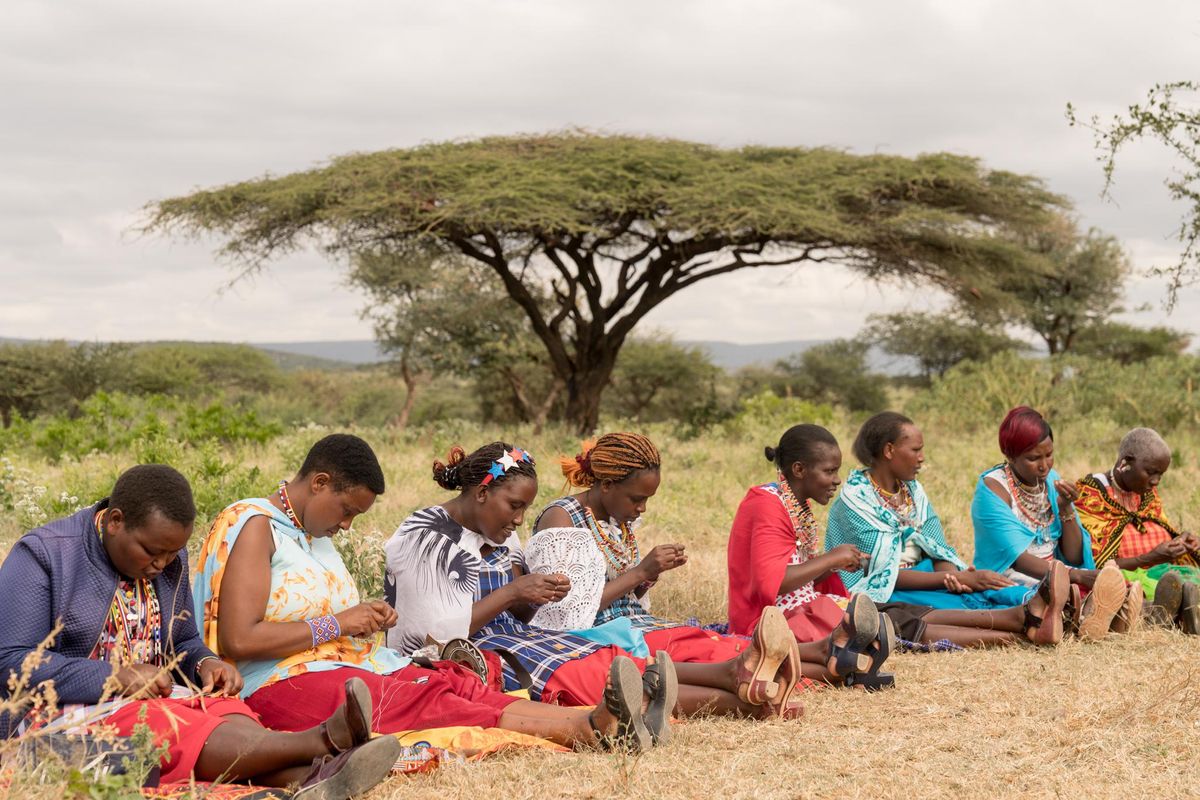 (Ubuntu Life)
For pastors Zane Wilemon and Jeremiah Kuria, 2020 wasn't all bad.
In November, their Ubuntu Life company's espadrille—a fabric-topped, rope-soled shoe—earned a coveted place on Oprah Winfrey's Favorite Things List and was featured in O, The Oprah Magazine's last print edition this month before the publication continues digitally in 2021.
---
"We've found dozens of gifts from Black-owned businesses that deserve to be celebrated," Winfrey announced. Fifty of the 72 products that made the cut were created by Black-owned or -led companies.
Ubuntu Life is in good company on the list that also features designer Telfar Clemens whose bags are used by U.S. Rep. Alexandria Ocasio-Cortez; Grace Eleyae's silk and satin pillowcases; foot care products from Foot Nanny that's making its seventh appearance on the tally; Ayesha Curry kitchenware; and gold door-knocker earring hoops created by Simone Smith.
The word "Ubuntu" represents the interconnectedness of people, and means, "I am because we
are." It became popular in South Africa after being cited by Nelson Mandela and Bishop Desmond Tutu at the end of apartheid.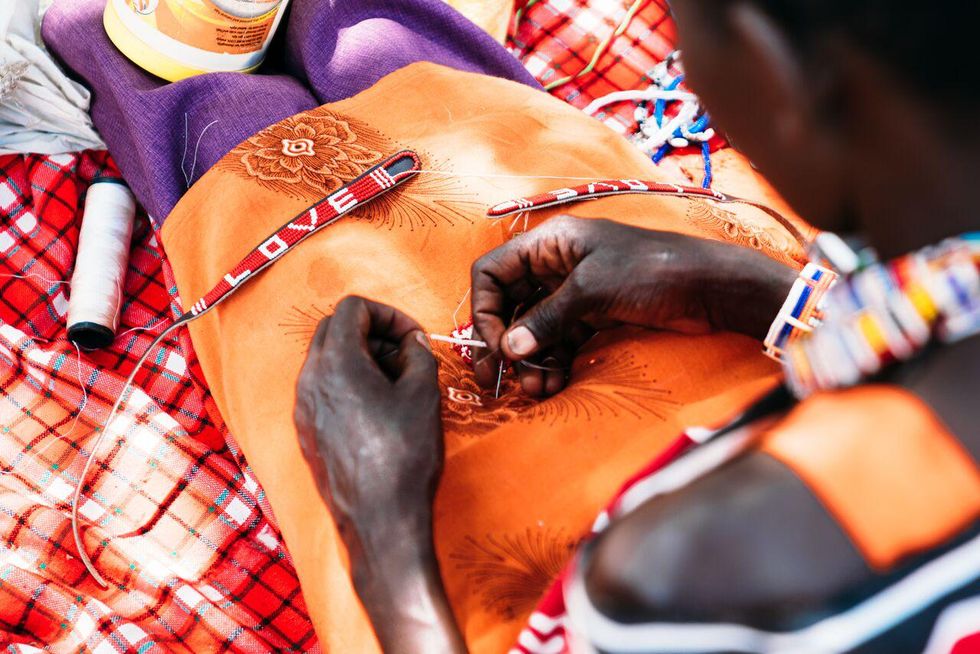 Detailed beadwork made by Maasai women is featured on bracelets produced by Ubuntu Life.(Ubuntu Life)
Kenyan Kuria and Austinite Wilemon met in the Republic years ago, eventually creating a Maai Mahiu center to provide education, pediatric therapy and medical care for children with disabilities. Once the facility was up and running, in 2011, nine mothers of the enrollees staffed manual sewing machines in a small, rented room and created shopping bags, coffee sleeves, bandanas and coasters for sale. Seeing success, the pastors bought and rehabilitated 11 acres nearby, transforming the property into the group's Maker Mum Sewing Studio that enabled the workers to produce more sophisticated products.
With a 2012 expansion in the Ngong Hills, Maasai women crafted beaded work, gaining income in the process. A cafe followed in 2013 and a water bottling plant in 2015. Their first shoe, a colorful espadrille dubbed the Afridrille, launched in 2018 on entrepreneur funding site Kickstarter and was soon accompanied by handmade bags and bracelets offerings, products sold under the public corporation Ubuntu Life formed in 2019. The stores are in Kenya as well as internationally, and the Ubuntu Life Foundation is a partner, a charitable organization that provides pediatric health and special needs education across the region.
In her magazine, Winfrey brings attention to the company's suede Lamu Mule, or a flat espadrille without a back piece, that sells for $95 and is available in assorted colors. The celebrity elevated the shoe as one she "can just slide on" when she's rushing out the door.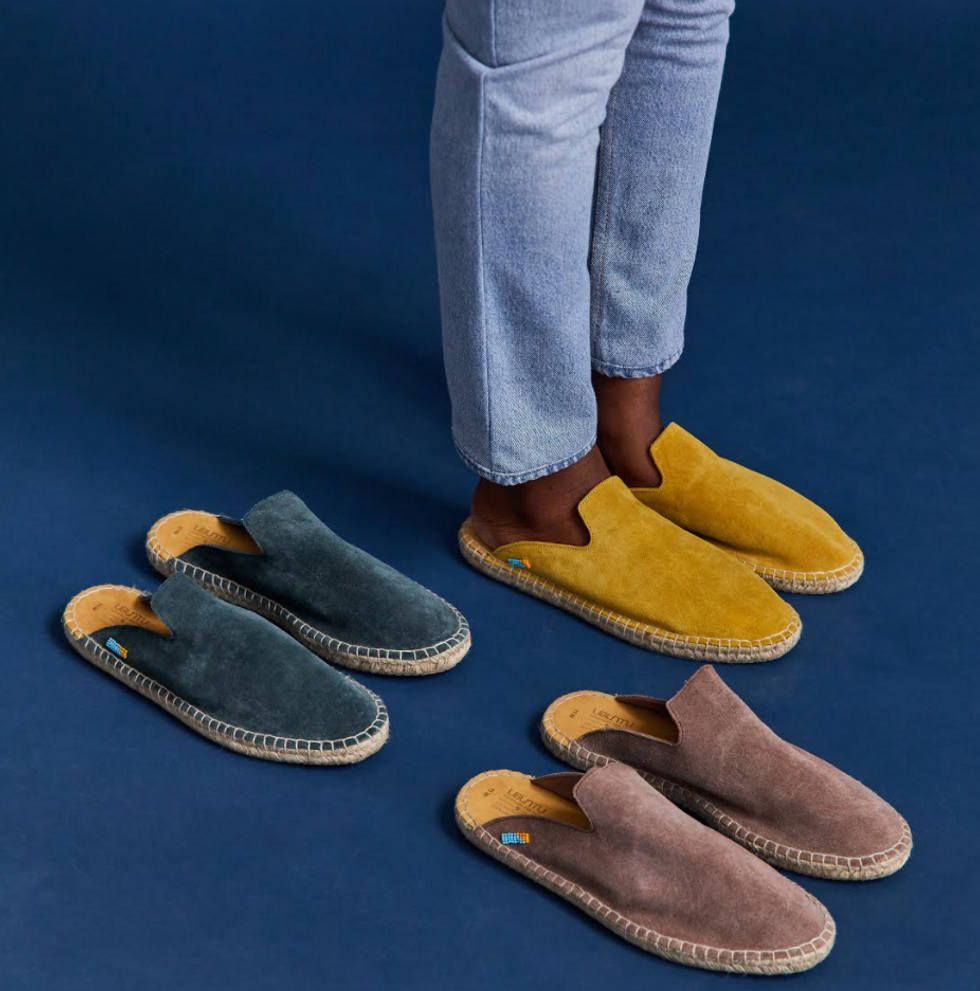 Mules produced by Ubuntu Life were featured on Oprah's Favorite Things 2020 List. (Ubuntu Life)
Wilemon said he found the recent accolades "amazing."
From the Nov. 6 launch of Winfrey's list through Dec. 13, the business reported a 90% increase in its sales, year over year. Currently, Ubuntu Life has six full-time and two part-time employees in Austin, with more than 200 full- and part-time employees in Kenya along with 300 Maasai Maker Mums who create the company's beaded products, he said.
But even that wasn't enough for the rise in public interest in the company following Winfrey's announcement.
"We hustled hard to prepare for the Oprah bump," Wilemon said.
Although he said the team was "totally caught off guard" by the list, they were notified about the selection a month prior to the publication. Staff expanded its production facility to allow for more shifts to manufacture shoes, increasing its volume from 120 shoes per day to almost 200 shoes per day, Wilemon said. The business worked to ensure that enough capital was available to buy the raw materials needed for the final product, he said.
"We are incredibly grateful for the opportunity, and what a way to end 2020 than saying we were selected as one of Oprah's favorite things in her last print edition of O magazine," Wilemon said.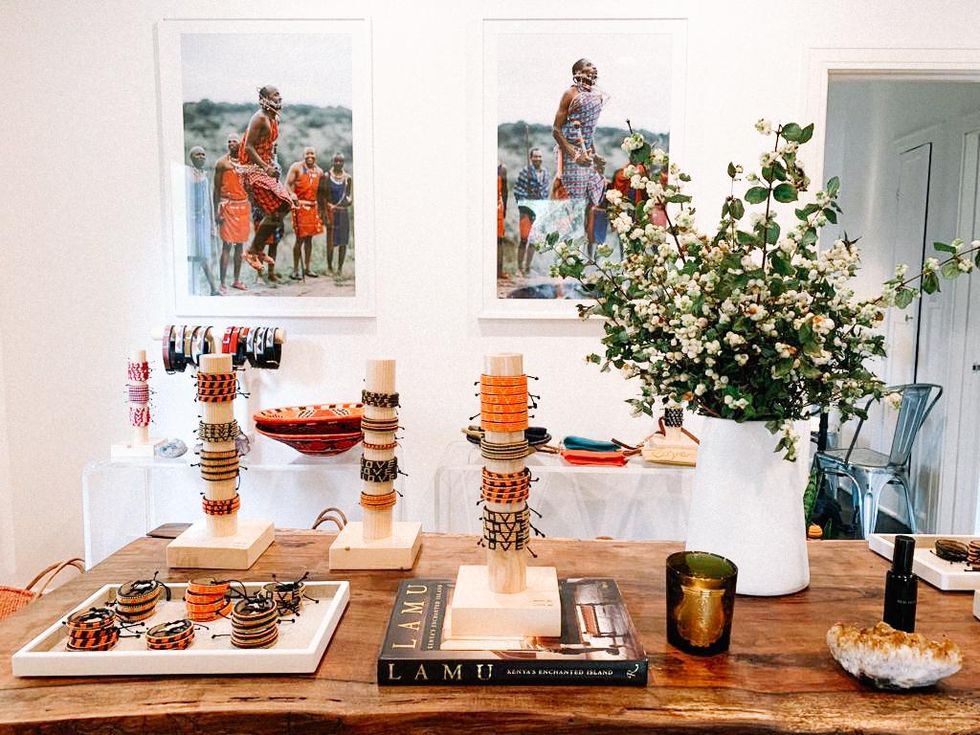 The U.S. headquarters for Ubuntu Life is in Austin and offers a showroom for its bags, bracelets and shoes.(Ubuntu Life)
Last December, in conjunction with Austin-based CBD company Canvas 1839, Ubuntu Life launched a line of products available in its local showroom as well as online, with part of the proceeds supporting its pediatric health programs.

This past year, more of Ubuntu Life's full product line has become available on Amazon and local stores, including its U.S. headquarters and showroom at 908 West Mary St., Austin. Retailer Nordstrom picked up the company's woven beaded bracelets depicting positive sentiments such as "peace," "believe," and "love," and, recently, the company added masks to its repertoire. Although Ubuntu Life transitioned to a for-profit business at the beginning of 2020, the Ubuntu Life Foundation remains a non-profit organization, Wilemon said.
In 2019, funds from the Foundation enabled 372 patients to be seen in medical camps; 486 children to be treated by the group's health program; 120 students to receive individualized education programming and/or physical therapy; and 103 full-time jobs to be generated.
But, Oprah isn't the only celebrity who has noticed the burgeoning business.

New Orleans Saints quarterback Drew Brees became an ambassador for the brand and organization following his family's 2019 trip to Kenya. He donned a pair of custom-designed Ubuntu cleats on the field as part of the National Football League's #MyCauseMyCleats to bring awareness to the charity.
Television host Jimmy Kimmel, professional beach volleyball player and U.S. Olympian Kerri Walsh Jennings and rocker Bono have supported the program, further expanding the brand's popularity, Wilemon said.
"We are thrilled when we see new people coming to learn about Ubuntu Life," he said. "Every new customer brings more opportunities for our team and we can't wait to share what we have in store for everyone next year."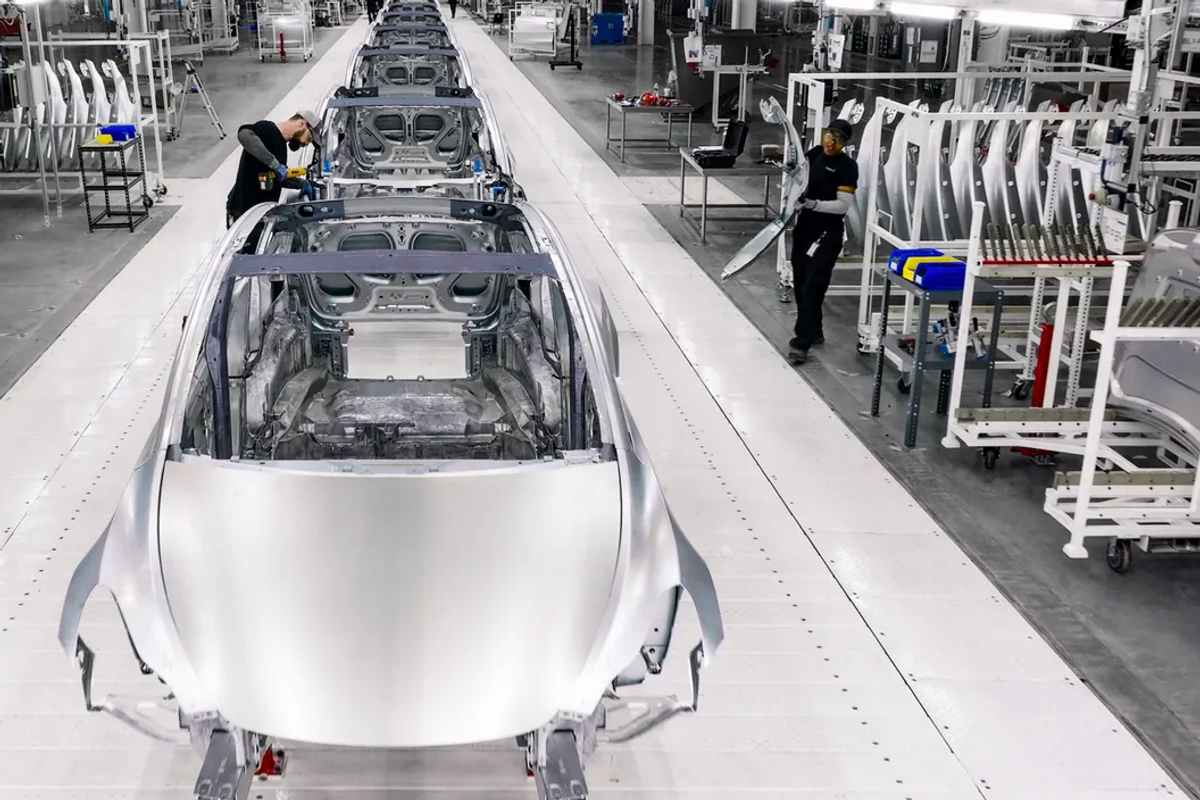 Giga Texas, the massive Tesla factory in southeast Travis County is getting even bigger.
The company filed with the city of Austin this week to expand its headquarters with a new 500,000-square-foot building. The permit application notes "GA 2 and 3 expansion," which indicates the company will make two general assembly lines in the building.
More details about the plans for the building are unclear. The gigafactory has been focused on Model Y production since it opened in April, but the company is also aiming for Cybertruck production to kick off in mid-2023.
While there is room for expansion on the 3.3 square miles of land Tesla has, this move comes after CEO Elon Musk's recent comments about the state of the economy and its impact on Tesla.
In a May interview with Tesla Owners Silicon Valley, Musk said the gigafactories in Berlin and Austin are "gigantic money furnaces" and said Giga Texas had manufactured only a small number of cars.
And in June, Musk sent a company wide email saying Tesla will be reducing salaried headcount by 10%, then later tweeted salaried headcount should be fairly flat.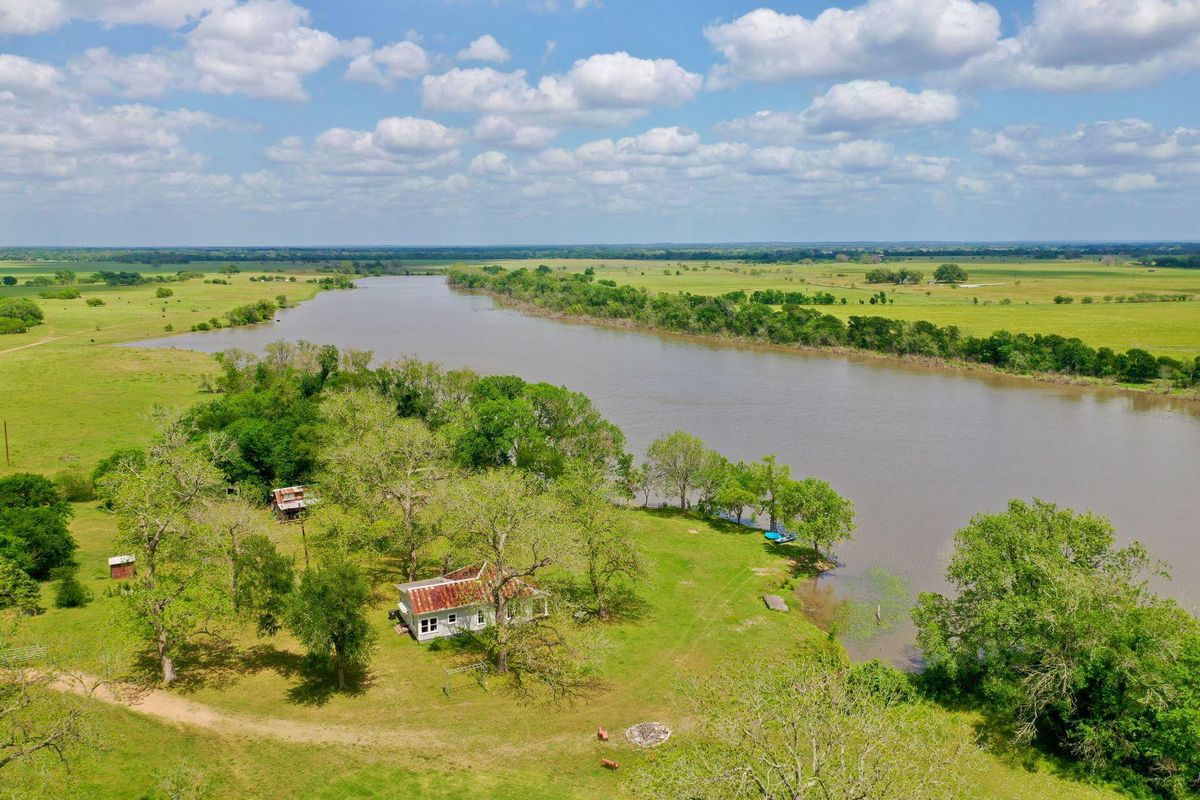 It's been a record-breaking hot summer already and Austin still has a few months of heat to weather. But the heat doesn't have to be so bad if you've got a swimming hole in your backyard, like these three ranches.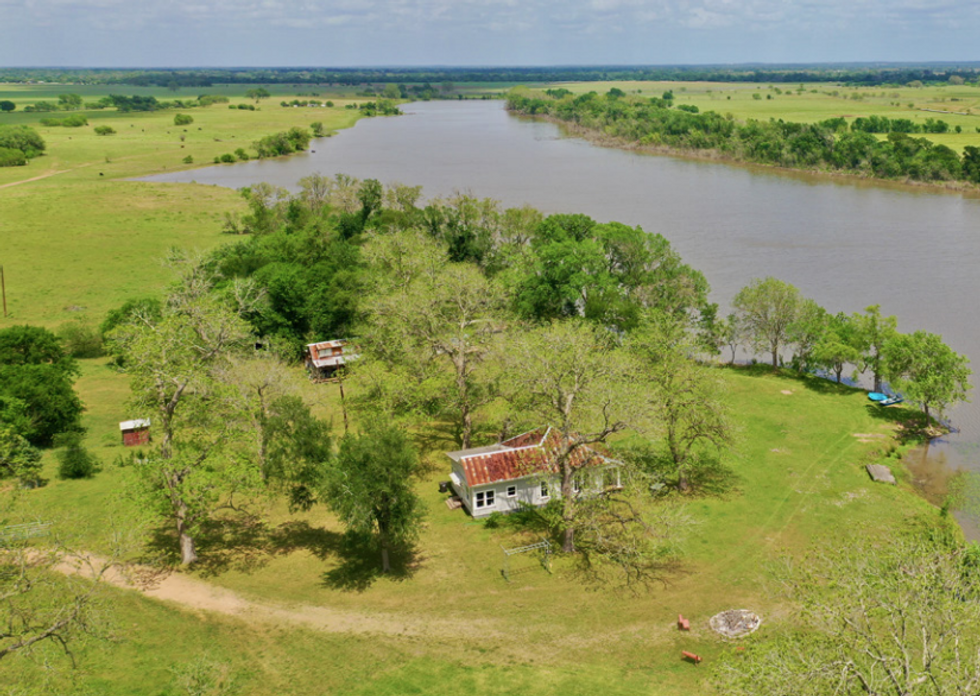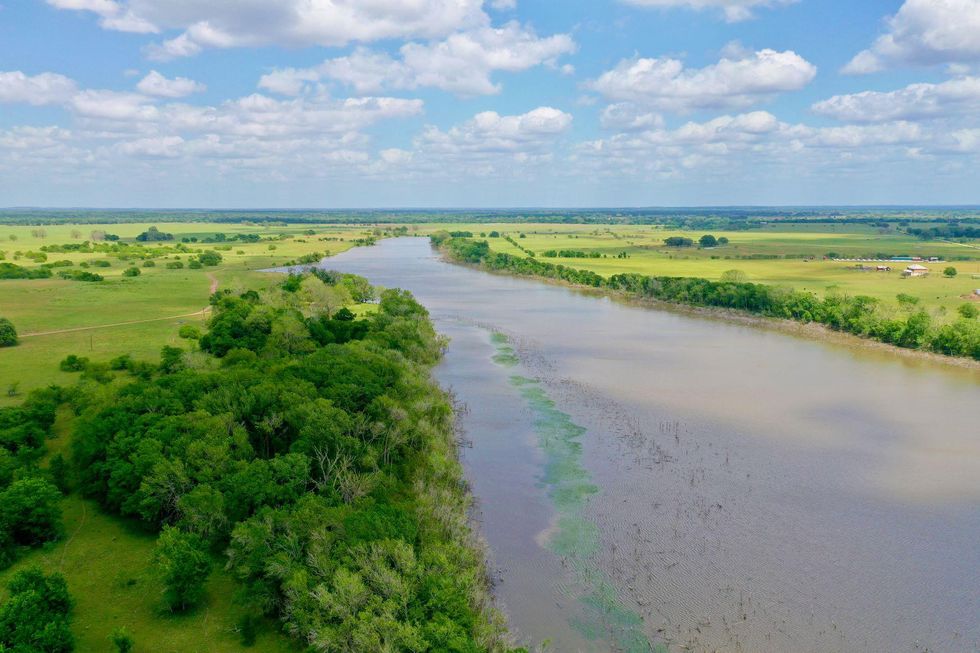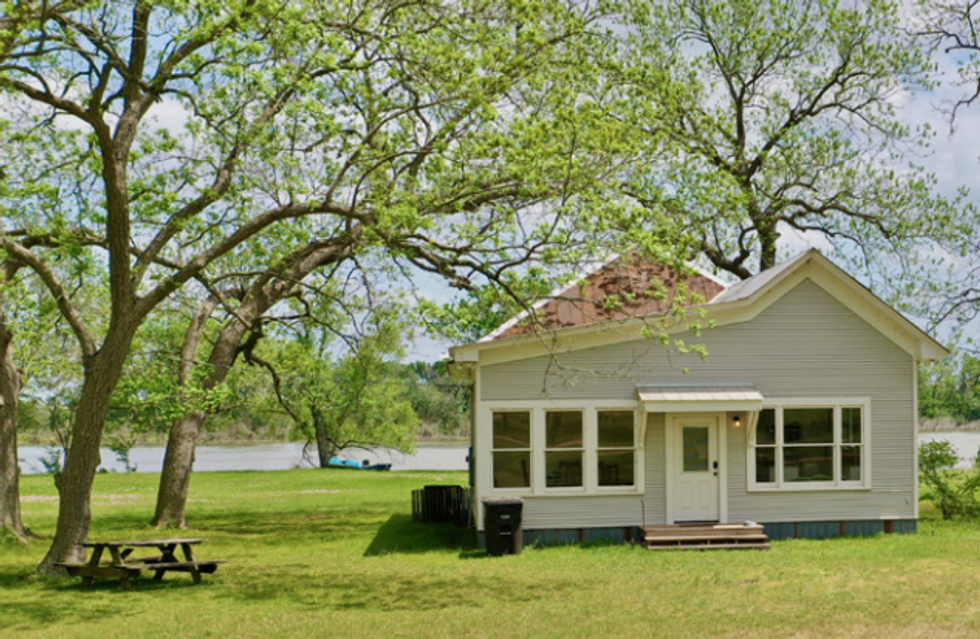 You'll have to leave city limits if you're looking for a proper ranch property like 417 Acres Shipp Lake Ranch, aptly named for its acreage. The property comes built out with three farmhouses, one of which has bedrooms and two bathrooms and two of which have two bedrooms and one bathroom. The nearly untouched property, which surrounds the 100-plus-acre Shipp Lake, has remained in the same family since the early 1900s and gives you picturesque views for the making of a dream home. In fact, the previous owners ran a water ski camp on the property.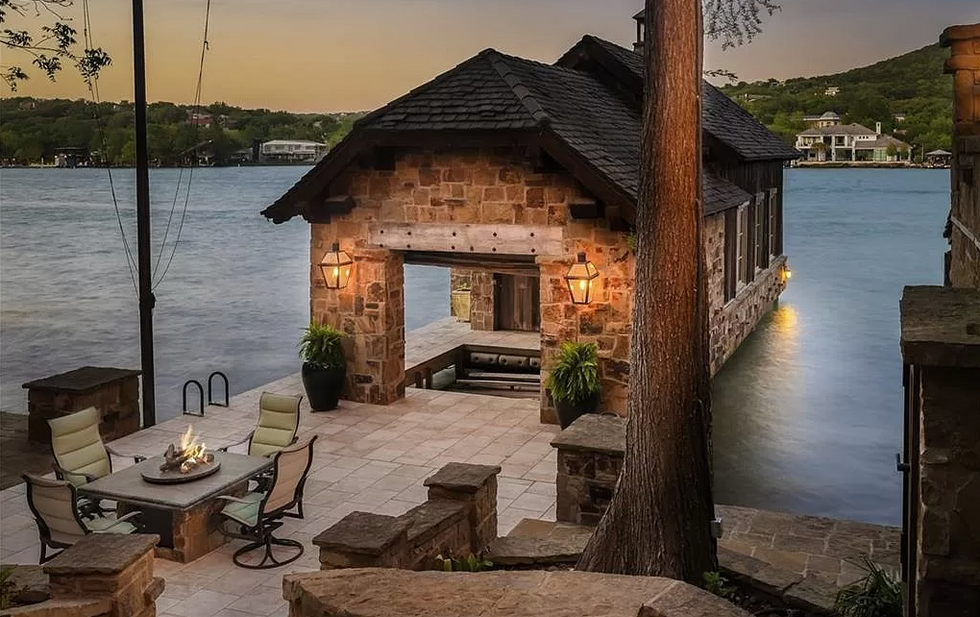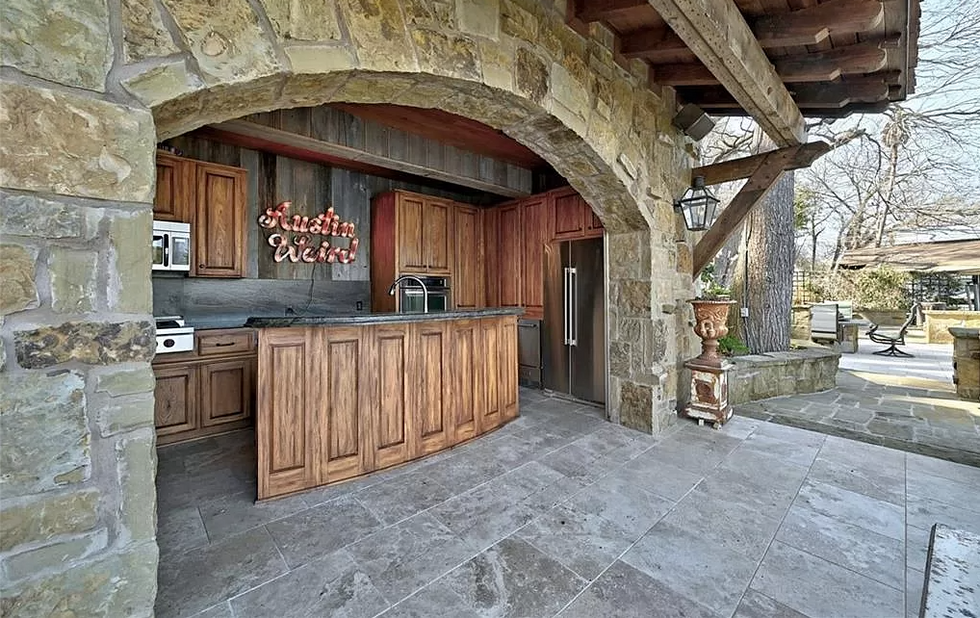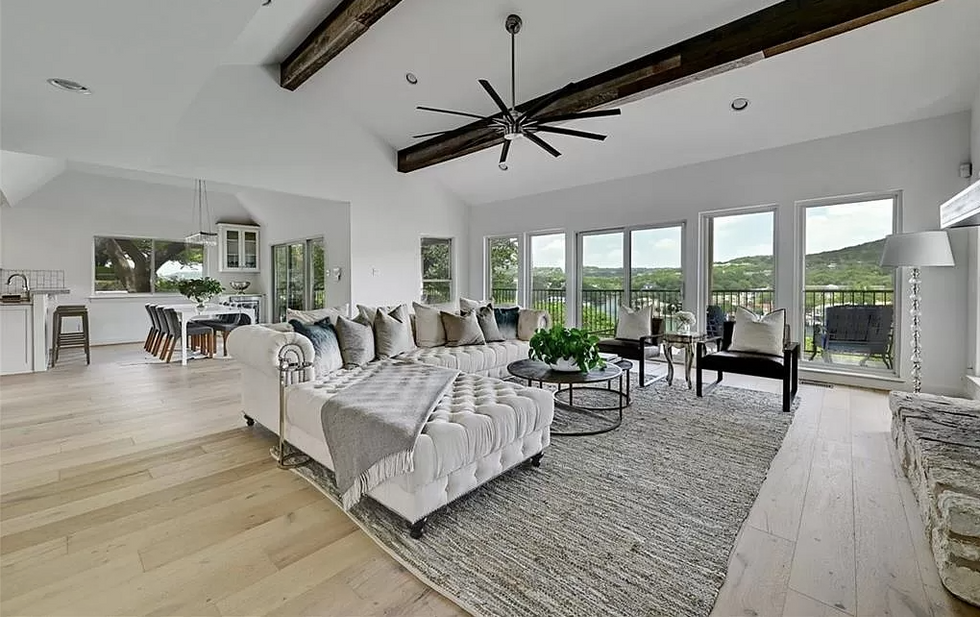 Sitting waterside on Lake Austin, this home gives you the unique opportunity to own a piece of the lush Hill Country with views of Mount Bonnell. The 2,750-square foot, three-bedroom, four-bathroom house allows you to integrate indoor and outdoor life with large windows opening to an outdoor living area. The crown jewel is the .76-acre parcel of land that tapers off to your own lakeside resort, featuring an covered outdoor kitchen, fire pit, stone boat house to store your water sports supplies and veranda sitting at the mouth of the water, perfect for an entertainer.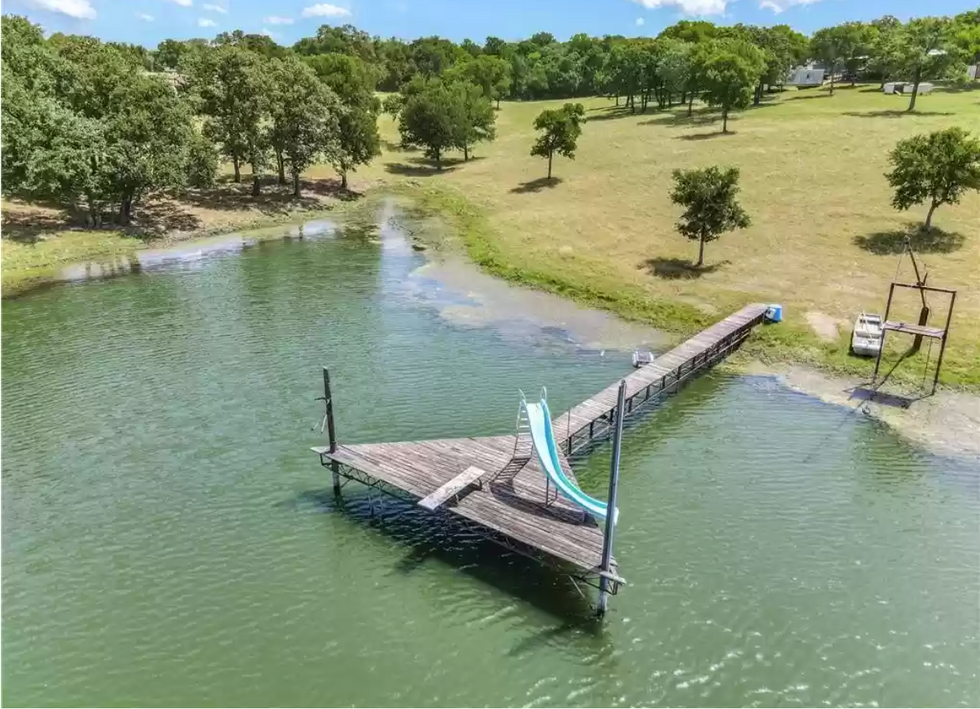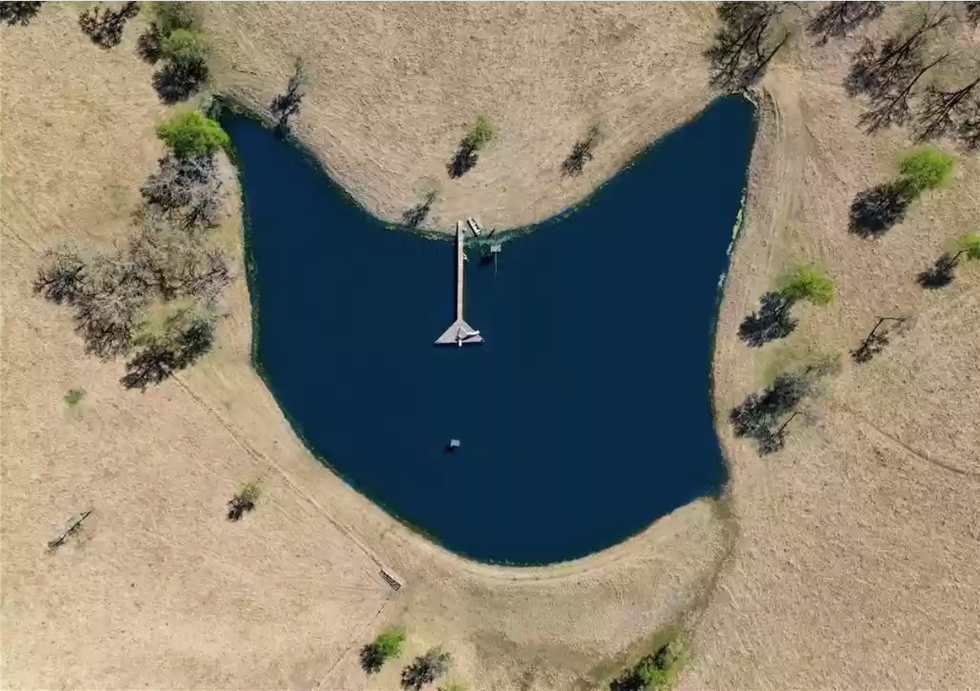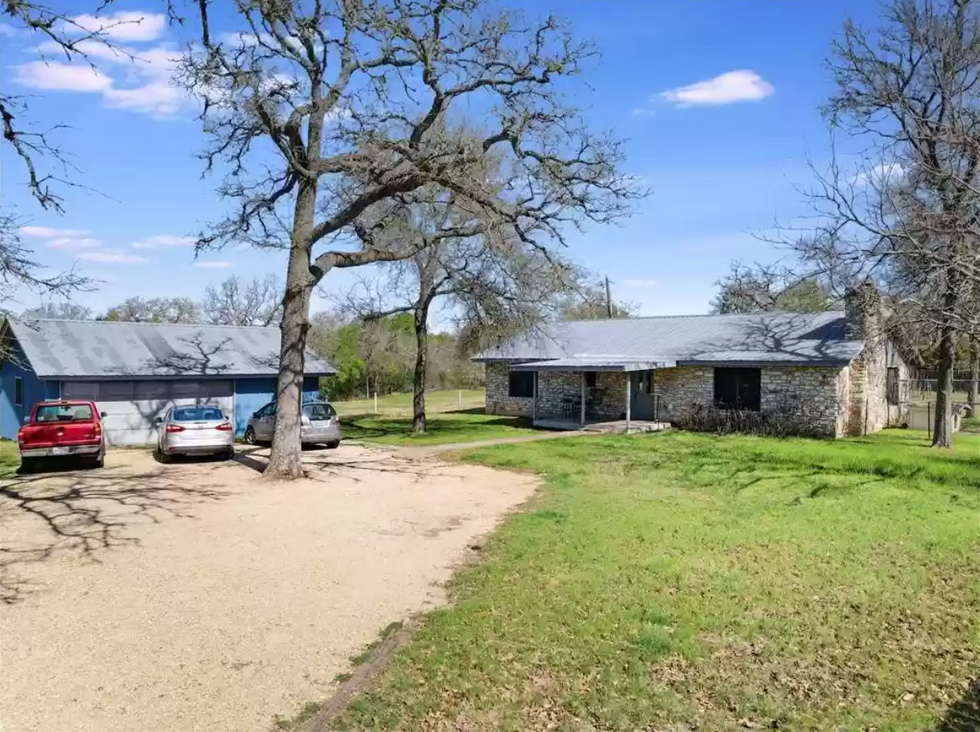 Got dreams of becoming a real Texas rancher? 7814 Brown Cemetery Rd. is the perfect place to start with 40 rolling acres of land and its very own swimming hole. Just east of Austin in Manor, the modest-on-the-outside home clocks at 4,412 square feet with five bedrooms and five-and-a-half bathrooms, but there are an additional two living structures on the property. The horseshoe-shaped pond sits in the heart of the property and comes equipped with a water slide, diving board and a fishing dock.