Get connected with our daily update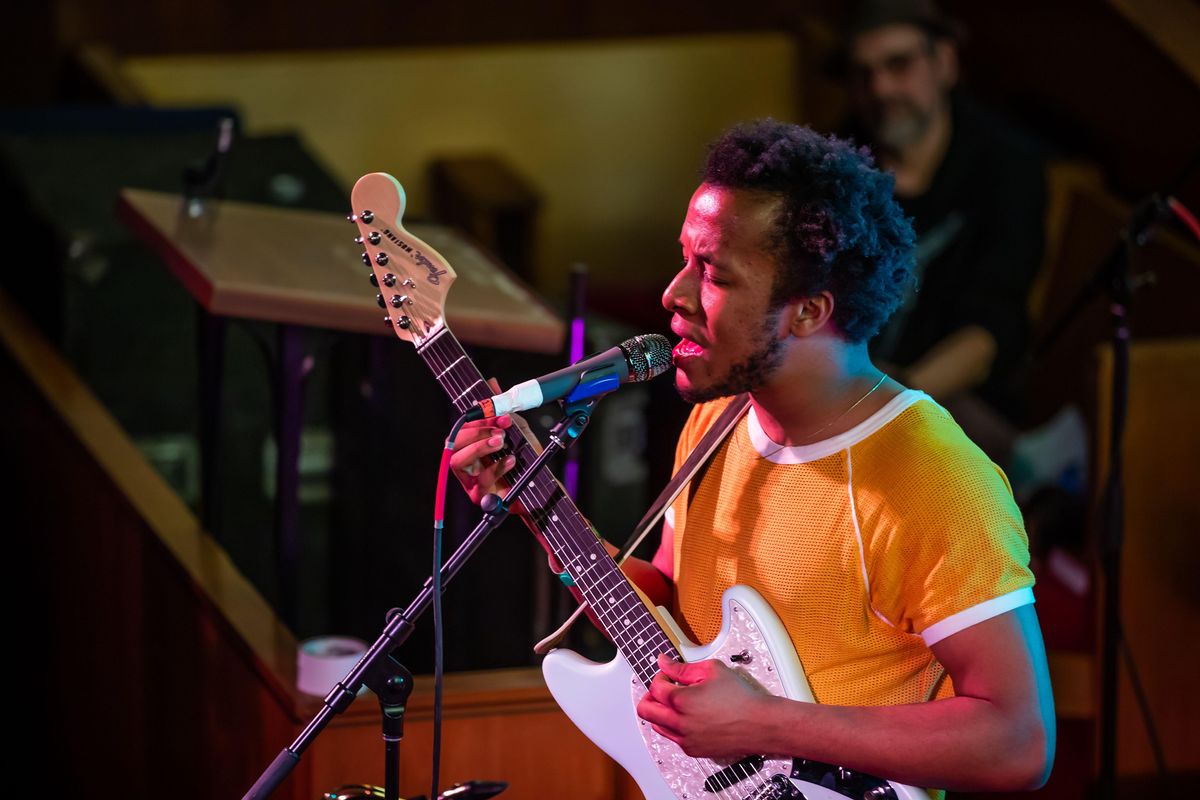 No matter if you're a SXSW badge holder or not attending at all, the music, arts, culture and tech festival is a 10-day timeframe to celebrate Austin, especially after its virtual hiatus.
---
With hundreds of free and unofficial SXSW events popping up all over the city over the next weekend, businesses are sharing the festival love with everyone.
SXSW attendees and bystanders alike are welcome at these unofficial events.
Black Austin Musicians Collective at Central Machine Works Brewery | March 11, 2-7 p.m.
See some SXSW musicians for free and without the badge at Central Machine Works Brewery, 4824 East Cesar Chavez St., on Friday. Presented by The Black Austin Musicians Collective and Ovrld, Jonny Jukebox kicks off the showcase at 2 p.m., followed by SXSW artist Urban Heat at 3 p.m., then Alesia Lani at 4 p.m. Big SXSW names of the night include Geto Gala, a collaboration between local artists Jake Lloyd and Deezie Brown, at 5 p.m. and Jackie Venson at 6 p.m. Expect more free live music through this weekend and next!
Bad Larry Burgers at Fareground, Little Brother Bar and 607 Blanco St. | March 11-14
Don't miss one of four opportunities to grab some of Bad Larry's famous award-winning burgers. First up, New York bar Ray's, which is eyeing an Austin expansion and run by Hollywood star Justin Theroux, will hold a two-day popup on March 11-12 on 607 Blanco St. Bad Larry is cooking up free food after 7:30 p.m., with cocktails on deck from Little Brother, live music and T-shirts. You can also catch Bad Larry at Fareground Austin Saturday from noon-4:00 p.m. on Saturday or at Little Brother, 89 Rainey St, on Monday.
Free events at Neighborhood Goods | March 11-18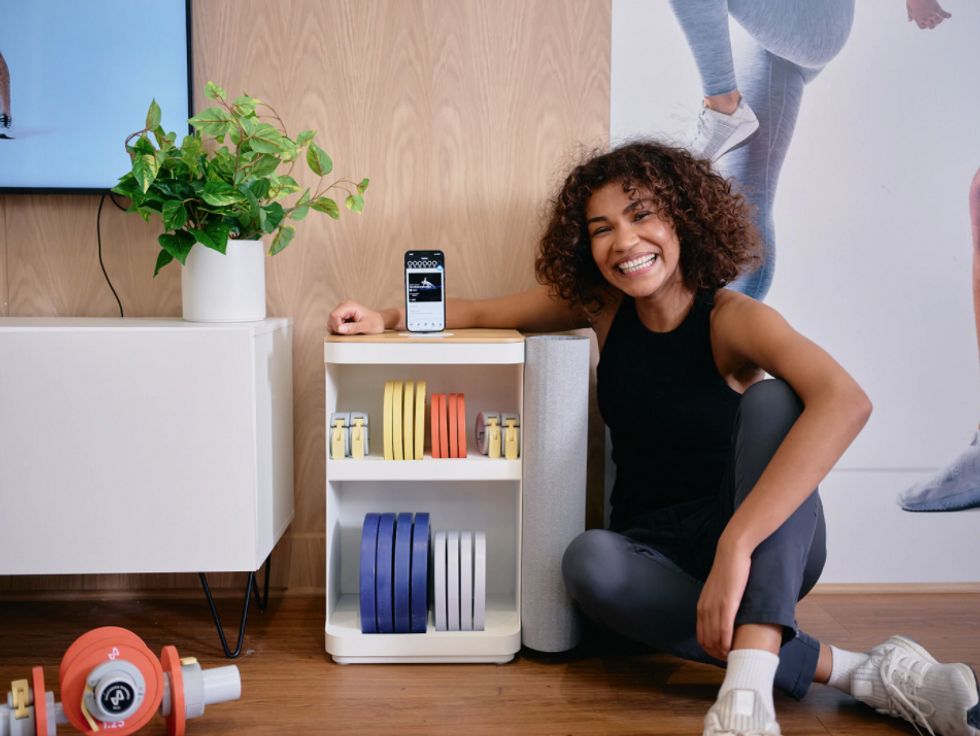 Try something different every day at Neighborhood Goods' unofficial SXSW celebration, 1007 S. Congress Ave., starting with a launch party for D.S. & Durga's fragrance, "Bistro Waters," complete with pear martinis and hors d'oeuvres. Meet with Tempo's Head Coach Melissa for a fireside chat and meet up on Saturday and Sunday, then stay for customizable bouquets from Flower Peddler from 11 a.m.-3 p.m. Sunday.
Black Founders Brunch at Half Step | March 12, 4:00-8:00 p.m.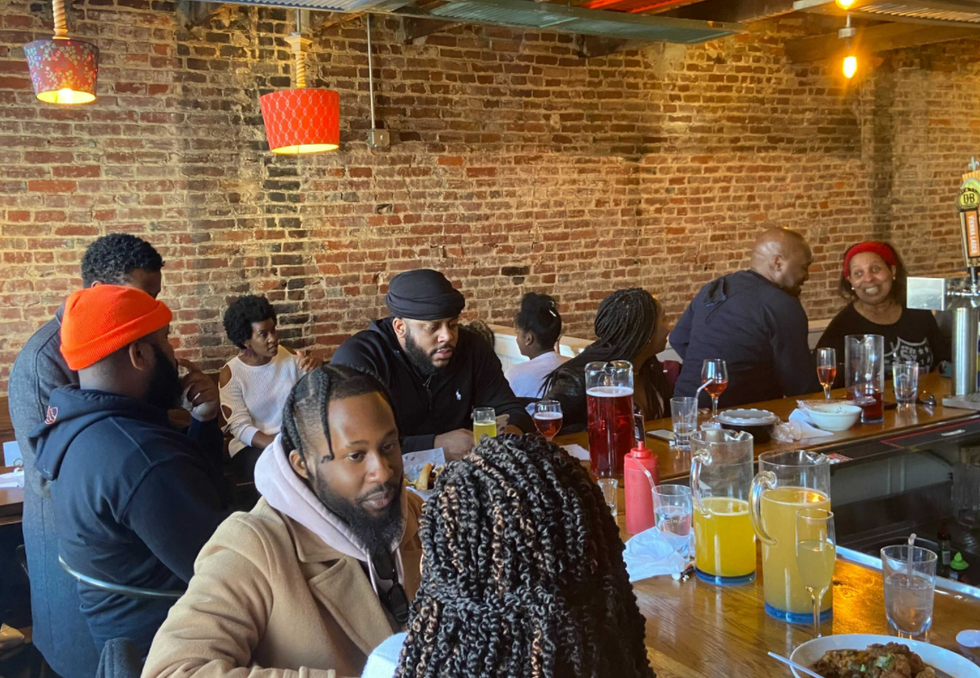 Connect with other Black innovators, creators and investors for a lowkey networking brunch at Half Step, 75 1/2 Rainey St. Hosted by the Plain Sight app, app users can connect with other attendees prior to the event. Admission is free and you can RSVP here or through the app.
SXSW DEJA VU at Austin Daiquiri Factory | March 12, 4-8 p.m.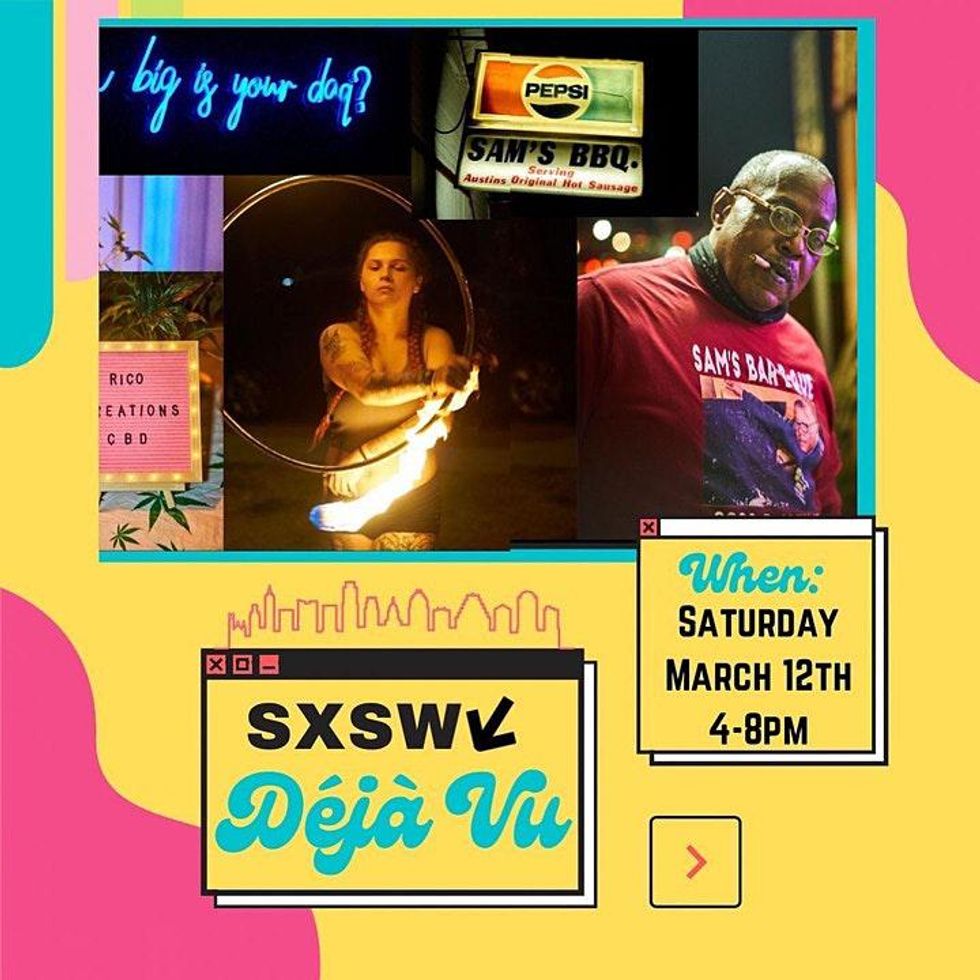 Grab a daiquiri to sip and stroll through the 20+ vendor market, while DJ LostNFound starts the tunes at the Austin Daiquiri Factory. Fire dancers, handcrafted goods, tarot readings, gems and more await at this family-friendly event. Attend for free or grab a GA+ ticket, which includes a goodie bag giveaway from local artists, or VIP, which includes access to the VIP lounge and raffle tickets.
Hole Lotta Hell at Hole in the Wall | March 13, 12 p.m.-12 a.m.
More than a dozen local artists will pass through Hole in the Wall's halls, 2538 Guadalupe St. Starting at noon, the 21+ showcase will bring (deep breath) Hover, Stunts, Lady Dan, Shooks, Half Dream, Sad Cell, Party Van, Tearjerk, Dice House, Quiet Light, Dewey Ivy, Being Dead, Hall Johnson, Otis Wilkins, Bad Markings and Glasshealer.
The Lighthouse at Scholz Garten live shows | March 12-14, 3-9 p.m.
Celebrating alongside the SXSW commencement, Scholz Garten, 1607 San Jacinto Blvd., has a full lineup of musicians each day through Monday. Catch A. Sinclair and Brother Thunder among others on Saturday, David Ramirez and Jonathan Terrell on Sunday. The events are free but RSVP here.
Live music and puppy photo booth at Love, Tito's | March 11-14, 17-19 starting at 11 a.m.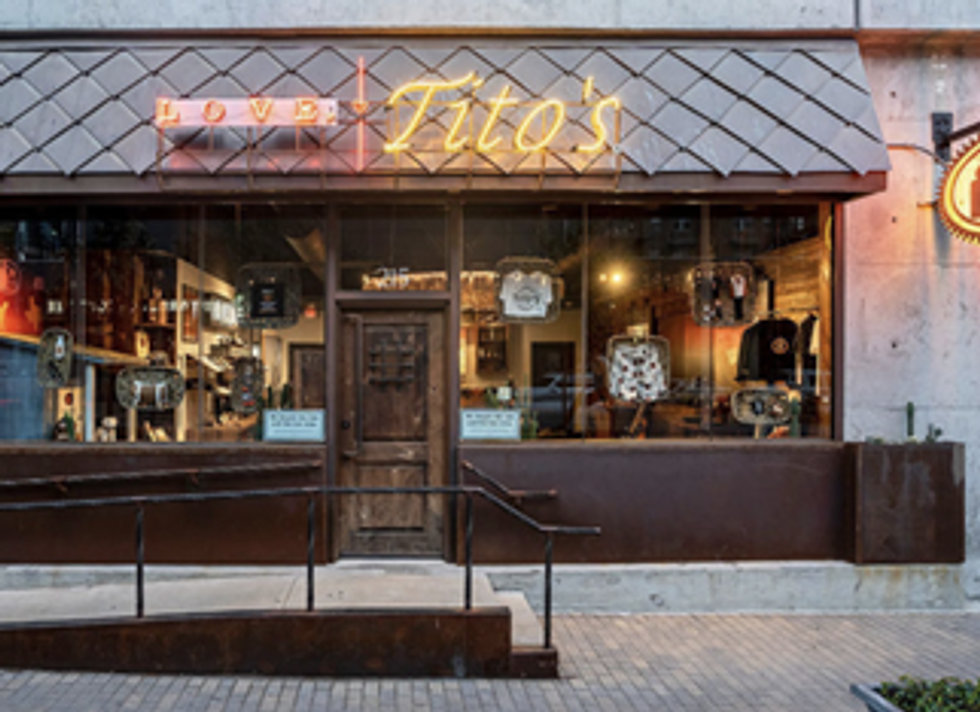 Swing by Love, Tito's, the explosively popular local vodka brand's retail store, during SXSW for a free bandana or T-shirt screen printing session with Raw Paw and live music from Miggy & Zack, DJ Josie Lockhart, Shawn Pander, Batty Jr. and more. Net proceeds from purchases at the store go to nonprofits partnered with Tito's. Bring the dog for a photo in the puppy-friendly space—view the full music schedule here.
SX Soundcheck Saturday at Hotel Vegas & The Volstead | March 12, 1 p.m.-12 a.m.
There's going to be live music all day and late into the night at Hotel Vegas & The Volstead on Saturday. The day will begin with Mutiny Market vendors on the patio from 1-6 p.m. and live music starting with Honky Tonk Machine at 3 p.m. on the patio. Artists will rotate all day and performances will be free until 7 p.m., when Chief Cleopatra takes the stage, followed by Calliope Musicals, Sweet Spirit and Golden Dawn Arkestra. There will be a cash cover at the door.
#Twitterhouse at Lustre Pearl Rainey | March 11-13, starting at 11 a.m.
Expect drinks, music, snacks, innovation conversations and advice for using Twitter Spaces at the Lustre Pearl, 94 Rainey St. No badge needed for a discussion on Meditation in the Metaverse with Deepak Chopra. RSVP here.
Yeast By Sweet Beast 2022 at the Carousel Lounge | March 11-13, 7 p.m.-12 a.m.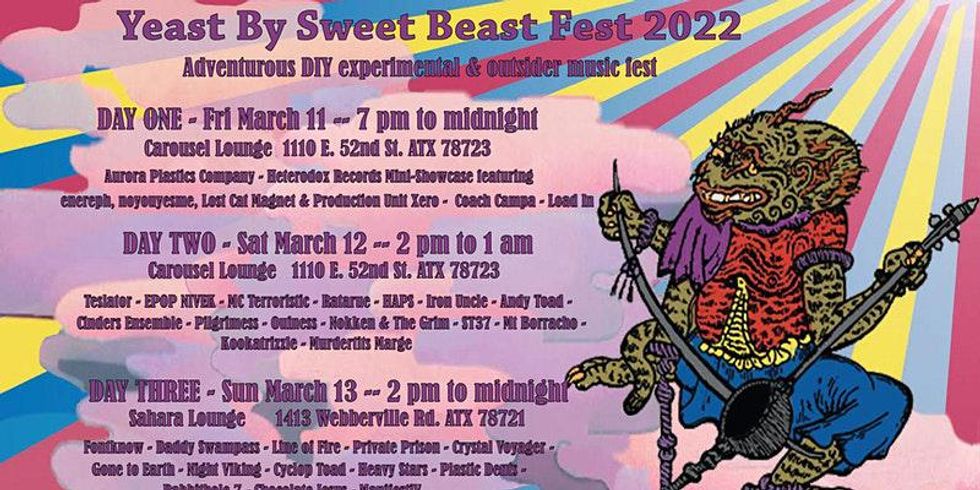 Claiming to be the "longest-running DIY experimental & outsider music fest," in the U.S., Yeast By Sweet Beast has been running since March 2000. Taking place at the unforgettable circus-themed Carousel Lounge, YBSB will kick off on Friday with a mini-showcase from Heterodox Records of Portland, Oregon. Musicians include enereph, noyouyesme, Lost Cat Magnet, Production Unit Xero, followed by a show from San Antonio's Coach Campa. Admission is $5 at the door each night and all ages are permitted.
Yoga with Adriene - Find What Feels Good | March 12, 11 a.m.–12:30 p.m. at Palmer Events Center
Join Austin native Adriene Mishler for an official SXSW yoga sesh at the Palmer Events Center, 900 Barton Springs Rd., fit for wellness enthusiasts of all ages. Try Mishler's unique style of mindful movements, physical and spiritual connection from a diverse pool of influences. Bring your own mat. This event is free and open to the public.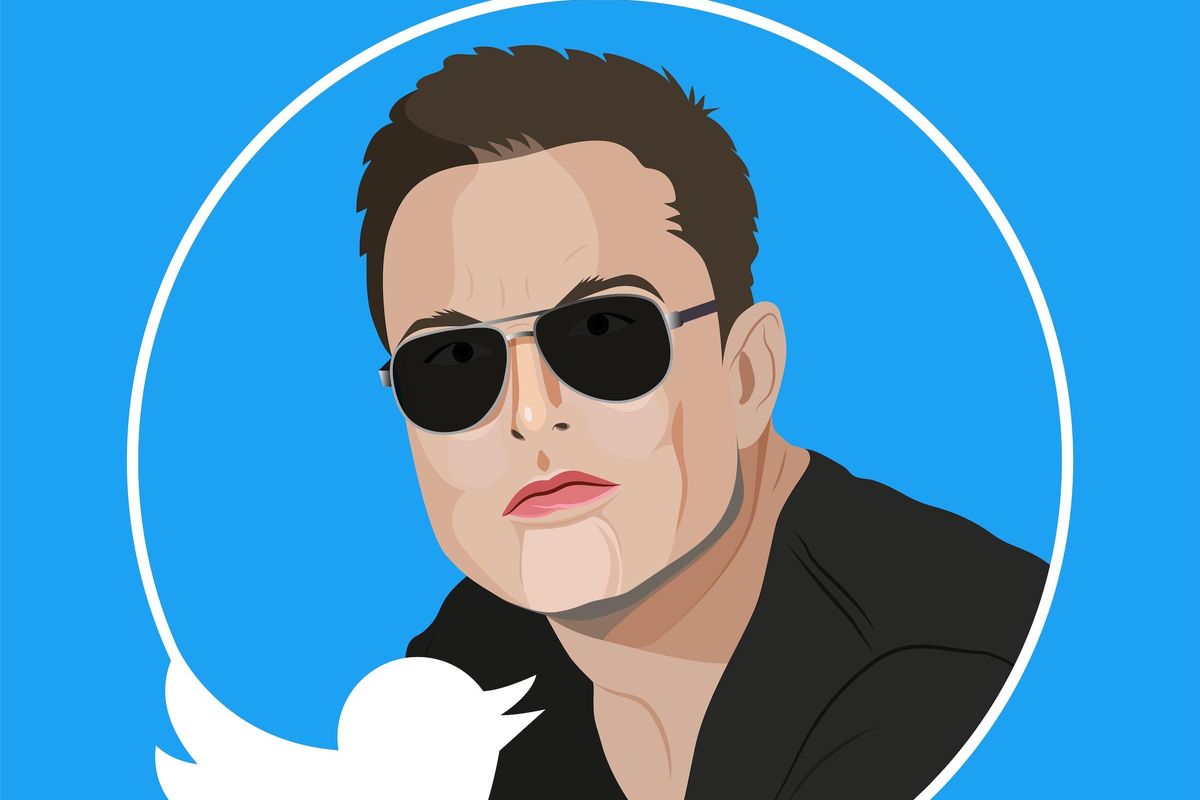 Shutterstock
Elon Musk has proposed once again to buy Twitter for $54.20 a share.
The news that Musk is offering to carry on with the $44 billion buyout was first reported by Bloomberg. Now, a filing with the Securities and Exchange Commission shows Musk made the proposal in a letter to the tech giant on Monday.
The New York Stock Exchange temporarily halted trading in Twitter stock twice Tuesday, first because of a big price move and the second time for a news event, presumably the announcement of Musk's renewed offer.
While the per share offer price on this latest proposal remains the same as the original offer, it's unclear if Musk has made other term changes or if Twitter would reject it. According to other reports, a deal could be reached this week.
The stock closed at $52.00/share Tuesday, indicating market uncertainty around the $54.20 offer.
After Musk informed Twitter of plans to terminate the original agreement in July, Twitter sued. A trial has been expected in Delaware Chancery Court on Oct. 17.
With the proposition of a buyout on the table again, it revives the question of whether Musk might move Twitter from San Francisco to Central Texas.
He's done so with some of his other companies. Tesla's headquarters in southeast Travis County had its grand opening earlier this year and tunneling business The Boring Company moved to Pflugerville. At least two other Musk companies, SpaceX and Neuralink, have a Central Texas presence without being headquartered here.
Technology journalist Nilay Patel this afternoon voiced concerns that owning Twitter and Tesla together could be problematic for Musk, as his Tesla manufacturing facilities in Germany and China are both in countries that have disputes with Twitter over content moderation and censorship.
Telsa shares fell after the Twitter news became public, before rallying to close up, at $249.44.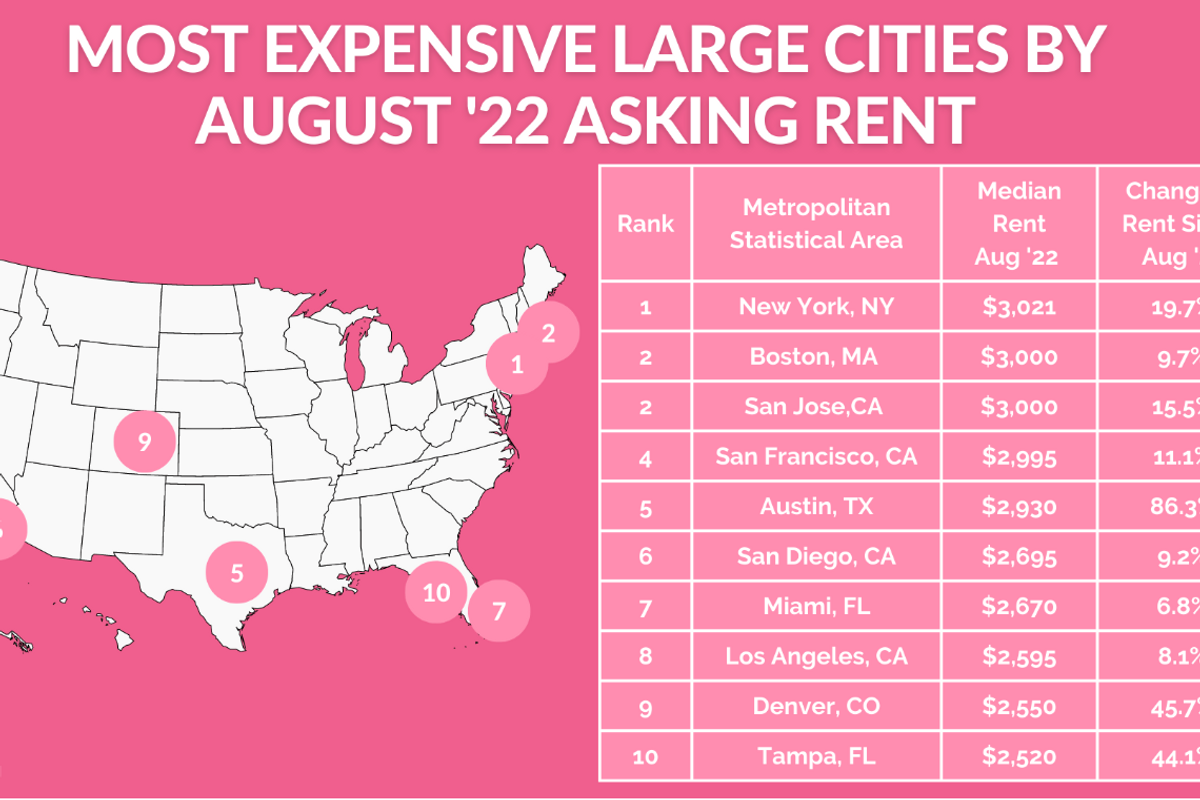 Dwellsy
While searching for a place to live, Austin renters will face monthly rates of nearly $3,000, a recent guide from rental marketplace Dwellsy shows.
The median rent in August this year was $2,930, a more than 86% increase since August 2021. That's $820 more than the nationwide median asking rent in August and puts Austin just below the Bay Area, Boston and New York for large cities with the most expensive asking rent.
"Within this group, Austin, TX stands out for the highest increases in asking rent, which has nearly doubled since this time last year," the study notes.
Outside of those large cities, however, others are seeing even higher rent spikes. Metro areas that ranked above Austin in one-year increases include those like Kansas City, MO with a 112% change in rent since last August and Tucson, AZ with a 124% change.
The data reflects large apartment communities, single-family homes and 2-6 unit buildings.