Austonia AM
100% Austin news, info, and entertainment, straight to your inbox at 6 a.m. every morning.
In five minutes, you're fully informed and ready to start another great day in our city.
Get connected with our daily update
Austin FC may not get to christen their new Q2 Stadium, but a team with an even larger global reach will.
The U.S. Women's National Team is set to kick off play at Q2 Stadium as they face off against Nigeria as part of the Summer Series at 8 p.m. on Wednesday, June 16. The World Cup champions will play three days before Austin FC's historic home debut against the San Jose Earthquakes.
---
In a press conference with Austin media, USWNT forward and record-breaker Megan Rapinoe said the team was excited to play Nigeria, a team they've never faced outside a world championship, and that the team's success reflects a global trend of skyrocketing interest in women's soccer. Nigeria has won 11 Africa Women Cup of Nations titles and advanced to the quarterfinals in both the FIFA Women's World Cup and the Olympics.
"I think it's a big signal to how much the game is continuing to grow from a global perspective," Rapinoe said. "I think having an eye on the growing women's game and getting a team here that we normally don't get to play is really amazing."
Big fans of USWNT can get more than one taste of the championship team: as part of their Summer Series, they'll also play Jamaica and Portugal on June 10 and 13, respectively, at the BBVA Stadium in Houston.
Rapinoe said she knows about the buzz in Austin, and frankly, she said the team has had enough of playing in other Texas cities.
"I think most things about Austin have a nice buzz to it," Rapinoe said. "We do enough of the Houston-Dallas action. The breakfast tacos alone are reason to be excited about heading to Texas, and the being able to break in the new stadium for the national team and Austin."
All three matches may be friendlies, but they serve as the ultimate test: the USWNT's match at Q2 will be their final showdown before Head Coach Vlatko Andonovski announces the Olympic roster, and it'll be their last simulation of a group stage before the real deal kicks off in July.

Rapinoe said the team will look to build chemistry and finetune their gameplay in the Summer Series.
"All of these minutes and seconds that we get together are really vital," Rapinoe said. "These games are huge, to be able to not only get together and continue to grow chemistry as a team and nail some things down, but start to get into the details a little bit more."
A month after making their Q2 Stadium debut, the team will head to Tokyo for the 2021 Olympics. They're set to face off against Sweden on July 21, New Zealand on July 24 and Australia on July 27 as part of Group G in the long-postponed Olympic Games.
Rapinoe and the USWNT have long been advocates for gender equality, racial justice and LGBTQ+ rights. Even with the Olympics looming closer, Rapinoe said activism is "a necessity" on and off the pitch. "It doesn't feel like an option," she said.
Rapinoe hopes that fight comes to Austin. Long after the USWNT leaves the Q2 Stadium pitch, Rapinoe said she hopes Austin FC owner Anthony Precourt follows through with bringing a National Women's Soccer team to Austin as he's teased interest in before.
"I'd ask to see his pitch deck and plans for an NWSL expansion team," Rapinoe said. "I think people ask all the time what they can do to support women's soccer...(and) I think the answers are really obvious. I would say Austin would be an incredible city to have an NWSL team."
Texas voters are split on whether Gov. Greg Abbott should run for a third term and whether Matthew McConaughey should run at all. But Democrats are clear: they want to see Beto O'Rourke on the ballot.
These are the findings of a Quinnipiac University poll of registered voters released this week.
Abbott and McConaughey received the highest favorability ratings of the elected officials, candidates and potential candidates, according to the Quinnipiac poll.
Abbott: 49%
McConaughey: 42%
O'Rourke: 34%
Former Texas GOP Chair Allen West: 25%
Former Texas senator and Republican challenger Don Huffines: 8%
Overall, 48% say Abbott does not deserve to be reelected to a third term compared to 46% who say he does. "A Trump favorite in a state that is turning less red in recent election cycles, Abbott has a decent but in no way overwhelming grasp on reelection," Quinnipiac University Polling Analyst Tim Malloy said in a press release.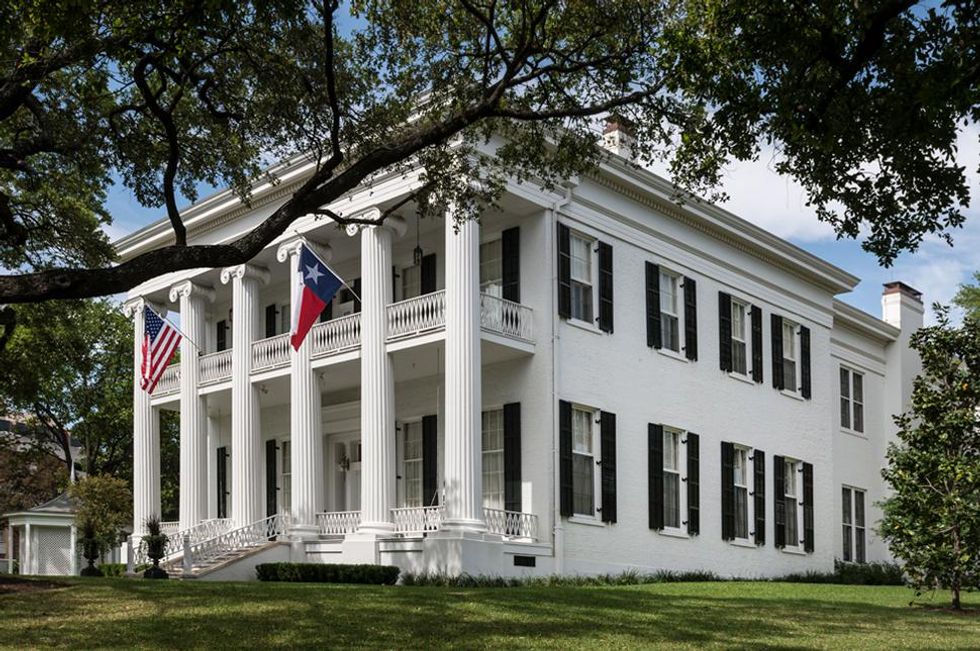 Abbott, McConaughey and Beto O'Rourke could vie for governor in 2022. (Office of the Texas Governor)
Voters are also divided on Matthew McConaughey, who is reportedly considering a gubernatorial run. Forty-one percent of voters say they would like to see him run, compared to 47% who say they wouldn't.

The poll found that Democrats and Independents favor the Oscar-winning Austinite, whose party affiliation is unclear. Forty-seven percent of Democrats would like to see him run, compared to 43% who wouldn't. Forty-four percent of Independents would, compared to 43% who wouldn't. Republicans, on the other hand, say 60%-29% they would not like to see him run.
Another possible candidate is former U.S. Representative and presidential hopeful Beto O'Rourke, who is also reportedly mulling a bid. Overall voters say 52%-41% they would not like to see him run for governor. But 77% of Democrats and 50% of Independents would, according to the poll.
"McConaughey and O'Rourke may still be on the fence, but their numbers suggest they have the attention of voters," Malloy said in the same release.
Austinites will soon be able to train like some of Hollywood's biggest stars as F45, a fitness franchise backed by major celebs, like Mark Wahlberg and David Beckham, is on its way to Austin.
F45 listed Austin as the location of its corporate headquarters in a June 21 federal filing—a big shift for the California company. The fitness franchise is preparing for its initial public offering, which will be as an Austin-based company.
F45 will be one of many California companies—Tesla, Oracle and Samsung—that have recently expanded in the Capital City. The company has several famous investors on its side—famed basketball player Earvin "Magic" Johnson and golfer Greg Norman in addition to Wahlberg and Beckham.
The fitness company is opening a 44,000-square-foot headquarters, located at Penn Field on 801 Barton Springs Road, with a lease running through 2029. F45 was one of the early adopters of Austin-based real estate-technology platform AnthemIQ, helping tenants find commercial real estate.
F45 focuses on one-on-one 45-minute workouts, which patrons watch on in-studio displays. With 2,247 franchise agreements spanning across 63 countries, F45 also has offices in Australia and England.
"We believe this flexibility will enable us to capitalize on our estimated long-term global opportunity of over 23,000 studios," the company said in its filing.
The greater Austin area already has 11 F45 locations, which take up 1,600 square feet of space each.
From Your Site Articles
Related Articles Around the Web
Texas Legislature staff members have taken to social media to raise awareness—and also just air their misfortunes—following the summer special session announcement and their own defunding.
In a game-seven-type move by Texas Democrats, the 87th Texas Legislative session was capped off by a last-minute walkout to avoid a final vote on a bill that would add restrictions to voting.
Needless to say, Gov. Greg Abbott—who cheerleaded the bill throughout the legislative session—was not thrilled.
Not up to date on your Texas Lege drama? Abbott was pointing to when former Texas State Senator Wendy Davis staged a dramatic hours-long filibuster over a 2013 abortion bill, which the public gallery aided. The "story" Abbott is referring to ended with him and other prominent conservatives sweeping the 2014 statewide election and the bill passing in a special session.
According to Abbott, the regular session centered around supporting "hardworking Texans and building a state that is safer, freer, healthier, and more prosperous."
However, the two items deemed at the top of Abbott's wish list for this session—election integrity and bail reform—did not reach his desk at the end of the session, both championed by Abbott to be "must-pass emergency items."
"It is deeply disappointing and concerning for Texans that neither reached my desk," Abbott said in a statement. "Ensuring the integrity of our elections and reforming a broken bail system remain emergencies in Texas, which is why these items, along with other priority items, will be added to the special session agenda."
Abbott said he expected lawmakers to work out their differences prior to the special session and continue to pass other emergency items and priority legislation.
So, everything is cool, right? No worries?
Wrong.
Hours before the no vote, as the clock ran out on the bill that he championed, Abbott tweeted that he would veto funding for the entire state legislative branch. The decision would impact not only Texas lawmakers but their staff and aides. "No pay for those who abandon their responsibilities," Abbott tweeted May 31.
With pay, health insurance and other support for staffers on the line, the threats became a reality on June 18 with an official veto of the funds from Abbott.
The veto effectively nixes all funding for the legislative branch.
"Texans don't run from a legislative fight and we don't walk away from an unfinished business," Abbott wrote in the veto. "Funding should not be provided for those who quit their job early, leaving their state with unfinished business and exposing taxpayers to higher costs for an additional legislative session."
However, questions have been brought up over the constitutionality of the veto itself. Section 24 of the Texas Constitution makes not paying members of the legislature illegal.
The special session is set to begin July 8. So, what does this mean for lawmakers, staffers and aides?
No pay, no insurance... and Twitter followers?
The staffers took their final stand on Twitter where they aired their grievances with the situation and asked for followers to increase their footprint.
Meet Jen Ramos, a staff member for Texas State Senator Judith Zaffarini—and also defunded by Abbott.
And she's not alone. Use the hashtag #txlege and you'll find other similar messages online, like Camille's and Hector's and more.
It's unclear whether Abbott and other prominent Republican lawmakers will come together with Democrats to overturn the veto and continue providing insurance and regular pay for lawmakers, staffers and aides.