Get connected with our daily update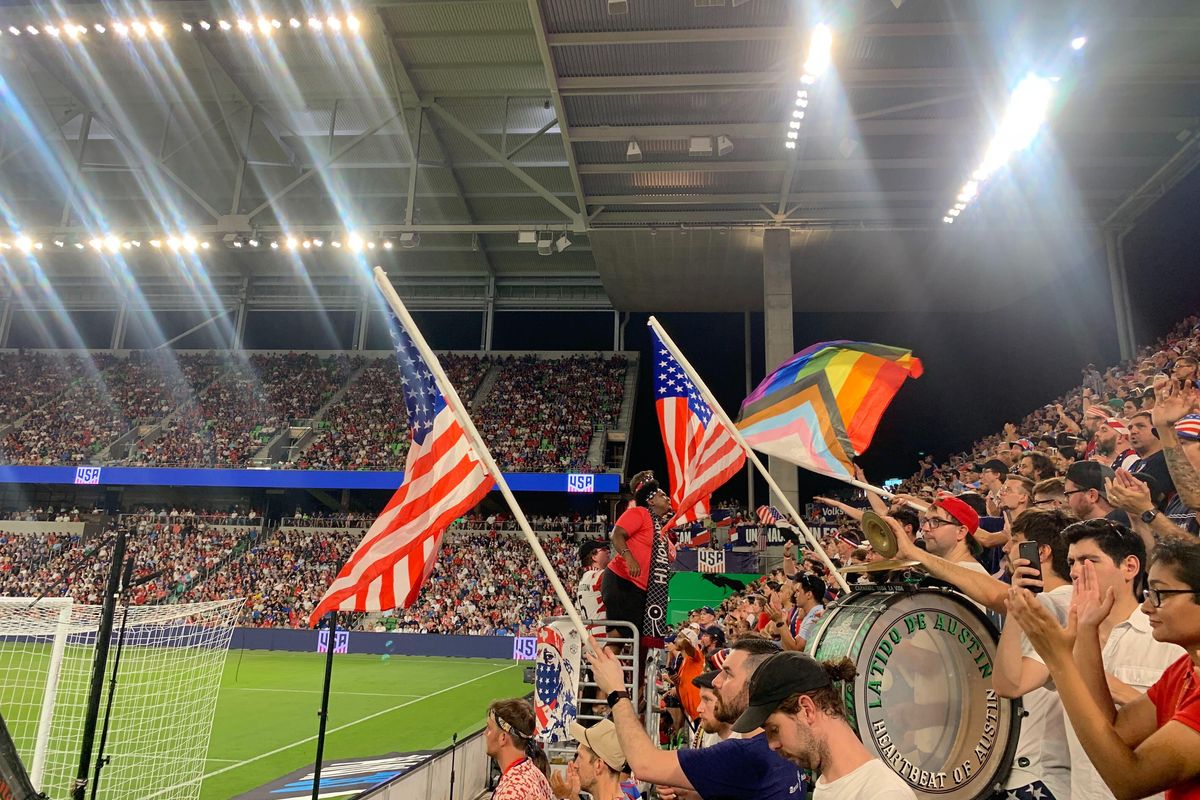 Three days before Austin FC's first match, Q2 Stadium swapped its Verde for red, white and blue as over 20,000 fans cheered on the U.S. women's national team to a 2-0 victory on Wednesday.
The well-revered world champions were met with fans from near and far; Austin FC gear mixed with Team USA in the supporters' section as the United States flag flew overhead alongside Pride flags.
---
The match began with a bang as Austin FC supporters unveiled a gigantic "tifo," or banner, displaying No. 19 Crystal Dunn with the slogan "Christened by Queens."

USWNT players were the first to ever hit the Q2 Stadium pitch on Wednesday, and they more than lived up to expectations. The aptly-named Christen Press "christened" the field with the stadium's first-ever goal as she curved a shot into the bottom right corner at the end of the first half.
She was assisted by Carli Lloyd, who left the field to a roar of applause as she was subbed out in the beginning of the second half; Lloyd had just reached the ranks of only three other international players as she made her 300th international appearance at Q2 Stadium.

Nigeria fought back, but the USWNT ultimately shut down their window of opportunity as Lynn Williams pushed past the goalie to end the match 2-0.
With each save, shot and score, Austin's first professional soccer stadium filled with a collective roar. While every corner of the stadium joined in to chant a deafening "U-S-A" cry, the root of each chant could be traced back to the supporters' section, where La Murga de Austin used their signature bass drums to rile up the crowd. Led by Los Verdes' Imani Williams, who started chants from an elevated conductor's stand, hundreds of supporters combined Austin FC and USWNT traditions to cry out "Dale, Dale, Dale USA" in the brand-new stadium.
For Austinites who have been following Austin FC since its founding in 2017, watching Q2 Stadium fill up for USWNT is better than they could've even hoped.
Vanessa Santo-Avitia is a longtime soccer fan—her family follows Chivas in Mexico—while her wife, Sandra, is a born and raised Austinite. Because Vanessa works across the street at the Domain, they've watched as Q2 Stadium was built from the ground up. Vanessa said she's happy to support any team in Austin, especially one that unites the city like both the USWNT and Austin FC seem to do.
"This is like a one-time chance we're going to get to see this roster of amazing women get out there and play," Vanessa Santo-Avitia said. We're just so fortunate that there's a new stadium in our city."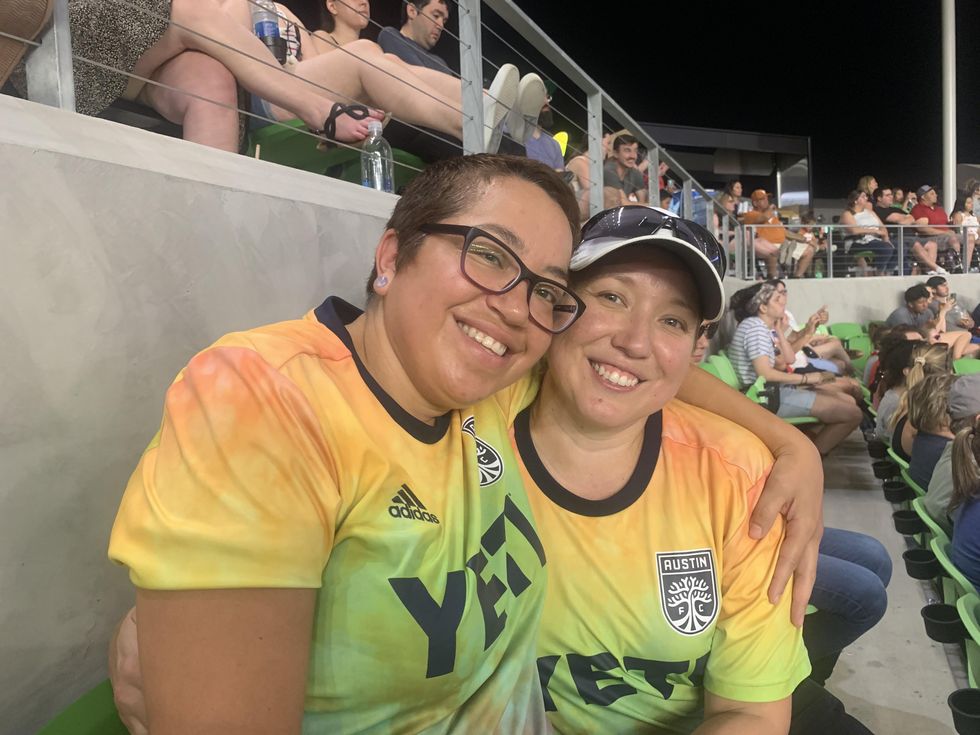 Vanessa and Sandra Santo-Avitia are longtime Austinites and soccer fans eager to watch the sport take off in their city. (Claire Partain/Austonia)
For Frank and Johnny Espinoza, Austin FC's first home game on June 19 is almost as important as their friend's wedding. "We've been going back and forth on it," Espinoza joked.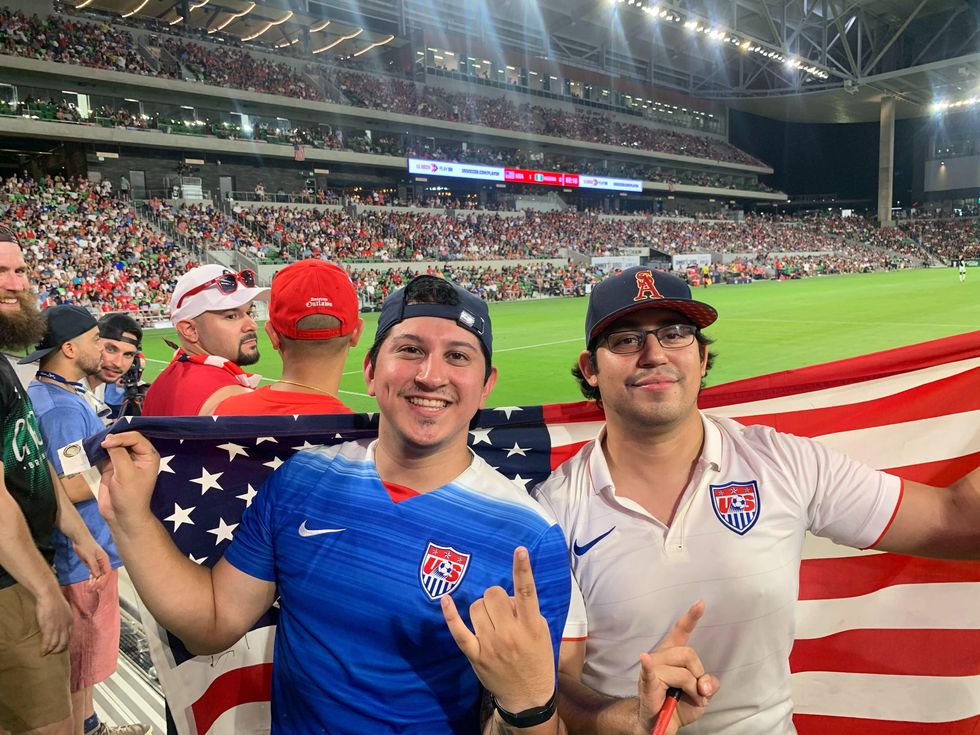 Frank and Johnny Espinoza joined in the festivities at the front of the supporters' section at Q2 Stadium. (Claire Partain/Austonia)
The two brothers, both living in San Antonio, were the life of the party down at the first row of the supporter's section. Johnny, who had just downed an entire beer from a shoe to collective "oohs" and "ahhs" from the crowd, held a U.S. flag in one hand and a Sharpie in the other as he claimed he was looking to get an autograph that night.
Five minutes later, as the USWNT scored their final goal, Espinoza, unfortunately, stayed true to his word and stormed the field, flag in hand. He was immediately tackled and escorted off the field. He never got that autograph.
While some fans may have gotten carried away in their excitement, both supporters and players were all in on the stadium's collective frenzy. The USWNT may be setting their sights on the upcoming 2021 Olympic Games, but USWNT player Becky Sauerbrunn said the team still recognized the importance of the moment as they made history at Q2 Stadium.
"It was electric," Sauerbrunn said. "It's been a long time since I haven't been able to hear the people that are yelling five yards away... we'd love to come back here anytime."
That's a wrap on our first match at Q2 Stadium. See y'all next time. 👋 @USWNT https://t.co/UKKKmFNqa7

— Q2 Stadium (@Q2 Stadium) 1623902865.0
Eventually, the frenzy was over as thousands of fans filed out of Q2 Stadium for the first time. The lights were dimmed and USWNT players left with promises to revisit.

Austin FC may be playing their own first match at the stadium in three days, but the USWNT is forever in Q2's history books as they proudly brought the stadium's fans to their feet.
Until next time, Team USA!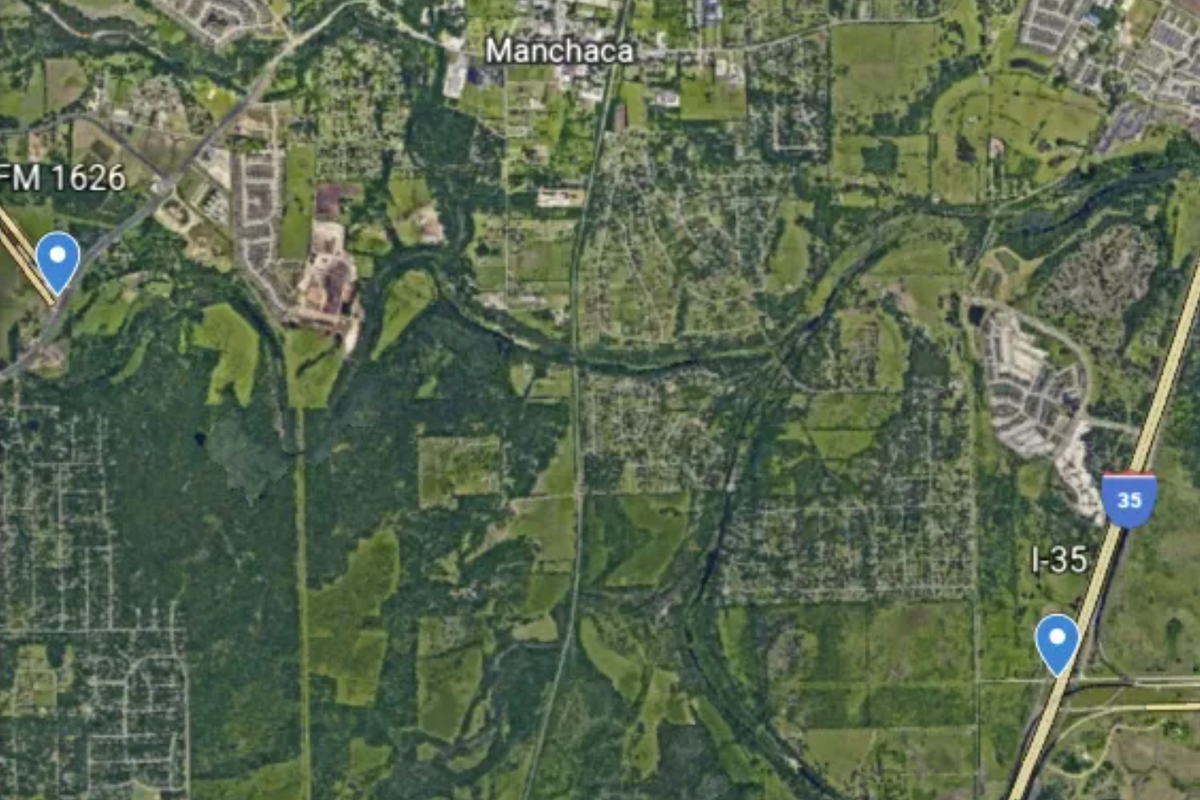 The final link on the SH 45 Loop chain is approaching a roadblock.
Travis County Commissioners have asked Hays County Commissioners to halt the State Highway 45 expansion project, which would create a 3.5-mile stretch connecting I-35 to FM 1626, feeding South Mopac.
Travis County Commissioners said they haven't been part of the discussion, citing the impact that the "missing link" would have on the area's traffic and growth.
"Making the connection from I-35 to FM 1626 would effectively make Mopac an I-35 bypass, dramatically increasing vehicular and truck traffic," the letter read. "The traffic impacts of this decision by Hays County would have a profound and detrimental effect almost entirely on Austin and Travis County."
Commissioners also cited environmental concerns. With traffic increasing on Balcones Canyonlands Preserve lands, City of Austin Water Quality Protection lands, the Edwards Aquifer and endangered species habitat, Travis County said the area's water quality and environment are at greater risk.
Hays County's Position
But Hays County has a different perspective. Around 40% of the county's residents work in Austin, while around 20% of Texas State University's commuters come from Austin. To access Mopac, many of those metro residents rely on FM 1626—a two-lane rural roadway—to go to school or work, causing congestion in the South Austin neighborhood of Shady Hollow.
"What it will do is relieve the pressure on 1626, and some of these in some of the eastern parts of the county that will have that connection between 1626 and 35," Hays County Commissioner Mark Jones told KXAN.
Travis County expressed concerns that the area would experience rapid growth if the 3.5-mile stretch is built. Citing Hays County's 60% growth from 2000 to 2010 and a Texas Transportation Institute study, the county said growth has already occurred. Now, they say it's time to play catch-up.
"SH 45 can be built with access restrictions that limit sprawl along the roadway. It can be built with all of the environmental protections our ingenuity can contrive. It can be built with all the associated green space, landscaping, and neighborhood protections we desire. But it must be built," Hays County's website said.
Hays County Judge Ruben Becerra said he hopes to discuss the move between the courts and hear from the community. Becerra also said the Travis County letter will be discussed at the next Hays County Commissioners' Court meeting.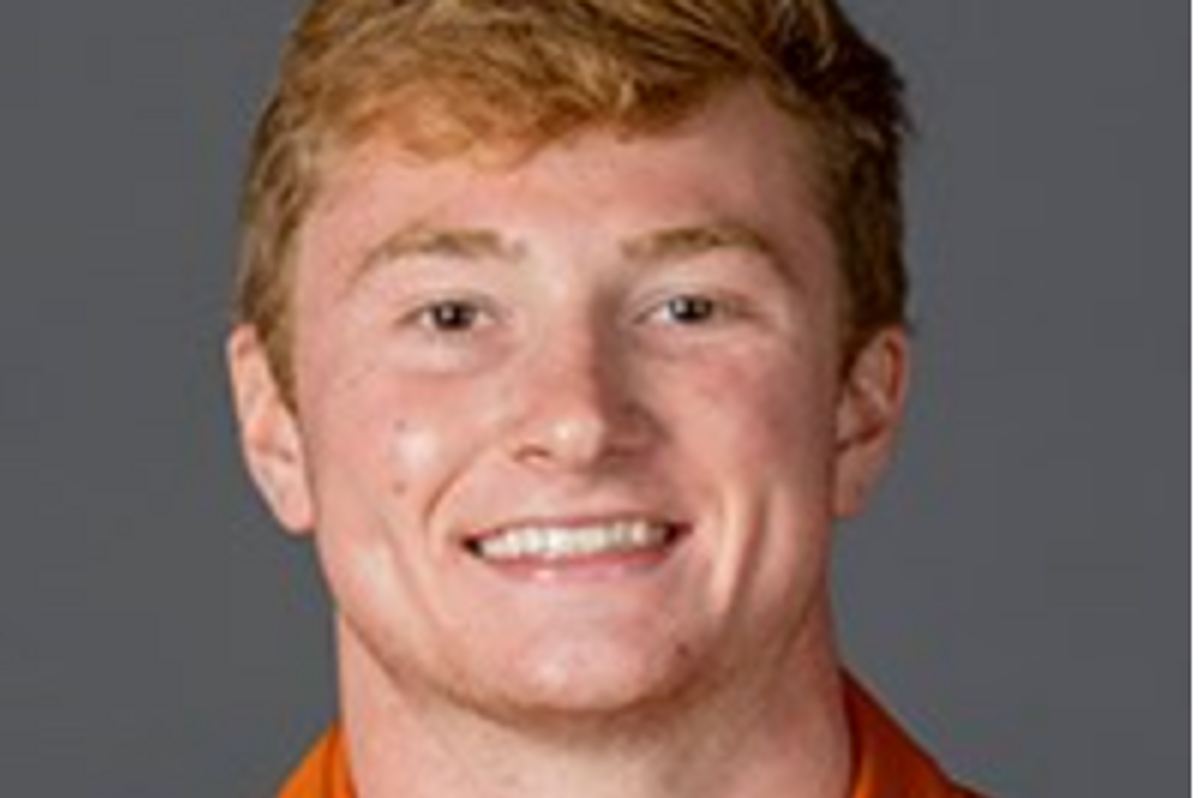 texassports.com
Texas is going deeper into the QB depth chart after Saturday's tough home loss to Alabama left Quinn Ewers with a shoulder sprain and his backup Hudson Card with a right ankle sprain. Ewers is said to be week-to-week and Card day-to-day.
Next up, at third string, is Austin's Charles Wright. Wright ran the first team offense in practice early this week, according to Justin Wells of Inside Texas. Coach Steve Sarkisian wouldn't comment on that, but said that Wright was "next man up" during the Alabama game, when it wasn't clear Card could continue.
Wright was recruited by former coach Tom Herman, who said he expected him to be a starter someday. Wright decommitted from Iowa State to join the Longhorns.
He's played in two games, Texas Tech last year and Louisiana-Monroe in the opening game of this season. Wright has not yet thrown a pass in a game.
Who's behind Wright? That would be freshman QB Cole Lourd, and another Austinite, former Hyde Park QB Ben Ballard.