Get connected with our daily update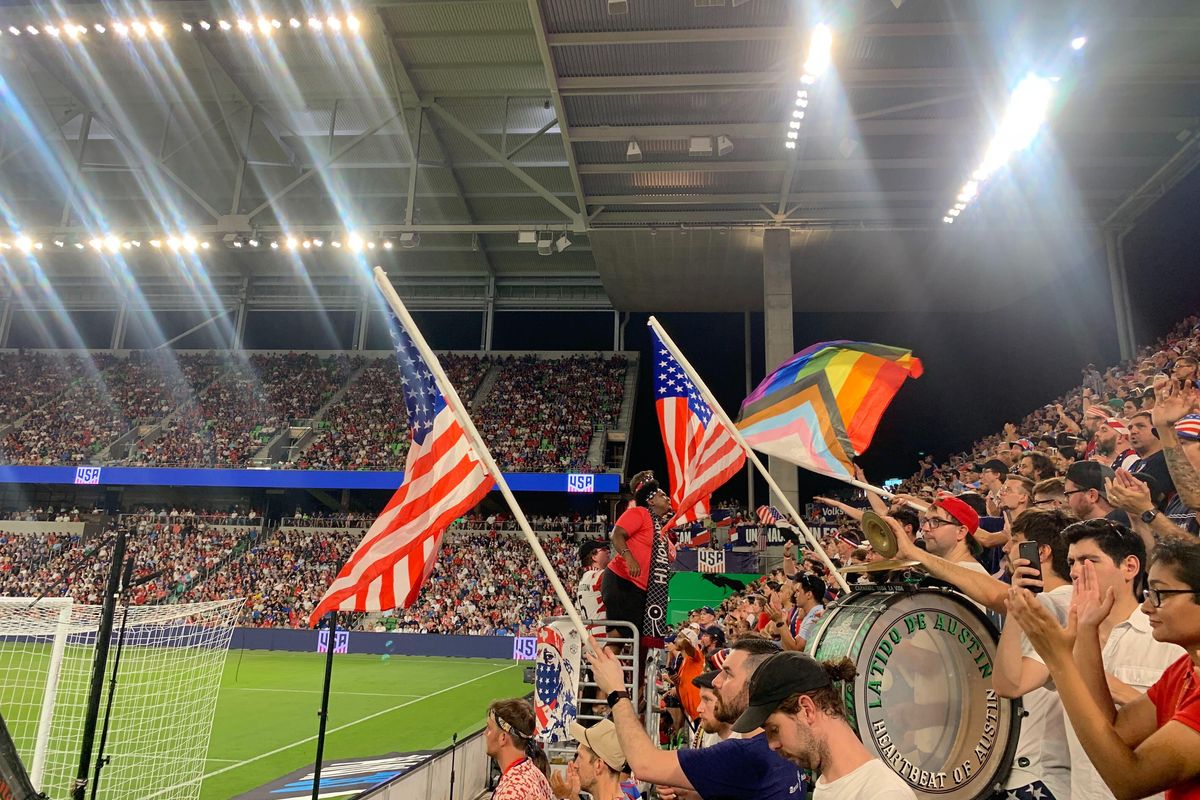 Three days before Austin FC's first match, Q2 Stadium swapped its Verde for red, white and blue as over 20,000 fans cheered on the U.S. women's national team to a 2-0 victory on Wednesday.
The well-revered world champions were met with fans from near and far; Austin FC gear mixed with Team USA in the supporters' section as the United States flag flew overhead alongside Pride flags.
---
The match began with a bang as Austin FC supporters unveiled a gigantic "tifo," or banner, displaying No. 19 Crystal Dunn with the slogan "Christened by Queens."

USWNT players were the first to ever hit the Q2 Stadium pitch on Wednesday, and they more than lived up to expectations. The aptly-named Christen Press "christened" the field with the stadium's first-ever goal as she curved a shot into the bottom right corner at the end of the first half.
She was assisted by Carli Lloyd, who left the field to a roar of applause as she was subbed out in the beginning of the second half; Lloyd had just reached the ranks of only three other international players as she made her 300th international appearance at Q2 Stadium.

Nigeria fought back, but the USWNT ultimately shut down their window of opportunity as Lynn Williams pushed past the goalie to end the match 2-0.
With each save, shot and score, Austin's first professional soccer stadium filled with a collective roar. While every corner of the stadium joined in to chant a deafening "U-S-A" cry, the root of each chant could be traced back to the supporters' section, where La Murga de Austin used their signature bass drums to rile up the crowd. Led by Los Verdes' Imani Williams, who started chants from an elevated conductor's stand, hundreds of supporters combined Austin FC and USWNT traditions to cry out "Dale, Dale, Dale USA" in the brand-new stadium.
For Austinites who have been following Austin FC since its founding in 2017, watching Q2 Stadium fill up for USWNT is better than they could've even hoped.
Vanessa Santo-Avitia is a longtime soccer fan—her family follows Chivas in Mexico—while her wife, Sandra, is a born and raised Austinite. Because Vanessa works across the street at the Domain, they've watched as Q2 Stadium was built from the ground up. Vanessa said she's happy to support any team in Austin, especially one that unites the city like both the USWNT and Austin FC seem to do.
"This is like a one-time chance we're going to get to see this roster of amazing women get out there and play," Vanessa Santo-Avitia said. We're just so fortunate that there's a new stadium in our city."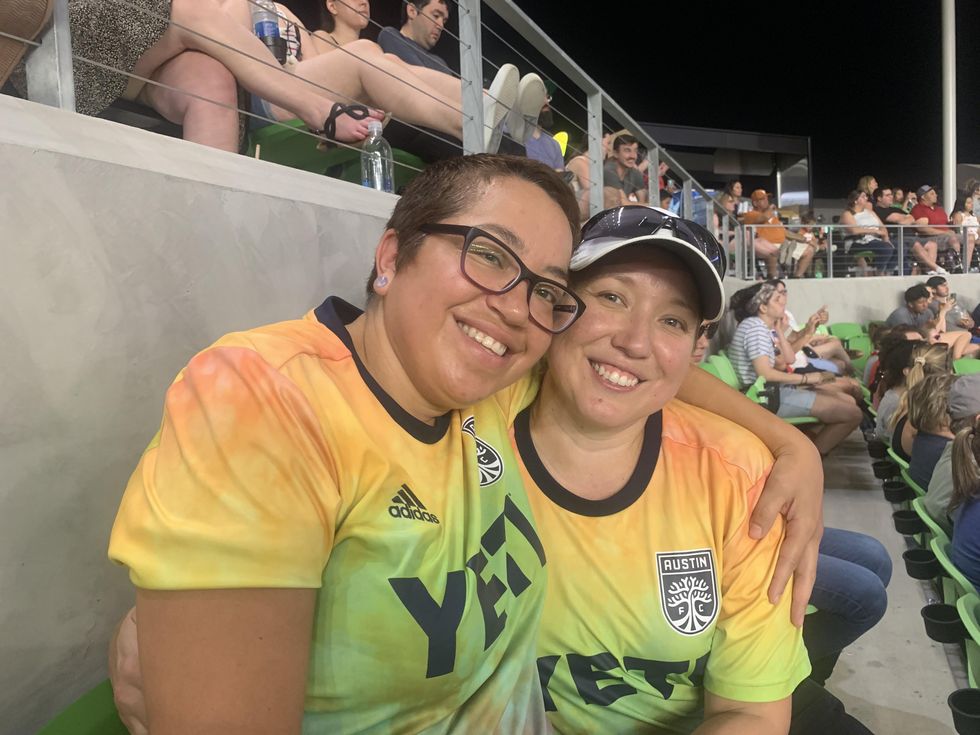 Vanessa and Sandra Santo-Avitia are longtime Austinites and soccer fans eager to watch the sport take off in their city. (Claire Partain/Austonia)
For Frank and Johnny Espinoza, Austin FC's first home game on June 19 is almost as important as their friend's wedding. "We've been going back and forth on it," Espinoza joked.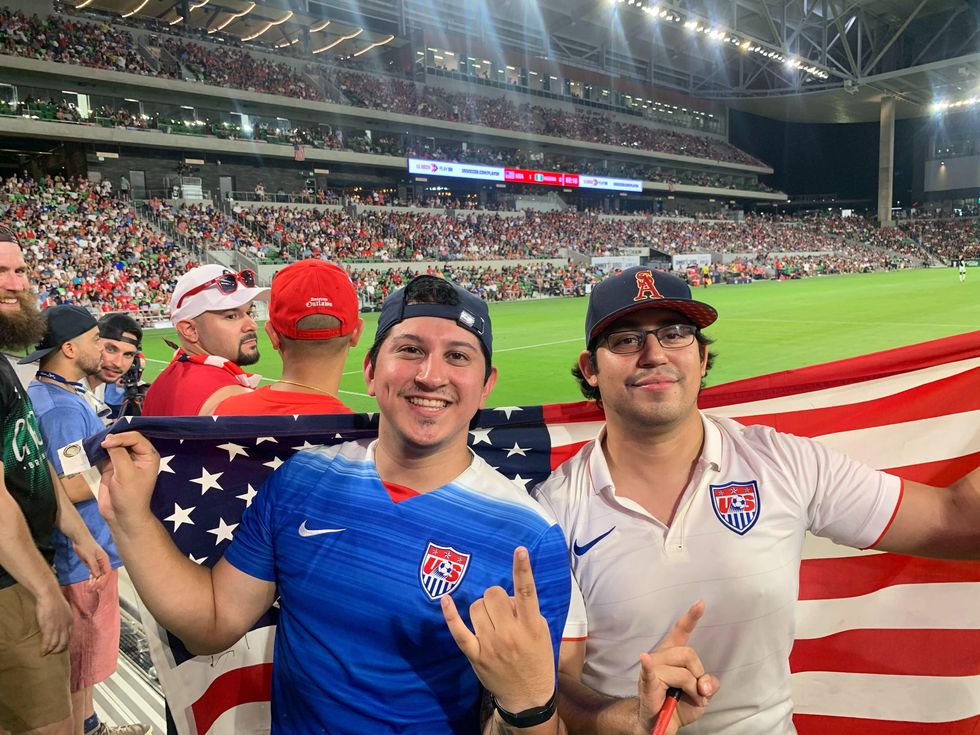 Frank and Johnny Espinoza joined in the festivities at the front of the supporters' section at Q2 Stadium. (Claire Partain/Austonia)
The two brothers, both living in San Antonio, were the life of the party down at the first row of the supporter's section. Johnny, who had just downed an entire beer from a shoe to collective "oohs" and "ahhs" from the crowd, held a U.S. flag in one hand and a Sharpie in the other as he claimed he was looking to get an autograph that night.
Five minutes later, as the USWNT scored their final goal, Espinoza, unfortunately, stayed true to his word and stormed the field, flag in hand. He was immediately tackled and escorted off the field. He never got that autograph.
While some fans may have gotten carried away in their excitement, both supporters and players were all in on the stadium's collective frenzy. The USWNT may be setting their sights on the upcoming 2021 Olympic Games, but USWNT player Becky Sauerbrunn said the team still recognized the importance of the moment as they made history at Q2 Stadium.
"It was electric," Sauerbrunn said. "It's been a long time since I haven't been able to hear the people that are yelling five yards away... we'd love to come back here anytime."
That's a wrap on our first match at Q2 Stadium. See y'all next time. 👋 @USWNT https://t.co/UKKKmFNqa7

— Q2 Stadium (@Q2 Stadium) 1623902865.0
Eventually, the frenzy was over as thousands of fans filed out of Q2 Stadium for the first time. The lights were dimmed and USWNT players left with promises to revisit.

Austin FC may be playing their own first match at the stadium in three days, but the USWNT is forever in Q2's history books as they proudly brought the stadium's fans to their feet.
Until next time, Team USA!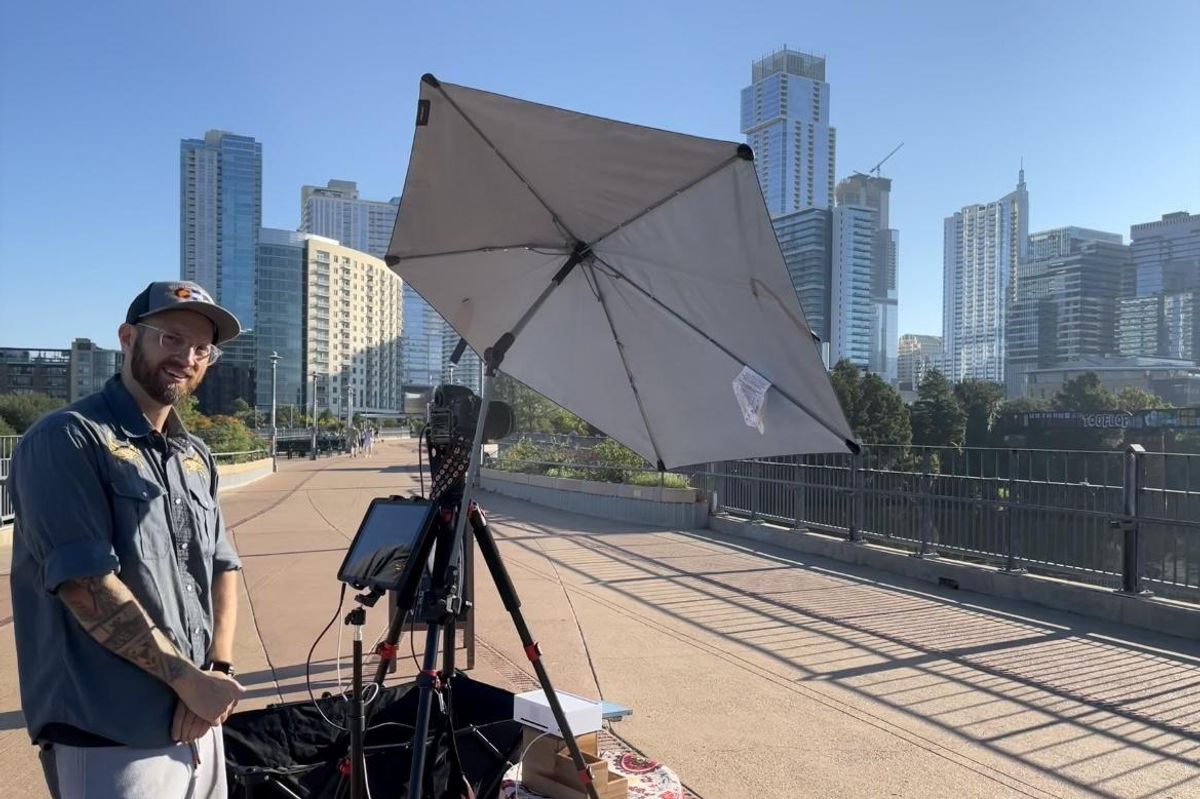 Nicklaus Pereksta says he loves photographing enthusiastic people, and it's why his latest gig offering pictures to people out on Lady Bird Lake's hike and bike trail is going smoothly. He sets up his gear on the Pfluger pedestrian bridge and puts out a sign: Photos, $10.
"Overwhelmingly, this has been a really positive experience," Pereksta said. "I get excited when I wake up in the morning and I can't wait to go to work."
Bikers and joggers are excited about it too. On the pedestrian bridge leading to downtown Thursday morning, a man on an e-bike rode up and posed, wanting more photos.
"I posted the last pictures on Instagram and people loved it. They asked, 'where is this guy?'" the biker told Pereksta. Bashfully, Pereksta, who also photographs landscapes and at weddings and other events, said he was happy to hear that.
Pereksta started these photos about a month ago, after the strenuous runs required in his valet job started causing pain in his legs. And though he has a passion for photography, he wasn't so sure when he started working independently if it would work out.
He felt uncertain about the demand for it and was also worried about having lots of expensive equipment out in the open.
"Then like the first day was nothing but high praise and people are like, this is so awesome. This is great. I've never seen anything like this before. I was like, Wow, this was really good, like positive turnout. So I got encouraged."
Now, he wants to expand and is thinking of contacting the Mueller Farmers Market about how to become a vendor. Still, he'll carry a connection to photographing on the bridge since the word bridge is related to his last name.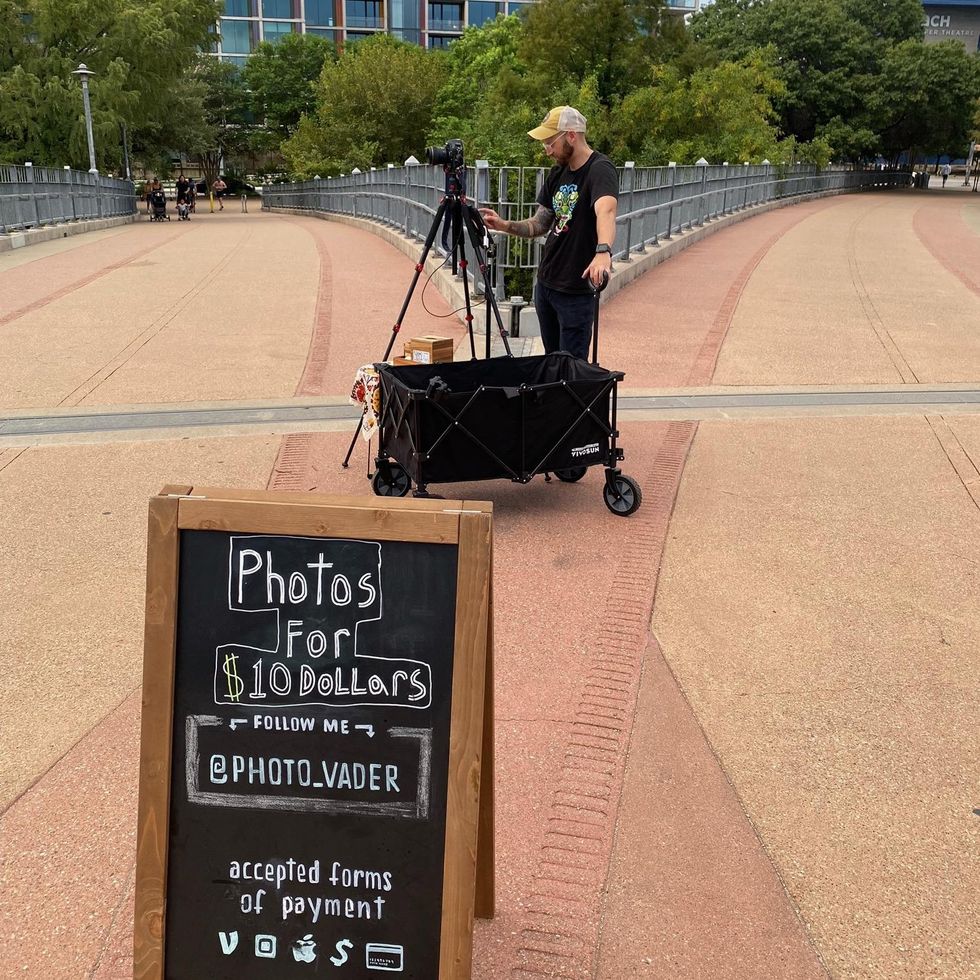 (Dewey C.)
"It's a name my great, great, great grandfather came up with when he was marrying somebody. It's actually quite a romantic name. It means a joining of two bridges," Pereksta said. "So, I thought it was ironic that I'm set up on a bridge. I'm kind of representing my last name right now."
Austonia talked to Pereksta about life in Austin, where he's lived for eight years after living in Boston doing band photography.
What was your first experience with Austin?
I came here to visit some friends and they took me to Barbarella. So we went to Barbarella and I was like, 'wow, this place is great.' And then the restaurants and the food and going to Barton Springs. I was like, 'this is amazing.' Because there's nothing like that in Boston. If you want to go to a natural spring, you got to go to New Hampshire. There's no pools in the city at all. So there's lots of swimming out here.
What do you like best about Austin?
You go to any little quiet bar and there's a band playing that should be like onstage for a sold out show. Yeah, they're playing to 10 people, right? Like, one of the best bands ever and they're playing for 10 people, right? And just little magic moments like that are pretty fun. You just run into little random weird things.
What do you think makes Austin different from other places?
There's no fall.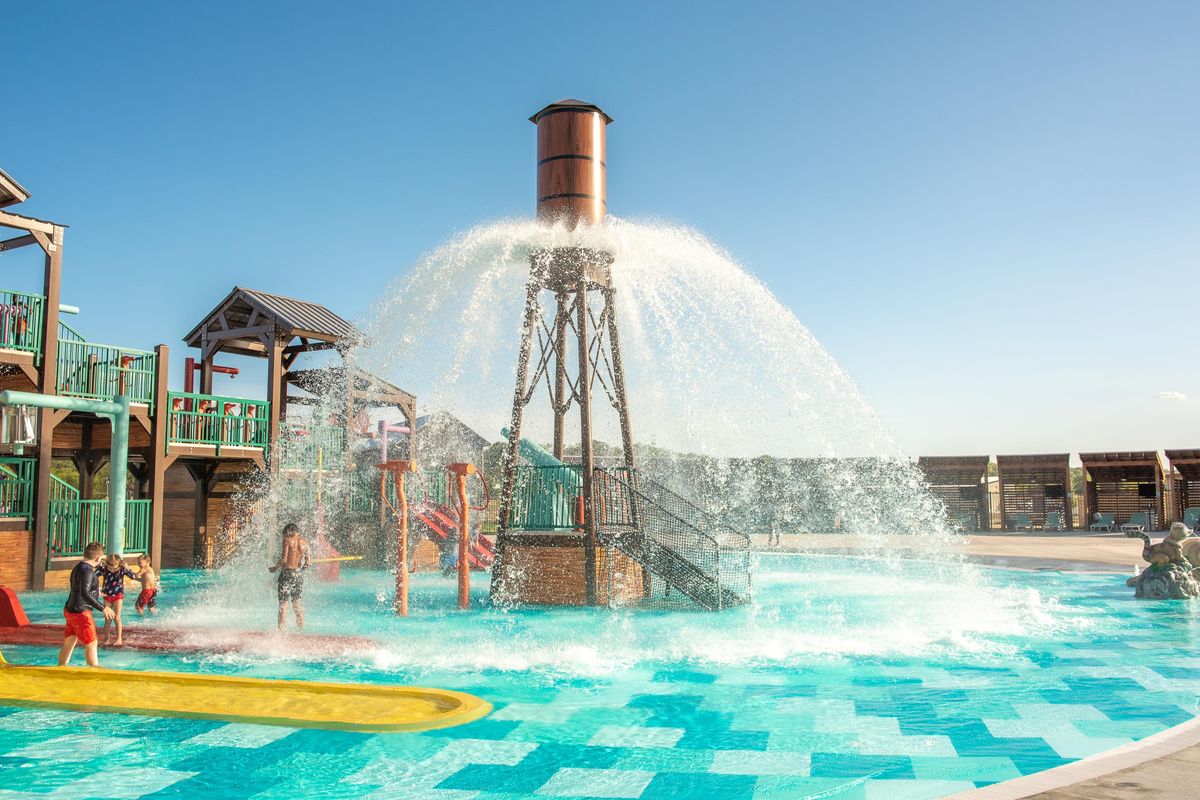 Camp Fimfo Waco
Camp Fimfo Waco, a brand new camping resort, is kicking off football and fall camping season in style! With top-notch amenities, premium accommodations, and 10 weekends of fall fun, there's no better place to have a fall camping getaway, especially if you're a Baylor football fan!
Fall promises to be a one-of-a-kind camping experience. From Sept. 16 to Nov. 24, weekends will be packed with fall-themed activities, including special Halloween weekends in October. Campers can enjoy activities like fall crafts, campground trick-or-treating, costume contests, site decorating, outdoor movie nights, and more!