Get connected with our daily update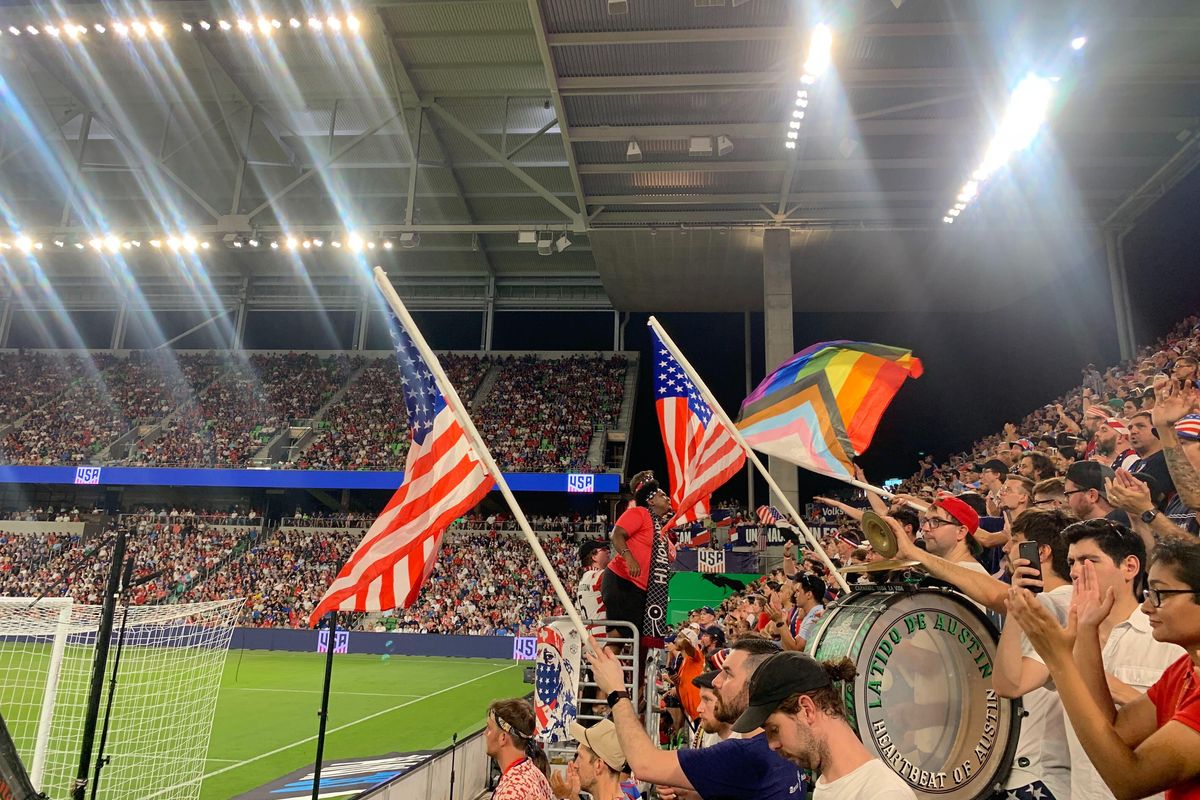 Three days before Austin FC's first match, Q2 Stadium swapped its Verde for red, white and blue as over 20,000 fans cheered on the U.S. women's national team to a 2-0 victory on Wednesday.
The well-revered world champions were met with fans from near and far; Austin FC gear mixed with Team USA in the supporters' section as the United States flag flew overhead alongside Pride flags.
---
The match began with a bang as Austin FC supporters unveiled a gigantic "tifo," or banner, displaying No. 19 Crystal Dunn with the slogan "Christened by Queens."

USWNT players were the first to ever hit the Q2 Stadium pitch on Wednesday, and they more than lived up to expectations. The aptly-named Christen Press "christened" the field with the stadium's first-ever goal as she curved a shot into the bottom right corner at the end of the first half.
She was assisted by Carli Lloyd, who left the field to a roar of applause as she was subbed out in the beginning of the second half; Lloyd had just reached the ranks of only three other international players as she made her 300th international appearance at Q2 Stadium.

Nigeria fought back, but the USWNT ultimately shut down their window of opportunity as Lynn Williams pushed past the goalie to end the match 2-0.
With each save, shot and score, Austin's first professional soccer stadium filled with a collective roar. While every corner of the stadium joined in to chant a deafening "U-S-A" cry, the root of each chant could be traced back to the supporters' section, where La Murga de Austin used their signature bass drums to rile up the crowd. Led by Los Verdes' Imani Williams, who started chants from an elevated conductor's stand, hundreds of supporters combined Austin FC and USWNT traditions to cry out "Dale, Dale, Dale USA" in the brand-new stadium.
For Austinites who have been following Austin FC since its founding in 2017, watching Q2 Stadium fill up for USWNT is better than they could've even hoped.
Vanessa Santo-Avitia is a longtime soccer fan—her family follows Chivas in Mexico—while her wife, Sandra, is a born and raised Austinite. Because Vanessa works across the street at the Domain, they've watched as Q2 Stadium was built from the ground up. Vanessa said she's happy to support any team in Austin, especially one that unites the city like both the USWNT and Austin FC seem to do.
"This is like a one-time chance we're going to get to see this roster of amazing women get out there and play," Vanessa Santo-Avitia said. We're just so fortunate that there's a new stadium in our city."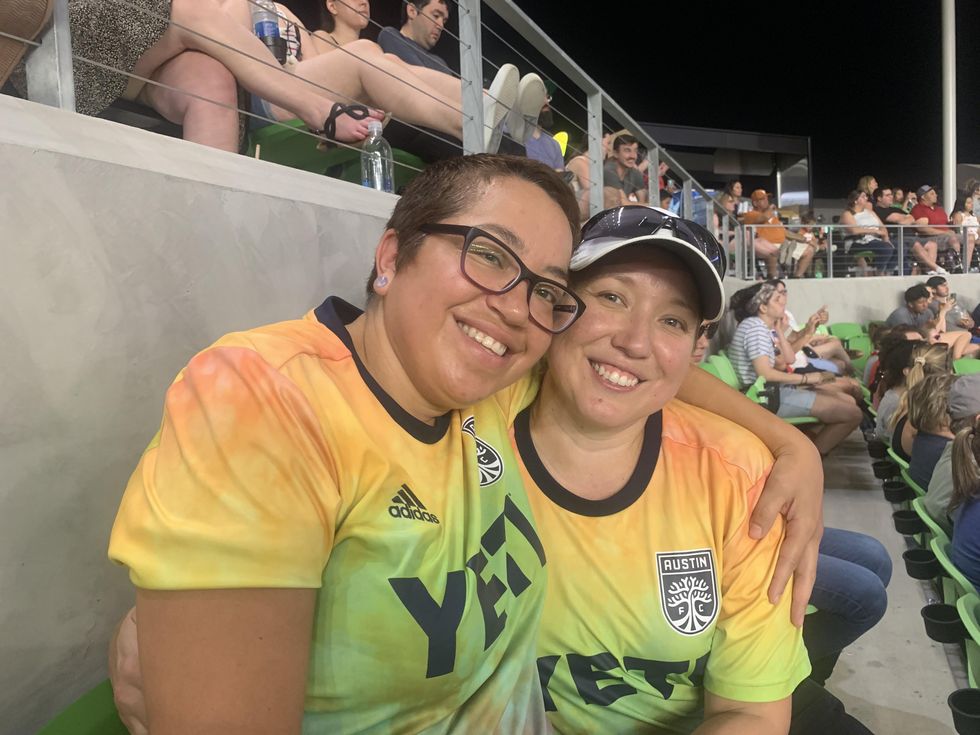 Vanessa and Sandra Santo-Avitia are longtime Austinites and soccer fans eager to watch the sport take off in their city. (Claire Partain/Austonia)
For Frank and Johnny Espinoza, Austin FC's first home game on June 19 is almost as important as their friend's wedding. "We've been going back and forth on it," Espinoza joked.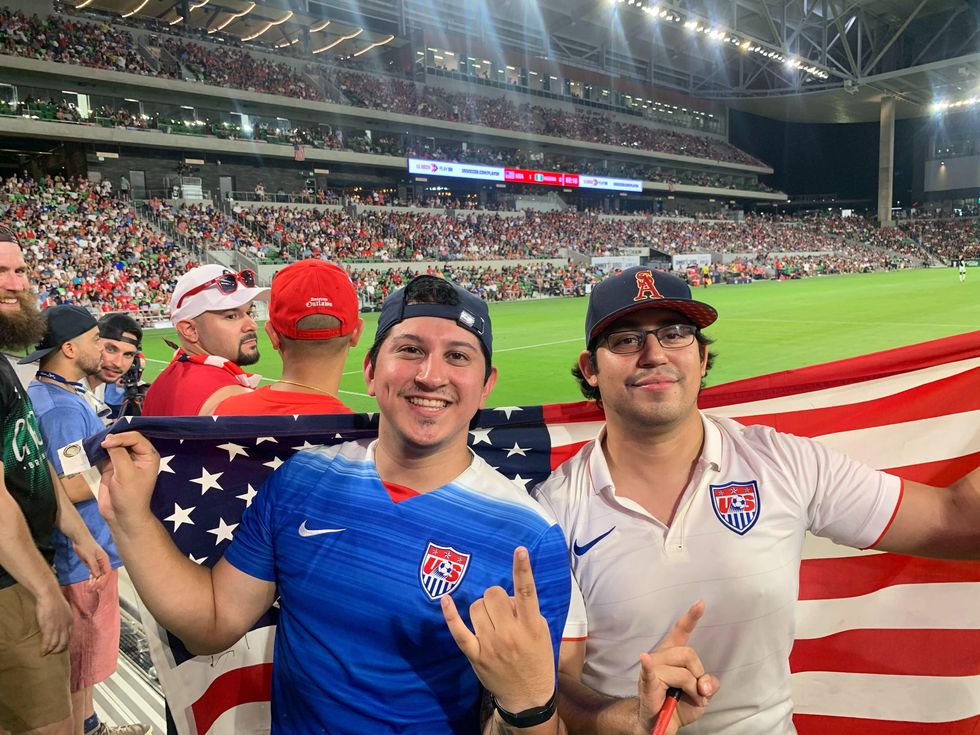 Frank and Johnny Espinoza joined in the festivities at the front of the supporters' section at Q2 Stadium. (Claire Partain/Austonia)
The two brothers, both living in San Antonio, were the life of the party down at the first row of the supporter's section. Johnny, who had just downed an entire beer from a shoe to collective "oohs" and "ahhs" from the crowd, held a U.S. flag in one hand and a Sharpie in the other as he claimed he was looking to get an autograph that night.
Five minutes later, as the USWNT scored their final goal, Espinoza, unfortunately, stayed true to his word and stormed the field, flag in hand. He was immediately tackled and escorted off the field. He never got that autograph.
While some fans may have gotten carried away in their excitement, both supporters and players were all in on the stadium's collective frenzy. The USWNT may be setting their sights on the upcoming 2021 Olympic Games, but USWNT player Becky Sauerbrunn said the team still recognized the importance of the moment as they made history at Q2 Stadium.
"It was electric," Sauerbrunn said. "It's been a long time since I haven't been able to hear the people that are yelling five yards away... we'd love to come back here anytime."
That's a wrap on our first match at Q2 Stadium. See y'all next time. 👋 @USWNT https://t.co/UKKKmFNqa7

— Q2 Stadium (@Q2 Stadium) 1623902865.0
Eventually, the frenzy was over as thousands of fans filed out of Q2 Stadium for the first time. The lights were dimmed and USWNT players left with promises to revisit.

Austin FC may be playing their own first match at the stadium in three days, but the USWNT is forever in Q2's history books as they proudly brought the stadium's fans to their feet.
Until next time, Team USA!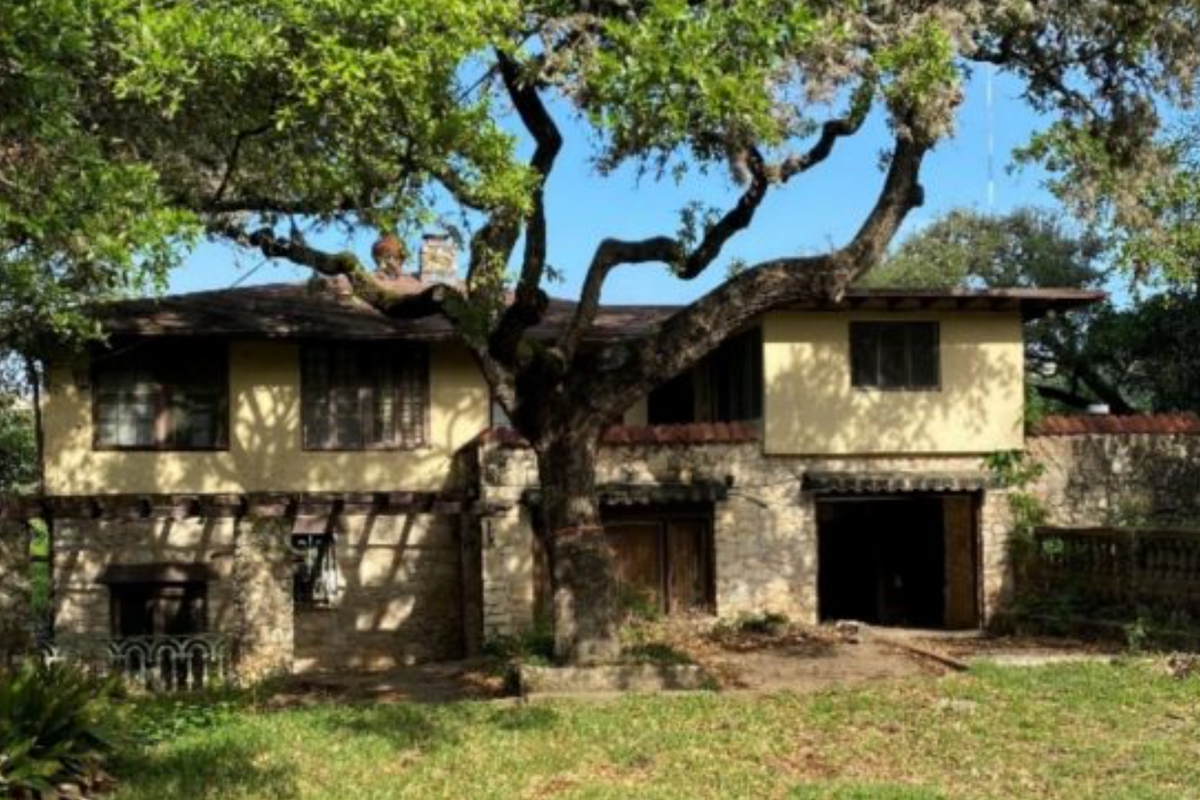 Austin Monitor
By Jonathan Lee
The Planning Commission was split Tuesday on whether to help save an eclectic lakefront estate from demolition by zoning it historic amid concerns over tax breaks and the likelihood that a previous owner participated in segregation as a business owner.
The property in question, known as the Delisle House, is located at 2002 Scenic Drive in Tarrytown. The main house, with Spanish and Modern influences, was built in 1923 by Raymond Delisle, an optician. A Gothic Revival accessory apartment was built in 1946. The current owner applied to demolish the structures in order to build a new home.'
Historic preservationists, for their part, overwhelmingly support historic zoning, which would preserve the buildings in perpetuity. The Historic Landmark Commission unanimously voted to initiate historic zoning in July, citing architectural significance, landscape features and association to historic figures. City staffers recommend historic zoning, calling both structures one-of-a-kind examples of vernacular architecture.
Tarrytown neighbors have also banded together to stop the demolition. Many have written letters, and a few spoke at the meeting. "How could anyone buy this property with the intent of destroying it?" Ila Falvey said. "I think it's an architectural treasure."
Michael Whellan, an attorney representing the property owner, said that the claims made by preservationists are shaky. The buildings are run down, he said, and have had substantial renovations. A structural engineer hired by the owner said any attempt at preservation would involve tearing down and rebuilding – an undertaking Whellan said would likely cost millions.
Whellan also argued that any historical significance derived from the property's association with Delisle and longtime owner C.H. Slator is dubious. "These men are not noted for any civic, philanthropic or historic impact," he said.
What's more, according to Whellan, Slator likely participated in segregation as the owner of the Tavern on North Lamar Boulevard between 1953 and 1960.
A city staffer, however, said she found no evidence to support the claim. "We would never landmark a property where a segregationist lived, or there was a racist person," Kimberly Collins with the Historic Preservation Office said.
Commissioner Awais Azhar couldn't support historic zoning in part due to lingering uncertainty about Slator. "Focusing on that factor is not here to disparage an individual or family. It is not about playing the race card. This is an important assertion for us to consider as Planning commissioners," Azhar said.
Commissioner Carmen Llanes Pulido said that allegations of racism should come as no surprise. "We're talking about white male property owners in the 1950s, in Austin, on the west side – and of course they were racist," she said. But she argued that allowing the house to be demolished based on these grounds does nothing to help people of color who have been harmed by racism and segregation.
The question of tax breaks was also controversial. Michael Gaudini, representing the property owner, said that the tax breaks associated with historic zoning would exacerbate inequality by shifting property tax burdens to less affluent communities. City staffers estimate that the property, appraised at $3.5 million, would get either a $8,500 or $16,107 property tax break annually, depending on whether a homestead exemption is applied.
Commissioner Grayson Cox preferred the commission focus not on tax breaks but on whether the structures merit preservation. "To me, nothing in the historic preservation criteria lists, is this person deserving of a tax break or not?"
Azhar, on the other hand, said he plans to propose a code amendment getting rid of city property tax breaks for historic properties.
The commission fell one vote short of recommending historic zoning, with six commissioners in support and three opposed. Azhar and commissioners Claire Hempel and Greg Anderson voted against.
The odds of City Council zoning over an owner's wishes are slim. Nine out of 11 members must vote in favor, and there have only been a handful of such cases over the past several decades.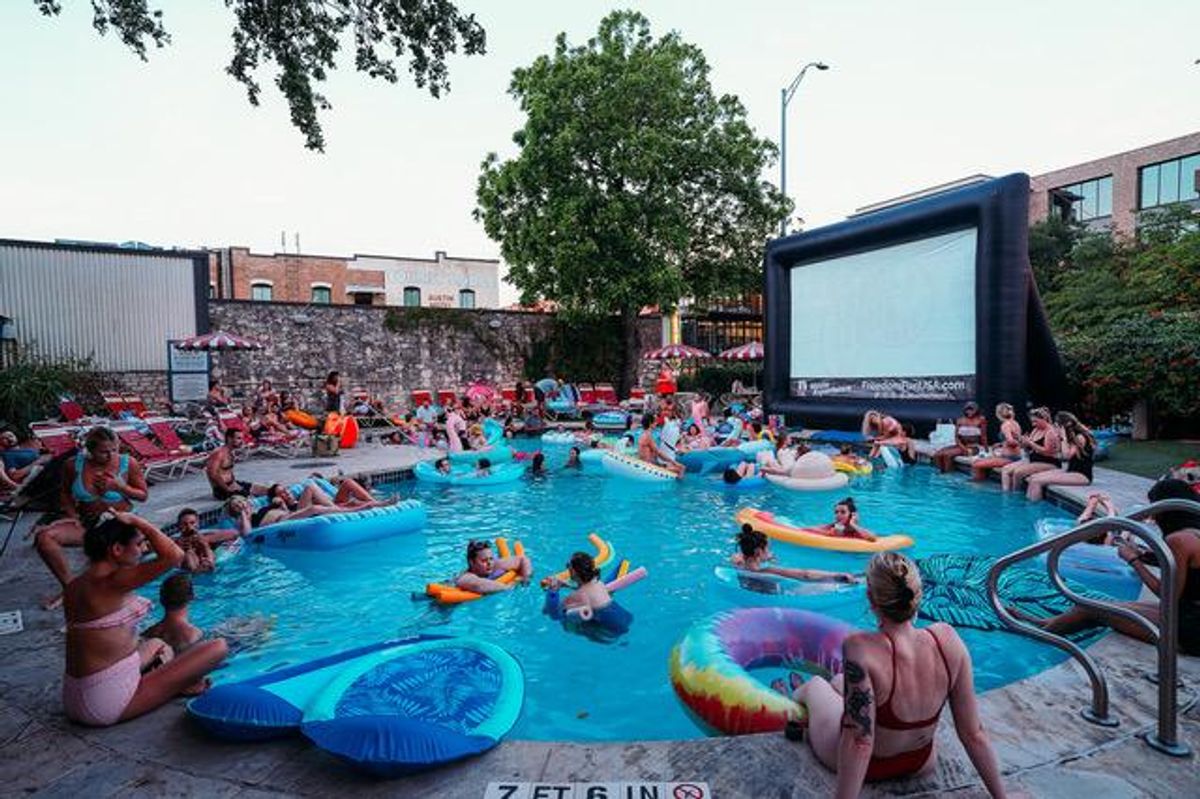 Austin Motel
What's new in Austin food & drink this week:
Nau's Enfield Drug closing after losing their lease. Did McGuire Moorman Lambert buy the building, with its vintage soda fountain?
Nixta Taqueria Chef Edgar Rico named to Time Magazine's Time 100 Next influencer list, after winning a James Beard Award earlier this year.
Question: From what BBQ joint did pescatarian Harry Styles order food this week?
Austin Motel is opening the pool and pool bar Wednesday nights in October for Freaky Floats.
Vincent's on the Lake closing due to "economic conditions and low water levels [at Lake Travis]."
Cenote has closed its Windsor Park location. The East Cesar Chavez location remains open.
The Steeping Room on N. Lamar has closed.
Local startup It's Skinnyscored new financing for its gluten-free pasta business.
P. Terry's opened a new location in Kyle, at 18940 IH-35.