Get connected with our daily update
(Contextual Content Group)
Like Tupac at Coachella, one professor at the McCombs School of Business is beamed as a hologram before his audience.
---
This semester, Steve Limberg is teaching his executive MBA class in a studio while his hologram is projected before students in the classroom. The setup allows both him and his audience to interact in real time, while minimizing their exposure to the coronavirus.
Hologram Technology Launches Classroom of the Future | McCombs School of Business (youtube)
"This is an authentic experience because I can see all the gestures and the nuances that the students are expressing, whether it be raising a hand or nodding, and as a result, it really is very much like being right here in the classroom," Limberg said in a press release.
The accounting professor is the first adopter of the new product, called Recourse, from local company Contextual Content Group.
Formed late last year, CCG is focused on creating content using 5G technology. However, when the pandemic began, the company quickly shifted its focus to solving a new problem that had emerged: how to make distance learning engaging and effective.
"We really wanted to give professors and students a choice," CEO and Chairman Jim Spencer told Austonia. "That's what we've done."
Spencer is also a lecturer at UT's Moody College of Communication. After speaking to some fellow faculty members on campus, he realized CCG could help address the issues facing his colleagues.
A hologram—enabled by 5G's high bandwidth capacity and near real-time processing speed—achieved the university's goals of keeping professors safe while enhancing the online classroom experience and allowing for the possibility of expanded use across campus.
When Spencer told Joe Stephens, senior assistant dean at McCombs, his idea, Stephens had some questions but quickly got on board.
"We know hybrid delivery is something we're going to have to work through for a while because there's no flip of the switch back to normal," Stephens said.
Armed with a contract from the McCombs School of Business, CCG began prototyping the Recourse product and developing it based on feedback from professors.
"The team works around the clock, and there's just a tremendous amount of passion and enthusiasm to try to help solve a real problem at UT," Spencer said.
In mid-August, when the fall semester began, Limberg's hologram began teaching in the classroom while the real Limberg simultaneously lectured before cameras in a safe studio. Students asked him questions and received answers in real time.
Overall, the feedback has been positive, Stephens said. In addition to helping give students a positive in-person experience, the Recourse program has helped incoming McCombs students get to know their classmates—an experience that may otherwise have been lost given the pandemic.
"It kind of has this other benefit of creating community," Stephens said.
Both he and Spencer are hopeful that more professors—at UT as well as other universities—will join Limberg in adopting the Recourse product.
"We are set up and ready to go and can accommodate more schools and classes at UT," Spencer said.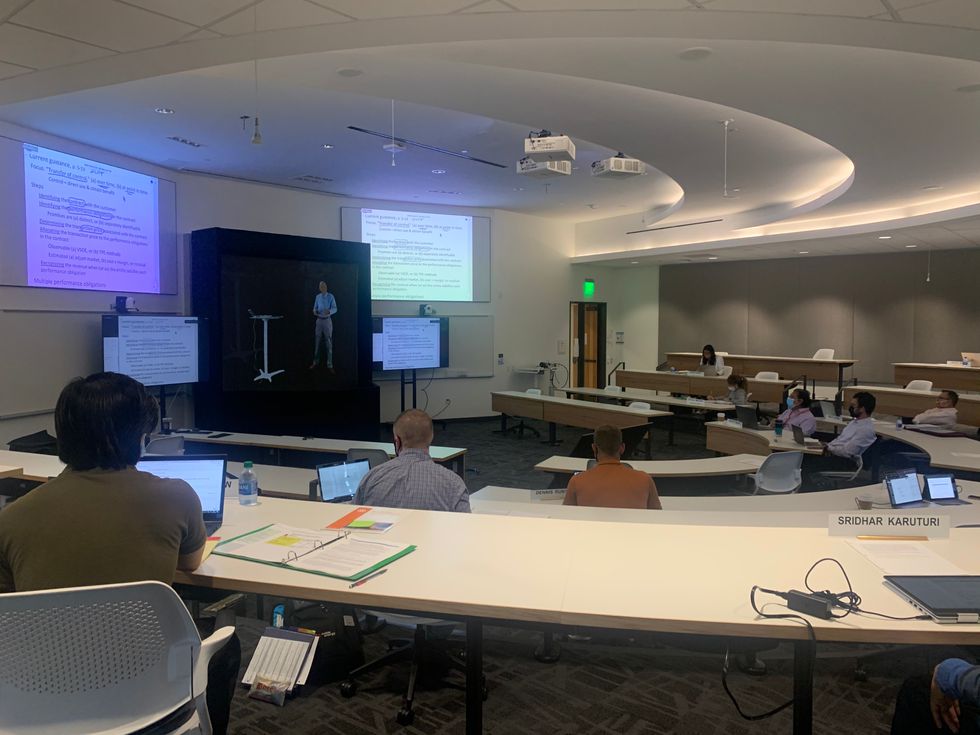 McCombs Assistant Dean Joe Stephens said he is hopeful the Recourse program can be expanded to other classes next semester as well as other campuses. (Contextual Content Group)
CCG also envisions myriad post-pandemic applications for this product, including a second version that will use natural language processing technology and artificial intelligence to allow for a hologram on-demand.

As with many pandemic-era developments, the presence of a holographic professor at McCombs transitioned quickly from a novelty to an accepted norm.
"That's good," Stephens said. "There's not a distraction about it."
Want to read more stories like this one? Start every day with a quick look at what's happening in Austin. Sign up for Austonia.com's free daily morning email.
After months of speculation, a new report says political personality Beto O'Rourke is mulling a run for Texas governor that he will announce later this year.
Sources tell Axios the former congressman is preparing his campaign for the 2022 election, where he will likely vie for the position against incumbent Gov. Greg Abbott. The only other candidate that has announced he will take on Abbott for governor is former Texas GOP Chairman Allen West—no Democrats have announced they are running as of yet.
"No decision has been made," Axios reports David Wysong, O'Rourke's former House chief of staff and a longtime adviser, said. "He has been making and receiving calls with people from all over the state."
A new poll from The Dallas Morning News and University of Texas at Tyler shows O'Rourke is narrowing the gap between himself and Abbott's prospects for governor. In the poll, 37% said they'd vote for O'Rourke over Abbott, while 42% said they'd vote for Abbott.
Abbott has been in the hot seat due to his handling of COVID-19 and the signing of landmark legislation into law, including new abortion and voting rights laws; 54% of poll respondents voted they think the state is headed in the "wrong direction." Still, Texas hasn't had a Democrat as governor since the 90s.
O'Rourke's people-focused approach to the 2018 Senator race, which he lost to Sen. Ted Cruz, gave him a widespread following and many hoped he'd throw his hat into the ring since he said he was considering it earlier this year.
"We hope that he's going to run," Gilberto Hinojosa, the state chair of the Democratic Party, told Axios. "We think he'll be our strongest candidate. We think he can beat Abbott because he's vulnerable."
Austin rapper Jordi Esparza may not have won the 2021 Red Bull Batalla, the world's largest Spanish freestyle rap competition, but for a spirited two rounds, the 22-year old Mexican native looked like he had every right to.
On Saturday evening in Los Angeles, the event itself looked like Cobra Kai meets Star Search with graphics adding a very Batman Beyond aesthetic. Over a dozen rappers hoping to represent the U.S. in the international round of the competition took to the stage with in-your-face jabs at accents, sexual orientation and odors, among other things.
This was Esparza's second rodeo; he had placed third at the 2020 National Finals, automatically securing him a spot this year.
However, things were different this year. He was not nervous about the contest. Unlike in 2020, when he made his Red Bull Batalla debut, the anxiety of the event led him to "feeling so bad."
Affecting a casual calm, the locally-based landscaper said he just felt "so relaxed, so happy" and primarily wanted to "enjoy everything."
Choosing his first-round opponent, Esparza, whose stage name is Jordi, elected to go against LA-based Boss.
Esparza freestyled an attack on his opponent's weight and cholo style of dress.
Boss—bracketing his Latin freestyle with English appeals to the crowd—mocked Jordi's lack of education, made fun of how clean Jordi's shoes looked and suggested that Jordi just came back from a Footlocker.
That first round went to Jordi.
But his next opponent Eckonn would prove to be his undoing.
Eckonn compared Jordi to Hannah Montana, while Jordi soulfully explained that he had learned from the best.
Esparza's verbal dexterity is matched by a rattling rhythm and a game face that is as mawkish as it is mockish. The overall effect is that of an underdog with bite.
Eckonn beat Esparza in that round with the overall championship going to Palm Beach-based rapper Reverse.
However, Esparza was just happy to be there. He recently told Austonia going to the finals again was a dream come true—a pinnacle that he said he won't know how to top.
With his nimble jabs and sneaky prowess, honed from pop culture and the swagger of a young working man hungry to be more, Jordi Esparza is just getting started.