Austonia AM
100% Austin news, info, and entertainment, straight to your inbox at 6 a.m. every morning.
In five minutes, you're fully informed and ready to start another great day in our city.
Get connected with our daily update
(jiawangkun/Adobe)
Just over a month into the fall semester, the University of Texas at Austin announced that it plans to structure the spring semester "in much the same way," according to a community-wide email sent by President Jay Hartzell.
---
Hartzell commended students for the adjustments they've made, which he said have helped to keep the university's COVID-19 numbers "as low as possible" and have been "largely effective" at containing the disease.

Since the current semester began on Aug. 26, the university has reported 754 cases among students and 11 among faculty and staff. Hartzell said this falls "within the range of what we had expected given UT's size" in his email.
UT Austin has a total enrollment of more than 50,000 students. Researchers at the university's COVID-19 Modeling Consortium have assumed that around around 22,000 of them either live in Austin or have returned to the city for the fall semester.
The administration announced plans in August to test 5,000 asymptomatic community members a week. But it has fallen short of that goal, testing fewer than 2,000 a week since classes began.
The university's faculty council said in a recent update that it had not been able to meet the 5,000-mark because of federal and state health information laws that prevent mandatory testing.
"The answer, in part, is that we have fewer than 5,000 people a week who have been willing to take the tests," the council wrote.
Hartzell said the university is working out "some kinks" in its proactive community testing program to try to expand its scope, including not requiring a second confirmatory test for students' whose rapid tests returned positive results, allowing for walk-up testing that does not require an appointment and debuting a new incentive program, details for which are forthcoming.
UT Austin has faced criticism from students, staff, the campus newspaper and others for its reopening plans.
Before the fall semester began, members of the Texas State Employees Union presented a petition to the UT System calling for the cancelation of in-person classes, tuition cuts and hazard pay for essential workers.
Two days before classes resumed, a photo of sorority pledges gathering—unmasked and in dense groups—in West Campus prompted blowback on social media. Reports of off-campus parties led Austin-Travis County Interim Health Authority Dr. Mark Escott to warn Greek life organizations that such behavior could lead to criminal charges.
Earlier this month, Austinites raised concerns about the risk of transmission at football games.
At the Texas Longhorns' first home game of the season, the university required student attendees—but not others—to be tested for COVID prior to entering the stadium. Of the 1,198 students tested, 95 received positive results. This positivity rate, of nearly 8%, exceeded the local positivity rate reported by Austin Public Health and other testing sites, which was less than 5% at the time.
But Hartzell pointed to other metrics in his assessment of the university's response.
"[T]here has been a relatively small number of infections among faculty and staff members," he wrote, "and the return of our student population has not resulted in wider spread through Austin and Travis County or increased hospitalizations."
Since the fall semester began, the moving average number of new confirmed cases reported each day in Travis County has fallen from more than 150 to 107 and the moving average number of COVID-related hospital admissions has dropped from 19.6 to 13.
However, local health officials have raised concerns about the potential spread from teenagers and young adults to the broader community.
"I want to remind our young people … to please engage in protective behaviors not only in the classroom but outside the classroom," Escott said Tuesday.
More on UT: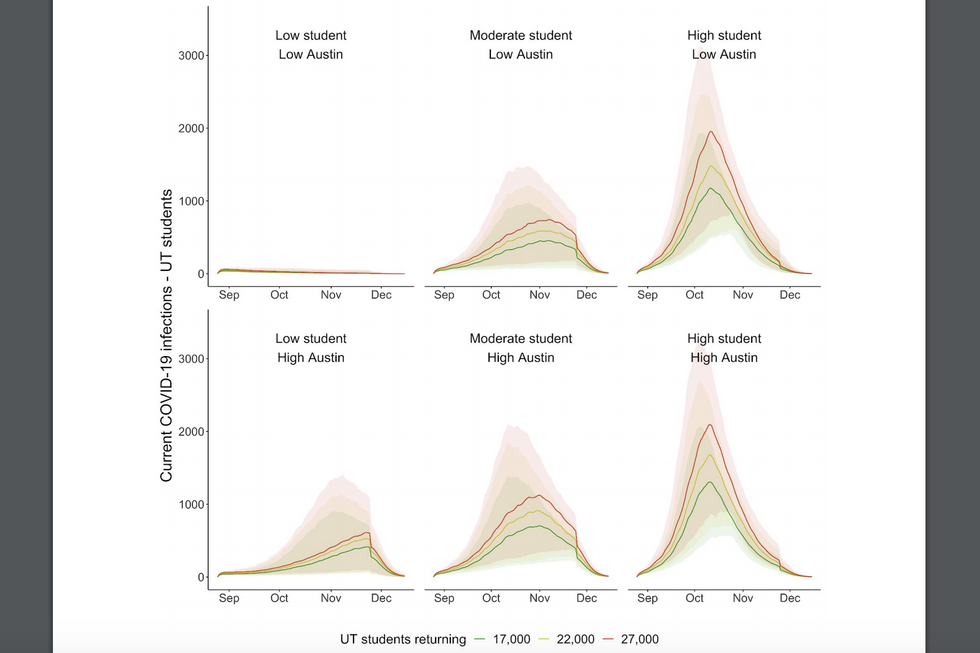 743 UT Austin students have already tested positive for COVID-19 (The University of Texas at Austin COVID-19 Modeling Consortium)
After reaching Stage 4 last week of Austin Public Health's risk-based guidelines, Austin-Travis County is now at the Stage 5 threshold with a seven-day average of 50 hospitalizations and dwindling ICU capacity.
While unenforceable under Gov. Greg's Abbott order against local mandates, vaccinated individuals are asked to choose drive-through and curbside options, outdoor activities, social interactions with limited group sizes, as well as social distance and wearing masks indoors. Partially or unvaccinated individuals are asked to avoid gatherings, travel, dining and shopping, choose curbside and delivery options, as well as wear a mask on essential trips.
Flashing back to early-pandemic times, hospitals are at critical capacity—the 11 county Trauma Service Region of 2.3 million people is fluctuating at 16 staffed beds, according to APH.
In a statement on behalf of Ascension Seton, Baylor Scott & White Health and St. David's Healthcare, a spokesperson said that hospitals are asking residents to "help us and each other" by getting vaccinated and continuing to utilize safety practices to slow the spread of the virus.
According to the statement, a "longstanding" nurse staffing challenge combined with the recent COVID-19 spike is putting "extraordinary pressure" on hospital systems.
Along with the unmitigated spread of the virus in unvaccinated, the more contagious Delta variant is also to blame for the spike in cases. The seven-day moving average of COVID hospitalizations in the Austin area reached the Stage 5 threshold of 50 on Friday, triggering local health officials to ask residents to take action.
Local hospitals have a "surge plan" that includes utilization of "all available patient care space and employees within our hospitals and in other settings" that will go into effect when capacity is hit, according to the statement.
The hospitals are working on sourcing supplemental staff and emphasized that emergency care will still be available but it may involve patient transfers "in order to provide the most appropriate care."
Healthcare systems have hit this threshold previously during the pandemic: the city held an alternate care site at the Austin Convention Center from January to March of this year.
"Our responsibility during this pandemic continues to be balancing our readiness to care for patients with COVID-19, while making sure patients who depend on our hospitals receive needed and timely care," the statement said. "We do not want to see necessary non-COVID care delayed as it was during the early stages of the pandemic."
This story has been updated to after publication to include that Austin has reached the Stage 5 threshold.
Ingredients:
1 1/12 oz sweet pepper-infused Tito's Handmade Vodka
3 oz soda water
1 oz grapefruit juice
1/2 oz lime juice
1/4 oz simple syrup
Directions: Add all ingredients, except soda water, to a shaker with ice. Shake and strain into a glass over fresh ice. Top with soda water and garnish with a mint sprig.
Austin legend Willie Nelson will perform at the Texas Capitol today, his first large performance since the pandemic began, closing out a four-day long march across Central Texas to build support for federal voting protections.
Organized by The Poor People's Campaign, the march began in Georgetown on Wednesday and will end with a 10 a.m. rally at the Capitol featuring appearances from former U.S. Congressman Beto O'Rourke and Rev. Dr. William Barber.
Willie Nelson (with Charlie Sexton & friends) will play a free concert at the Poor People's Campaign march for democracy & justice in Austin this Saturday! https://t.co/zZSA0BpbWA

Sign up to join us and see Willie at 10am Saturday: https://t.co/KrDPIFIvST
— Beto O'Rourke (@BetoORourke) July 29, 2021
The rally calls on Congress to "stop attacks on democracy" by ending the filibuster, pass all provisions of the For the People Act, restore the 1965 Voting Rights Act, raise the federal minimum wage to $15 per hour and pass permanent protections for all 11 million undocumented immigrants.

Nelson denounced election law proposals gaining traction in red states, such as Senate Bill 1 and House Bill 3 in Texas, which 55 House Democrats foiled by fleeing to Washington, D.C., on July 12.
The bills would require additional ID verifications for mail-in ballots, allow partisan poll watchers "free movement" and prohibit elections officials from sending absentee ballot applications to voters who didn't request one.
"Laws making it more difficult for people to vote are unAmerican and are intended to punish people of color, the elderly and disabled," Nelson said. "If you can't win by playing the rules, then it's you and your platform–not everyone else's ability to vote."
The march is in the spirit of the Selma to Montgomery March of 1965, led by Dr. Martin Luther King Jr., which protested the blocking of Black Americans' right to vote by Jim Crow laws.