Get connected with our daily update
Westlake-area resident Joan Skerry said she and her sister were excited to receive their first Moderna COVID-19 vaccines at a First Medical Response of Texas pop-up clinic on Jan. 2, held in the Dripping Springs Fire Department's parking lot. However, when their second shot deadline came and went last Saturday, Skerry feared the two would have to start the vaccine regimen anew.
---
Due to a misunderstanding about saving part of their vaccine allotment for the second booster shot the vaccine process requires, First Medical used up all of its shipment on first vaccines and didn't have any more doses left for the second round, co-owner Edwin Reyes told Austonia.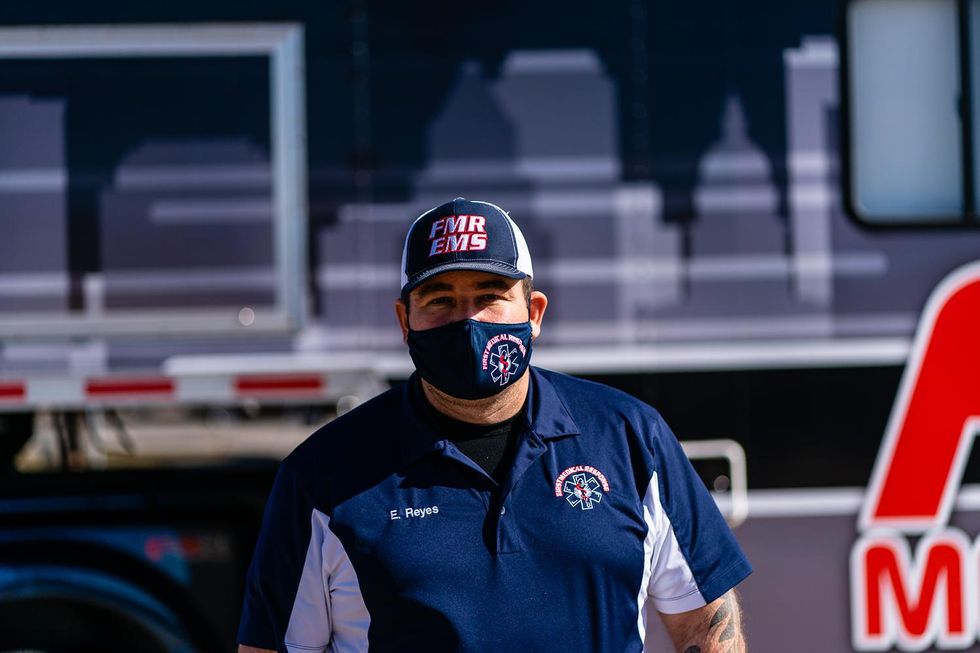 Edwin Reyes, owner of First Medical Response in front of his operations trailer, last month. (Jordan Vonderhaar)
Almost a week overdue, Skerry's sister managed to get a second vaccine elsewhere before Ascension Seton contacted her with a slot that she gave to Skerry. Both qualify as 1B recipients—consisting of older individuals and those with chronic health conditions—for the vaccine, the second phase in the distribution effort designated by the Texas Department of State Health Services after first responders and healthcare workers in group 1A. Skerry is 72 years old and her sister is 66 years old.
"I was so relieved when (Seton) called me that I started crying—not my usual behavior," Skerry said of the news that she would receive a booster shot. "So my story has a happy ending."
First Medical worked with government officials and state representatives to finally secure the 1,800 vaccines needed to provide those first vaccine recipients with their second vaccines, scheduling a clinic Friday for distribution, Reyes said.
However, some residents aren't so lucky and are still on the hunt for a second dose, including those who received an initial dose from clinics that were able to extract 11 doses from a vial allocated for 10 doses. There's no assurance they can take out extra doses to coordinate with those individuals who received the "extra" doses the first time.
Jeffrey Warnken, pharmacist and co-owner of 38th Street Pharmacy, is one of those providers. He drafted a second dose waitlist that contains 25 to 30 individuals qualified under 1A or 1B as of Feb. 3.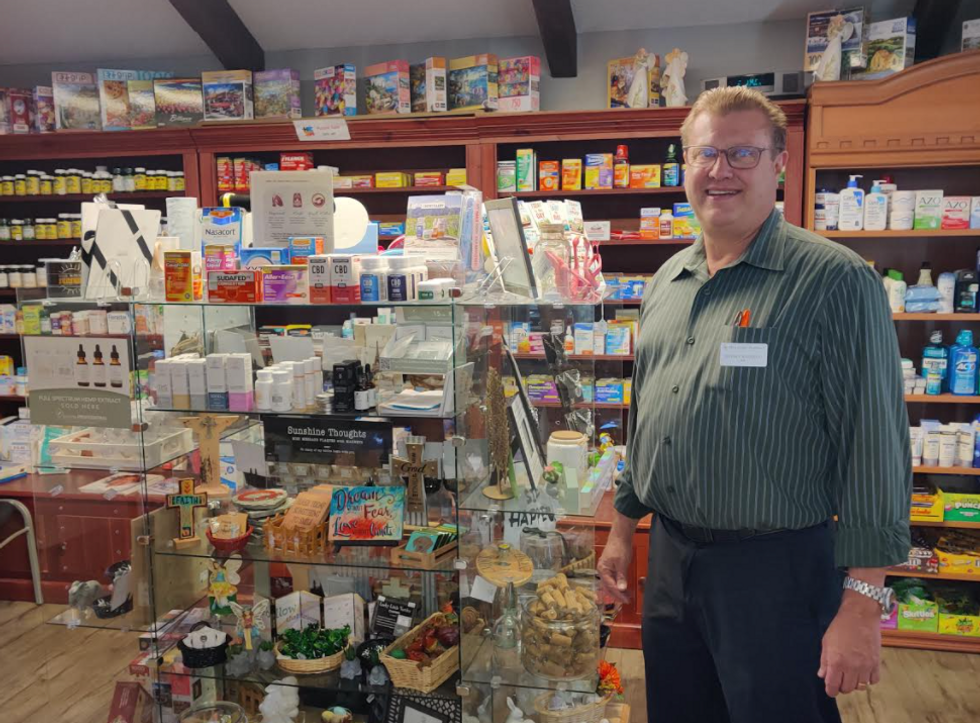 Pharmacist/Co-owner Jeff Warnken (38th Street Pharmacy)
Warnken said his pharmacy recently administered seven first doses to people with the understanding that they could not be assured of receiving a second dose from his facility. He thinks finding second doses will continue to be a problem until more vaccines become available.
"Instead of wasting it, it's better to give somebody a first dose with the possibility of not giving them their second dose because a half is better than zero," he said, adding that a single dose provides some immunity to the disease although the extent of that immunity is unknown. The protection from a single Moderna COVID-19 vaccine dose could range from 50% to 80% immunity after four weeks, Warnken said.
He's hopeful the pharmacy will get more vaccines in, especially with President Joe Biden's plan for the federal government to distribute vaccines directly to retail pharmacies like his facility.
Tarrytown Pharmacy's Pharmacist-in-Charge Rannon Ching also maintains a 1,300-name second dose waitlist for individuals looking for a Moderna booster. Because some individuals were able to find their first shot at independent locations, the opening of larger vaccine hubs have stranded those vaccinated by smaller sites that, as with Ching, haven't received additional doses in weeks.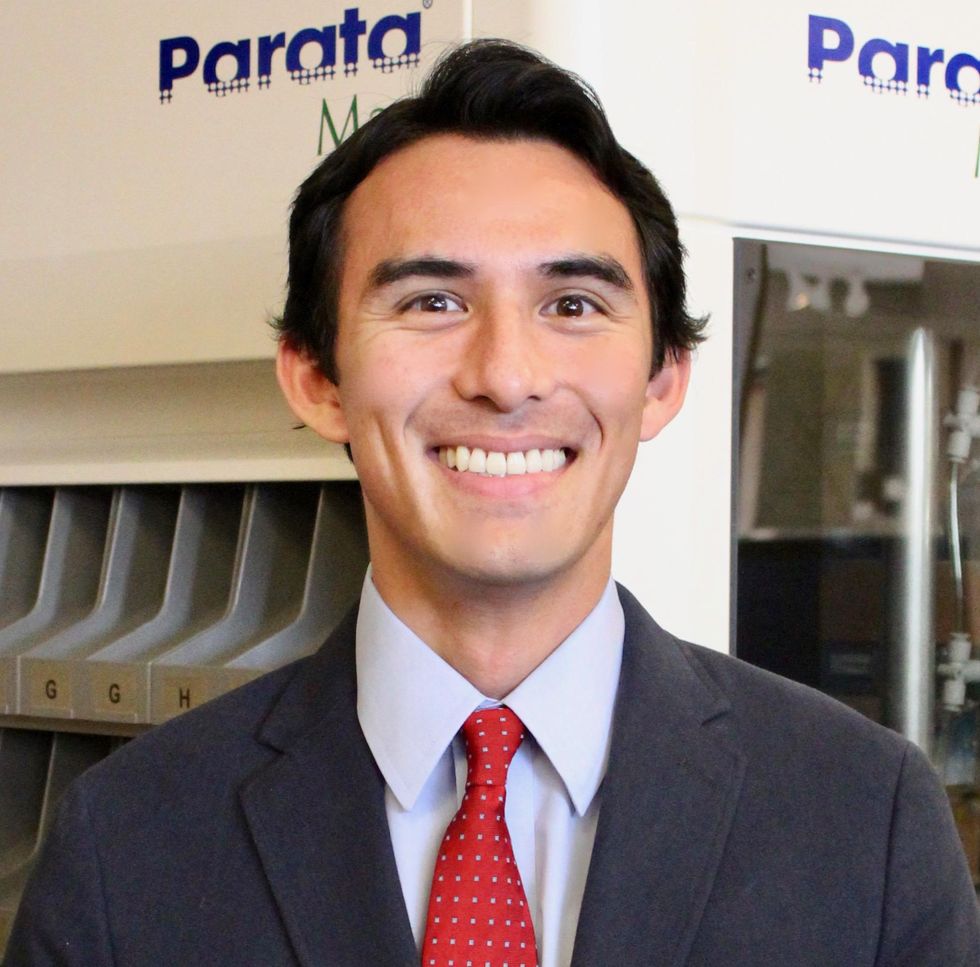 Pharmacist-in-Charge Rannon Ching (Tarrytown Pharmacy)
He said he views those who aren't matched with a second dose fighting for that booster along with everyone else in the fight for a vaccine.
"The good thing about second doses is, once you give them, that's it and you don't have to coordinate for another dose," Ching said. "Second doses lend themselves well to those extra doses we pull out of the vial because those aren't accounted for and won't be accounted for to get second doses four weeks later."
His waitlist also includes individuals who want to make sure they have a "backup plan" in case something happens to their designated second vaccine and recommended first vaccine recipients return to their initial provider for the booster.
Austinite Leslie Lindzey, who received her first dose of the Moderna vaccine on Jan. 14 at Austin ISD's Delco Activity Center, isn't sure if she should pursue other options for her second dose. As of Feb. 4, she hadn't received word on scheduling her booster.
Although the vaccine hub isn't giving out second doses to individuals who didn't have their first vaccine through Austin Public Health, spokesperson Jen Samp said the department will be reaching out to first vaccine recipients for their second dose. As of Feb. 3, she said APH was waiting on news from DSHS regarding the second doses.
"We don't want to contact folks if we don't have the vaccine," Semp said about the second doses. "Once we secure the vaccine, we'll be contacting (them)."
On Jan. 21, the Center for Disease Control and Prevention updated its recommended interval for the two Moderna vaccines to include the scheduling of a second dose to be administered up to 42 days following the first dose if it isn't feasible to be timed at its recommendation of 28 days.
"The 28 days is not a deadline," Samp said. "It is merely an expectation that you should wait at least that amount of time before you get your second one."
With the two-dose Moderna vaccine and similar Pfizer vaccine in distribution, pharmaceutical maker
Johnson & Johnson submitted an application Thursday to the U.S. Food and Drug Administration requesting Emergency Use Authorization for a new single-dose COVID-19 vaccine
. The company stated in a news release that it expects to be able to ship that vaccine immediately after it is approved. Maybe that will end the two-dose conundrum?
More on the vaccine: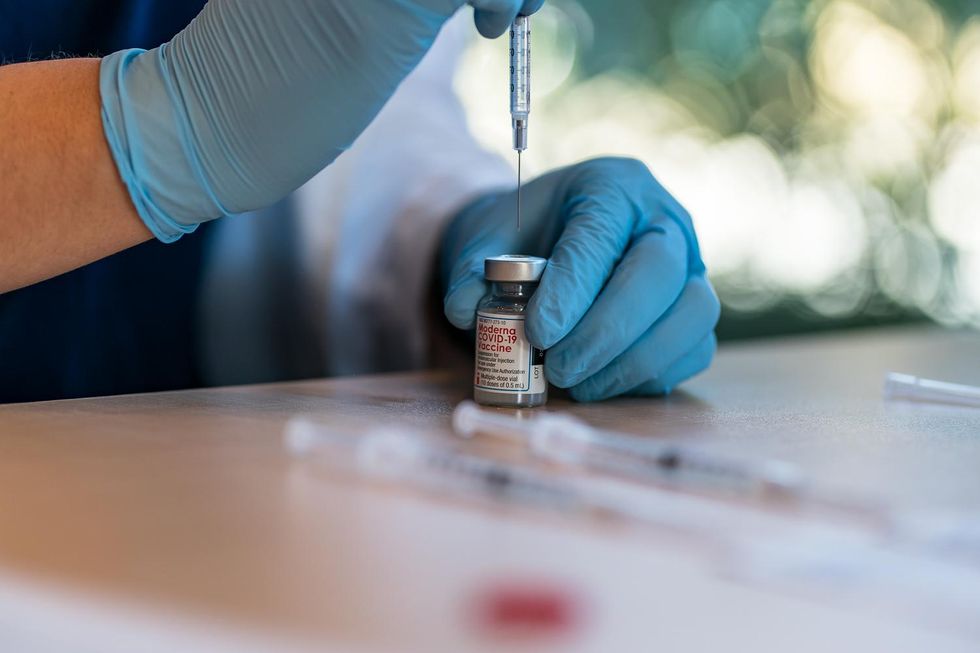 Vaccines administered in Texas surpass total case count
After almost a full week of sitting at the Stage 5 threshold, Austin health leaders are expected to make the official shift to the highest level of risk of its risk-based guidelines, along with providing new precautions to take with the Delta variant in mind.
Austin Public Health has called a COVID-19 press conference at noon today, in which it says it will answer questions from the media about changes to its risk-based guidelines. On Tuesday, APH Health Authority Dr. Desmar Walkes said new guidance was needed to account for the more contagious Delta variant on both vaccinated and unvaccinated individuals before making the shift to Stage 5.
Currently, at Stage 5, officials ask everyone to take extra measures to contain the virus, such as avoiding dining out and shopping in-person—regardless of vaccination status—and continuing to wear a mask at all times. Those that are unvaccinated are asked to avoid all gatherings and stay home.
As officials plea for residents to wear a mask and the unvaccinated to avoid nonessential trips, residents are still free to make their own choices as Gov. Greg Abbott's executive order keeps local mandates from being issued. And while some businesses such as Waterloo Records and BookPeople are once again heeding the guidance by requiring masks again, the majority of businesses in Austin are not.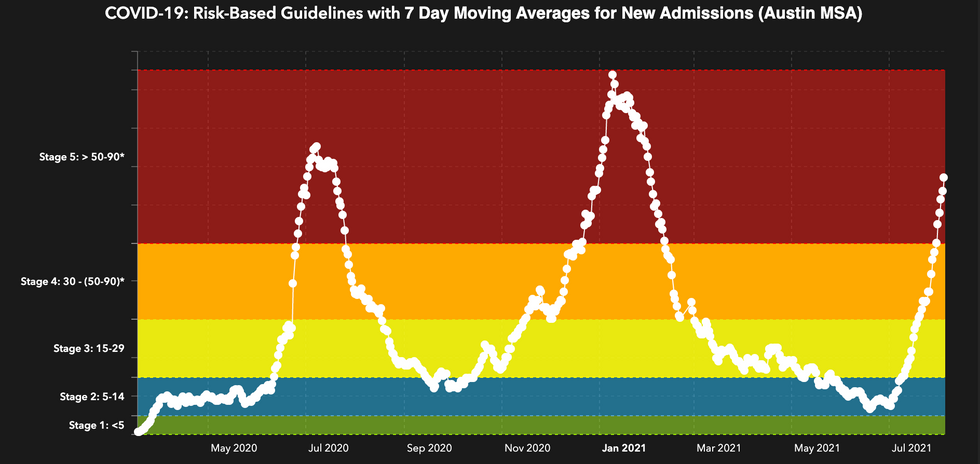 (Austin Public Health)
To reach Stage 5, hospitalizations needed to surpass a seven-day average of hospital admissions of 50, which it surpassed last Friday; it is now at an average of 67. The last time Stage 5 was met was in December.
The more contagious Delta variant along with the unmitigated spread of the virus in unvaccinated people has been attributed to the recent spike.
Health leaders have renewed their focus on vaccine outreach due to the spike in cases. As the Centers for Disease Control and Prevention revealed the Delta variant was as contagious as chickenpox—which requires 90% to get vaccinated for herd immunity—APH has changed its herd immunity threshold to at least 80% vaccinated, up from 70%.
Those that are unvaccinated have made up about 80% of those hospitalized with COVID complications in the past two weeks, according to APH.
The three local hospital systems are being overwhelmed with COVID patients, they said in a statement recently, as the Delta variant spreads and a nursing staffing shortage persists. ICUs have been at critical levels for days in the 11 county Trauma Service Region of 2.3 million people, fluctuating at 16 staffed beds, according to APH last week.
If to the point where more space is needed, the hospitals have a "surge plan" that includes sourcing supplemental staff and arranging for the return of an alternate care site. No announcements have been made about going forward with a surge plan.
The floodgates have once again opened for Austin FC.
Austin FC once again ended a scoring hiatus with a breakthrough win as midfielder Tomas Pochettino stole the show for the home team with two goals to land a 3-2 victory over the Houston Dynamo. The team is now at least temporarily the best in (Copa) Tejas, Texas' annual soccer derby, after the Wednesday night win over their newfound rivals.
Austin FC won momentum early as Pochettino, who had the most shots without scoring in MLS this season prior to the match, shot one off the post in the seventh minute. The ball would then be assisted by Houston themselves as Pochettino scored his first MLS goal and broke Austin's four-match scoreless streak.
The rivalry showed its true colors in the 20th minute of play, when Houston's Darwin Ceren took down Austin's Sebastian Berhalter with an elbow to the face and was subsequently punished with a red card.
With just ten men on the field for the remainder of the match, the Dynamo proved they could fight with one man down as they responded with a goal five minutes later.
Pochettino brought the lead to Austin once again, however, as he went for seconds with a clear goal off a rebound to close out the first half.
Pochettino said building trust between himself, Dominguez and Diego Fagundez was vital to making his first goal.
"To me, this is the first time that I scored with this club and Major League Soccer, so now that definitely helps me build our trust," Pochettino said. "Because I can talk to them in Spanish, there's always that chemistry that you build around them, and obviously having them around day in day out. I think they had a sensational match, and we definitely have to keep looking forward to improve it even more."

Austin would score once more in the 57th minute when a cross by midfielder Diego Fagundez was headed in by striker Cecilio Dominguez.
Houston attempted a late-match comeback in the final ten minutes of play as they thwarted Austin FC's Brad Stuver for a second goal, but it proved too little, too late as Austin celebrated their second high-scoring victory at Q2 Stadium.
The win provides a much-needed boost for Austin FC, who were previously stuck at the bottom of the West for two straight matches as they went scoreless for nine of their last 11 games. The club is also at least temporarily the "Best in Texas" as they tally the first win in the Copa Tejas, which adds up wins and losses between the Lone Star State's best professional teams.
Austin FC saw their lowest injured lineup in months as young midfielder Danny Pereira, who has proved himself as the club's glue, reentered the pitch in the 64th minute. Right back Nick Lima also joined the pitch once more for the second time since a pulled hamstring left him out for weeks.
Head coach Josh Wolff said a full and healthy roster will help build healthy competition as the team fights for playoff berth.
"I think it'll drastically affect the outcome when you have quality and you have a full roster," Wolff said. "Competition is a must in this league, the season's long, it's a grind. You need rotations, but you also need these guys competing... when you know there's someone knocking on the door asking questions, as a player and a teammate, it pushes you a little more."
The club has even more to look forward to: they'll likely enjoy a boost as they expect at least a few of new striker signees Sebastian Driussi, Moussa Djitte and Austinite McKinze Gaines to join them in their second Texas rivalry match at FC Dallas on Saturday.
Here's what happened in the breakaway match:
86' Not so fast: Houston scores to make it 3-2
Not. Over. Yet.@HoustonDynamo pull one back late! #ATXvHOU pic.twitter.com/v3YnffcT1W

— Major League Soccer (@MLS) August 5, 2021
Just when Austin seemed to be sailing into their second home win with ease, the Dynamo found a hole in the home team's defense to land their second goal of the night.
The Dynamo now have four minutes of regulation to find an equalizer if they wish to take some points from Austin tonight.
64' Pereira reenters the ring, for Ring
64' | Three #AustinFC substitutions.

➡️ Jhohan Romaña
⬅️ Julio Cascante

➡️ Hector Jimenez
⬅️ Nick Lima

➡️ Dani Pereira
⬅️ Alex Ring pic.twitter.com/miRnwqRzbp

— Austin FC (@AustinFC) August 5, 2021
Dani Pereira, the fuel of Austin's midfield, makes a reappearance for the first time in weeks after being out on injury. He reenters the ring for Captain Alex Ring as fellow former injured teammate Nick Lima subs in for Hector Jimenez. Jhohan Romana also makes a rare appearance at center back for Julio Cascante.
A few minutes later, Jared Stroud takes the stead of Cecilio Dominguez.
57' When it rains, it pours (but in a good way)
Fagundez ➡️ Dominguez@AustinFC feelin' it! pic.twitter.com/XbZXNi8G9y

— Major League Soccer (@MLS) August 5, 2021
It's clearly all or nothing for Austin FC. The team has now scored three times in their first rivalry matchup against Houston after a well-placed header by Dominguez goes in.
46' Stuver kicks off second half with a save
No #MLSAllStar shout for @brad_stuver?…

•Leads the league in saves % ✅
•Human Highlight reel ✅ https://t.co/WN68BD46B3

— Michael Lahoud (@MikeLahoud) August 4, 2021
He may nt have been able to stretch for two back-to-back shots to keep a clean sheet, but Stuver is still showing his keeping prowess. Every save serves as an "I told you so" to the MLS, who snubbed him from the All-Star lineup Wednesday despite leading the league in saves with 65 this season.
45+ Pochettino finally has his day! 2-1 Austin at the half
POCHETTINO@AustinFC have the lead yet again. #VERDE pic.twitter.com/8nNpHzy9GM

— Major League Soccer (@MLS) August 5, 2021
Pochettino's patience is finally paying off. The Argentinian midfielder, who had the most shots without a goal of any MLS player prior to the match, got another one in goal to regain the lead for Austin as the first half wraps up.
For his first clear goal with Austin FC, Pochettino reacts to a deflection just in time to get a solid shot into the bottom right corner of the net. Austin has scored two goals in a match for the first time since their Portland match on July 1.
25' Tie game as rivalry heats up
Fresh off the Gold Cup, @Typash smashes this one to level it! #ATXvHOU pic.twitter.com/O5UcMcGdkq

— Major League Soccer (@MLS) August 5, 2021
Shortly after the Ceren red card, the Dynamo prove they can still be a threat with 10 men. An initial shot is blocked by Stuver, but he can't quite react in time as Tyler Pasher shoots one up to the top of the net on a rebound. It's now a tie game with two goals and a red card as the Texas rivalry begins to take shape.
20' Houston knocked down to 10 after red card
Cerén shown red, and we fight on with ten men 😣#HoldItDown

— Houston Dynamo FC (@HoustonDynamo) August 5, 2021
Houston will now play the finally three-quarters of the match with 10 men after Austin's Sebastian Berhalter takes an elbow to the eye from the Dynamo's Ceren.
7' Houston has a problem! Austin scores 1-0
The @AustinFC attack forces an own goal. They lead 1-0! #ATXvHOU pic.twitter.com/hehR6mtprH

— Major League Soccer (@MLS) August 5, 2021
Tomas Pochettino's first goal with Austin may not quite be his, but it's still worth celebrating. After five of six straight home games going scoreless, Austin finally broke the silence as Pochettino's shot hit the post and was guided in by an unhappy Houston player.
Austin is now up 1-0 for the first time in weeks at their home stadium.
Starting lineup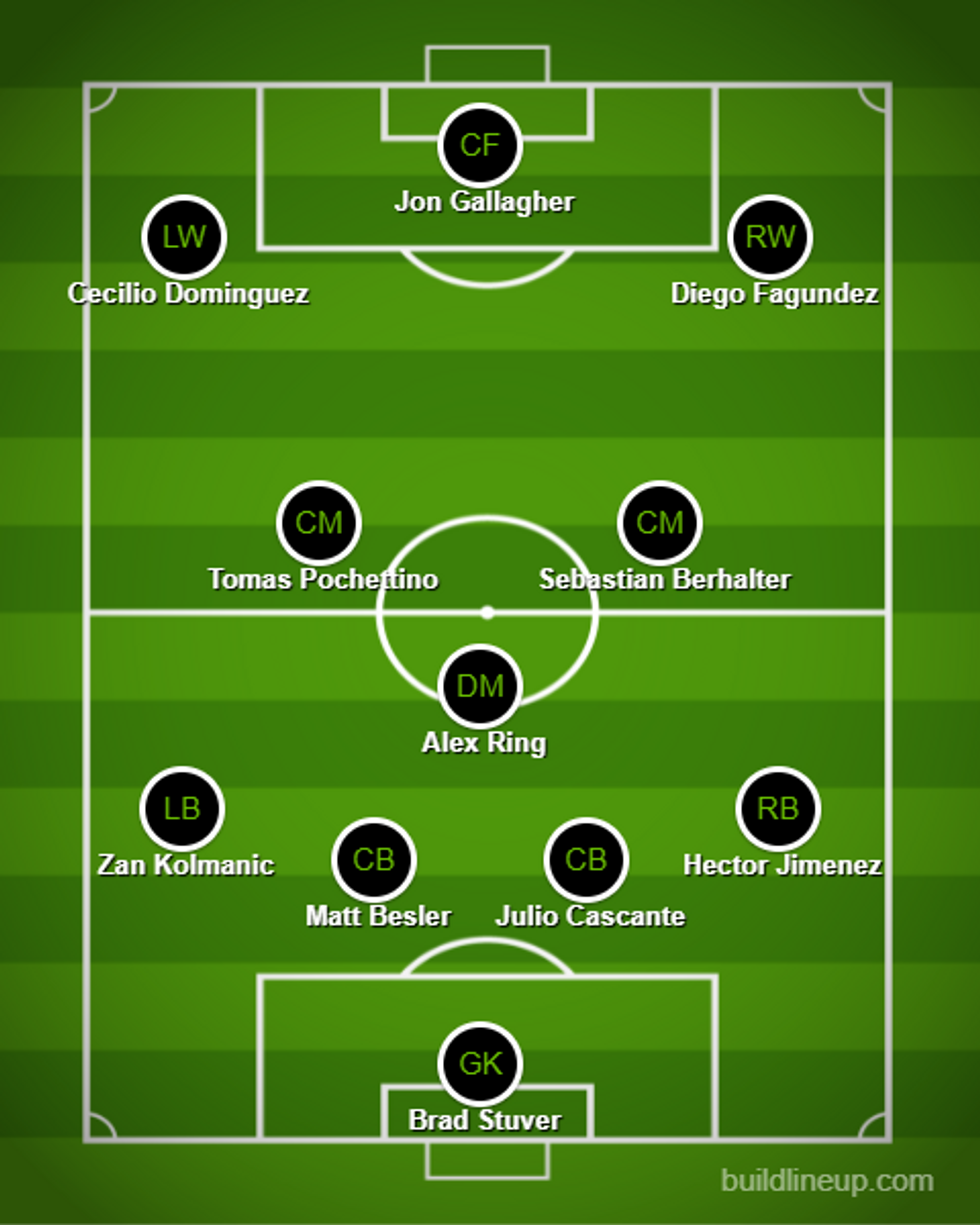 Jon Gallagher is back in the starting XI and will likely crown the lineup, with Cecilio Dominguez and Diego Fagundez flanking him on either side.
20-year-old Sebastian Berhalter will start in Fagundez's shoes for the first time since a June match vs. Minnesota United. Meanwhile, the steady back end looks much of the same with a near-All Star Brad Stuver in at keeper.
There are plenty of places to party in Austin, from the classic Dirty 6th to Rainey Street's tech hub to The Domain's eccentric collection of bars. With crime in Austin—and nationwide—on the rise, worries while drinking at night can take some fun out of your hangout.
Using data from the past five years, Austonia found how each part of the town's party areas stacks up in safety. Here's what to know before you go.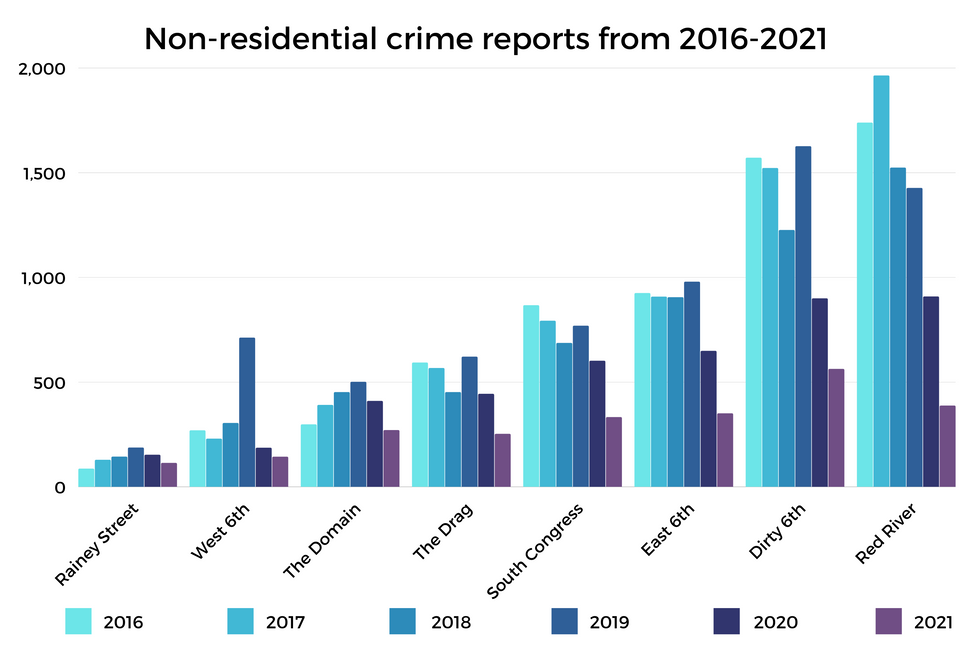 (Laura Figi/Austonia)
Red River District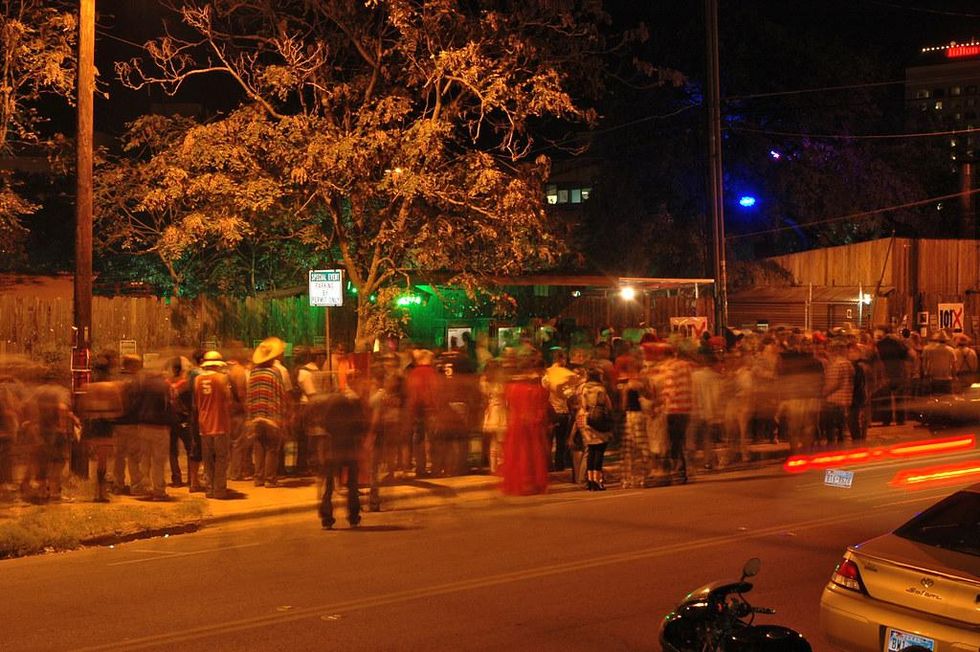 The line outside Stubb's Bar-B-Q is a familiar sight to those who frequent the venue for its live music. (Blastframe/CC)
The line outside Stubb's Bar-B-Q is a familiar sight to those who frequent the venue for its live music. (Blastframe/CC)
Red River Cultural District, home to beloved live music venues like Stubb's Bar-B-Q, Mohawk Austin and Empire Control Room, has had the most overall crime reports since 2016 but Dirty 6th Street is rapidly catching up. The downtown cultural district has averaged 1,325 police reports yearly, though crime reports on Dirty 6th surpassed Red River in 2019 and so far in 2021. The two most common reports in the area: theft, with an average of 343 reports over the past three years and assault with injury, averaging 247 yearly reports.
Dirty 6th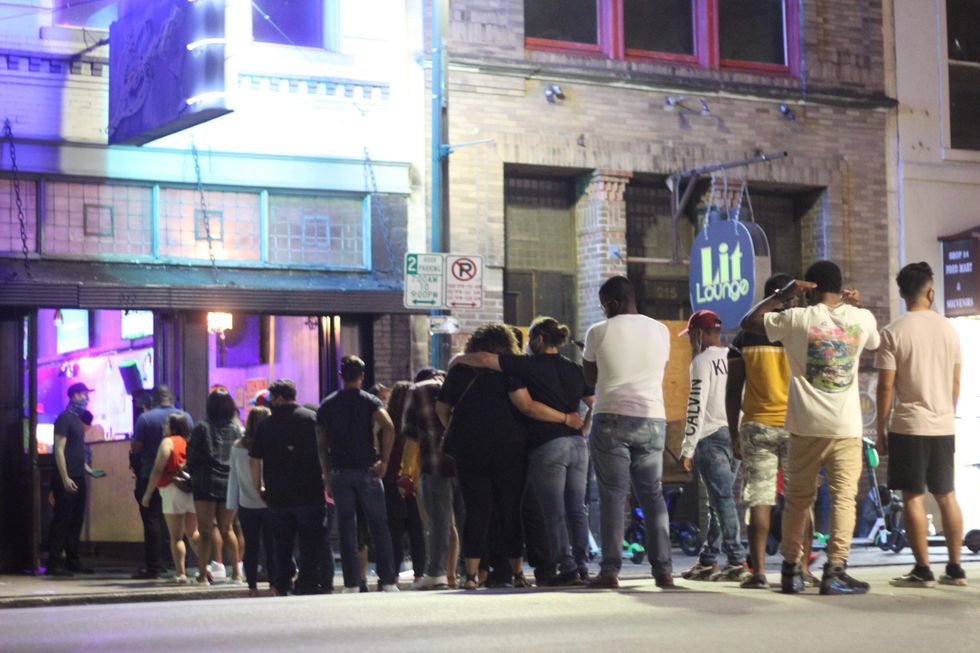 Dirty 6th is packed with partiers every weekend—crowds are a common sight. (Laura Figi/Austonia)
Dirty 6th is packed with partiers every weekend—crowds are a common sight. (Laura Figi/Austonia)
Coined the "original" night district in the city, "Dirty 6th," or the portion of East 6th that is west of I-35, has been a Friday night standard since Austin was just a sleepy college town and is often compared to Bourbon Street in New Orleans. The street has earned the nickname "dirty," as it has seen an increasing number of violent crimes in recent years, most recently a shooting that killed a tourist and left 14 others injured. The strip averages 1,234 crime reports per year since 2016, and shares the two most common reports—assault with bodily injury and theft—with nearby Red River District.
East 6th Street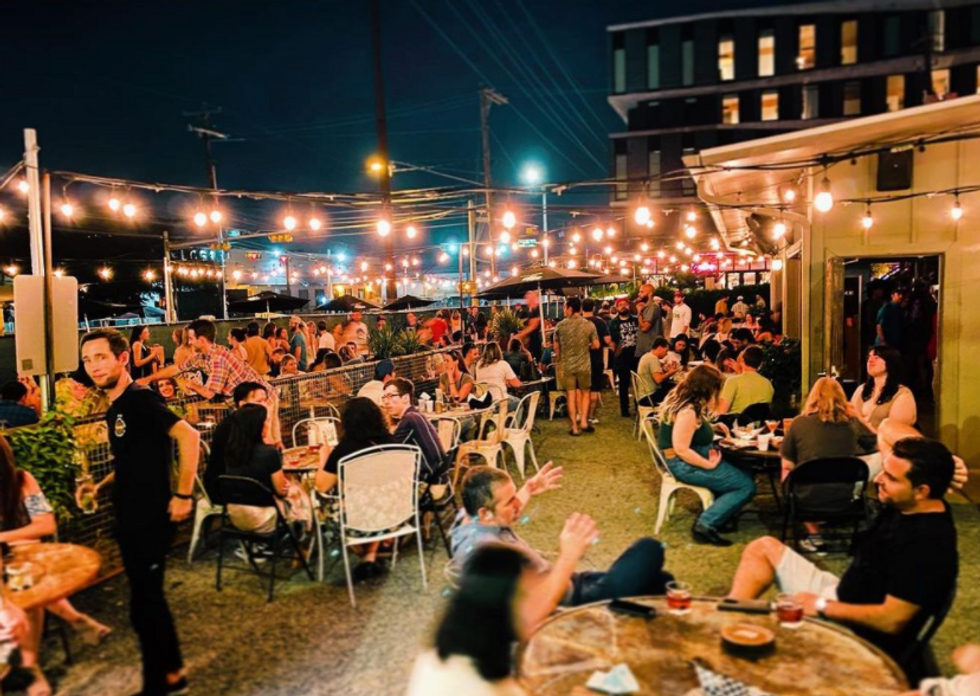 East Austin's bungalow bars aren't quite as clumped as other nightlife areas in town. (Whislers/Instagram)
East Austin's bungalow bars aren't quite as clumped as other nightlife areas in town. (Whislers/Instagram)
Taking a trip East of the highway, East 6th Street is the quieter counterpart to Dirty 6th, without compromising on the expanse of venues. At an average of 786 police reports per year, you'll see a noticeably smaller police presence in this area. The most common crimes in this area are still theft, with 196 reports in the last three years, and assault with injury, with 186 reports over the last three years. Keep a watchful eye on your car as well, as there have been 116 reports of auto theft since 2019.

South Congress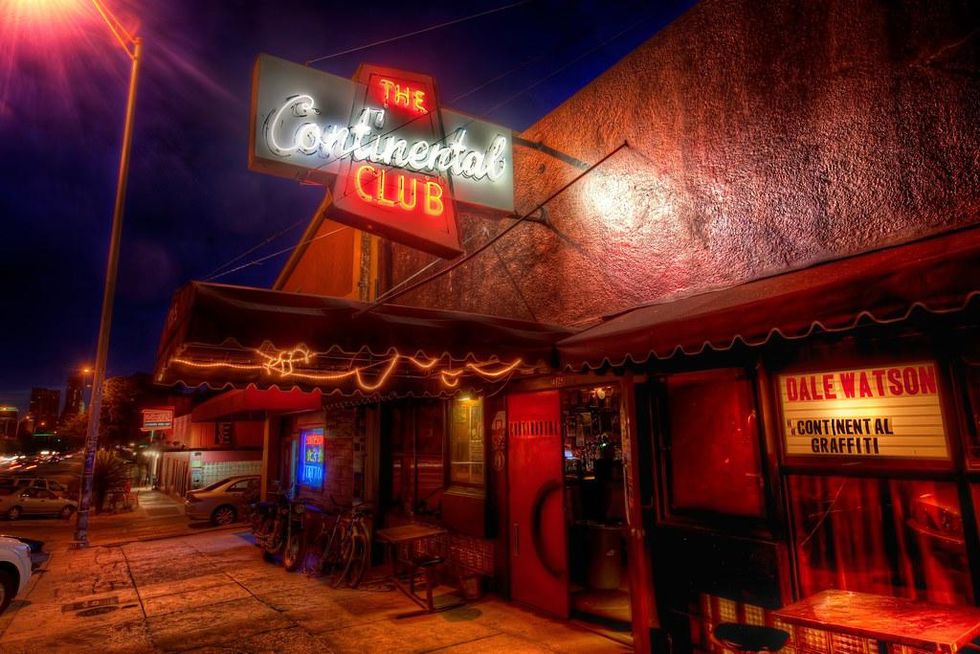 South Congress is home to one of the most celebrated venues in Austin, the Continental Club. (Trey Ratcliff/CC)
South Congress is home to one of the most celebrated venues in Austin, the Continental Club. (Trey Ratcliff/CC)
Right around the middle of the barrel, South Congress has been steadily increasing in popularity, size and variety since the late 1990s. The brightly lit street is usually bustling from afternoon until night but doesn't attract too much violent crime with just an average of 675 police reports per year since 2016. You're more unlikely to be physically harmed while visiting South Congress but make sure you lock your car tightly, as 217 total vehicle burglaries have been reported, keep an eye on your pocketbook, with 143 total theft reports, and drive safely, with 89 total reports of DWIs since 2019.
The Domain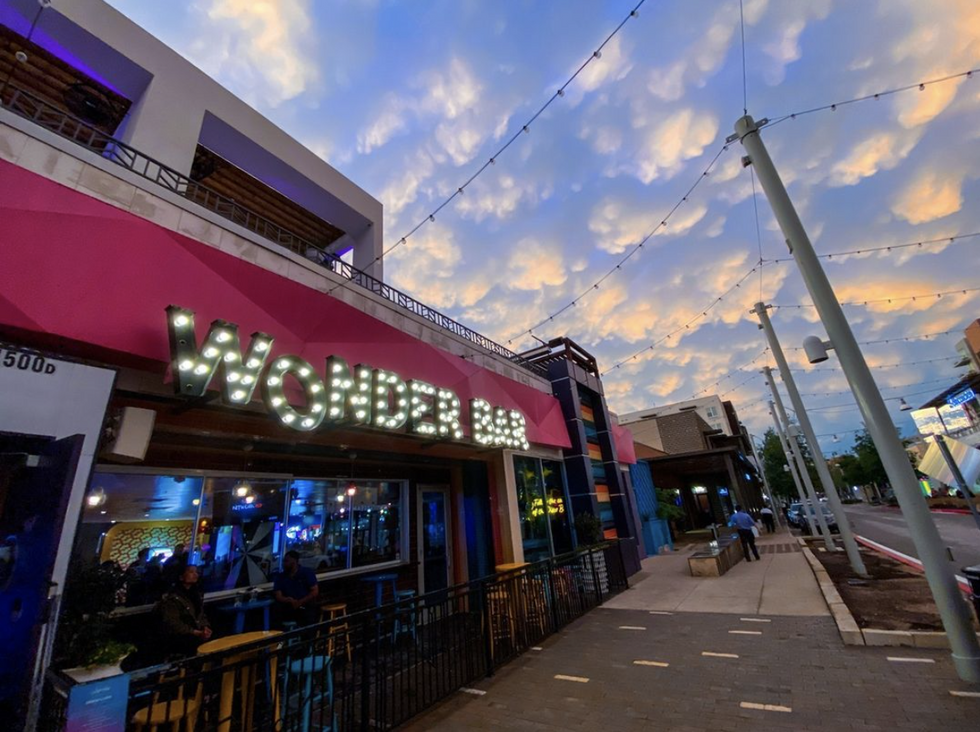 The Domain's bars are surrounded by lights, streets and nearby businesses. (Wonder Bar/Instagram)
The Domain's bars are surrounded by lights, streets and nearby businesses. (Wonder Bar/Instagram)
Tucked away further north, The Domain has been an up-and-coming night district with fun and whimsical bars like Wonder Bar, Kung Fu Saloon and The Rose Room decorating Instagram pages everywhere. While not the safest, The Domain is a fairly safe option to let loose in at night. Actually, your car will be less safe than you—The Domain's top crimes are burglary of vehicle and auto theft with 193 and 89 reports, respectively, since 2019. Theft should also be on the radar, with 132 reports.
West 6th Street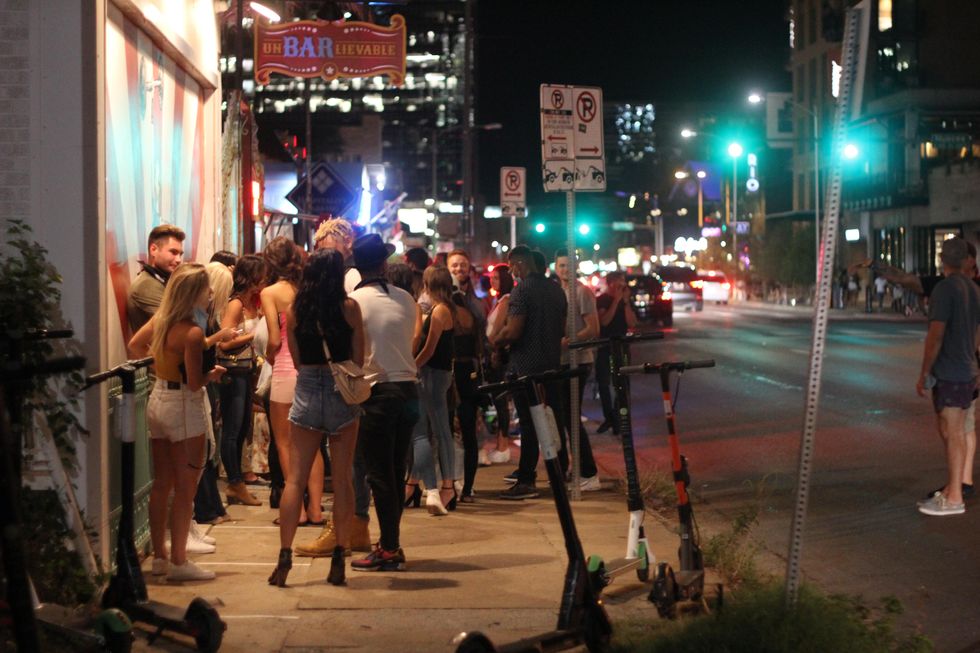 West 6th is usually a quieter option than some of the other districts, like Rainey Street or Dirty 6th. (Laura Figi/Austonia)
West 6th is usually a quieter option than some of the other districts, like Rainey Street or Dirty 6th. (Laura Figi/Austonia)
Nestled in Austin's Warehouse District, West 6th Street is another alternative to rowdy Dirty 6th. With dozens of popular bars and more coming every day, this area experiences noticeably less crime. West 6th had the second least amount of reported crime, with an average of 308 reports yearly since 2016. Your most common threats here are theft, with 172 total reports, and intoxicated drivers with 137 DWI reports since 2019.
Rainey Street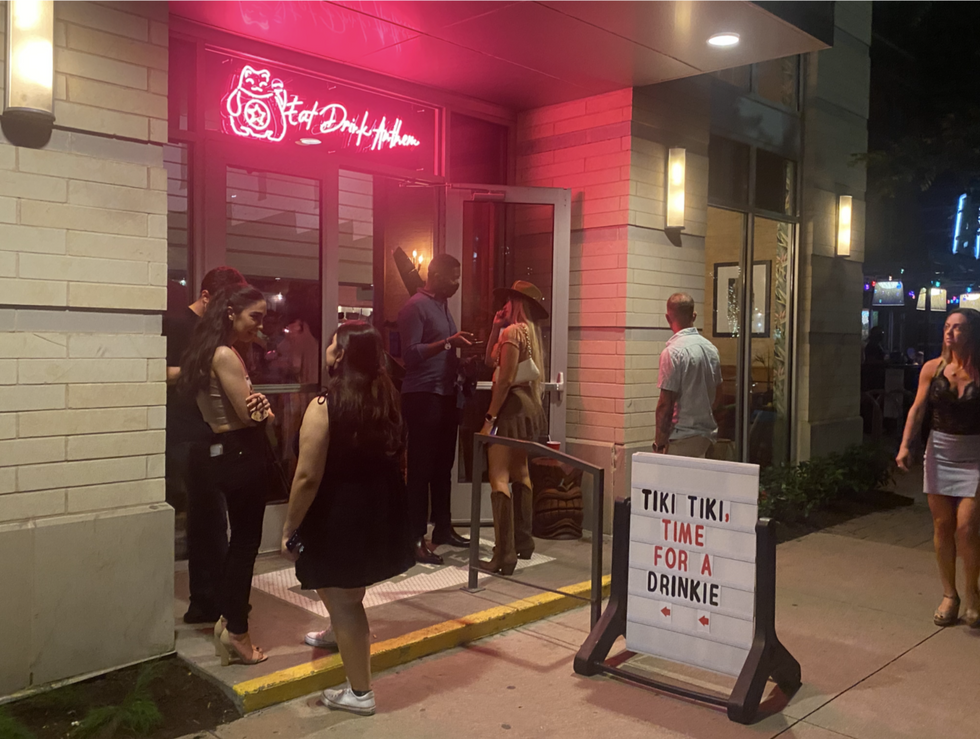 A relatively small, secluded area, Rainey Street is the safest district to party in as long as you have a ride home. (Laura Figi/Austonia)
A relatively small, secluded area, Rainey Street is the safest district to party in as long as you have a ride home. (Laura Figi/Austonia)
One of Austin's newest night districts, which is just blocks away from Dirty 6th, East 6th and Red River Street, comes out as the safest place to party on the weekends with just 135 yearly police reports on average over the past five years. Still, most common crimes fall in line with the other districts in the 78701 ZIP code: 142 total reports of theft, 117 total burglaries of vehicle reports and 71 reports of assault with injury since 2016.
Read more on Rainey Street here: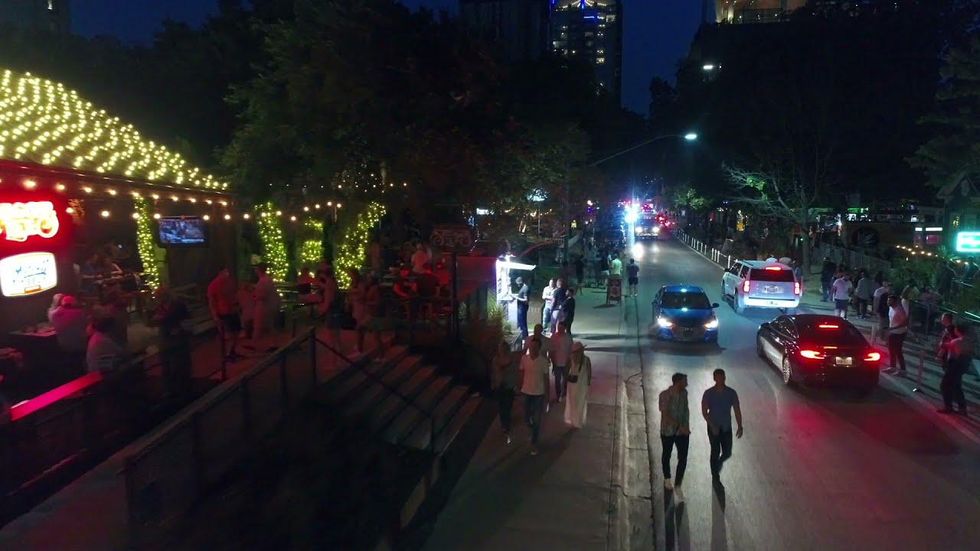 Austonia's complete guide to Rainey Street's nightlife