Get connected with our daily update
Westlake-area resident Joan Skerry said she and her sister were excited to receive their first Moderna COVID-19 vaccines at a First Medical Response of Texas pop-up clinic on Jan. 2, held in the Dripping Springs Fire Department's parking lot. However, when their second shot deadline came and went last Saturday, Skerry feared the two would have to start the vaccine regimen anew.
---
Due to a misunderstanding about saving part of their vaccine allotment for the second booster shot the vaccine process requires, First Medical used up all of its shipment on first vaccines and didn't have any more doses left for the second round, co-owner Edwin Reyes told Austonia.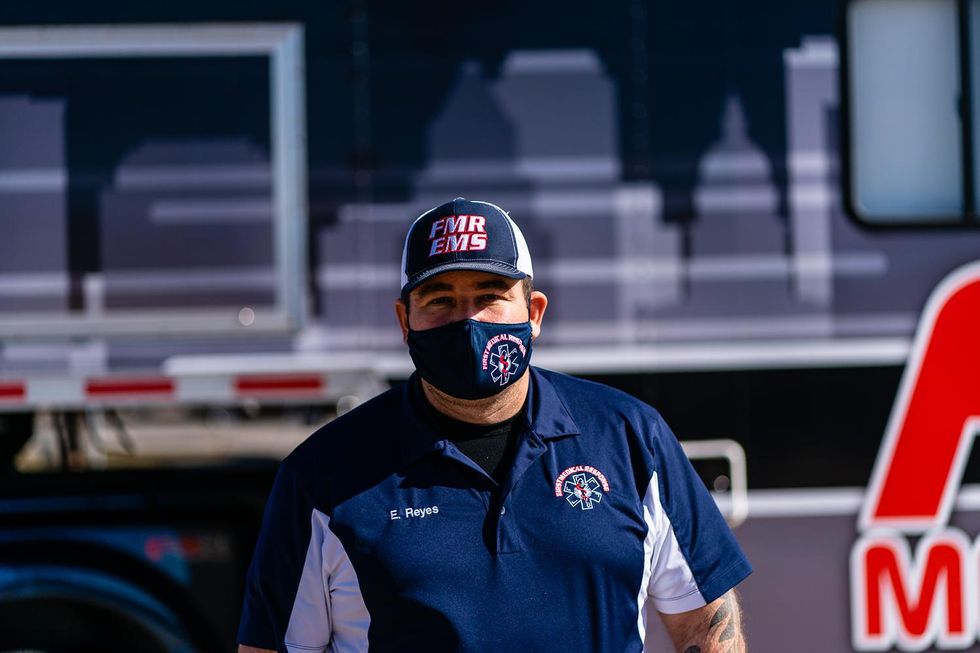 Edwin Reyes, owner of First Medical Response in front of his operations trailer, last month. (Jordan Vonderhaar)
Almost a week overdue, Skerry's sister managed to get a second vaccine elsewhere before Ascension Seton contacted her with a slot that she gave to Skerry. Both qualify as 1B recipients—consisting of older individuals and those with chronic health conditions—for the vaccine, the second phase in the distribution effort designated by the Texas Department of State Health Services after first responders and healthcare workers in group 1A. Skerry is 72 years old and her sister is 66 years old.
"I was so relieved when (Seton) called me that I started crying—not my usual behavior," Skerry said of the news that she would receive a booster shot. "So my story has a happy ending."
First Medical worked with government officials and state representatives to finally secure the 1,800 vaccines needed to provide those first vaccine recipients with their second vaccines, scheduling a clinic Friday for distribution, Reyes said.
However, some residents aren't so lucky and are still on the hunt for a second dose, including those who received an initial dose from clinics that were able to extract 11 doses from a vial allocated for 10 doses. There's no assurance they can take out extra doses to coordinate with those individuals who received the "extra" doses the first time.
Jeffrey Warnken, pharmacist and co-owner of 38th Street Pharmacy, is one of those providers. He drafted a second dose waitlist that contains 25 to 30 individuals qualified under 1A or 1B as of Feb. 3.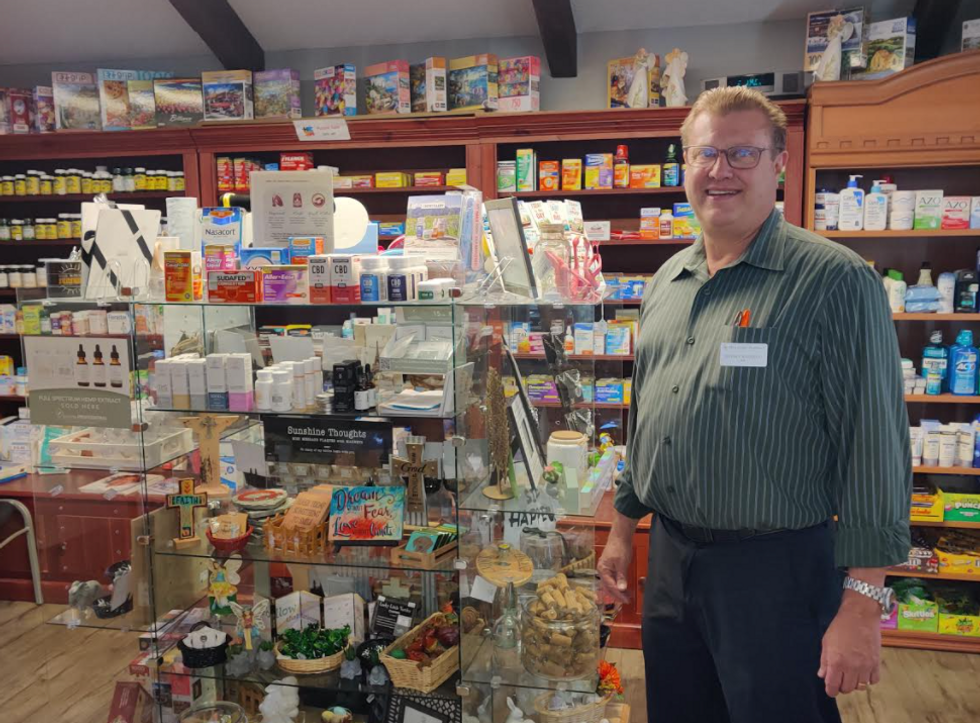 Pharmacist/Co-owner Jeff Warnken (38th Street Pharmacy)
Warnken said his pharmacy recently administered seven first doses to people with the understanding that they could not be assured of receiving a second dose from his facility. He thinks finding second doses will continue to be a problem until more vaccines become available.
"Instead of wasting it, it's better to give somebody a first dose with the possibility of not giving them their second dose because a half is better than zero," he said, adding that a single dose provides some immunity to the disease although the extent of that immunity is unknown. The protection from a single Moderna COVID-19 vaccine dose could range from 50% to 80% immunity after four weeks, Warnken said.
He's hopeful the pharmacy will get more vaccines in, especially with President Joe Biden's plan for the federal government to distribute vaccines directly to retail pharmacies like his facility.
Tarrytown Pharmacy's Pharmacist-in-Charge Rannon Ching also maintains a 1,300-name second dose waitlist for individuals looking for a Moderna booster. Because some individuals were able to find their first shot at independent locations, the opening of larger vaccine hubs have stranded those vaccinated by smaller sites that, as with Ching, haven't received additional doses in weeks.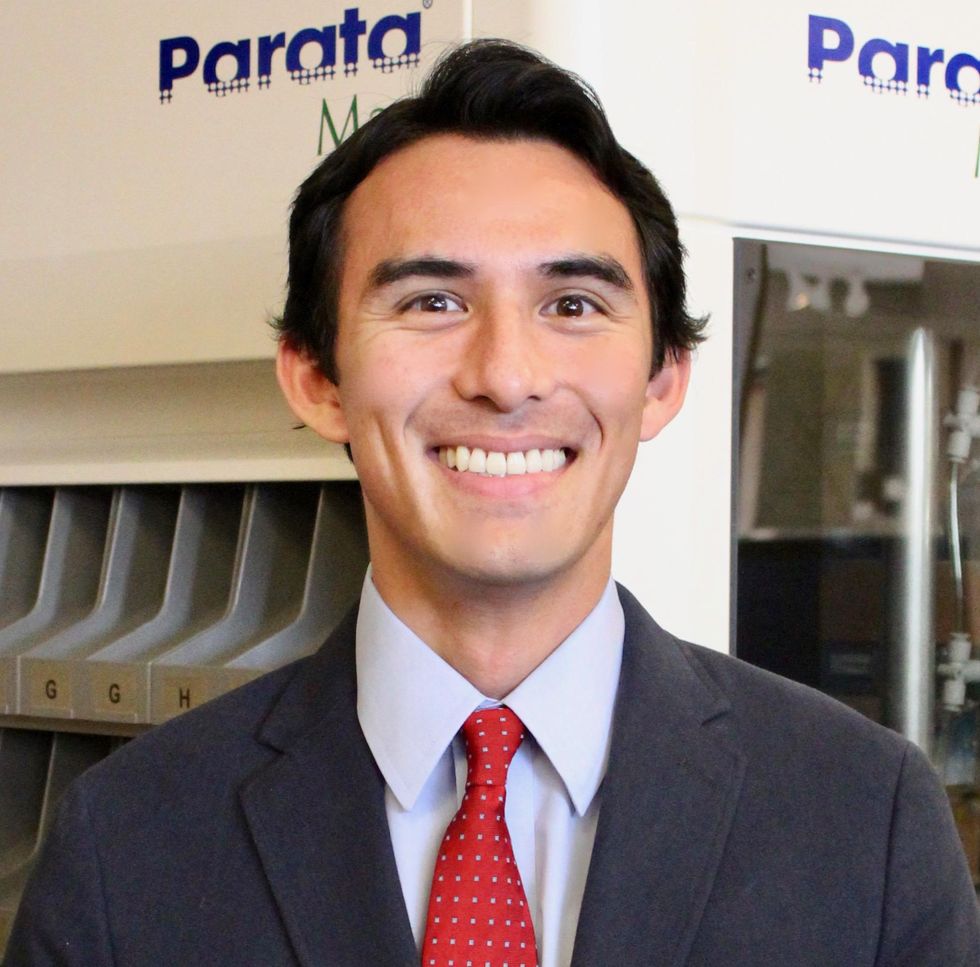 Pharmacist-in-Charge Rannon Ching (Tarrytown Pharmacy)
He said he views those who aren't matched with a second dose fighting for that booster along with everyone else in the fight for a vaccine.
"The good thing about second doses is, once you give them, that's it and you don't have to coordinate for another dose," Ching said. "Second doses lend themselves well to those extra doses we pull out of the vial because those aren't accounted for and won't be accounted for to get second doses four weeks later."
His waitlist also includes individuals who want to make sure they have a "backup plan" in case something happens to their designated second vaccine and recommended first vaccine recipients return to their initial provider for the booster.
Austinite Leslie Lindzey, who received her first dose of the Moderna vaccine on Jan. 14 at Austin ISD's Delco Activity Center, isn't sure if she should pursue other options for her second dose. As of Feb. 4, she hadn't received word on scheduling her booster.
Although the vaccine hub isn't giving out second doses to individuals who didn't have their first vaccine through Austin Public Health, spokesperson Jen Samp said the department will be reaching out to first vaccine recipients for their second dose. As of Feb. 3, she said APH was waiting on news from DSHS regarding the second doses.
"We don't want to contact folks if we don't have the vaccine," Semp said about the second doses. "Once we secure the vaccine, we'll be contacting (them)."
On Jan. 21, the Center for Disease Control and Prevention updated its recommended interval for the two Moderna vaccines to include the scheduling of a second dose to be administered up to 42 days following the first dose if it isn't feasible to be timed at its recommendation of 28 days.
"The 28 days is not a deadline," Samp said. "It is merely an expectation that you should wait at least that amount of time before you get your second one."
With the two-dose Moderna vaccine and similar Pfizer vaccine in distribution, pharmaceutical maker
Johnson & Johnson submitted an application Thursday to the U.S. Food and Drug Administration requesting Emergency Use Authorization for a new single-dose COVID-19 vaccine
. The company stated in a news release that it expects to be able to ship that vaccine immediately after it is approved. Maybe that will end the two-dose conundrum?
More on the vaccine: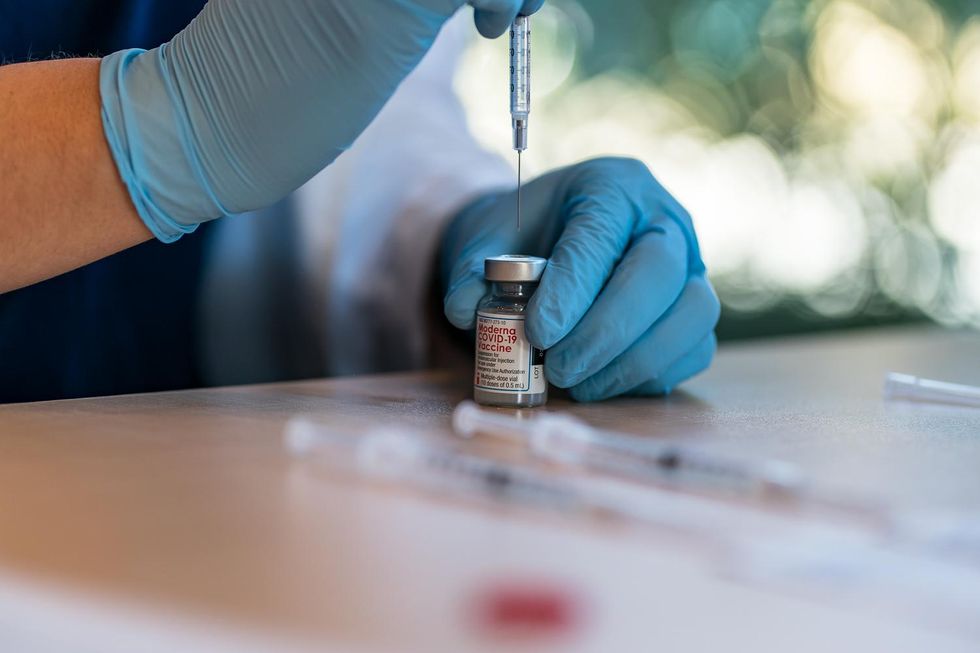 Vaccines administered in Texas surpass total case count
An Austin-based firm that's established itself as one of the top Bitcoin miners in North America is set to go public.
On Thursday, the company, known as Core Scientific Inc., announced it's now trading on Nasdaq as $CORZ. The stock opened at $9.74 per share then peaked at $10.48. The company was assigned a $414 million market cap.
"As one of the largest publicly-traded blockchain infrastructure providers and digital asset miners in North America, we are focused on growing our capacity, defending and securing the blockchain ecosystem and building long-term shareholder value," CEO Mike Levitt said.
As reported by Yahoo News, investors approved a plan for a public debut through a $4.3 billion merger with special purpose acquisition company Power & Digital Infrastructure Acquisition Corp. The deal arrives as Austin sees its crypto scene soar, with increased activity in the NFT economy and groups pooling their money together through DAOs.
Core Scientific was established in 2017 and relocated its headquarters from Seattle to Austin last year. It has a site in Downtown Austin on 106 E. 6th St. and data centers in Georgia, Kentucky, North Carolina and North Dakota. More than 100 full-time employees are in the U.S., but it's unclear how many are in Austin.
Now, they say they are the biggest Bitcoin miners based on processing power, with claims that the combined mining capacity on the Bitcoin network exceeds that of competitors. And SEC filings from earlier this month show it's in the process of acquiring Blockcap, Inc., which moved to Austin last year.
The company describes itself as a leader in high-performance, carbon-neutral blockchain infrastructure in an industry that catches flak for its energy use.
Aside from mining, the company provides internet hosting services for other large-scale miners. In fact, it derives about half its revenue by helping big customers mine, a quality seen in what's often referred to as an "institutional-grade" miner.
Looking ahead, Core Scientific seems optimistic about the year ahead even as Bitcoin falls from its all-time high.
"We've worked hard to lay the groundwork that will enable us to achieve our 2022 projections," Levitt told Yahoo News. "Our objective is to be the best. Being the best means doing all that we can for our business, the industry in which we participate and for the Bitcoin network."
Watch some Cricket
When: 5:30-10 p.m. Saturday and Sunday
Where: The Crossover, 1717 Scottsdale Drive
What: Looking for a new sport to obsess over? Attend one of Sports Movement's indoor cricket matches.
Le Garage Sale
When: 11 a.m. Saturday and Sunday
Where: Palmer Events Center, 900 Barton Springs Rd.
What: Find over 100+ boutiques, brands and designers at Le Garage sale. Shop leisurewear, accessories, menswear, children's apparel, home decor and more. Tickets start at $10.
See a movie at the drive-in
When: 6:25-8:45 p.m., 9:15-10:50 p.m. Saturday
Where: The Globe Drive-In Theater, 8017 Cele Rd.
What: This weekend you can see Harry Potter and the Prisoner of Azkaban at 6:25 p.m. or you can see The Cabin in the Woods at 9:15 p.m. at the drive-in. Tickets cost $16 per car.
Museum of Ice Cream
When: 11:30 a.m Saturday and Sunday
Where: Museum of Ice Cream, 11410 Century Oaks Ter.
What: The Museum of Ice Cream is featuring 12 never-before-seen instillations celebrating the enjoyment of ice cream. View tickets here.
The Austin Flea
When: 12 p.m. Sunday
Where: Meanwhile Brewing, 3901 Promontory Point Dr.
What: Find handmade items, vintage wares, food and drink and more at The Austin Flea at Meanwhile Brewing. Vendors are handpicked for each show to guarantee a great selection of items to shop for.