Get connected with our daily update
Westlake-area resident Joan Skerry said she and her sister were excited to receive their first Moderna COVID-19 vaccines at a First Medical Response of Texas pop-up clinic on Jan. 2, held in the Dripping Springs Fire Department's parking lot. However, when their second shot deadline came and went last Saturday, Skerry feared the two would have to start the vaccine regimen anew.
---
Due to a misunderstanding about saving part of their vaccine allotment for the second booster shot the vaccine process requires, First Medical used up all of its shipment on first vaccines and didn't have any more doses left for the second round, co-owner Edwin Reyes told Austonia.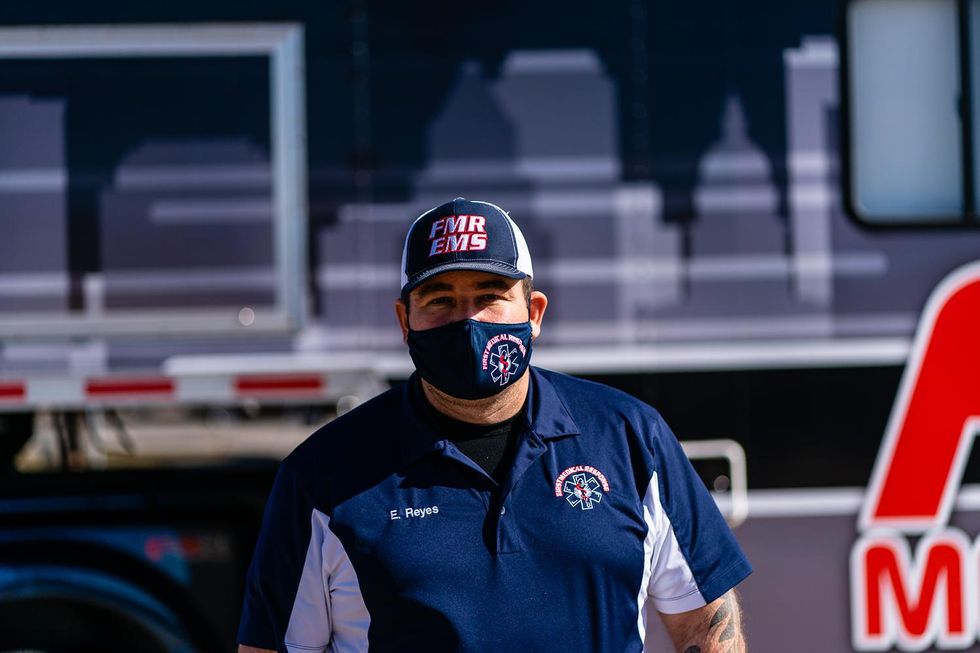 Edwin Reyes, owner of First Medical Response in front of his operations trailer, last month. (Jordan Vonderhaar)
Almost a week overdue, Skerry's sister managed to get a second vaccine elsewhere before Ascension Seton contacted her with a slot that she gave to Skerry. Both qualify as 1B recipients—consisting of older individuals and those with chronic health conditions—for the vaccine, the second phase in the distribution effort designated by the Texas Department of State Health Services after first responders and healthcare workers in group 1A. Skerry is 72 years old and her sister is 66 years old.
"I was so relieved when (Seton) called me that I started crying—not my usual behavior," Skerry said of the news that she would receive a booster shot. "So my story has a happy ending."
First Medical worked with government officials and state representatives to finally secure the 1,800 vaccines needed to provide those first vaccine recipients with their second vaccines, scheduling a clinic Friday for distribution, Reyes said.
However, some residents aren't so lucky and are still on the hunt for a second dose, including those who received an initial dose from clinics that were able to extract 11 doses from a vial allocated for 10 doses. There's no assurance they can take out extra doses to coordinate with those individuals who received the "extra" doses the first time.
Jeffrey Warnken, pharmacist and co-owner of 38th Street Pharmacy, is one of those providers. He drafted a second dose waitlist that contains 25 to 30 individuals qualified under 1A or 1B as of Feb. 3.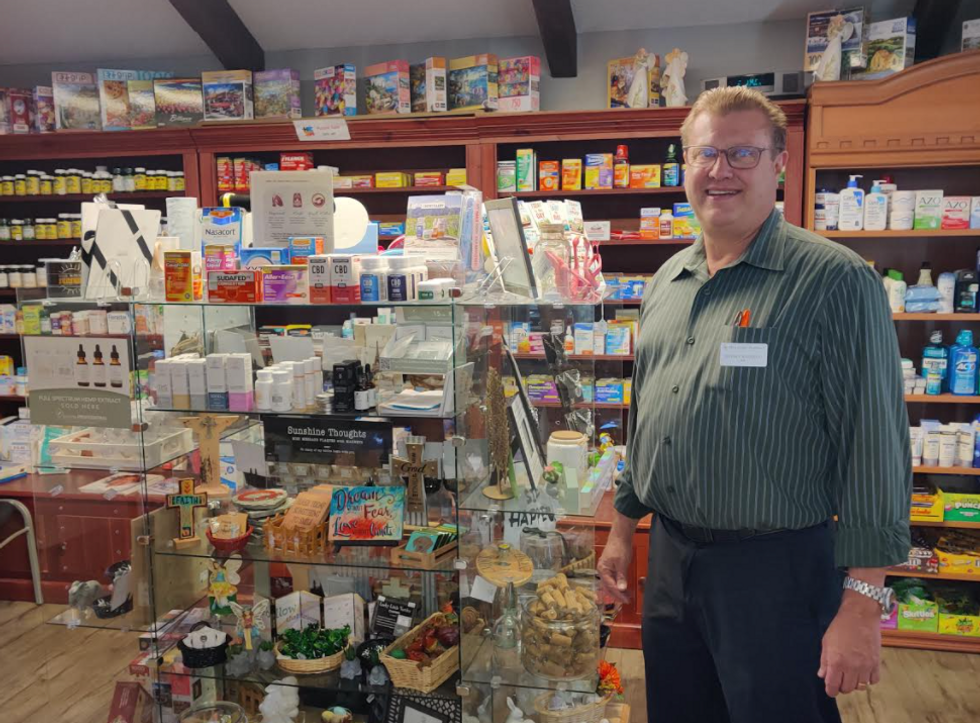 Pharmacist/Co-owner Jeff Warnken (38th Street Pharmacy)
Warnken said his pharmacy recently administered seven first doses to people with the understanding that they could not be assured of receiving a second dose from his facility. He thinks finding second doses will continue to be a problem until more vaccines become available.
"Instead of wasting it, it's better to give somebody a first dose with the possibility of not giving them their second dose because a half is better than zero," he said, adding that a single dose provides some immunity to the disease although the extent of that immunity is unknown. The protection from a single Moderna COVID-19 vaccine dose could range from 50% to 80% immunity after four weeks, Warnken said.
He's hopeful the pharmacy will get more vaccines in, especially with President Joe Biden's plan for the federal government to distribute vaccines directly to retail pharmacies like his facility.
Tarrytown Pharmacy's Pharmacist-in-Charge Rannon Ching also maintains a 1,300-name second dose waitlist for individuals looking for a Moderna booster. Because some individuals were able to find their first shot at independent locations, the opening of larger vaccine hubs have stranded those vaccinated by smaller sites that, as with Ching, haven't received additional doses in weeks.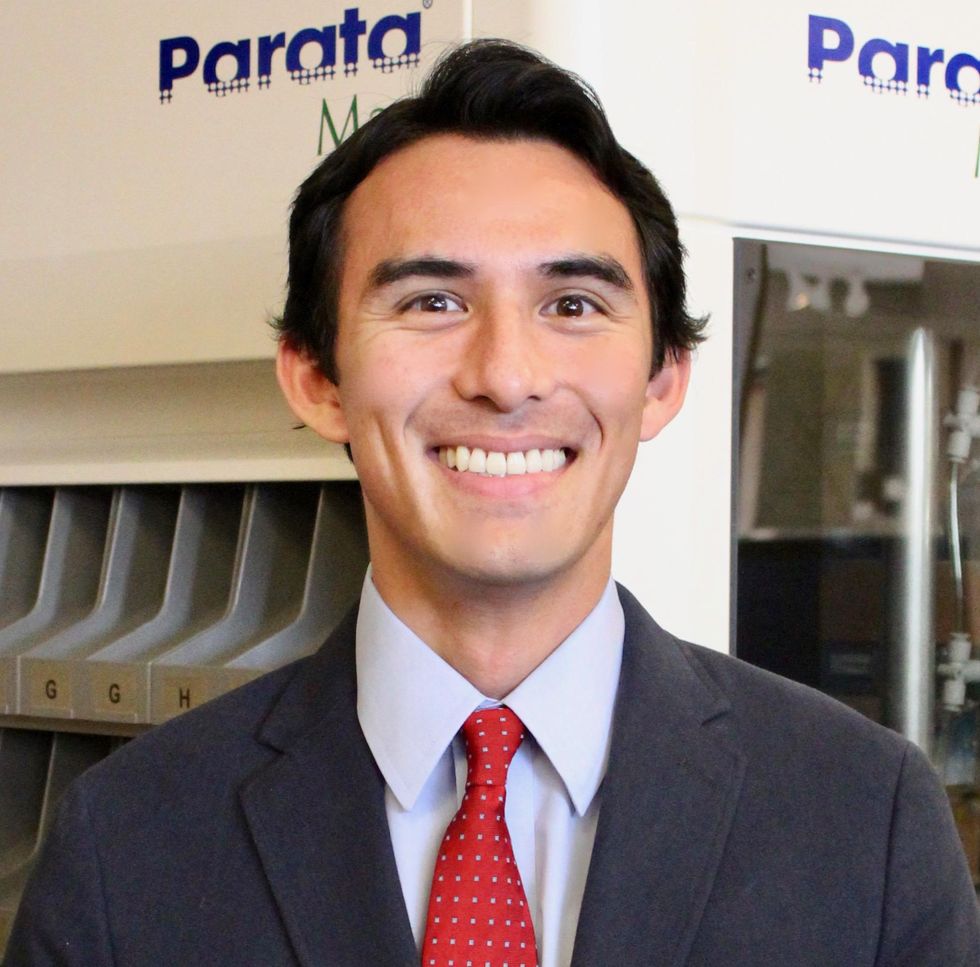 Pharmacist-in-Charge Rannon Ching (Tarrytown Pharmacy)
He said he views those who aren't matched with a second dose fighting for that booster along with everyone else in the fight for a vaccine.
"The good thing about second doses is, once you give them, that's it and you don't have to coordinate for another dose," Ching said. "Second doses lend themselves well to those extra doses we pull out of the vial because those aren't accounted for and won't be accounted for to get second doses four weeks later."
His waitlist also includes individuals who want to make sure they have a "backup plan" in case something happens to their designated second vaccine and recommended first vaccine recipients return to their initial provider for the booster.
Austinite Leslie Lindzey, who received her first dose of the Moderna vaccine on Jan. 14 at Austin ISD's Delco Activity Center, isn't sure if she should pursue other options for her second dose. As of Feb. 4, she hadn't received word on scheduling her booster.
Although the vaccine hub isn't giving out second doses to individuals who didn't have their first vaccine through Austin Public Health, spokesperson Jen Samp said the department will be reaching out to first vaccine recipients for their second dose. As of Feb. 3, she said APH was waiting on news from DSHS regarding the second doses.
"We don't want to contact folks if we don't have the vaccine," Semp said about the second doses. "Once we secure the vaccine, we'll be contacting (them)."
On Jan. 21, the Center for Disease Control and Prevention updated its recommended interval for the two Moderna vaccines to include the scheduling of a second dose to be administered up to 42 days following the first dose if it isn't feasible to be timed at its recommendation of 28 days.
"The 28 days is not a deadline," Samp said. "It is merely an expectation that you should wait at least that amount of time before you get your second one."
With the two-dose Moderna vaccine and similar Pfizer vaccine in distribution, pharmaceutical maker
Johnson & Johnson submitted an application Thursday to the U.S. Food and Drug Administration requesting Emergency Use Authorization for a new single-dose COVID-19 vaccine
. The company stated in a news release that it expects to be able to ship that vaccine immediately after it is approved. Maybe that will end the two-dose conundrum?
More on the vaccine: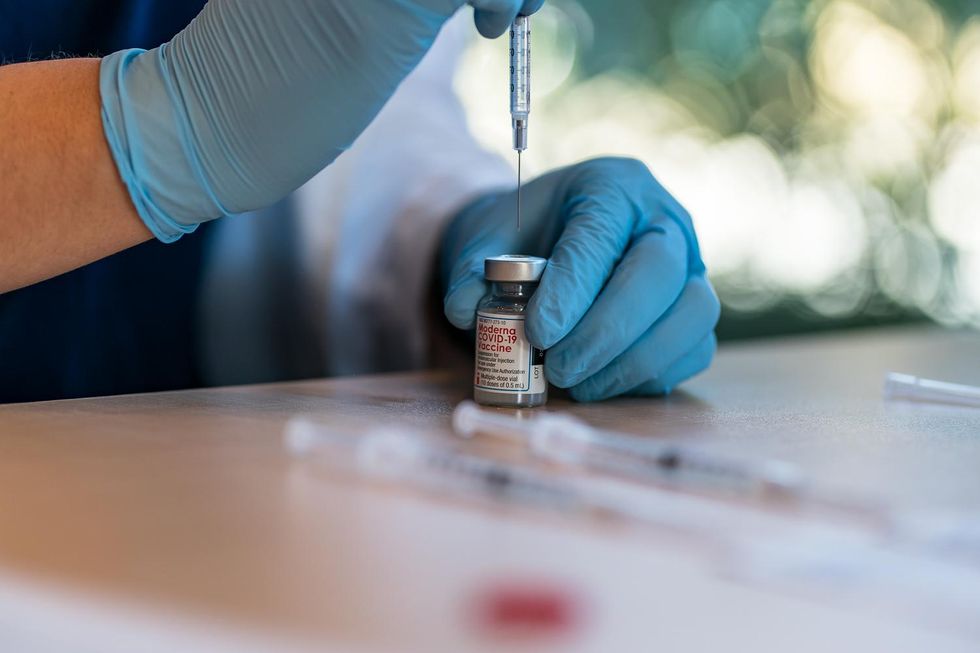 Vaccines administered in Texas surpass total case count
In a city where live music is heralded above all else, Pete Monfre was surprised to find local musicians working for free that he quit the industry for 10 years in 2006.
Local musicians tended to be underpaid before COVID-19 sent the music industry reeling, but the fallout from the pandemic exasperated the existing problems. Musician and marketer Monfre knows—he's been behind that shaking tip jar, trying to turn a profit while doing what he loves. He's tackling the problem with a unique brand of live shows, which go against the grain, mix business with pleasure and help bring home the bacon.
The shows, called Stories from the Road, are an informal storytelling jam session at The Saxon Pub that encourages interaction between the artist and audience.
After a brief hiatus due to ongoing woes of the pandemic Stories from the Road came back to The Saxon Pub on Saturday. It was the first of 23 consecutive shows that didn't sell out, which Monfre attributes to the break of not having shows.
"We called it Stories from the Road—not a band, an experience," Monfre said. "We're not going to rehearse, we're not going to have a list, we're not going to prepare, every show is a one-off and you will never see it again."
His shows start early at 6 p.m., with a rotating group of musicians playing blues or Americana who need not rehearse. This time it featured Mark "Kaz" Kazanoff on saxophone and harmonica, bassist Mark Epstein, drummer Kevin Hall and Adam Pryor on Hammond Organ.
You'll probably end up spending a bit more than the typical show at the Saxon Pub, around $30 per person, but each show goes directly to supporting the artists that made it.
"Part of the mission was to advocate for fair wages for musicians and to help musicians understand their economic value," Monfre said. "Now I can afford to pay musicians a modest guarantee and we call that the Fair Play approach to live music."
Monfre moved to Austin as a young adult with the intention of "conquering the music industry" in 1981, which he told Austonia he did not do but did meet "a lot of interesting people." He left Austin to tour for a few years, then moved to Milwaukee, where he continued to play music.
After returning to Austin in 2006, Monfre discovered some musicians were playing shows for free.
"I'm playing in Chicago and Michigan and hardcore blues places, and we don't play for free," Monfre said. "So I actually quit for 10 years. There is no reason to play for free whatsoever if you just get the model right."
Having already tried to conquer the music industry once, Monfre took a business-forward approach the second time. The model also caters to what he believes is an underserved group: working professionals who want to meet like-minded individuals but also be home by 9 p.m.
Chief Technology Officer for Economic Transformation Technologies David Smith, who has been coming to other Monfre shows since they started in 2016, said he enjoys the improvisational nature of the shows because it reminds him of old Austin.
"The Stories from the Road get back to the root of what music is: the fact that you can sit and jam, make music with musicians because they understand music, and that's the soul of Austin," Smith said. "It really is a celebration of music."
Monfre said the informality is what makes his shows so popular—you'll hear the musicians ask the key for a song, take a request from the crowd, make a lighthearted jab at one another or create a song from scratch.
"They want to see the sausage being made, it's really funny I would have never thought it," Monfre said.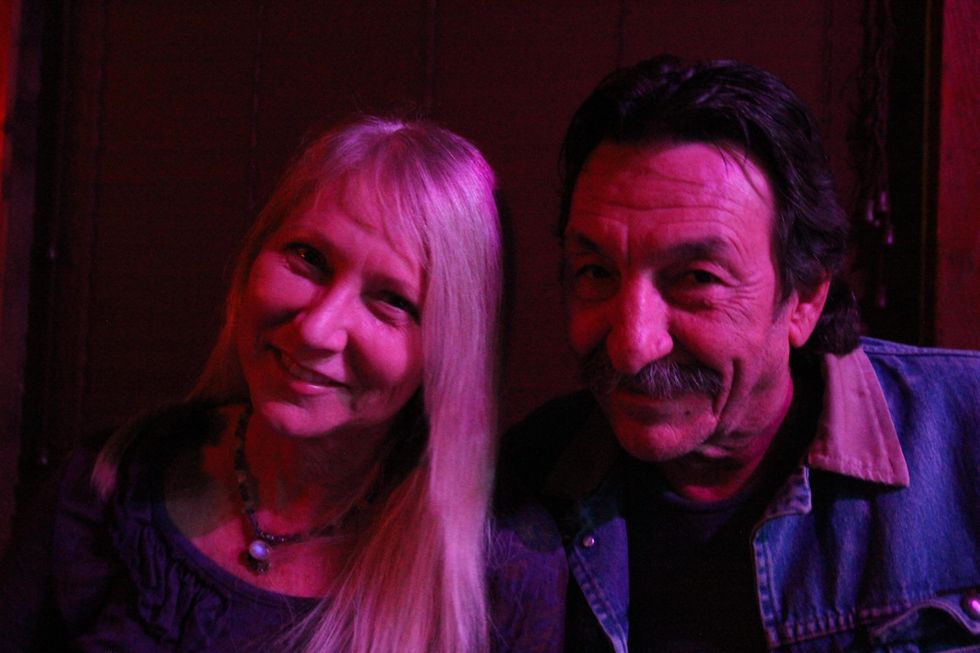 Price (right) said he was happy the show ended early so he could make it home to Lampasas. (Laura Figi/Austonia)
"I am knocked out. It just really didn't get any better than what we just had—this band was so good, the crowd was so good," Price said. "That's what Austin in the '60s and '70s was all about, just everybody throwing it together."
Stories from the Road is returning to The Saxon Pub stage on Dec. 18, with a completely new group of musicians. The show, like always, will start at 6 p.m.
In this season of gifts, giving, and gratitude, Tito's is making it easy to shop for your friends and loved ones while helping our community.
The beloved Austin company's Love, Tito's retail space, downtown at 215 Lavaca Street, is fully stocked with great gear. 100% of net proceeds of whatever you purchase—a new collar for your four-legged friend, a Tito's tee, some branded barware—go to the nonprofits they support. From the environment to animal rescue, you can choose your cause while choosing a new copper cocktail kit… or old school cap… or golf polo.
The store is stocked with stuff that the online experience just can't offer: never-before-seen swag, doggy photo booths (to say it's a dog-friendly space is an understatement), a record player to spin some tunes, and a bar finder listing local spots serving mean Tito's cocktails. Locals and out-of-town visitors alike can enjoy wonderful distractions while kicking back in an environment designed to cater to Tito's fans.

While you can't enjoy a cocktail there due to Texas liquor laws, the store offers unique experiences for any and all fans of the brand, and gives folks a chance to find what resonates with them while taking home a piece of the Tito's story.
*At our Love, Tito's store in Austin, net proceeds constitute an average margin of at least 25% of the retail price of a product, excluding the cost of tax on the purchase. We are not deducting cost of our people, the store rent or other operating costs.
The holiday season is upon us, so get ready to celebrate with carols, snacks and light shows galore. Austin is full of holiday festivities spanning throughout all of December so get out and enjoy the cool weather while it lasts.
Don't miss these nine holiday-themed light shows.
Austin's most famous annual light show and a Readers Choice of USA Today's 10 Best Public Displays of Holiday Lights, the Trail of Lights will be drive-thru again this year Nov. 27-Dec. 31. For 57 years in a row, the Trail of Lights has lit up Zilker Park with games, food, local vendors and more than two million lights gleaming for the holidays. The event, as always, is free to the public and you can reserve slots here. The Zilker Tree is already up, so you can already see it if the holiday cheer is too much to bear.
Coming back for the second year in a row, Peppermint Parkway will transport you to COTALAND, where six million lights gleam and Christmas is just a one-mile drive away. The hybrid event will have you drive through the display of lights, dancing elves and unique little villages before you hit the walking plaza, where you can grab a bite to eat and meet Santa. Tickets range from $40-$95, some including a lap around the COTA track, running from Nov. 26-Dec. 26.
Dreamland Dripping Springs has been transformed into a winter wonderland—running throughout the month of December, the venue's first-ever holiday display is taking over with activities for the whole family. Plus, running from Nov. 20-Jan. 4, a pop-up ice skating rink will really bring the holiday cheer for $10 or $5 Monday specials. The lights display will feature half a million lights and warm, festive sips from the taproom.
With events galore for the holiday season, winter is really when the Hill Country Galleria thrives. Starting with its Light Up The Plaza event on Saturday from 6-8 p.m., where visitors can see Santa, gaze at the official lighting of the holiday tree and hear some live tunes from rock band American Authors. The Galleria will also hold a holiday market every Thursday, Friday and Saturday leading up to Christmas Eve and periodic photos with Santa at Buenos Aires Cafe.
Deck the Halls at the Driskill Hotel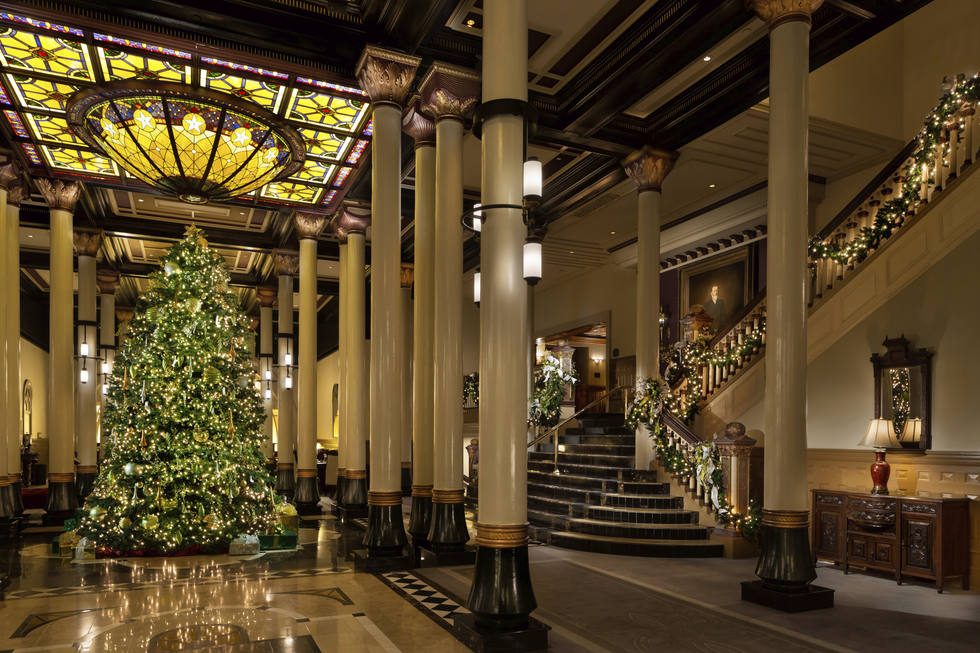 (Courtesy of the Driskill Hotel)
This holiday season, the Driskill will deck out every nook and cranny of the historic hotel from the grand staircase to the 16-foot Christmas tree in the lobby to be lit on a Dec. 1 ceremony that will be open to the public. Touches of Driskill festivities can also be seen at Dell Children's Hospital with a gingerbread village for its annual "Cookies for Caring" event.
Kicking off the lighting of the tree on Saturday, Dec. 4, Austinites will gather on the steps of the Texas Capitol at 6 p.m. to sing the 45-foot tree to life. Afterward, local band Los Coast will close out the night with a free concert. The fun doesn't stop there though as the Downtown Austin Alliance will host the Downtown Holiday Stroll, with "holiday passports" and stamps to collect for local restaurants and stores, and a Frida Friday Holiday Market at Republic Square.
Combining festive holiday lights and the beautiful native plants of Central Texas, Luminations at the Wildflower Center is back with thousands of lights, luminarias and a lit-up look at Fortlandia. This year will also feature an interactive light maze called "silvana" by Ben Busche of architecture firm Brut Deluxe, which will be the maze's first appearance in North America. The event will run Thursdays-Sundays from Dec. 2-Jan. 30 for $10-$25 per person.
Reserved tables are back for Mozart's Coffee Roasters annual Christmas Lights Show for $20 four-person tables and $30 six-person tables—so get your tickets early because these tables are likely to sell out. The light show will also feature a festival-style Bavarian marketplace for those last-minute gifts. If you're too late to reserve a table, don't worry, there will be standing room available for free so come one, come all, and come early for parking.
From Dec. 2-4, Old Settlers Park will light up with holiday displays, family activities, festive refreshments and live music. Watch the balloons hover above the lake as you sip on a hot chocolate or give to those in need, with stands for Round Rock Operation Blue Santa, which is taking toys for kids in need, the Play For All Foundation, which is accepting cash donations for disabled children, and the People & Parks Foundation, accepting cash donations for green space in the community. Admission to the event is free, along with most of the activities in the park.