Get connected with our daily update
Austin health coach Jessica Clay has been trying to help an elderly friend find a COVID-19 vaccine—spending hours checking vaccine websites, logging in and refreshing the pages—in hopes that an appointment slot will open up.
---
She said she's well aware that once portals open up for appointment slots—such as Hill Country Memorial Hospital's Jan. 25 noon registration portal— they are full within minutes. With an appointment finally scheduled this week, Clay told her friend "she feels like she won the lottery."
Clay's experience with the area's COVID-19 vaccine frenzy isn't an isolated one.
The Texas Department of State Health Services has been in charge of distributing the first phase of vaccines that includes healthcare workers and nursing home residents in 1A, as well as the 65-and-older community and those with chronic or serious illnesses in 1B. The vaccines are sent to larger hubs, such as local public health departments, and smaller distributors such as pharmacies to inoculate qualifying individuals per state guidelines.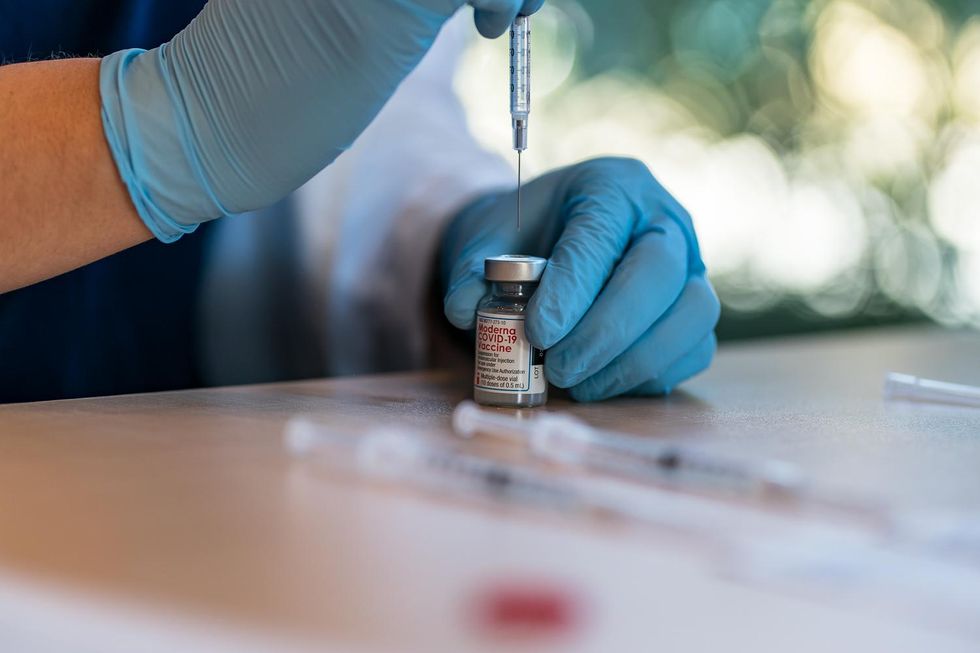 Medic DJ Longoria organizes medical supplies to administer the Moderna COVID-19 vaccine to healthcare workers at the AISD Performing Arts Center on Jan. 14. (Jordan Vonderhaar)
And, that's where the fun begins.

A Hays County spokesperson likened the distribution practice to "trying to get concert tickets," with tens of thousands of people who think they qualify under 1B vying for a small number of available vaccine appointments. The county posted 1,950 appointments for each of the past three weeks and she said the online appointments for its Jan. 25 clinic filled up within 25 minutes of the portal's opening.
Travis County's vaccine hubs are coordinated by Austin Public Health via its online or phone sign-up program. Per an APH spokesperson, with about 60,000-70,000 of the total 160,000 pre-registered individuals being 1A or 1B as of Jan. 18, the wait can be frustrating.
APH isn't the only game in town, with other smaller distributors catching the eye of individuals seeking pandemic protection.
Jeffrey Warnken, pharmacist and co-owner of 38th Street Pharmacy, said his business vaccinated healthcare workers and a few 1B individuals with the 200 doses he received Dec. 28. Weeks before news of the pharmacy's first vaccination clinic was posted, residents began calling to get on its waitlist, with staff fielding 100-200 phone calls hourly before the list transitioned to online.
"We're still a pharmacy and we still have patients we have to take care of, getting their routine medicine," Warnken said.
With a 25,000-30,000-person waitlist that includes unvaccinated 1A individuals, he recommends qualified applicants put their name on every COVID-19 vaccine waitlist they can, including nearby counties. However, he cautioned that large vaccination hubs aren't for everyone, especially the elderly who may have to stand in line for hours waiting for a shot, with independent pharmacies, such as 38th Street, able to get vaccine recipients in and out within 25 minutes.
"We aren't all big like CVS and Walgreens, but we are capable and loyal to our patients, and ready to get this done," agreed pharmacist Dorinda Martin who, with husband Jim Martin, co-owns three Martin's Compounding and Wellness pharmacies. Two of those facilities have already distributed 200 doses of the vaccine to healthcare workers and long term care residents.
Martin said she expects to get second doses for those vaccine recipients next week "but there is no guarantee of anything" and they've been ordered for quite some time. As of Jan. 26, the group's waitlist had 25,000 names, and Martin said her emotions have run the gamut from excitement to frustration to impatience over the process.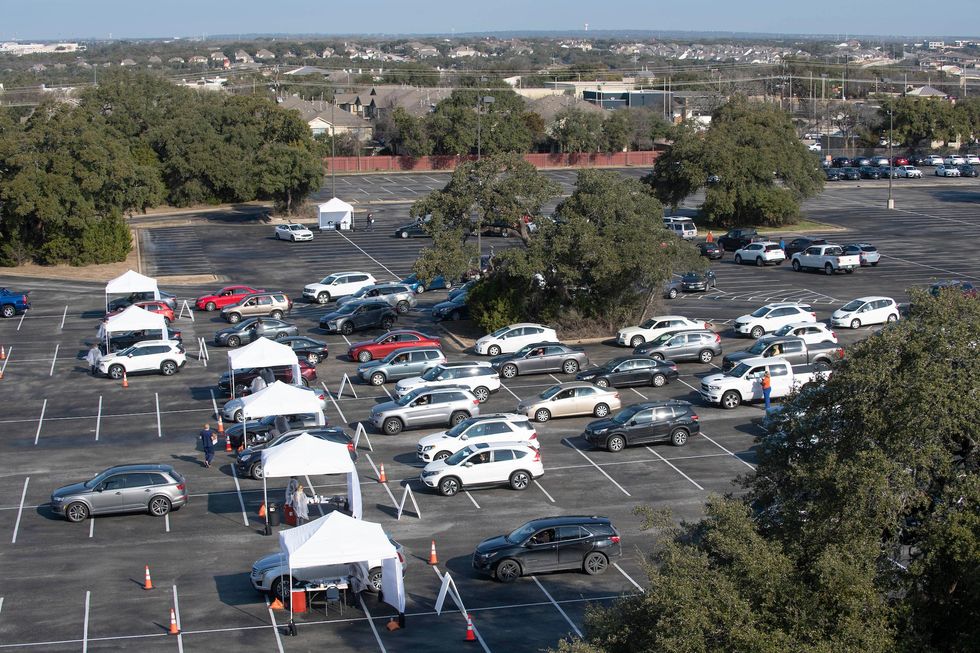 Central Texans line up at a drive-through clinic for COVID-19 vaccines at Kelly Athletic Stadium in Round Rock. (Bob Daemmrich)
Tarrytown Pharmacy distributed the first and second rounds of the 500 doses it initially received Dec. 23, said Pharmacist-in-Charge Rannon Ching, with most of those vaccines going to healthcare workers, staff and nursing home residents. He said he squeezed out about 20 additional doses after drawing 11 doses from some vials instead of 10 doses, with those going to a few 1B individuals.

Auro Pharmacy owner Sovit Bista said he received 100 doses during the first week of January but, as with Ching, was able to eke out another 10 doses from the vials, inoculating 110 nurses, dental staff and cancer or chronic disease patients. He's got a long way to go to whittle down his 3,000-plus vaccine pre-registration list and so does Ching, with a waitlist that's upwards of 40,000-50,000 individuals.
Mirroring Warnken's words, Ching said, "My advice to people is wherever you can get a shot, go get one."
Heeding that suggestion, West Austin resident Joan Skerry, who is over 65 years old, received a COVID-19 vaccine in early January from independent provider First Medical Response that was conducting a pop-up clinic stationed in the parking lot of the Dripping Springs Fire Department.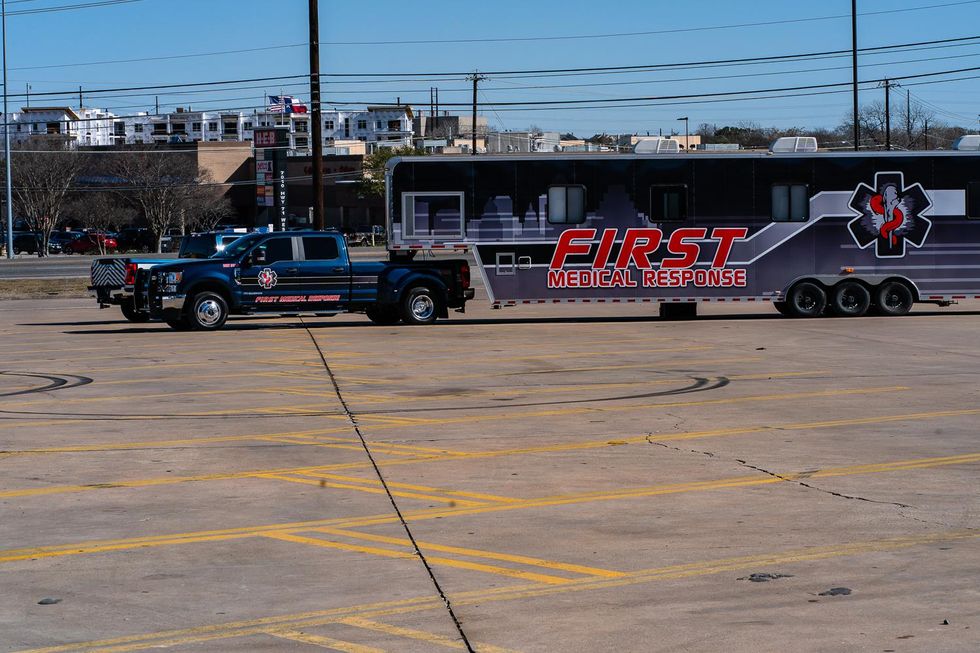 The First Medical Response Trailer in the parking lot of the Oak Hill Goodwill store on Jan 15. (Jordan Vonderhaar)
Seventy-year-old Spicewood resident Carol Birsa may trek to Houston to get hers. Helped by daughter Jennifer Gabriel in Florida, Birsa is frustrated despite being listed on up to 20 vaccine pre-registration lists, measures that Gabriel calls "a dead end." Others are garnering support and information on social media sites including Nextdoor portals.
"There doesn't seem to be one central source," Gabriel said. "You can't sign up with one place and they get to you on the list. There doesn't seem to be anything like that happening."
Providers, such as Family Hospital Systems, Williamson County's sole designated hub for COVID-19 distribution, said they are working to improve the process, especially when it comes to reining in unqualified applicants who can sometimes take doses that should belong to those in the priority distribution phases.
The group held 1A/1B vaccine clinics in Cedar Park and Georgetown earlier this month, administering an average total of about 3,300-3,500 shots daily for six days, Director of Communications Jen Stratton said. Family Hospital System's waitlist tops 100,000 names and she said folks showed up at the Cedar Park site at 8:30 p.m. requesting extra doses. She said she couldn't confirm or deny that non-appointment individuals received vaccines at the clinic and the group is employing measures to ensure that groups 1A and 1B are served first.
"Our goal at Family Hospital Systems, per directive of the Department of State Health Services, is to ensure that no vaccine doses get wasted," Stratton said. "We are doing the very best that we can with the supply that we are given."
Most distribution providers are optimistic the program will eventually improve.
"Take a step back, be patient and we will get as many people vaccinated as possible in the soonest time possible," a Hays County spokesperson said. "It's going to take time and it will evolve."
The Texas French Bread Bakery, located on 2900 Rio Grande Street, has been completely destroyed after a fire erupted on Monday night.
The Austin Fire Department responded to the fire just before 11 p.m., where they arrived to see flames coming from the roof of the bakery. Firefighters fought the fire for about an hour before the roof collapsed.
While no one was injured in the fire, firefighters say the historic building was completely totaled.
AFD determined that the fire was accidental and caused by mechanical failure. AFD said the damages amounted to $1.6 million total: $1.1 million in structural damage and $500,000 in damage to the contents of the bakery.

This year, Texas French Bread will celebrate 40 years of business. Before the bakery occupied the building, it was the Rome Inn, a music venue that hosted 1970s artists like Stevie Ray Vaughan.
Austin's first major league team is ready to extend its reach with a new collaborative sports complex The Pitch, an Austin FC destination packed with local food, beverages and Verde fervor is set to open in Northeast Austin in February.
The Pitch, a collaboration between Austin FC and Karlin Real Estate, among other entities, will be located in the 50-acre Parmer Pond District, which already hosts the club's practice facility St. David's Performance Center.
Dubbed a "true destination" for both soccer fans and the community, The Pitch will consist of multilevel shipping containers designed by Mark Odom Studio that will carve out into a 1,200-seat stadium complete with a soccer pitch made of turf, food and beverage options and a five-acre "Parmer Pond" featuring jogging trails.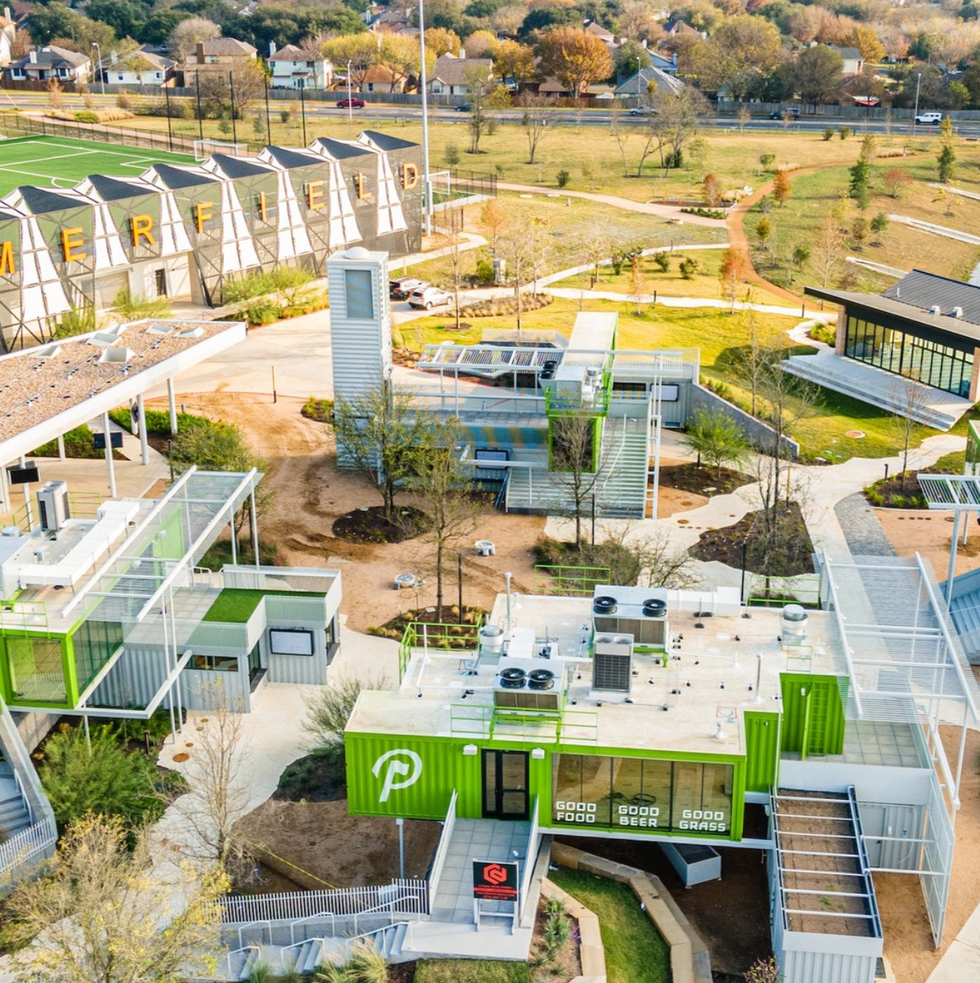 Made from multilevel shipping containers, The Pitch will include food and a 1,200-seat soccer pitch made from artificial turf. (The Pitch)
"The launch of Karlin's new food and entertainment experience will greatly enhance the Parmer development while perfectly complimenting St. David's Performance Center," Austin FC founder Anthony Precourt said. "The Pitch... will offer a strong variety of food options and gathering spaces for guests who will utilize St. David's Performance Center and Parmer Field for a variety of events."
The Pitch project lead Dave Greeley, who helped come up with the concept, is a former president of Austin FC parent company, Two Oak Ventures.
"The vision behind The Pitch at the Parmer Pond District is to be a first-of-its-kind sports, dining and entertainment destination," said Dave Greeley, The Pitch project lead and Team Orbis president. "This will be an unmatched experience for Parmer Austin tenants, Austin FC and club supporters, and the community."
With its proximity to the practice center, the venture hopes to contribute to the growing "soccer city" of Austin during Austin FC matches and youth games with the Austin FC Academy hosted at the St. David's Performance Center.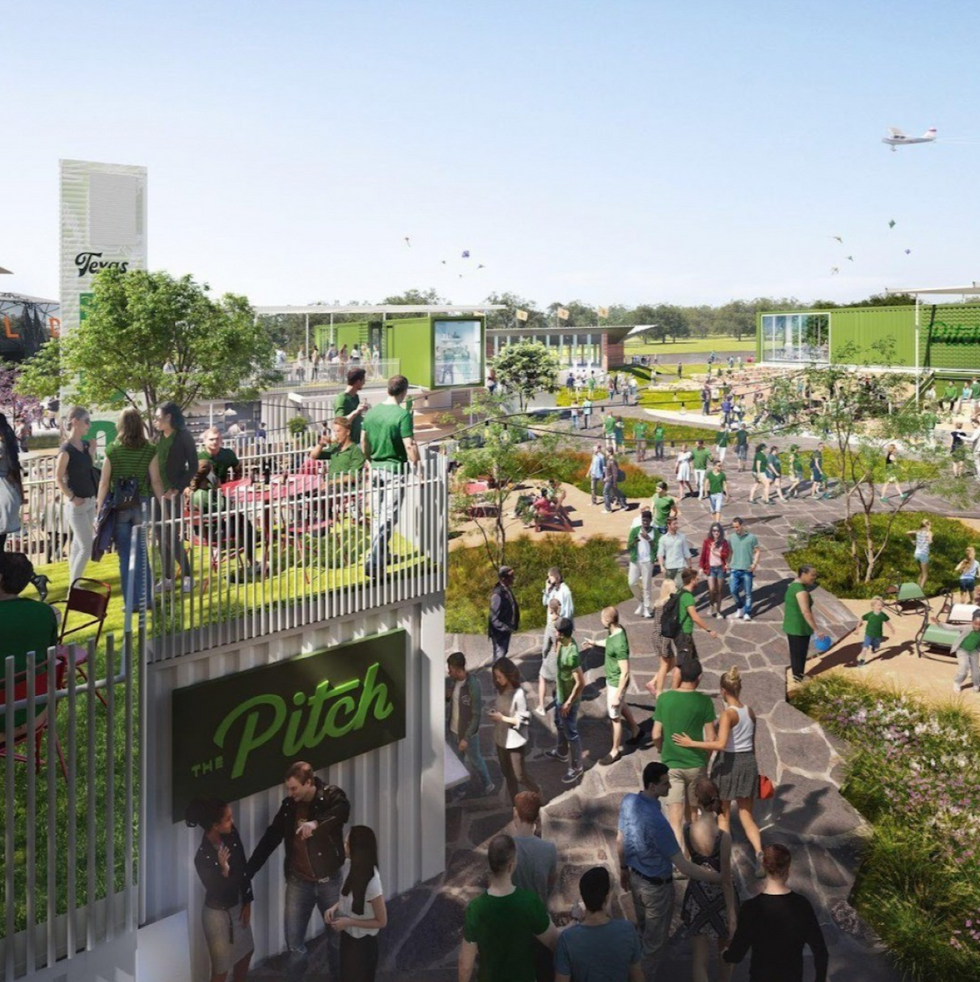 The Pitch hopes to converge both community and club interests with Austin FC. (The Pitch)
In addition to the soccer pitch, stadium and pond, The Pitch will provide a foody experience made by the creative team behind Austin staples like Fareground and Easy Tiger. The complex will offer local bites including:
Ranger Burger, which offers beers and burgers made from highly-coveted Wagyu beef direct from Ranger Cattle in East Austin
Ga Roti, which merges flavors from Northern Vietnam with the culinary techniques of France to create a unique rotisserie chicken joint
Taco Flats, a local taco chain serving Mexico City-style tacos, micheladas and more
Sand Bar, which fulfills its namesake with beauty cocktails, local beers and a sand volleyball court
Coffee Club, a coffee shop and bakery
Corner Kick Bar, the soccer-focused main bar of The Pitch complete with "tunes, TVs and (a) beer garden"
The Pitch will squeeze between St. David's Performance Center and Parmer Pond alongside the southern edge of Parmer Austin, a Karlin Real Estate venture that will eventually include multifamily housing, corporate office space and an aerospace and defense center.