Austonia AM
100% Austin news, info, and entertainment, straight to your inbox at 6 a.m. every morning.
In five minutes, you're fully informed and ready to start another great day in our city.
Get connected with our daily update
Austin health coach Jessica Clay has been trying to help an elderly friend find a COVID-19 vaccine—spending hours checking vaccine websites, logging in and refreshing the pages—in hopes that an appointment slot will open up.
---
She said she's well aware that once portals open up for appointment slots—such as Hill Country Memorial Hospital's Jan. 25 noon registration portal— they are full within minutes. With an appointment finally scheduled this week, Clay told her friend "she feels like she won the lottery."
Clay's experience with the area's COVID-19 vaccine frenzy isn't an isolated one.
The Texas Department of State Health Services has been in charge of distributing the first phase of vaccines that includes healthcare workers and nursing home residents in 1A, as well as the 65-and-older community and those with chronic or serious illnesses in 1B. The vaccines are sent to larger hubs, such as local public health departments, and smaller distributors such as pharmacies to inoculate qualifying individuals per state guidelines.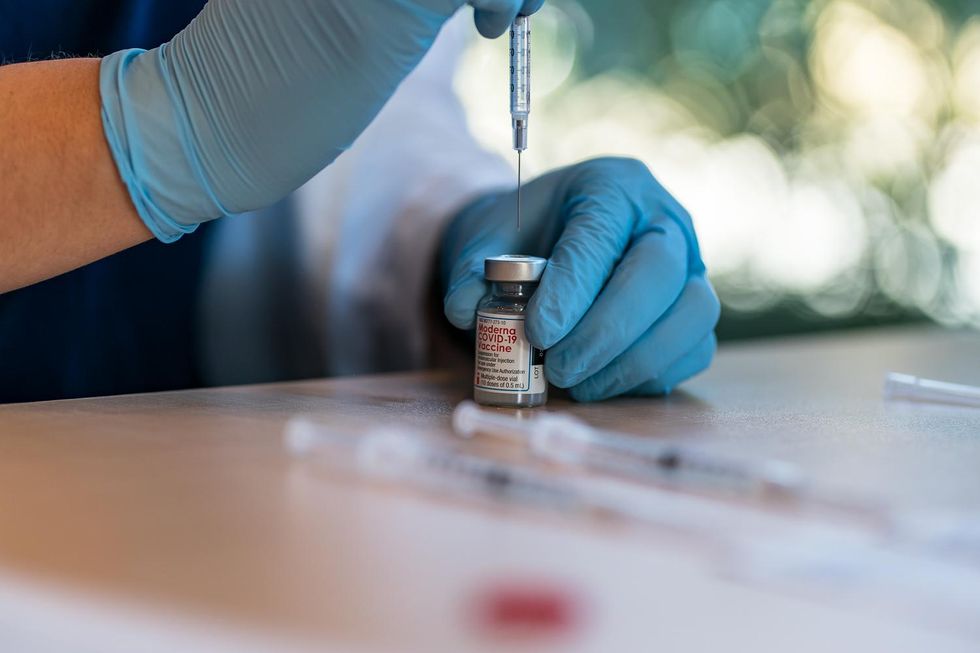 Medic DJ Longoria organizes medical supplies to administer the Moderna COVID-19 vaccine to healthcare workers at the AISD Performing Arts Center on Jan. 14. (Jordan Vonderhaar)
And, that's where the fun begins.

A Hays County spokesperson likened the distribution practice to "trying to get concert tickets," with tens of thousands of people who think they qualify under 1B vying for a small number of available vaccine appointments. The county posted 1,950 appointments for each of the past three weeks and she said the online appointments for its Jan. 25 clinic filled up within 25 minutes of the portal's opening.
Travis County's vaccine hubs are coordinated by Austin Public Health via its online or phone sign-up program. Per an APH spokesperson, with about 60,000-70,000 of the total 160,000 pre-registered individuals being 1A or 1B as of Jan. 18, the wait can be frustrating.
APH isn't the only game in town, with other smaller distributors catching the eye of individuals seeking pandemic protection.
Jeffrey Warnken, pharmacist and co-owner of 38th Street Pharmacy, said his business vaccinated healthcare workers and a few 1B individuals with the 200 doses he received Dec. 28. Weeks before news of the pharmacy's first vaccination clinic was posted, residents began calling to get on its waitlist, with staff fielding 100-200 phone calls hourly before the list transitioned to online.
"We're still a pharmacy and we still have patients we have to take care of, getting their routine medicine," Warnken said.
With a 25,000-30,000-person waitlist that includes unvaccinated 1A individuals, he recommends qualified applicants put their name on every COVID-19 vaccine waitlist they can, including nearby counties. However, he cautioned that large vaccination hubs aren't for everyone, especially the elderly who may have to stand in line for hours waiting for a shot, with independent pharmacies, such as 38th Street, able to get vaccine recipients in and out within 25 minutes.
"We aren't all big like CVS and Walgreens, but we are capable and loyal to our patients, and ready to get this done," agreed pharmacist Dorinda Martin who, with husband Jim Martin, co-owns three Martin's Compounding and Wellness pharmacies. Two of those facilities have already distributed 200 doses of the vaccine to healthcare workers and long term care residents.
Martin said she expects to get second doses for those vaccine recipients next week "but there is no guarantee of anything" and they've been ordered for quite some time. As of Jan. 26, the group's waitlist had 25,000 names, and Martin said her emotions have run the gamut from excitement to frustration to impatience over the process.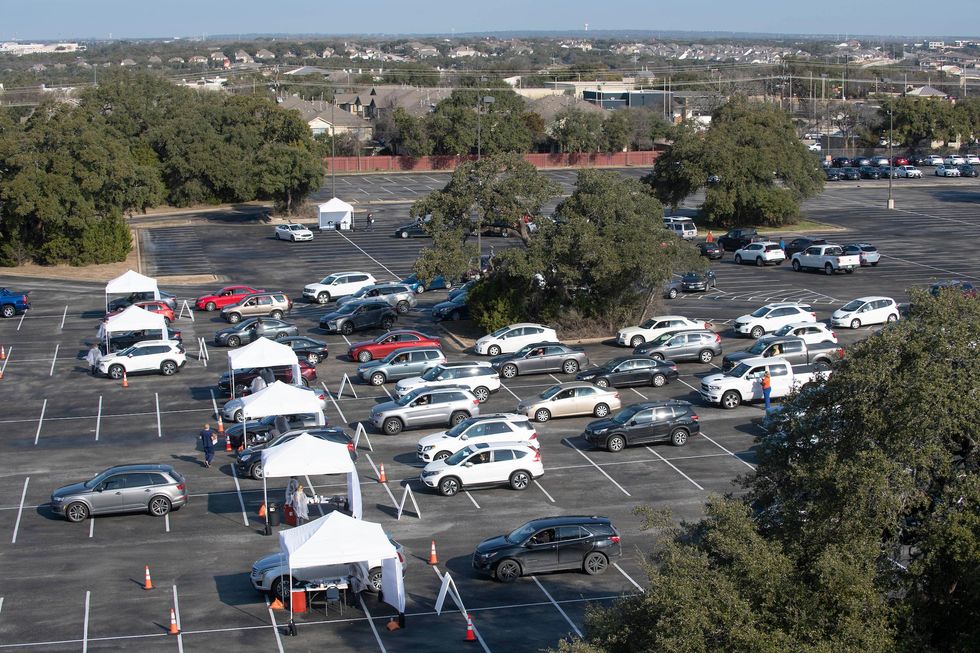 Central Texans line up at a drive-through clinic for COVID-19 vaccines at Kelly Athletic Stadium in Round Rock. (Bob Daemmrich)
Tarrytown Pharmacy distributed the first and second rounds of the 500 doses it initially received Dec. 23, said Pharmacist-in-Charge Rannon Ching, with most of those vaccines going to healthcare workers, staff and nursing home residents. He said he squeezed out about 20 additional doses after drawing 11 doses from some vials instead of 10 doses, with those going to a few 1B individuals.

Auro Pharmacy owner Sovit Bista said he received 100 doses during the first week of January but, as with Ching, was able to eke out another 10 doses from the vials, inoculating 110 nurses, dental staff and cancer or chronic disease patients. He's got a long way to go to whittle down his 3,000-plus vaccine pre-registration list and so does Ching, with a waitlist that's upwards of 40,000-50,000 individuals.
Mirroring Warnken's words, Ching said, "My advice to people is wherever you can get a shot, go get one."
Heeding that suggestion, West Austin resident Joan Skerry, who is over 65 years old, received a COVID-19 vaccine in early January from independent provider First Medical Response that was conducting a pop-up clinic stationed in the parking lot of the Dripping Springs Fire Department.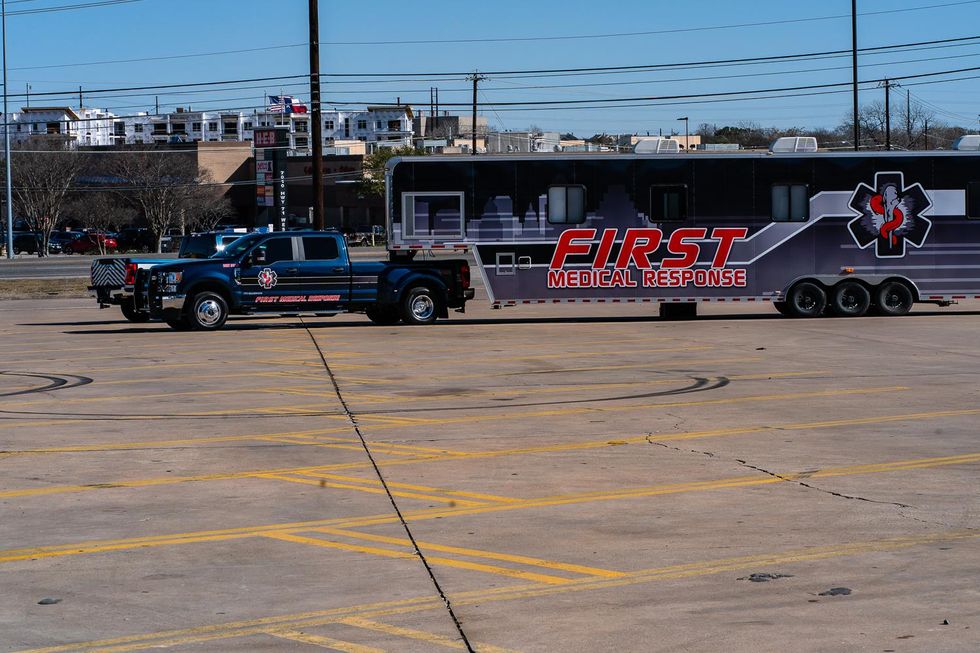 The First Medical Response Trailer in the parking lot of the Oak Hill Goodwill store on Jan 15. (Jordan Vonderhaar)
Seventy-year-old Spicewood resident Carol Birsa may trek to Houston to get hers. Helped by daughter Jennifer Gabriel in Florida, Birsa is frustrated despite being listed on up to 20 vaccine pre-registration lists, measures that Gabriel calls "a dead end." Others are garnering support and information on social media sites including Nextdoor portals.
"There doesn't seem to be one central source," Gabriel said. "You can't sign up with one place and they get to you on the list. There doesn't seem to be anything like that happening."
Providers, such as Family Hospital Systems, Williamson County's sole designated hub for COVID-19 distribution, said they are working to improve the process, especially when it comes to reining in unqualified applicants who can sometimes take doses that should belong to those in the priority distribution phases.
The group held 1A/1B vaccine clinics in Cedar Park and Georgetown earlier this month, administering an average total of about 3,300-3,500 shots daily for six days, Director of Communications Jen Stratton said. Family Hospital System's waitlist tops 100,000 names and she said folks showed up at the Cedar Park site at 8:30 p.m. requesting extra doses. She said she couldn't confirm or deny that non-appointment individuals received vaccines at the clinic and the group is employing measures to ensure that groups 1A and 1B are served first.
"Our goal at Family Hospital Systems, per directive of the Department of State Health Services, is to ensure that no vaccine doses get wasted," Stratton said. "We are doing the very best that we can with the supply that we are given."
Most distribution providers are optimistic the program will eventually improve.
"Take a step back, be patient and we will get as many people vaccinated as possible in the soonest time possible," a Hays County spokesperson said. "It's going to take time and it will evolve."
For Marco Silvestrini, gelato takes him back to his childhood when he and neighborhood kids in a small Italian town would end their day at the local gelato shop. It was part of what made some of the best memories for him.
He's since been offering that same experience for the past seven years with his artisanal gelato shop, Dolce Neve, in Austin, alongside his sister and her husband.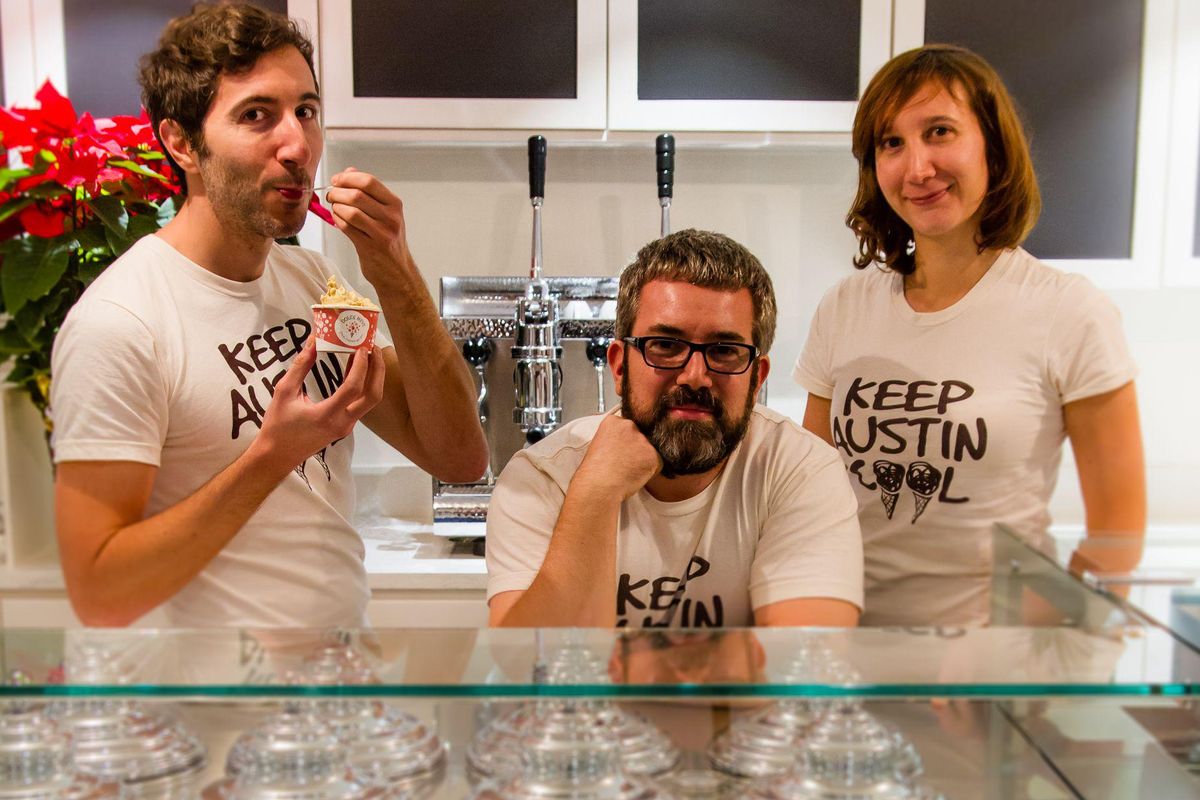 Leo Ferrarese, Marco and Franscesa Silvestrini run Dolce Neve. (Dolce Neve)
While gelato always played a big role in Silvestrini's life, it wasn't in his plans to take on a business with his favorite treat. After a few years in New York working as a management consultant, he felt he was missing out on something. "I decided to take a step back and started thinking, what could... I do to make society better and happier, even just for a moment," Silvestrini said.
He thought back to his childhood and the role gelato played in it and wanted to offer the same experience to Americans.
Once he had the product idea down, it came down to location. Growing up among farmers in a small community in Central Italy, Silvestrini knew he wanted a slower pace of living than New York, so he asked around. The answer he got: "Austin." The only thing he knew about what would become his future home was it had a Formula 1 track.
But after visiting once, he felt a great sense of community he didn't feel in The Empire State. "I felt it was not just a good place for a concept like mine, but also a good place to live because at the end of the day, you cannot just think about your business," he said.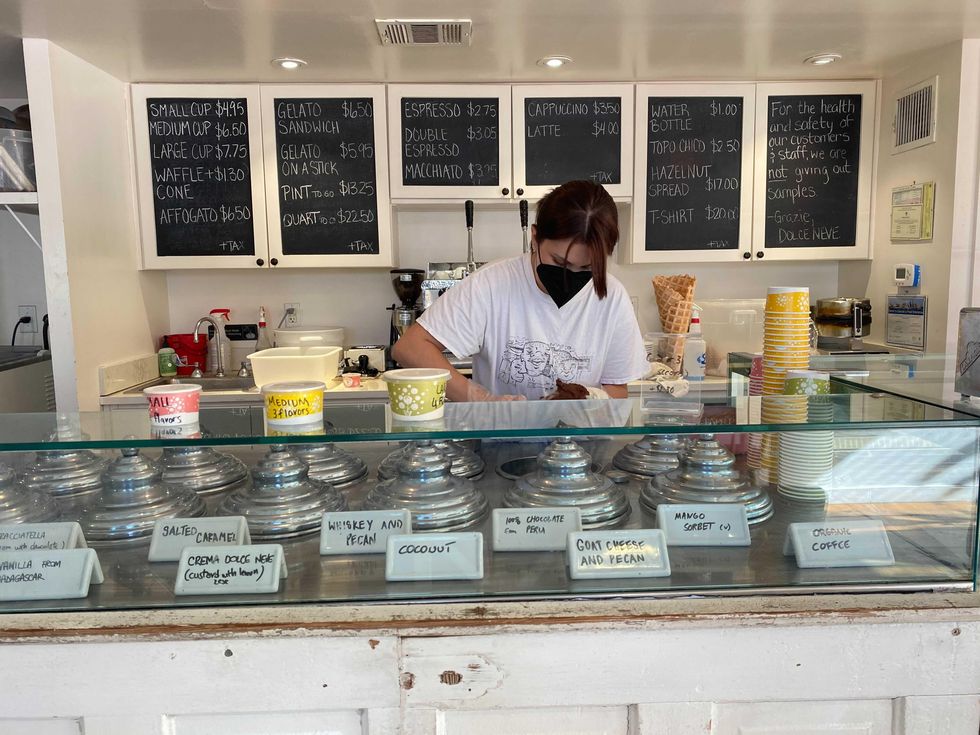 "Dolce Neve" translates to "sweet snow" and offers 12-18 flavors at a time. (Dolce Neve)
Similarly, his sister Francesca Silvestrini was experiencing the same feelings while studying for her Ph.D. in Ohio before teaming up with Silvestrini. She went back to Italy to be properly trained in making gelato while Silvestrini focused on the business plan. They brought Leo Ferrarese, her husband, onboard and opened their first shop on South First Street in January 2014. The rest is history.
On the menu, you'll find various traditional and innovative flavors that rotate out. Some of the staples include chocolate, 100% vanilla from Madagascar and salted caramel. Other rotating or seasonal flavors include whiskey and pecan, organic cantaloupe sorbet, goat cheese and pecan, almond custard and tiramisu. They've created over 300 flavors together in the span of the business.
So what's next for the shop? Lately, Silvestrini has been thinking a lot about that. With two locations in Austin, one in Houston—he's just not sure if expanding more is the right move. Maintaining a quality product and good service is of utmost importance that he's not willing to sacrifice.
"In order to be happy, it's not about making money, it's about being an integral part of the community," Silvestrini said. "There have been so many cases in which I think what I did today really made a difference in somebody's life."
We asked you what you wanted and you told us. More newsletter!
Austonia launched its new and improved newsletter today. You can expect:
100% Austin news, info and entertainment
Sent straight to your inbox at 6 a.m. every morning
In 5 minutes or less, you're fully informed and ready for a great day
Sign up here:
(Stubb's Austin/Instagram)
After a long, long year without live music, Austin has waited patiently for a return that has finally come. Festivals are planning returns and even venues that adhered strictly to safety protocols during the pandemic are feeling safe enough to gather again in person.
Starting in just a few short days, you can finally enjoy what makes Austin, well, Austin again. Here are a few of the live shows to look forward to.
Remember to jump on those tickets–Austinites have been missing their live music!