Get connected with our daily update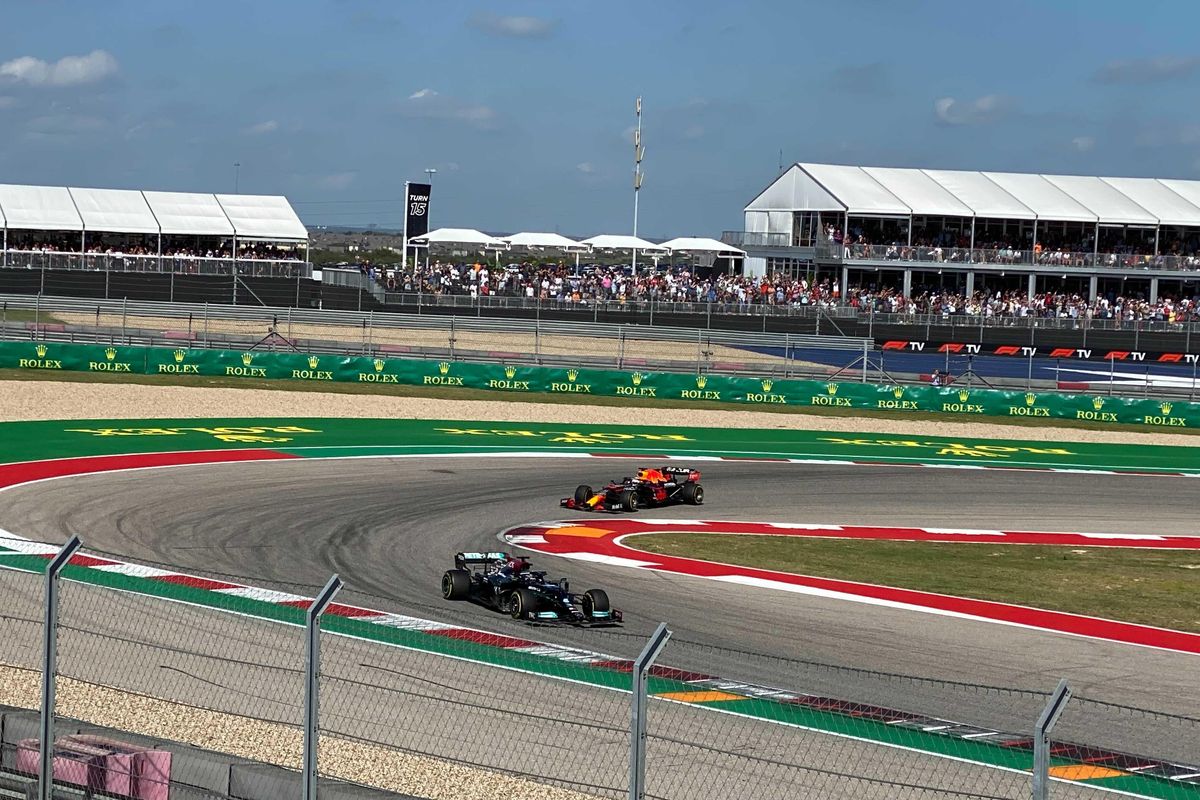 In a win that brought on the passion from Formula 1's biggest rivals, 24-year-old Max Verstappen won his first U.S. Grand Prix as he bested seven-time champ Lewis Hamilton by less than a second at Austin's Circuit of the Americas on Sunday.
---
Hamilton, who has won the USGP for Mercedes seven times before, snuck up on Verstappen's lead for the final 15 laps but was unable to beat the Dutchman as Verstappen took a more decisive lead in the 2021 standings. Verstappen is now 12 points ahead of his veteran foe with just five races to go.
After a weekend of big-name performances, celebrity appearances and wacky entertainment, all eyes were on Austin as the fest came to a dramatic end for the final 2 p.m. race.

The 56-lap Texas showdown saw plenty of lead changes between the two stars.
It was Red Bull Racing's Verstappen who nabbed the pole position in a stormy qualifying race on Saturday, but Hamilton quickly closed the 260-yard-gap to take the first lead of the final race. With a well-timed pit stop from Verstappen, however, the young driver edged out Hamilton by six seconds early in the race.
Hamilton's younger tires won him over for the next several laps as he closed the lead, while a slowing Verstappen opted for a new set of hard tires as he took another pit stop in the 29th lap. Hamilton's brief lead lasted until a pit stop of his own that once again had him trail 7.8 seconds behind his competitor in the 37th lap.
With 15 laps to go, Hamilton had halved his lead and took the fastest lap of the race to earn an extra point in the season's standings. It was anyone's battle as the final five laps saw a bumper-to-bumper showdown between the two as Hamilton cut down to less than within one second behind Verstappen. But with Verstappen's cool head and a gust of dirty air, Hamilton was unable to make a last-ditch effort for another U.S. title as he lost the race by 1.33 seconds.
Despite losing the race, Hamilton fist-bumped Verstappen at the end and said the competition's far from over between the two racing greats.
"What a great race down to Turn 1," Hamilton told reporters. "I thought for a second that we might be out to win the race, but we'll have to win the next one."
Verstappen's teammate Sergio Perez, a Mexico native, saw thousands of supporters from his home country as he landed the third-place title in the race. Meanwhile, Hamilton's teammate Valtteri Bottas edged past Carlos Sainz to win a bumper-to-bumper battle for sixth place in the last lap of the race. Ferrari's Charles Leclerc and Mercedes McLaren's Daniel Ricciardo rounded out the top five in fourth and fifth, respectively.
While the lead has widened between the sports' biggest rivals, there is still plenty of time for either to take the throne as they head into the final five races.
Despite losing a race that they normally win, Mercedes' Toto Wolff said they are very much in the running as they head to Mexico City for another showdown at the Mexican Grand Prix on Sunday, Nov. 7.
"We are right there," Wolff said. "It's just good fun for everybody and there's pressure, but it's positive pressure."
Hamilton and Verstappen will once again face off in North America for the Mexican Grand Prix on Sunday, Nov. 7 in Mexico City.
Here are the biggest highlights and final results for the first U.S. Grand Prix since 2019:
Final standings
Max Verstappen, Red Bull Racing
Lewis Hamilton, Mercedes
Sergio Perez, Red Bull Racing
Charles Leclerc, Ferrari
Daniel Ricciardo, McLaren Mercedes
Valtteri Bottas, Mercedes
Carlos Sainz, Ferrari
Lando Norris, McLaren
Yuki Tsunoda, AlphaTauri
Sebastian Vettel, Aston Martin
Antonio Giovinazzi, Alfa Romeo
Lance Stroll, Aston Martin
Kimi Räikkönen, Alfa Romeo
George Russel, Williams
Nicholas Latifi, Williams
Mick Schumacher, Haas
Nikita Mazepin, Haas
Drivers Fernando Alonso (Alpine), Esteban Ocon (Alpine), and Pierre Gasly (AlphaTauri) did not finish.
Lap 50—1.5 seconds separates the leaders
LAP 50/56

Deep breaths everyone, hold it together 😅

Under 1.7 seconds now between Hamilton and Verstappen ⏰👀#USGP 🇺🇸 #F1pic.twitter.com/qi0aKnJezT

— Formula 1 (@F1) October 24, 2021
Hamilton has improved a six-point deficit for first as his younger tires take him within 1.5 seconds of Verstappen by the 50th lap. With six laps to go, Hamilton continues to beat out Verstappen in lap times, but some think Verstappen is holding out on speed.
Hamilton will need to bully his way past Verstappen very shortly if he's to take his seventh U.S. Grand Prix title, while Verstappen will need to keep his wits if he's to take his first.
Lap 43—Bumper car battle for fifth
LAP 43/56

It's getting spicy between Sainz and Ricciardo 🔥

The two touch as Sainz tries to move round the outside of the McLaren 👀#USGP 🇺🇸 #F1pic.twitter.com/Qx1zDAQy7W

— Formula 1 (@F1) October 24, 2021
With just over half of a second between the two, Sainz and Riccardo briefly get a bit too close as both cars make contact in the 43rd lap.
Dirty talk abounds—Sainz says Riccardo drove "a bit dirty" with a wide turn in Lap 10—and a bit of damage to Sainz's left-wing may not bode well for him in the remainder of the race. Meanwhile, Bottas encroaches both drivers with less than a second behind himself and Sainz in seventh place.
Lap 41— Hamilton encroaches Verstappen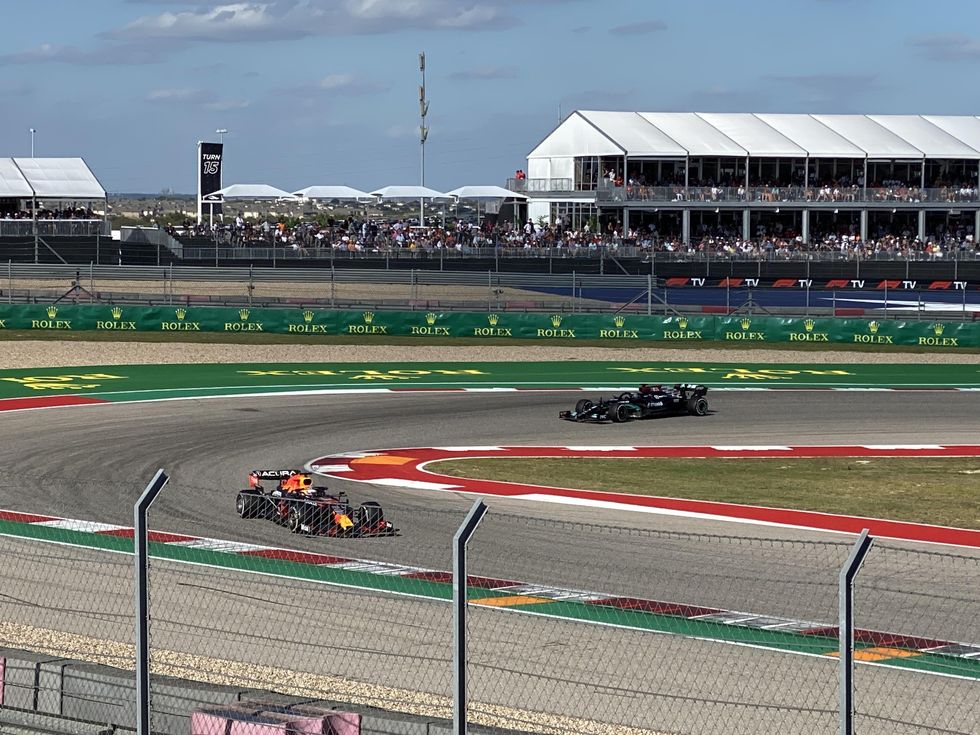 Hamilton charged Verstappen for the final half of the race. (Austonia)
While Verstappen works to weave past the back of the pack as he laps them, Hamilton briskly follows. By Lap 41, he logs the fastest lap of the match, beating Sergio Perez, with a time of 1:39.781. He's now just 3.8 seconds behind a leading Verstappen with less than 15 laps to go.
Lap 37—Hamilton pits, Verstappen takes lead
LAP 37/56

Hamilton comes into the pits

The lead has changed hands once again, with Verstappen back into P1 👀#USGP 🇺🇸 #F1pic.twitter.com/RCcnpxFR7b

— Formula 1 (@F1) October 24, 2021
Despite a decently quick pit stop—over two seconds shorter than Verstappen's—Hamilton falls 7.8 seconds behind Verstappen as the lead once again switches hands.
Lap 29—Verstappen returns to pit, Hamilton closes lead
LAP 33/56

📻 TOTO: "You're racing for the win Lewis"

📻 LEWIS: "Leave it to me bro, thanks" #USGP 🇺🇸 #F1pic.twitter.com/uiKgvtKiHH

— Formula 1 (@F1) October 24, 2021
After falling by as many as six seconds near the beginning of the race, Hamilton slowly began encroaching on Verstappen's lead. The Mercedes driver came within three seconds of Verstappen before the leading Dutchman took a pit stop in the 30th lap to opt for a fresh set of hard tires.
Meanwhile, a battle for fifth place has seen both Carlos Sainz, who was less than a second behind Daniel Ricciardo, to take a pit stop. Ricciardo soon followed. Hamilton's teammate Valtteri Bottas earns a temporary fifth place slot, and Ricciardo keeps a lead over Sainz in sixth.
2:25- Verstappen wins over strategy
LAP 14/56

Hamilton comes into the pits

And he comes out behind Verstappen! 😮#USGP 🇺🇸 #F1pic.twitter.com/7YS4iHz4Sf

— Formula 1 (@F1) October 24, 2021
Hamilton may have grabbed an early lead, but Verstappen's well-timed pit stop in lap 11 put him six seconds ahead of his British foe by lap 14. Verstappen is now comfortable as Red Bull Racing wins the strategy side of the race.
Meanwhile, Red Bull's Perez has reached the No. 3 spot with Hamilton sandwiched in between. The middle race is beginning to expand as Charles Leclerc advances his fourth-place lead over a fifth-place Ricciardo.
2:08 p.m.—Hamilton takes lead, sets fastest lap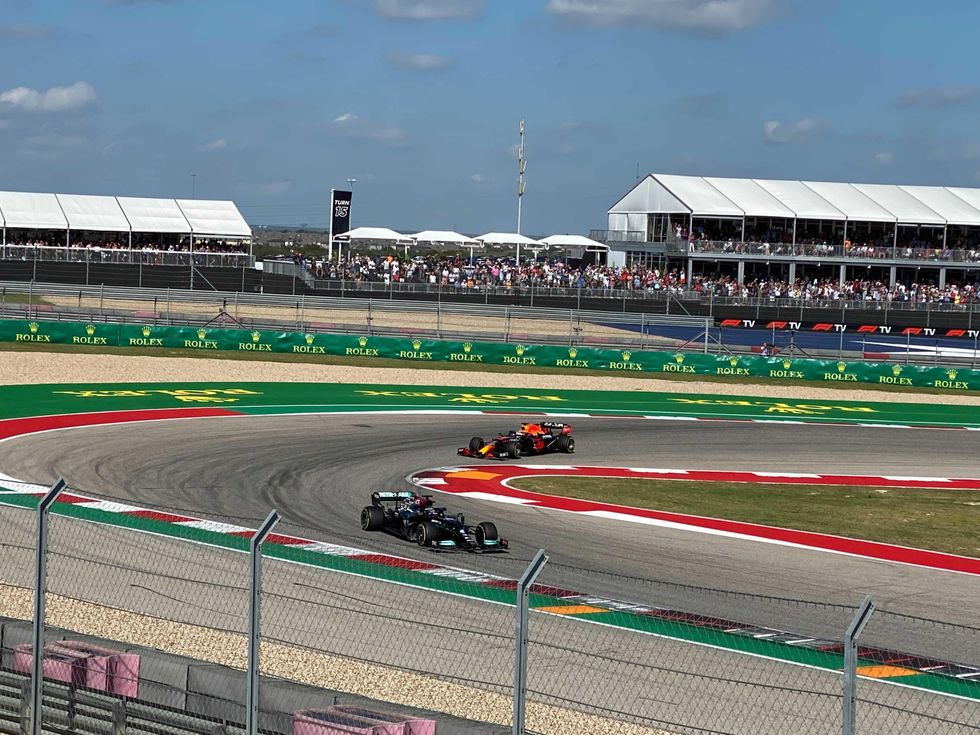 Hamilton is edging out Verstappen in the U.S. Grand Prix race. (Austonia)
Even with a 260-yard deficit, it's Hamilton who edges out Verstappen to take the lead at the start of the race despite being squeezed by Verstappen at the top of the hill. A few minutes later, Hamilton sets a lap-best time at 1:41.071.
Sunday, 1:30—drivers, cars heat up for the big race
Hamilton, Verstappen and the other 20 drivers are warming up their cars and minds as the clock ticks down for the final race.
The starting grid is buzzing with excitement as Verstappen arrives at around 1:15, with Hamilton hitting the grid around 10 minutes later.
The rivals' cars are wheeled just 260 yards apart, a small margin that Hamilton will attempt to close by the end of the first lap on the 20-turn track.
Sunday—Celebrities take COTA as the race heats up
Serena Williams #F1#USGPpic.twitter.com/jDxSZi40ub

— Bruno HQ (@iPicsHQ) October 24, 2021
As one of the United States' premier racing competitions, it's no surprise that a star-studded cast—and audience—have contributed to the excitement of the race.
Performances from Twenty One Pilots, Billy Joel and Travis Scott have riled up the crowd, while NBA star-turned-DJ Shaquille O'Neal will be performing as DJ Diesel for the race after party.
IndyCar racing great Danica Patrick is commentating nationwide for the race after a decorated career as one of the most prominent female drivers ever in the sport.
The U.S. Grand Prix has seen anyone from former President Bill Clinton to star chef Gordon Ramsey in past crowds, and this year is no different. Shaq's fellow NBA star Chris Bosh has been spotted this weekend as well as tennis star Serena Williams, Texas rapper Megan Thee Stallion and actor William Fichtner.
There's sure to be many more celebs embedded in that thousands-strong crowd, so keep your eyes peeled!
Sunday—Chadwick takes W Series Championship title
A 𝗗𝗢𝗨𝗕𝗟𝗘 @WSeriesRacing champion 🔥 pic.twitter.com/PFr1gSUvY3

— Williams Racing (@WilliamsRacing) October 24, 2021
Formula 1 may be taking the limelight this weekend, but a high-stakes competition took place just before the big race on Sunday morning as the Women's Series' Jamie Chadwick took her second consecutive championship title in Austin.
The 2021 W Series champ took her crown after winning both races this weekend. After taking the Saturday race, Chadwick cruised to victory with a five-second lead over a second-place Abbi Pulling to win the championship over rival Alice Powell.
Chadwick defeated Powell for her second U.S. Grand Prix win since the last race in 2019, earning $500,000 in the process. The W Series, which is free-to-enter unlike Formula 1 and hopes to level out the financial playing field for men and women, is a developmental league that also provides 15 FIA super licence points to season winners. With enough super licence points, W Series drivers can level up to Formula 3 competitions and eventually beyond as they begin to compete against male drivers.
Saturday, 4 p.m.—Verstappen wins first, Hamilton takes second in qualifiers
It's @Max33Verstappen's ninth pole of 2021!#USGP 🇺🇸 #F1pic.twitter.com/gp7RIlrOaf

— Formula 1 (@F1) October 23, 2021
In a three-round battle on Saturday, Verstappen flipped the switch from the day's practice rounds as he took a last-second lead over Hamilton to win the pole position, or first slot, in Sunday's starting grid on Saturday's qualifiers.
But it wasn't an easy battle. Verstappen's teammate Perez, a Mexico native, earned cheers from plenty of fans from his neighboring home country as he held the lead through the 10-minute round. Hamilton, who had been flanked behind both Red Bull foes, pulled a last-second lead to finish the finals and looked to take the pole position.
As rain began to fall, however, Verstappen pumped the gas for one final lap and won the pole position from his Team Mercedes foe.
It's Verstappen's first pole position on U.S. soil as he looks to take his first U.S. Grand Prix.
Click here for more information on the qualifiers.
Saturday morning—Ricciardo drives Earnhardt's 1984 car
Think @DanielRicciardo might have enjoyed that. 😅 #USGP 🇺🇸 pic.twitter.com/qfkGnEl0sO

— McLaren (@McLarenF1) October 23, 2021
Just as early fans began to trickle in, McLaren Mercedes' Daniel Ricciardo broke the crisp morning air with a roar as he drove some donuts in Dale Earnhardt's 1984 Wrangler car.
Ricciardo fulfilled his childhood dream—unlike many of his competitors his racing heroes growing up were his dad and Earnhardt, a seven-time NASCAR champion. Ricciardo collected many of Earnhardt's model cars growing up, but he never got his hands on this one until now, according to a report from ESPN.
After the exhibition laps, a breathless Ricciardo told reporters about the exhilarating experience.
"I can't speak," Ricciardo said. "That was fun, I think I'm still a little bit high right now."
Ricciardo's joyride caught the attention of Dale Earnhardt's son, NASCAR driver Dale Earnhardt, Jr, who responded with a tweet that gave Ricciardo "goosebumps."
"I'm happy for Daniel," Earnhardt Jr. said. "I'm also appreciative for how he celebrates my father. That makes a lot of dads family members and fans smile."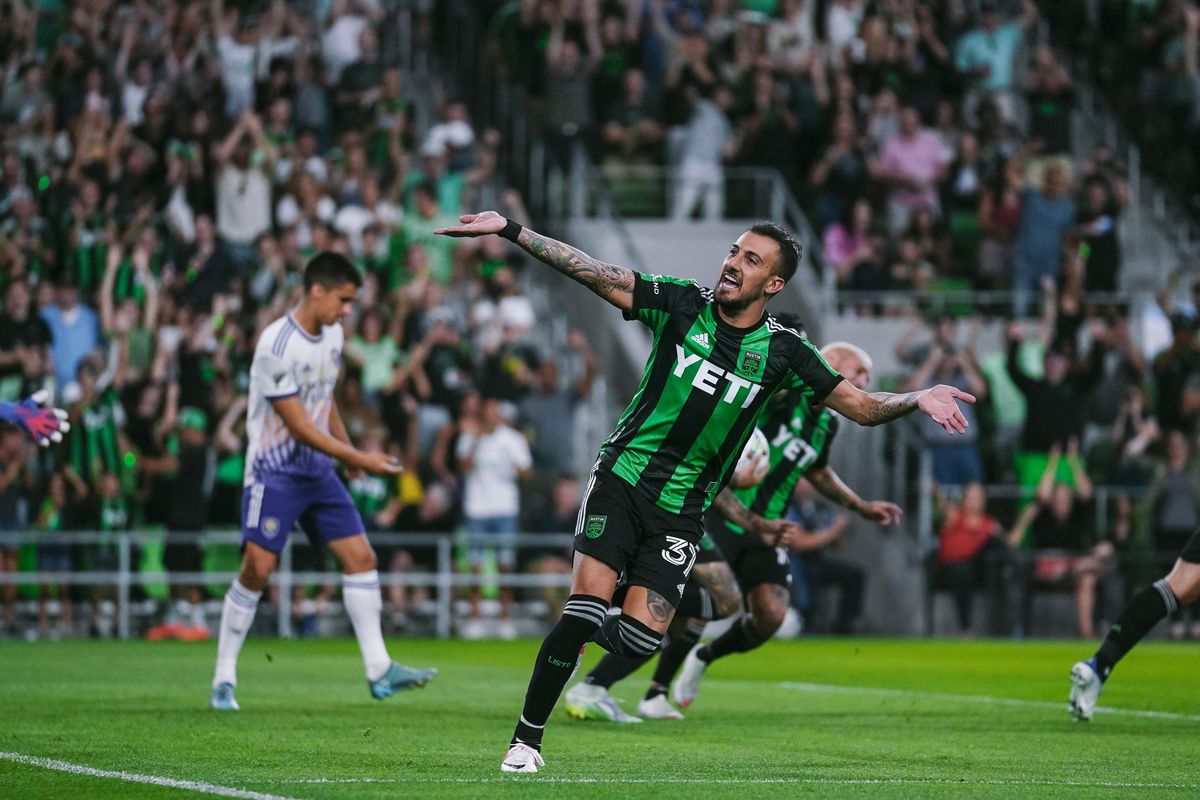 A first minute error gave Austin FC an early setback, but with the help of two red cards and two second-half goals, the Verde and Black still forced a last-minute tie in a messy home battle against Orlando City SC Sunday night.
With the 2-2 draw, Austin dropped from No. 1 in the MLS West conference but still earned a point in the standings thanks to a penalty kick goal from Sebastian Driussi and a breakthrough shot from striker Moussa Djitte, who scored his first goal with the club in the final minute of play.
Here are the top three takeaways from the match: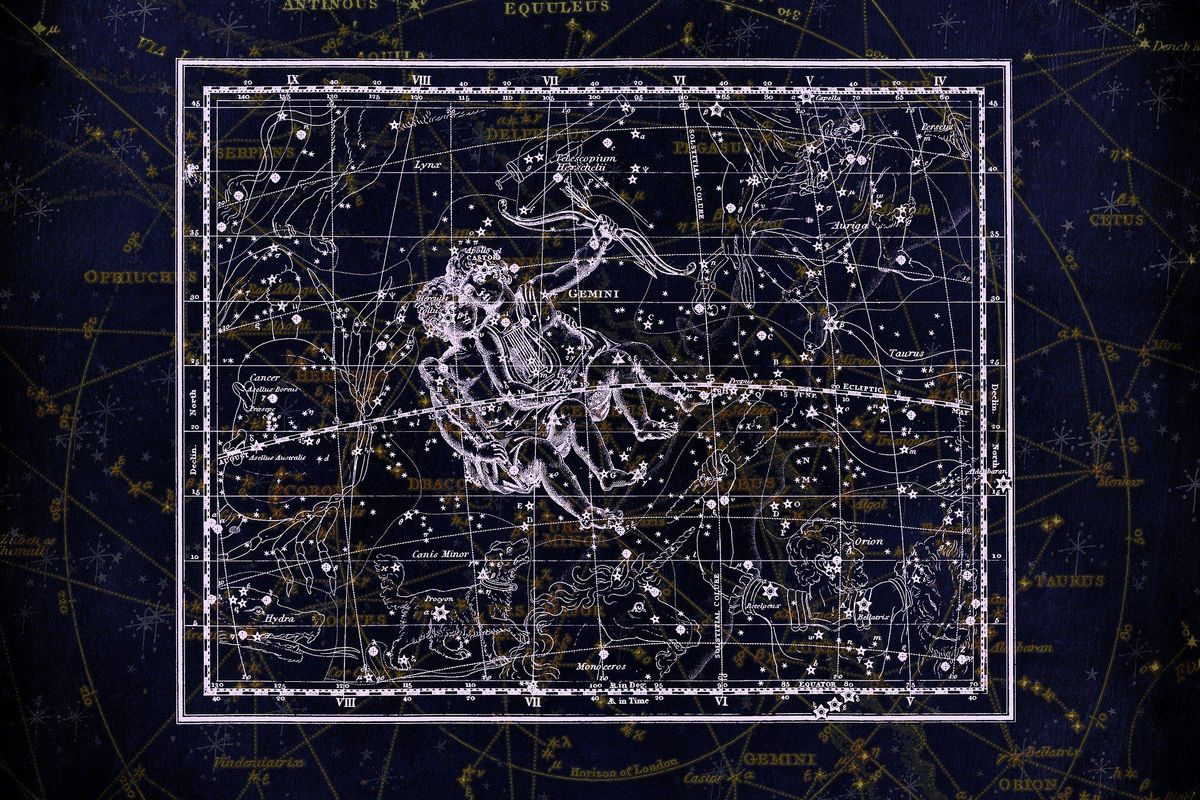 This Gemini season, starting today, is appropriately paradoxical, twisting and blending simple concerns with life's bigger, faster and more fiery quests.
Shortcuts: Aries, Taurus, Gemini, Cancer, Leo, Virgo, Libra, Scorpio, Sagittarius, Capricorn, Aquarius, Pisces
On Sunday, May 29, we'll experience one of the year's biggest calls to adventure in the Mars/Jupiter conjunction—a potent duo whose combined force will start to be especially strongly felt when Mars moves into Aries on May 24. Contrastingly, Mercury, the ruler of Gemini, will keep our mental temperament grounded and steady as they move slowly through the sensual, materially-oriented sign of Taurus for most of the month. These contrasting forces might be tricky to weave together—read ahead for tips on how your sign can find the right approach this month!
Gemini: May 21-June 20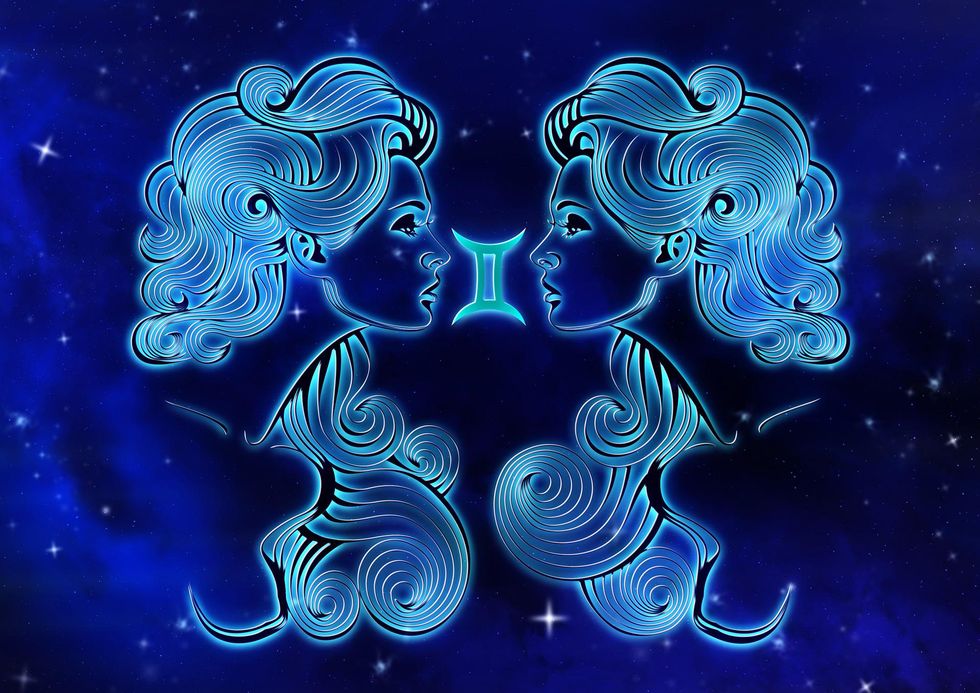 Gemini: May 21-June 20
Welcome to the season of your Solar Return, Gemini! This month will set the stage for your whole coming year, so it will be great to start it off on the right foot. The most important bit of cosmic context is Mercury moving slowly till the end of the month in the grounded sign of Taurus. This is an encouragement to savor your questions and conversations with the world, without needing to rush to answers and to mull over the elemental, fundamental aspects of your life. It would be great to give yourself perspective, especially by experiencing new environments and by moving through the world in a new manner. Allow yourself to be surprised! You might loosen some of your hardened beliefs, but don't discount the trustworthiness or substance of the new ideas you may stumble upon.
Cancer: June 21-July 22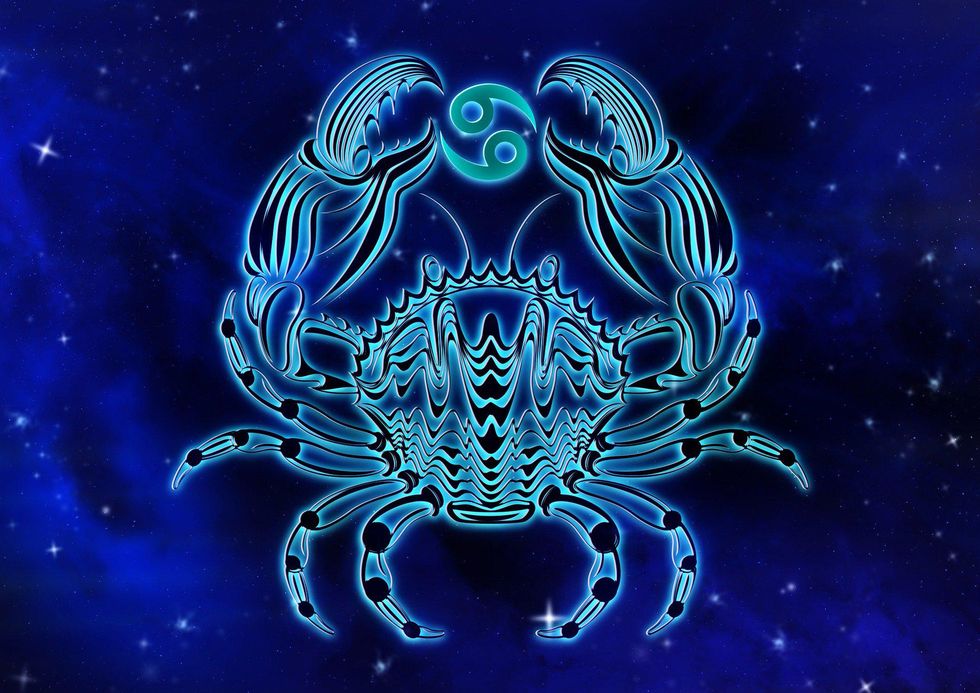 Cancer: June 21-July 22
For you, Cancer, the paradoxes of Gemini season have to do with inwardness and outwardness. On the one hand, you can expect your inner world to be as active as ever, swirling with meaningful thoughts and experiences needing to be digested. On the other, this month features a strong call to get out of your shell, open up to the world at large, and bravely share yourself—perhaps even in an unprecedented way! In transitioning between these extremes, the Moon can be as good a guide as ever—heading into and out of the New Moon on the 30th, you might focus on articulating and envisioning this burgeoning impulse and nourishing the terrain for its growth. As we ramp up to the full moon on the 14th, you might find small ways to embody, communicate and make real this developing dream.
Leo: July 23-Aug 22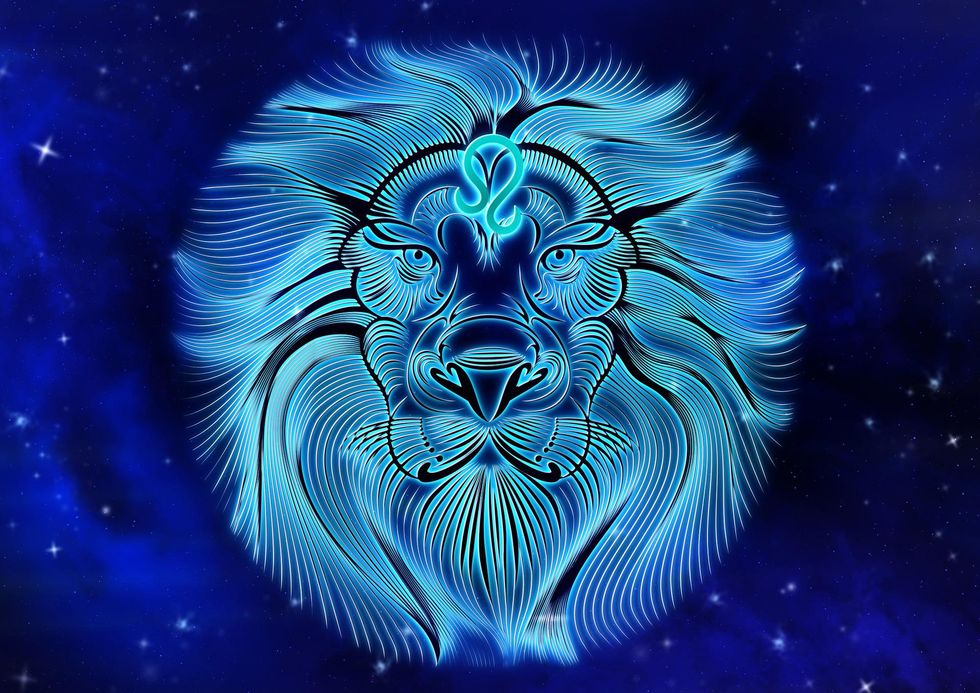 Leo: July 23-Aug. 22
This Gemini Season is particularly intense for you, Leo, as it calls forth both a fiery, hungry spirit and a more serious, dedicated energy, aware of life's hardships and limitations. These impulses herald a summer of growth and maturation, which would be great to get a good jump on. Just don't let this process make you too heavyhearted or self-involved! Your friends, community, and experience of the broader social world at large can help soften and clarify this strong, fiery self that's metamorphosing. You might rely upon this bigger, human perspective to help you progress smoothly and gracefully. Although it might require some extra humility, taking yourself less seriously can be a superpower. A lighthearted approach can be extraordinarily efficient and effective. It might be paradoxical, but consider that relying on a bigger, greater power than your own is your path to individual fullness.
Virgo: Aug. 23-Sept. 21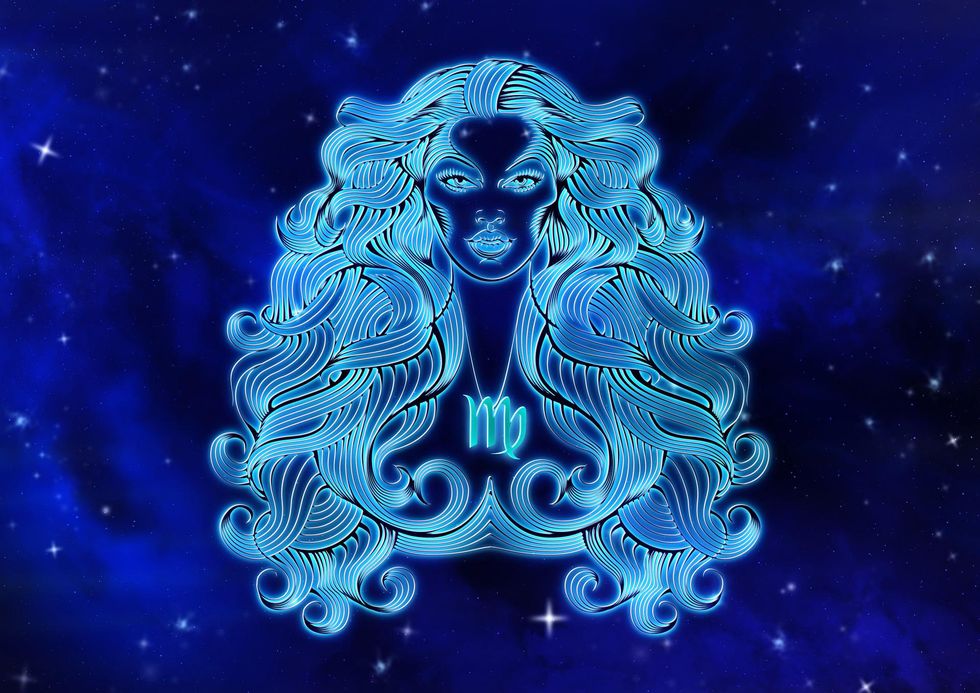 Virgo: Aug. 23-Sept. 21
This Gemini season brings a charge for you to expand into more substantive and serious subjects, Virgo. Especially if you feel you've been playing small, this will provide an opportunity for you to grow into more meaningful and demanding work in the world. At times, this will feel hectic and harsh—there will be no shortage of fire this month. You, as much as anyone, though, can help find the right place and time for that fire, directing it where there's a need for more energy and oomph. Lightheartedness can be really helpful in navigating and dancing with this heat—with a bit of humor and perspective, you can respond and adapt quickly and gracefully. By the end of the month, you should be able to feel like your view of and faith in the bigger picture has expanded.
Libra: Sept. 22-Oct. 23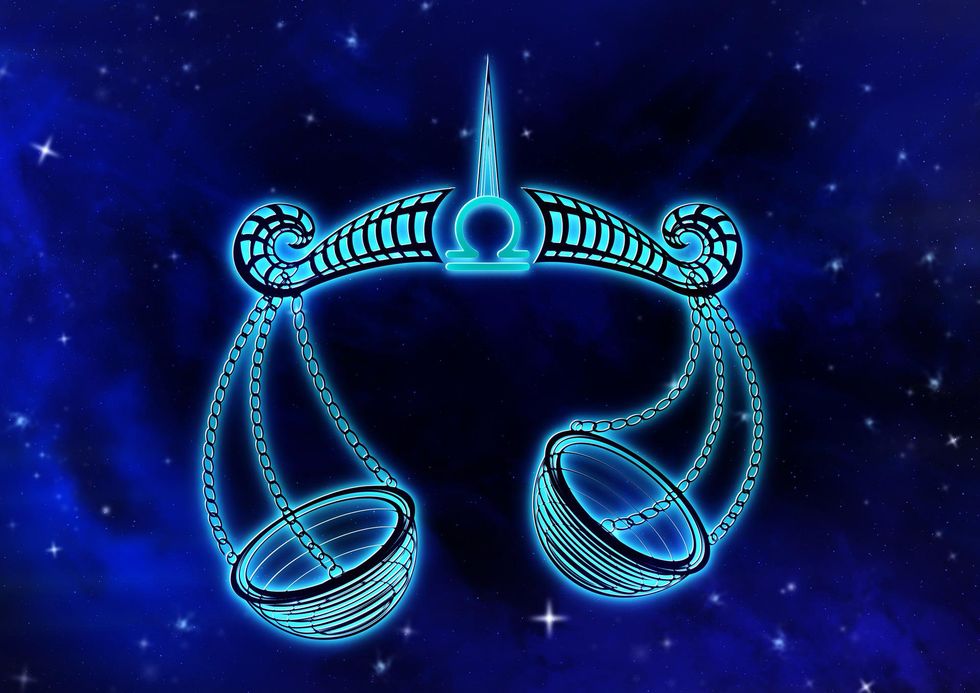 Libra: Sept. 22-Oct. 23
​This Gemini season will provide ample opportunities for you to learn and grow through your relationships, Libra. We're really looking at the full spectrum of potential experiences here—on the one hand, Mars' entry into Aries can ignite flammable subjects, and people are generally likely to be on edge, assertive and protective. On the other, Venus' conjunction with Uranus toward the end of the month can bring unexpected encounters and new forms of relationship into play. Throughout all of this, there's a theme for the next year of growth through fiery, direct relationships. This is a step beyond just keeping the peace which may be discomforting, but consider that it may take your relationships to incredibly satisfying and enduring places.
Scorpio: Oct. 24-Nov. 21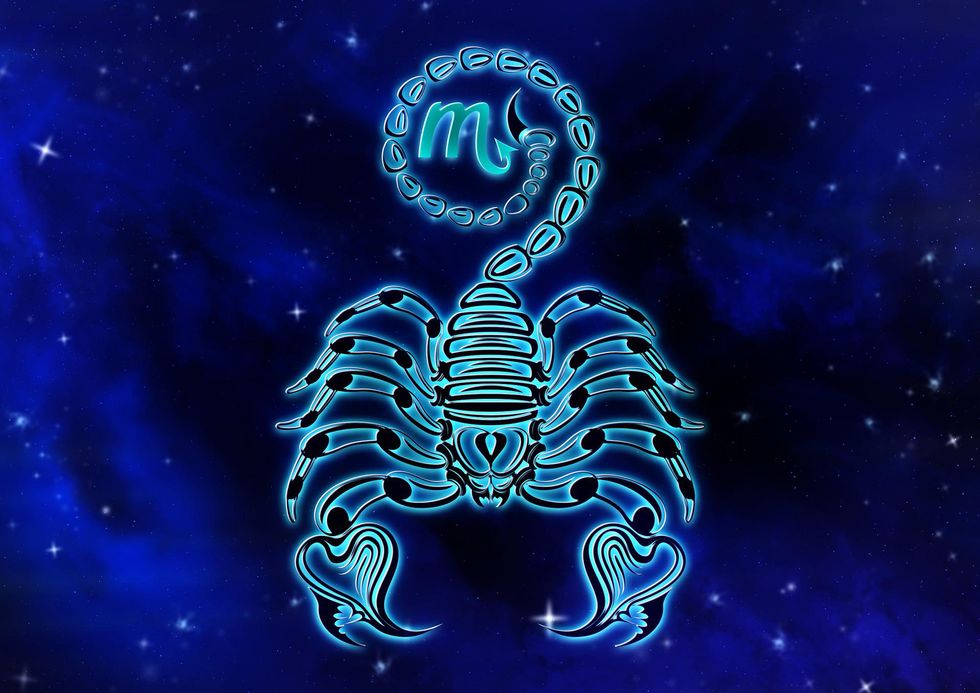 Scorpio: Oct. 24-Nov. 21
This Gemini season brings opportunities for sharpening both your wits and tools, Scorpio, although this may feel like a trial by fire. Although they may feel particularly urgent and exciting this month, many of these challenges and opportunities will last throughout the summer, so take your time to get your focus clear and settle into a groove. The real challenge and potential this month have to do with navigating subtle, intricate dynamics so that you aren't flustered and know exactly where to put your effort. In order to develop this discernment, you can definitely rely on trusted allies, who can act as mirrors, triangulation points and simple safe havens amid the storm. This is a strategic necessity, but be sure to give thanks and enjoy the simple goodness of companionship, too!
Sagittarius: Nov. 22-Dec. 21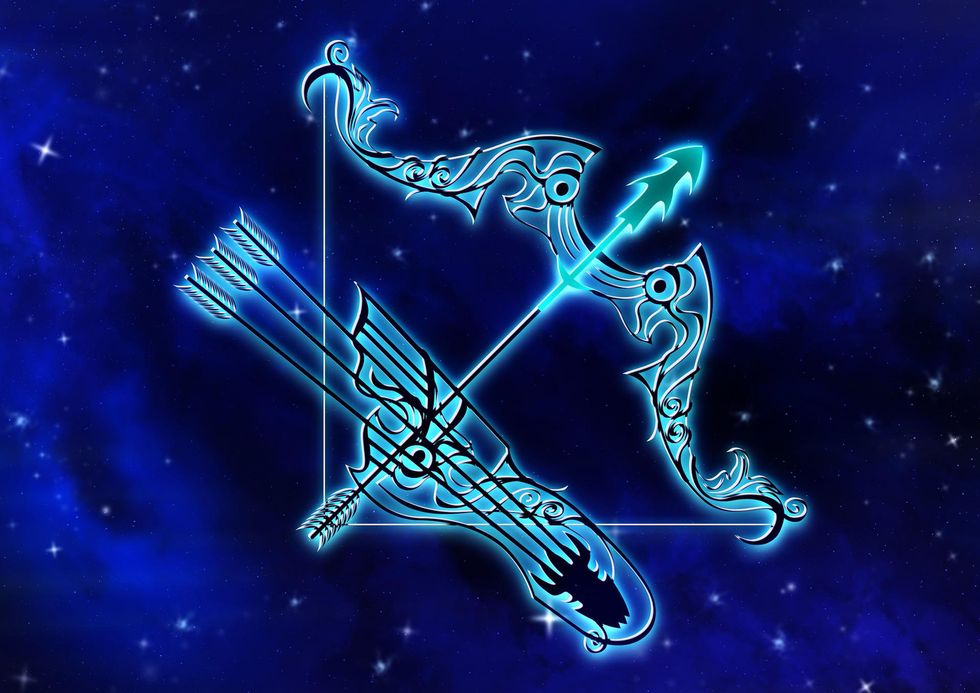 Sagittarius: Nov. 22-Dec. 21
The sharp, powerful impulses and stimulation of this Gemini season are pushing you to the development of your free will, Sagittarius—a spirit of playful, proud independence and spontaneity. There are a couple of ways that you might think about this. First, that courage is necessary to truly live out your convictions and ideals, as well as a way to ultimately best serve the world. Truth isn't always soft or easy. On the other hand, this isn't too complex and is keyed to cutting through stagnation. There's a sort of simplicity and instinctive wisdom that you can draw upon and develop into this month, letting things happen. If you need to, you can think of this as an act of trust, or faith in a basic goodness and natural, flowing order of things.
Capricorn: Dec. 22-Jan. 19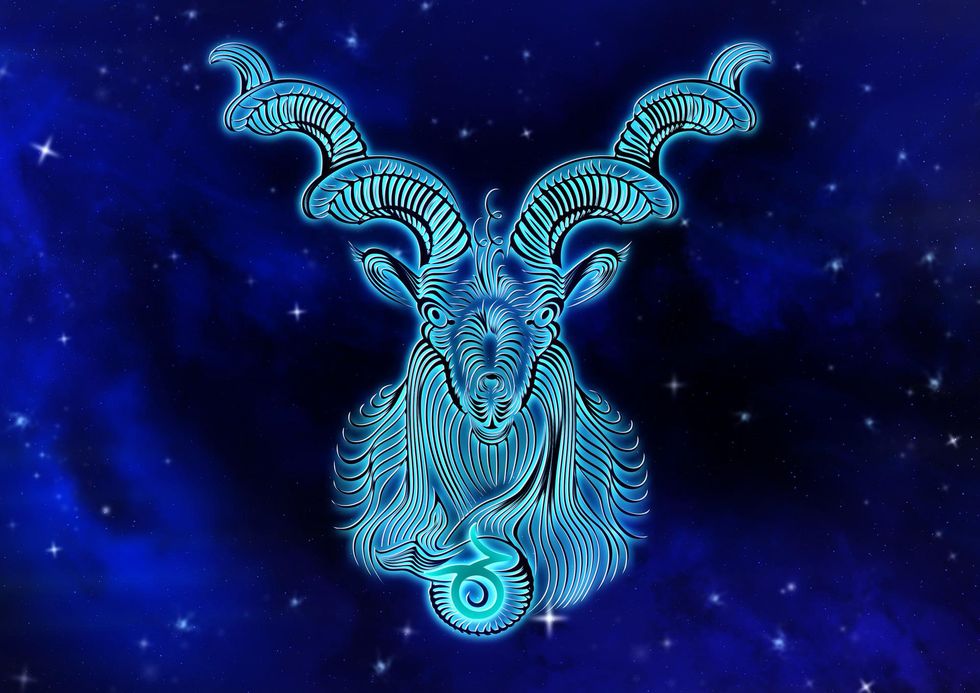 Capricorn: Dec. 22-Jan. 19
The motion and activity of this Gemini season can quickly develop your values and taste, Capricorn, as you strip back ordinary and inherited ways of thinking and open your eyes to life's beauty. This simple and vibrant beauty will stimulate your desire to savor life's goodness and strive for the highest quality experience possible. Along the way, your fixed, limited ideas about what is possible can fall away, even as the new and extraordinary may require incredible strength and devotion from you. Although these are lofty ideals, they'll have a lot to do with your tangible, everyday experience of your body and sense of home—this is a primal, almost wild energy being rekindled. Alongside this intense fire comes a certain risk, so make sure to enter into this new adventure step by step, without injuring yourself or anyone else.
Aquarius: Jan. 20-Feb. 18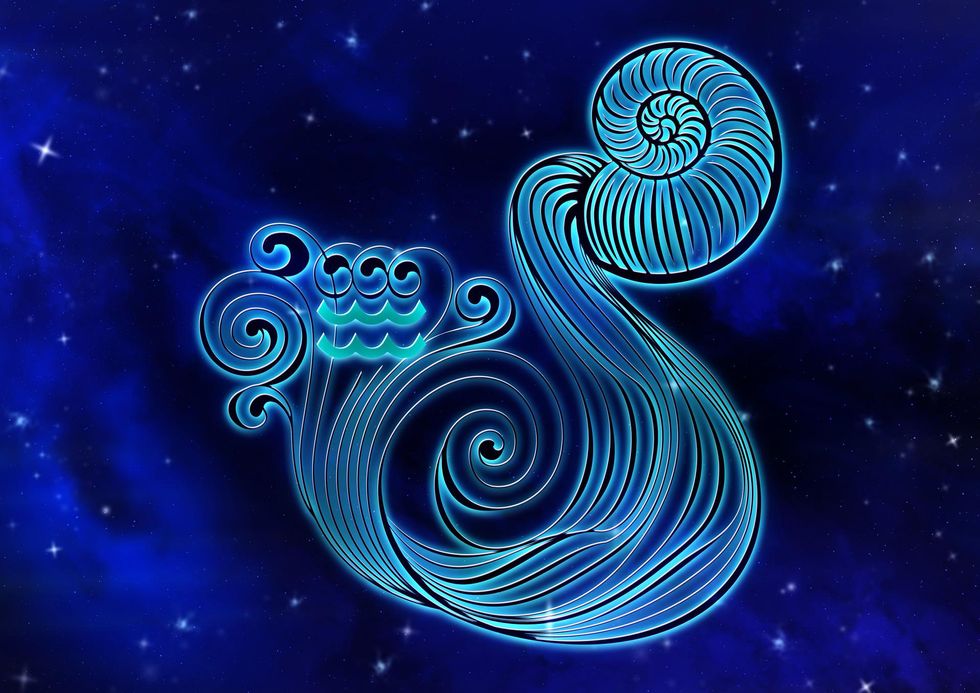 Aquarius: Jan. 20-Feb. 18
This Gemini season can help you learn how to feel more rooted and alive in life's simple aspects, Aquarius. Although this can certainly take place in tandem with new teachers, these don't have to be big gurus—rather, your curiosity, delight, and common sense might be the best guides. In this regard, your quality of perception, thought and the well-being of your inner child can all make great strides. Through the first part of the month, this will likely feel exciting and overwhelming. As we approach our new moon, though, you can get a better sense of where you need to be settling into more focus and definition in your life. This back and forth between a growing sense of clarity and inner authority and a stronger capacity to be firm and to the point will continue to deepen throughout the summer.
Pisces: Feb. 19-March 20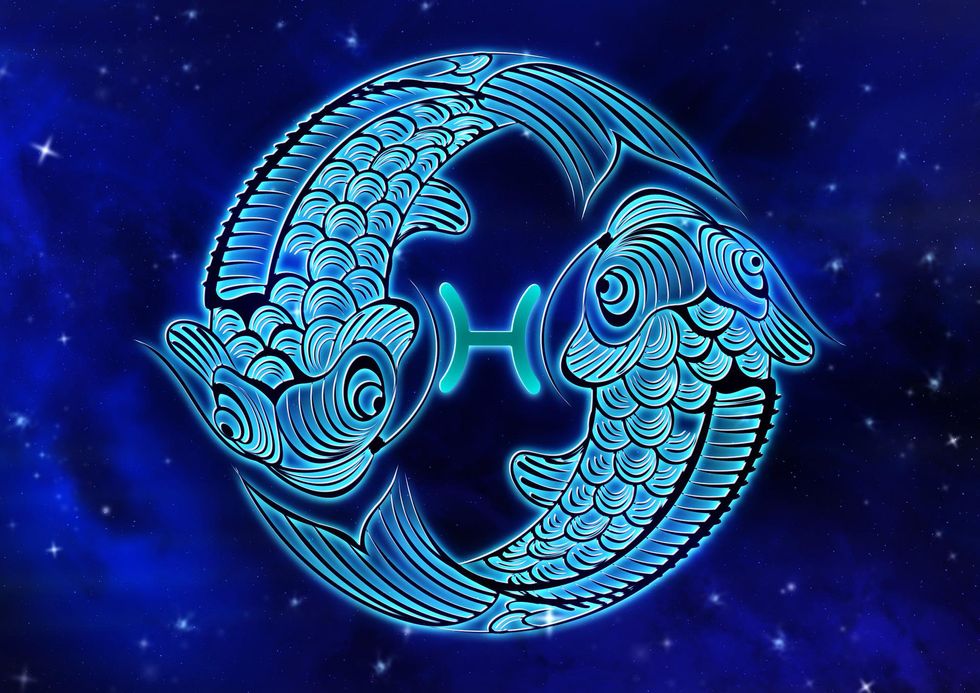 Pisces: Feb. 19-March 20
This Gemini season is focused on helping you develop a stronger sense of connection to the world around you, Pisces. Although this can take place by rearranging and bringing more life into your body and environment, an initial spirit of fresh possibility and willingness to release what is stale and outgrown is a necessity. In doing so, you can land upon a greater sense of capability and being resourced for life's adaptations and evolutions. This will certainly be a month of growth in your material world and relationship with your body, but the serious litmus test is how settled you feel internally—the quality and clarity of your thoughts and inner world. Ideally, though this summer you'll develop a stronger trust in yourself and an easier interface between your inner riches and outer quality of experience.
Aries: March 21-April 19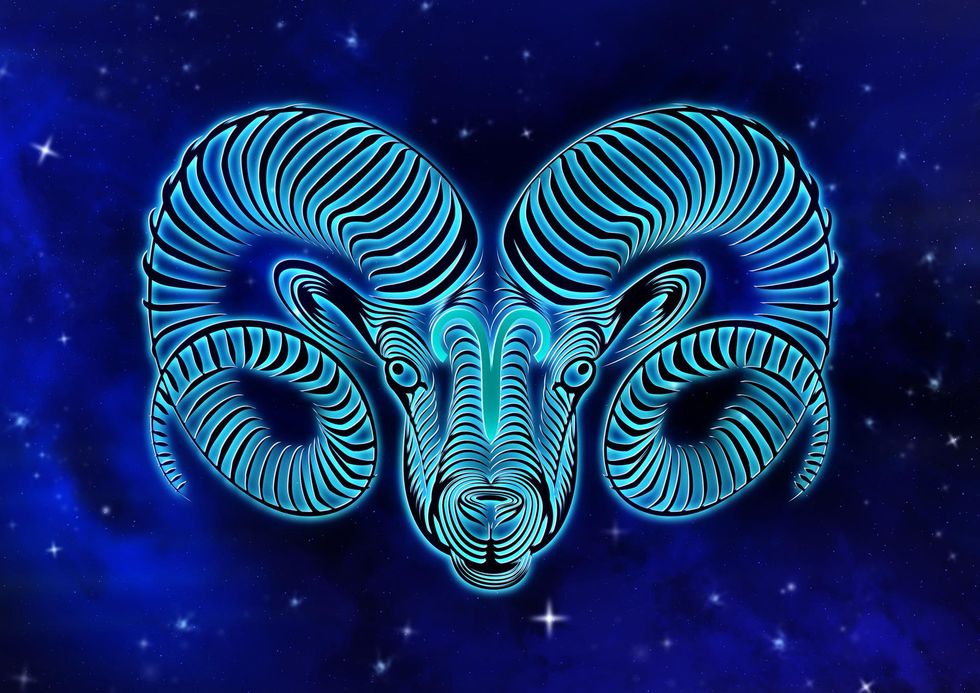 Aries: March 21-April 19
The Mars/Jupiter conjunction is especially important for you, Aries, as it happens in your home sign. This signifies a spark of expansion that will play out over the coming year. Here, Jupiter is calling you into new ventures and adventures, to level up and act on the big dreams and desires brewing inside of you. Thus, this month is a great time to initiate some bigger change, to take some jump, leap or healthy risk. Although you don't want to let this moment slip away, please don't get impulsive or headstrong—make sure you've got at least a bit of a plan. Ideally, whatever you're aiming at will require a good bit of care, and you can expect that much of this opportune, fertile energy will continue and develop throughout the next year.
Taurus: April 20-May 20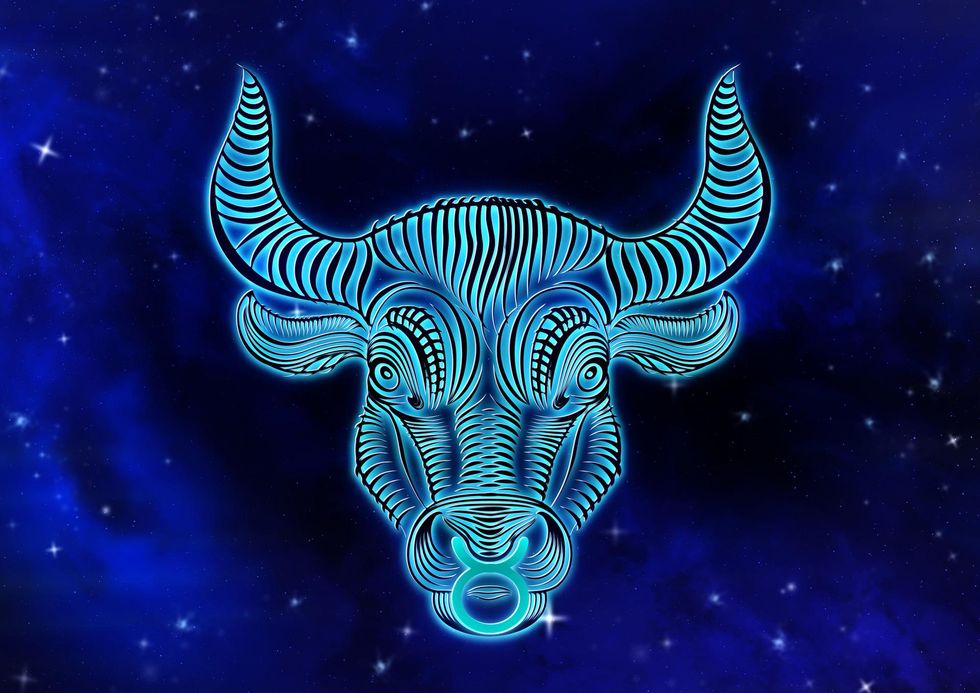 Taurus: April 20-May 20
The start of the coming month will challenge you to keep up the pace, Taurus, so that it can consolidate into a healthy rhythm. Finding the right stride, you can find yourself breathing more easily, and maybe let yourself loosen your grip or take your hands off the handlebars, trusting your sense of balance and the strength in your legs. This can set the stage for an opportune spell at the end of Gemini Season, as your ruler Venus makes a conjunction with Uranus—you might keep an eye out for spontaneous side adventures, ways to create space for synchronicity, or simple moments where life is calling you into new ways of being. Ideally, these will feel like clear upgrades, but if you need to think of them as experiments or trial runs, that's totally okay, too.