Get connected with our daily update
In a win that brought on the passion from Formula 1's biggest rivals, 24-year-old Max Verstappen won his first U.S. Grand Prix as he bested seven-time champ Lewis Hamilton by less than a second at Austin's Circuit of the Americas on Sunday.
---
Hamilton, who has won the USGP for Mercedes seven times before, snuck up on Verstappen's lead for the final 15 laps but was unable to beat the Dutchman as Verstappen took a more decisive lead in the 2021 standings. Verstappen is now 12 points ahead of his veteran foe with just five races to go.
After a weekend of big-name performances, celebrity appearances and wacky entertainment, all eyes were on Austin as the fest came to a dramatic end for the final 2 p.m. race.

The 56-lap Texas showdown saw plenty of lead changes between the two stars.
It was Red Bull Racing's Verstappen who nabbed the pole position in a stormy qualifying race on Saturday, but Hamilton quickly closed the 260-yard-gap to take the first lead of the final race. With a well-timed pit stop from Verstappen, however, the young driver edged out Hamilton by six seconds early in the race.
Hamilton's younger tires won him over for the next several laps as he closed the lead, while a slowing Verstappen opted for a new set of hard tires as he took another pit stop in the 29th lap. Hamilton's brief lead lasted until a pit stop of his own that once again had him trail 7.8 seconds behind his competitor in the 37th lap.
With 15 laps to go, Hamilton had halved his lead and took the fastest lap of the race to earn an extra point in the season's standings. It was anyone's battle as the final five laps saw a bumper-to-bumper showdown between the two as Hamilton cut down to less than within one second behind Verstappen. But with Verstappen's cool head and a gust of dirty air, Hamilton was unable to make a last-ditch effort for another U.S. title as he lost the race by 1.33 seconds.
Despite losing the race, Hamilton fist-bumped Verstappen at the end and said the competition's far from over between the two racing greats.
"What a great race down to Turn 1," Hamilton told reporters. "I thought for a second that we might be out to win the race, but we'll have to win the next one."
Verstappen's teammate Sergio Perez, a Mexico native, saw thousands of supporters from his home country as he landed the third-place title in the race. Meanwhile, Hamilton's teammate Valtteri Bottas edged past Carlos Sainz to win a bumper-to-bumper battle for sixth place in the last lap of the race. Ferrari's Charles Leclerc and Mercedes McLaren's Daniel Ricciardo rounded out the top five in fourth and fifth, respectively.
While the lead has widened between the sports' biggest rivals, there is still plenty of time for either to take the throne as they head into the final five races.
Despite losing a race that they normally win, Mercedes' Toto Wolff said they are very much in the running as they head to Mexico City for another showdown at the Mexican Grand Prix on Sunday, Nov. 7.
"We are right there," Wolff said. "It's just good fun for everybody and there's pressure, but it's positive pressure."
Hamilton and Verstappen will once again face off in North America for the Mexican Grand Prix on Sunday, Nov. 7 in Mexico City.
Here are the biggest highlights and final results for the first U.S. Grand Prix since 2019:
Final standings
Max Verstappen, Red Bull Racing
Lewis Hamilton, Mercedes
Sergio Perez, Red Bull Racing
Charles Leclerc, Ferrari
Daniel Ricciardo, McLaren Mercedes
Valtteri Bottas, Mercedes
Carlos Sainz, Ferrari
Lando Norris, McLaren
Yuki Tsunoda, AlphaTauri
Sebastian Vettel, Aston Martin
Antonio Giovinazzi, Alfa Romeo
Lance Stroll, Aston Martin
Kimi Räikkönen, Alfa Romeo
George Russel, Williams
Nicholas Latifi, Williams
Mick Schumacher, Haas
Nikita Mazepin, Haas
Drivers Fernando Alonso (Alpine), Esteban Ocon (Alpine), and Pierre Gasly (AlphaTauri) did not finish.
Lap 50—1.5 seconds separates the leaders
LAP 50/56

Deep breaths everyone, hold it together 😅

Under 1.7 seconds now between Hamilton and Verstappen ⏰👀#USGP 🇺🇸 #F1pic.twitter.com/qi0aKnJezT

— Formula 1 (@F1) October 24, 2021
Hamilton has improved a six-point deficit for first as his younger tires take him within 1.5 seconds of Verstappen by the 50th lap. With six laps to go, Hamilton continues to beat out Verstappen in lap times, but some think Verstappen is holding out on speed.
Hamilton will need to bully his way past Verstappen very shortly if he's to take his seventh U.S. Grand Prix title, while Verstappen will need to keep his wits if he's to take his first.
Lap 43—Bumper car battle for fifth
LAP 43/56

It's getting spicy between Sainz and Ricciardo 🔥

The two touch as Sainz tries to move round the outside of the McLaren 👀#USGP 🇺🇸 #F1pic.twitter.com/Qx1zDAQy7W

— Formula 1 (@F1) October 24, 2021
With just over half of a second between the two, Sainz and Riccardo briefly get a bit too close as both cars make contact in the 43rd lap.
Dirty talk abounds—Sainz says Riccardo drove "a bit dirty" with a wide turn in Lap 10—and a bit of damage to Sainz's left-wing may not bode well for him in the remainder of the race. Meanwhile, Bottas encroaches both drivers with less than a second behind himself and Sainz in seventh place.
Lap 41— Hamilton encroaches Verstappen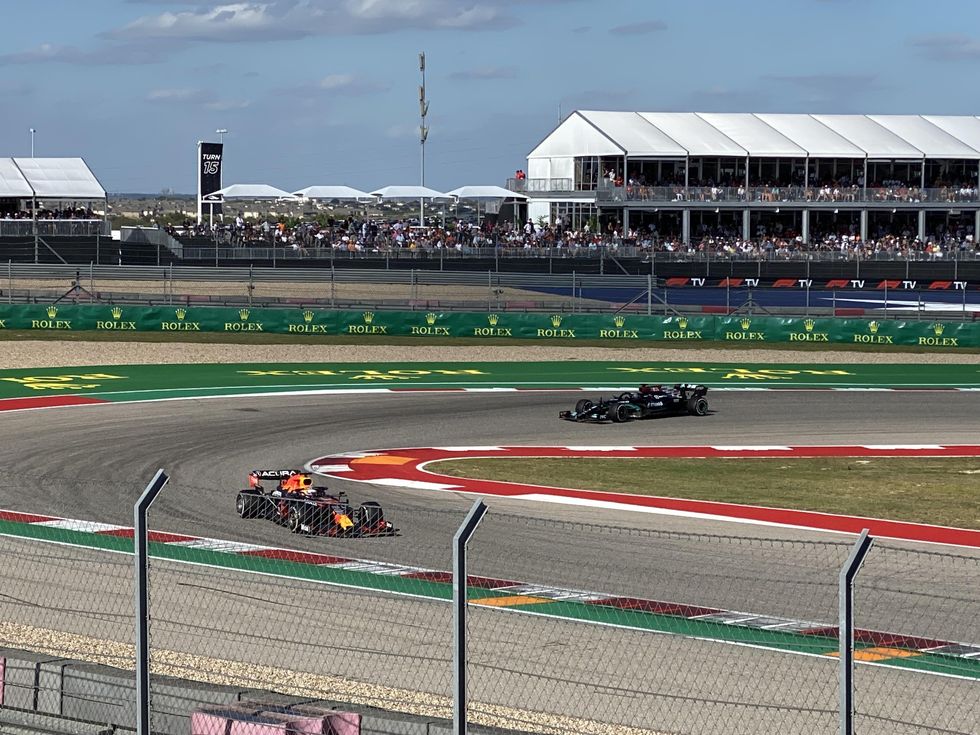 Hamilton charged Verstappen for the final half of the race. (Austonia)
While Verstappen works to weave past the back of the pack as he laps them, Hamilton briskly follows. By Lap 41, he logs the fastest lap of the match, beating Sergio Perez, with a time of 1:39.781. He's now just 3.8 seconds behind a leading Verstappen with less than 15 laps to go.
Lap 37—Hamilton pits, Verstappen takes lead
LAP 37/56

Hamilton comes into the pits

The lead has changed hands once again, with Verstappen back into P1 👀#USGP 🇺🇸 #F1pic.twitter.com/RCcnpxFR7b

— Formula 1 (@F1) October 24, 2021
Despite a decently quick pit stop—over two seconds shorter than Verstappen's—Hamilton falls 7.8 seconds behind Verstappen as the lead once again switches hands.
Lap 29—Verstappen returns to pit, Hamilton closes lead
LAP 33/56

📻 TOTO: "You're racing for the win Lewis"

📻 LEWIS: "Leave it to me bro, thanks" #USGP 🇺🇸 #F1pic.twitter.com/uiKgvtKiHH

— Formula 1 (@F1) October 24, 2021
After falling by as many as six seconds near the beginning of the race, Hamilton slowly began encroaching on Verstappen's lead. The Mercedes driver came within three seconds of Verstappen before the leading Dutchman took a pit stop in the 30th lap to opt for a fresh set of hard tires.
Meanwhile, a battle for fifth place has seen both Carlos Sainz, who was less than a second behind Daniel Ricciardo, to take a pit stop. Ricciardo soon followed. Hamilton's teammate Valtteri Bottas earns a temporary fifth place slot, and Ricciardo keeps a lead over Sainz in sixth.
2:25- Verstappen wins over strategy
LAP 14/56

Hamilton comes into the pits

And he comes out behind Verstappen! 😮#USGP 🇺🇸 #F1pic.twitter.com/7YS4iHz4Sf

— Formula 1 (@F1) October 24, 2021
Hamilton may have grabbed an early lead, but Verstappen's well-timed pit stop in lap 11 put him six seconds ahead of his British foe by lap 14. Verstappen is now comfortable as Red Bull Racing wins the strategy side of the race.
Meanwhile, Red Bull's Perez has reached the No. 3 spot with Hamilton sandwiched in between. The middle race is beginning to expand as Charles Leclerc advances his fourth-place lead over a fifth-place Ricciardo.
2:08 p.m.—Hamilton takes lead, sets fastest lap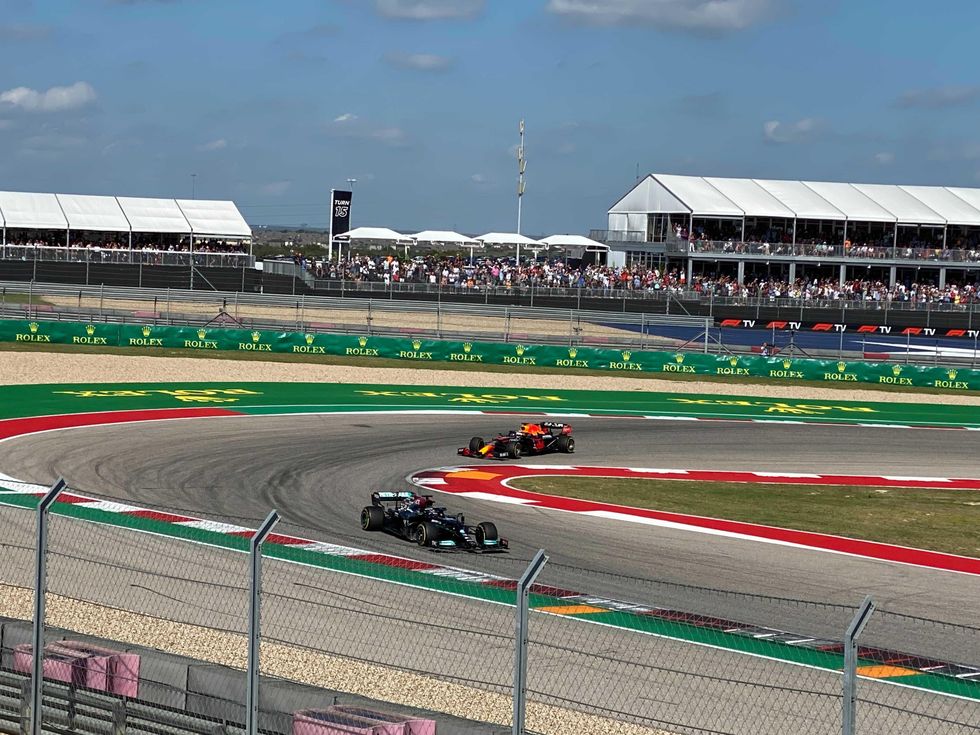 Hamilton is edging out Verstappen in the U.S. Grand Prix race. (Austonia)
Even with a 260-yard deficit, it's Hamilton who edges out Verstappen to take the lead at the start of the race despite being squeezed by Verstappen at the top of the hill. A few minutes later, Hamilton sets a lap-best time at 1:41.071.
Sunday, 1:30—drivers, cars heat up for the big race
Hamilton, Verstappen and the other 20 drivers are warming up their cars and minds as the clock ticks down for the final race.
The starting grid is buzzing with excitement as Verstappen arrives at around 1:15, with Hamilton hitting the grid around 10 minutes later.
The rivals' cars are wheeled just 260 yards apart, a small margin that Hamilton will attempt to close by the end of the first lap on the 20-turn track.
Sunday—Celebrities take COTA as the race heats up
Serena Williams #F1#USGPpic.twitter.com/jDxSZi40ub

— Bruno HQ (@iPicsHQ) October 24, 2021
As one of the United States' premier racing competitions, it's no surprise that a star-studded cast—and audience—have contributed to the excitement of the race.
Performances from Twenty One Pilots, Billy Joel and Travis Scott have riled up the crowd, while NBA star-turned-DJ Shaquille O'Neal will be performing as DJ Diesel for the race after party.
IndyCar racing great Danica Patrick is commentating nationwide for the race after a decorated career as one of the most prominent female drivers ever in the sport.
The U.S. Grand Prix has seen anyone from former President Bill Clinton to star chef Gordon Ramsey in past crowds, and this year is no different. Shaq's fellow NBA star Chris Bosh has been spotted this weekend as well as tennis star Serena Williams, Texas rapper Megan Thee Stallion and actor William Fichtner.
There's sure to be many more celebs embedded in that thousands-strong crowd, so keep your eyes peeled!
Sunday—Chadwick takes W Series Championship title
A 𝗗𝗢𝗨𝗕𝗟𝗘 @WSeriesRacing champion 🔥 pic.twitter.com/PFr1gSUvY3

— Williams Racing (@WilliamsRacing) October 24, 2021
Formula 1 may be taking the limelight this weekend, but a high-stakes competition took place just before the big race on Sunday morning as the Women's Series' Jamie Chadwick took her second consecutive championship title in Austin.
The 2021 W Series champ took her crown after winning both races this weekend. After taking the Saturday race, Chadwick cruised to victory with a five-second lead over a second-place Abbi Pulling to win the championship over rival Alice Powell.
Chadwick defeated Powell for her second U.S. Grand Prix win since the last race in 2019, earning $500,000 in the process. The W Series, which is free-to-enter unlike Formula 1 and hopes to level out the financial playing field for men and women, is a developmental league that also provides 15 FIA super licence points to season winners. With enough super licence points, W Series drivers can level up to Formula 3 competitions and eventually beyond as they begin to compete against male drivers.
Saturday, 4 p.m.—Verstappen wins first, Hamilton takes second in qualifiers
It's @Max33Verstappen's ninth pole of 2021!#USGP 🇺🇸 #F1pic.twitter.com/gp7RIlrOaf

— Formula 1 (@F1) October 23, 2021
In a three-round battle on Saturday, Verstappen flipped the switch from the day's practice rounds as he took a last-second lead over Hamilton to win the pole position, or first slot, in Sunday's starting grid on Saturday's qualifiers.
But it wasn't an easy battle. Verstappen's teammate Perez, a Mexico native, earned cheers from plenty of fans from his neighboring home country as he held the lead through the 10-minute round. Hamilton, who had been flanked behind both Red Bull foes, pulled a last-second lead to finish the finals and looked to take the pole position.
As rain began to fall, however, Verstappen pumped the gas for one final lap and won the pole position from his Team Mercedes foe.
It's Verstappen's first pole position on U.S. soil as he looks to take his first U.S. Grand Prix.
Click here for more information on the qualifiers.
Saturday morning—Ricciardo drives Earnhardt's 1984 car
Think @DanielRicciardo might have enjoyed that. 😅 #USGP 🇺🇸 pic.twitter.com/qfkGnEl0sO

— McLaren (@McLarenF1) October 23, 2021
Just as early fans began to trickle in, McLaren Mercedes' Daniel Ricciardo broke the crisp morning air with a roar as he drove some donuts in Dale Earnhardt's 1984 Wrangler car.
Ricciardo fulfilled his childhood dream—unlike many of his competitors his racing heroes growing up were his dad and Earnhardt, a seven-time NASCAR champion. Ricciardo collected many of Earnhardt's model cars growing up, but he never got his hands on this one until now, according to a report from ESPN.
After the exhibition laps, a breathless Ricciardo told reporters about the exhilarating experience.
"I can't speak," Ricciardo said. "That was fun, I think I'm still a little bit high right now."
Ricciardo's joyride caught the attention of Dale Earnhardt's son, NASCAR driver Dale Earnhardt, Jr, who responded with a tweet that gave Ricciardo "goosebumps."
"I'm happy for Daniel," Earnhardt Jr. said. "I'm also appreciative for how he celebrates my father. That makes a lot of dads family members and fans smile."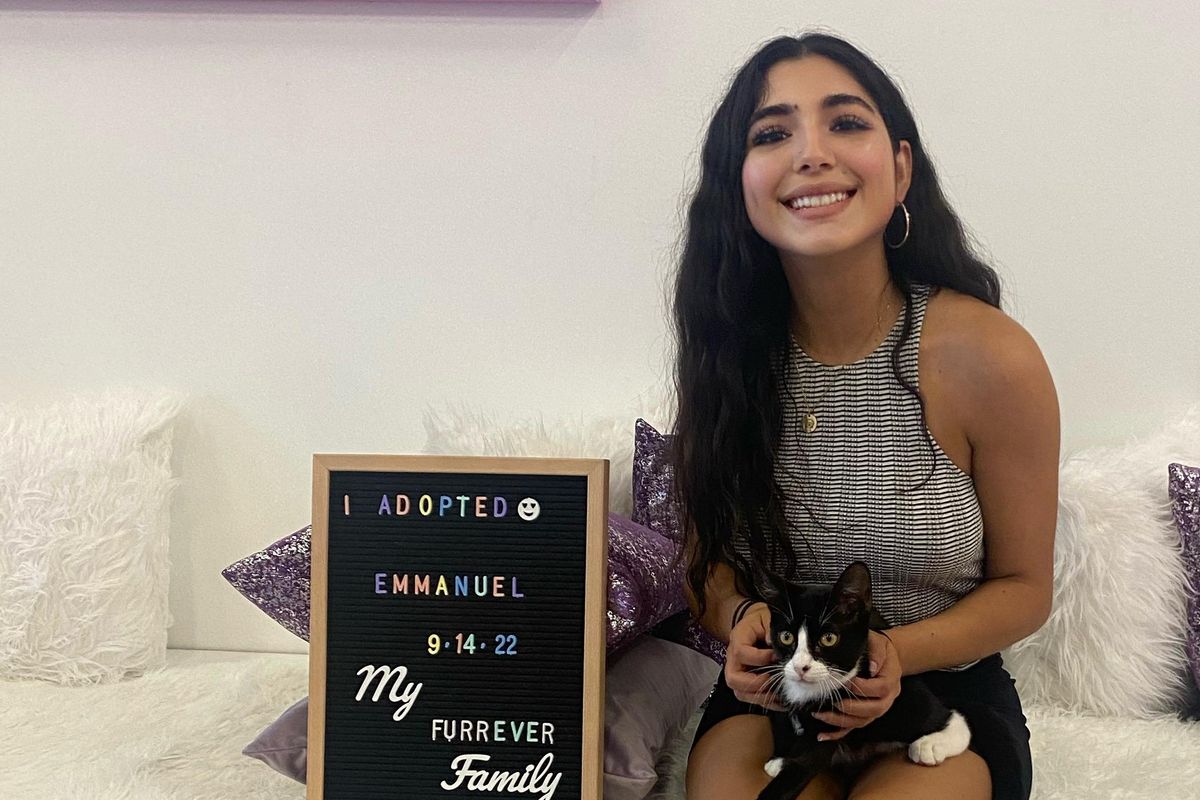 Purr-fecto Cat Lounge
Timmy and Tommy are ready to play.
As the 2-month-old white-and-tabby brothers swat feather wands, chase toys and generally hold court inside Purr-fecto Cat Lounge, a half-dozen potential adoptive parents look on lovingly, trying to get their attention.
"This is kind of like the speed dating of cats," said Lupita Foster, owner of Purr-fecto Cat Lounge. "I intentionally didn't put in any tables. That's why we call it a lounge instead of a cat café because we have these lounge areas where you can sit and relax and cuddle."
Foster, who has owned a cleaning company, Enviromaids, for 18 years, was inspired to open Purr-fecto Cat Lounge after adopting her own cat, Romeo, from a local shelter.
"When you want to adopt a cat, you have to spend a lot of time with them to get their personality," Foster said. "I wanted to do something to help the community and something that makes me feel good, that warms my heart. A business with a purpose. This was a perfect idea."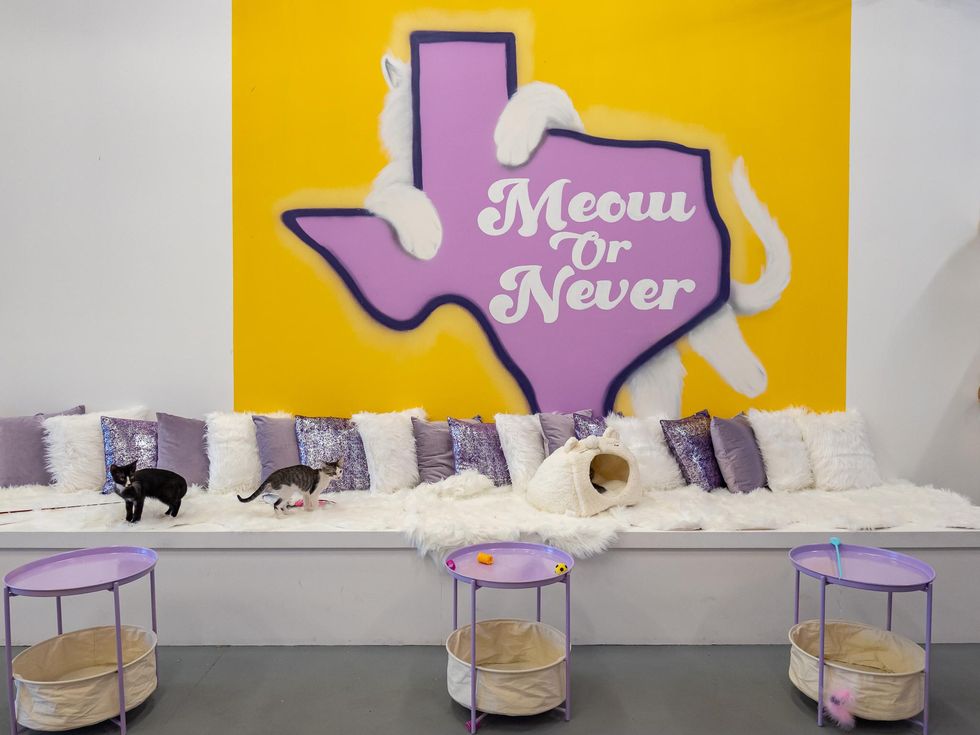 Actually, a purr-fect idea.
Inspired in part by a cat lounge she visited in Los Angeles, Foster began laying the groundwork for the business in late 2021 and officially opened the doors of Purr-fecto Cat Lounge, located at 2300 S. Lamar Blvd., in July 2022. Since then, she's worked with rescue organizations such as Fuzzy Texan Animal Rescue and Sunshine Fund Cat Rescue to facilitate nearly 100 cat adoptions.
At any given time, there are 10-15 cats living in the space, which features an ideal blend of calm, cool corners and adorably Instagrammable backdrops with phrases such as "I want to spend all my 9 lives with you."
Lina Martinez, 32, learned about Purr-fecto Cat Lounge from a friend's Instagram post and made an appointment to visit two days later.
"My first impression was, 'AWW!'" Martinez said. "The kittens were to die for. I felt happy and at peace – just what I needed."
Visitors to the cat lounge pay $15 for a 30-minute CATXperience session or $30 for a 70-minute session that is spent getting to know the personalities of each cat. Foster said the first thing she typically sees from visitors to the lounge is a smile.
"Everybody that enters the door is smiling," she said. "And we've seen people who have cried because they can't have kids and they decide to go and adopt a cat instead."
Foster said she loves bringing in cats who might not have a chance to be adopted at traditional shelters. She told the story of one cat named Izzy, who was partially blind, who was adopted by a family that had a deaf cat at home.
"Izzy was not going to get adopted anywhere else, but she's extremely beautiful," she said. "If she was in a cage in a rescue and you tell people she's blind, she was probably going to be overlooked. But visiting our space, she doesn't seem like she's blind. She knows her way around. She moves around perfectly."
Although Martinez, who had been casually looking for a pet to adopt since moving to Austin nearly four years ago, was interested in a cat named Ruby that she had seen on Purr-fecto's social media, at the lounge she instead found herself drawn to 5-month-old mixed breed Tuxedo cat.
"I thought he was a star," she said. "He worked the room and introduced himself to everyone. When I laid down to pet Ruby, he ran from the other side of the room and cuddled with me. It was game over. He got me."
And she, of course, got him, complete with a commemorative photo that read "My Furrever Family" the day she took him home. Although his original name was Emmanuel, she renamed him Sullivan after her favorite DJ.
"Purr-fecto is special because of the amount of effort and love they put into taking care of the cats," Martinez said, "and finding them good homes and making possible adopters feel at home."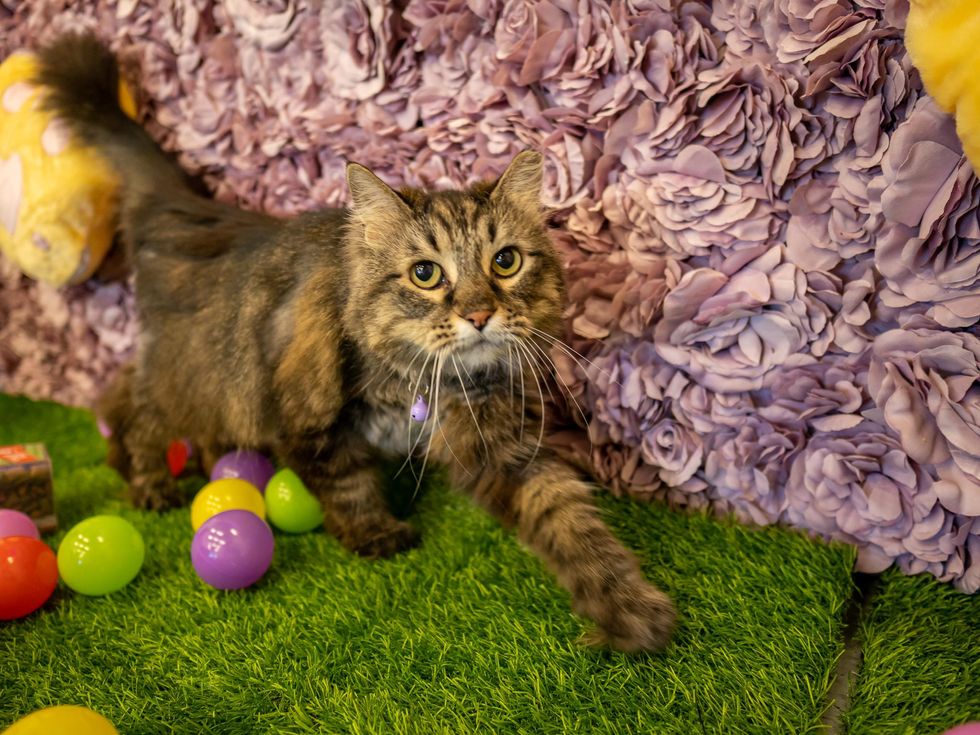 Foster, who spent a recent Thursday hosting a group of teenagers in foster care at the lounge, several of whom expressed interest in working there, said the best part about her new endeavor is that her heart is always full.
"I just feel complete," she said. "I always felt as an entrepreneur that I was missing something. I knew I accomplished a lot, but in my heart I was missing a little connection with the community. Now I'm creating connections between humans and pets and that's amazing. I'm creating family bonds. It's just about love, you know. And we need that."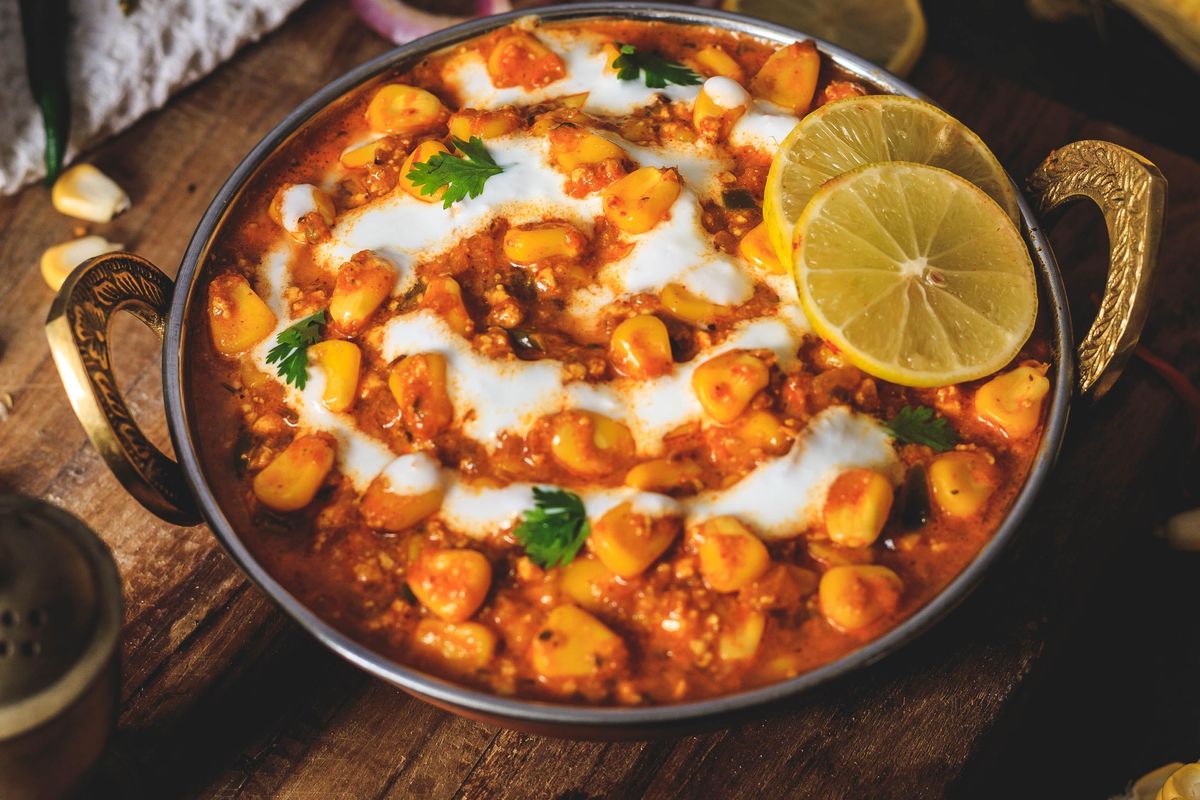 We all have those cravings for an amazing butter chicken or some authentic dosas with coconut chutney, but when I was thinking about where I wanted to go to satisfy my taste buds I realized that my list of great Indian food around Austin was surprisingly short. After doing some research and asking around, here is your list of the best Indian restaurants around town.
This restaurant claims to have the most authentic South Indian food, and from what I've heard, the claims might be true! Their menu features the traditional South Indian dishes of Idlis, Vadas, a variety of Dosas, and more.
If you're looking for an Indian and Tex-Mex fusion cozy restaurant, then look no further! Nasha on East 7th Street prides itself on its specialty margaritas, Tikka con Queso, Biryani, and more creative dishes!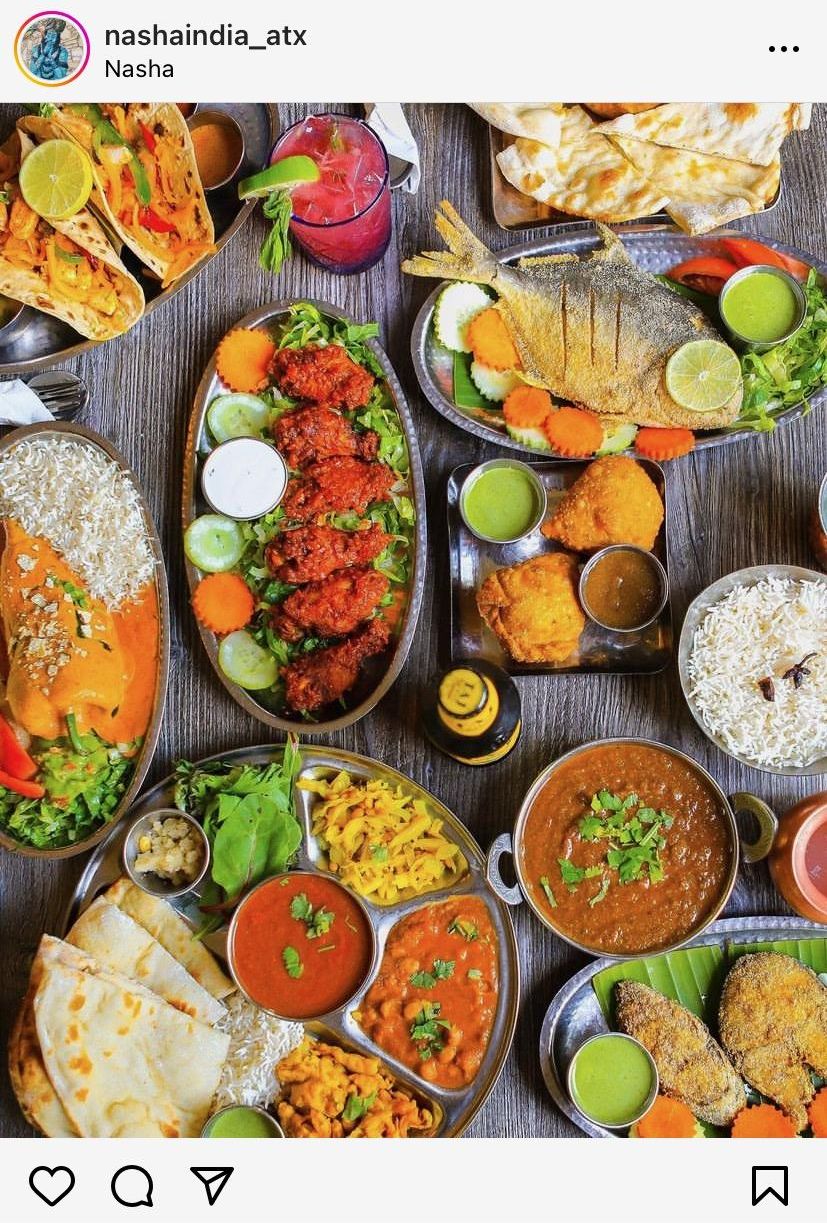 Austin Chai Wala is a personal favorite of mine, with the best masala chai I have ever had in Austin. The quaint truck in Rosedale Market features a unique blend of South Asian cuisine, including Masala Fries, Paratha Wraps, Samosas, and a delicious Mango Lassi.


This Round Rock Restaurant is known for its South Indian food, and its pakoras, a deep-fried North Indian street food filled with vegetables like potatoes or peas. Great stop for comfort food!
The best about this restaurant is its ambiance, and if you're a UT student then it is just a stone's throw away from campus. The Brick wall setting and extensive wine selection make it a great choice for a date night or a treat-yourself dinner.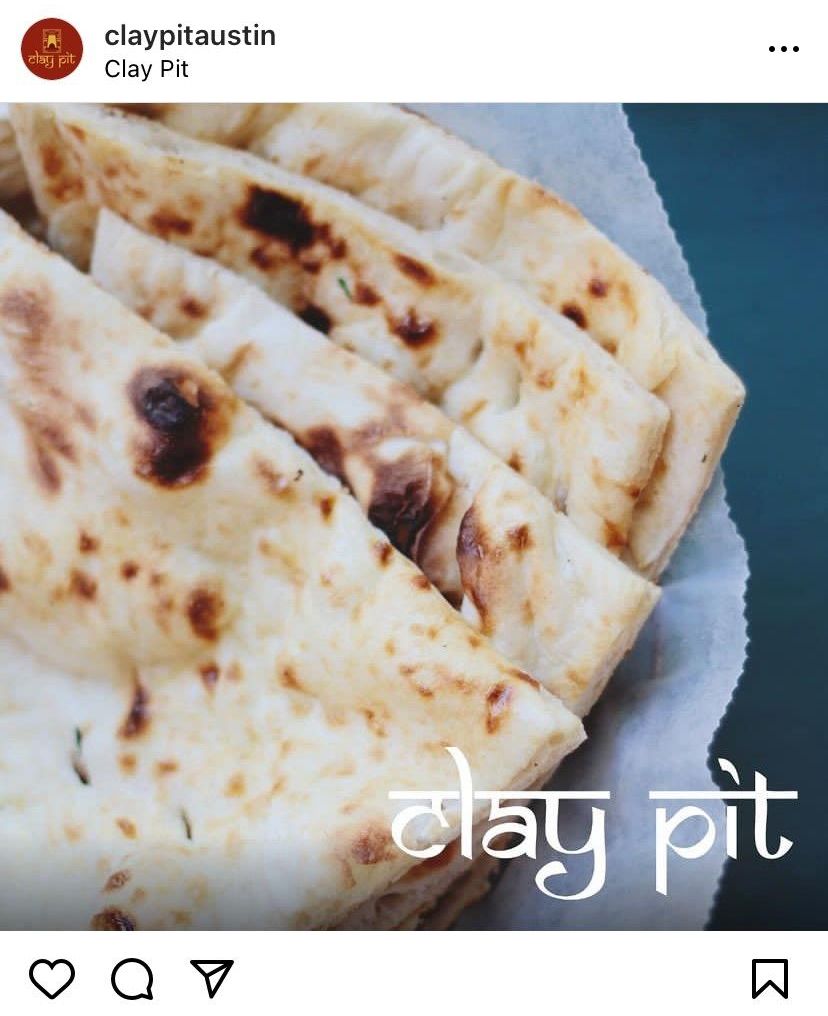 Named after one of the best spices used in Indian cooking, Saffron specializes in a fusion of Himalayan Nepali and Indian cooking. Stop by for some amazing Paneer Tikka, delicious Tandoori meat, or Nepalese fried rice dishes.
This little food truck on Burnet focuses on keeping the authentic South Indian Dosa recipe while embracing modern twists. Check out their menu offering signature dosas, street bites like Samosas, and their original "Doffles", dosa waffle sweet bites.