Never miss a story
Sign up for our free daily morning email...
...and afternoon text update
Get connected with our daily update
(Amna Ijaz/The Texas Tribune)
By Emma Platoff
Voting rights advocates and civic groups have rushed to the courthouse in a bid to block Republican Gov. Greg Abbott's Oct. 1 order allowing Texas counties no more than one drop-off location for voters casting absentee ballots, calling the directive an unconstitutional burden on the right to vote that will disproportionately impact voters of color in the state's biggest cities.
---
The Texas and National Leagues of United Latin American Citizens, the League of Women Voters of Texas and two Texas voters asked a federal judge in Austin in a lawsuit filed late Thursday to overturn the governor's order, which forced Travis and Harris counties — two of the state's most important Democratic strongholds — to shutter a number of drop-off sites they had already opened this week.
"The impact of this eleventh-hour decisions is momentous, targets Texas' most vulnerable voters—older voters, and voters with disabilities—and results in wild variations in access to absentee voting drop-off locations depending on the county a voter resides in," attorneys for the groups argued. "It also results in predictable disproportionate impacts on minority communities that already hit hardest by the COVID-19 crisis."
Attorneys also pointed out that Abbott was making a major change to election procedures just weeks away from an election — an action the state and its attorneys argued was improper in a separate federal lawsuit over straight-ticket voting.
Unprecedented numbers of Texas voters are requesting mail-in ballots for the highly charged election as the nation is in the grip of the coronavirus pandemic. Many of those voters are expected to drop off their ballots in person rather than entrusting them to the U.S. Postal Service, which has been plagued by cutbacks and doubts over its ability to deliver ballots early enough to be counted.
Texas Republicans have vigorously fought efforts to facilitate increased mail-in balloting, particularly in Harris County, the state's largest and a Democratic stronghold where voter turnout could prove pivotal in this year's election.
Asked about the lawsuit, Abbott spokesman John Wittman said the governor "has expanded access to voting."
Months ago, Abbott extended the early voting period by nearly a week and allowed voters to deliver their absentee ballots in person earlier than usual, citing the pandemic. His order this week limited where voters may turn in those ballots, not when.
Wittman added that the governor's Oct. 1 order concerns only absentee ballots, most of which he said are submitted by mail.
"The additional time provided for those who want to submit their mail-in ballot in person is sufficient to accommodate the limited number of people who have traditionally used that voting strategy," Wittman said.
But more absentee ballots than ever are expected to be cast this year — some counties have already sent out twice as many as usual — and there are concerns about delays from the U.S. Postal Service.
The lawsuit will have to move quickly, with early voting set to begin in less than two weeks on Oct. 13.
Harris and Travis counties had each set up multiple locations for accepting absentee ballots and had already begun accepting them before Abbott issued his order shutting down the satellite locations. Voting rights experts say access to these locations is especially important given concerns over U.S. Postal Service delays and that closing them will disproportionately impact voters with disabilities or without access to reliable transportation. Harris County is home to 2.4 million registered voters and stretches across some 1,700 square miles, more than the entire state of Rhode Island.
Ralph Edelbach of Cypress, an 82-year-old voter among those suing Abbott, had planned to drop his ballot off at a Harris County location that was 16 miles from his home — but now will have to travel 36 miles, nearly 90 minutes round trip, to reach the only location Abbott has allowed to stay open, according to court documents.
At a press conference Friday morning, Harris County Clerk Chris Hollins said he could reopen the shuttered locations "at the drop of a dime."
"Ultimately, anything that's done to decrease voter convenience, to put obstacles in the way of the voter, is voter suppression, and will lead to disenfranchisement," he said.
Abbott's order, which came a day after the Texas solicitor general approved Harris County's plan for multiple locations under earlier guidance from the governor, also said counties must allow poll watchers to observe goings-on at ballot drop-off sites. Voting rights advocates fear that poll watchers, who are selected by candidates or political parties, will seek to intimidate voters, as has been documented in the past.
Abbott claimed the limits on drop-off locations were necessary to ensure election integrity. But he provided no evidence that the drop-off sites enable voter fraud, which experts say is rare.
And the procedures for delivering an absentee ballot are strict. Voters must present an approved form of identification, show up during specified hours and can only deliver their own ballots.
Texas is one of just a few states that is not allowing all voters to cast their ballots by mail during the coronavirus pandemic. Beyond extending the early voting timeframe, the state has done very little to expand Texans' options for voting safely this fall. And its criteria for absentee ballots are unusually strict: Voters can vote by mail only if they are 65 or older, confined in jail but otherwise eligible, out of the county for the election period or cite a disability. The Texas Supreme Court has said that lack of immunity to the novel coronavirus does not itself constitute a disability, but that voters may consider that alongside their medical histories to decide whether they qualify.
Harris County started accepting completed applications Sept. 28, and had collected 39 as of Thursday evening. Travis County opened four locations Oct. 1.
Democrats and voting rights groups immediately condemned Abbott's as an attempt at voter suppression.
Ross Ramsey contributed to this report.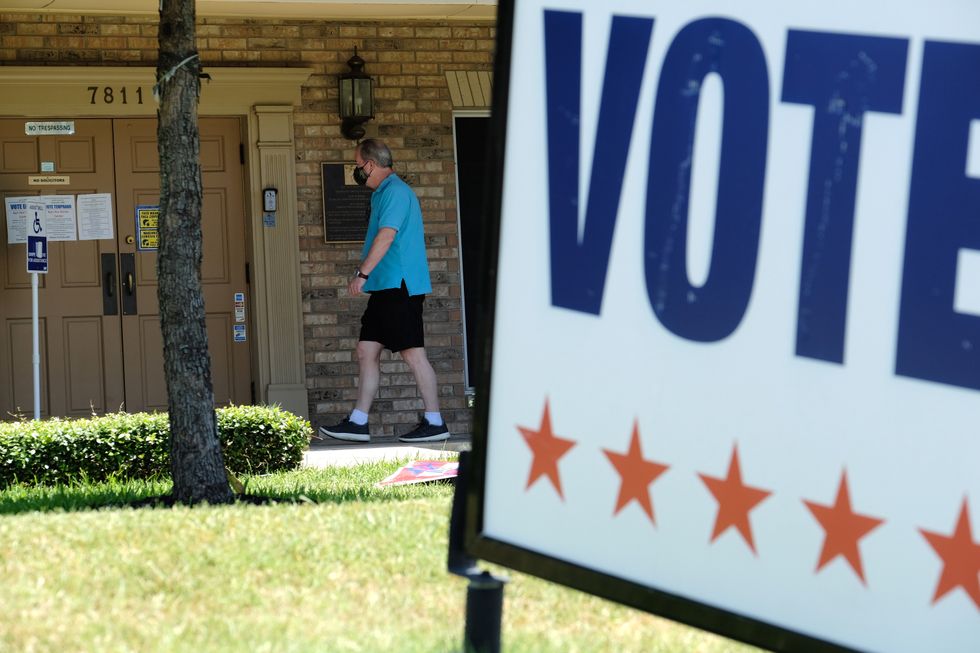 Austonia's 2020 voter guide: dates to know, where to vote and races to watch
(Austin Police Department/Twitter)
Austin police lifted the shelter in place order after searching the area around 9600 block of Great Hills Trail near the Arboretum for a 41-year-old man named Stephen Broderick, who they believe is responsible for shooting and ultimately killing three people in Northwest Austin
As of 5 p.m., the suspect is still at large and considered to be armed and dangerous, though police do not believe he is actively targeting anyone else. During a press briefing at 4:45 on Sunday, APD Interim police Chief Joseph Chacon said they are switching the search from the immediate area to a fugitive search as they have exhausted all the leads they currently have.
Chacon confirmed during the briefing that Broderick was a former Travis County Sheriff's Office deputy. Chacon said they will remain on the scene for "several hours" and there were 75 FBI agents on the scene as of the briefing.
Police believe the victims, who have been identified as two Hispanic women and one Black man, knew their assailant. Chacon said a child was involved but is now safely in police custody. Broderick was described as 5 foot, 7 inches with a medium build and was last seen wearing a gray hoodie, sunglasses and a baseball cap.
"We're very sorry that obviously that this has happened and we continue to try and locate this individual, we are transitioning from a search in this area to a fugitive search and those efforts will continue until this person is located," Chacon said. "I don't want anyone to think that we're packing up and going home. We're going to continue to look for this individual because he continues to pose a threat to this community."
At a 2:30 p.m. press briefing, Chacon said APD responded to a "shoot, stab, hot shot" call on Great Hills Trail and Rain Creek Parkway at 11:46 a.m. to find the three victims with gunshot wounds. APD was joined by the Austin Fire Department. ATCEMS, the local chapter of the FBI, the U.S. Marshals, Department of Public Safety, and the Round Rock Police Department for support.
Though Austin Travis-County EMS originally reported it as an active shooter situation, police now believe the incident was an isolated domestic event.
"This is still an ongoing and active investigation and we do not have this individual in custody yet," Chacon said during the first press briefing. "We would ask if you have your neighbors, phone numbers, call or text them check on them and make sure that they're okay. We are concerned that he might possibly take a hostage and be himself sheltered somewhere waiting for us to leave."
Three helicopters and SWAT teams were sent to the area, as well as 18 ATCEMS response assets. According to Austin Police, the incident occurred at an apartment complex near Great Hills Trail and Rain Creek Parkway.

APD announced at 1:02 p.m. that Loop 360 will be shut down in both directions from Spicewood Springs to 183 due to the incident. The roads will remain closed until law enforcement is able to wrap up the crime scene and units demobilize.
This is a developing story.

(Hard Rock Stadium)
Formula 1 is returning to Florida for the first time since 1959, announcing that the brand-new Miami Grand Prix will join the calendar in 2022 and Austin will no longer be the only F1 race in the U.S.
Held at the Hard Rock Stadium complex in Miami Gardens, this will be the first race in the Sunshine State in 62 years. With a new track setup, F1 will loop the stadium, home of the NFL's Miami Dolphins.
The new 3.36 mile circuit has 19 corners, three straights and potential for three DRS zones, with expected top speeds of 198 mph.

Now with two races in the U.S., F1 President Stefano Domenicali said they will avoid having back-to-back events by keeping the Miami Grand Prix separate from the U.S. Grand Prix, which is held at Austin's Circuit of the Americas.
The date of the race has yet to be confirmed, though Domenicali said he expects the first race in a 10-year deal to take place in the second quarter of 2022. Austin's race will take place on Oct. 24 this year.
"The USA is a key growth market for us, and we are greatly encouraged by our growing reach in the U.S. which will be further supported by this exciting second race," Domenicali said.
Miami will mark the 11th race location in the U.S. since the Championship began in 1950: Circuit of The Americas in Austin; Dallas, Texas; Indianapolis, Indiana; Sebring, Florida; Riverside, California; Watkins Glen, New York; Long Beach, California; Las Vegas, Nevada; Detroit, Michigan and Phoenix, Arizona. COTA was first opened in 2012.
Domenicali said F1 will be working with the FIA and the Hard Rock Stadium to leave a lasting impact on the community: discounted tickets for residents, a program to support local businesses and a STEM education program through F1 in schools.