Austonia AM
100% Austin news, info, and entertainment, straight to your inbox at 6 a.m. every morning.
In five minutes, you're fully informed and ready to start another great day in our city.
Get connected with our daily update
This story has been updated as of Sunday at 10 p.m.
The city of Austin is continuing with its efforts to make sure residents have drinking water with 10 distribution sites passing out water into the start of the week as a boiling water notice is still in effect after the winter freeze.
---
Monday's distribution will start at 9 a.m. and go until 5 p.m., or while supplies last. The 10 distribution locations include: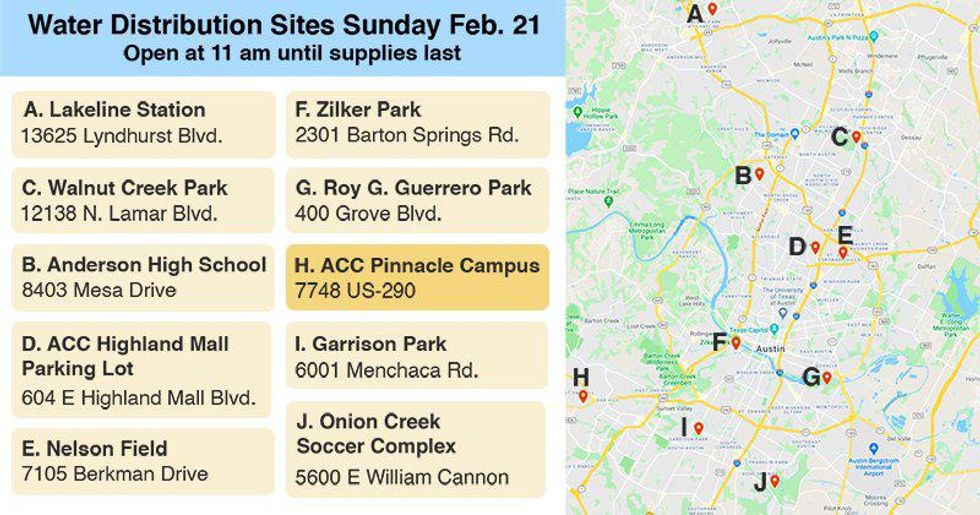 (City of Austin/Twitter)
Each site will hand out one case of water per car on a first-come, first-serve basis. Because supplies are still limited, the city recommends that residents only get free water if they cannot boil or purchase water elsewhere. In order to move quickly, the city requests that residents have their trunks open or doors unlocked so workers can swiftly provide water to each car.
This is the final phase of the three-part distribution effort put in place by the city of Austin. It received 1 million gallons of water from FEMA amid a water shortage and boil water notice for local residents.
On Friday, critical areas including warming shelters, COVID-19 isolation sites, and first responder locations were prioritized for distribution. By Saturday, the city had partnered with community programs such as Capital Metro to begin expanding to vulnerable populations including seniors and those with certain medical needs, and Saturday night saw the general public receive its first cases of water.
As of Sunday at 5 p.m., the city had passed out 17,136 cases of water to critical facilities, 14,448 cases to vulnerable populations through city partners and 19,068 cases to the general public.
Water Update
While the city scrambles to bring drinking water to the millions of Austinites with little to no running water, Austin Water has made some improvements to its utility services. On Sunday at 7 p.m., the department announced that storage in reservoirs had jumped to 90 million gallons. A minimum of 100 million gallons are needed in storage to resume normal operations.
Although no region has seen its normal water supply come back, Austin Water said that two zones, the South and Northwest A regions, had climbed from Red (Water Outage) to Orange (Low Pressure). Five of the 9 water utility regions still have no running water.
distribution system. Today we added North and Southwest A (SWA) zones moved from Red (Water Outage) to Orange (Low Pressure). Individual water pressure and service may vary from house to house within a zone. pic.twitter.com/bFlFyRmWGR
— Austin Water (@AustinWater) February 22, 2021
The citywide boil-water notice is still in effect and will be for the next several days as the city samples water and ensures the supply is drinkable and safe.

Because water is still very limited, Travis County Judge Andy Brown has issued an order prohibiting businesses from providing car washing services around the county. Austin Water has also announced mandatory water restrictions on customers, including washing cars at home. Customers should not waste the scarce available water on irrigation or irrigation equipment, washing pavement or other services, adding water to a pool or spa, conducting foundation watering, or operating a fountain or pond if it is not needed to preserve aquaculture.
Anyone can report violations of these restrictions to Austin 311.
Power Update
While a lack of water is still affecting millions of Austinites, power outage issues have nearly been wiped out by Austin Energy.
As of Sunday night, the department had narrowed down to less than 25 customers without power with only one active outage.
From Your Site Articles
Related Articles Around the Web
Matthew McConaughey is reportedly weighing a run for Texas governor in 2022.
The Austin resident and Oscar winner has been "quietly making calls to influential people in Texas political circles, including a deep-pocketed moderate Republican and energy CEO" as he decides whether to run, according to Politico.
McConaughey said a gubernatorial run is "a true consideration" while on a March episode of Houston's "The Balanced Voice" podcast.
Although most political strategists doubt McConaughey's commitment and viability as a candidate, some are still intrigued by the possibility.
"I find it improbable, but it's not out of the question," Karl Rove, a top Republican strategist with a long history in Austin, told the political news site. He added that the big question is whether McConaughey would run as a Republican, a Democrat or an independent.
Brendan Steinhauser, an Austin-based GOP strategist, told Politico he's surprised McConaughey isn't being taken more seriously. "Celebrity in this country counts for a lot," he said. "It's not like some C-list actor no one likes. He has an appeal."

Texas Gov. Greg Abbott plans to run for a third term and remains popular among Republican voters, 77% of whom approve of his performance as of April, according to the Texas Politics Project.
Some strategists believe an independent McConaughey run would benefit Abbott. But a recent poll from The Dallas Morning News and the University of Texas at Tyler found that McConaughey would beat Abbott, 45% to 33%, with 22% opting for someone else.
Mimi Swartz, an executive editor at Texas Monthly, mulled a McConaughey run in a recent opinion essay from the New York Times. "Texas may not be ready for a philosopher king as a candidate, much less governor," she wrote. "May the best man win, man."
Some JuiceLand production facility workers and storefront employees are organizing to demand wage increases, better working conditions (including air conditioning in the warehouse) and pay transparency, among other asks. They are also calling on staff to strike and customers to boycott the Austin-based company until their demands are met.
JuiceLand responded on Saturday. "We are listening," the company wrote on their Instagram story. "JuiceLand crew now makes guaranteed $15 an hour or more companywide."
JuiceLand, which was founded in 2001 by Matt Shook and now has 35 locations in Austin, Houston and Dallas, acknowledged the rising cost of living across Texas and the added stress of the pandemic in an email to employees on Saturday, part of which @juicelandworkersrights shared on social media. "There's no denying that times are tough and financial security means more now than ever," the company wrote.
Organized JuiceLand workers rejected this proposal, according to a recent post on the @juicelandworkersrights Instagram account, and reiterated their demands.
"Cost of living in Austin is rising exponentially and will only continue to get worse with the tech boom," the post read. "$15 is barely a sustainable living."

Related Articles Around the Web