Austonia AM
100% Austin news, info, and entertainment, straight to your inbox at 6 a.m. every morning.
In five minutes, you're fully informed and ready to start another great day in our city.
Get connected with our daily update
Waterloo Park, the first phase of the new Waterloo Greenway urban parks system, will open this August. (Waterloo Greenway)
Waterloo Park, the first phase of the forthcoming Waterloo Greenway urban parks system, will open to the public in August.
---
Ground broke on the 11-acre park, which is bordered by East 15th, Red River, East 12th and Trinity streets, in 2017. It will include a spacious lawn, playgrounds and the 5,000-person-capacity Moody Amphitheater.
The area already has events lined up after its opening. Starting in September, the park will host free monthly live music performances, as well as a Día de Los Muertos Festival in October, an Asleep at the Wheel 50th anniversary reunion show, the seventh annual Creek Show in November and a two-night, holiday-themed cinema event.

Since 1978, Waterloo Park has hosted many iconic Austin events, including Spamarama and Fun Fun Fun Fest.
"The reopening of Waterloo Park represents a bridge between Austin's past, present and future," Interim CEO Kathy Miller said in a press release. "We're honoring the culture of the area, while building a place that is a vital part of what Austin will become."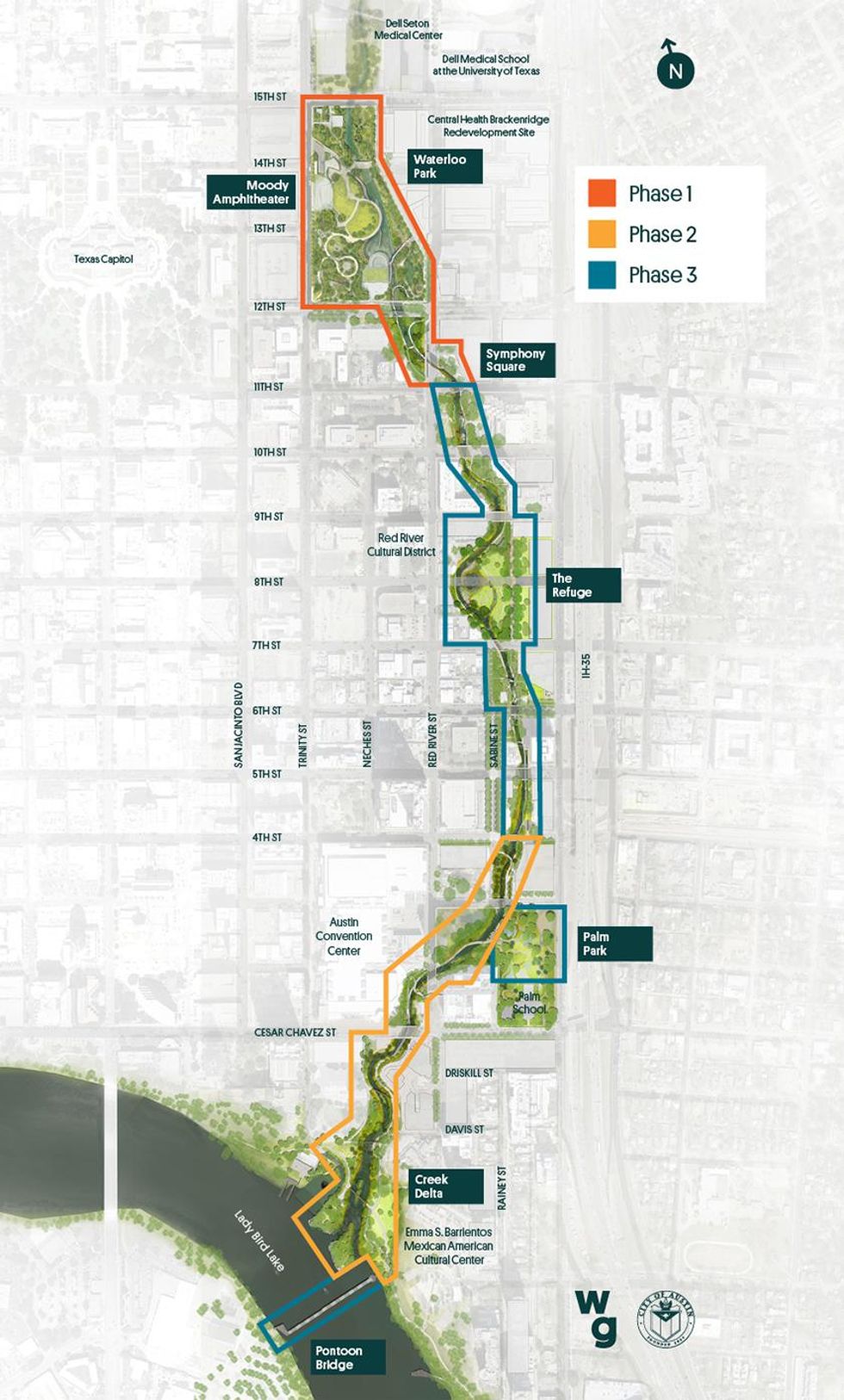 (Waterloo Greenway Conservancy)
The 10-year, 35-acre Waterloo Greenway project will run 1.5 miles along Waller Creek from 15th Street to Lady Bird Lake when it's completed. It is the result of a public-private partnership between the city of Austin and the Waterloo Greenway Conservancy, a local nonprofit. Its estimated total cost is $250 million, of which approximately $150 million the city committed.

The second phase will be an overhaul of the Creek Dela portion, which includes nine acres between Lady Bird Lake and 4th Street. It is expected to be completed in 2023.
The last phase includes the middle section of the park system, from 4th to 11th streets, as well as Palm Park, which abuts the Fairmont Austin hotel and the I-35 frontage road, and Pontoon Bridge, which spans Lady Bird Lake. It will be completed in 2026.
Waterloo Greenway is named after the city's original moniker, Waterloo. It is also the name of a city in Belgium, combining "water" with the Flemish word "loo," which means "sacred wood."
Ingredients:
1 1/2 oz of hibiscus-infused Tito's Handmade Vodka
2 oz sparkling water
1 oz fresh lime juice
3/4 oz simple syrup
1 tsp allspice dram
Directions: Add infused Tito's Handmade Vodka, lime juice, and simple syrup to a shaker with ice. Shake and strain into a glass over fresh ice. Top with sparkling water, and garnish with a lime slice. Enjoy!
A week after Texas added two congressional seats and California lost one, state officials reported a population decline in 2020 for the first time in the Golden State's history.
California fell by over 182,000 people from January 2020 to January 2021, dropping almost 0.5% to cap out at around 39.5 million people. It is still the nation's most populous state.
For over thirty years, California has seen more people leave than move in from other states, state officials said, with 6.1 million people moving out and 4.9 million coming in last year. Immigration and births kept California growing, but the state saw a shrink in international migration in 2020 due to COVID and the White House's hold on visas.
Of the steady flow of ex-Californians moving to other states, more are moving to Texas than any other state. Many are relocating to Austin, which has been labeled a "little California" by billionaire resident Elon Musk and continues to grow astronomically.
Meanwhile, California cities including Los Angeles, San Diego, San Jose and San Francisco saw a population decline.
With immigration and state migration on the decline, the Golden State was also hit with a spike in deaths- 51,000 people died from COVID in 2020, and all but seven of the state's counties saw death rates higher than the three-year average.
Still, the California Department of Finance said a "slightly positive annual growth" can be expected next year as the state recovers from COVID deaths and political repercussions.