Austonia AM
100% Austin news, info, and entertainment, straight to your inbox at 6 a.m. every morning.
In five minutes, you're fully informed and ready to start another great day in our city.
Get connected with our daily update
In search of the talent living here in the capital city, online home goods shopping platform giant Wayfair is expanding beyond its Boston roots and opening three news offices in Toronto, the Bay Area and Austin.
---
According to a statement from Wayfair, the offices are expected to open "within the next year." This will be the first time the company has ventured outside headquarters in Boston and Berlin.
The new offices will open 1,000 jobs total over time, which will provide around 200 initial jobs for Austinites. Roles like software engineers, infrastructure engineers, product managers, data scientists, analysts and experience designers are all on the table.
The company already has 15 jobs listed, including executive assistant and product manager, for the Austin office. Wayfair representatives said they chose Austin for the surrounding tech sphere.
"As Wayfair further solidifies its position as the leader in home, we are excited to open a new chapter as an engineering organization with three new office locations that will help accelerate our ambitious tech agenda," Chief technology officer Jim Miller said. "We're thrilled to expand our global talent footprint to Austin, Toronto and the San Francisco Bay Area as we continue to evolve our team to support the incredible growth of the business."
Wayfair has grown during the pandemic, hitting an initial dip in March 2020 with a single share cost around $27, before skyrocketing as people sought to make their homes more comfortable. Now, a share will set you back $318.50.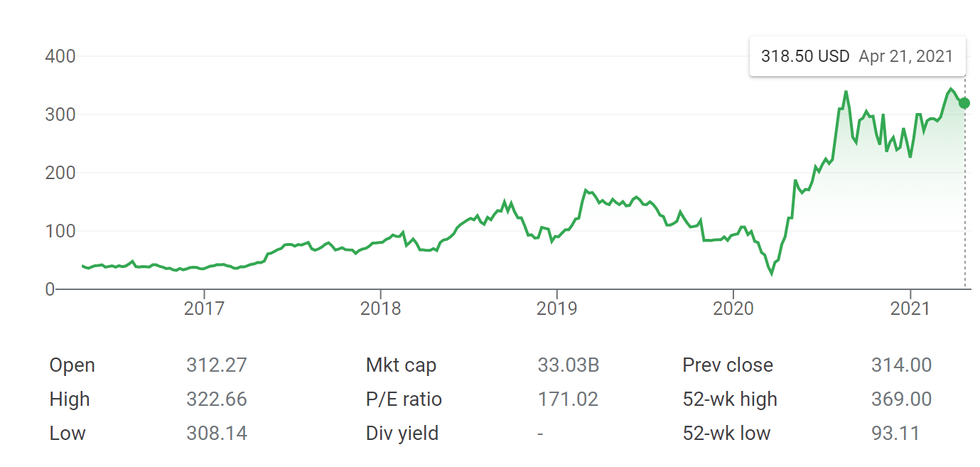 (Google)
You can browse open positions here.

From Your Site Articles
Related Articles Around the Web
A week after Texas added two congressional seats and California lost one, state officials reported a population decline in 2020 for the first time in the Golden State's history.
California fell by over 182,000 people from January 2020 to January 2021, dropping almost 0.5% to cap out at around 39.5 million people. It is still the nation's most populous state.
For over thirty years, California has seen more people leave than move in from other states, state officials said, with 6.1 million people moving out and 4.9 million coming in last year. Immigration and births kept California growing, but the state saw a shrink in international migration in 2020 due to COVID and the White House's hold on visas.
Of the steady flow of ex-Californians moving to other states, more are moving to Texas than any other state. Many are relocating to Austin, which has been labeled a "little California" by billionaire resident Elon Musk and continues to grow astronomically.
Meanwhile, California cities including Los Angeles, San Diego, San Jose and San Francisco saw a population decline.
With immigration and state migration on the decline, the Golden State was also hit with a spike in deaths- 51,000 people died from COVID in 2020, and all but seven of the state's counties saw death rates higher than the three-year average.
Still, the California Department of Finance said a "slightly positive annual growth" can be expected next year as the state recovers from COVID deaths and political repercussions.


Ingredients:
1 1/2 oz of hibiscus-infused Tito's Handmade Vodka
2 oz sparkling water
1 oz fresh lime juice
3/4 oz simple syrup
1 tsp allspice dram
Directions: Add infused Tito's Handmade Vodka, lime juice, and simple syrup to a shaker with ice. Shake and strain into a glass over fresh ice. Top with sparkling water, and garnish with a lime slice. Enjoy!
The sun is out, and thousands of Austin FC fans will be as well as Austin FC goes to Kansas to play Sporting Kansas City at 6:30 p.m. on Sunday.
There's plenty of pub partners to choose from, but here's a few watch parties to help you get in on the action.