Austonia AM
100% Austin news, info, and entertainment, straight to your inbox at 6 a.m. every morning.
In five minutes, you're fully informed and ready to start another great day in our city.
Get connected with our daily update
(We Are Blood)
In response to new requirements from the U.S. Food and Drug Administration and in anticipation of a second COVID-19 surge, local nonprofit We Are Blood asked Travis County commissioners for $600,000 in CARES Act funding to bolster its convalescent plasma therapy collection program over the next 12 months.
---
Austin-Travis County Interim Health Authority Dr. Mark Escott offered his support of convalescent plasma therapy, telling commissioners on Tuesday that it is one of very few treatment options available to COVID patients and the doctors caring for them.
"It's the thing that we have. It's the thing that we can get. It's the thing that we can make more of in that second wave … that we certainly expect to see this fall and winter," he said. "I think this represents the best hope that we have right now."
The therapy
Convalescent plasma therapy uses plasma donations from recovered patients—or those who have convalesced—in the hopes that their antibodies aid those in need of treatment. It has been used to treat diseases such as the Spanish flu, diphtheria and Ebola, with varying levels of success.
We Are Blood began collecting convalescent plasma donations in early April. Area physicians then administered those donations to patients hospitalized with COVID as part of a national study overseen by the Mayo Clinic and FDA.
After putting out a call for convalescent plasma donors, We Are Blood received around 1,600 applications, of which around 400 to 500 were eligible, Vice President of Community Engagement Nick Canedo said.
But as COVID cases and hospitalizations surged in July, We Are Blood quickly exhausted its inventory and had to rely on imports from blood centers around the country to meet local demand.
Because of the shortage, doctors had to ration treatment, administering one dose of convalescent plasma later in the course of treatment rather than two doses early on, We Are Blood President and CEO Marshall Cothran told commissioners.
Since the surge has deflated, We Are Blood has been able to build its inventory back up. But Cothran is concerned that "a likely spike" lays ahead, as a result of Labor Day festivities and the reopening of schools and college campuses. "It almost feels eerily like it felt in June," he said.
The challenges
We Are Blood relies on a limited donor pool to collect convalescent plasma, Canedo said.
Typically, less than 40% of the local population is eligible to donate blood because of restrictions. Convalescent plasma donors also must have tested positive for COVID and been recovered for at least four weeks, further shrinking the pool.
We Are Blood serves a 10-county area but is only able to collect convalescent plasma donations at its three blood centers—in Round Rock, central Austin and South Austin—which may not be accessible to everyone who is able and interested in donating.
Additionally, the FDA issued a controversial new emergency use authorization for convalescent plasma therapy on Aug. 23 that expands access but also imposes new regulations. To comply, We Are Blood must test its convalescent plasma inventory to determine the level of COVID antibodies in each donation by Dec. 1.
"We don't have funding to do that," Cothran told commissioners.
The proposal
As a result, We are Blood is requesting from the county $600,000 in funding from the CARES Act, a federal coronavirus relief package.
The majority of this funding, if granted, would allow We Are Blood to test all blood donors to determine if they're eligible to give convalescent plasma, as well as test donated convalescent plasma for its level of COVID antibodies. We Are Blood is hopeful that, in testing all blood donors for COVID antibodies, they may discover those who are unwittingly eligible to give convalescent plasma. Cothran said the nonprofit estimates around 3% of blood donors will fall in this category.
The rest of the funding would go toward an advertising campaign and new equipment, which would allow the nonprofit to collect convalescent plasma at mobile blood drives.
"If we don't do all three parts, spending money on the other one or two will be less effective," Cothran said.
Commissioners expressed support for the proposal but requested a written budget to consider. Interim Travis County Judge Sam Biscoe also said that the county should loop in the city of Austin, which also has CARES funds to allocate.
Want to read more stories like this one? Start every day with a quick look at what's happening in Austin. Sign up for Austonia.com's free daily morning email.
(Stubb's Austin/Instagram)
After a long, long year without live music, Austin has waited patiently for a return that has finally come. Festivals are planning returns and even venues that adhered strictly to safety protocols during the pandemic are feeling safe enough to gather again in person.
Starting in just a few short days, you can finally enjoy what makes Austin, well, Austin again. Here are a few of the live shows to look forward to.
Remember to jump on those tickets–Austinites have been missing their live music!
We asked you what you wanted and you told us. More newsletter!
Austonia launched its new and improved newsletter today. You can expect:
100% Austin news, info and entertainment
Sent straight to your inbox at 6 a.m. every morning
In 5 minutes or less, you're fully informed and ready for a great day
Sign up here:
For Marco Silvestrini, gelato takes him back to his childhood when he and neighborhood kids in a small Italian town would end their day at the local gelato shop. It was part of what made some of the best memories for him.
He's since been offering that same experience for the past seven years with his artisanal gelato shop, Dolce Neve, in Austin, alongside his sister and her husband.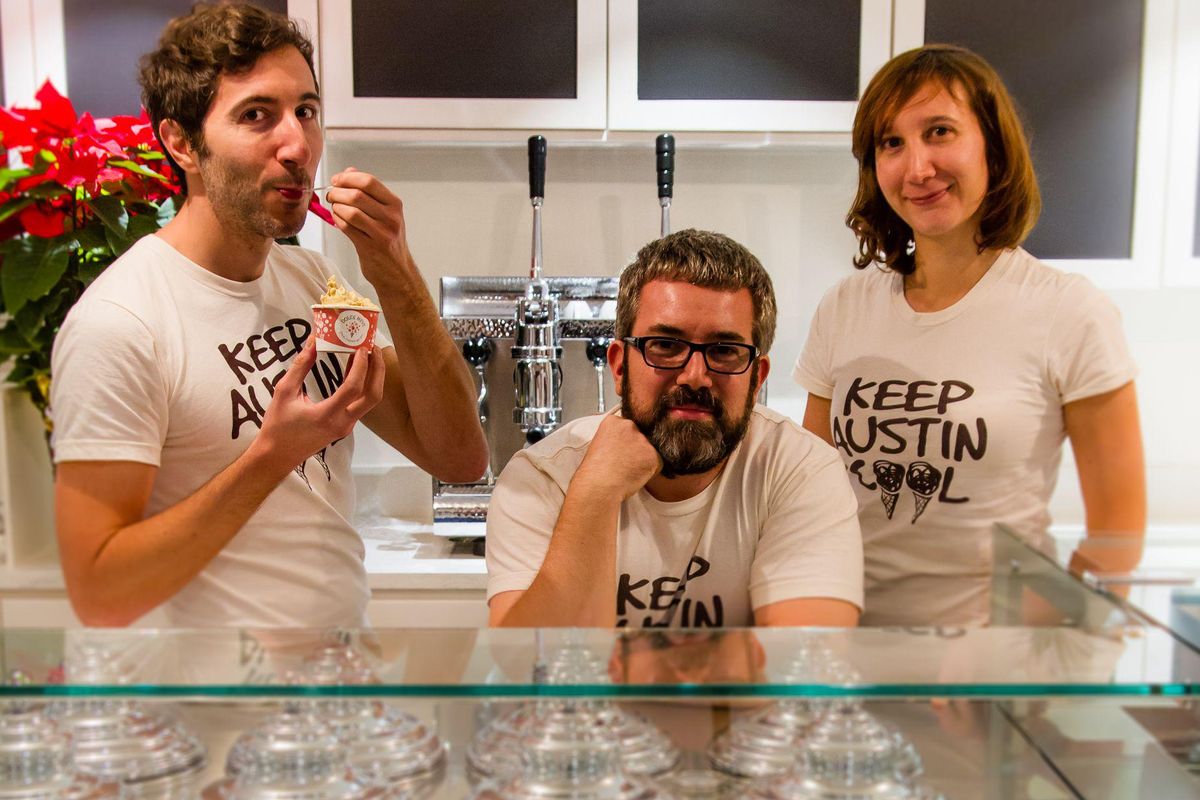 Leo Ferrarese, Marco and Franscesa Silvestrini run Dolce Neve. (Dolce Neve)
While gelato always played a big role in Silvestrini's life, it wasn't in his plans to take on a business with his favorite treat. After a few years in New York working as a management consultant, he felt he was missing out on something. "I decided to take a step back and started thinking, what could... I do to make society better and happier, even just for a moment," Silvestrini said.
He thought back to his childhood and the role gelato played in it and wanted to offer the same experience to Americans.
Once he had the product idea down, it came down to location. Growing up among farmers in a small community in Central Italy, Silvestrini knew he wanted a slower pace of living than New York, so he asked around. The answer he got: "Austin." The only thing he knew about what would become his future home was it had a Formula 1 track.
But after visiting once, he felt a great sense of community he didn't feel in The Empire State. "I felt it was not just a good place for a concept like mine, but also a good place to live because at the end of the day, you cannot just think about your business," he said.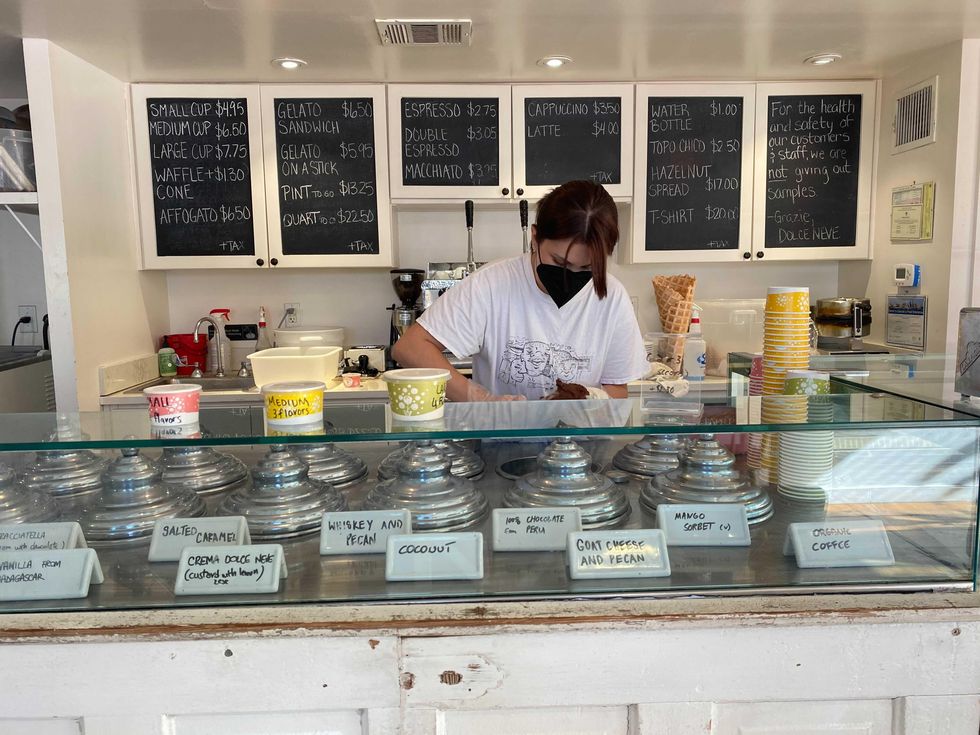 "Dolce Neve" translates to "sweet snow." The shops offers 12-18 flavors at a time. (Dolce Neve)
Similarly, his sister Francesca Silvestrini was experiencing the same feelings while studying for her Ph.D. in Ohio before teaming up with Silvestrini. She went back to Italy to be properly trained in making gelato while Silvestrini focused on the business plan. They brought Leo Ferrarese, her husband, onboard and opened their first shop on South First Street in January 2014. The rest is history.
On the menu, you'll find various traditional and innovative flavors that rotate out. Some of the staples include chocolate, 100% vanilla from Madagascar and salted caramel. Other rotating or seasonal flavors include whiskey and pecan, organic cantaloupe sorbet, goat cheese and pecan, almond custard and tiramisu. They've created over 300 flavors together in the span of the business.
So what's next for the shop? Lately, Silvestrini has been thinking a lot about that. With two locations in Austin, one in Houston—he's just not sure if expanding more is the right move. Maintaining a quality product and good service is of utmost importance that he's not willing to sacrifice.
"In order to be happy, it's not about making money, it's about being an integral part of the community," Silvestrini said. "There have been so many cases in which I think what I did today really made a difference in somebody's life."