Get connected with our daily update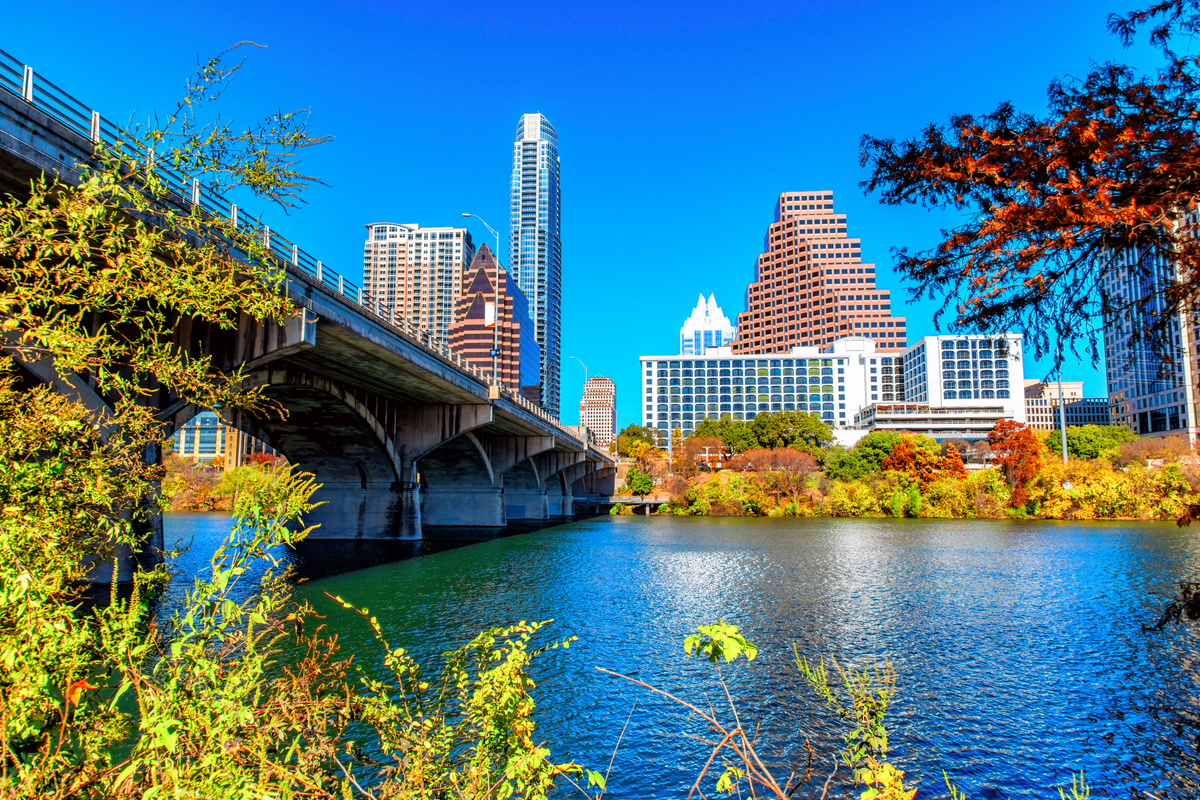 Austin is in for an early start to what is threatening to be an unseasonably hot summer.
So far, this month has been the hottest May on record with Camp Mabry reporting an average temperature of 82 degrees, compared to the National Weather Service's recorded average of 74 degrees from May 1-10.
Austin has been an average of 8 degrees hotter than normal this month—the hottest May since 1898. NWS meteorologist Keith White told Austonia that Austinites have La Niña to thank for this sweaty summer.
What is causing the heatwave?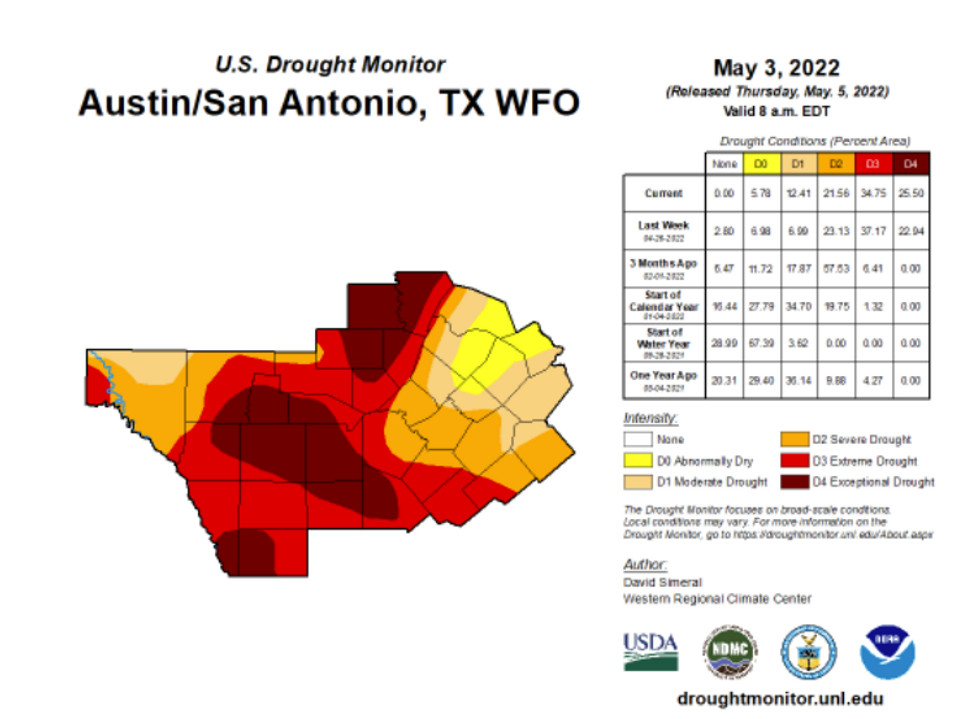 A phenomenon characterized by cooling waters across the central and eastern pacific oceans, La Niña tends to cause cooler and wetter conditions in the northern U.S. but warmer and drier conditions across Central Texas. We would typically be on our way out of La Niña at this time of year, according to White, but the heat can be turned around with a little rain.
White explained that the sun is able to heat dry ground—due to the drought and La Niña—more efficiently than wet ground. West Austinites might be feeling more of the heat, as the drought has been worse west of town.
Austin is entering its rainy season, which tends to fall between May and October. The last 30 days have seen about 2-4 inches of rain, which is just a touch below average, but White said the end of May is looking rainy, which could quell the heat.
"There will be some dependency on if we're able to pick up some more beneficial rains here," White said. "While at least over the course of the next week it looks likely to remain dry, there may be some rain chances returning toward the end of May."
Does a record-breaking May mean a record-breaking summer?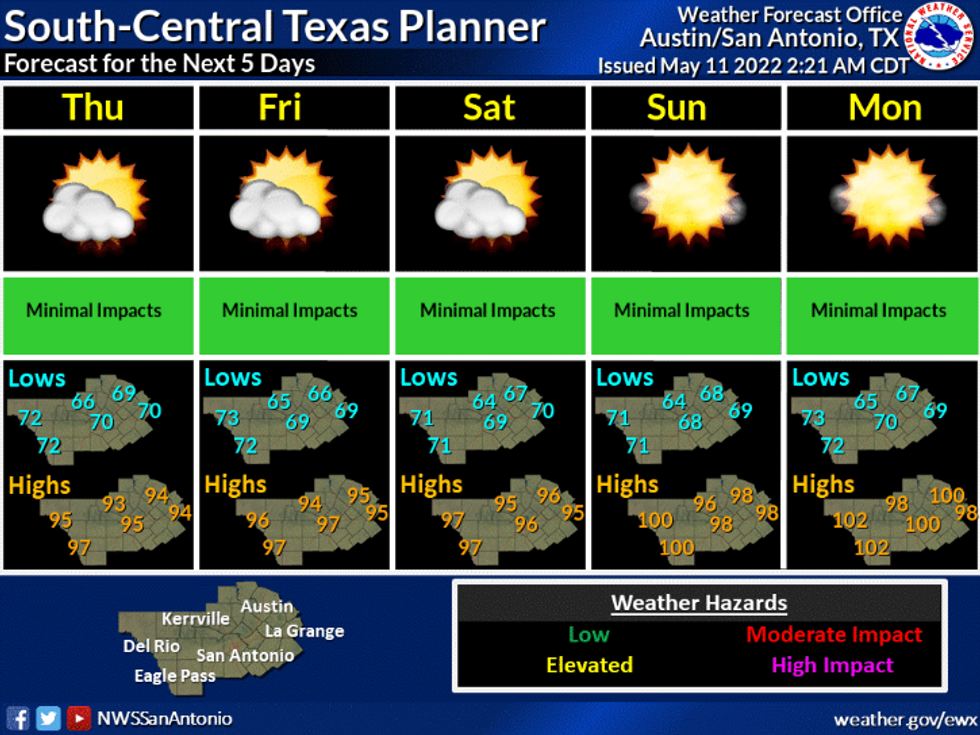 Not necessarily, though in part due to climate change, all of the top five hottest summers have been recorded since 2008 with the hottest to date in 2011. Meanwhile, 2021 was only the 38th hottest summer on record.
White said that means climate variability is superimposed against climate change, meaning temperatures are gradually rising, but the amount of rain we receive could make a huge difference.
While 2011 saw more than 90 100-degree days, 2021 only saw 12 100-degree days.
"As our climate warms, the risk of excessive heat will increase because you're taking the average temperature and moving it up," White said.
How to stay safe and cool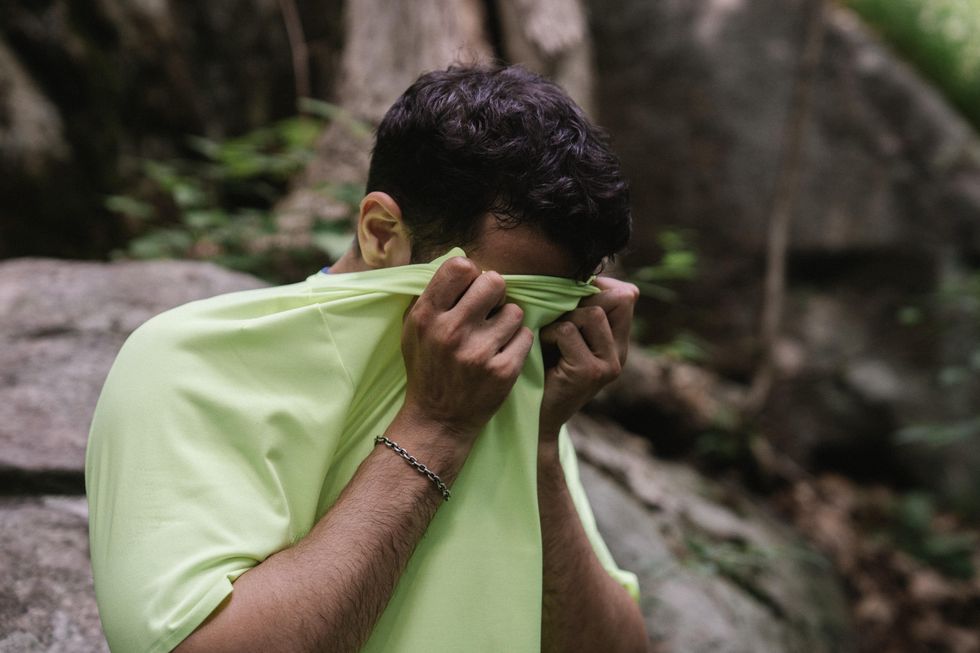 (Pexels)
With rising temperatures, there is always a risk of heat-related illness. In fact, White said last weekend there were 29 heat-related illness calls to Austin EMS.
The best way to avoid getting sick in the hot Texas summer is to wear light clothing, drink lots of water, take breaks in air-conditioned areas and familiarize yourself with symptoms of hyperthermia.
And prepare yourself for the first half of August, which is traditionally the hottest time of year.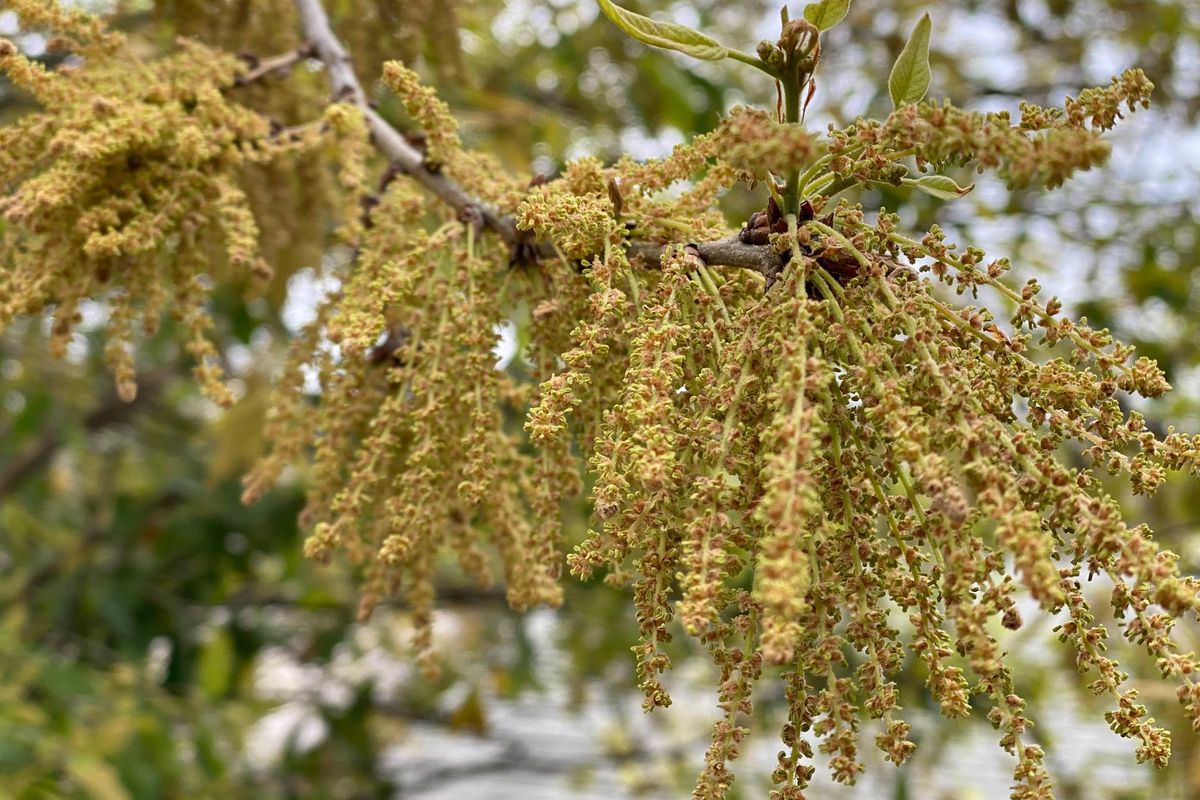 Currently reading this with itchy eyes or a runny nose? You're not alone—while Ausitnites are rarely given relief from yearlong allergies, the spring season brings on new concerns as pollen levels continue to rise.
According to The Weather Channel, tree and grass pollen in the air is reaching highs as spring goes into full bloom. But the same things that give plants green leaves and vibrant flowers could be causing a variety of allergy symptoms, especially to those irritated by oak pollen.
What allergens are out there?
While the dreaded "cedar fever" has tapered off, oak pollen counts reached a peak of 6,227 grams per meters cubed Sunday and remain at high levels alongside hackberry. Ash levels have fluctuated between medium and low levels in the last week.
Oak allergens typically peak as March transitions to April, while pecan pollen levels peak slightly later at the end of April. Elm and ash tend to taper off by the end of April, while grass allergens are expected to reach very high levels this week and remain high through early summer.
What symptoms do these cause?
Oak allergens affect around 30% of those with allergies and cause these symptoms:
stuffy or runny nose
sneezing
coughing
red, watery eyes
itchy eyes, nose and throat
fatigue
(less common) dark circles under the eyes
Other tree allergies produce similar symptoms, and some pollens, including grass allergens, can cause welts or hives and even wheezing and shortness of breath for those with asthma.
Keeping those sneezes at bay
So how do you survive the "Allergy Capital of the World"?
It could be a good idea to stock up on those allergy meds and take your daily dosage before the day begins.
But Dr. Tenesha Wards, a local functional medicine expert who is often asked about tips at this time of year, favors more holistic and natural remedies, including:
Taking antioxidants and vitamins A, C, E, D, and zinc for immune health
Calming the bowels by avoiding refined sugars, which can lower the immune system and introduce constipation, gas and bloating
Taking Vitamin D—whether from the sun or a bottle—to support the immune system, increase energy and boost mood
Some other
preventative steps
can be taken to keep that pesky pollen at bay, including changing and washing clothes after being outside, avoiding exercising outside in the morning, and keeping home and car windows shut.
It's also a good idea to keep your grass short, wear sunglasses and hats outside, wash your hair more often and keep your home, pets and bedding cleaner during this season if you're sensitive to tree and grass allergens.
If you're still feeling miserable, your family doctor and various allergy docs around Austin can help with other treatment options as well.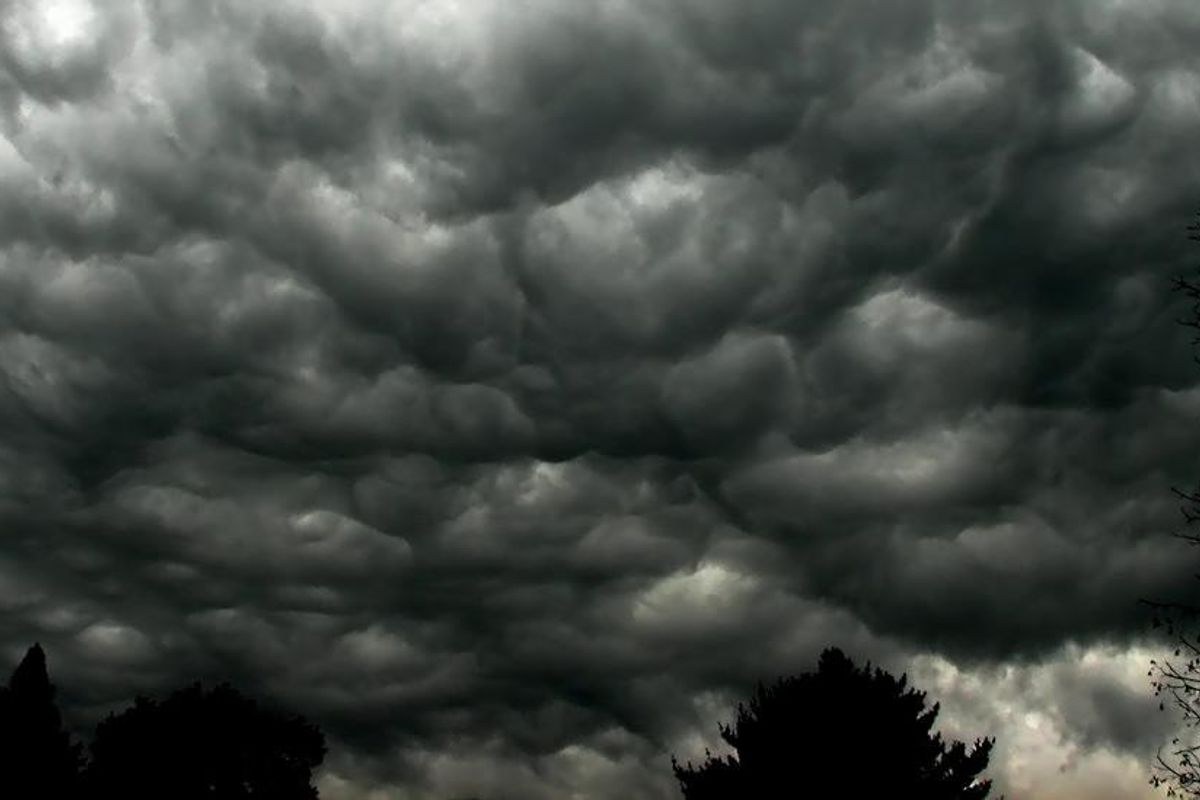 After a glimpse of sunny Austin springtime weather, a Hazardous Weather Outlook is in effect in Central Texas with severe storms possible Monday afternoon and night.
Temperatures will continue to reach highs in the low 80s, but scattered showers and thunderstorms are possible as the day progresses.
Most of Travis County and the entire I-35 corridor to the south have been labeled with a "marginal" chance for isolated heavy storms, while northern Travis County, most of Williamson County and all of Burnet County are given a "slight" risk. If storms are to occur, large hail and damaging winds could come with the strongest storms.
Sunny skies are expected to return by Tuesday afternoon and continue throughout the week, with high temperatures climbing to the low 90s Tuesday before settling in the 70s and 80s for the rest of the week. Dry winds, with gusts up to 20 miles per hour, bring the area to Critical Fire Weather conditions Tuesday-Friday.
Scattered thunderstorms are possible tomorrow afternoon. If they develop, large hail and damaging winds could accompany the strongest storms. Elevated to Critical Fire Weather Conditions return Tuesday afternoon as drier air and gusty winds settle into South-Central Texas. pic.twitter.com/U2wVXc8vXf
— NWS Austin/San Antonio (@NWSSanAntonio) April 3, 2022