Get connected with our daily update
(Austonia staff)
Two major protests organized in response to police violence in Austin and around the country shut down I-35 twice and led to looting, fires and injuries this weekend. The Austin Police Department responded in several instances with pepper spray, tear gas and rubber bullets.
---
Thousands of protestors gathered on Saturday and Sunday afternoons to demonstrate over the killings of, primarily, Mike Ramos, who was fatally shot by an Austin Police Department officer on April 24 in Southeast Austin, and George Floyd, who was killed by a Minneapolis Police Department officer last week.
The first protest, held on Saturday, was organized by the Mike Ramos Brigade. Its members have not identified themselves, but in a call to action posted on social media they listed their demands, including the firing of APD Chief Brian Manley and the officers involved in Ramos' death.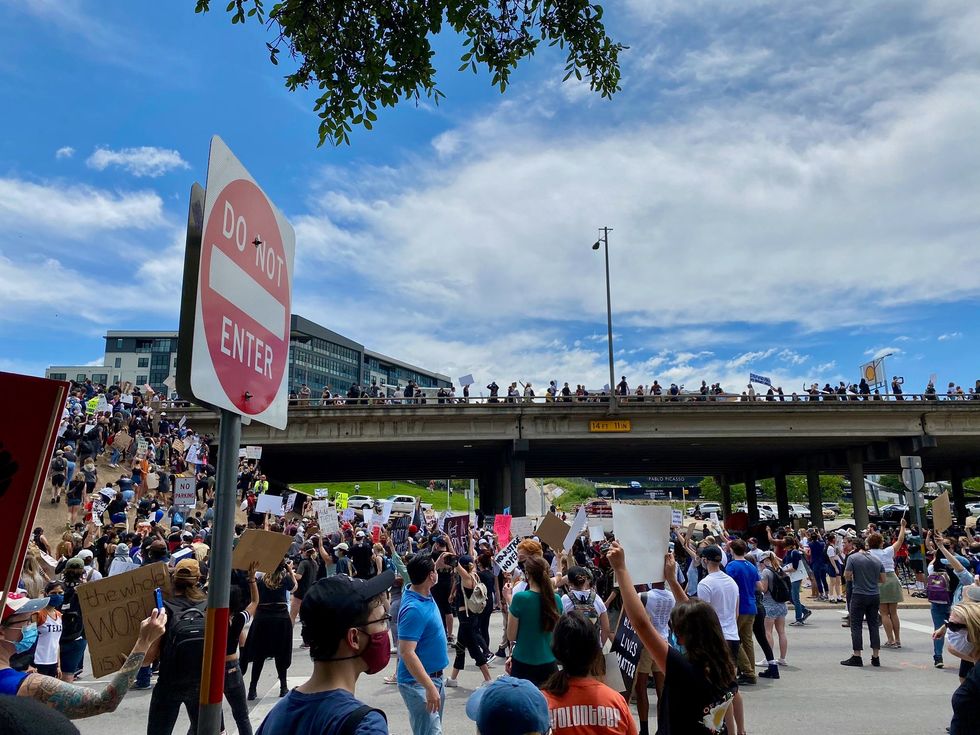 Protesters shut down I-35 on Saturday.
(Austonia staff)
APD officers, some of whom were outfitted in riot gear, used rubber bullets and pepper spray against protestors. The day ended with reports of fires and looting along Sixth Street. At least fourteen people were arrested over the course of the day, with charges including robbery, assault on a peace officer and obstructing a highway, according to APD.
A protester sets fire to a flag near I-35 Saturday afternoon. (Austonia staff)
A second protest, organized in collaboration with the Austin Justice Coalition and other community groups, was scheduled to begin at 1 p.m. Sunday. Shortly before, AJC Executive Director Chas Moore announced in a Facebook live post that the event was officially canceled.
"We are supposed to be out demonstrating, peacefully protesting the need for safety and for freedom and liberation for black people," Moore said. "And when I look at what's going on in Austin, when I look at the mess that happened last night, I look at white people burning stuff up in the name of Black Lives Matter and there's little to no black lives at these events."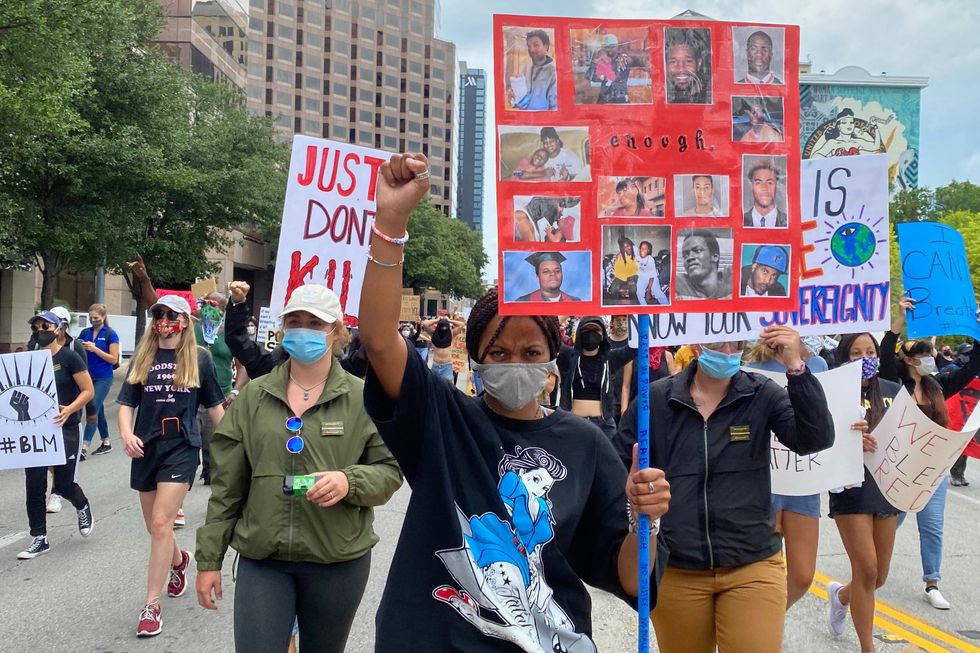 Protestors marched along Cesar Chavez Sunday afternoon in a peaceful demonstration.
(Mary Elizabeth Potts)
Nonetheless, hundreds—and then thousands—of protestors showed up in front of the Capitol Sunday, as planned.
The police form a line on Cesar Chavez Sunday afternoon, stopping demonstrators marching from City Hall.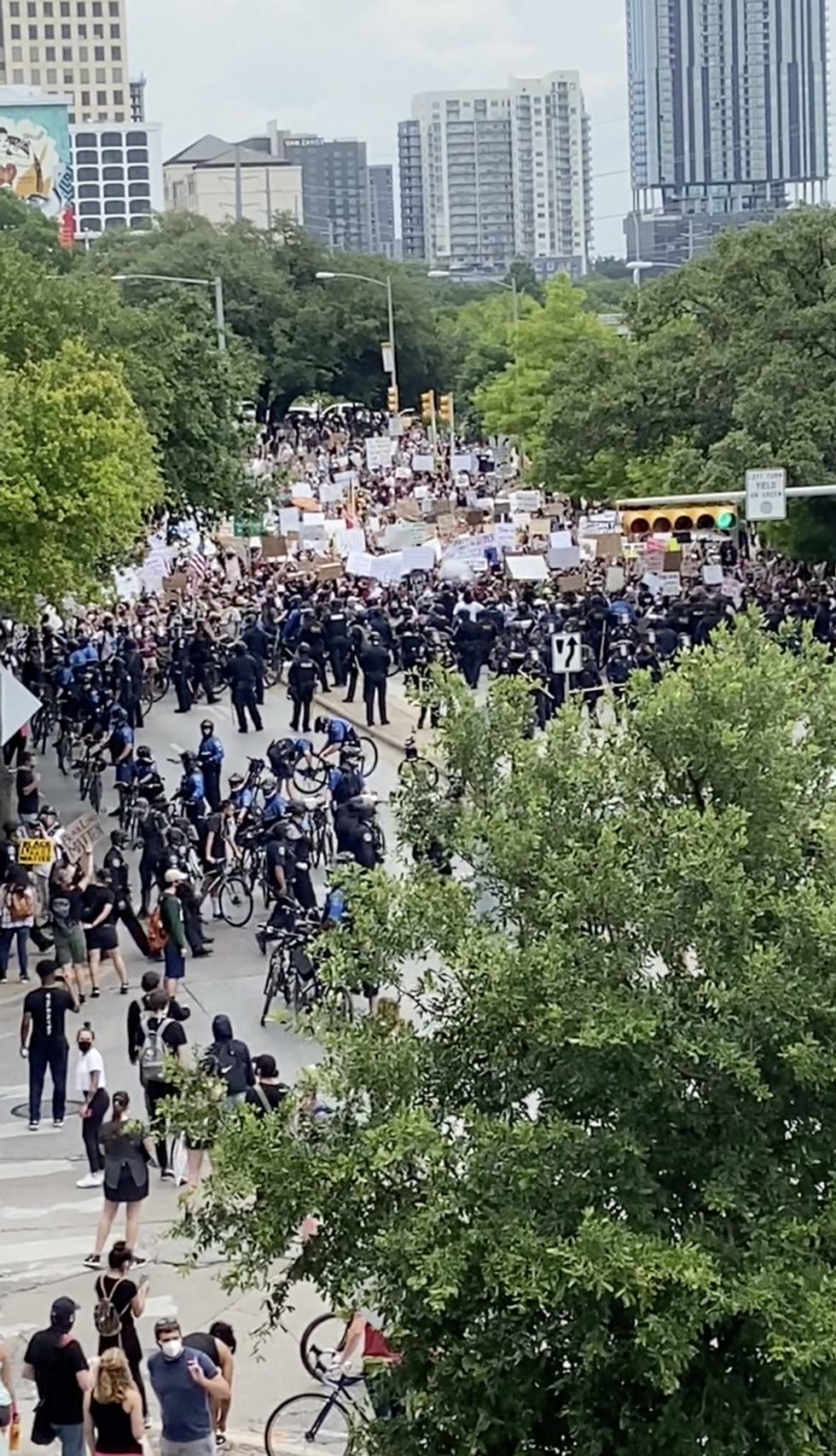 Police then allow protestors to turn north on San Antonio toward Republic Square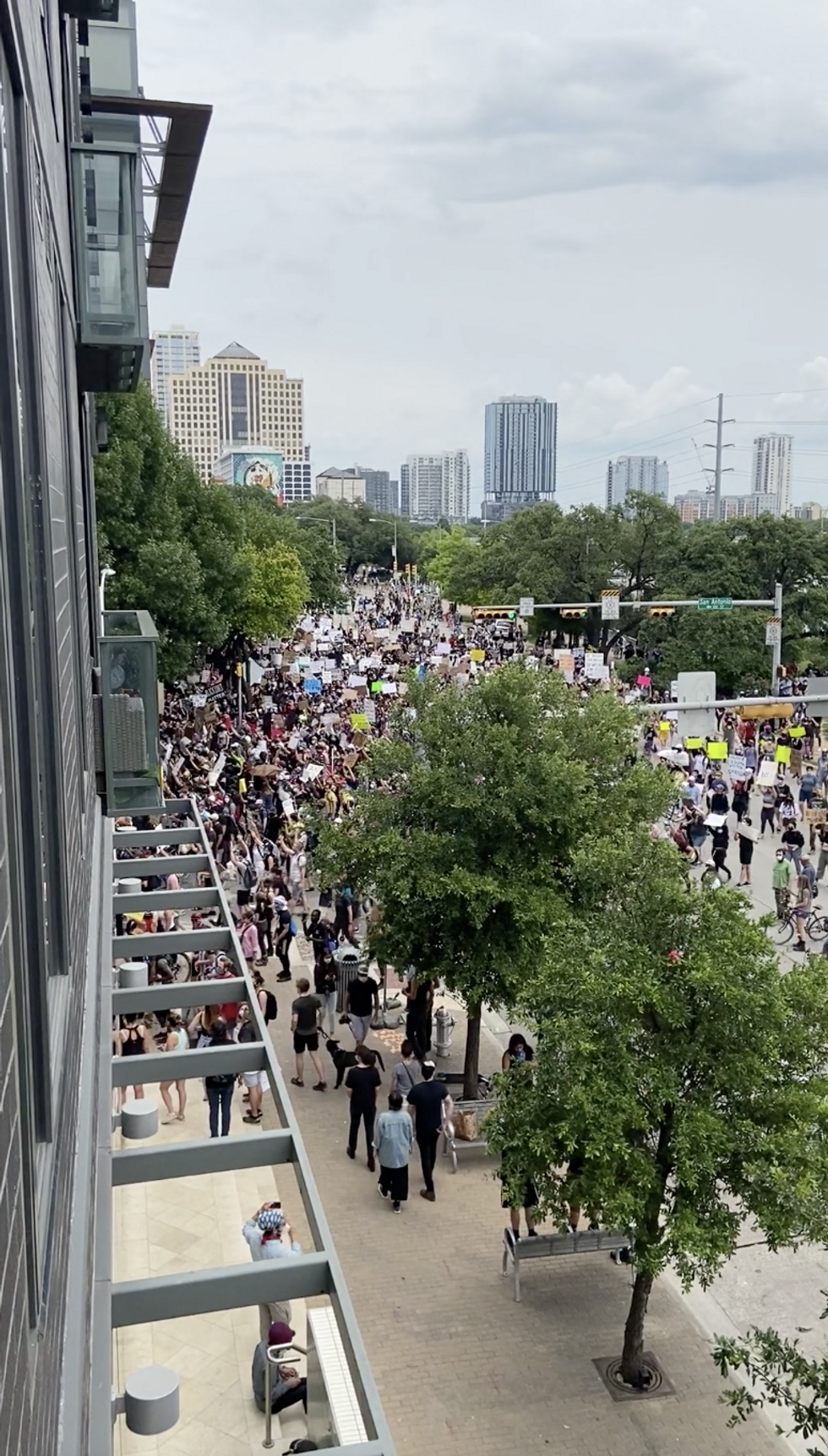 From the Capitol, protestors marched to City Hall and back, peacefully, before some continued onto I-35. APD officers used tear gas to force the crowds off the highway and arrested at least five more attendees. The department also reported looting, including at the Capital Plaza Target, on I-35 near Hwy. 290. Late in the day Michael Ramos' mother, Brenda, spoke at a press conference outside her apartment complex.
"Why is Officer [Christopher] Taylor still drawing a paycheck from us, the citizens of Austin?" she asked, pulling down her mask so she could speak. "Why are we paying his salary when he murdered my son over a month ago and he murdered someone else's son over 10 months ago? Why isn't he in jail?"
In a custodial death report filed with Attorney General Ken Paxton's office—as required by state law—APD said the officers involved in Ramos' death were responding to a narcotics call during which Ramos "became non-compliant and verbally confrontational." Taylor, "fearing the male subject intended to use [his car] as a deadly weapon," then shot Ramos with his patrol rifle.
Taylor was one of three officers involved in the fatal shooting of another black man, 46-year-old Mauris Nishanga DeSilva, last July.
On Friday evening—before Austin's planned protests had occurred but after days of unrest in Minneapolis, Louisville, Atlanta and other cities—Travis County District Attorney Margaret Moore announced she had decided to present the Ramos case to a special grand jury. "I reviewed the case today with my Civil Rights Director, and we believe the investigation has progressed to the point that we can properly make the announcement," she said in a statement.
Austin Mayor Steve Adler issued a statement that same evening, in which he said: "I am committed to doing what it takes to make this stop." He also gave a series of interviews Sunday, in which he pointed to the reforms underway at APD, including the decriminalization of smaller crimes and improved oversight.
APD and the Texas Rangers are conducting an internal investigation into Ramos' death, which is being overseen by the city's office of police oversight. Police Monitor Farah Muscadin will review all documents and participate in all interviews, a city spokesperson wrote in an email.
The Texas French Bread Bakery, located on 2900 Rio Grande Street, has been completely destroyed after a fire erupted on Monday night.
The Austin Fire Department responded to the fire just before 11 p.m., where they arrived to see flames coming from the roof of the bakery. Firefighters fought the fire for about an hour before the roof collapsed.
While no one was injured in the fire, firefighters say the historic building was completely totaled.
AFD determined that the fire was accidental and caused by mechanical failure. AFD said the damages amounted to $1.6 million total: $1.1 million in structural damage and $500,000 in damage to the contents of the bakery.

This year, Texas French Bread will celebrate 40 years of business. Before the bakery occupied the building, it was the Rome Inn, a music venue that hosted 1970s artists like Stevie Ray Vaughan.
Austin's first major league team is ready to extend its reach with a new collaborative sports complex The Pitch, an Austin FC destination packed with local food, beverages and Verde fervor is set to open in Northeast Austin in February.
The Pitch, a collaboration between Austin FC and Karlin Real Estate, among other entities, will be located in the 50-acre Parmer Pond District, which already hosts the club's practice facility St. David's Performance Center.
Dubbed a "true destination" for both soccer fans and the community, The Pitch will consist of multilevel shipping containers designed by Mark Odom Studio that will carve out into a 1,200-seat stadium complete with a soccer pitch made of turf, food and beverage options and a five-acre "Parmer Pond" featuring jogging trails.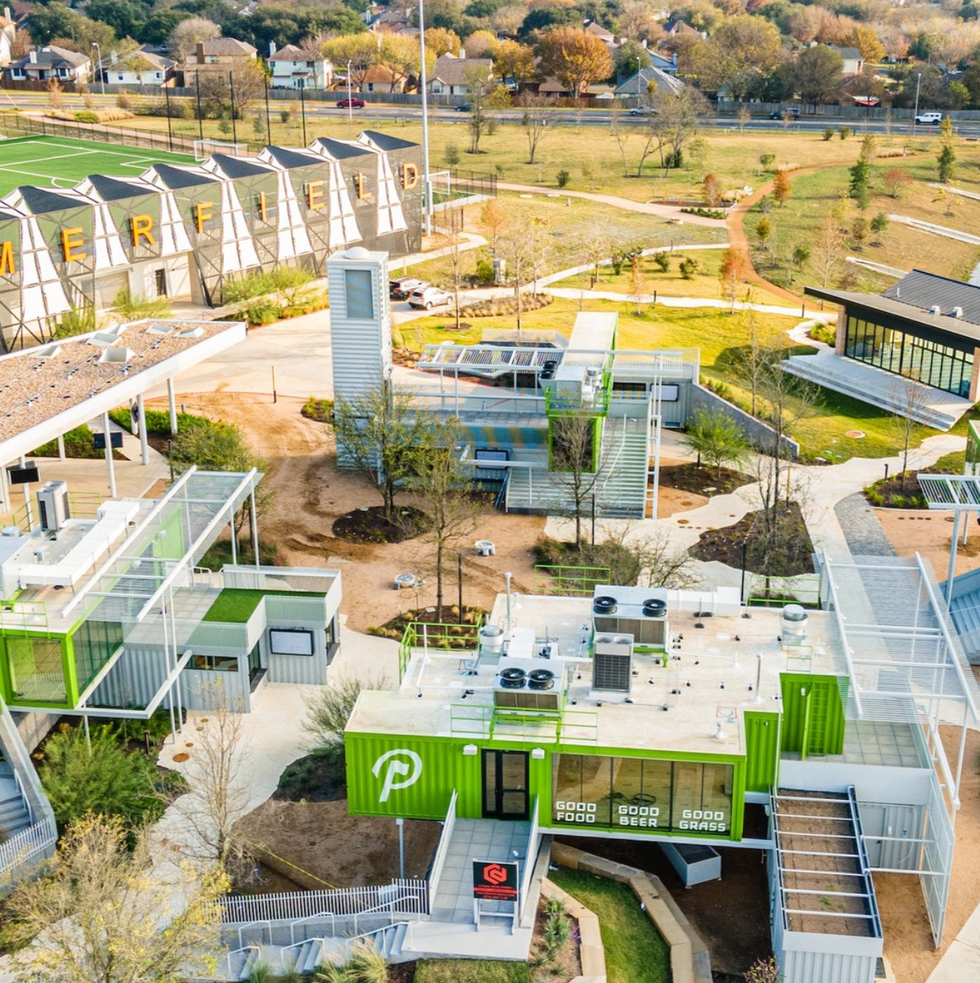 Made from multilevel shipping containers, The Pitch will include food and a 1,200-seat soccer pitch made from artificial turf. (The Pitch)
"The launch of Karlin's new food and entertainment experience will greatly enhance the Parmer development while perfectly complimenting St. David's Performance Center," Austin FC founder Anthony Precourt said. "The Pitch... will offer a strong variety of food options and gathering spaces for guests who will utilize St. David's Performance Center and Parmer Field for a variety of events."
The Pitch project lead Dave Greeley, who helped come up with the concept, is a former president of Austin FC parent company, Two Oak Ventures.
"The vision behind The Pitch at the Parmer Pond District is to be a first-of-its-kind sports, dining and entertainment destination," said Dave Greeley, The Pitch project lead and Team Orbis president. "This will be an unmatched experience for Parmer Austin tenants, Austin FC and club supporters, and the community."
With its proximity to the practice center, the venture hopes to contribute to the growing "soccer city" of Austin during Austin FC matches and youth games with the Austin FC Academy hosted at the St. David's Performance Center.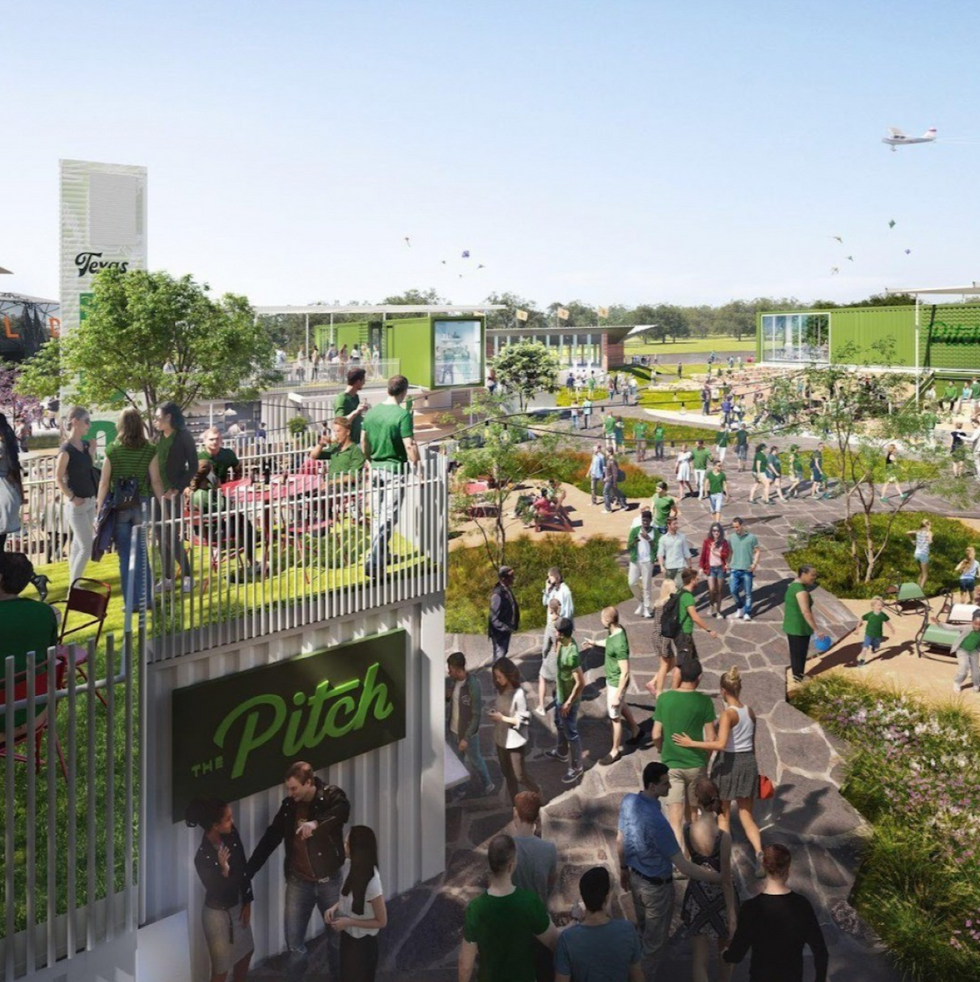 The Pitch hopes to converge both community and club interests with Austin FC. (The Pitch)
In addition to the soccer pitch, stadium and pond, The Pitch will provide a foody experience made by the creative team behind Austin staples like Fareground and Easy Tiger. The complex will offer local bites including:
Ranger Burger, which offers beers and burgers made from highly-coveted Wagyu beef direct from Ranger Cattle in East Austin
Ga Roti, which merges flavors from Northern Vietnam with the culinary techniques of France to create a unique rotisserie chicken joint
Taco Flats, a local taco chain serving Mexico City-style tacos, micheladas and more
Sand Bar, which fulfills its namesake with beauty cocktails, local beers and a sand volleyball court
Coffee Club, a coffee shop and bakery
Corner Kick Bar, the soccer-focused main bar of The Pitch complete with "tunes, TVs and (a) beer garden"
The Pitch will squeeze between St. David's Performance Center and Parmer Pond alongside the southern edge of Parmer Austin, a Karlin Real Estate venture that will eventually include multifamily housing, corporate office space and an aerospace and defense center.