Austonia AM
100% Austin news, info, and entertainment, straight to your inbox at 6 a.m. every morning.
In five minutes, you're fully informed and ready to start another great day in our city.
Get connected with our daily update
(Austonia staff)
Two major protests organized in response to police violence in Austin and around the country shut down I-35 twice and led to looting, fires and injuries this weekend. The Austin Police Department responded in several instances with pepper spray, tear gas and rubber bullets.
---
Thousands of protestors gathered on Saturday and Sunday afternoons to demonstrate over the killings of, primarily, Mike Ramos, who was fatally shot by an Austin Police Department officer on April 24 in Southeast Austin, and George Floyd, who was killed by a Minneapolis Police Department officer last week.
The first protest, held on Saturday, was organized by the Mike Ramos Brigade. Its members have not identified themselves, but in a call to action posted on social media they listed their demands, including the firing of APD Chief Brian Manley and the officers involved in Ramos' death.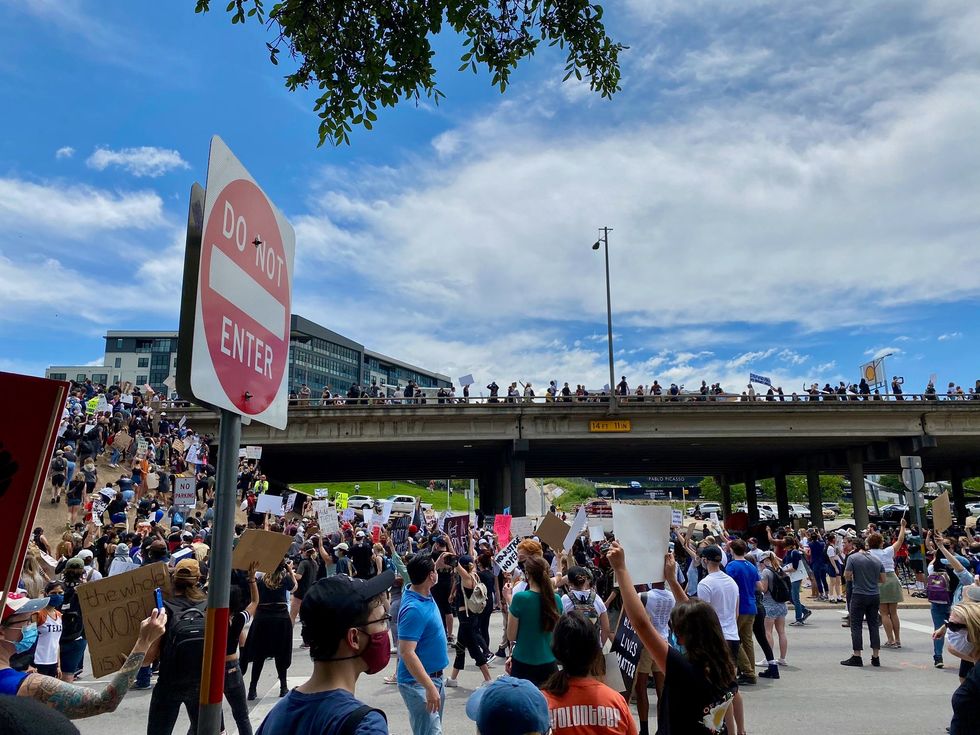 Protesters shut down I-35 on Saturday.
(Austonia staff)
APD officers, some of whom were outfitted in riot gear, used rubber bullets and pepper spray against protestors. The day ended with reports of fires and looting along Sixth Street. At least fourteen people were arrested over the course of the day, with charges including robbery, assault on a peace officer and obstructing a highway, according to APD.
A protester sets fire to a flag near I-35 Saturday afternoon. (Austonia staff)
A second protest, organized in collaboration with the Austin Justice Coalition and other community groups, was scheduled to begin at 1 p.m. Sunday. Shortly before, AJC Executive Director Chas Moore announced in a Facebook live post that the event was officially canceled.
"We are supposed to be out demonstrating, peacefully protesting the need for safety and for freedom and liberation for black people," Moore said. "And when I look at what's going on in Austin, when I look at the mess that happened last night, I look at white people burning stuff up in the name of Black Lives Matter and there's little to no black lives at these events."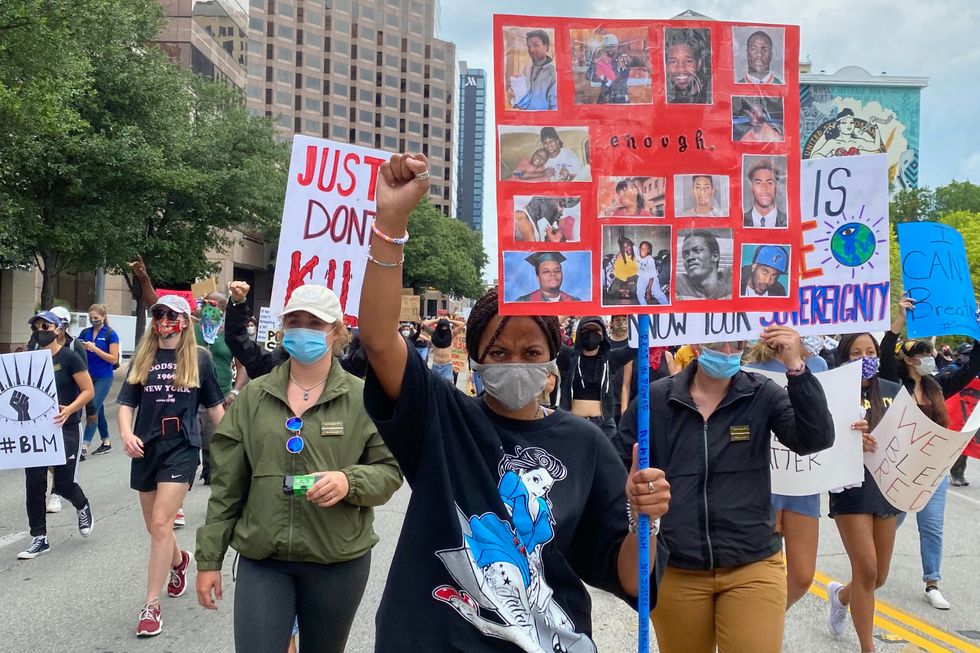 Protestors marched along Cesar Chavez Sunday afternoon in a peaceful demonstration.
(Mary Elizabeth Potts)
Nonetheless, hundreds—and then thousands—of protestors showed up in front of the Capitol Sunday, as planned.
The police form a line on Cesar Chavez Sunday afternoon, stopping demonstrators marching from City Hall.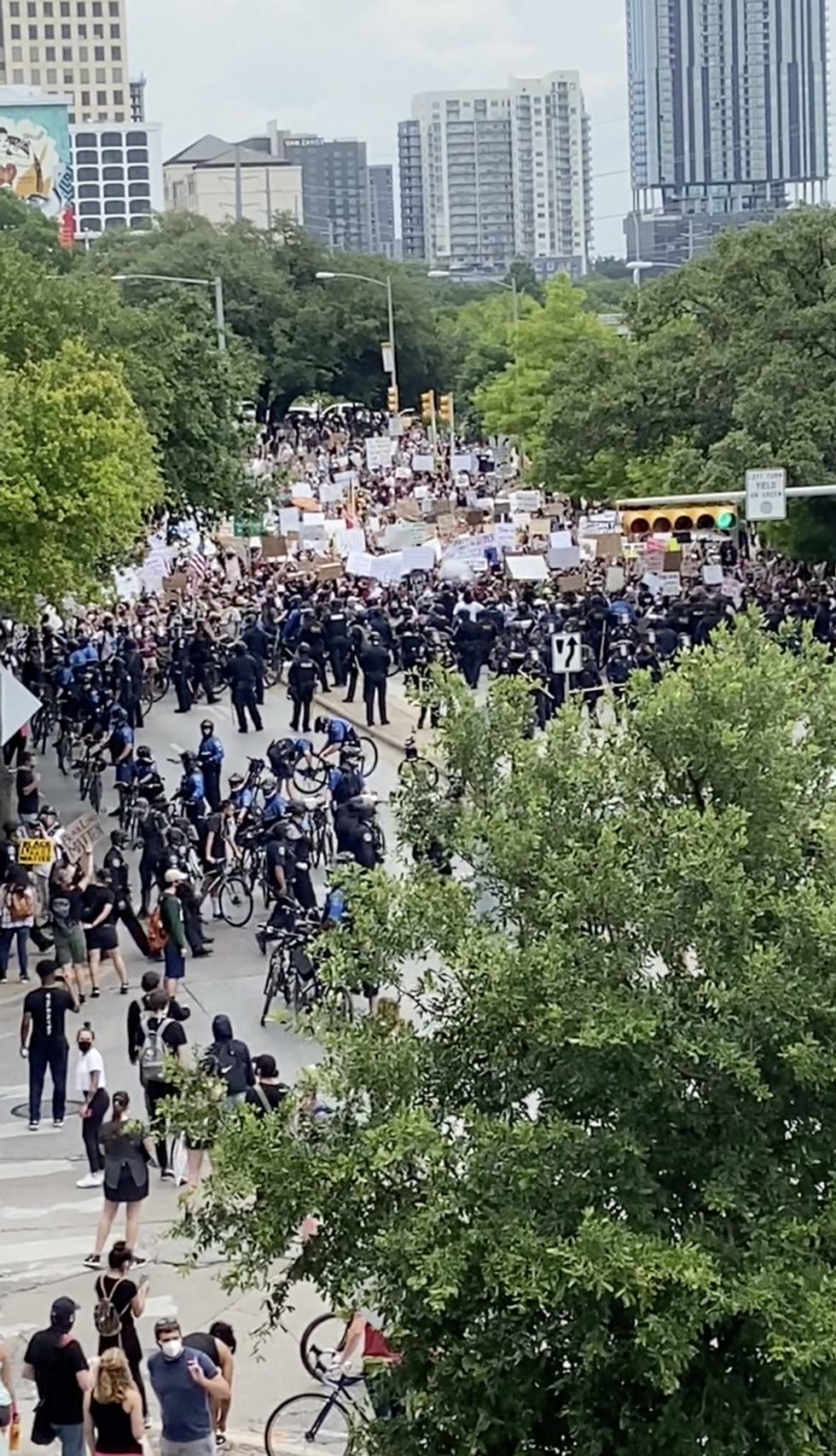 Police then allow protestors to turn north on San Antonio toward Republic Square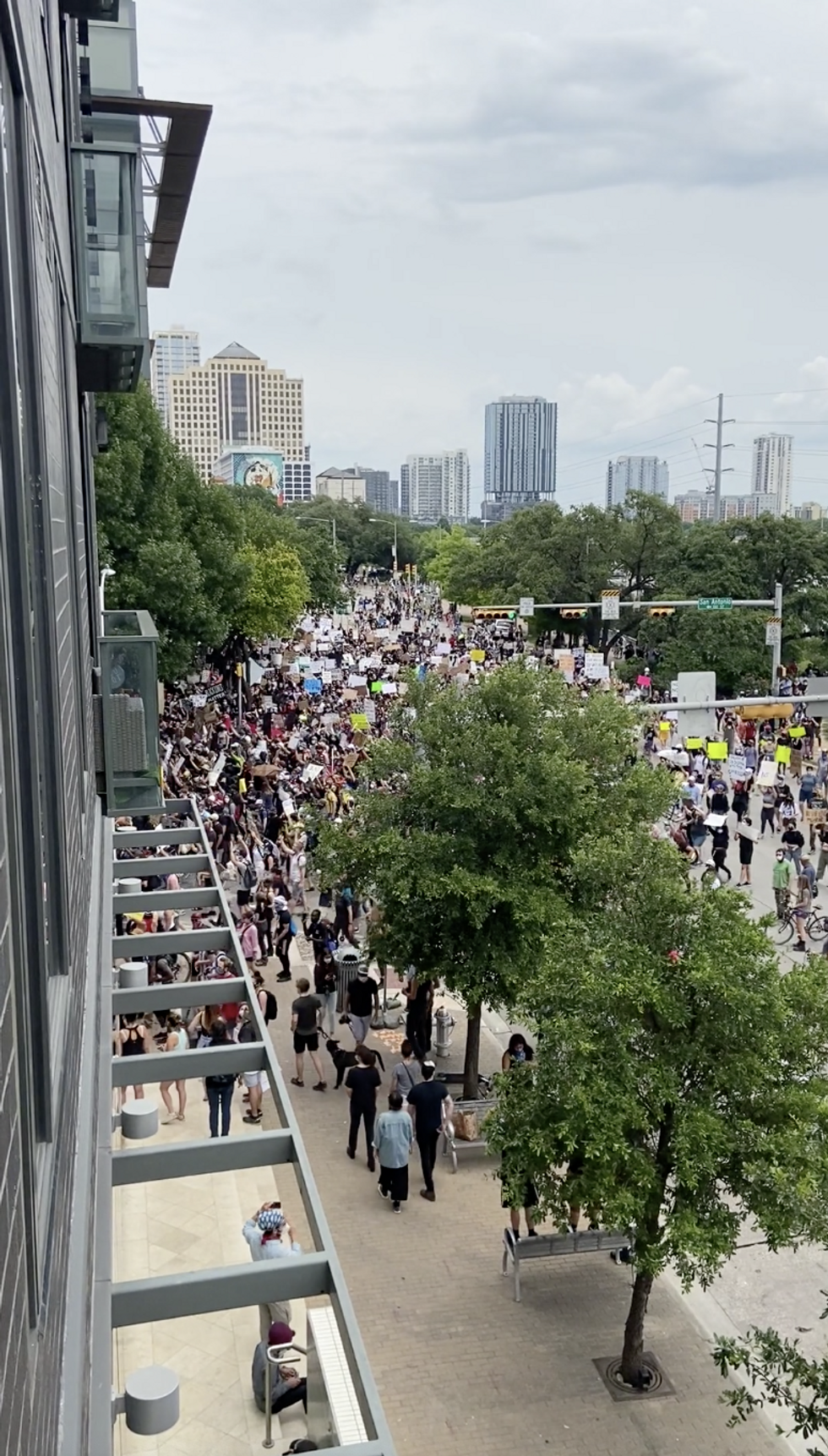 From the Capitol, protestors marched to City Hall and back, peacefully, before some continued onto I-35. APD officers used tear gas to force the crowds off the highway and arrested at least five more attendees. The department also reported looting, including at the Capital Plaza Target, on I-35 near Hwy. 290. Late in the day Michael Ramos' mother, Brenda, spoke at a press conference outside her apartment complex.
"Why is Officer [Christopher] Taylor still drawing a paycheck from us, the citizens of Austin?" she asked, pulling down her mask so she could speak. "Why are we paying his salary when he murdered my son over a month ago and he murdered someone else's son over 10 months ago? Why isn't he in jail?"
In a custodial death report filed with Attorney General Ken Paxton's office—as required by state law—APD said the officers involved in Ramos' death were responding to a narcotics call during which Ramos "became non-compliant and verbally confrontational." Taylor, "fearing the male subject intended to use [his car] as a deadly weapon," then shot Ramos with his patrol rifle.
Taylor was one of three officers involved in the fatal shooting of another black man, 46-year-old Mauris Nishanga DeSilva, last July.
On Friday evening—before Austin's planned protests had occurred but after days of unrest in Minneapolis, Louisville, Atlanta and other cities—Travis County District Attorney Margaret Moore announced she had decided to present the Ramos case to a special grand jury. "I reviewed the case today with my Civil Rights Director, and we believe the investigation has progressed to the point that we can properly make the announcement," she said in a statement.
Austin Mayor Steve Adler issued a statement that same evening, in which he said: "I am committed to doing what it takes to make this stop." He also gave a series of interviews Sunday, in which he pointed to the reforms underway at APD, including the decriminalization of smaller crimes and improved oversight.
APD and the Texas Rangers are conducting an internal investigation into Ramos' death, which is being overseen by the city's office of police oversight. Police Monitor Farah Muscadin will review all documents and participate in all interviews, a city spokesperson wrote in an email.
After a long, long year without live music, Austin has waited patiently for a return that has finally come. Festivals are planning returns and even venues that adhered strictly to safety protocols during the pandemic are feeling safe enough to gather again in person.
Starting in just a few short days, you can finally enjoy what makes Austin, well, Austin again. Here are a few of the live shows to look forward to.
Remember to jump on those tickets–Austinites have been missing their live music!
We asked you what you wanted and you told us. More newsletter!
Austonia launched its new and improved newsletter today. You can expect:
100% Austin news, info and entertainment
Sent straight to your inbox at 6 a.m. every morning
In 5 minutes or less, you're fully informed and ready for a great day
Sign up here:
For Marco Silvestrini, gelato takes him back to his childhood when he and neighborhood kids in a small Italian town would end their day at the local gelato shop. It was part of what made some of the best memories for him.
He's since been offering that same experience for the past seven years with his artisanal gelato shop, Dolce Neve, in Austin, alongside his sister and her husband.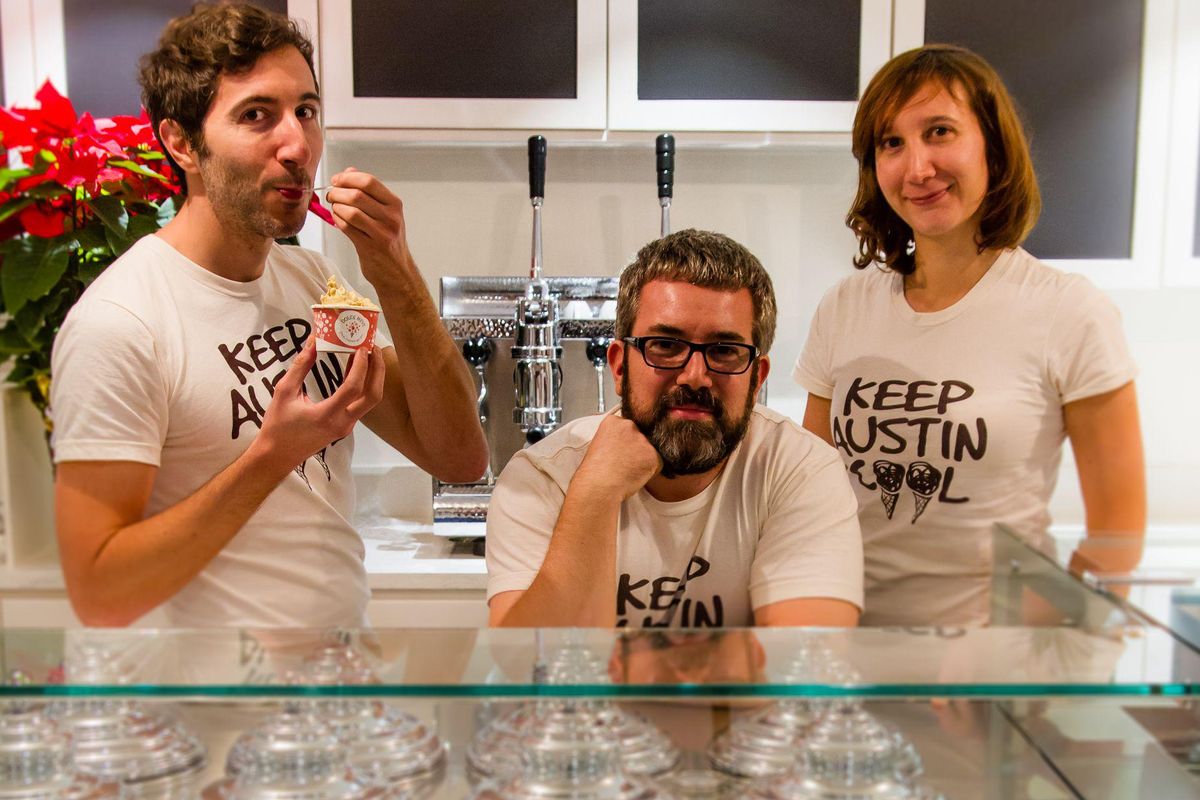 Leo Ferrarese, Marco and Franscesa Silvestrini run Dolce Neve. (Dolce Neve)
While gelato always played a big role in Silvestrini's life, it wasn't in his plans to take on a business with his favorite treat. After a few years in New York working as a management consultant, he felt he was missing out on something. "I decided to take a step back and started thinking, what could... I do to make society better and happier, even just for a moment," Silvestrini said.
He thought back to his childhood and the role gelato played in it and wanted to offer the same experience to Americans.
Once he had the product idea down, it came down to location. Growing up among farmers in a small community in Central Italy, Silvestrini knew he wanted a slower pace of living than New York, so he asked around. The answer he got: "Austin." The only thing he knew about what would become his future home was it had a Formula 1 track.
But after visiting once, he felt a great sense of community he didn't feel in The Empire State. "I felt it was not just a good place for a concept like mine, but also a good place to live because at the end of the day, you cannot just think about your business," he said.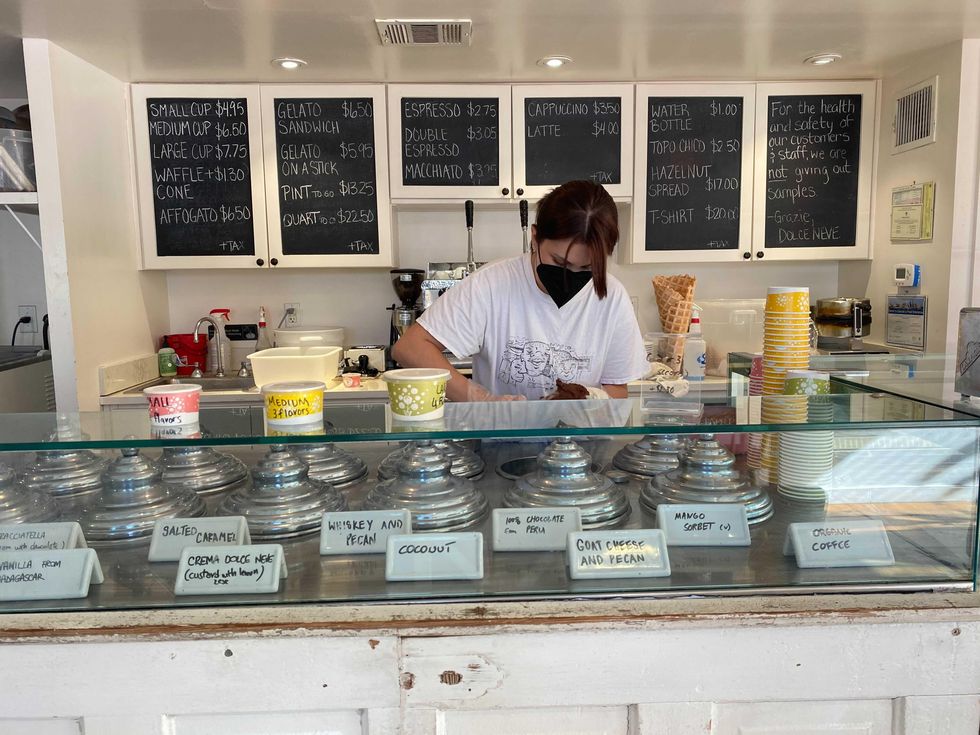 "Dolce Neve" translates to "sweet snow." The shops offers 12-18 flavors at a time. (Dolce Neve)
Similarly, his sister Francesca Silvestrini was experiencing the same feelings while studying for her Ph.D. in Ohio before teaming up with Silvestrini. She went back to Italy to be properly trained in making gelato while Silvestrini focused on the business plan. They brought Leo Ferrarese, her husband, onboard and opened their first shop on South First Street in January 2014. The rest is history.
On the menu, you'll find various traditional and innovative flavors that rotate out. Some of the staples include chocolate, 100% vanilla from Madagascar and salted caramel. Other rotating or seasonal flavors include whiskey and pecan, organic cantaloupe sorbet, goat cheese and pecan, almond custard and tiramisu. They've created over 300 flavors together in the span of the business.
So what's next for the shop? Lately, Silvestrini has been thinking a lot about that. With two locations in Austin, one in Houston—he's just not sure if expanding more is the right move. Maintaining a quality product and good service is of utmost importance that he's not willing to sacrifice.
"In order to be happy, it's not about making money, it's about being an integral part of the community," Silvestrini said. "There have been so many cases in which I think what I did today really made a difference in somebody's life."