Get connected with our daily update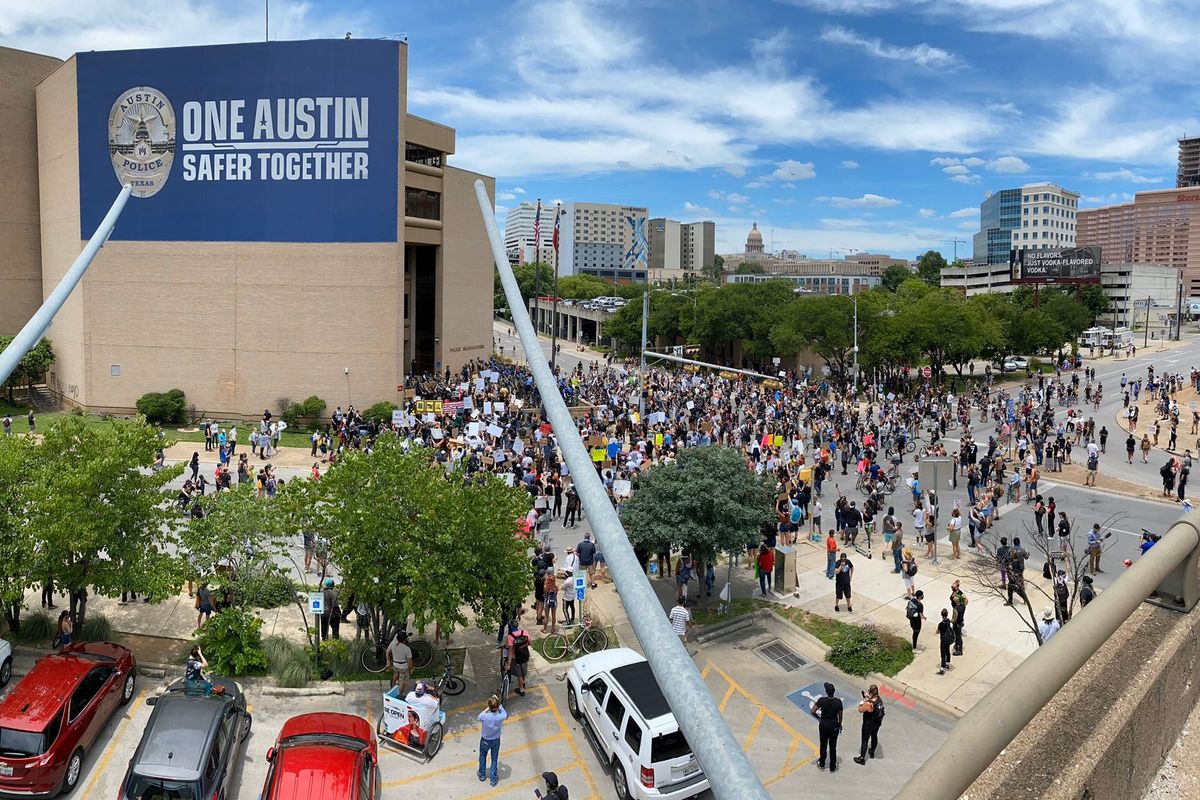 (Austonia staff)
Two major protests organized in response to police violence in Austin and around the country shut down I-35 twice and led to looting, fires and injuries this weekend. The Austin Police Department responded in several instances with pepper spray, tear gas and rubber bullets.
---
Thousands of protestors gathered on Saturday and Sunday afternoons to demonstrate over the killings of, primarily, Mike Ramos, who was fatally shot by an Austin Police Department officer on April 24 in Southeast Austin, and George Floyd, who was killed by a Minneapolis Police Department officer last week.
The first protest, held on Saturday, was organized by the Mike Ramos Brigade. Its members have not identified themselves, but in a call to action posted on social media they listed their demands, including the firing of APD Chief Brian Manley and the officers involved in Ramos' death.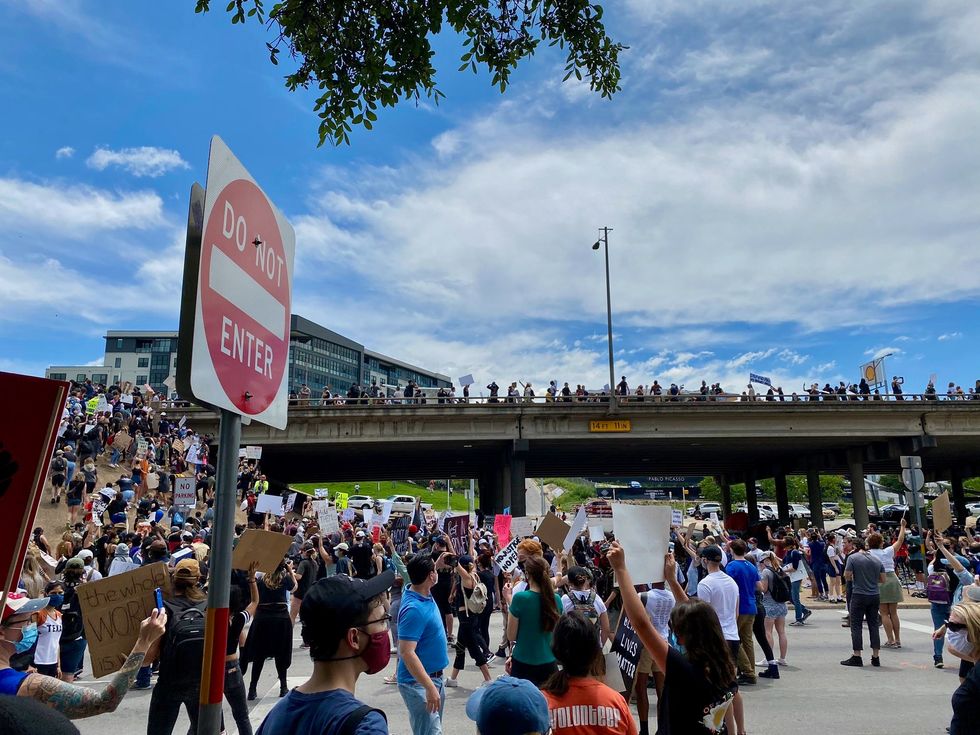 Protesters shut down I-35 on Saturday.
(Austonia staff)
APD officers, some of whom were outfitted in riot gear, used rubber bullets and pepper spray against protestors. The day ended with reports of fires and looting along Sixth Street. At least fourteen people were arrested over the course of the day, with charges including robbery, assault on a peace officer and obstructing a highway, according to APD.
A protester sets fire to a flag near I-35 Saturday afternoon. (Austonia staff)
A second protest, organized in collaboration with the Austin Justice Coalition and other community groups, was scheduled to begin at 1 p.m. Sunday. Shortly before, AJC Executive Director Chas Moore announced in a Facebook live post that the event was officially canceled.
"We are supposed to be out demonstrating, peacefully protesting the need for safety and for freedom and liberation for black people," Moore said. "And when I look at what's going on in Austin, when I look at the mess that happened last night, I look at white people burning stuff up in the name of Black Lives Matter and there's little to no black lives at these events."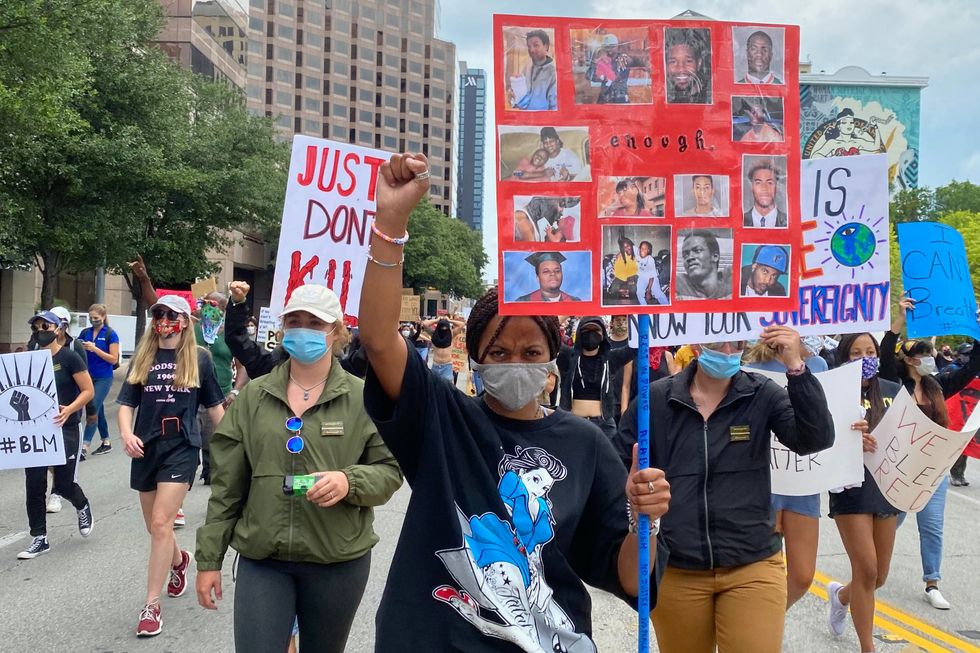 Protestors marched along Cesar Chavez Sunday afternoon in a peaceful demonstration.
(Mary Elizabeth Potts)
Nonetheless, hundreds—and then thousands—of protestors showed up in front of the Capitol Sunday, as planned.
The police form a line on Cesar Chavez Sunday afternoon, stopping demonstrators marching from City Hall.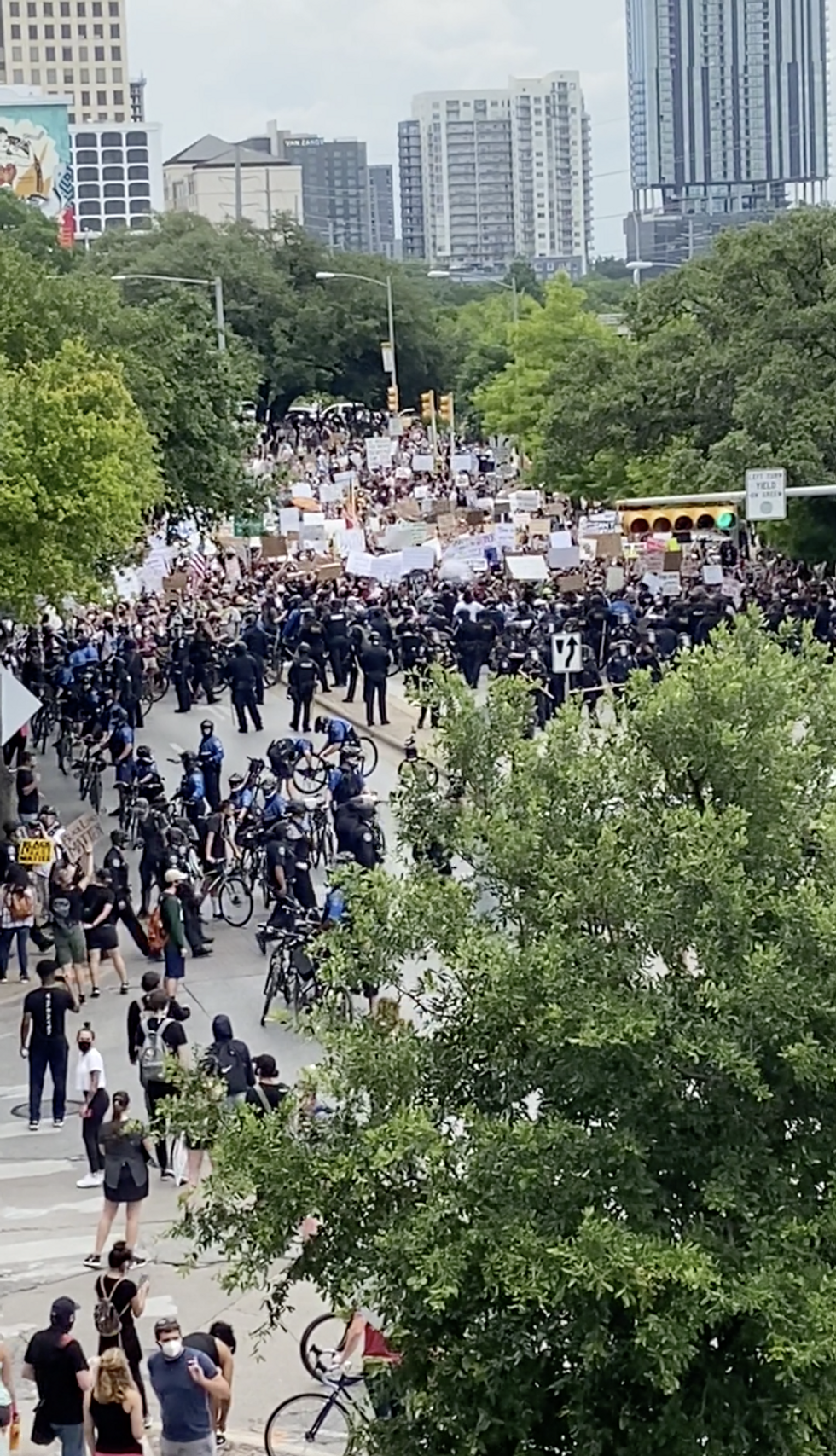 Police then allow protestors to turn north on San Antonio toward Republic Square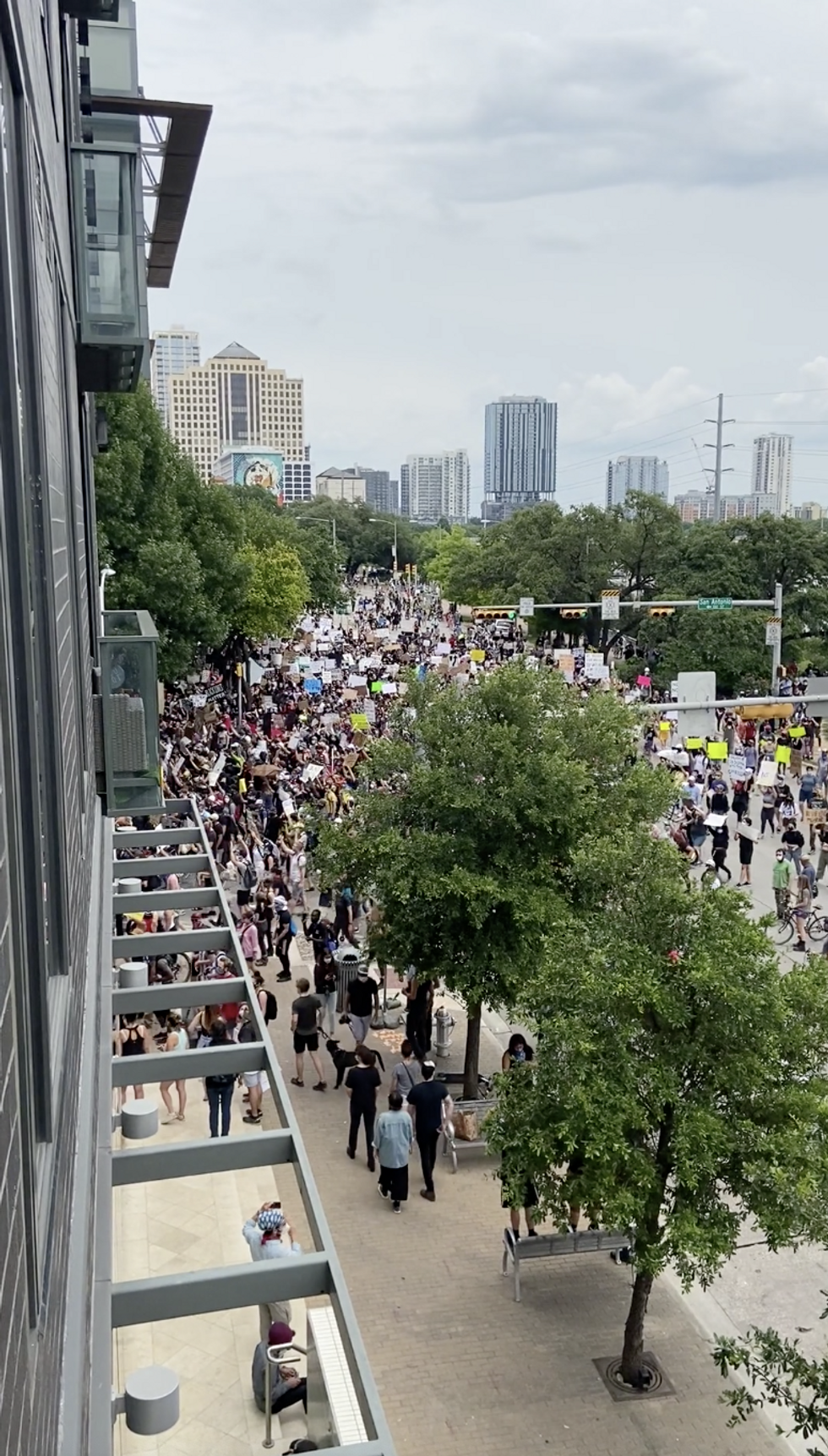 From the Capitol, protestors marched to City Hall and back, peacefully, before some continued onto I-35. APD officers used tear gas to force the crowds off the highway and arrested at least five more attendees. The department also reported looting, including at the Capital Plaza Target, on I-35 near Hwy. 290. Late in the day Michael Ramos' mother, Brenda, spoke at a press conference outside her apartment complex.
"Why is Officer [Christopher] Taylor still drawing a paycheck from us, the citizens of Austin?" she asked, pulling down her mask so she could speak. "Why are we paying his salary when he murdered my son over a month ago and he murdered someone else's son over 10 months ago? Why isn't he in jail?"
In a custodial death report filed with Attorney General Ken Paxton's office—as required by state law—APD said the officers involved in Ramos' death were responding to a narcotics call during which Ramos "became non-compliant and verbally confrontational." Taylor, "fearing the male subject intended to use [his car] as a deadly weapon," then shot Ramos with his patrol rifle.
Taylor was one of three officers involved in the fatal shooting of another black man, 46-year-old Mauris Nishanga DeSilva, last July.
On Friday evening—before Austin's planned protests had occurred but after days of unrest in Minneapolis, Louisville, Atlanta and other cities—Travis County District Attorney Margaret Moore announced she had decided to present the Ramos case to a special grand jury. "I reviewed the case today with my Civil Rights Director, and we believe the investigation has progressed to the point that we can properly make the announcement," she said in a statement.
Austin Mayor Steve Adler issued a statement that same evening, in which he said: "I am committed to doing what it takes to make this stop." He also gave a series of interviews Sunday, in which he pointed to the reforms underway at APD, including the decriminalization of smaller crimes and improved oversight.
APD and the Texas Rangers are conducting an internal investigation into Ramos' death, which is being overseen by the city's office of police oversight. Police Monitor Farah Muscadin will review all documents and participate in all interviews, a city spokesperson wrote in an email.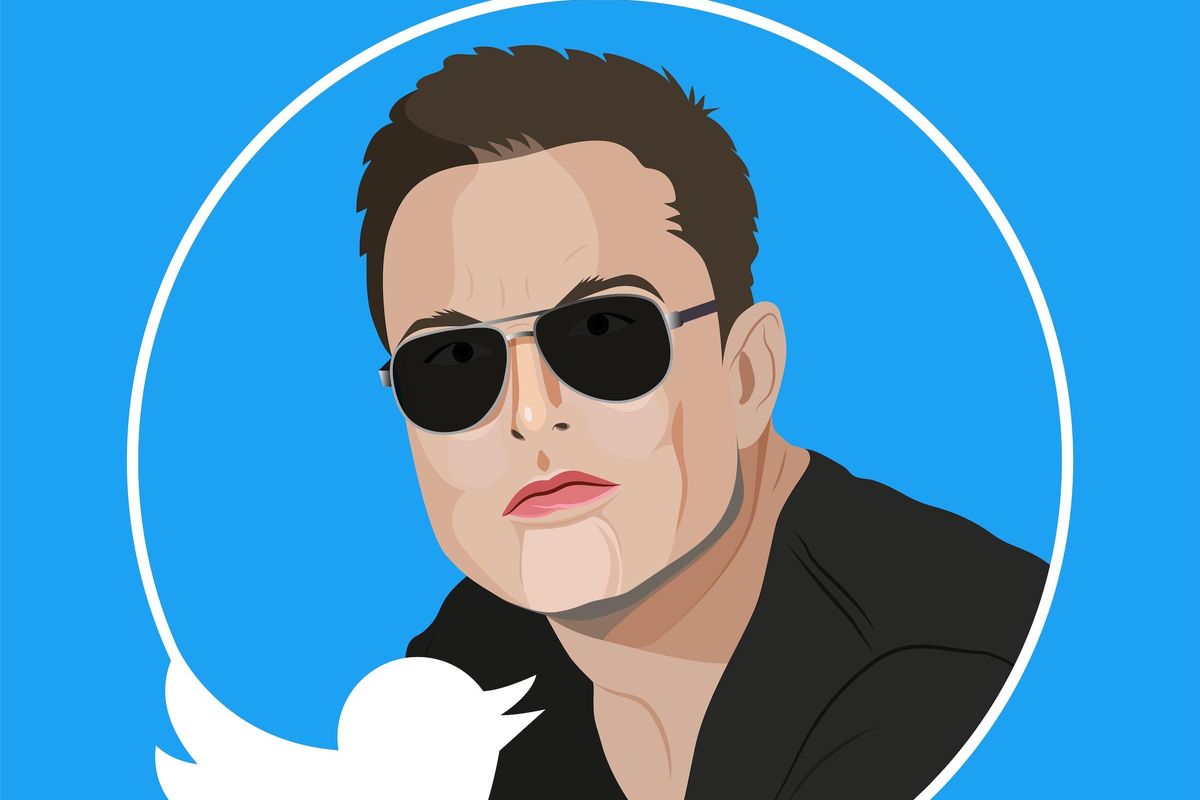 Shutterstock
Elon Musk has proposed once again to buy Twitter for $54.20 a share.
The news that Musk is offering to carry on with the $44 billion buyout was first reported by Bloomberg. Now, a filing with the Securities and Exchange Commission shows Musk made the proposal in a letter to the tech giant on Monday.
The New York Stock Exchange temporarily halted trading in Twitter stock twice Tuesday, first because of a big price move and the second time for a news event, presumably the announcement of Musk's renewed offer.
While the per share offer price on this latest proposal remains the same as the original offer, it's unclear if Musk has made other term changes or if Twitter would reject it. According to other reports, a deal could be reached this week.
The stock closed at $52.00/share Tuesday, indicating market uncertainty around the $54.20 offer.
After Musk informed Twitter of plans to terminate the original agreement in July, Twitter sued. A trial has been expected in Delaware Chancery Court on Oct. 17.
With the proposition of a buyout on the table again, it revives the question of whether Musk might move Twitter from San Francisco to Central Texas.
He's done so with some of his other companies. Tesla's headquarters in southeast Travis County had its grand opening earlier this year and tunneling business The Boring Company moved to Pflugerville. At least two other Musk companies, SpaceX and Neuralink, have a Central Texas presence without being headquartered here.
Technology journalist Nilay Patel this afternoon voiced concerns that owning Twitter and Tesla together could be problematic for Musk, as his Tesla manufacturing facilities in Germany and China are both in countries that have disputes with Twitter over content moderation and censorship.
Telsa shares fell after the Twitter news became public, before rallying to close up, at $249.44.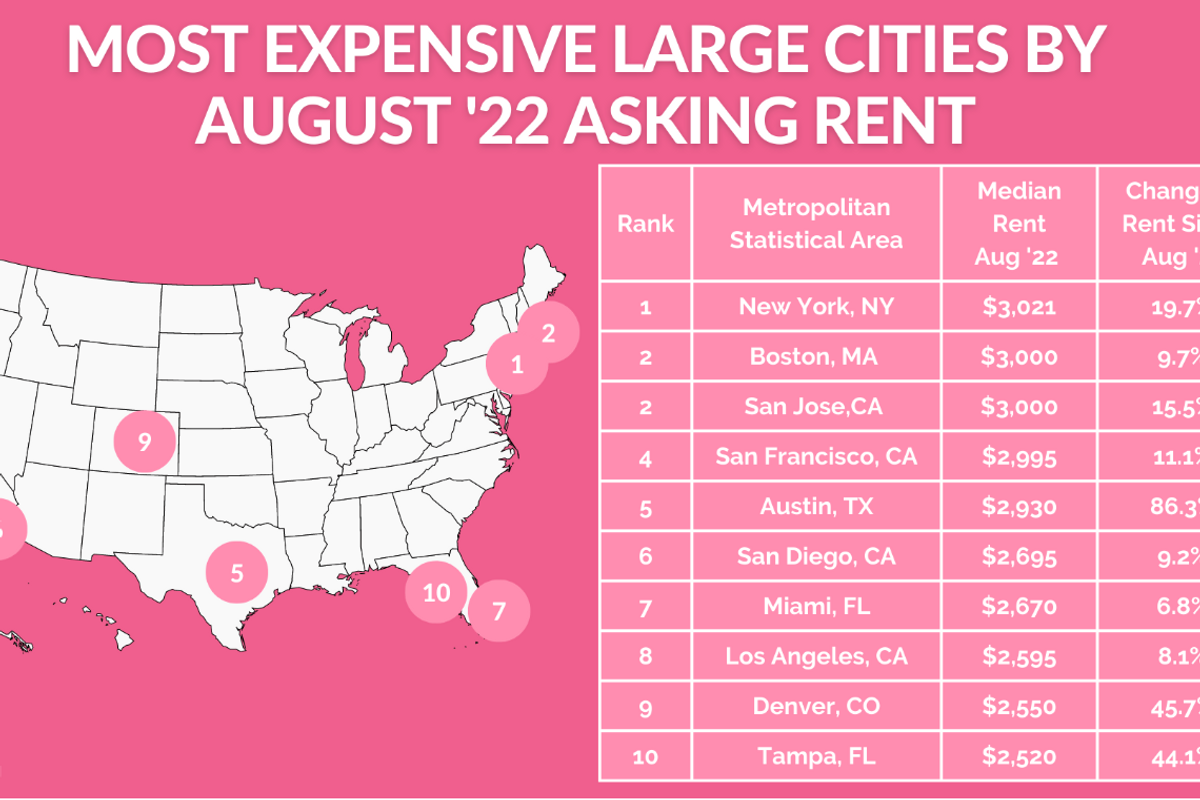 Dwellsy
While searching for a place to live, Austin renters will face monthly rates of nearly $3,000, a recent guide from rental marketplace Dwellsy shows.
The median rent in August this year was $2,930, a more than 86% increase since August 2021. That's $820 more than the nationwide median asking rent in August and puts Austin just below the Bay Area, Boston and New York for large cities with the most expensive asking rent.
"Within this group, Austin, TX stands out for the highest increases in asking rent, which has nearly doubled since this time last year," the study notes.
Outside of those large cities, however, others are seeing even higher rent spikes. Metro areas that ranked above Austin in one-year increases include those like Kansas City, MO with a 112% change in rent since last August and Tucson, AZ with a 124% change.
The data reflects large apartment communities, single-family homes and 2-6 unit buildings.