Get connected with our daily update
The annual fight for "Best in Texas" has come to an exciting head as Central Texas high school football teams LBJ, Westlake and Liberty Hill advanced to the state championship over the weekend. Meanwhile, fellow Hill Country team Lake Travis, which also made a bid for state, fumbled a chance to take on rivals Westlake in a semifinal loss on Saturday.
Here's an update on the legendary high schools' latest moves toward the state championship:
---
LBJ makes history
As the only Austin ISD school to make state this year, LBJ did it with a bang, scraping past Tyler Chapel Hill in a 38-35 win to earn the school's first state championship berth on Saturday night.
The Jaguars hopped to a 20-7 lead in the first half before nearly losing it all to Chapel Hill. Down four points with nine seconds left to go, LBJ's Noah Baker pushed his team over the edge with a touchdown pass from quarterback Oscar Gordon to give them a chance at their first state title.
The Jaguars will be the first AISD team to reach the state championships since 1973 as they take on Stephenville High School at At&T Stadium for the S4A Division 1 championship game on Friday morning.
Surprise—No. 1 Westlake wins

Historic Westlake High football coach Todd Dodge could be tallying his seventh state championship title as the Westlake Chaparrals advanced to the state championship game for the third year in a row on Saturday.
Despite a tough matchup against fellow football royalty school Katy, Dodge and the rest of the 15-0 team advanced to their third straight state championship as they took down Katy 45-14 at Baylor's McClane Stadium in Waco on Saturday afternoon.
A key cog in the undefeated Westlake machine is quarterback Cade Klubnik, a Clemson 5-star commit who has helped the Chaparrals win each game by at least 20 points this season. The senior continued his streak and threw for 309 yards and five touchdowns in the semifinal match.
The high school football titans jumped to a 38-0 lead before No. 2 Katy could rally a single point of their own, succeeding on each drive until they were forced to punt in the fourth quarter. Runningback Jack Keyser, Westlake's not-so-secret offensive weapon, got the ball rolling with a 48-yard touchdown to start the game. Keyser would go on to complete 140 yards rushing in the game.
Dodge, who is set to retire after this season, will lead the team to the Class 6A Division II state championship against the winner of a Guyer-Tomball matchup this Saturday night. The team will look to honor Dodge and secure their third straight state title at AT&T Stadium on Saturday, Dec. 18 at 7 p.m.
Lake Travis loses to North Shore, again

Lake Travis may have been the last team to beat Westlake 30+ games ago, but the district rivals came up short as they suffered a 63-21 loss to the Chaparrals in the district championship on Nov. 4. And for the third time in four years, the team's triumphant playoff run was stymied by North Shore in the state semifinals in a 49-21 loss in Round Rock on Saturday.
In the almost-home match, the team lost their footing early as North Shore freshman quarterback Kaleb Bailey routed an 83-yard touchdown pass to David Adimora on the first play from scrimmage.
Lake Travis was able to a respond with a Chernet Estes touchdown from quarterback Bo Edmunson. After a 62-yard touchdown from Bailey, the Cavs found a 47-yard touchdown run from Derrick Johnson with more than half of the second quarter still to go.

But a 21-point run from the Mustangs brought Lake Travis down to a 35-14 deficit into halftime. And North Shore kept their momentum into the second half, scoring twice more before Ohio State commit Caleb Burton brought the game to a final score of 49-21.
It's a disappointing end for the always-good, not-quite-the-best Cavs, who have reached the state semifinals for six of the last seven years.
Liberty Hill is state bound
In a rematch after last year's overtime loss, Liberty Hill defeated Crosby 42-14 Friday to advance to the 5A Division II State Championships for the first time since 2018.
The dominating scoreline was owed in part to a staunch Panthers defense as well as Joe Pitchford and Noah Long, who each scored twice to put the Panthers above the rival team. Pitchford started off scoring for his team with both of the first two touchdowns, while Long capped off the win with a 25-yard run to end the game 42-14.
The Panthers will take on South Oak Cliff in the 5A Division II state championship at 11 a.m. one Saturday at AT&T Stadium.
Capital Metro has been awarded $750,000 from the Federal Transit Administration to go toward Project Connect's Orange Line, documents show.
The FTA announced the funding round on Thursday, which dispersed $11 million across 12 states and 20 projects. The money is meant to connect communities to affordable transit and housing through the FTA Pilot Program for Transit-Oriented Development planning.
CapMetro said the funds will go toward projects at eight stations spanning 6.5 miles on the South end of the Orange Line, which has a total of 22 stations. The full project stretches across the 20 miles from Southpark Meadows to Tech Ridge.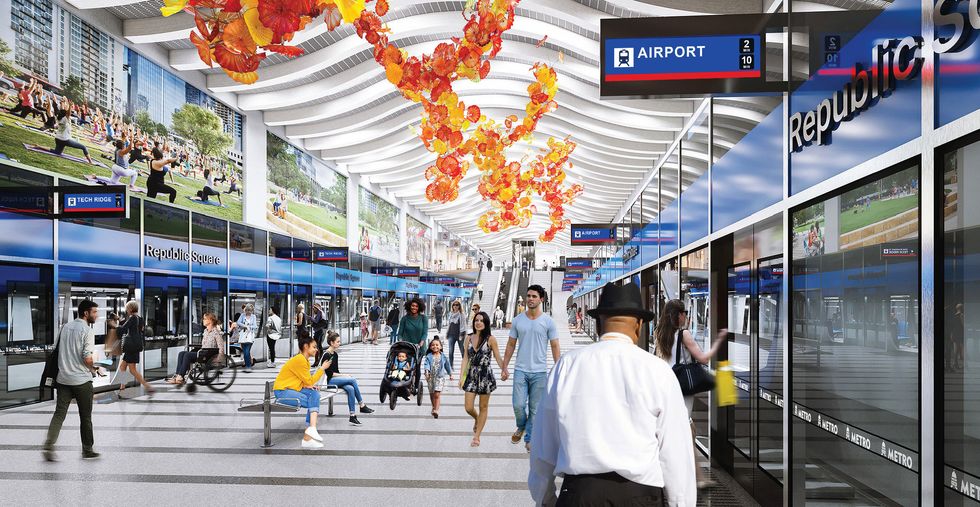 Republic Square station is along the Orange Line. (Project Connect rendering)
Once it's complete, which officials estimate will be in 2028, the Orange Line will reach the following stations:
Tech Ridge (Park & Ride)
North Lamar International District
Crestview
The Triangle
UT campus
Republic Square
Auditorium Shores
South Congress
Southpark Meadows (Park & Ride)
A $500 million mixed-use development spanning 1,400 acres is coming to Southeast Austin, near Tesla's headquarters at Giga Texas.
Plans for the development by Houston-based real estate firm Hines include 2,500 houses along with multi-family and townhomes, and commercial land. Hines is partnering with Trez Capital, Sumitomo Forestry and Texas-based Caravel Ventures.
The development, which is known as Mirador, will be located off the 130 Toll and Highway 71, which the developers say provides easy access to the Circuit of the Americas Formula 1 racetrack and other Austin attractions like restaurants, parks and live music venues.
Hines also boasts amenities like a 60-acre lake, over 600 acres of greenbelt, community parks, trails and a swimming pool.
"As Austin continues to grow into the tech epicenter of Texas, coupled with a supply-constrained market, the demand for new housing is at its highest," Dustin Davidson, managing director at Hines, said. "Mirador will be critical in providing more options for Austin's growing population and we are excited to work alongside our partners given they each provide a unique and valued perspective in single-family development."
The local housing market has been hot in recent years, with home sales accelerating earlier in the pandemic. In July 2021, the Austin metro area hit its pricing peak at $478,000. As Austonia previously reported, the area has been expected to see the Tesla effect, with the new workforce driving up demand for housing and other services.
The single-family houses are expected to be developed over the course of six years, in phases. Construction on the homes is expected to start this year and home sales will begin in 2023.