Get connected with our daily update
STOP SCROLLING. You still haven't planned out your ACL outfits, have you? Don't panic, there's still time to put together an outfit to stunt on the crowd.
---
ACL is more than just a three-day concert—it's a runway. In fact, according to personal stylists Jennifer Young of Forever Styled and Edith henry, ACL weekends are the ideal time to dip your toe into the realm of fashion: those around you will be taking risks and if you don't like it, you can return to normal on Monday.

With T-minus seven days until you have to have your wardrobe prepared, here are some professional tips for you to craft the perfect festival 'fit. Remember, no outfit is complete without self-love.
"The bottom line is, if you feel good in it and you're gonna rock it with confidence, then that's all that matters," Henry said.
Let's get some hard and fast rules out of the way...
DO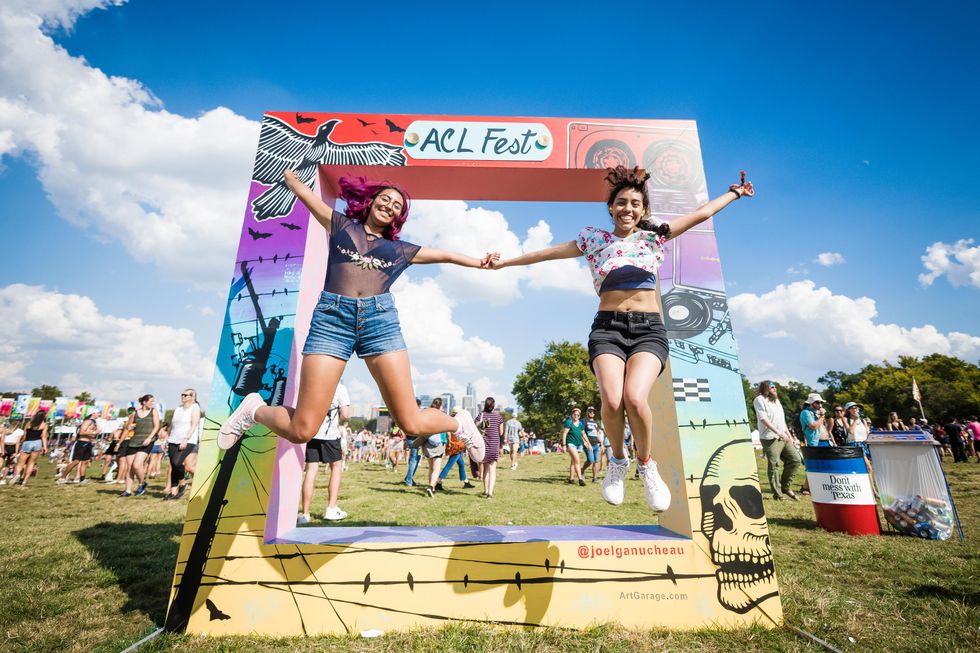 Wear your outfit with confidence. According to Henry, carrying yourself with confidence "is a huge thing that helps people stand out" and therefore the ideal accessory.
Try on all of your outfits beforehand. Henry, who is headed to Paris Fashion Week on Monday, said she is going to spend the day before trying on all of her outfits so there won't be any surprises when she's ready to take them out on the streets.
Opt for natural fibers and loose-fitting garments. You're going to sweat, so you'll want an absorbent textile and according to Young, the tighter fitting, the more likely your piece is to trap the heat.
DON'T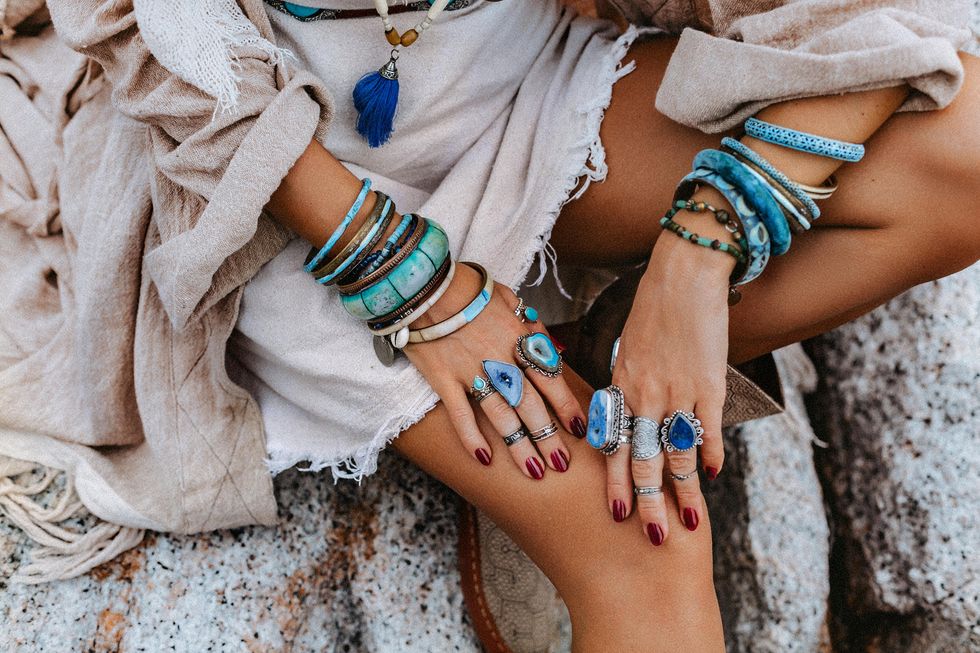 Wear a brand new pair of shoes or a pair that you want to keep clean. This reason is two-fold, according to Henry: your shoes are going to get dirty and it is paramount to wear comfortable shoes that have already been broken-in (don't let blisters ruin the fun).
Wear fabric that isn't breathable like latex, nylon or polyester. These fabrics will trap heat and sweat.
Put on an outfit that doesn't make you feel like a million bucks—Henry said people will know if you don't feel comfortable in your clothes.
Pile on the accessories. From a comfort perspective, Young said lots of jewelry will weigh you down and make you sluggish. Opt for lightweight accents like hats or bandanas.
Finally, don't blend in. Take a risk, take some photos—you'll be glad you did.
Staple pieces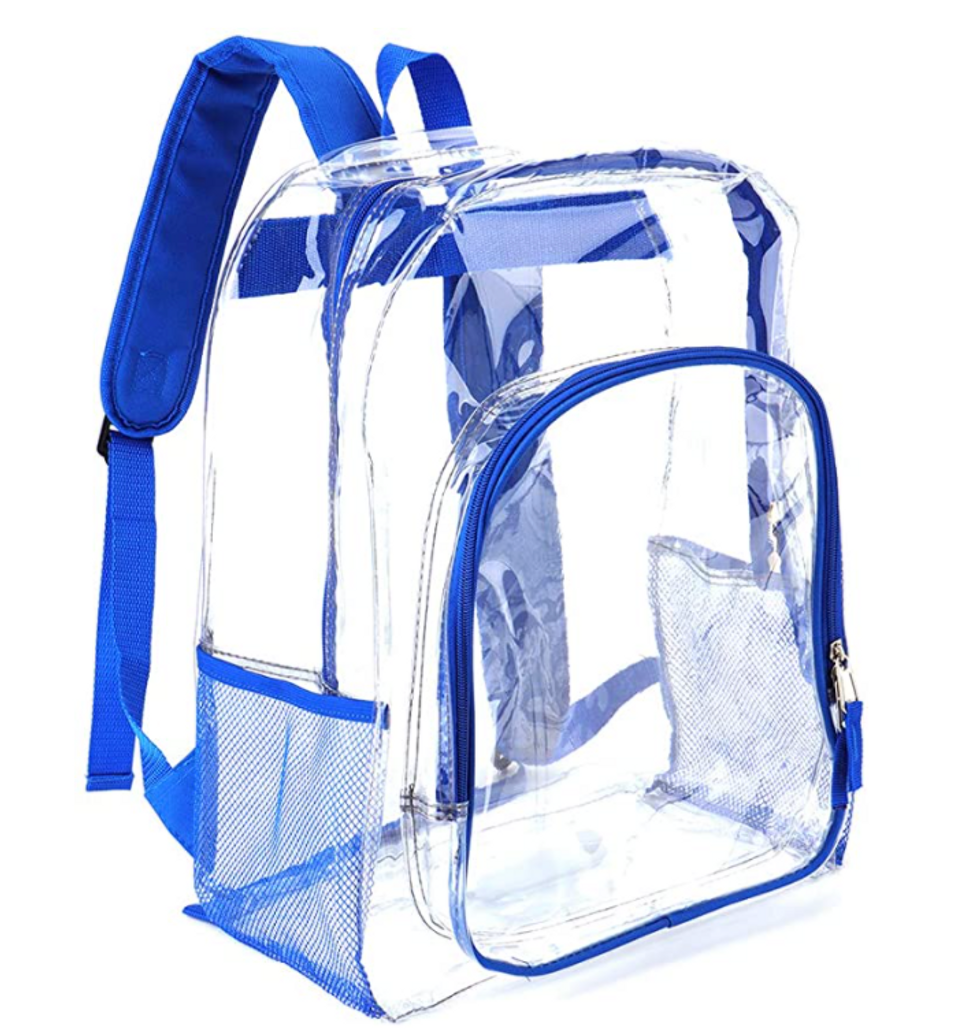 (amazon.com)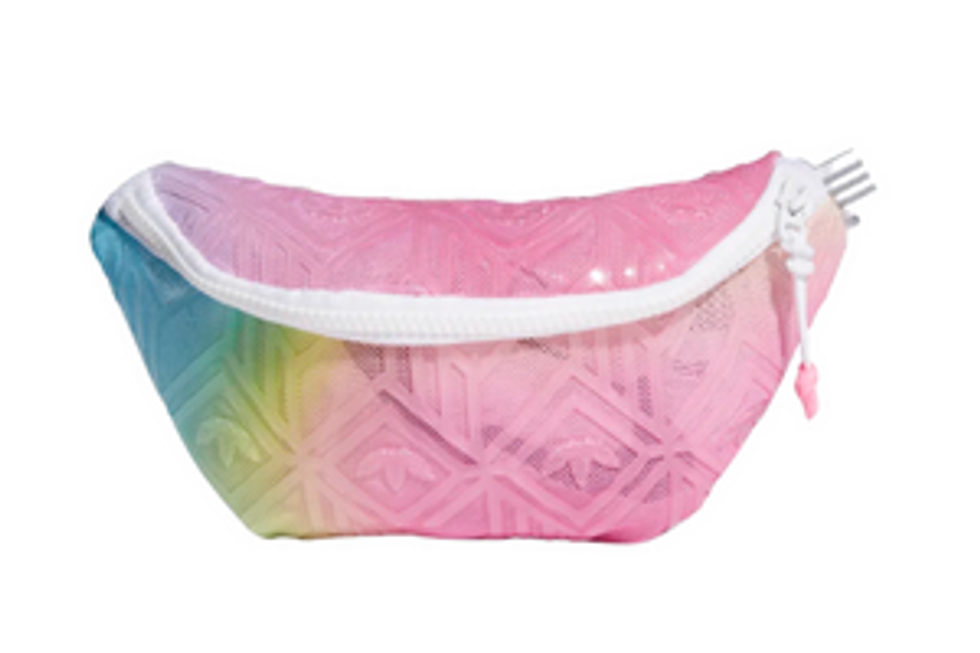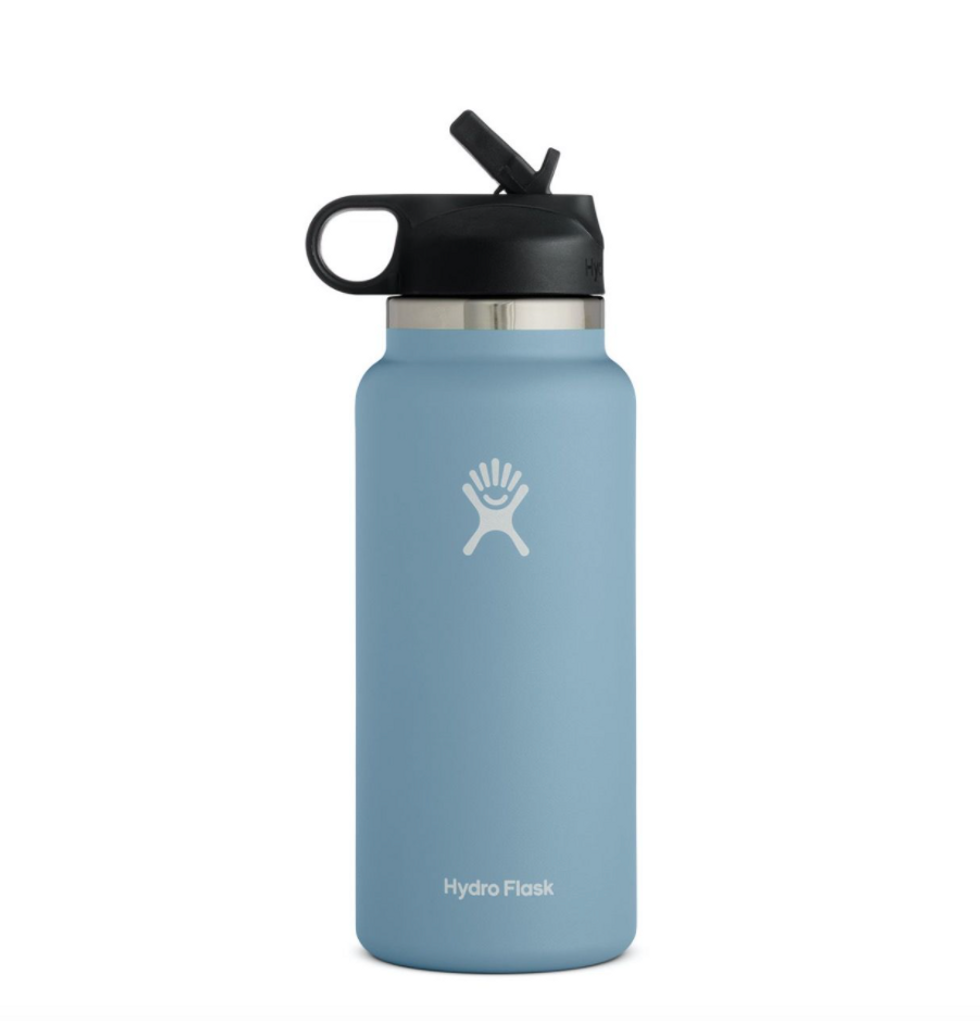 (hydroflask.com)
First-timers, take note, there are a few staples that are essential to take to ACL, starting with hats. Not only does a hat protect your head and face from the sun, it can also take an outfit to the next level. Young said a hat will help keep your look consistent while you sweat and dance out in the elements. Feeding into the early aughts trend, Henry said bucket hats are a very popular option right now. Cowboy hats are always a viable option in Texas and floppy hats are timeless festival garb.
ACL's bag policy is strict: fanny packs that have one pocket only and are smaller than 4.5" x 5.5" or clear bags smaller than 12" x 12" x 6" only. That isn't much to work with and if you're planning on doing a full weekend, carrying a bag is going to become a burden. Grab a fanny pack that you can keep close to your body and doesn't weigh much. Bonus points if the fanny pack adds to your outfit.
How to hide the sweat
Despite predictions for nice weather and temperatures in the mid-80s, you're going to sweat and there is no preventing that. Breathable fabrics and patterns are your friends for hiding those sweat stains. Cotton and other natural fibers, flowy fabrics and mesh are good options for textiles. Tie-dye, floral prints, paisley and neon colors are some of your best bets to avoid looking sticky.
A message for the men
There might not be the same pressure to dress the part, so a little effort goes a long way. Henry and Young recommend trying something new—ACL is an event unlike any other in Austin, so if you don't like the risk, no one has to be the wiser. Tap into your sense of self, pick out pieces that make you feel your best and don't be afraid to leave your comfort zone.
Look to trying different bottoms than you might normally wear for the festival.
"Festivals are the perfect place to express yourself and typically there's very little judgment," Young said. "It's the best place to see people, and to people-watch, and to appreciate the uniqueness of who you are when you're in public."
What are you waiting for? Go try on those outfits!
Austin's Delta 8 industry has been turned on its head after Texas health officials clarified that the cannabinoid is on the state list of illegal substances, though it was previously believed to be legal by most retailers, consumers and manufacturers.
House Bill 1325, which was signed in June 2019 by Gov. Greg Abbott, and the Farm Bill, signed into law by former President Donald Trump in 2018, legalized any hemp product containing less than .3% THC. The same bills were thought to have made Delta 8 legal, though the Texas Department of State Health Services added a notice on its website saying it was still a controlled substance as of Friday, Oct. 15.
Both the federal and state governments keep separate lists on what is considered a controlled substance. Marijuana is considered Schedule I, a category reserved for substances with "no currently accepted medical use and a high potential for abuse," both statewide and federally.
Austin-based CBD retailer Grassroots Harvest CEO Kemal Whyte, like many CBD shop retailers, was blindsided by the announcement. Many small businesses rely on Delta 8 for their sales—Green Herbal Care CBD said about 90% of its sales come from Delta 8—and Whyte said he is frustrated by the inconsistencies in the drug scheduling system.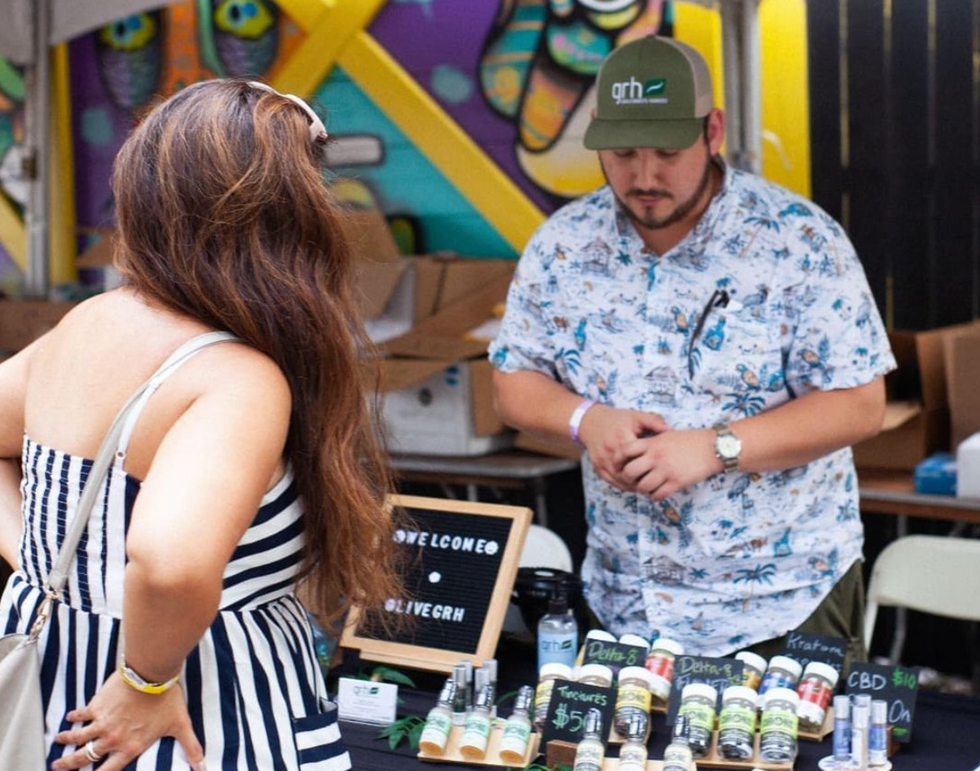 (Grassroots Harvest/Instagram)
Since 87% of Texans support the legalization of marijuana, at least for medical use, per a recent poll, Whyte said he wonders who this legislation is for.
"It's gonna have a massive impact on small businesses—there's just no way around it," Whyte said. "The reality is, we don't want to push out anything bad for our customers, we want this to benefit our customers and to help them. If we can make money while doing it, that's the American dream. What are we doing, whose benefit is this for?"
Delta 8 surged in popularity after the perceived legalization—consumers enjoyed its lower psychotropic potency, decreased anxiety while using it and the peace of mind as a legal way to get high. So in order to protect their products and livelihoods, both Grassroots Harvest and Austin-based manufacturer Hometown Heroes are taking legal action.
Whyte said Grassroots Harvest is suing DSHS, saying their action is creating negative effects in the market. Meanwhile, a Hometown Heroes spokesperson said the company is in the process of filing a temporary restraining order that would pause the ban on Delta-8 in the state of Texas.
Threats against Delta 8 are not new—DSHS lost a lawsuit trying to make "smokable hemp products" illegal last year and Texas lawmakers had been considering a bill that would make Delta 8 illegal, though it was dropped after the clarification was made.
Hometown Heroes released a formal statement in response to the DSHS rule.
"I need to be clear—we love Texas, we're just choosing to fight for the will of the people in regards to cannabis in Texas," Hometown Hero CEO Lukas Gilkey said in a statement. "(Texas DSHS) are using backhanded ways to create legislation and go against the will of the people."
Whyte laments the fact that it would be easier legally to "open up a strip club that also sells guns," and said he can't post customer testimonials that mention the benefits of Delta 8 without getting hit with a cease and desist from the Food and Drug Administration. Whyte said he isn't opposed to regulation—far from it—he just wants to see it go through the correct channels.
"The fact that they're stunting our ability to communicate with our clients that want to learn about this, you're preventing us from communicating with them and teaching them, or spreading information that we know," Whyte said. "I think that that in and of itself opens up a lot of questions."
Grassroots Harvest still has Delta 8 products on its shelves for the time being but for how long, Whyte doesn't know.
Austin Public Health and other clinics around Austin are now providing booster shots for all three vaccines, including Pfizer, Moderna and Johnson & Johnson, to fully vaccinated individuals after both Pfizer and J & J were approved by the CDC on Wednesday.
APH and Austin clinics, which were already administering the approved Pfizer booster, will begin distributing shots as soon as Friday.
Those who received the second dose of the Pfizer and Moderna vaccine more than six months ago are elligble to receive a booster if they are over 65 or if they are over 18 and:
Live in a long-term care environment
Have underlying medical conditions
Work or live in high-risk settings, such as schools, hospitals or correctional facilities
Those who took the Johnson & Johnson shot are eligible if they are over 18 and received their dose over two months ago.
Austin-Travis County Health Authority Dr. Desmar Walkes said in a media Q&A Friday that APH is encouraging boosters just as much as they have urged residents to get their first and second doses.
"Boosters are incredibly important to keeping our community protected and hospitalizations low," Walkes said. "If we can stay on top of our vaccinations, we provide protections for our most vulnerable and make it that much harder for COVID to spread in our community."
Eligible residents are free to choose the same booster as their first doses or "mix and match," per the CDC announcement.
Those looking for another dose can simply bring their vaccination card to APH centers or the dozens of Walgreens and CVS locations in the metro, which began administering doses Friday.
Additional updated guidance from the CDC allows for all eligible individuals to choose which vaccine they receive as a "mix-and-match" booster dose. It is advised to remember to bring your CDC COVID-19 Vaccination Card showing the original doses with you when going for booster shots.