Get connected with our daily update
(Emma Freer/Austonia)
After a contentious campaign period, and two failed transit initiatives in 2014 and 2000, Austinites voted to approve Proposition A, which permanently raises the city's property tax rate to help pay for Project Connect, a $7.1 billion plan to overhaul the local transit system.
Unlike other races this election cycle, the results weren't close. Prop A passed by a nearly 19% margin, which local political analysts and transit advocates attributed to record-breaking turnout, a younger electorate and a new approach to transit planning.
---
A once-in-a-lifetime election
Travis County set multiple new records this election. More residents voted early this year than in the entire 2016 race. Ninety-seven percent of eligible voters registered, and more than 71% actually turned out.
When turnout is low, it tends to favor the most reliable voters: older, wealthier and disproportionately white. High turnout, on the other hand, brings a more representative electorate to the polls.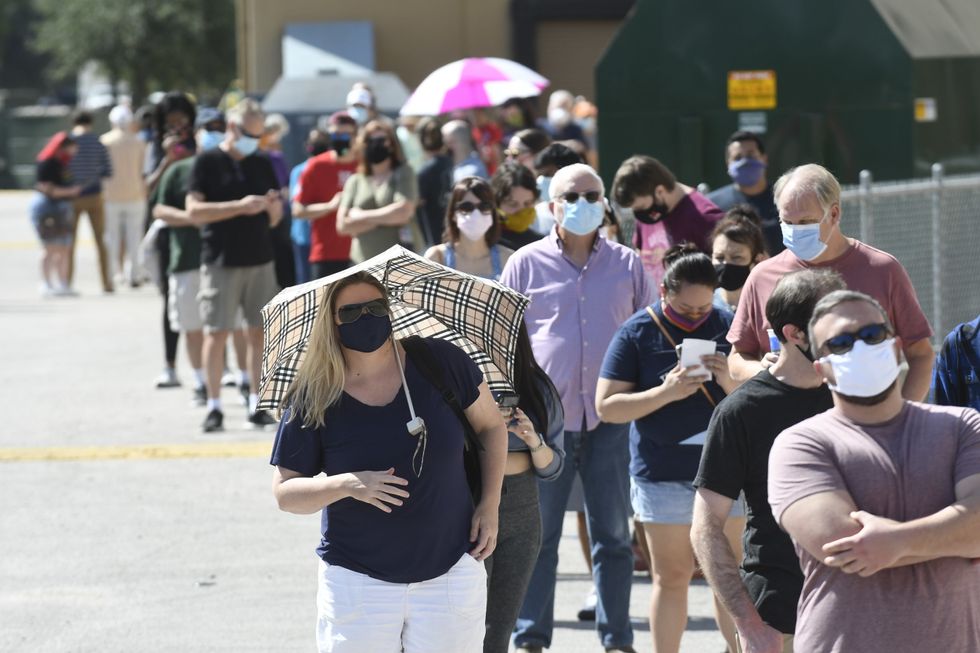 Travis County, Texas surpass 2016 turnout during early voting—with Election Day sure to widen margin. (Bob Daemmrich)
Mark Littlefield, a local political consultant, said this was critical to Prop A's success.

"The difference this time around … was that this was going to be the largest electorate that we've ever had in Travis County, just because of the presidential election," he explained.
Another important development in Prop A's favor was that Austin's demographics have shifted since 2014, when less than a quarter of early voters were under the age of 40, according to data collected and analyzed by Littlefield. This election, nearly half were.
"The professionals brought to our attention the influx of new, young voters that have come to Austin in the last couple of years," Capital Metro Chairperson Wade Cooper said. "We were cognizant of the fact that they tended to be pro-transit."
The reasons for this are less partisan than generational, Littlefield said.
Younger Austinites are more likely to cite climate change and equity as concerns, both of which Prop A supporters addressed in their campaign. This demographic is also more likely to consider transit as a bonus.
"We see a lot of young professionals moving into the city every day, even during the pandemic, and they're coming from bigger cities that already have this infrastructure set up," said Alyssia Palacios-Wood, president and CEO of the Austin Young Chamber. "(They) already love transit."
This is anathema to some older generations, Littlefield said, who may find it hard to believe someone would eschew a car voluntarily.
This was part of the oppositions' argument, from groups such as the political action committee Our Mobility Our Future and the nonprofit Voices of Austin. But it carried little water with the younger voters, which Prop A proponents were banking on.
"They were campaigning to the choir," Littlefield said.
Lessons learned
In addition to a changing electorate, Prop A also benefited from Project Connect's broader scope and grander ambition.
Conventional wisdom used to be that a transit referendum would be more likely to pass if it appealed to transit skeptics, said Christof Spieler, a senior lecturer at the Rice University School of Architecture.
This was often achieved by limiting the amount of funding and bundling in spending for different kinds of infrastructure.
In 2014, for example, Austin voted on a $1 billion transit proposal, which included one light rail as well as roadway improvements. But it failed by a margin of 14%.
This time around, Capital Metro and city officials learned from past failures. Project Connect included more than seven times the investment and focused exclusively on transit, with two light rail lines, expanded bus service and other components.
"I think we learned from 2014 that the public didn't want just a project," Cooper said. "They wanted a plan that they could see would really move the needle in Austin."
Another key change, Spieler said, is the attention paid to advocacy groups and grassroots organizing.
Capital Metro reports that around 60,000 Austinites provided input on Project Connect, and advocates—some of whom opposed the last ballot measure because they felt it did too little—were more directly involved.
"Those advocacy groups were a major voice in the creation of the plan and then rally their supporters to turn out to vote for it," Spieler said.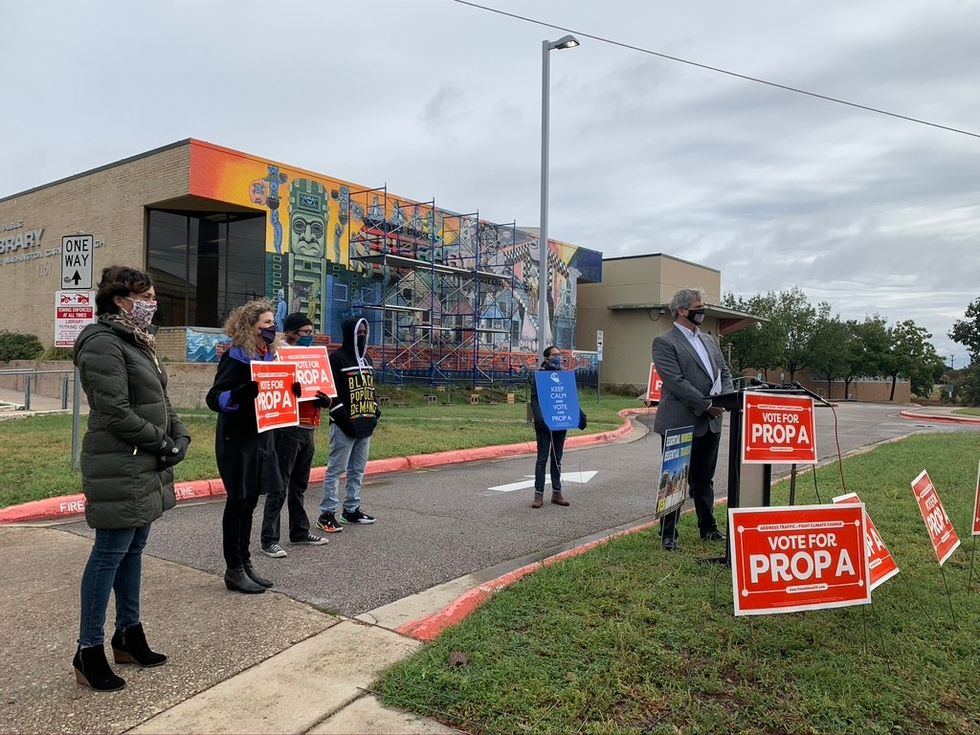 Austin leaders urged residents to support Proposition A in the final days of voting. (Emma Freer/Austonia)
Transit for Austin, a pro-Prop A PAC, also convened a large coalition of supporters, with environmental groups, social justice advocates, elected officials and trade organizations among its ranks.

"The accessibility of the (soccer) stadium is our talking point," said Tony Cardone, director of social for Austin Anthem, the official supporters group for Austin FC.
Kathy Sokolic, the chairperson and co-founder of Central Texas Families for Safe Streets, was swayed by transit's safety benefits.
"It's kind of a no-brainer for our folks," she said.
The Mueller Neighborhood Association also endorsed Prop A. Many of its residents—who have opted to live in a high-density, transit-oriented, economically diverse development—put Prop A signs in their yards and discussed the measure on their private Facebook group.
Andrew Clements, the association's chairperson and a longtime transit advocate, said the downtown tunnel proposed under Project Connect was particularly compelling because it will allow light rail trains to avoid traffic and expand capacity. Where maybe a few train cars could fit on a city block before blocking intersections, many more than that can travel underground.
"We were kind of surprised by the audacity of even proposing the tunnel," he said.
Republic Square Park has turned into a Ford-themed fiesta for its Built to Connect pop-up experience, complete with test drives, off-roading and an inside look at the Tesla-rivaling electric vehicles that the motor vehicle company is planning to integrate over the next decade.
The outdoor driving event is free, open to the public and will stay in the park from now until Oct. 24, offering rides on Bronco Mountain, a 0-40 mph zip in the 2022 all-electric Ford F-150 Lightning and a chance to win an original Ford Bronco.
The event kicked off with a panel of speakers, including Austin Director of Transportation Rob Spillar, Ford General Manager Darren Palmer and engineering specialists discussing Ford's goals to make it so that 50% of the vehicles on the road are electric by 2030.
As an eco-conscious city, Spillar said that around 4,000 vehicles, or 22% of the Texas electric vehicle market, as well as over 15,000 plugins lie in Austin, meaning driving electric just got accessible.
"Austin, as you know, is a fast-growing modern city that is committed to protecting the long term health and viability of our communities and strategies that reduce greenhouse gases, mitigate the effects of climate change and improve the drone quality of life here in Central Texas for all of our residents," Spillar said.
And Ford's electric vehicles are putting up some steep competition for newly-Austin-based company Tesla. The new electric Mustang Mach-E and F-150 Lighting offer amenities that used to be exclusive to Musk's brand, such as the BlueCruise self-driving network. The cars also boast a 300-mile range on a single charge, assisted reverse technology and access to the biggest charging network outside of the home.
Plus, Ford's got affordability on its side. The F-150 Lightning starts at $39,974 and the Mustang Mach-E starts at $42,895, while the cheapest Tesla model, the Model 3, starts at $41,990 and averages 262 miles on a single charge.
Speaking of price, the numbers on the electric vehicles may look like a little more than you'd like to pay for your transport, but Palmer promises it will pay off. In addition to a $7,500 tax credit you can earn for your sustainability, you'll never have to buy a pricey tank of gas again.
"Personally, I have not found one customer ever, who would go back to gas so that says something," Palmer said. "I realized, at $51,000, that car outruns every childhood hero car I ever had."
Texas buyers: take note. The Ford Lightning can power your house for three to 10 days, just in case the statewide power grid fails. You can take it glamping with you, so you don't have to leave the comfort of modern life behind, and in a pinch, Palmer said he's even seen a wedding party powered by the truck.
Ford is investing $30 billion into the U.S. market to meet demand by 2025 and the new electric truck already has over 150,000 reservations.
"I think they're going to take off much faster than you expect—they're going to be extremely, extremely popular next year," Palmer said. "With the incentives that are available today, this is starting to become more mainstream and viable for more and more families. We couldn't have done that before, we didn't have the technology, or the technology at that price."
The event is ongoing through next weekend from 12-9 p.m. Monday-Friday and 9 a.m.- 8 p.m. Saturday and Sunday.
The Austin Police Department is searching for a man who is believed to be behind a series of robberies that is "sexual in nature and is escalating."
Three robbery cases that took place in North Austin within a 30-day period are being investigated by police, who report the victims all had similar descriptions for suspects in the case. The suspect is described as a 20-25-year-old Spanish-speaking Hispanic man, approximately 5'3, thin build, recently shaved with black hair. Police say he is known to typically wear athletic clothing and used a knife on each of the victims.
Here's a breakdown of the cases:
1. At 7:56 a.m. on Sept. 22 at the 1600 block of Rutland Drive, a woman was walking alone and returning from her child's school when a suspect walking by inappropriately touched her. The suspect then grabbed her by the arm, threatened her with a knife and demanded "her property."
2. At 8:10 a.m. on Oct. 11 at 1700 block of Colony Creek Drive, a woman was walking to her child's school when a man approached her with a knife and then demanded her personal items. The suspect then said he would return the items in return for sex.
3. At 11:03 a.m. on Oct. 13 at the 9300 block of Northgate Boulevard, a woman was with her child in the laundry room of an apartment complex when a man walked in performing a sexual act. The suspect demanded personal items from the victim, threatening to hurt the victim and take her child.
Police cautioned the public to walk without earbuds, stay alert and report suspicious activity to the police.