Get connected with our daily update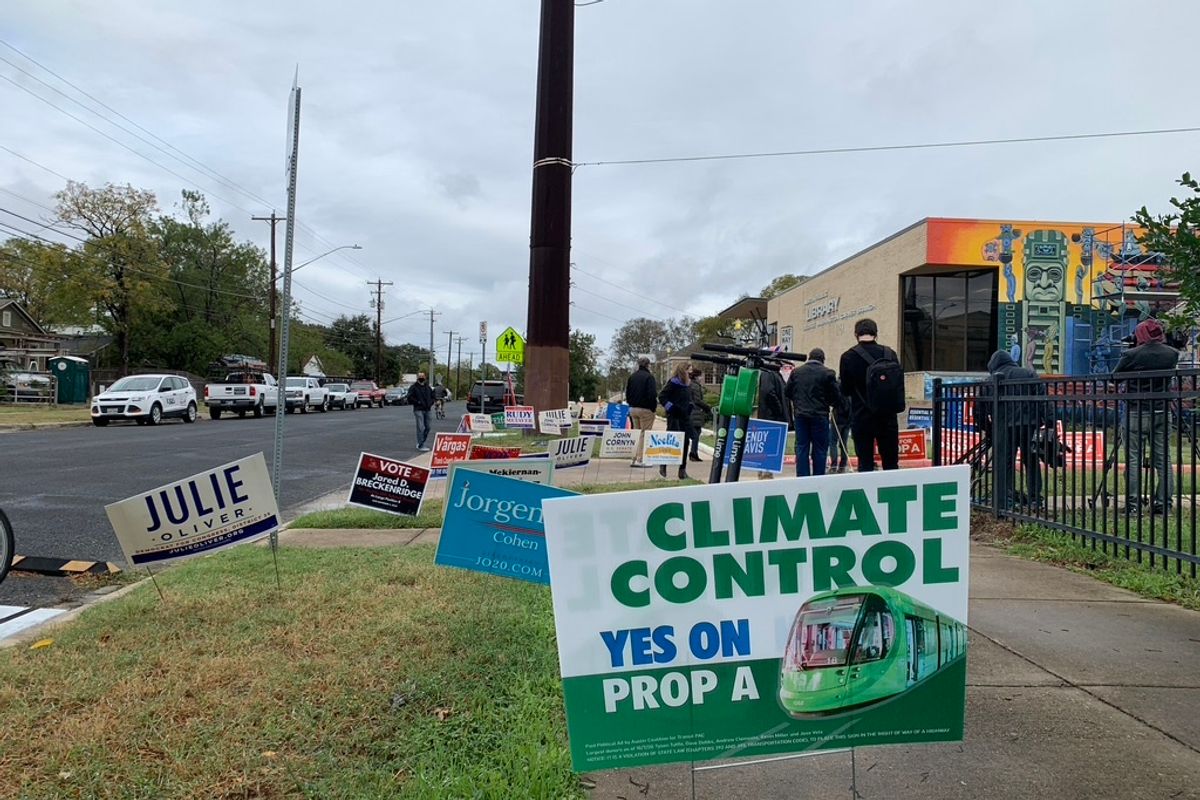 (Emma Freer/Austonia)
After a contentious campaign period, and two failed transit initiatives in 2014 and 2000, Austinites voted to approve Proposition A, which permanently raises the city's property tax rate to help pay for Project Connect, a $7.1 billion plan to overhaul the local transit system.
Unlike other races this election cycle, the results weren't close. Prop A passed by a nearly 19% margin, which local political analysts and transit advocates attributed to record-breaking turnout, a younger electorate and a new approach to transit planning.
---
A once-in-a-lifetime election
Travis County set multiple new records this election. More residents voted early this year than in the entire 2016 race. Ninety-seven percent of eligible voters registered, and more than 71% actually turned out.
When turnout is low, it tends to favor the most reliable voters: older, wealthier and disproportionately white. High turnout, on the other hand, brings a more representative electorate to the polls.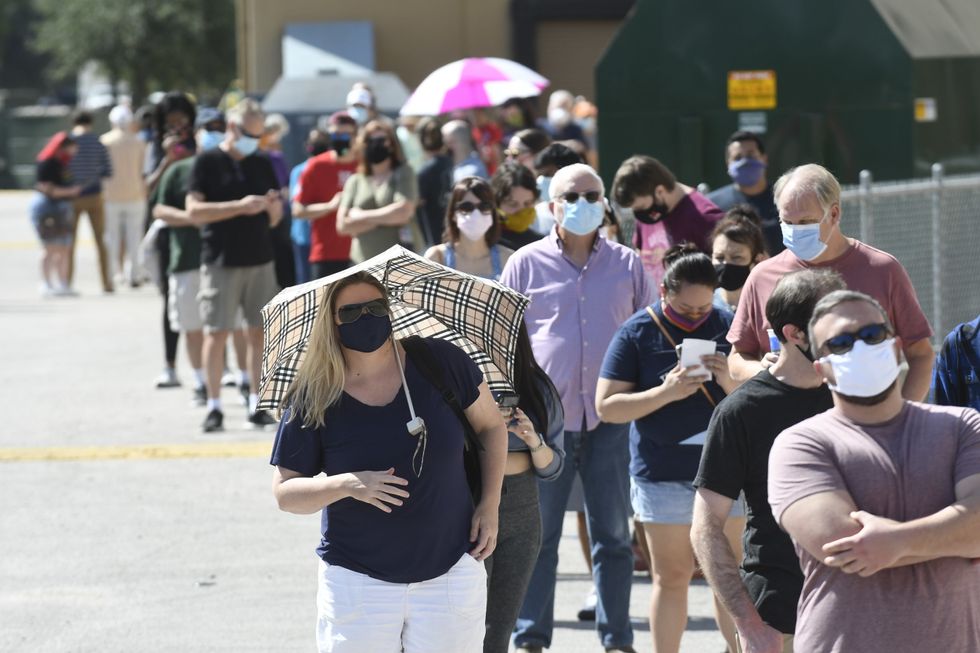 Travis County, Texas surpass 2016 turnout during early voting—with Election Day sure to widen margin.(Bob Daemmrich)
Mark Littlefield, a local political consultant, said this was critical to Prop A's success.

"The difference this time around … was that this was going to be the largest electorate that we've ever had in Travis County, just because of the presidential election," he explained.
Another important development in Prop A's favor was that Austin's demographics have shifted since 2014, when less than a quarter of early voters were under the age of 40, according to data collected and analyzed by Littlefield. This election, nearly half were.
"The professionals brought to our attention the influx of new, young voters that have come to Austin in the last couple of years," Capital Metro Chairperson Wade Cooper said. "We were cognizant of the fact that they tended to be pro-transit."
The reasons for this are less partisan than generational, Littlefield said.
Younger Austinites are more likely to cite climate change and equity as concerns, both of which Prop A supporters addressed in their campaign. This demographic is also more likely to consider transit as a bonus.
"We see a lot of young professionals moving into the city every day, even during the pandemic, and they're coming from bigger cities that already have this infrastructure set up," said Alyssia Palacios-Wood, president and CEO of the Austin Young Chamber. "(They) already love transit."
This is anathema to some older generations, Littlefield said, who may find it hard to believe someone would eschew a car voluntarily.
This was part of the oppositions' argument, from groups such as the political action committee Our Mobility Our Future and the nonprofit Voices of Austin. But it carried little water with the younger voters, which Prop A proponents were banking on.
"They were campaigning to the choir," Littlefield said.
Lessons learned
In addition to a changing electorate, Prop A also benefited from Project Connect's broader scope and grander ambition.
Conventional wisdom used to be that a transit referendum would be more likely to pass if it appealed to transit skeptics, said Christof Spieler, a senior lecturer at the Rice University School of Architecture.
This was often achieved by limiting the amount of funding and bundling in spending for different kinds of infrastructure.
In 2014, for example, Austin voted on a $1 billion transit proposal, which included one light rail as well as roadway improvements. But it failed by a margin of 14%.
This time around, Capital Metro and city officials learned from past failures. Project Connect included more than seven times the investment and focused exclusively on transit, with two light rail lines, expanded bus service and other components.
"I think we learned from 2014 that the public didn't want just a project," Cooper said. "They wanted a plan that they could see would really move the needle in Austin."
Another key change, Spieler said, is the attention paid to advocacy groups and grassroots organizing.
Capital Metro reports that around 60,000 Austinites provided input on Project Connect, and advocates—some of whom opposed the last ballot measure because they felt it did too little—were more directly involved.
"Those advocacy groups were a major voice in the creation of the plan and then rally their supporters to turn out to vote for it," Spieler said.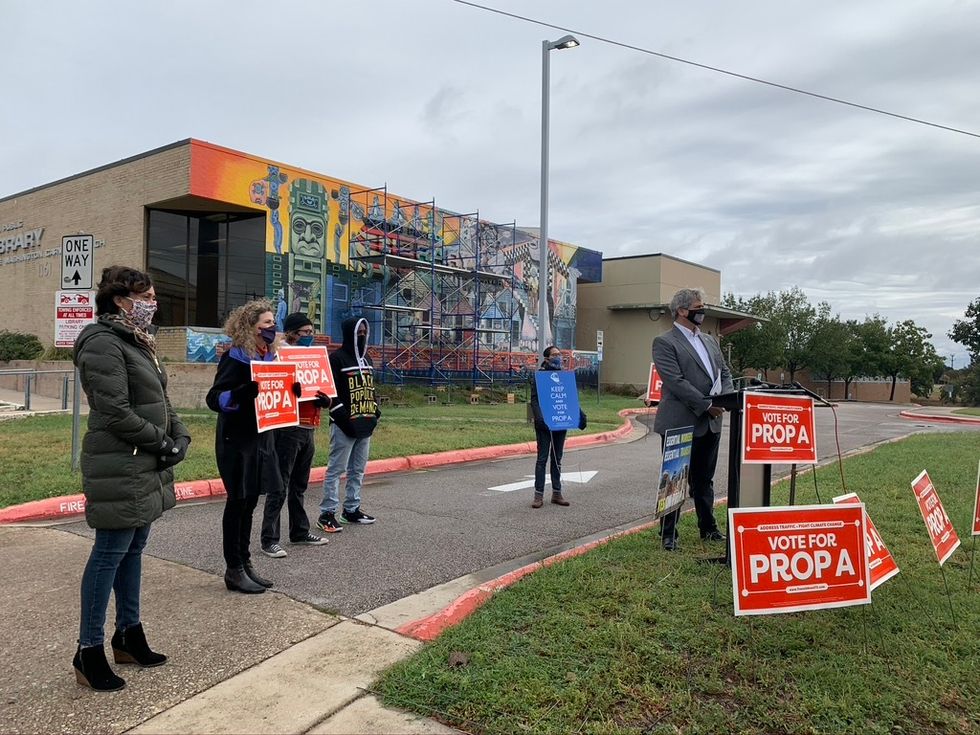 Austin leaders urged residents to support Proposition A in the final days of voting. (Emma Freer/Austonia)
Transit for Austin, a pro-Prop A PAC, also convened a large coalition of supporters, with environmental groups, social justice advocates, elected officials and trade organizations among its ranks.

"The accessibility of the (soccer) stadium is our talking point," said Tony Cardone, director of social for Austin Anthem, the official supporters group for Austin FC.
Kathy Sokolic, the chairperson and co-founder of Central Texas Families for Safe Streets, was swayed by transit's safety benefits.
"It's kind of a no-brainer for our folks," she said.
The Mueller Neighborhood Association also endorsed Prop A. Many of its residents—who have opted to live in a high-density, transit-oriented, economically diverse development—put Prop A signs in their yards and discussed the measure on their private Facebook group.
Andrew Clements, the association's chairperson and a longtime transit advocate, said the downtown tunnel proposed under Project Connect was particularly compelling because it will allow light rail trains to avoid traffic and expand capacity. Where maybe a few train cars could fit on a city block before blocking intersections, many more than that can travel underground.
"We were kind of surprised by the audacity of even proposing the tunnel," he said.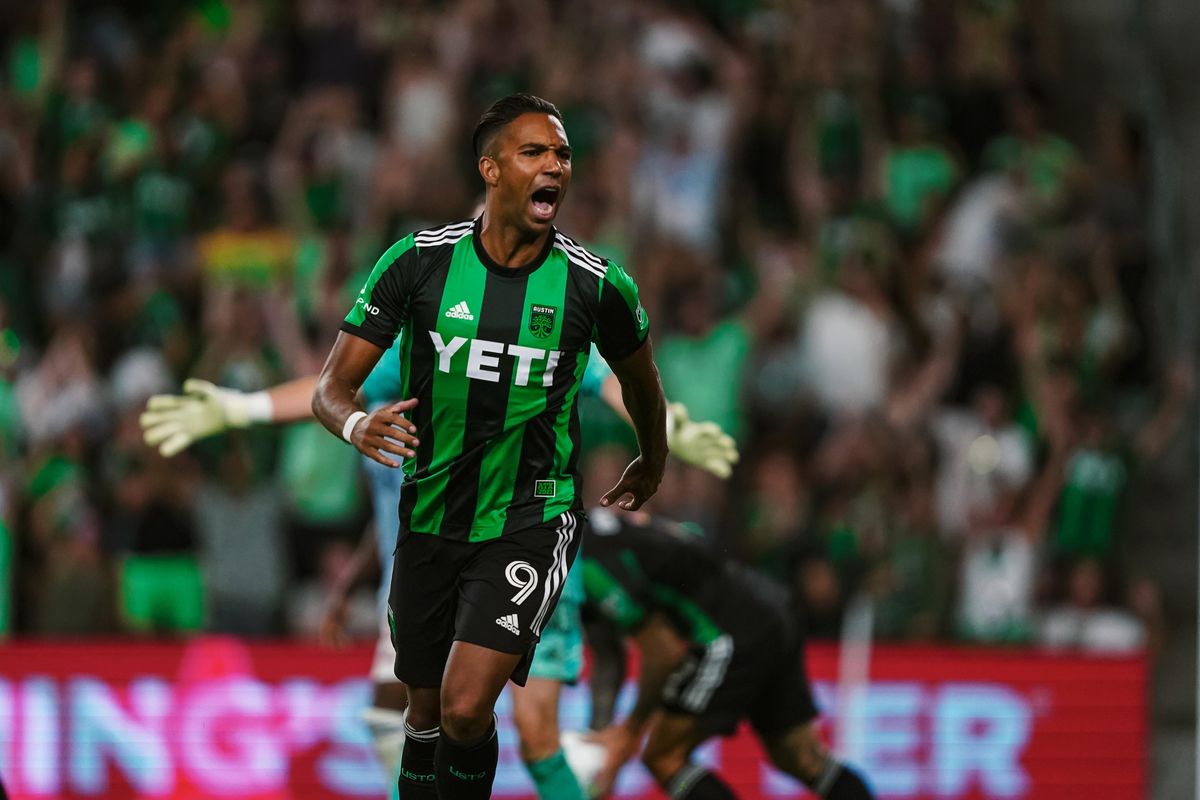 Despite a 2-0 deficit, there was a pot of gold for Austin FC after all as it celebrated its annual Pride Night with rainbows and a 2-2 comeback draw to FC Dallas Saturday night.
After three FC Dallas losses last season, the Dallas derby draw marks the first time Austin FC has tied against its Copa Texas rival. Austin continues to edge over FC Dallas as it sits at 3rd in the MLS West.
Here are the biggest takeaways from the match:
A somber start
¡Ya Basta! Enough! End Gun Violence. #uvaldestrong

📷 @arubiophotospic.twitter.com/3PiVdTPtik

— Los Verdes (@LosVerdesATX) June 26, 2022
Decked out in colorful hues for LBGTQ+ Pride, Verde fans started the match on a somber note as they held up banners to take a stand against gun violence before the match.
As the national anthem began, fans held up banners with the names of each child that was killed in the Uvalde school shooting and a plea to "end gun violence."
The supporters' section was also dotted with Pride flags and a "Bans off Our Bodies" banner in protest of the Supreme Court's decision to overturn Roe v. Wade.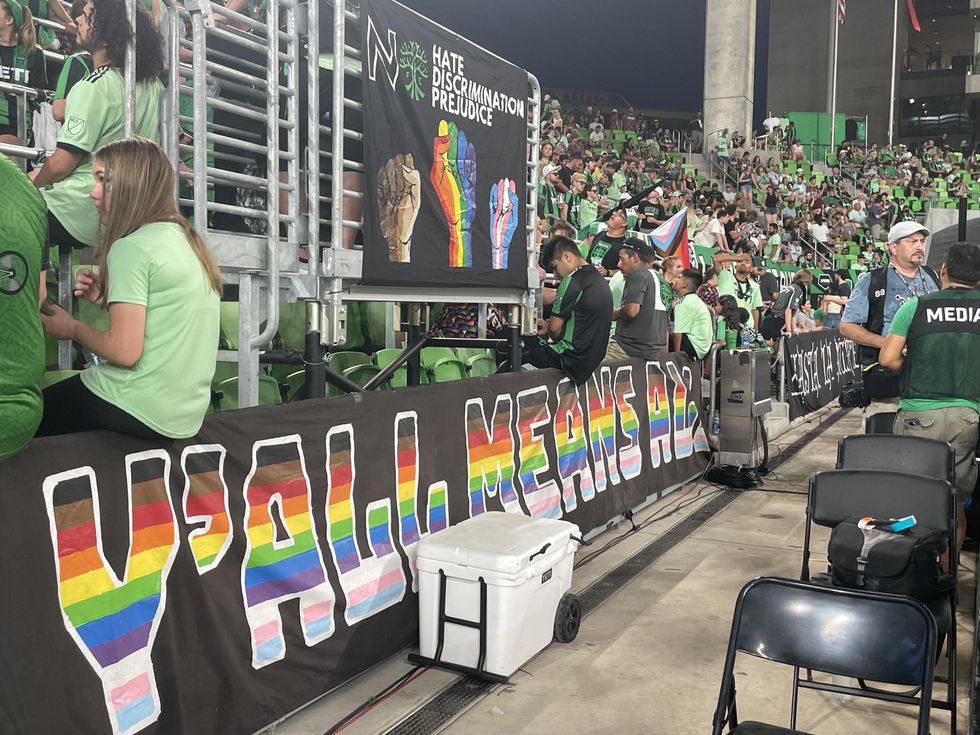 (Claire Partain/Austonia)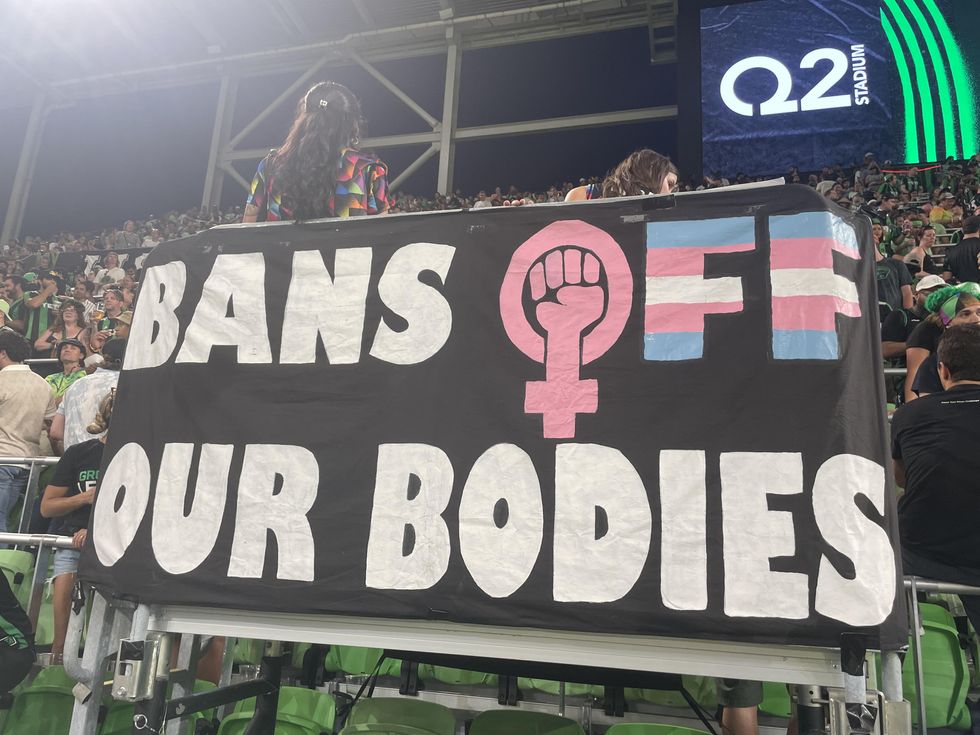 (Claire Partain/Austonia)
FC Dallas earns a 2-0 lead
Paul Arriola is there to put it away and put @FCDallas ahead! pic.twitter.com/Z4AMmM6lp3

— Major League Soccer (@MLS) June 26, 2022
That sober tone continued onto the pitch. With midfielder Daniel Pereira's absence due to a red card, the Verde and Black lost two goals to FC Dallas by the 70th minute of play.
FC Dallas played it sneaky for the first half of the match, giving Austin FC plenty of room to hold possession as it waited to strike on a Verde error. That mentality proved dangerous for Austin as Dallas' Paul Arriola took advantage of Brad Stuver's deflection to score the first goal of the night in the 57th minute of play.
Dallas struck once more as Brandon Servant pushed past the Verde line to score the second goal of the match.
Austin FC strikes back
Sebastián Driussi pulls one back!#AustinFC are still in this one. 👀 pic.twitter.com/Yoi0x768jb

— Major League Soccer (@MLS) June 26, 2022
But energy quickly returned to Austin's favor thanks to Designated Player Sebastian Driussi, who scooted past several FC Dallas defenders alongside Moussa Djitte to snag an unlikely first goal for Austin.
A full Verde comeback
Late drama in this Texas Derby!@AustinFC ties it up, Danny Hoesen with the diving header. 😱 pic.twitter.com/Jk2f4fIEXG

— Major League Soccer (@MLS) June 26, 2022
Austin's subs proved deadly as momentum returned to the home team toward the end of the match. A well-placed cross from Nick Lima—and a diving header from a fresh-legged Danny Hoesen—helped the team secure the draw with a second Verde goal in the 84th minute of play.
Hoesen, who was Austin's first starting striker last season, has now scored two goals with the team after a yearlong injury stuck him on the bench.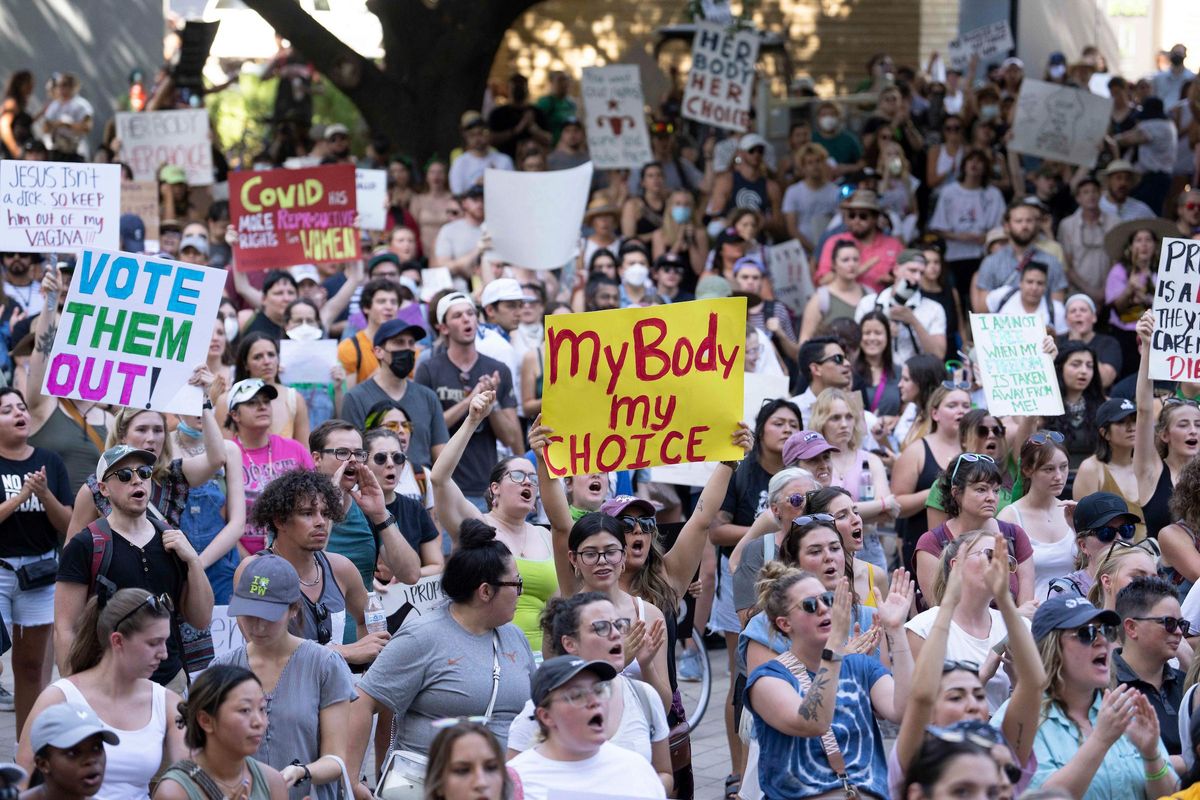 Hours following the U.S. Supreme Court's ruling to overturn Roe v. Wade, the landmark ruling that guaranteed a constitutional right to an abortion, on Friday, about 1,000 people gathered in Republic Square with signs calling for change.
The rally, organized by the group Rise Up 4 Abortion Rights Texas, started at the federal courthouse on Republic Square on Friday at 5 p.m. before the crowd marched to the Texas Capitol. More protests are expected to ensue over the weekend.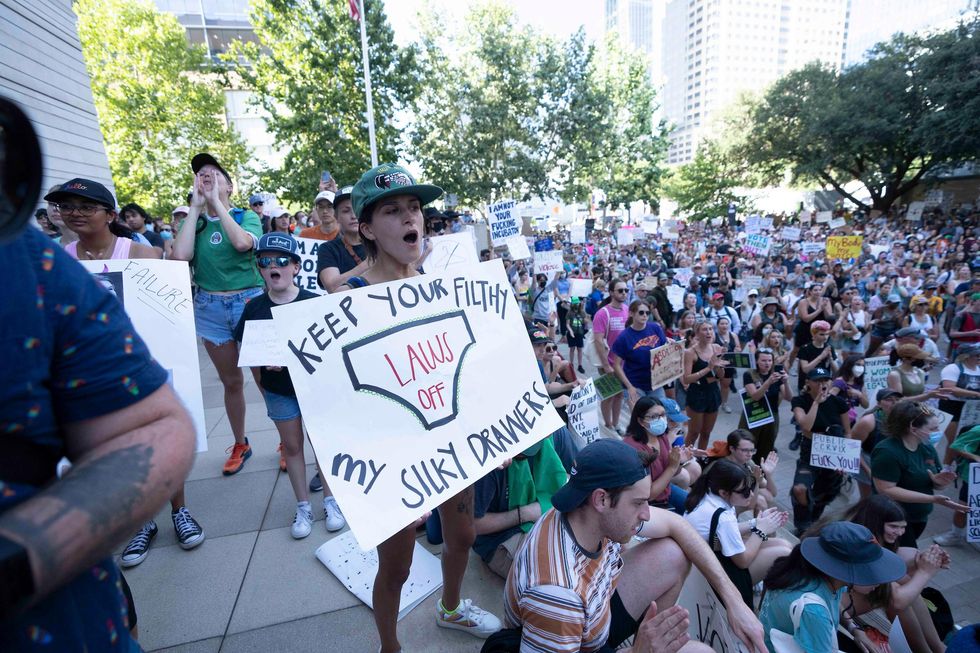 People showed up with all types of signs like Mindy Moffa holding up, "Keep your filthy laws off my silky drawers."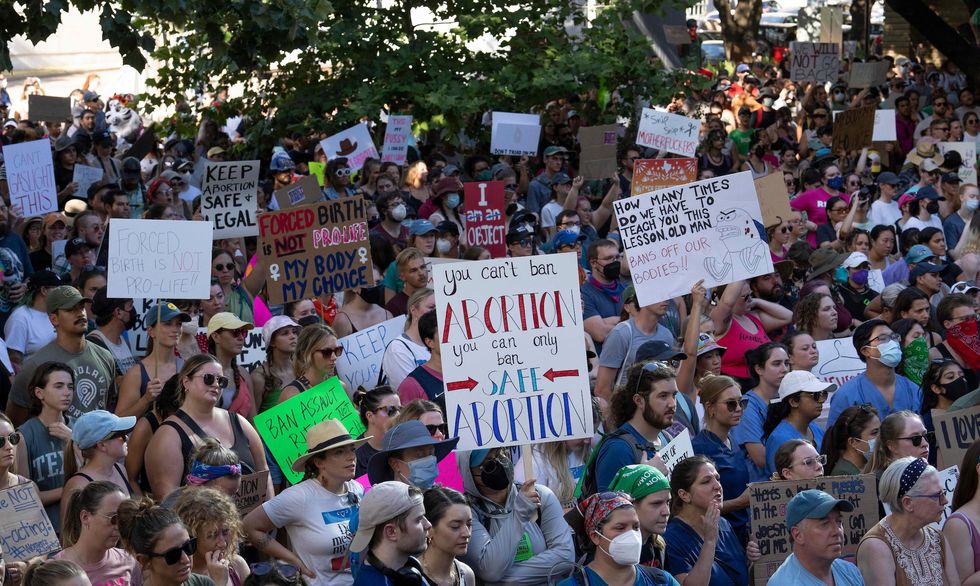 Austin joined cities across the country that saw protests for a women's right to an abortion after the ruling.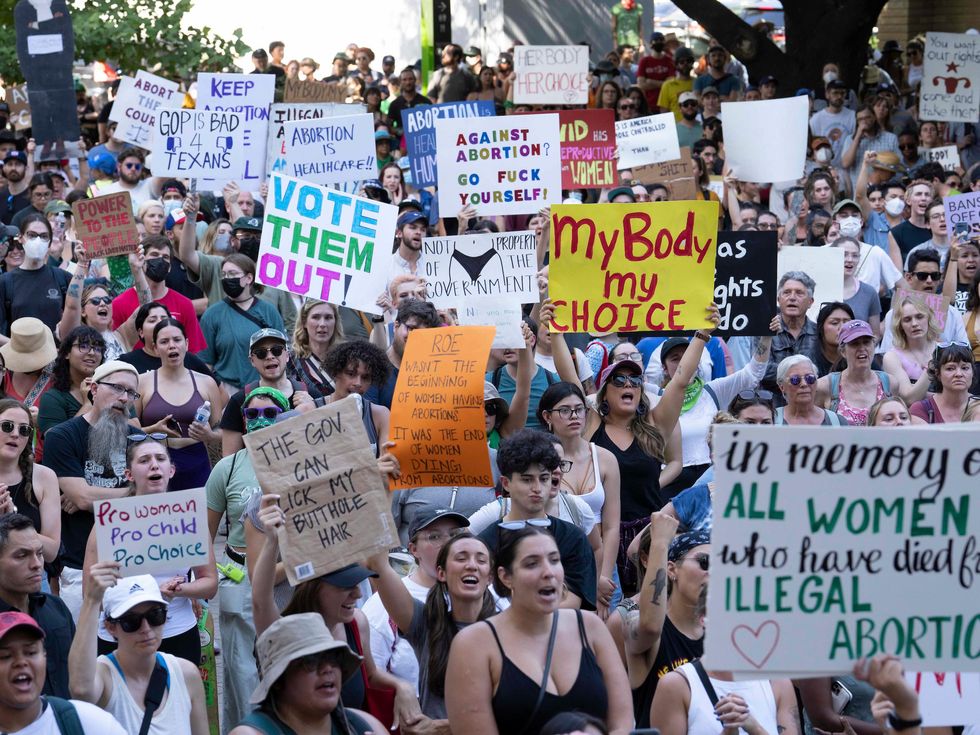 According to a recent UT poll, 78% of Texas voters support abortion access in most cases.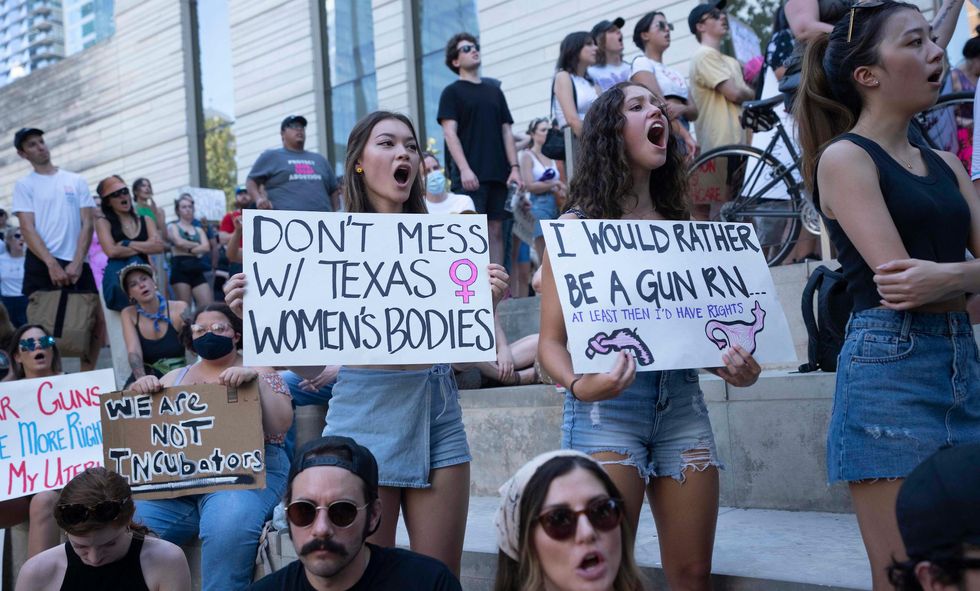 Sabrina Talghade and Sofia Pellegrini held up signs directed at Texas laws. A Texas trigger law will ban all abortions from the moment of fertilization, starting 30 days after the ruling. When state legislators passed the trigger law last summer, it also passed laws for more protection of firearms, including the right to open carry without a permit.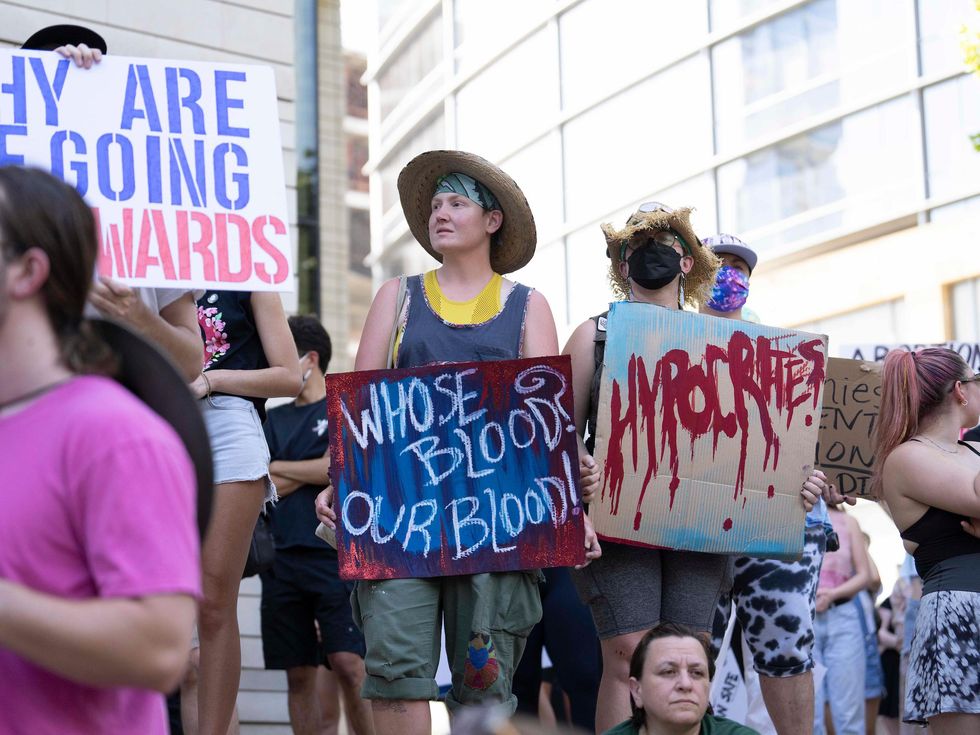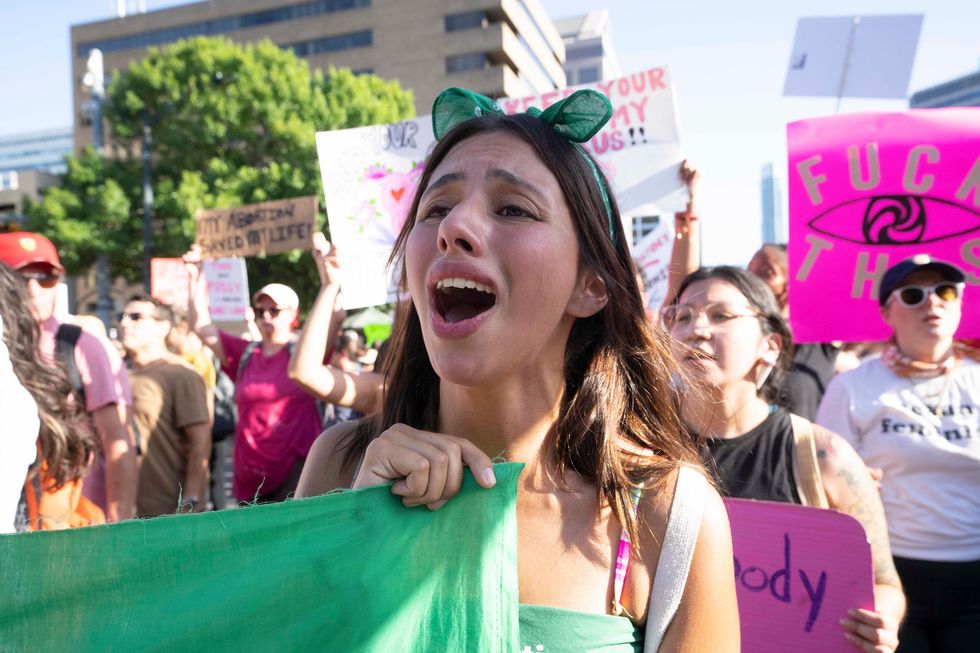 Lili Enthal of Austin yells as around 1,000 Texans marched to the Texas Capitol.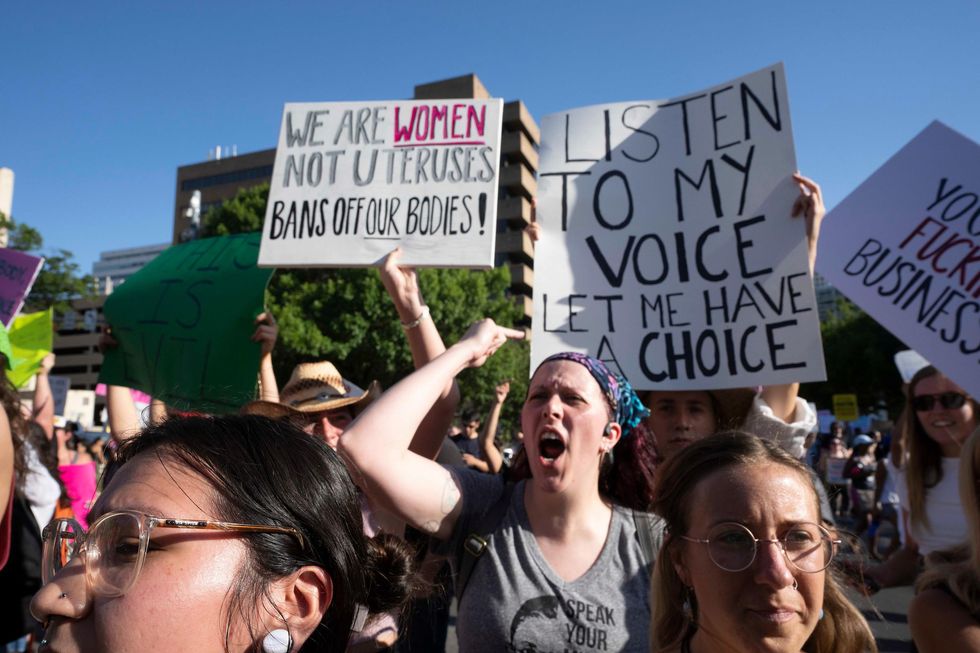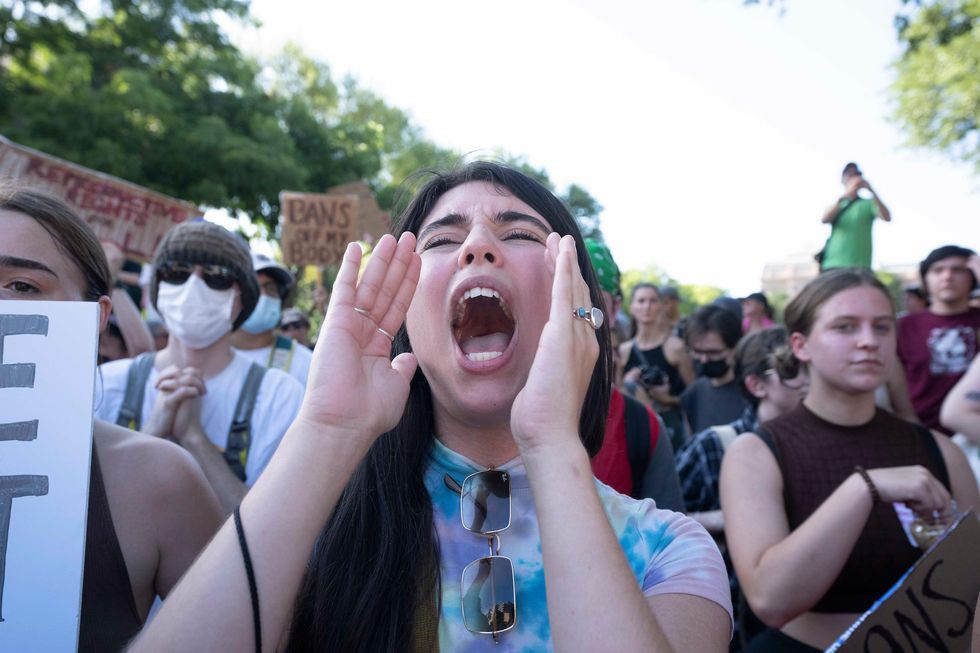 From the Texas Capitol, Zoe Webb lets her voice be heard against the Supreme Court ruling.