Get connected with our daily update
As if 2020 and 2021 haven't handed us enough challenges, now Texas is in the grip of a statewide power shortage that has left millions to fend off the bitter cold without electricity.
It's a Texas-sized problem, transcending individual cities and towns like Austin, the other big cities and the smaller Texas communities. Austin Energy told customers to expect rolling blackouts on Sunday designed to control the city's power burden during the winter storm. Two days later, many homes have found themselves without power for over 30 hours.
---
Solutions will have to come from the state level, especially the power grid operator Electric Reliability Council of Texas, known as ERCOT, according to energy experts interviewed for this story.
Too much demand + too little supply + isolated power grid = the situation we're in now.
High demand. It's cold outside. Really, really cold. Historic low temps, sustained over a period of days is affecting all 268,597 square miles of the Lone Star State. If the weather was not as cold, or didn't last as long, or was only impacting parts of the state, there wouldn't be a problem.
Inadequate supply. Texas is not generating enough of its own power right now. Three main components of this:

Frozen wind turbines. West Texas wind turbines are frozen. Their blades are not turning and they're not generating power, despite mostly unsuccessful attempts to solve the problem by spraying de-icing solution from helicopters. That's not a knock on wind power or renewables, it's just a current fact that knocks a significant portion of Texas's current power generating ability offline. ERCOT's data shows wind power typically accounting for 25% of the state's total, and much of that is West Texas wind that's now producing zero.
Routine winter maintenance. Texas builds its energy system to handle big summer peak loads when the brutal heat sets in and millions of people are blasting their A/C. Coal and natural gas plants that come online periodically to supply power when needed all require routine maintenance. That work is often scheduled in the winter, in order to be prepared for summer peaks. So, much of the "peak power" generating capacity the state needs right now is not available. ERCOT's CEO Bill Magness said Tuesday morning that 10% of the state's power plants are offline.
Bitter cold. Multiple days of freezing temperatures cause problems in the gas fields and make the fuel more difficult to extract. These temps also disrupt some of the "peak power" plants that should be operating, especially the older ones—some dating to the mid-century— that are water-cooled and can't operate with frozen pipes.

Isolation. Texas can't get significant amounts of power from other states because we're literally a "power island," with our own grid that barely connects to others. Power-wise, we're fully quarantined from the states around us. The interconnections between the Texas grid and Louisiana, Oklahoma, Arkansas, New Mexico and Mexico are so few and so paltry that it's not technically possible to push a significant amount of power into Texas. There's less than one gigawatt of interconnect capacity, which is less than 1% of the power Texas needs right now.
All of these factors working together create a critical infrastructure failure that's devastating the state. Homes cold and dark for days in sub-freezing temps. Businesses shut down. First responders, health care workers, truckers, food service and other critical workers not able to operate.
A major power outage like the one being experienced is not unprecedented in Austin. In 2011, the Federal Energy Regulatory Commission published a report titled
"Outages and Curtailments During the Southwest Cold Weather Event of February 1-5, 2011."
In the report, they identified that a primary cause of energy loss came from facilities or reserve energy that "either tripped, was derated, or failed to start." Despite having adequate reserves on paper, ERCOT failed to account for power generating units that could—and did—fail due to the severe cold weather conditions.
Despite recommendations made in that report of the 2011 incident, Austin residents find themselves on the receiving end of infrastructural mistakes. In response to the latest power shortage, Texas Gov. Greg Abbott informed the public on Tuesday that the reform of ERCOT is now an emergency item this legislative session, so the "state never experiences power outages like this again."
With no simple solution, the immediate problem can't be entirely solved until temperatures return to normal.
The Texas French Bread Bakery, located on 2900 Rio Grande Street, has been completely destroyed after a fire erupted on Monday night.
The Austin Fire Department responded to the fire just before 11 p.m., where they arrived to see flames coming from the roof of the bakery. Firefighters fought the fire for about an hour before the roof collapsed.
While no one was injured in the fire, firefighters say the iconic building was completely totaled.
It is still not known what caused the fire at this time, though AFD said arson investigators have been brought in to check every angle. Due to the amount of damage, fire crews said it may not be possible to find the exact cause.

This year, Texas French Bread will celebrate 40 years of business. Before the bakery occupied the building, it was the Rome Inn, a music venue that hosted 1970s artists like Stevie Ray Vaughan.
Austin's first major league team is ready to extend its reach with a new collaborative sports complex The Pitch, an Austin FC destination packed with local food, beverages and Verde fervor is set to open in Northeast Austin in February.
The Pitch, a collaboration between Austin FC and Karlin Real Estate, among other entities, will be located in the 50-acre Parmer Pond District, which already hosts the club's practice facility St. David's Performance Center.
Dubbed a "true destination" for both soccer fans and the community, The Pitch will consist of multilevel shipping containers designed by Mark Odom Studio that will carve out into a 1,200-seat stadium complete with a soccer pitch made of turf, food and beverage options and a five-acre "Parmer Pond" featuring jogging trails.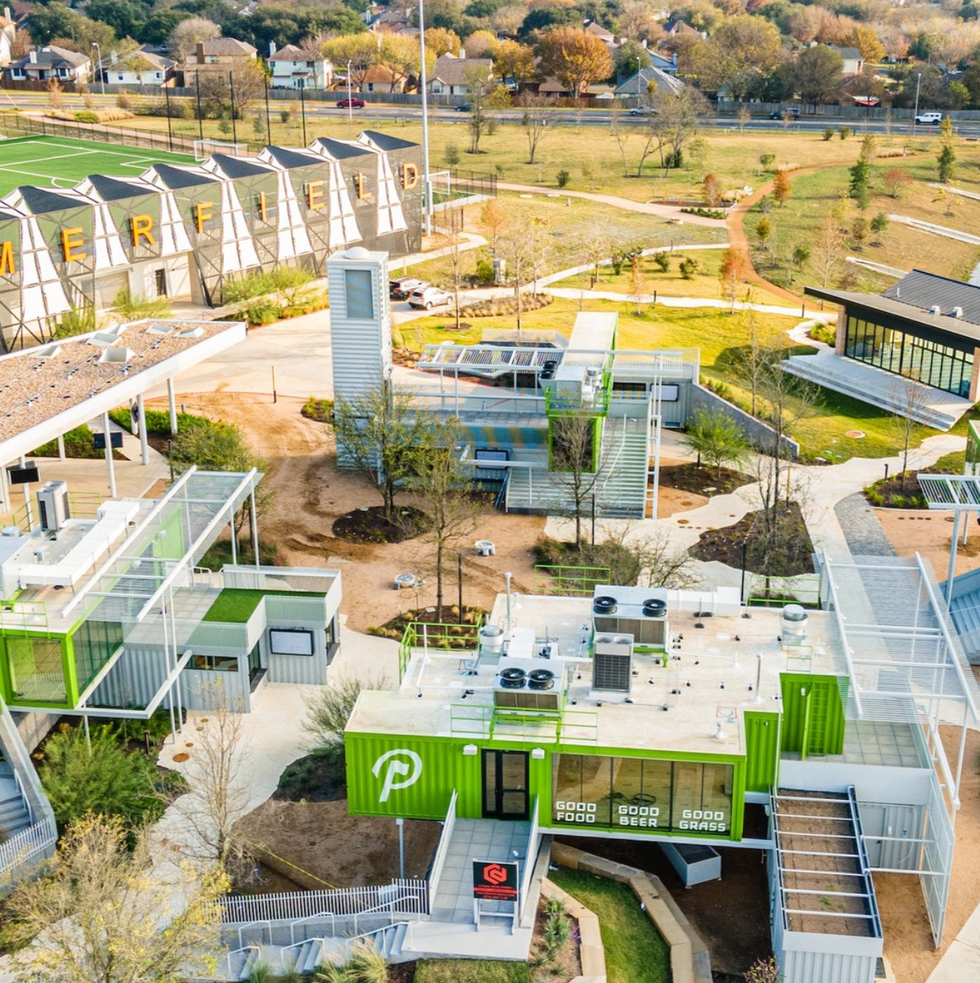 Made from multilevel shipping containers, The Pitch will include food and a 1,200-seat soccer pitch made from artificial turf. (The Pitch)
"The launch of Karlin's new food and entertainment experience will greatly enhance the Parmer development while perfectly complimenting St. David's Performance Center," Austin FC founder Anthony Precourt said. "The Pitch... will offer a strong variety of food options and gathering spaces for guests who will utilize St. David's Performance Center and Parmer Field for a variety of events."
The Pitch project lead Dave Greeley, who helped come up with the concept, is a former president of Austin FC parent company, Two Oak Ventures.
"The vision behind The Pitch at the Parmer Pond District is to be a first-of-its-kind sports, dining and entertainment destination," said Dave Greeley, The Pitch project lead and Team Orbis president. "This will be an unmatched experience for Parmer Austin tenants, Austin FC and club supporters, and the community."
With its proximity to the practice center, the venture hopes to contribute to the growing "soccer city" of Austin during Austin FC matches and youth games with the Austin FC Academy hosted at the St. David's Performance Center.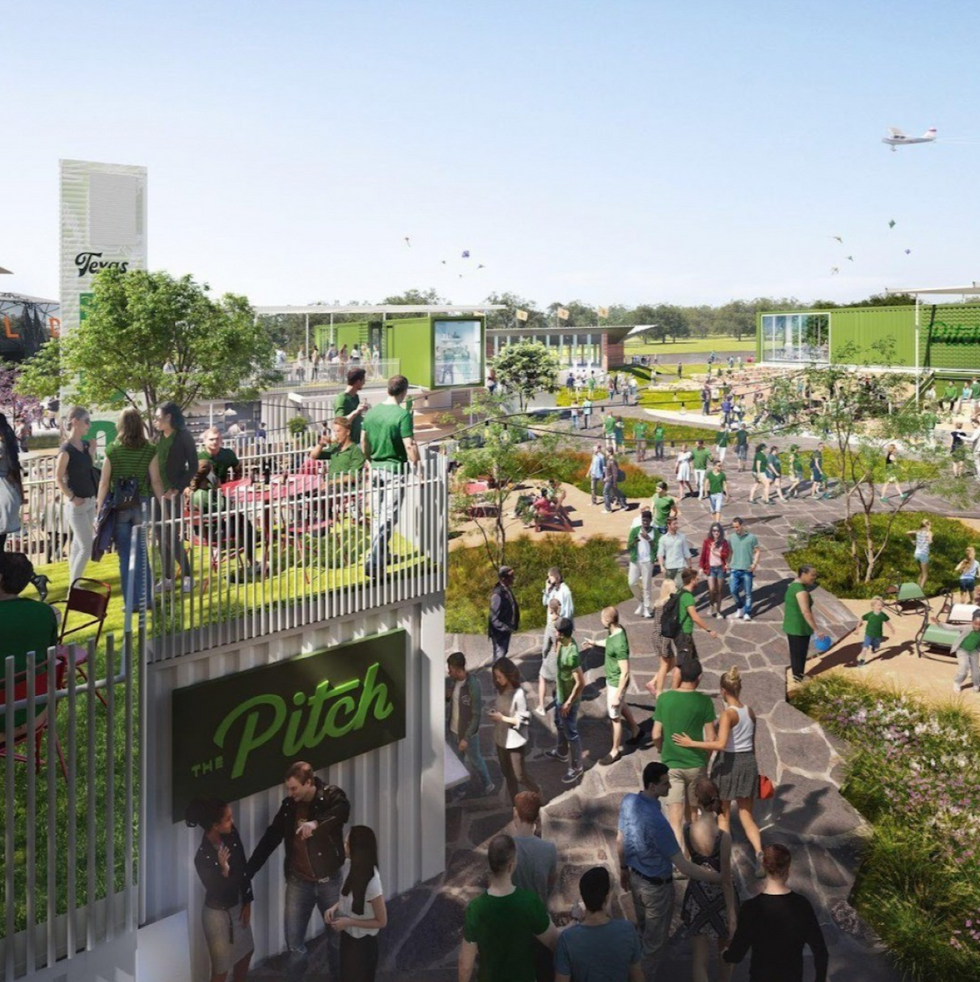 The Pitch hopes to converge both community and club interests with Austin FC. (The Pitch)
In addition to the soccer pitch, stadium and pond, The Pitch will provide a foody experience made by the creative team behind Austin staples like Fareground and Easy Tiger. The complex will offer local bites including:
Ranger Burger, which offers beers and burgers made from highly-coveted Wagyu beef direct from Ranger Cattle in East Austin
Ga Roti, which merges flavors from Northern Vietnam with the culinary techniques of France to create a unique rotisserie chicken joint
Taco Flats, a local taco chain serving Mexico City-style tacos, micheladas and more
Sand Bar, which fulfills its namesake with beauty cocktails, local beers and a sand volleyball court
Coffee Club, a coffee shop and bakery
Corner Kick Bar, the soccer-focused main bar of The Pitch complete with "tunes, TVs and (a) beer garden"
The Pitch will squeeze between St. David's Performance Center and Parmer Pond alongside the southern edge of Parmer Austin, a Karlin Real Estate venture that will eventually include multifamily housing, corporate office space and an aerospace and defense center.