Get connected with our daily update
Although these days he spends most of his time riding horses on his Hawaiian ranch, Willie Nelson is just about as synonymous with Austin as Zilker Park. He's made such an impression on the city that we honor him in every chance we get: in murals, as a statue in front of the Moody Theater (which sits on Willie Nelson Blvd.), on T-shirts and with his 4th of July Picnic.
---
So in celebration of the Red Headed Stranger's 88th year around the sun, here are just a select few of the reasons Austin loves Nelson.
We get to celebrate his birthday twice
Nelson was born just before midnight on April 29, 1933, in Austin, Texas, the county courthouse didn't record his birth until the next morning, officially giving him two birthdays, as he explained on Sirius XM in 2018. Nelson celebrated on April 29 exclusively until he turned 18, joined the Air Force and obtained a copy of his birth certificate. Instead of fretting about the clerical error, Nelson saves people the confusion by celebrating on both days. If anyone deserves two birthdays it's him, right?
He has done some outlandish things for weed
It's not a secret that Nelson has a certain affinity for the devil's lettuce but he didn't start smoking it until he was 21, even refusing the first time it was offered to him. He has since been serious about destigmatizing the use of cannabis. He recently started his own line, called Willie's Reserve, and held a cannabis convention this year. In the in-between, though, Nelson says he's been busted more than a few times for possession.
Upon coming home to see his Tennessee house on fire in 1969, Nelson ran inside in search of two things: his beloved guitar and a pound of Colombian bud. However, Nelson says he didn't go after the weed to save it but to keep himself out of jail for possession.
Equally crazy, Nelson once smoked a joint on the roof of the White House with Jimmy Carter's son, Chip. Ticking off the bucket list, Nelson tried to do the same on the roof of the Governor's Mansion but was caught before the goal was achieved.
One of his albums was released to pay off IRS debt
Owing an estimated $32 million in taxes to the IRS, which Nelson attributes to mismanaged money and bad accountants, federal agents raided Nelson's home in 1990 and seized some of his assets. After the seizure, the IRS charged him $16.7 million. Nelson released a two-disc acoustic album titled "The IRS Tapes: Who'll Buy My Memories?" and gave the IRS a portion of the profits. The ordeal was settled in 1993 and Nelson is proud to say he lived to tell the tale.
He's been a performer since he was a child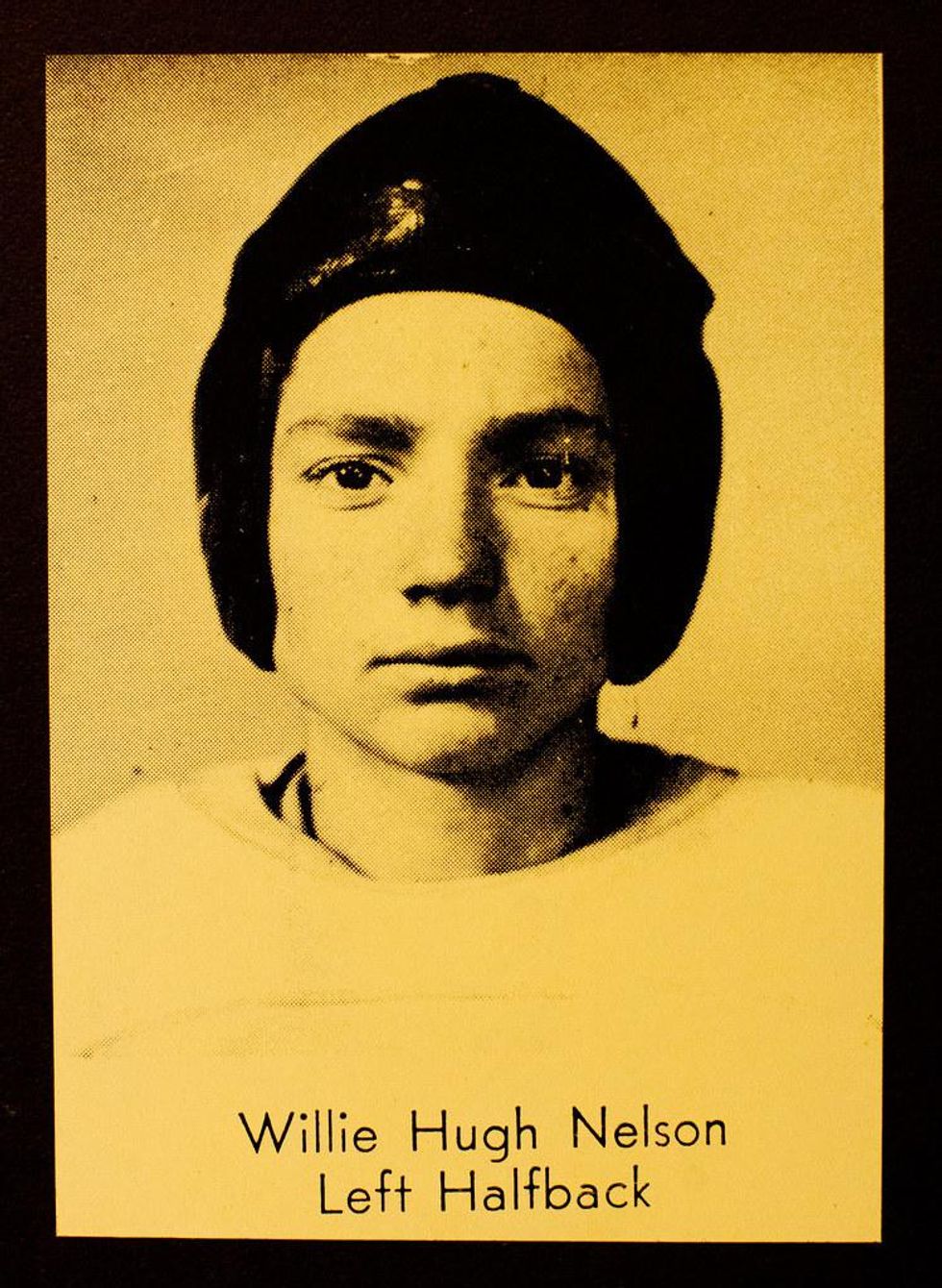 (Thomas Hawk/Flickr)
The first time he ever performed in public, Nelson was 5 years old and recited a poem. He had such a bad bout of stagefright that he started picking his nose until it bled onstage. Though his first performance didn't go well, he was gifted a guitar one year later, when he was 6, wrote his first song when he was 7 and joined his first band when he was 10. By 13, he had played with Bob Wills, the "King Western Swing" music and got a job in a Bohemian Polka band as the lead singer and guitarist. The rest is history!
He's been playing the same guitar for 50 years
Named "Trigger" after Roy Rogers' horse, Nelson has been playing the same guitar for 50 years, which explains the scratches, nicks and beat-up look the instrument has, but he loves it the same. After his trusty Baldwin was damaged beyond repair by a drunk man at a show, Nelson got into the market for a new one. A Martin N-20 classical guitar, Trigger has been with him through his house fire and when the IRS came to raid Nelson's home, he sent Trigger to his daughter, Lana, in Maui, Hawaii, for safekeeping. The guitar has been through hell and back, it even has a hole in the body from use, and sees a guitar technician frequently but still plays as good as it should.
We hope you have two "Willie" nice birthdays, Mr. Nelson!
Expect some whiplash this week, Austinites: with an expected high of 103 degrees, Monday is predicted to be the hottest day of the year, but a midweek cold front is on the way to bring that first glimpse of fall.
Austin-Bergstrom International Airport could see its first 100-degree temperature this year on Monday as temperatures citywide are expected to exceed this year's record of 102 degrees.
After a typical summery Tuesday with highs in the mid-90s, Wednesday will welcome the first signs of fall as a cold front drops lows into the 50s.
Expect more wind and a chance of rain come Tuesday with a 40% chance of scattered storms. The cold front, which should last through Friday, will bring drier, crisper air that could cause fire hazards on Wednesday.
Highs will be in the upper 80s and lows in the 50s and lower 60s for the front's final two mornings.
After months of speculation, a new report says political personality Beto O'Rourke is mulling a run for Texas governor that he will announce later this year.
Sources tell Axios the former congressman is preparing his campaign for the 2022 election, where he will likely vie for the position against incumbent Gov. Greg Abbott. The only other candidate that has announced he will take on Abbott for governor is former Texas GOP Chairman Allen West—no Democrats have announced they are running as of yet.
"No decision has been made," Axios reports David Wysong, O'Rourke's former House chief of staff and a longtime adviser, said. "He has been making and receiving calls with people from all over the state."
A new poll from The Dallas Morning News and University of Texas at Tyler shows O'Rourke is narrowing the gap between himself and Abbott's prospects for governor. In the poll, 37% said they'd vote for O'Rourke over Abbott, while 42% said they'd vote for Abbott.
Abbott has been in the hot seat due to his handling of COVID-19 and the signing of landmark legislation into law, including new abortion and voting rights laws; 54% of poll respondents voted they think the state is headed in the "wrong direction." Still, Texas hasn't had a Democrat as governor since the 90s.
O'Rourke's people-focused approach to the 2018 Senator race, which he lost to Sen. Ted Cruz, gave him a widespread following and many hoped he'd throw his hat into the ring since he said he was considering it earlier this year.
"We hope that he's going to run," Gilberto Hinojosa, the state chair of the Democratic Party, told Axios. "We think he'll be our strongest candidate. We think he can beat Abbott because he's vulnerable."
Austin rapper Jordi Esparza may not have won the 2021 Red Bull Batalla, the world's largest Spanish freestyle rap competition, but for a spirited two rounds, the 22-year old Mexican native looked like he had every right to.
On Saturday evening in Los Angeles, the event itself looked like Cobra Kai meets Star Search with graphics adding a very Batman Beyond aesthetic. Over a dozen rappers hoping to represent the U.S. in the international round of the competition took to the stage with in-your-face jabs at accents, sexual orientation and odors, among other things.
This was Esparza's second rodeo; he had placed third at the 2020 National Finals, automatically securing him a spot this year.
However, things were different this year. He was not nervous about the contest. Unlike in 2020, when he made his Red Bull Batalla debut, the anxiety of the event led him to "feeling so bad."
Affecting a casual calm, the locally-based landscaper said he just felt "so relaxed, so happy" and primarily wanted to "enjoy everything."
Choosing his first-round opponent, Esparza, whose stage name is Jordi, elected to go against LA-based Boss.
Esparza freestyled an attack on his opponent's weight and cholo style of dress.
Boss—bracketing his Latin freestyle with English appeals to the crowd—mocked Jordi's lack of education, made fun of how clean Jordi's shoes looked and suggested that Jordi just came back from a Footlocker.
That first round went to Jordi.
But his next opponent Eckonn would prove to be his undoing.
Eckonn compared Jordi to Hannah Montana, while Jordi soulfully explained that he had learned from the best.
Esparza's verbal dexterity is matched by a rattling rhythm and a game face that is as mawkish as it is mockish. The overall effect is that of an underdog with bite.
Eckonn beat Esparza in that round with the overall championship going to Palm Beach-based rapper Reverse.
However, Esparza was just happy to be there. He recently told Austonia going to the finals again was a dream come true—a pinnacle that he said he won't know how to top.
With his nimble jabs and sneaky prowess, honed from pop culture and the swagger of a young working man hungry to be more, Jordi Esparza is just getting started.