Get connected with our daily update
Although these days he spends most of his time riding horses on his Hawaiian ranch, Willie Nelson is just about as synonymous with Austin as Zilker Park. He's made such an impression on the city that we honor him in every chance we get: in murals, as a statue in front of the Moody Theater (which sits on Willie Nelson Blvd.), on T-shirts and with his 4th of July Picnic.
---
So in celebration of the Red Headed Stranger's 88th year around the sun, here are just a select few of the reasons Austin loves Nelson.
We get to celebrate his birthday twice
Nelson was born just before midnight on April 29, 1933, in Austin, Texas, the county courthouse didn't record his birth until the next morning, officially giving him two birthdays, as he explained on Sirius XM in 2018. Nelson celebrated on April 29 exclusively until he turned 18, joined the Air Force and obtained a copy of his birth certificate. Instead of fretting about the clerical error, Nelson saves people the confusion by celebrating on both days. If anyone deserves two birthdays it's him, right?
He has done some outlandish things for weed
It's not a secret that Nelson has a certain affinity for the devil's lettuce but he didn't start smoking it until he was 21, even refusing the first time it was offered to him. He has since been serious about destigmatizing the use of cannabis. He recently started his own line, called Willie's Reserve, and held a cannabis convention this year. In the in-between, though, Nelson says he's been busted more than a few times for possession.
Upon coming home to see his Tennessee house on fire in 1969, Nelson ran inside in search of two things: his beloved guitar and a pound of Colombian bud. However, Nelson says he didn't go after the weed to save it but to keep himself out of jail for possession.
Equally crazy, Nelson once smoked a joint on the roof of the White House with Jimmy Carter's son, Chip. Ticking off the bucket list, Nelson tried to do the same on the roof of the Governor's Mansion but was caught before the goal was achieved.
One of his albums was released to pay off IRS debt
Owing an estimated $32 million in taxes to the IRS, which Nelson attributes to mismanaged money and bad accountants, federal agents raided Nelson's home in 1990 and seized some of his assets. After the seizure, the IRS charged him $16.7 million. Nelson released a two-disc acoustic album titled "The IRS Tapes: Who'll Buy My Memories?" and gave the IRS a portion of the profits. The ordeal was settled in 1993 and Nelson is proud to say he lived to tell the tale.
He's been a performer since he was a child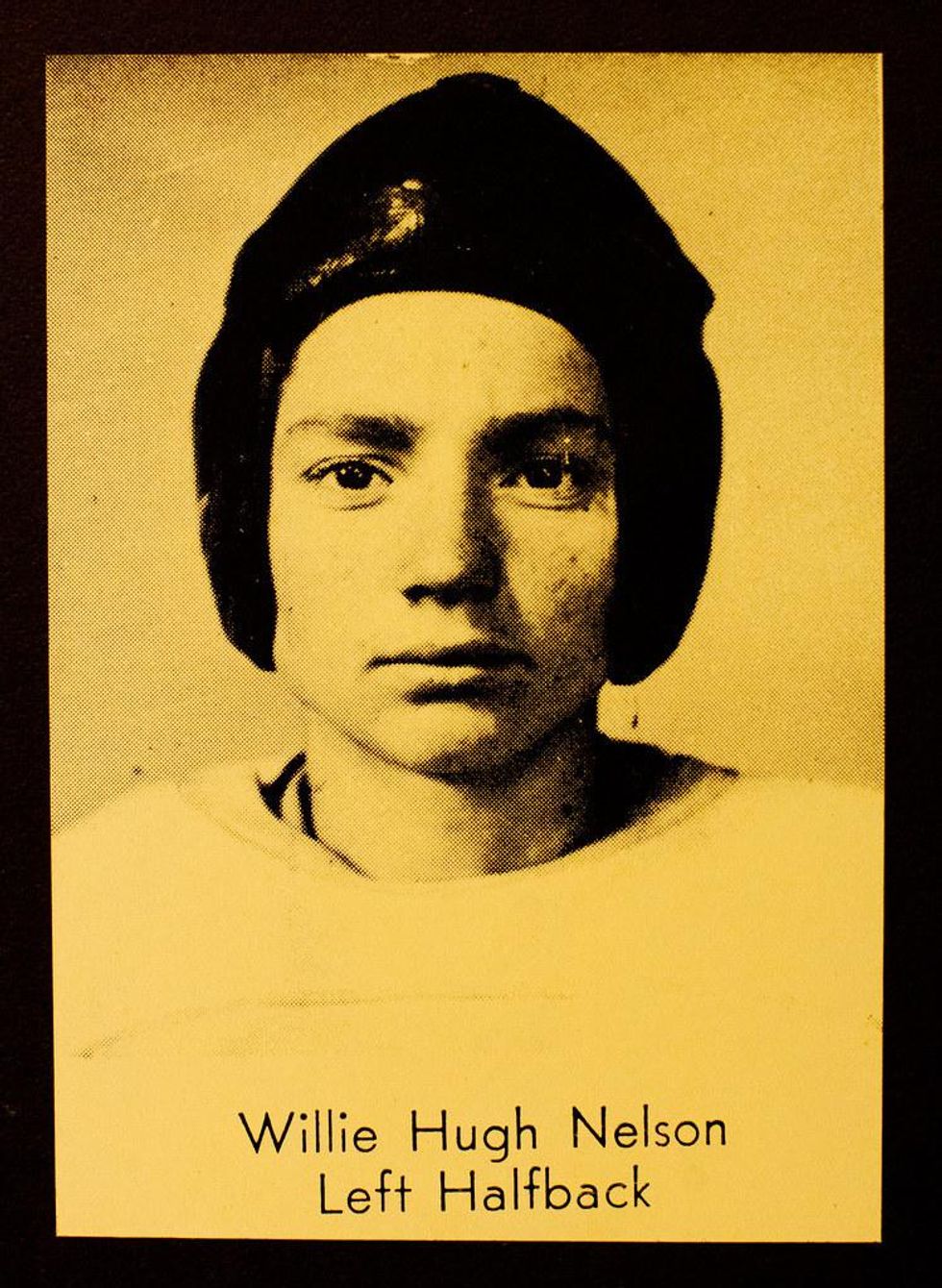 (Thomas Hawk/Flickr)
The first time he ever performed in public, Nelson was 5 years old and recited a poem. He had such a bad bout of stagefright that he started picking his nose until it bled onstage. Though his first performance didn't go well, he was gifted a guitar one year later, when he was 6, wrote his first song when he was 7 and joined his first band when he was 10. By 13, he had played with Bob Wills, the "King Western Swing" music and got a job in a Bohemian Polka band as the lead singer and guitarist. The rest is history!
He's been playing the same guitar for 50 years
Named "Trigger" after Roy Rogers' horse, Nelson has been playing the same guitar for 50 years, which explains the scratches, nicks and beat-up look the instrument has, but he loves it the same. After his trusty Baldwin was damaged beyond repair by a drunk man at a show, Nelson got into the market for a new one. A Martin N-20 classical guitar, Trigger has been with him through his house fire and when the IRS came to raid Nelson's home, he sent Trigger to his daughter, Lana, in Maui, Hawaii, for safekeeping. The guitar has been through hell and back, it even has a hole in the body from use, and sees a guitar technician frequently but still plays as good as it should.
We hope you have two "Willie" nice birthdays, Mr. Nelson!
Whether you became a home chef when the pandemic began or have always enjoyed crafting delicious meals, it's undeniable that no home is complete without a cozy kitchen.
Not only do these luxurious homes have enviable amenities like natural light, sky-high ceilings and land to grow into, they also boast extraordinary kitchens. These are not your mom's kitchens—we're talking wine fridges, Miele appliances and wet bars.
Take a peek at these five gems on the market now.
In the South Austin Parten community, this castle-like four-bedroom, three-and-a-half bathroom stunner puts you just minutes from Austin, Dripping Springs and other nearby communities. Stark white and black contrasting features give the interiors a clean look, while a large curving staircase serves as a centerpiece for the ground floor. The chef's kitchen is spacious, facing the living room and multiple windows, and immediately draws the eye. Upstairs you'll find a spa-style bathroom, game room with a wet bar and Hill Country Views.
This listing is held by
Adam Zell and Lexie Zell.
This hyper-modern, 3,300-square-foot Scandinavian-styled home is a paradise for natural light in Hyde Park. With four bedrooms and three-and-a-half bathrooms spread across one story, the home rests on concrete columns to protect from extreme climate conditions. Inside, you'll find crisp, clean trim in the open-plan kitchen with built-in luxury appliances and a walk-in pantry. Lofty 12-foot ceilings and gigantic windows set the tone, with a wet bar and second living room for entertaining. When you retire to the master bedroom, enjoy a warm bath in the soaking tub or enjoy the multi-output shower.
This listing is held by Austin Stowell.
In the heart of Westlake, this stacked three-story new build is a sprawling 4,483 square feet with five bedrooms and four-and-a-half bathrooms. The home is centrally located and full of natural light, especially on the open concept first floor, which includes the kitchen, casual dining space and living area. The third floor has a bedroom and loft, perfect for the at-home worker.
This listing is held by Jen Templeton and Cheryl Albanese.
This 3,539 square foot, three-bedroom, three-and-a-half bathroom Tarrytown townhouse is newly remodeled but still holds on to its vintage charm. Bright white cabinets, a green accented island and quartzite countertops in the kitchen give the space a cheery feeling. Entering on the second floor, you'll have to walk downstairs to get to the bedrooms, which include ensuite baths and walk-in showers. The third level bonus room is the perfect place for an at-home office.
This listing is held by
Cindy Fowler
.
​Just outside Austin in the sleepy town of Wimberley, the Backbone Ridge Ranch is one of the city's most "iconic and pristine" properties. On nearly 50 acres of land, the house takes you into nature without getting too far from nearby cities. With 4,369 square feet, six bedrooms and six-and-a-half bathrooms, floor-to-ceiling windows effortlessly light the entire space. You'll feel like a celebrity chef while cooking in the kitchen, even more so entertaining from the outdoor kitchen and living space. The 33,000-gallon quarried limestone pool is perfect for those hot Hill Country summers!
This listing is held by
Nicole Kessler.
Sample some spirits
When: 11:30 a.m. Friday, Saturday and Sunday
Where: Desert Door, 211 Darden Hill Rd. Driftwood
What: Attend Desert Door Distillery's first Explorer Series of 2022. Guests will be able to sample Caliber on its own or in a delicious cocktail.

Eat some chili
When: 12 p.m. Saturday
Where: Sagebrush, 5500 S. Congress Ave.
What: Enjoy great chili and great music at the 14th Annual Chili Cold Blood Chili Cook-Off. All proceeds will be donated to Health Alliance for Austin Musicians in memory of Nick Curran.

Enjoy some local art
When: 4 p.m. Saturday
Where: Neill-Cochran House Museum, 2310 San Gabriel St.
What: The Neil-Cochran House Museum will host a multi-media art exhibition by Austin artist Nell Gottlieb, titled "Land as Persona: An Artist's Journey." Gottlieb works in multiple media to reexamine her coming of age, white and female in the Jim Crow South.

Catch some improv comedy
When: 7 p.m. Sunday
Where: GameOn! ATX, 1515 Dungan Ln.
What: ColdTowne ThrowDowne is an improv comedy tournament between troupes that will take place in front of a live studio audience and streamed live to the world on Twitch.

Catch a Johnny Cash-style show
When: 7:30 p.m. Sunday
Where: Georgetown Palace Theatre, 810 S. Austin Ave.
What: Experience music history with a unique musical about love and faith, struggle and success, rowdiness and redemption, and the healing power of home and family set to the tune of the legendary Johnny Cash.