Get connected with our daily update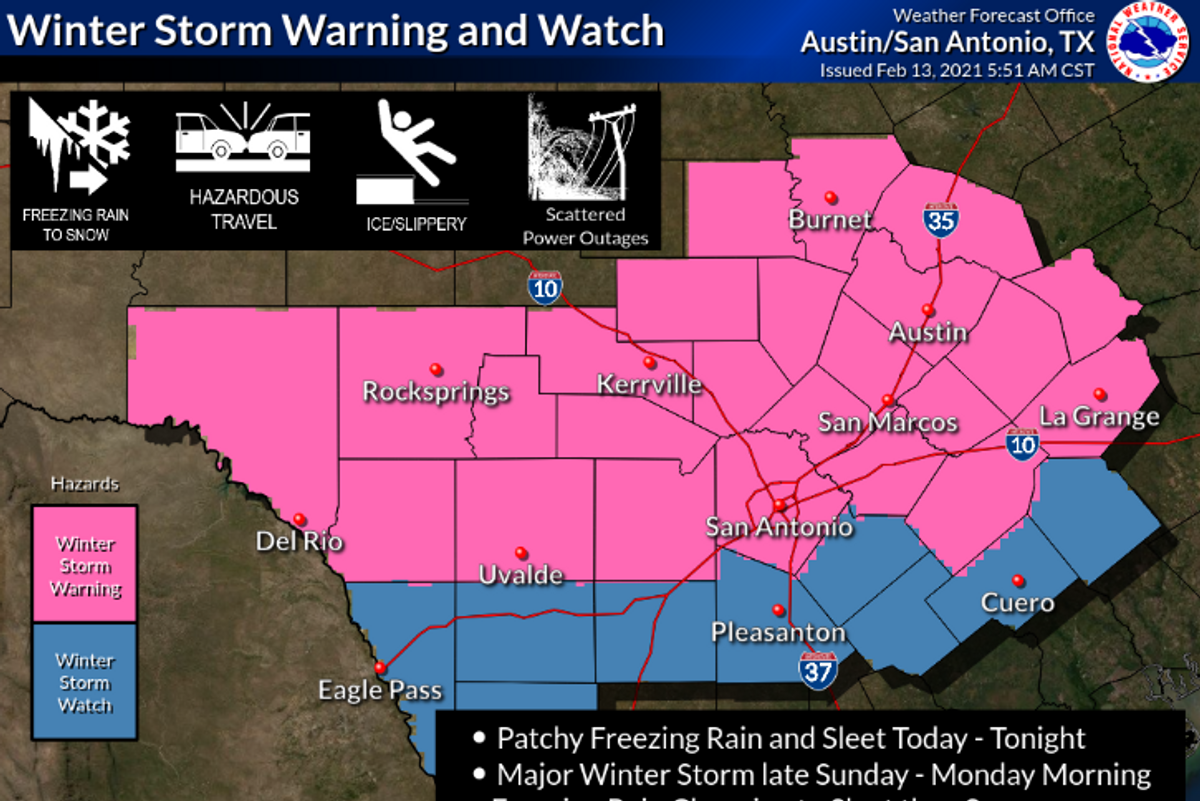 (National Weather Service)
The intense cold continues in Central Texas, as Austin heads into some of the coldest days in over 20 years. A winter storm warning has gone into effect from this morning until Monday.
According to the National Weather Service, patchy freezing rain and sleet could occur into Saturday night, while a major winter storm is predicted on Sunday and Monday. On those days, up to two-tenths of an inch of ice accumulation is possible, while some areas may receive up to six inches of snow.
---
All parts of the city are feeling the impact of the weather in one way or another.
Staying safe
Due to icy road conditions, officials including Mayor Steve Adler have warned to stay cautious on roadways, only traveling when necessary. According to KXAN, Austin-Travis County EMS crews answered nearly 650 calls in a 24-hour period from noon on Thursday to the same time Friday for weather-related incidents.
If you must drive, you can view what roads have ice on them here, while local roadway conditions will be updated on Austin Transportations Twitter.
As tree limbs fall on power lines and ice weighs them down, power outages are occurring throughout the city. As of 9:45 a.m., 1,200 Austinites were without power and 14 incidents required tree trimming.
A map of power outages in the city can be found here.
Adler said that Austin Energy is repairing the system as quickly as possible, but those who need a place to keep warm can head to the Palmer Events Center on 900 Barton Springs Road. The center opened at 10 a.m. Saturday, and an evening shelter is available upon request.
With growing concerns for the safety of homeless populations, Adler announced that cold weather shelters will operate 24/7 until further notice. Those seeking shelter can head to the Central Library, located at 710 W. César Chávez St., at 6 p.m. to be transported to shelters.
Vaccine Appointments
Austin Public Health has shut down all three COVID-19 vaccine clinics and will be canceling all appointments on Saturday due to inclement weather.

The 2,300 appointments set for today, which were all for second doses of the vaccine, will be rescheduled for next week.
The department will reach out through email or phone as conditions are monitored throughout the coming days, so those who had appointments do not need to contact APH to reschedule.
All of the appointments were for those who were administered their first dose between Jan. 11 and Jan. 16. The doses, when refrigerated, will remain viable for 30 days, and those taking the second dose can do so between 28 and 42 days after their first appointment, according to new guidelines from the Centers for Disease Control and Prevention.
Dr. Mark Escott, interim public health authority for Austin-Travis County, said that it is important for the city to keep people safe from both hazardous weather conditions and COVID-19.
"We know this is frustrating and disappointing," Escott said. "The health and safety of our residents is our top priority and we want to ensure that we do not put people in harm's way while protecting them from COVID-19."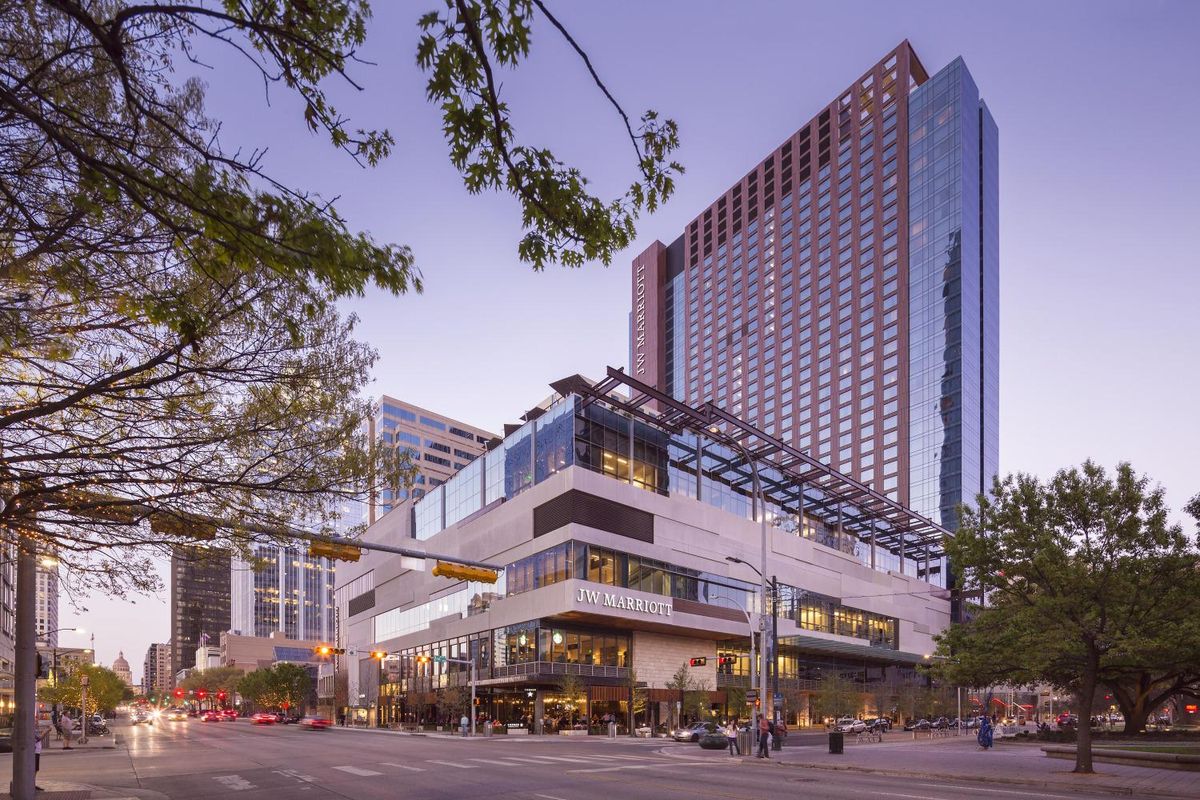 Chi Lee, the director of architecture firm HKS's new Austin office, describes this point in our city's life as puberty.
"Our voices are changing and we have freckles everywhere," Lee said. "You know, starting to look like an adult but still acting like a kid kind of thing."
But as Austin matures and faces all the pressures of its increased popularity—competing for company relocations and expansions all while managing rising rents and affordability woes—Lee thinks we should look outside when planning an approach to Austin's growth.
"A big mistake we could make is if we don't embrace what other cities, nationally, regionally, internationally have done to improve upon the experience of all the folks who live there."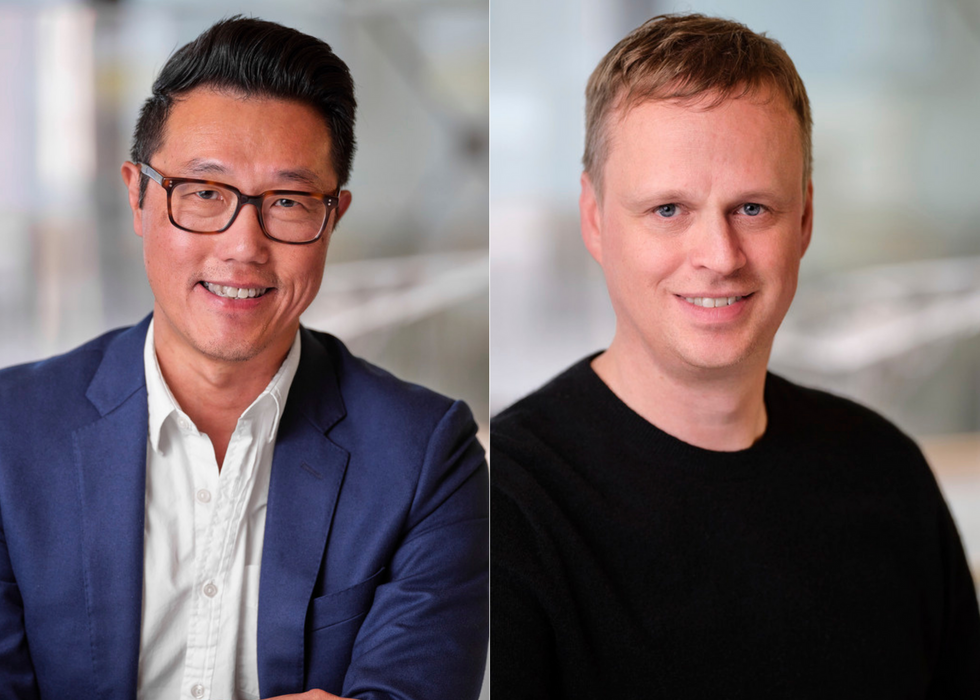 Chi Lee and Brad Wilkins (HKS)
Lee and HKS studio design leader Brad Wilkins keep this in mind as the firm, which has carried out projects in Austin since the 80s, further cements its presence here.
HKS is making ambitious strides in Austin: the firm has more than 50 projects in design or under construction in the Austin market, including Domain 9, the Dell Children's Medical Center expansion and projects in the Rainey Street District including one that may end up being the tallest tower in Texas.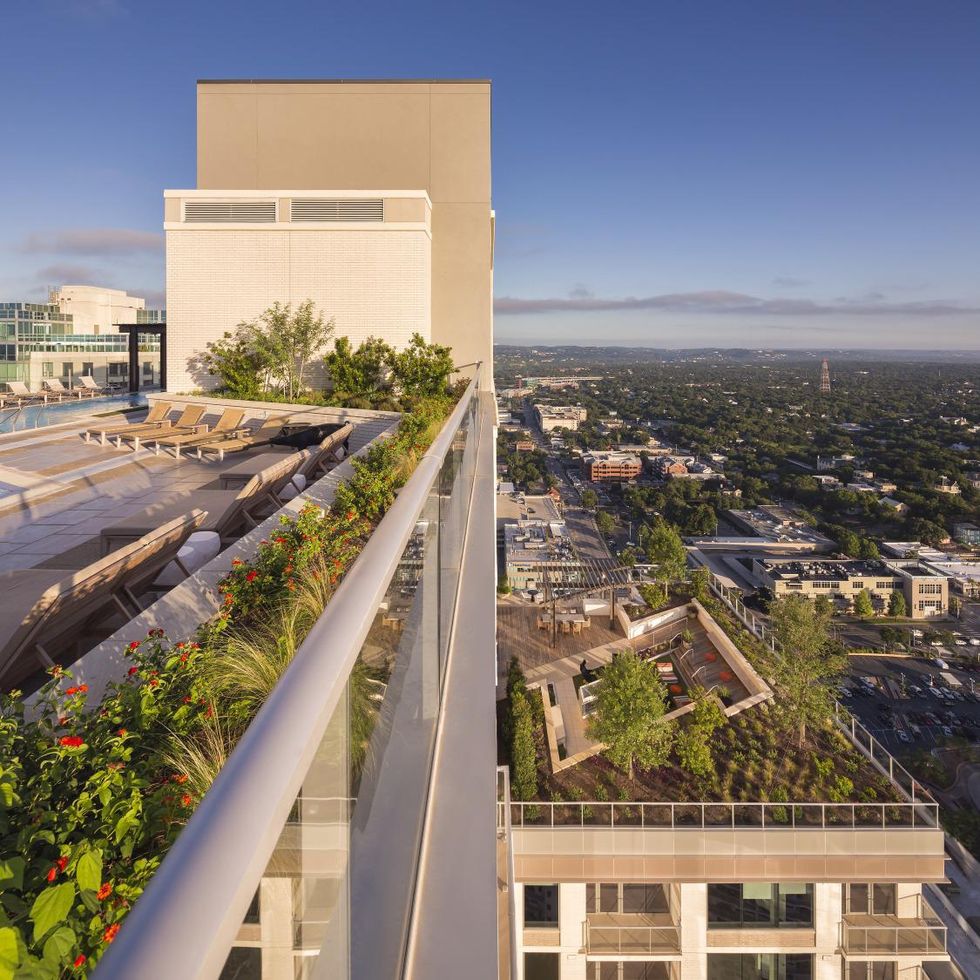 The Bowie, a 36-story apartment tower HKS designed in Austin's Central Business District. (HKS)
"We've been able to do things during the pandemic, and since then, which are really pushing the boundaries of what Austin would typically do. And frankly, what would be done anywhere in the world," Wilkins said. "Things like having outdoor space on every level of an office tower and creating the spaces not just to be like outdoor spaces, but to be spaces that people can actually enjoy."
As these projects span all over the city, Lee and Wilkins are observant of how action on certain quality of life factors could be key to preventing problems as Austin draws in a larger population.
For Wilkins, that's informed by his international work. He's lived in about half a dozen places in Europe and Asia, starting his career out in Chicago. He's carried out big projects and was one of the designers of the first LEED platinum building just outside of Hong Kong.
"One thing that we're always needing to be very careful about is looking at things that were not done great," Wilkins said. "There are mistakes in public transportation in those cities that I worked in overseas, there are mistakes in public housing."
It's partly why the pair see Project Connect—the $7.1 billion transit system expansion voters approved in November 2020 that includes light rail lines, a downtown subway and an expanded bus system—as a boon to the city's future.
Lee said he's excited that HKS is working on a couple of projects that are along the future lines and sees it as a massive opportunity for the city.
"We need to get out of our cars if we can. We just don't have the type of transportation infrastructure in place that needs to be in place," Lee said. "A lot of major metropolitan and urban cities have subway systems and light rail systems and things like that, where we don't."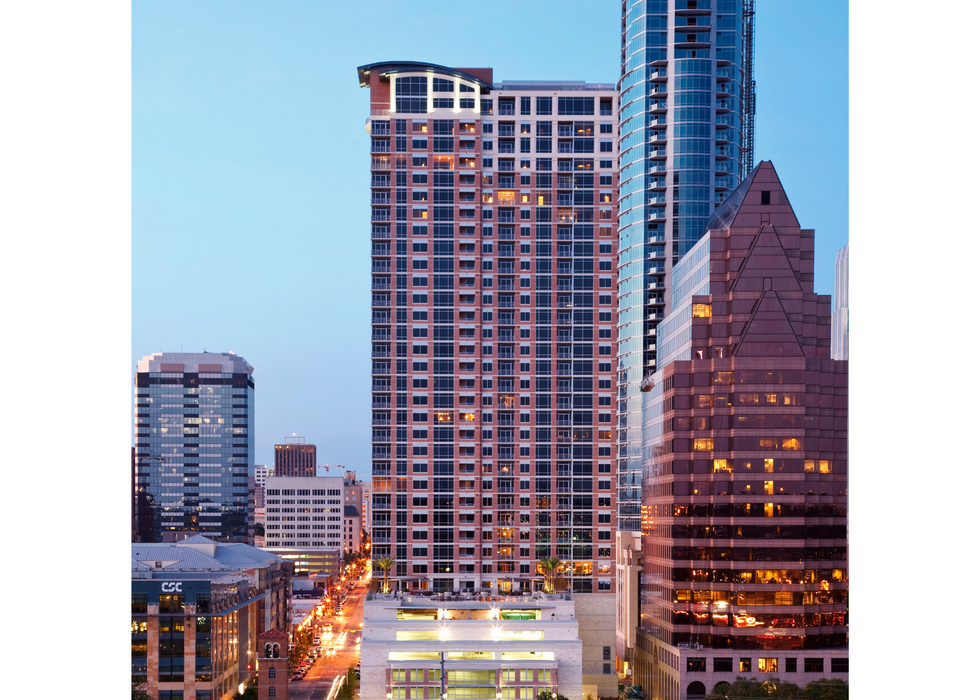 The Ashton (HKS)
Still, someday Austin will. The plan is trudging ahead with moves on anti-displacement initiatives and collecting input on design proposals for key lines. So even while HKS prepares for changes to the city from the ground up, Lee and Wilkins aim to maintain the city's personality.
"I'm always more about the local place, not the international place, even though I do bring with me international experience," Wilkins said. "Chi and I are only interested in doing Austin, we're interested in making Austin special, keeping Austin culture."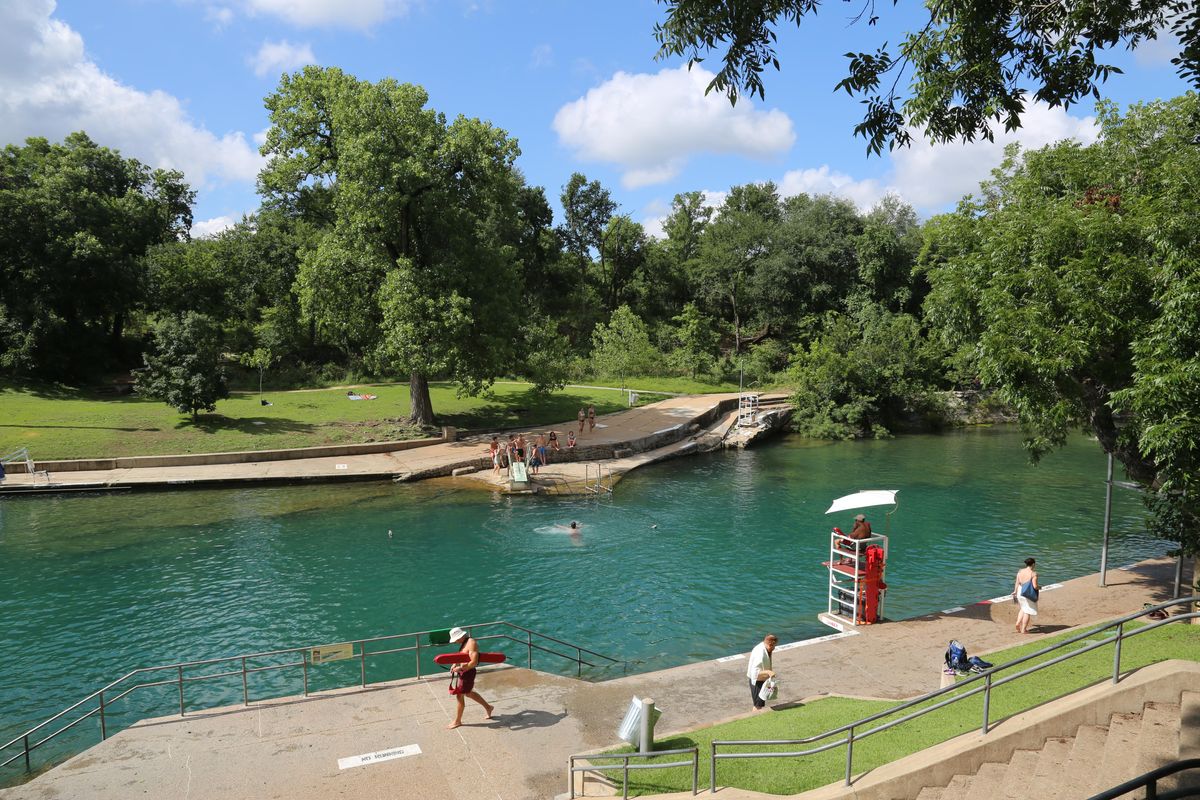 Fewer than half of the city's pools will open for summer while the Aquatic Department works to fill out its shriveled roster.
The city needs 750 to be fully staffed and is currently working with a pool of 234 lifeguards—31% of employees needed—on staff as of Monday. Come June 6, only 15 of the city's 34 pools will open.
The job pays between $16-$19 an hour, anyone over 15 can get certified and there are bonuses to the tune of $1,250 on the table but some workers and city representatives say the pay doesn't match the work.
Barton Springs Pool lifeguard Scott Cobb told Austonia the job is "very satisfying," which is why he's been doing it for the last 11 years. However, Cobb believes the shortage can be partially attributed to wages not rising alongside inflation, unpaid training, limited benefits and unstable hours.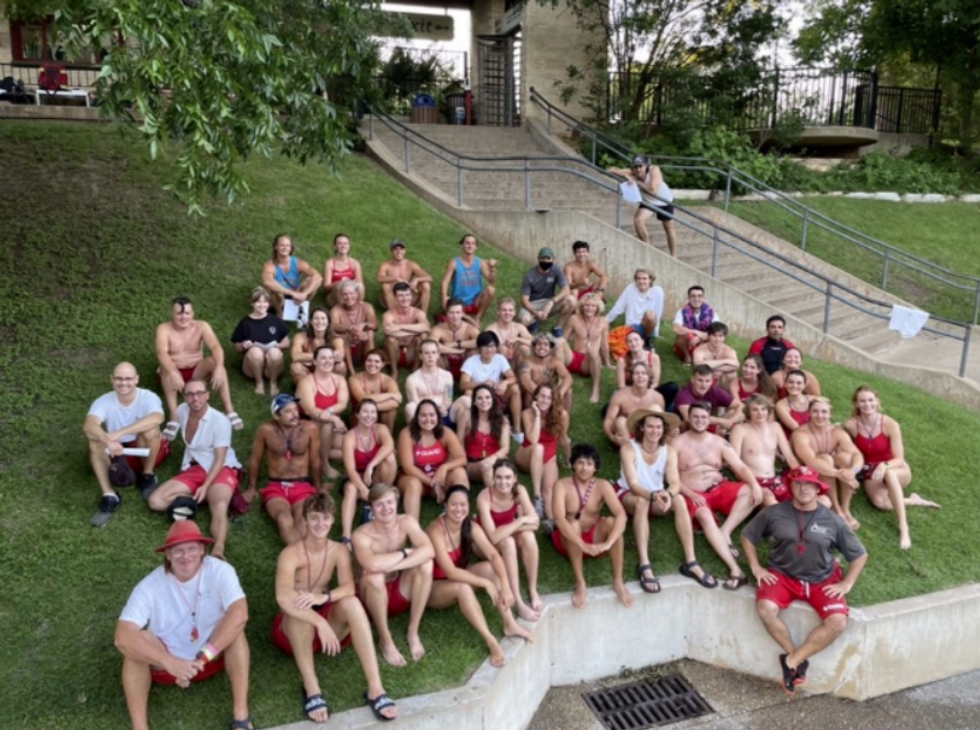 (City of Austin)
"If you factor in the increase in inflation over the last three years and rent, our pay has actually gone down. We've taken a pay cut in order to remain lifeguards," Cobb said. "People work 30-40 hours, get as many hours as they can, but they don't have any money left and a living wage means that at the end of the month, you're supposed to have some money left."

Cobb has been advocating for Austin City Council to waive the $20 registration fee for the lifeguard course, which he said will make going through a 40-hour unpaid training more accessible, and raise lifeguard wages to $22/hour in October.
The cause has gained the support of Council Members Vanessa Fuentes and José Vela, a former Barton Springs lifeguard himself, who both said they support raising wages to $22/hour.
Cobb said that it is hard to qualify for benefits, hours fluctuate depending on the season, there is a physical demand for the job, and lifeguards are not given paid time off or holiday pay, despite having to work most holidays.
"Although I have health insurance through the city, I'm afraid that in October when they reevaluate I will lose that health insurance because of the closing of the pools," Cobb said. "The reason there's a lifeguard shortage is because at the current rate, people do not want to do this job."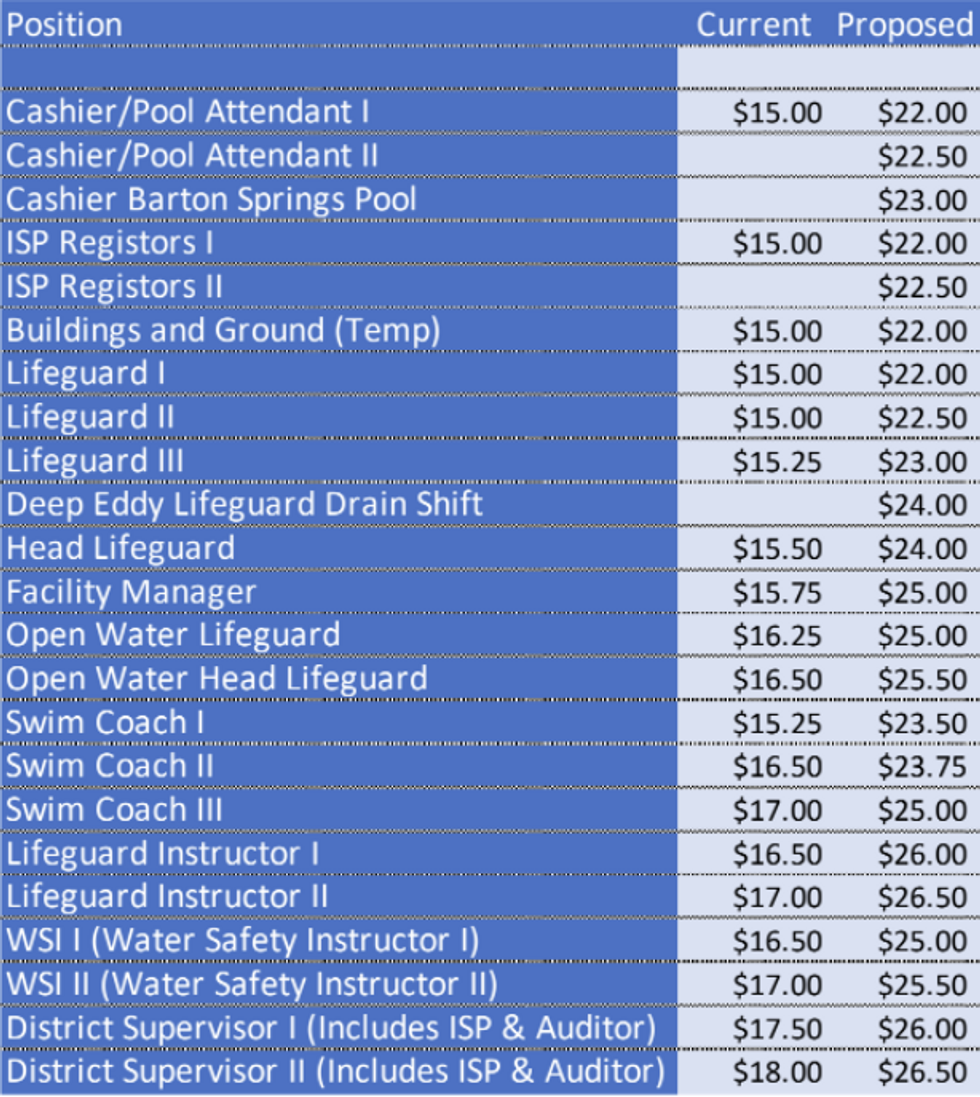 (Jose Vela)
A May 9 presentation to Vela by lifeguards showed proposed compensation structure, mentioning how cities like Phoenix curbed shortages by paying higher bonuses and proposed raising pool entrance fees by $1-3 to help offset costs.
"The type of people who work at Barton Springs enjoy it the most on the busiest days," Cobb said. "It's satisfying to save people's lives and bring them out of the water. They're grateful... It's a job to help people and people enjoy that as long as they can, but there's a limit and people rely on better paying jobs."
Starting on Memorial Day, Barton Springs Pool will resume Monday operations. Click here to see a full list of opening pools.