Get connected with our daily update
Austin schools, grocery stores, vaccine providers, public transit and airlines announced a third day of closures and other service impacts due to the ongoing winter storm, which has caused mass power outages and other issues. Local officials and community organizations have also opened additional warming centers due to demand.
---
Austin ISD canceled classes Wednesday and Thursday as buses cannot transport students and internet and power outages may affect their ability to attend online classes. Friday will be an asynchronous learning day. The district will apply for a waiver from the Texas Education Agency to avoid needing bad weather makeup days.
Eanes ISD closed all facilities and canceled remote instruction Wednesday. The district will provide updates on its website.
The University of Texas at Austin campus will remain closed at least through Thursday morning and all classes and events, including virtual and online ones, are canceled.
Austin Community College will remain closed through Sunday, with all online and remote classes also canceled.
St. Edward's University has canceled all on-campus and remote work, virtual classes and activity through Friday morning.
Capital Metro suspended all services Wednesday, after doing the same on Monday and Tuesday. The transit agency is focusing on supporting those at cold weather shelters and those in need of life-saving trips, according to a spokesperson.
H-E-B's Austin stores will be open from noon to 5 p.m. on Wednesday, except for the following locations, which will be closed:
Hwy. 183 & Lakeline
620 & 2222
7th & Pleasant Valley
Spicewood Springs & 183
Well Branch & 1825
Slaughter & Menchaca
Riverside and S. Pleasant Valley
183 & 290
FM1431 & 183
Lamar & Rundberg
Parmer & McNeil
Parmer & I-35
Anderson & 620
S. Congress & 1-35
Parmer & MoPac
Central Market's North Lamar location will be open from noon to 6 p.m. on Wednesday. Its Westgate location will be closed due to a power outage.

Trader Joe's locations—on Great Hills Trail, at Seaholm and in Rollingwood—are all closed Wednesday.
Wheatsville Food Coop's Guadalupe location will be open from noon to 10 p.m. on Wednesday and from 11 a.m. to 10 p.m. on Thursday. Its South Lamar location is closed.
Whole Foods' five Austin locations—Plaza Saltillo, Lamar, Domain, Gateway and Arbor Trails—are all closed Wednesday. According to the store location, all will reopen Thursday morning.
Target's Austin locations are all open.

Austin Public Health closed its COVID-19 testing sites and vaccine clinics on Monday and Tuesday due to inclement weather and has not yet provided an update.
UT Health Austin, the clinical wing of Dell Medical School and one of two vaccine hub providers in Travis County along with Austin Public Health, canceled all vaccine appointments through Thursday. Staff will reach out to appointment holders to reschedule at a later date.
Austin-Bergstrom International Airport plans to resume flights at 1 p.m. Wednesday and advises travelers to check their flight status with their airlines as some delays and cancellations are still expected.
The U.S. Postal Service temporarily suspended mail processing operations at six Texas plants Tuesday. Two have since resumed operations.
Walmart closed 306 Texas stores due to the winter storm, but its Supercenter locations on West Anderson Lane, W. Hwy. 290 and East Ben White Boulevard are still open. A map of the closures can be found here.
Warming centers
Warming centers currently open to the public can be found at:
Palmer Events Center, 900 Barton Springs Road, Austin
Del Valle High School, 5201 Ross Road, Del Valle
Austin ISD has also opened two daytime warming centers, where residents can warm up and charge essential medical devices. They will be open until 9 p.m.:
Barrington Elementary School, 400 Cooper Drive, Austin
Joslin Elementary School, 4500 Menchaca Road, Austin
Russell Lee Elementary School, 3308 Hampton Road, Austin
Murchison Middle School, 3700 N. Hills Drive, Austin
The Austin Disaster Relief Network has also activated a network of faith-based locations to open as shelters, which can be found
here
. Residents should bring things such as a change of clothes, toiletries, pillows, blankets, bed mats, extra dry food and water to church shelters.
The Texas French Bread Bakery, located on 2900 Rio Grande Street, has been completely destroyed after a fire erupted on Monday night.
The Austin Fire Department responded to the fire just before 11 p.m., where they arrived to see flames coming from the roof of the bakery. Firefighters fought the fire for about an hour before the roof collapsed.
While no one was injured in the fire, firefighters say the historic building was completely totaled.
AFD determined that the fire was accidental and caused by mechanical failure. AFD said the damages amounted to $1.6 million total: $1.1 million in structural damage and $500,000 in damage to the contents of the bakery.

This year, Texas French Bread will celebrate 40 years of business. Before the bakery occupied the building, it was the Rome Inn, a music venue that hosted 1970s artists like Stevie Ray Vaughan.
Austin's first major league team is ready to extend its reach with a new collaborative sports complex The Pitch, an Austin FC destination packed with local food, beverages and Verde fervor is set to open in Northeast Austin in February.
The Pitch, a collaboration between Austin FC and Karlin Real Estate, among other entities, will be located in the 50-acre Parmer Pond District, which already hosts the club's practice facility St. David's Performance Center.
Dubbed a "true destination" for both soccer fans and the community, The Pitch will consist of multilevel shipping containers designed by Mark Odom Studio that will carve out into a 1,200-seat stadium complete with a soccer pitch made of turf, food and beverage options and a five-acre "Parmer Pond" featuring jogging trails.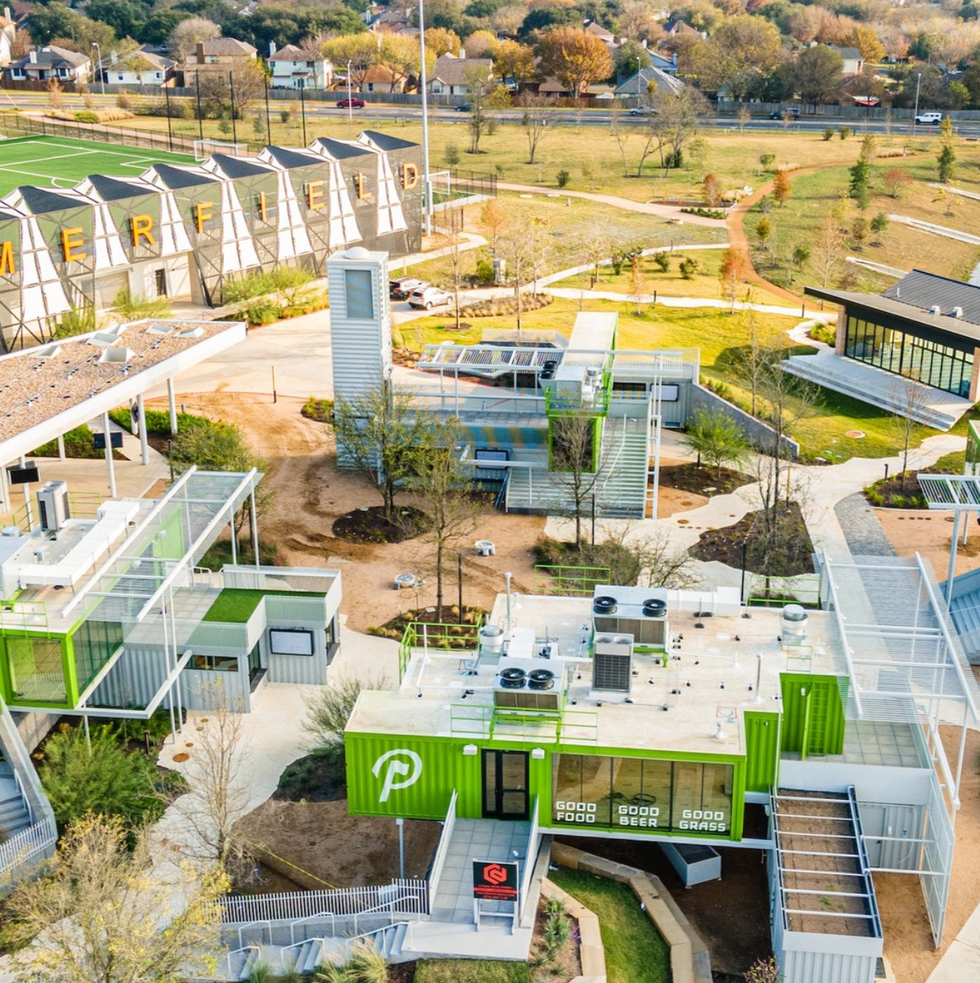 Made from multilevel shipping containers, The Pitch will include food and a 1,200-seat soccer pitch made from artificial turf. (The Pitch)
"The launch of Karlin's new food and entertainment experience will greatly enhance the Parmer development while perfectly complimenting St. David's Performance Center," Austin FC founder Anthony Precourt said. "The Pitch... will offer a strong variety of food options and gathering spaces for guests who will utilize St. David's Performance Center and Parmer Field for a variety of events."
The Pitch project lead Dave Greeley, who helped come up with the concept, is a former president of Austin FC parent company, Two Oak Ventures.
"The vision behind The Pitch at the Parmer Pond District is to be a first-of-its-kind sports, dining and entertainment destination," said Dave Greeley, The Pitch project lead and Team Orbis president. "This will be an unmatched experience for Parmer Austin tenants, Austin FC and club supporters, and the community."
With its proximity to the practice center, the venture hopes to contribute to the growing "soccer city" of Austin during Austin FC matches and youth games with the Austin FC Academy hosted at the St. David's Performance Center.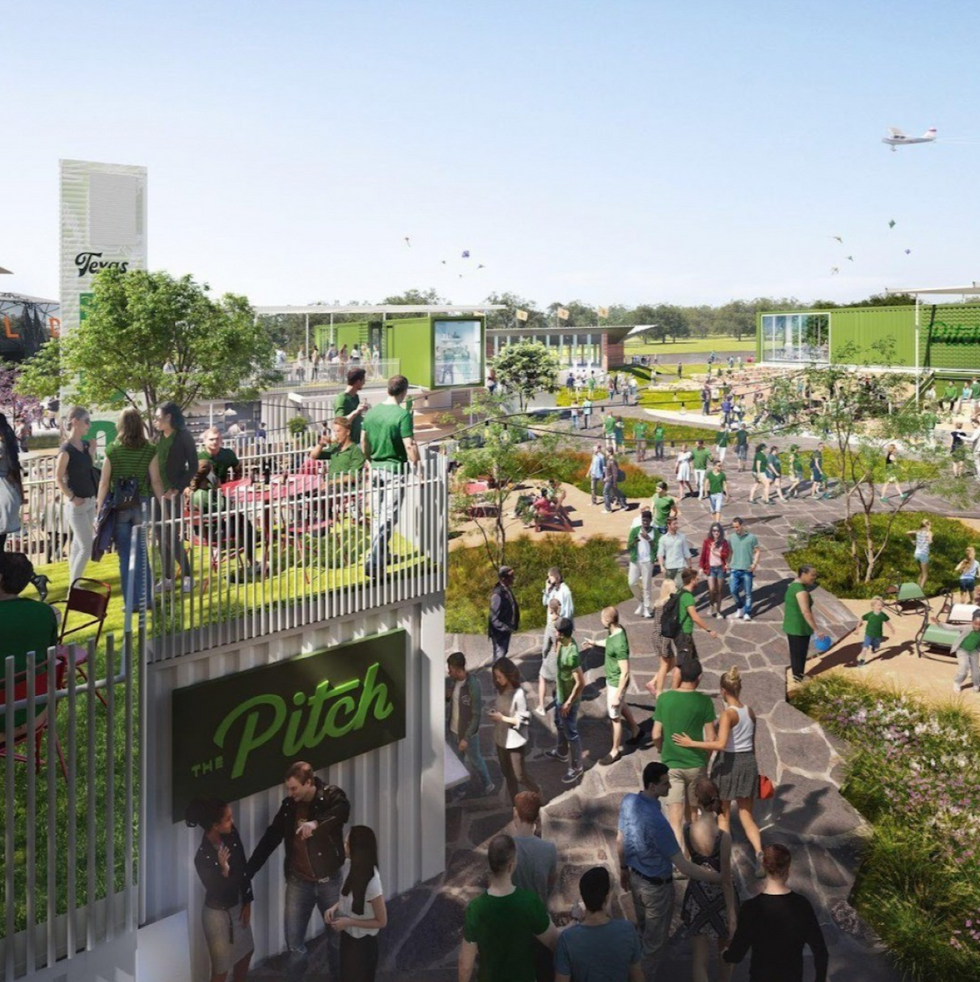 The Pitch hopes to converge both community and club interests with Austin FC. (The Pitch)
In addition to the soccer pitch, stadium and pond, The Pitch will provide a foody experience made by the creative team behind Austin staples like Fareground and Easy Tiger. The complex will offer local bites including:
Ranger Burger, which offers beers and burgers made from highly-coveted Wagyu beef direct from Ranger Cattle in East Austin
Ga Roti, which merges flavors from Northern Vietnam with the culinary techniques of France to create a unique rotisserie chicken joint
Taco Flats, a local taco chain serving Mexico City-style tacos, micheladas and more
Sand Bar, which fulfills its namesake with beauty cocktails, local beers and a sand volleyball court
Coffee Club, a coffee shop and bakery
Corner Kick Bar, the soccer-focused main bar of The Pitch complete with "tunes, TVs and (a) beer garden"
The Pitch will squeeze between St. David's Performance Center and Parmer Pond alongside the southern edge of Parmer Austin, a Karlin Real Estate venture that will eventually include multifamily housing, corporate office space and an aerospace and defense center.