Austonia AM
100% Austin news, info, and entertainment, straight to your inbox at 6 a.m. every morning.
In five minutes, you're fully informed and ready to start another great day in our city.
Get connected with our daily update
A winter storm warning is now in effect for Central Texas until midnight on Friday, according to the National Weather Service.
---
The NWS warns that up to a 1/4 inch of freezing rain could accumulate on elevated surfaces, causing possible slick spots on roads in Travis, Kendall and Blanco counties. The evening commute could be impacted, and NWS recommends to take extra precautions if travel is necessary. Power outages could occur.
The service also issued a Hazardous Weather Outlook, which states that freezing rain on bridges and overpasses could impact travel. A Winter Weather Advisory is in effect for Travis, Kendall, Blanco and Hays Counties until 3 p.m., and will be in effect until midnight for Williamson, Edwards, Kerr, Gillespie, Llano and Burnet counties.
Saturday and Sunday could see a hard freeze spread across Central Texas, while Monday and Tuesday morning will be "bitterly cold," according to the report. More freezing rain is possible on Saturday, and sleet or snow is expected on Sunday night and Monday morning.
More on the cold: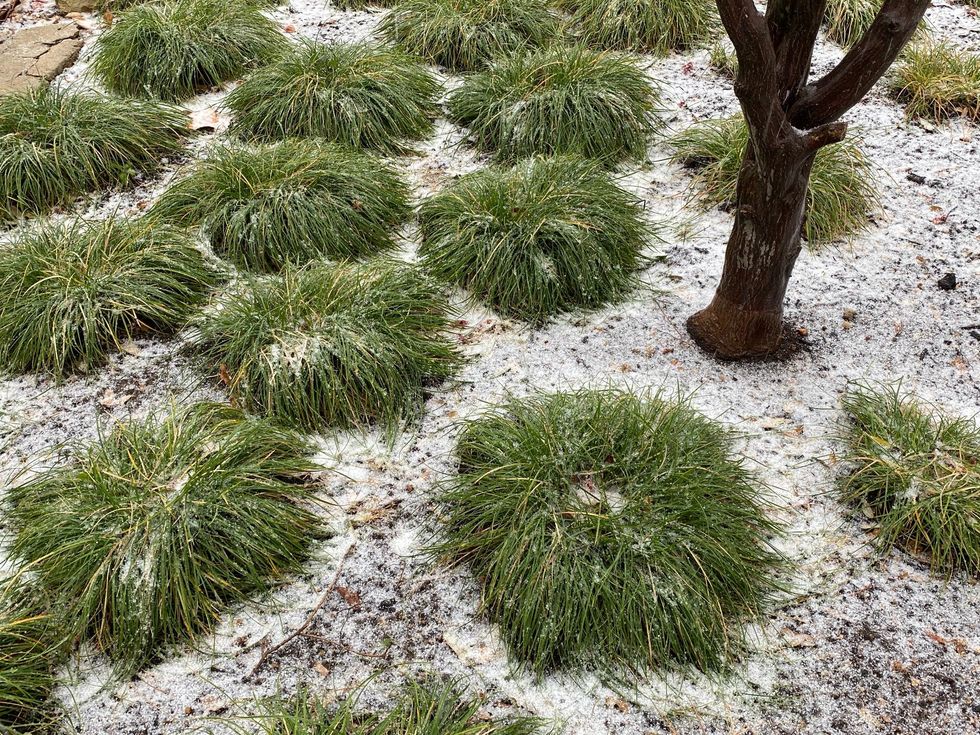 Arctic Austin: How to protect yourself and your home in freezing weather
Tesla's new Gigafactory in Austin has done more than tack on national headlines: it's also reshaping Riverside and the rest of southeast Austin.
Michele Bryant, manager of Treehouse Apartments on Oltorf Street, said that "low availability (and) heavy demand" is ending previous specials and sales at the complex as Tesla employees take root in the area.
"We leased 13 units to Tesla employees in the last two months and many more are inquiring daily," Bryant said.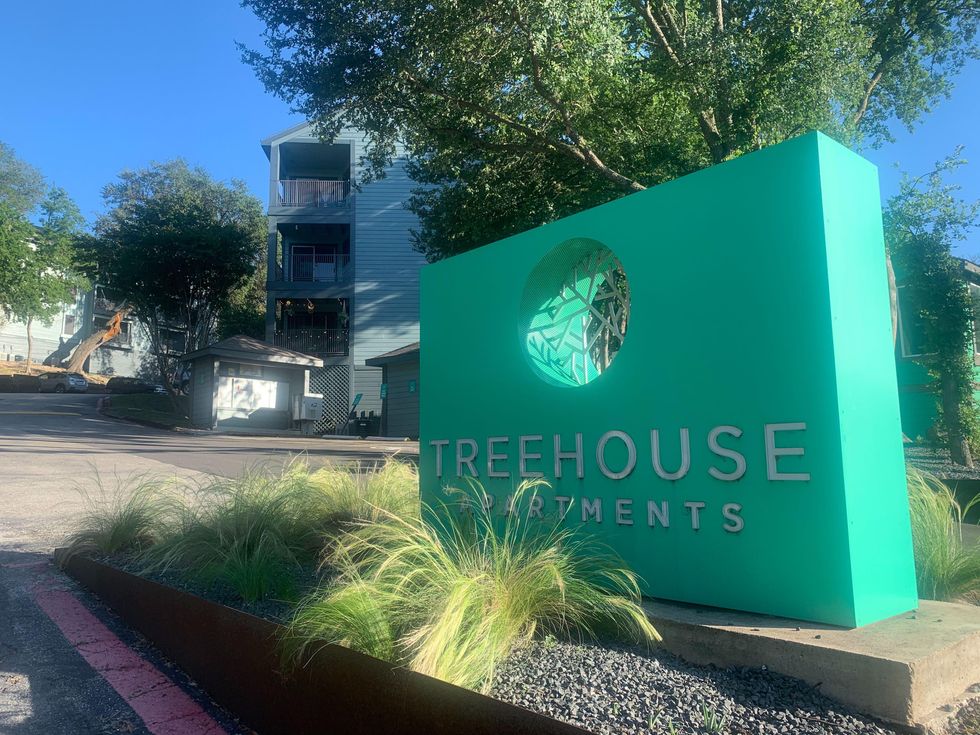 (Claire Partain/Austonia)
Tesla's Giga Texas is located 15 miles from Riverside's hub and sits near another southeast Austin feature, Austin-Bergstrom International Airport. Though the Gigafactory won't be complete until the end of the year, the company is hiring droves of new workers. In April, Tesla CEO and Austin resident Elon Musk tweeted, "Over 10,000 people are needed for Giga Texas just through 2022!"
Austin Board of Realtors President Susan Horton said that the influx of tech companies has affected where people choose to move within the Austin metro. "We are projected to have 35,000 new jobs here by the end of the year because of just the tech industry," Bryant said. "Tech is booming, and they want to be as close to those areas as they can."
The effects of the ongoing tech and California migration have already been felt throughout Austin, but areas with close proximity to the companies' headquarters, including Pflugerville and Riverside, are seeing the biggest changes to their communities.
when i moved to austin just 10 years ago the east side was where my community was, where i went to feel like i was home, even with the riverside college kids. but even then it was much smaller. now since the tech boom's gentrification east side is nearly lost -- https://t.co/ppbX0MQ8WX
— Kate Sánchez⁷ (@OhMyMithrandir) June 6, 2020
Road construction plagues much of Oltorf, the street parallel to the south of Riverside, and new apartments are constantly being reconstructed or remodeled to match increasing demand.

East Riverside-Oltorf has been known for slightly higher crime rates, but it's also an affordable oasis amid the sky-high Austin housing market. Young people starting their careers flock to the area, which has an average 1-bedroom rent at $150 cheaper than the rest of Austin and half the price of rent downtown, according to Zumper.
But a change in landscape means a change in price. At Treehouse, there's more interest than there is room, and Bryant said the complex ended a special because they simply don't need it to bring people in.
On Riverside and nearby Oltorf Street, new high rises catered to young people stand half-built, and existing properties are constantly undergoing remodels.
Bryant, who has worked at Treehouse Apartments for two years, has already noticed changes to the neighborhood.
"I have noticed more mid-rise properties being built," Bryant said. She added it is "most likely due to tech and Tesla housing needs."
The neighborhood that is dotted with taco trucks and Austin treasures, such as Emo's Austin and Buzz Mill, is now slated for a revamp that mirrors The Domain in North Austin.
The project, nicknamed "The Domain on Riverside," is a 10 million-square-foot project approved by Austin City Council in October of 2019. The behemoth, labeled River Park, would double the size of its North Austin counterpart. The project could take over two decades to build, with its first phase set to be complete in 2023.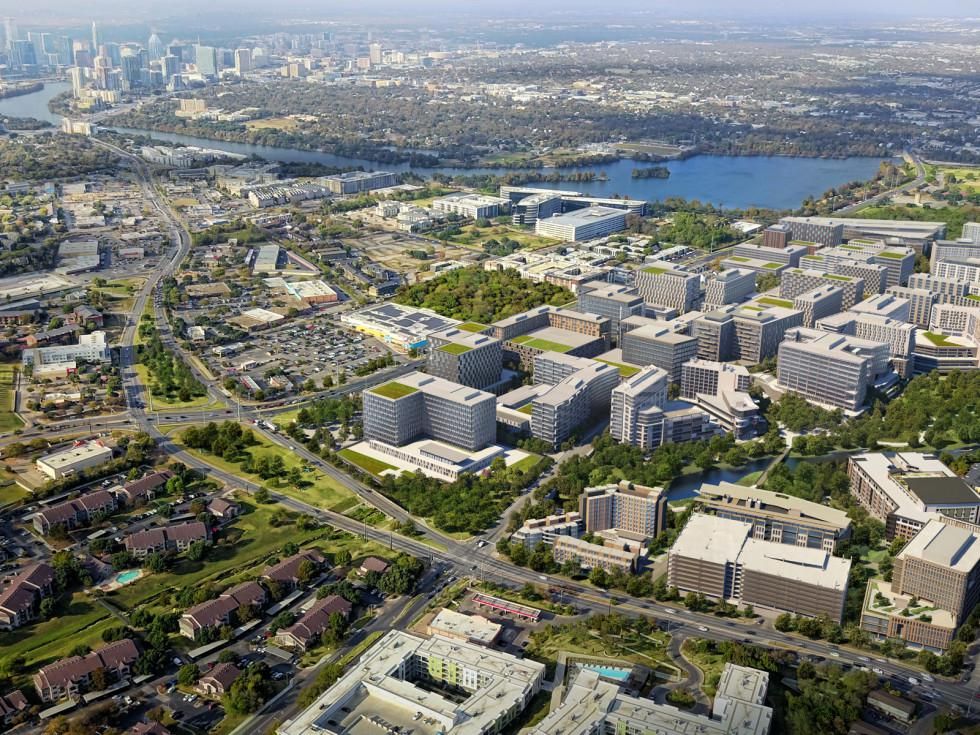 Rendering of River Park.
While some, including the project's developers, say the development will help add affordable housing and bring business into the area, others such as Save Our Hoodz, a local organization bringing attention to displacement, say the project contributes to gentrification.
The development is part of a bigger-scale operation adopted by the city in 2010. The East Riverside Corridor Master plan intends to bring more green space and walkability to the area, but it's also led to increased interest from cash-happy investors.
With Oracle bordering Riverside to the north and Tesla to the east, a change in landscape has already begun, and a transformation of the area seems almost guaranteed.
Good news for graduates: Austin is the fourth-best city in the U.S. to start your career, according to a WalletHub study.
In Austin, it's common for people to stay in the Capital City after attending The University of Texas, St. Edward's University or another surrounding college. It's the quality of life and professional opportunities that keep graduates here, at least that's what the study says.
WalletHub ranked 182 cities across the country on 28 different metrics to determine which were the bests for new professionals. Austin ranked fourth overall and was No. 1 in quality of life and 22nd in professional opportunities.
Austin dwarfed other Texas cities on the list, with Irving the next highest in 28th place. The No.1 city for new careers was Salt Lake City, Utah, followed by Orlando, Florida and Atlanta, Georgia.
Other emerging tech hubs were lower on the list. Denver, Colorado sat at 19th place, Charlotte, North Carolina made 30th place, and Miami, FL was ranked 77th. California cities were plagued with low affordability, and the highest-ranked city was San Francisco in 25th place.
Is it just us, or is the current Austin mask situation confusing? Are we supposed to wear a mask or not, and where? And should we wear one anyway, even if not requested or required?
Austin health orders requiring masks expire Tuesday. What then?
Take our three-question quiz, and tell us what you're thinking.