Get connected with our daily update
Workers at Detroit-style Austin pizza chain Via 313 are protesting for sick pay and better working conditions at the restaurant's North Campus location at noon on Saturday after upper management suspended four employees indefinitely earlier this week.
---
The protest comes after 46 Via 313 employees from multiple Austin locations signed a petition asking for paid sick days and more COVID-safe procedures as many workers contracted the virus at the onset of the omicron surge, employee Joshua Gamboa told Austonia.
Gamboa said nine workers at his location alone got COVID in the last two weeks, leaving the restaurant understaffed and the remaining employees exhausted. Eventually, the company was forced to limit the store's hours, which Gamboa says was not for promoting safety, but because they didn't have enough workers to stay open.
Gamboa said no other safety precautions were made, including social distancing, even as Austin Public Health's risk recommendations reached their highest level. Management never contacted employees when their coworkers got sick, and even full-time workers were not given sick pay when they got infected.
"Most of all, they didn't give us any sick pay, not even to the people who have been working full-time for years plus," Gamboa said. "So we got the idea that if we sign a petition and get a lot people together then they would listen to us."
But that wasn't quite the case. Gamboa said seven employees showed company higher-ups the petition and were asked to speak in a smaller group, but employees refused and would only sit down with all seven present. Via 313 vice president of operations Michelle Dahse, who the group spoke with,, read over the petition.
To increase visibility, employees emailed the petition, which included the company name, to the Via 313 president of operations, Dahse and multiple store managers. Gamboa said the corporation sent a cease-and-desist order and said they would launch an investigation on the grounds of copyright infringement.
By Thursday, Gamboa said upper-level management confronted four of the seven employees who originally presented the petition mid-shift and said they were suspended without pay until the investigation ends.
"From what I know, the legal team there used it as a way to say we were damaging the company's reputation by sending this email out," Gamboa said. "I really think they're just using the email as an excuse. They don't actually care about it, they're just using it to fire whoever sent the petition in person to send a message to us."
In a statement sent to Austonia, Via 313 said the four employees were suspended "pending an internal investigation."
"We are aware of certain employee allegations and take their concerns seriously," Via 313 said. "No employees have been suspended or terminated for signing a petition that was submitted to the company. The employees who were suspended allegedly created a hostile work environment that made others feel unsafe."
Employees were shocked with the suspensions, in part because their last petition, which asked to not use facial-recognition software to clock into work a few months back, proved successful. But Gamboa said Via 313, which has recently expanded from its five locations in Austin to a Utah location and is planning several more, has been progressively ramping up into a more corporate environment.
"If you're working service at this point, you're basically guaranteed to get COVID. It's ridiculous," Gamboa said. "People across the service industry are just going to have to expect that, (but) we simply want sick pay. Some people can't afford to miss work."
Outraged employees first thought to stage a sick-out, but instead opted for planning a protest instead. News of the upcoming protest got quick attention on social media, with journalists and council candidate Zohaib Qadri posting the event information.
I stand in solidarity with Via 313 workers protesting for better labor practices.

We must support their demands for paid sick leave, COVID protocols, and hazard pay. Every workplace in District 9 and beyond must be a safe and empowering place for all! https://t.co/BNXJei0Dyg
— Zohaib Qadri (@ZoForAustin) January 7, 2022
At the protest, employees said they will ask for "sick pay, hazard pay and basic COVID safety measures."
"Instead of agreeing to implement basic safety measures, management has retaliated by suspending workers. We need your support!" The protest flyer reads.
Via313 workers asked for sick pay and basic safety measures on the job - in retaliation, management suspended them.

Join us tomorrow to stand in solidarity with the workers as they fight for the conditions they deserve. 3016 Guadalupe @ 12pm! pic.twitter.com/FTWyk5xml8
— Austin DSA (@austin_DSA) January 7, 2022
Gamboa and other Via 313 employees said they're surprised at the support and will be grateful for anyone who shows up to the protest. They ask that nobody boycott any of the Via 313 locations because it could harm the restaurant's lower level workers.
"We're just hoping people hear our story and just how messed up and illegally they treated us," Gamboa said.
Meanwhile, Via 313 said they were reviewing the company's paid sick leave policies.
"Like everyone, this is our first time facing a global pandemic, and with that comes a learning curve," the company's statement reads. "We are not only reviewing our safety protocols daily but are also working with management to review our paid sick leave policy and other allowances that further support and protect our employees."
Capital Metro has been awarded $750,000 from the Federal Transit Administration to go toward Project Connect's Orange Line, documents show.
The FTA announced the funding round on Thursday, which dispersed $11 million across 12 states and 20 projects. The money is meant to connect communities to affordable transit and housing through the FTA Pilot Program for Transit-Oriented Development planning.
CapMetro said the funds will go toward projects at eight stations spanning 6.5 miles on the South end of the Orange Line, which has a total of 22 stations. The full project stretches across the 20 miles from Southpark Meadows to Tech Ridge.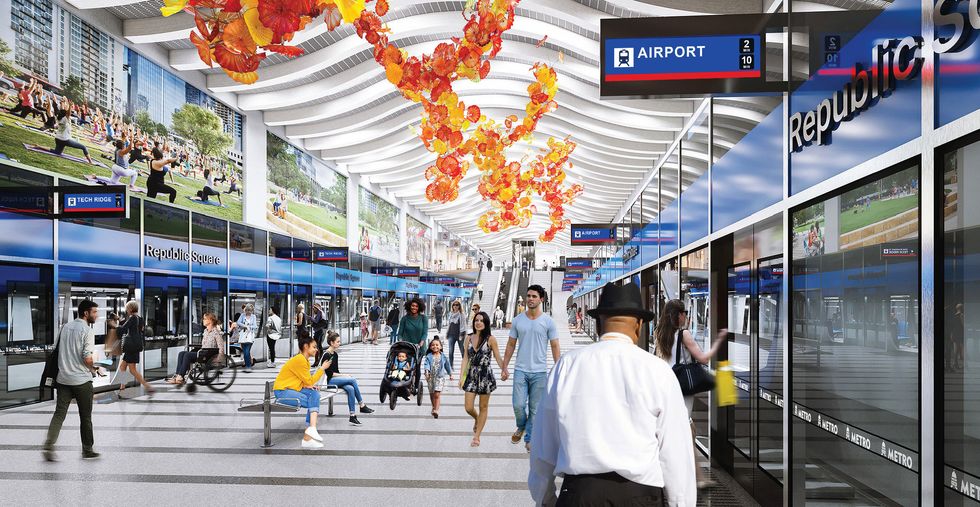 Republic Square station is along the Orange Line. (Project Connect rendering)
Once it's complete, which officials estimate will be in 2028, the Orange Line will reach the following stations:
Tech Ridge (Park & Ride)
North Lamar International District
Crestview
The Triangle
UT campus
Republic Square
Auditorium Shores
South Congress
Southpark Meadows (Park & Ride)
A $500 million mixed-use development spanning 1,400 acres is coming to Southeast Austin, near Tesla's headquarters at Giga Texas.
Plans for the development by Houston-based real estate firm Hines include 2,500 houses along with multi-family and townhomes, and commercial land. Hines is partnering with Trez Capital, Sumitomo Forestry and Texas-based Caravel Ventures.
The development, which is known as Mirador, will be located off the 130 Toll and Highway 71, which the developers say provides easy access to the Circuit of the Americas Formula 1 racetrack and other Austin attractions like restaurants, parks and live music venues.
Hines also boasts amenities like a 60-acre lake, over 600 acres of greenbelt, community parks, trails and a swimming pool.
"As Austin continues to grow into the tech epicenter of Texas, coupled with a supply-constrained market, the demand for new housing is at its highest," Dustin Davidson, managing director at Hines, said. "Mirador will be critical in providing more options for Austin's growing population and we are excited to work alongside our partners given they each provide a unique and valued perspective in single-family development."
The local housing market has been hot in recent years, with home sales accelerating earlier in the pandemic. In July 2021, the Austin metro area hit its pricing peak at $478,000. As Austonia previously reported, the area has been expected to see the Tesla effect, with the new workforce driving up demand for housing and other services.
The single-family houses are expected to be developed over the course of six years, in phases. Construction on the homes is expected to start this year and home sales will begin in 2023.