Get connected with our daily update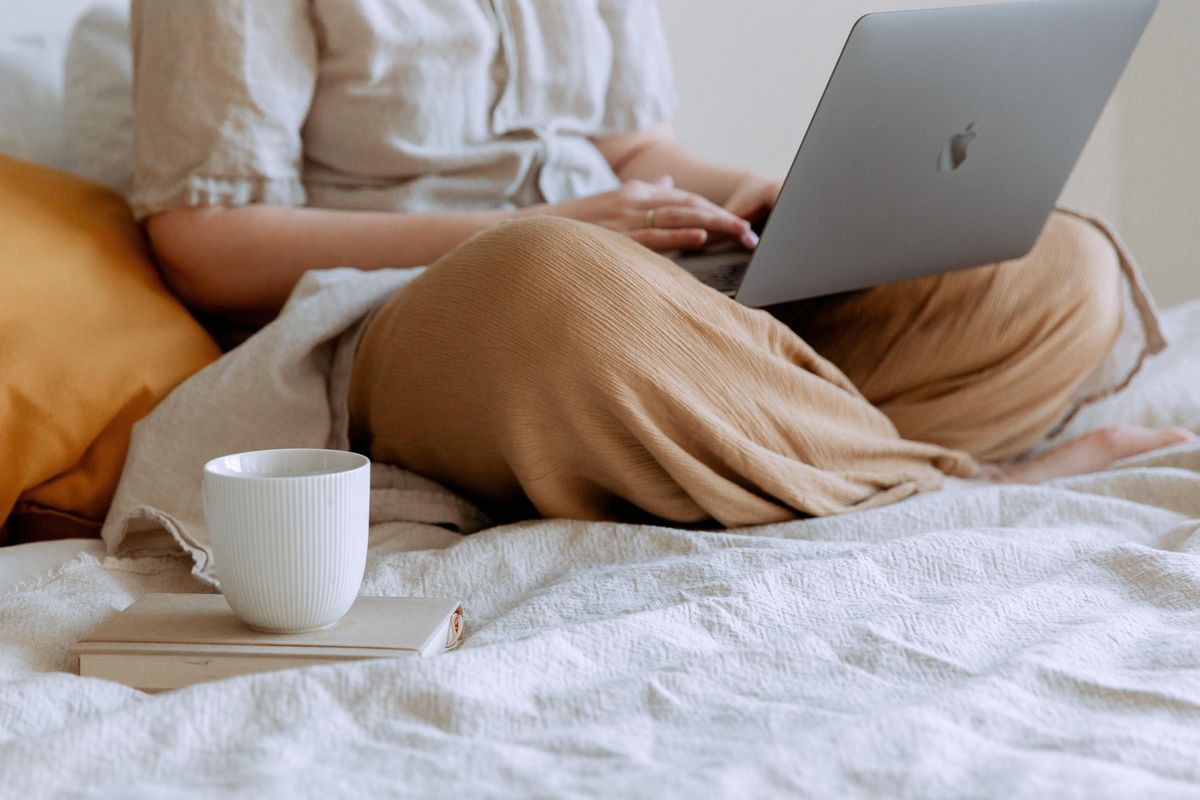 When Konstantin B., a vertical foundry ontologist working at Austin's Google offices, was told he would be working from home, he felt simultaneously safer and more inspired.
"Working from home has been a relief in the very real sense that it minimized my chances of getting infected," Konstantin says.
---
Google, as with other big tech companies such as Twitter and Facebook, has had their employees and contractors working remotely since March. In July, the search engine announced that it would extend its remote working policy until September 2021.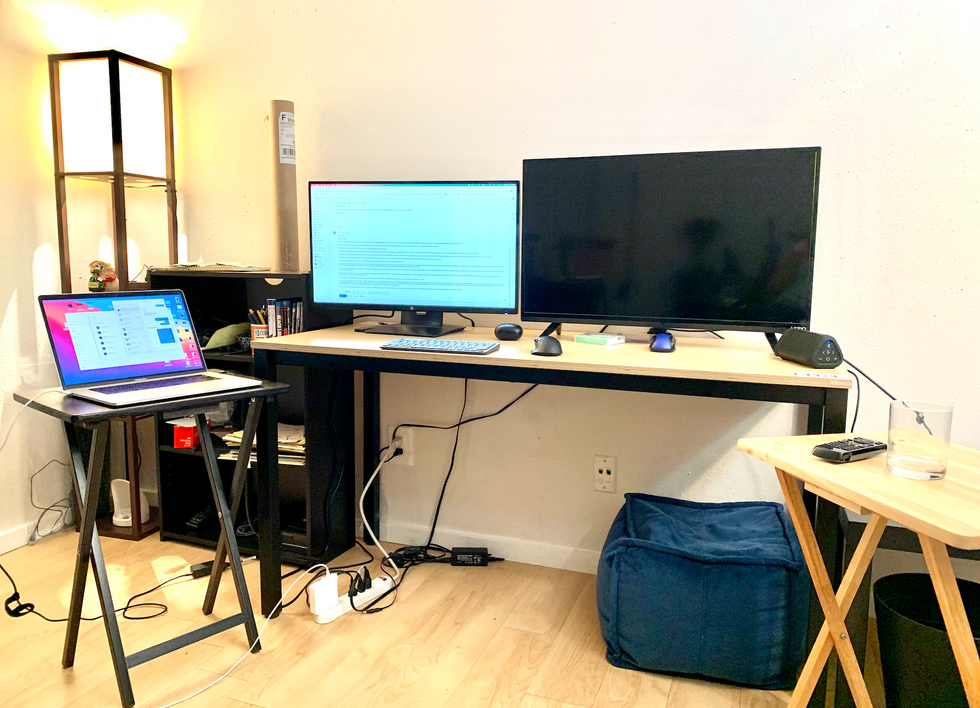 Konstantin B.'s at home setup as an employee of Google. (Konstantin B.)
Konstantin, who asked for his last name not to be used for privacy concerns, says Google management has been exceptionally open-minded regarding the breaks necessary to keep sane and productive while working from home.
"They understand that working from home can be daunting, as staying at home can be hard on mental health," he says. "It's best to pace yourself and be productive the whole week, instead of just pushing through and being awake for two days and getting all the work done then."
Reports from Google's internal data in October showed, coding from home has had a negative effect on Google's productivity. In June an internal survey found that only 31% of the company's engineers reported feeling "highly productive," a number that was down 8% from a record high in the March quarter.
Elsa Morales, senior account director at Austin's Giant Noise Public Relations and Communications, who has been working from home since March, has found remote working relaxing.
"Working from home has encouraged me to take breaks during the day and take short walks around my neighborhood which I've really enjoyed," says Morales.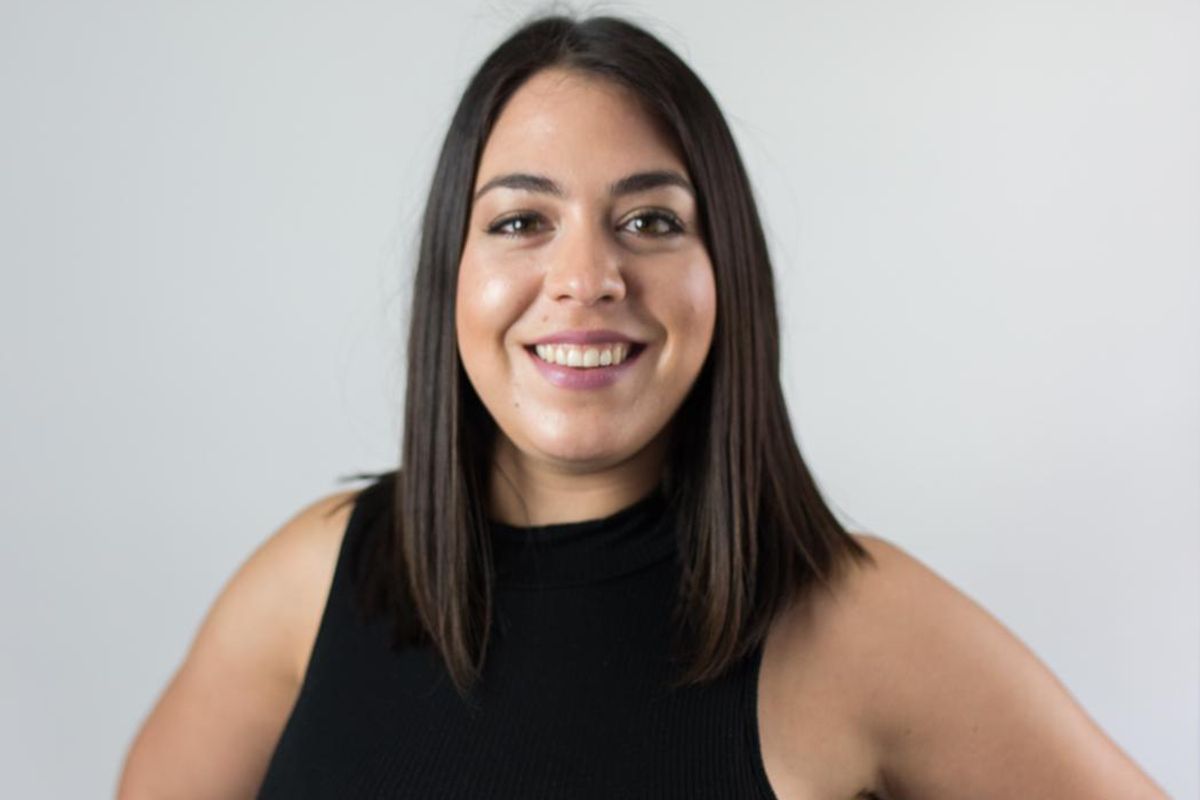 Elsa Morales is the senior account director at Austin's Giant Noise Public Relations and Communications. (Elsa Morales)
But despite the perks of strolling between screen-sessions, Morales feels that everyone misses that face-to-face exchange of ideas and in-person interaction.
"At the beginning of the pandemic, it was a bit challenging getting a hang of constantly communicating on the phone or video. Not having that in-person collaboration has probably been one of the biggest challenges for me," she says, adding, "being together in the office allowed us to have brainstorm sessions over coffee or immediately bouncing ideas off each other after a call."
A recent poll published in Forbes, which surveyed 312 people working from home, found that 82% agreed or strongly agreed that they enjoyed working from home, and 60% said they felt less stressed working from home.
Gina Littlefield, CEO of Austin Staffing, Inc., says working from home has allowed the more introspective individuals in the business world to really shine.
"The people that are real outgoing Type A Personalities, they are the ones having an issue," she adds, referring to those employees that thrive off the more social aspects of office work. "I think you are seeing a bit of depression, especially if you are that Type A Personality—you want to be in the world with everyone there and going into the lunchroom and feeling that hustle-bustle, and I feel a lot of people are having troubles right now and so I definitely feel that has to be addressed."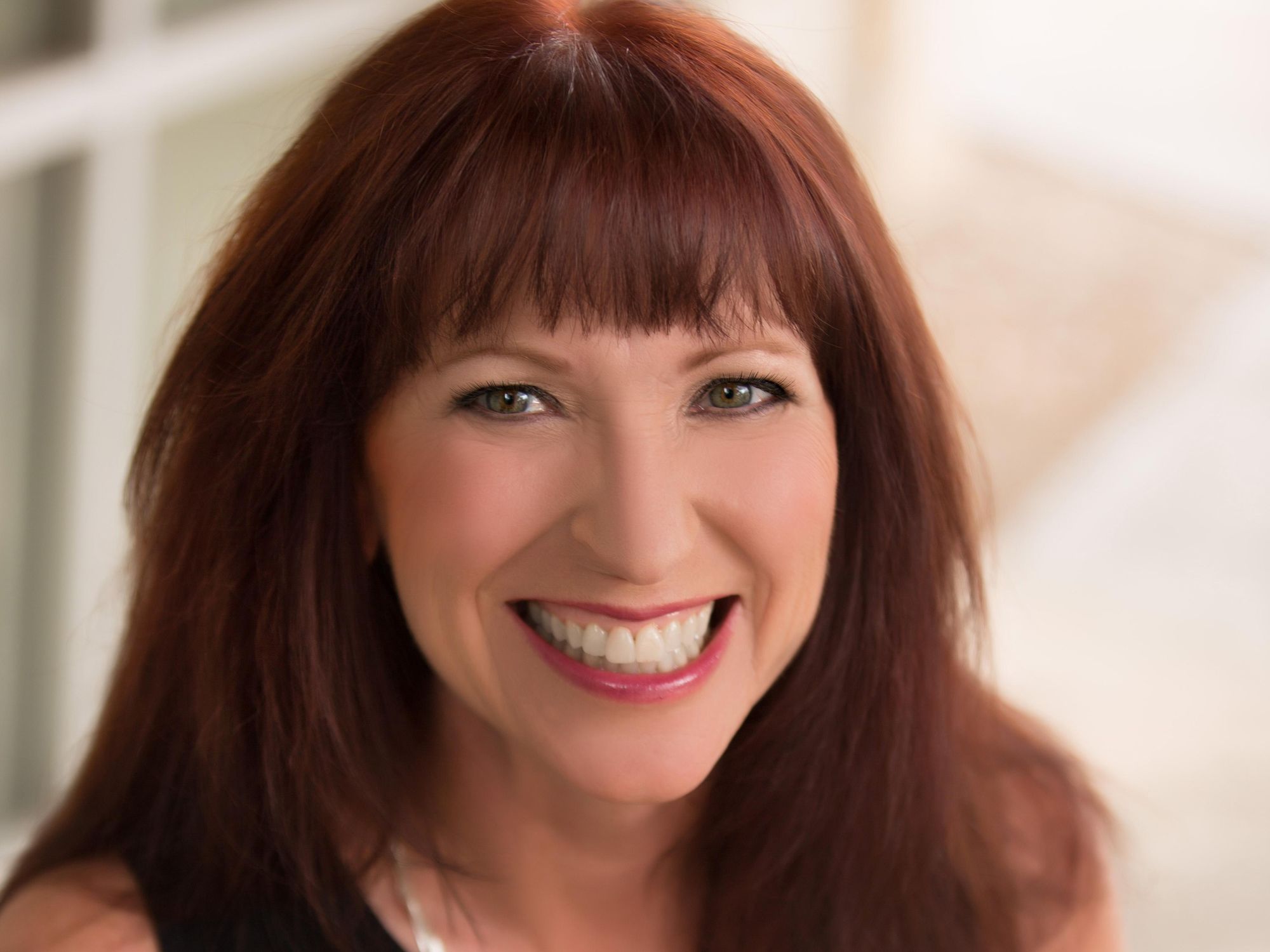 Gina Littlefield is the CEO of Austin Staffing. (Gina Littlefield)
Littlefield is certain that working from home will become a major facet of the business world since everything is done electronically. She stipulates that as far as her company is concerned the decision to work from home will be entirely up to the individual worker.
"We are happy to be able to extend that final decision to them and sometimes it works well for them because they have small children and they can't take them to a daycare and can't do this or that, so, you know what? That's workable, and why not? I have no problem with that."
In order to accommodate those who want to work in an actual office during the pandemic, Littlefield is currently looking into purchasing a new building to expand the physical office space to allow everyone six feet of separation from workstation to workstation.
"We have half of our people out and half of our people in," says Littlefield. "We do intend to have people in (person) more but (want to) give them the opportunity to make the decision to come and go if they need. We want people to enjoy working from home."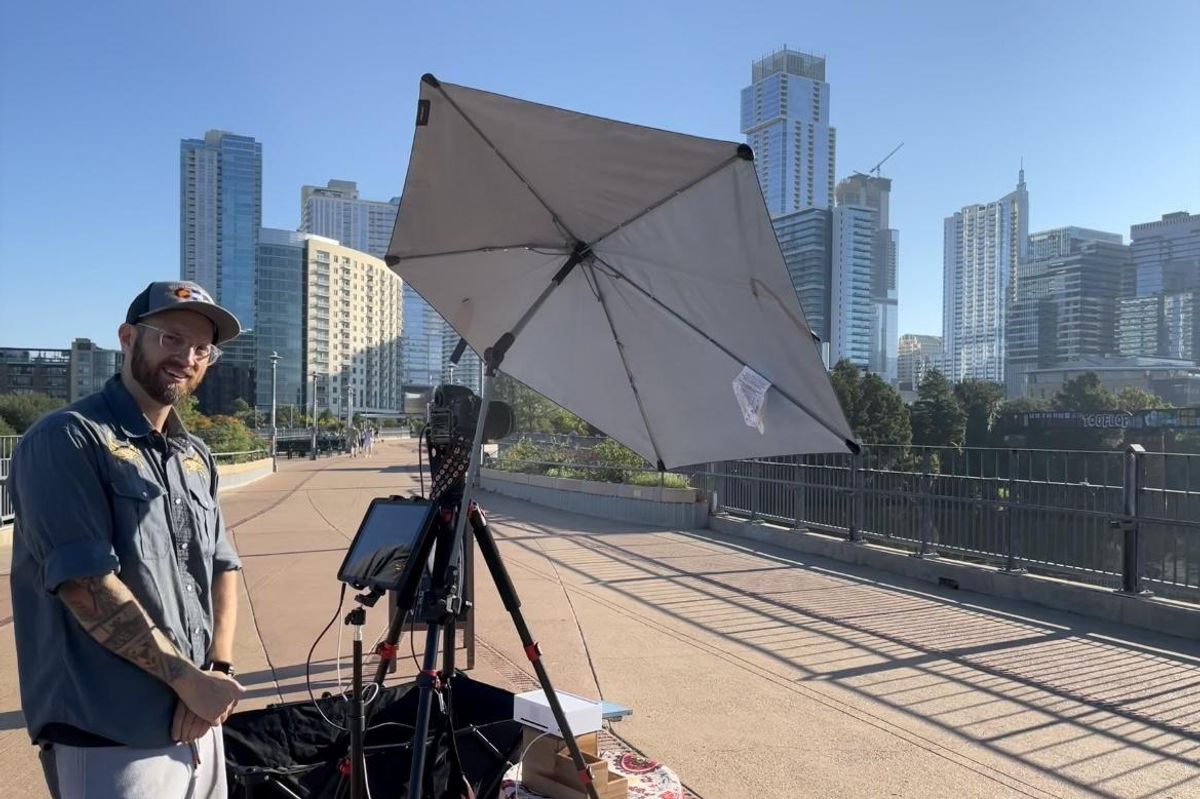 Nicklaus Pereksta says he loves photographing enthusiastic people, and it's why his latest gig offering pictures to people out on Lady Bird Lake's hike and bike trail is going smoothly. He sets up his gear on the Pfluger pedestrian bridge and puts out a sign: Photos, $10.
"Overwhelmingly, this has been a really positive experience," Pereksta said. "I get excited when I wake up in the morning and I can't wait to go to work."
Bikers and joggers are excited about it too. On the pedestrian bridge leading to downtown Thursday morning, a man on an e-bike rode up and posed, wanting more photos.
"I posted the last pictures on Instagram and people loved it. They asked, 'where is this guy?'" the biker told Pereksta. Bashfully, Pereksta, who also photographs landscapes and at weddings and other events, said he was happy to hear that.
Pereksta started these photos about a month ago, after the strenuous runs required in his valet job started causing pain in his legs. And though he has a passion for photography, he wasn't so sure when he started working independently if it would work out.
He felt uncertain about the demand for it and was also worried about having lots of expensive equipment out in the open.
"Then like the first day was nothing but high praise and people are like, this is so awesome. This is great. I've never seen anything like this before. I was like, Wow, this was really good, like positive turnout. So I got encouraged."
Now, he wants to expand and is thinking of contacting the Mueller Farmers Market about how to become a vendor. Still, he'll carry a connection to photographing on the bridge since the word bridge is related to his last name.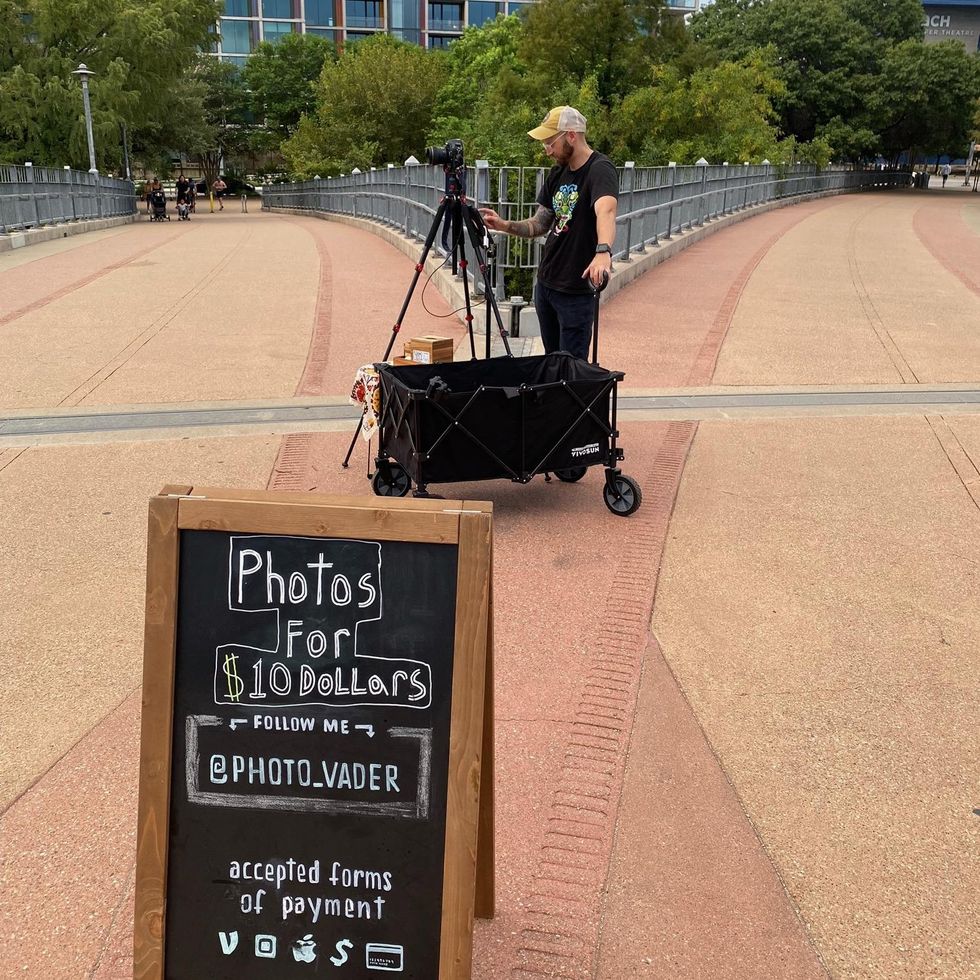 (Dewey C.)
"It's a name my great, great, great grandfather came up with when he was marrying somebody. It's actually quite a romantic name. It means a joining of two bridges," Pereksta said. "So, I thought it was ironic that I'm set up on a bridge. I'm kind of representing my last name right now."
Austonia talked to Pereksta about life in Austin, where he's lived for eight years after living in Boston doing band photography.
What was your first experience with Austin?
I came here to visit some friends and they took me to Barbarella. So we went to Barbarella and I was like, 'wow, this place is great.' And then the restaurants and the food and going to Barton Springs. I was like, 'this is amazing.' Because there's nothing like that in Boston. If you want to go to a natural spring, you got to go to New Hampshire. There's no pools in the city at all. So there's lots of swimming out here.
What do you like best about Austin?
You go to any little quiet bar and there's a band playing that should be like onstage for a sold out show. Yeah, they're playing to 10 people, right? Like, one of the best bands ever and they're playing for 10 people, right? And just little magic moments like that are pretty fun. You just run into little random weird things.
What do you think makes Austin different from other places?
There's no fall.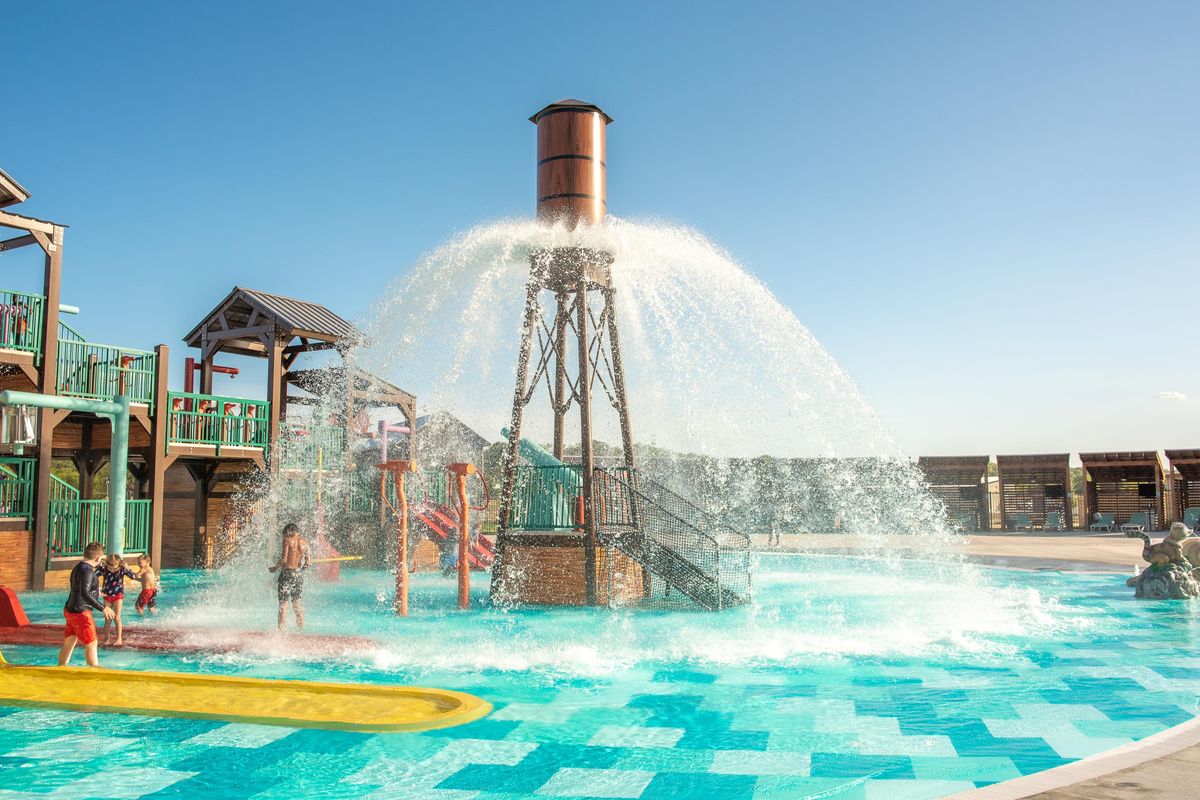 Camp Fimfo Waco
Camp Fimfo Waco, a brand new camping resort, is kicking off football and fall camping season in style! With top-notch amenities, premium accommodations, and 10 weekends of fall fun, there's no better place to have a fall camping getaway, especially if you're a Baylor football fan!
Fall promises to be a one-of-a-kind camping experience. From Sept. 16 to Nov. 24, weekends will be packed with fall-themed activities, including special Halloween weekends in October. Campers can enjoy activities like fall crafts, campground trick-or-treating, costume contests, site decorating, outdoor movie nights, and more!