Get connected with our daily update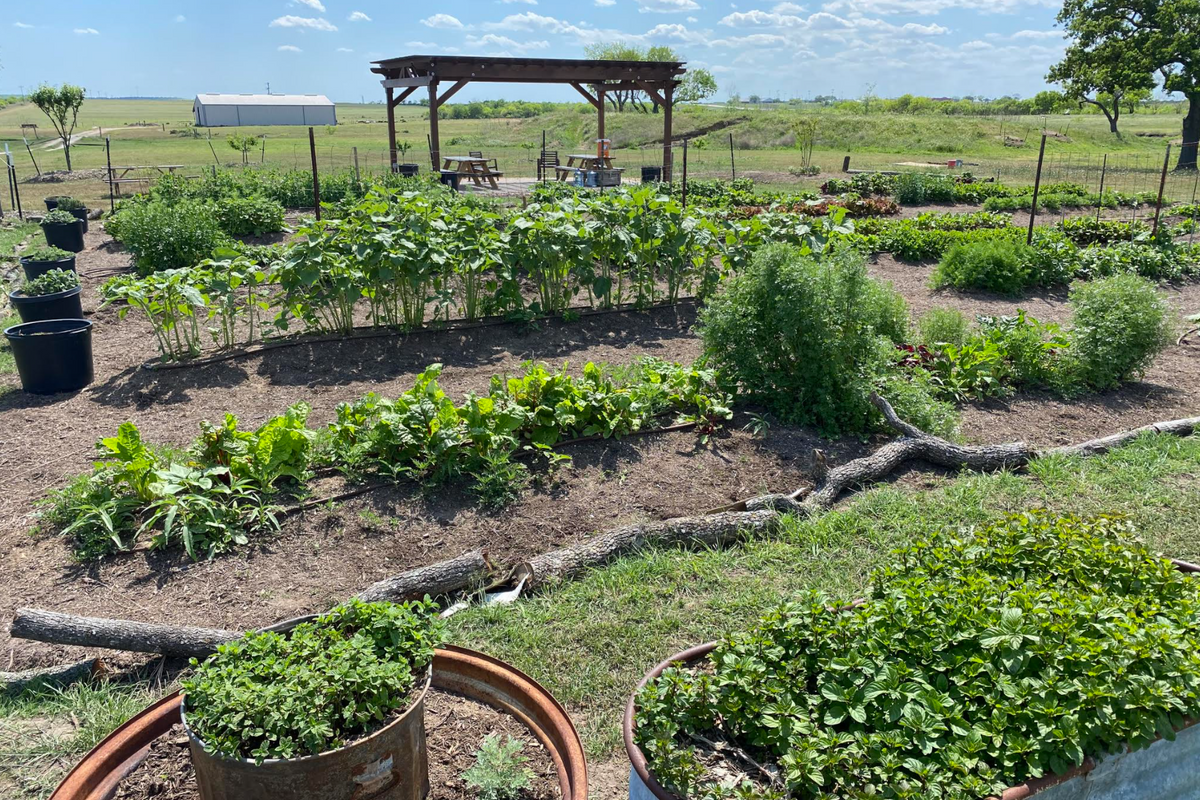 A jackrabbit hops across the field as an employee on break plucks and samples arugula straight from the garden bed.
It may not look like the traditional U.S headquarters of a 9,000-employee international software company, but thanks to a pandemic pivot, a day at the office is also now a day on the farm for Austin-based employees of Zoho.
---
When three years ago Zoho purchased 375 acres in Del Valle off Highway 71, the global tech company intended to create a traditional corporate campus for its 85 local workers. But after employees expressed great satisfaction in working in a small garden they created on-site in February 2020, Zoho scrapped its plans and instead decided to embrace the land with a working farm. Rather than creating new buildings, the company is utilizing its existing structures, including an old farmhouse, as office space.
"We had met with a couple different architecture firms and design firms and they showed us super fancy beautiful renderings. It just really didn't feel like us," said Zoho Operations Manager Tom Philipps. "Why pay an architecture firm a ton of money to build a campus when we can build it ourselves? We have buildings we can renovate, we have spaces where we can build our own and, even better yet, let's do it all in the midst of a functioning organic farm."
The farm has expanded–it now includes five plots and an orchard–that Zoho recently hired two full-time staff members, Logan Pettyjohn and Brandon Connor, who are dedicated exclusively to working the fields.
"We've got to teach these tech guys what farming is and what it takes," joked Connor as he surveyed the orchard with his Blue Heeler, Eli, last week. "This is the right company to do it. Working with the people that have been around the farm has been incredible. Everybody just kind of pulled their community into it and it's just been a labor of love."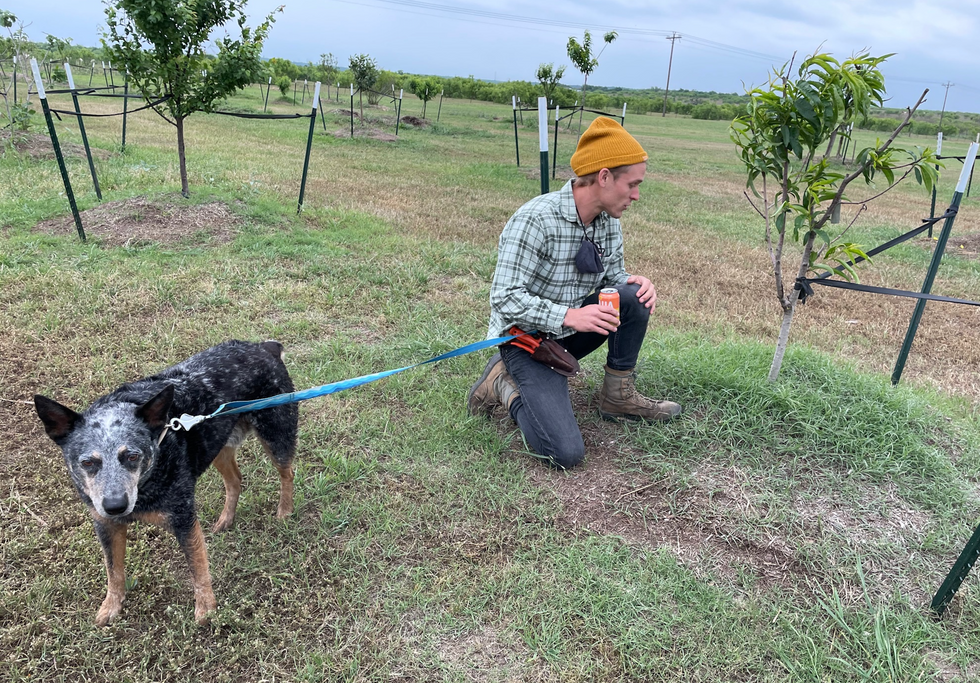 Brandon Connor, farm operations coordinator, and his dog, Eli, check on Zoho's on-site orchard. (Kristin Finan)
Zoho employees are still primarily working from home due to the pandemic but are welcome to visit the farm whenever they'd like, including to pick up produce, which is harvested twice a week and includes lettuce, beets, spinach, turnips, radishes, peppers, cantaloupe, watermelon, strawberries, apples, pears, pumpkins and squash.
"We don't use pesticides, so you can pick and eat anything," Philipps said.
The farm currently yields about 40 pounds of produce a week and will yield more than 200 over the summer, Philipps said. Food that doesn't go to employees and their families or friends is shared with the Central Texas Food Bank and other community organizations.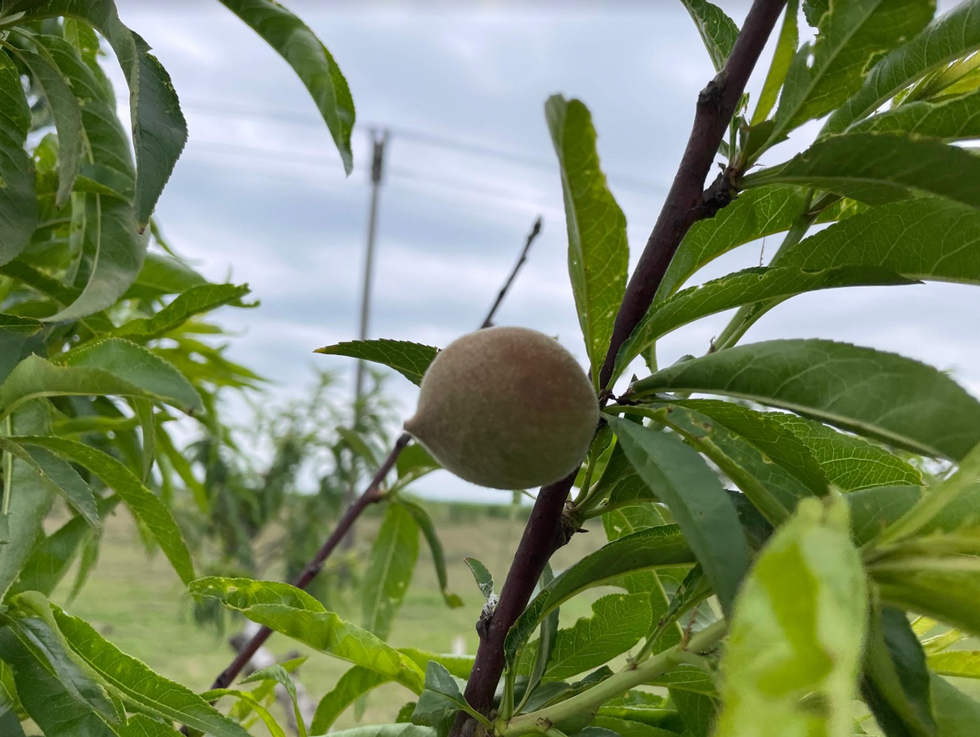 Zoho's on-site orchard features a variety of trees, including peach, pear and apple. (Kristin Finan)
Prior to the pandemic, most Zoho employees worked out of a rented office space in southeast Austin. That lease will expire at the end of May, Philipps said, and headquarters will shift completely to the farm.
Under the direction of COO Raju Vegesna, Zoho has also opened satellite offices in cities including Bastrop and New Braunfels with a goal of empowering talent and offering increased technical job opportunities in more rural areas.
"We're finding tons of incredibly qualified applicants that told us point blank, 'I used to have to go to Houston or Austin to do this work,'" Philipps said. "We've coined the term transnational localism. You want folks to live a well-rounded life."
The farm has also opened up new avenues for employee bonding, from the recipes and photos that are swapped on the Zoho group chat—Philipps recently whipped up an apple crisp using fresh green apples—to the meetings that take place under the breezy outdoor gazebo adjacent to the farm. Employees are also encouraged to experiment with their passions on the land, Philipps said. He said one coworker is drawing up plans to create a playscape where employees' children can play while another is hoping to create a butterfly garden.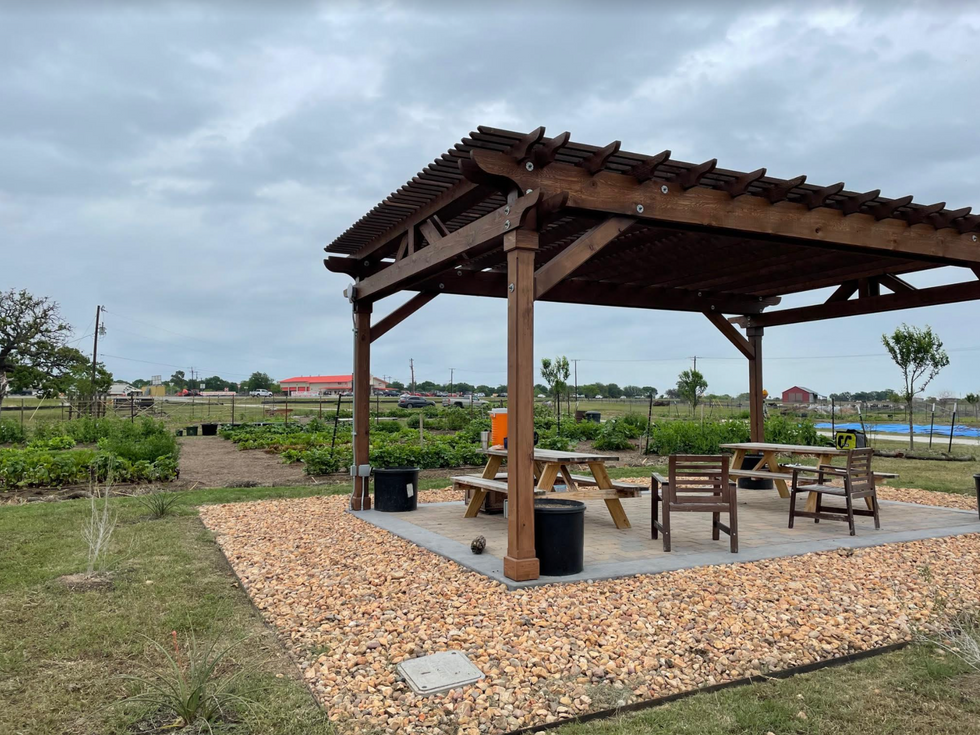 The gazebo adjacent to the farm at Zoho is available for meetings. (Kristin Finan)
"The sky's the limit in the future," Philipps said. "We're excited to see how it evolves, but we're also pretty proud of what we've scraped together in a little over a year."
As more businesses move to Austin, could this be a model that other companies embrace?
"Absolutely this is within a company's capacity to do," Philipps said. "It's just a matter of what your priorities are and what your employees are interested in."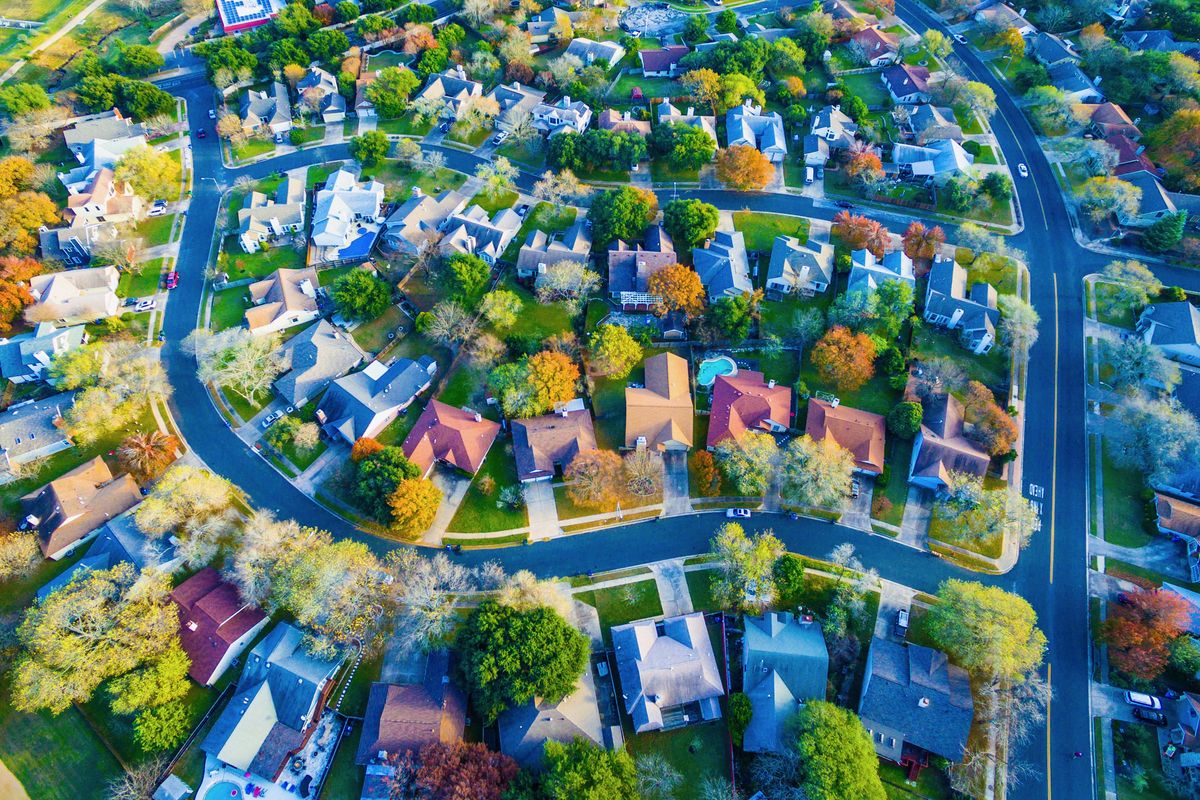 Shutterstock
So you want to buy a house?

To anyone trying to get on the "housing ladder," it's been a discouraging couple of years as prices skyrocketed in a market crowded with buyers bidding against each other for just about any available home.

Things may be calming down, with the Austin Board of REALTORS reporting fewer sales and more available homes this summer.

Mortgage rates have more than doubled in the last year, from around 3% to well over 6% on a 30-year fixed rate loan, getting even more of a bump this week after the Federal Reserve raised bank rates on Wednesday.

So how affordable are homes right now? That, of course, depends on what you want and how much you're able or willing to pay, but here are some rough estimates of what a typical buyer would pay to buy a $650,000 home, which would be considered "mid-price" in today's market.

Mortgage banker Chris Holland (NMLS 211033) of Austin's Sente Mortgage ran some numbers for Austonia to illustrate a typical purchase.


Holland says that while the 30-year fixed rate mortgage is often mentioned in the media, the most popular loan that he's seeing now is a 7/1 adjustable rate mortgage, which has a fixed rate for 7 years and then adjusts every year based on market rates, with a limit on how much it can increase each year. The interest is amortized over a 30-year period. Adjustable Rate Mortgages (ARMs) offer lower rates than fixed rate loans.

Here are the numbers, which are examples. In practice, exact numbers vary with a buyer's credit rating and overall financial situation, and with the rate, which can move up or down at any time.
$650,000 home purchase price
7/1 ARM at 5.875%
5% down payment, equals $32,500
95% financed, equals $617,500
$4,990 payment, including principle and interest (P&I), insurance, and property tax
Typically, a borrower's debt to income ratio needs to be at or below 45%. So for this mortgage, a borrower, or borrowers, would need income of roughly $11,100/month, or $133,200/year. That number could be higher, depending on the buyer's outstanding credit balances on things like credit cards and car loans.
Not included are closing costs, moving costs, maintenance, and any changes a new buyer might want to make to the home.

Holland says he's had a lot of clients approved for loans who were house hunting but have put that on hold, hoping prices come down.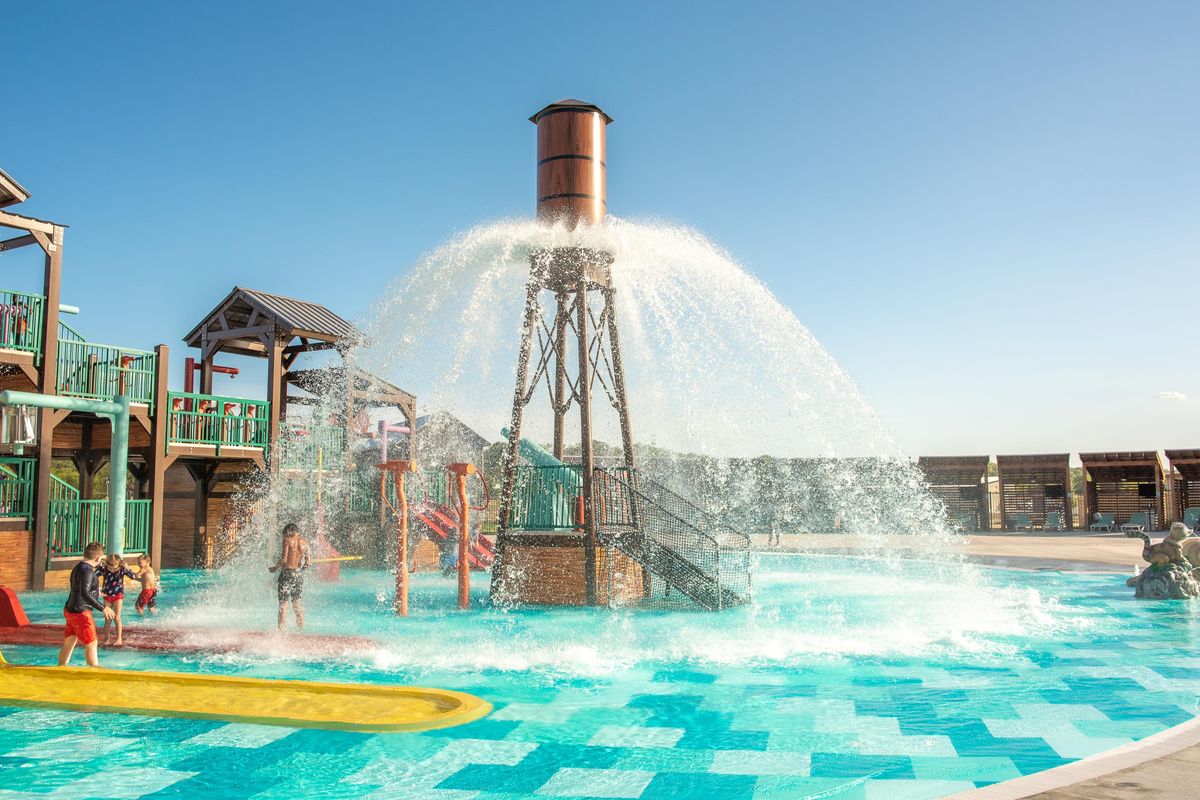 Camp Fimfo Waco
Camp Fimfo Waco, a brand new camping resort, is kicking off football and fall camping season in style! With top-notch amenities, premium accommodations, and 10 weekends of fall fun, there's no better place to have a fall camping getaway, especially if you're a Baylor football fan!
Fall promises to be a one-of-a-kind camping experience. From Sept. 16 to Nov. 24, weekends will be packed with fall-themed activities, including special Halloween weekends in October. Campers can enjoy activities like fall crafts, campground trick-or-treating, costume contests, site decorating, outdoor movie nights, and more!