Get connected with our daily update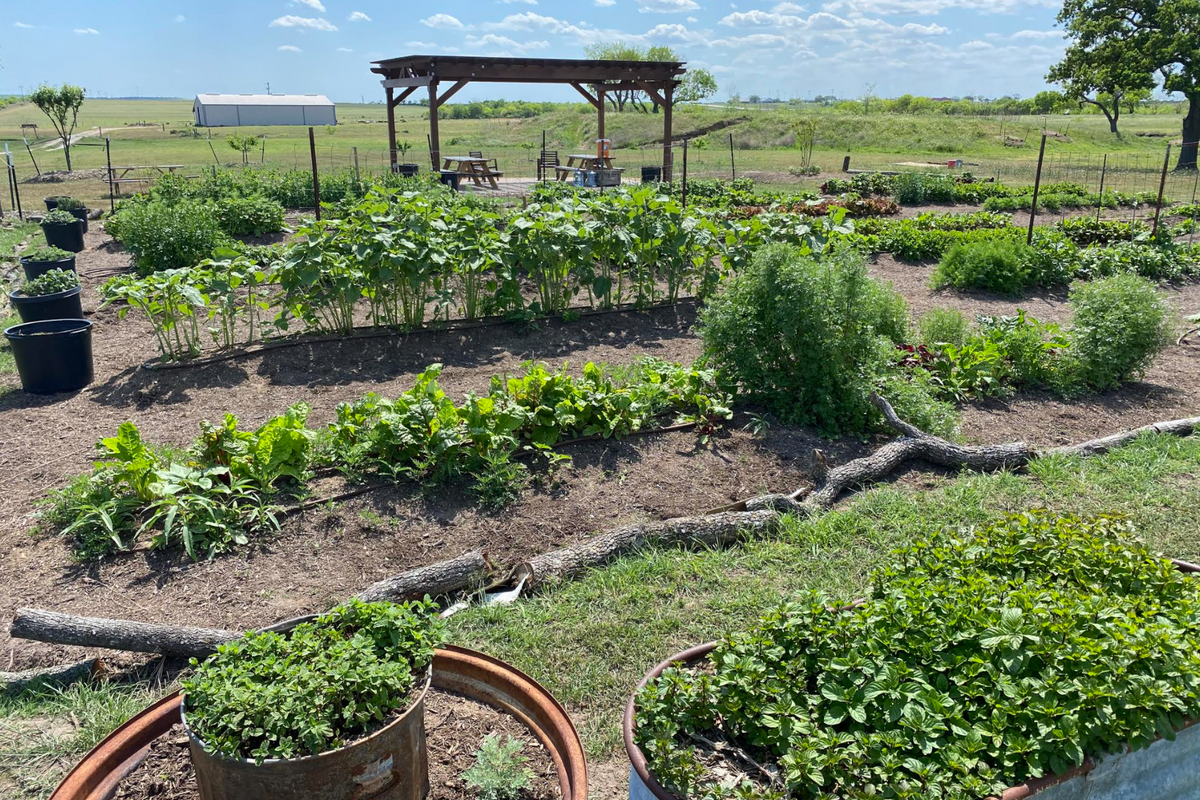 A jackrabbit hops across the field as an employee on break plucks and samples arugula straight from the garden bed.
It may not look like the traditional U.S headquarters of a 9,000-employee international software company, but thanks to a pandemic pivot, a day at the office is also now a day on the farm for Austin-based employees of Zoho.
---
When three years ago Zoho purchased 375 acres in Del Valle off Highway 71, the global tech company intended to create a traditional corporate campus for its 85 local workers. But after employees expressed great satisfaction in working in a small garden they created on-site in February 2020, Zoho scrapped its plans and instead decided to embrace the land with a working farm. Rather than creating new buildings, the company is utilizing its existing structures, including an old farmhouse, as office space.
"We had met with a couple different architecture firms and design firms and they showed us super fancy beautiful renderings. It just really didn't feel like us," said Zoho Operations Manager Tom Philipps. "Why pay an architecture firm a ton of money to build a campus when we can build it ourselves? We have buildings we can renovate, we have spaces where we can build our own and, even better yet, let's do it all in the midst of a functioning organic farm."
The farm has expanded–it now includes five plots and an orchard–that Zoho recently hired two full-time staff members, Logan Pettyjohn and Brandon Connor, who are dedicated exclusively to working the fields.
"We've got to teach these tech guys what farming is and what it takes," joked Connor as he surveyed the orchard with his Blue Heeler, Eli, last week. "This is the right company to do it. Working with the people that have been around the farm has been incredible. Everybody just kind of pulled their community into it and it's just been a labor of love."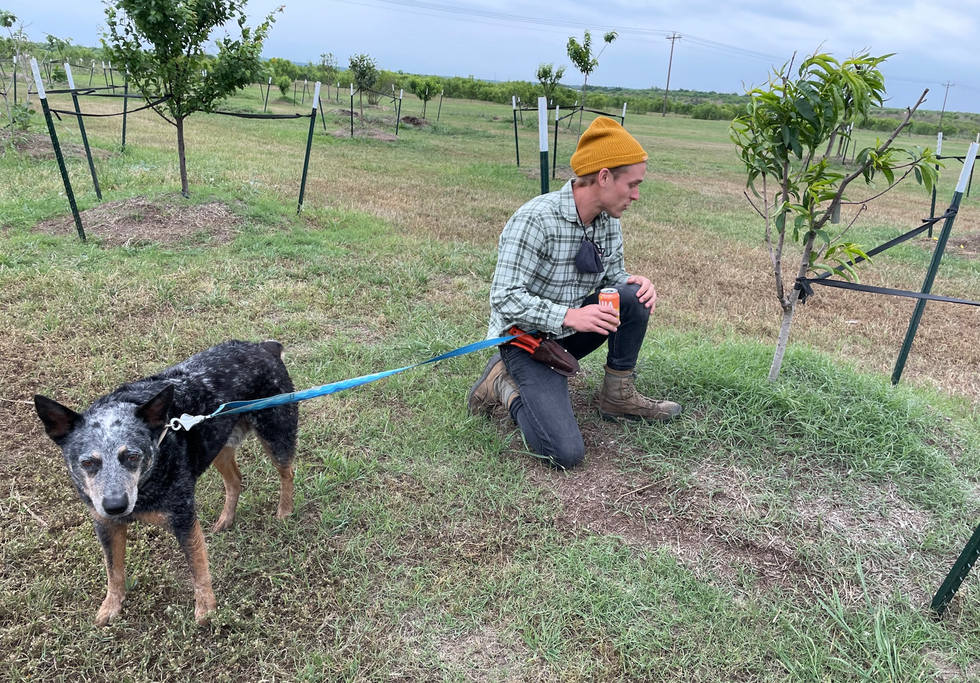 Brandon Connor, farm operations coordinator, and his dog, Eli, check on Zoho's on-site orchard. (Kristin Finan)
Zoho employees are still primarily working from home due to the pandemic but are welcome to visit the farm whenever they'd like, including to pick up produce, which is harvested twice a week and includes lettuce, beets, spinach, turnips, radishes, peppers, cantaloupe, watermelon, strawberries, apples, pears, pumpkins and squash.
"We don't use pesticides, so you can pick and eat anything," Philipps said.
The farm currently yields about 40 pounds of produce a week and will yield more than 200 over the summer, Philipps said. Food that doesn't go to employees and their families or friends is shared with the Central Texas Food Bank and other community organizations.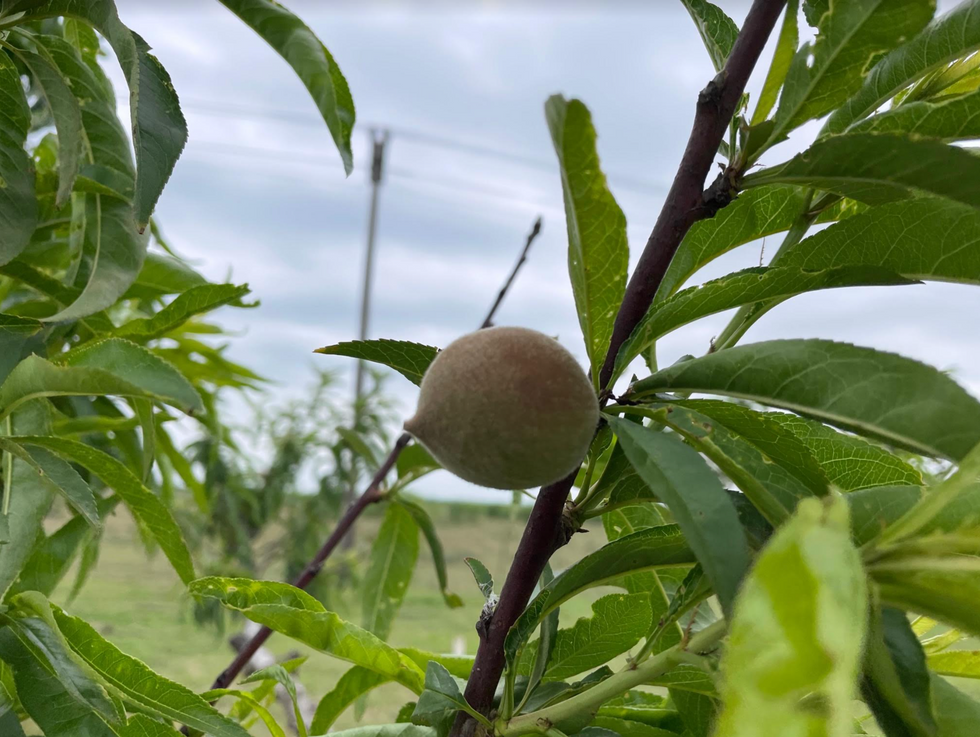 Zoho's on-site orchard features a variety of trees, including peach, pear and apple. (Kristin Finan)
Prior to the pandemic, most Zoho employees worked out of a rented office space in southeast Austin. That lease will expire at the end of May, Philipps said, and headquarters will shift completely to the farm.
Under the direction of COO Raju Vegesna, Zoho has also opened satellite offices in cities including Bastrop and New Braunfels with a goal of empowering talent and offering increased technical job opportunities in more rural areas.
"We're finding tons of incredibly qualified applicants that told us point blank, 'I used to have to go to Houston or Austin to do this work,'" Philipps said. "We've coined the term transnational localism. You want folks to live a well-rounded life."
The farm has also opened up new avenues for employee bonding, from the recipes and photos that are swapped on the Zoho group chat—Philipps recently whipped up an apple crisp using fresh green apples—to the meetings that take place under the breezy outdoor gazebo adjacent to the farm. Employees are also encouraged to experiment with their passions on the land, Philipps said. He said one coworker is drawing up plans to create a playscape where employees' children can play while another is hoping to create a butterfly garden.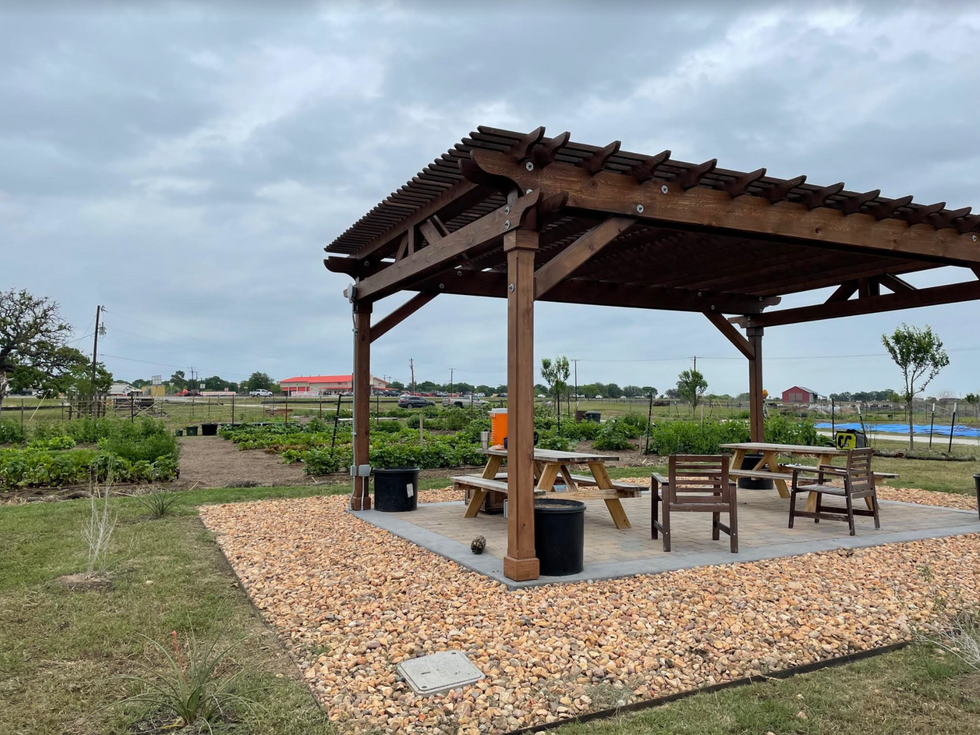 The gazebo adjacent to the farm at Zoho is available for meetings. (Kristin Finan)
"The sky's the limit in the future," Philipps said. "We're excited to see how it evolves, but we're also pretty proud of what we've scraped together in a little over a year."
As more businesses move to Austin, could this be a model that other companies embrace?
"Absolutely this is within a company's capacity to do," Philipps said. "It's just a matter of what your priorities are and what your employees are interested in."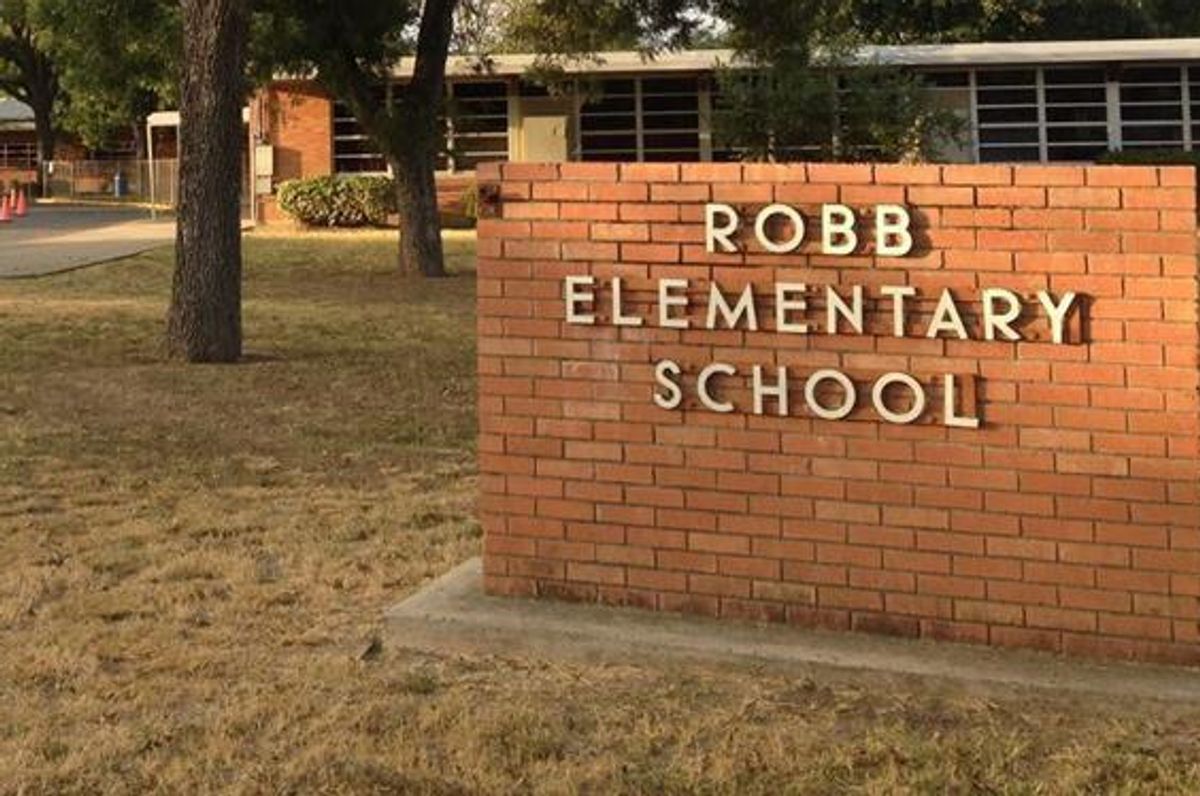 Fourteen students and one teacher are dead after a shooting at Robb Elementary School in Uvalde, Texas—a small town an hour and a half west of San Antonio—on Tuesday afternoon.
The suspect, 18-year-old Salvador Ramos, is believed to have been killed by the police, Gov. Greg Abbott said in a press conference.
According to University Health Hospital officials, a 66-year-old woman and 10-year-old girl arrived in critical condition. Uvalde Memorial Hospital reportedly received 13 children for treatment and two individuals who were already deceased.
The shooter prompted a lockdown at the elementary school of just under 600 students, with San Antonio Police sending SWAT, and Eagle chopper and Crime Scene Investigators.
This is the U.S.'s 213th mass shooting of 2022.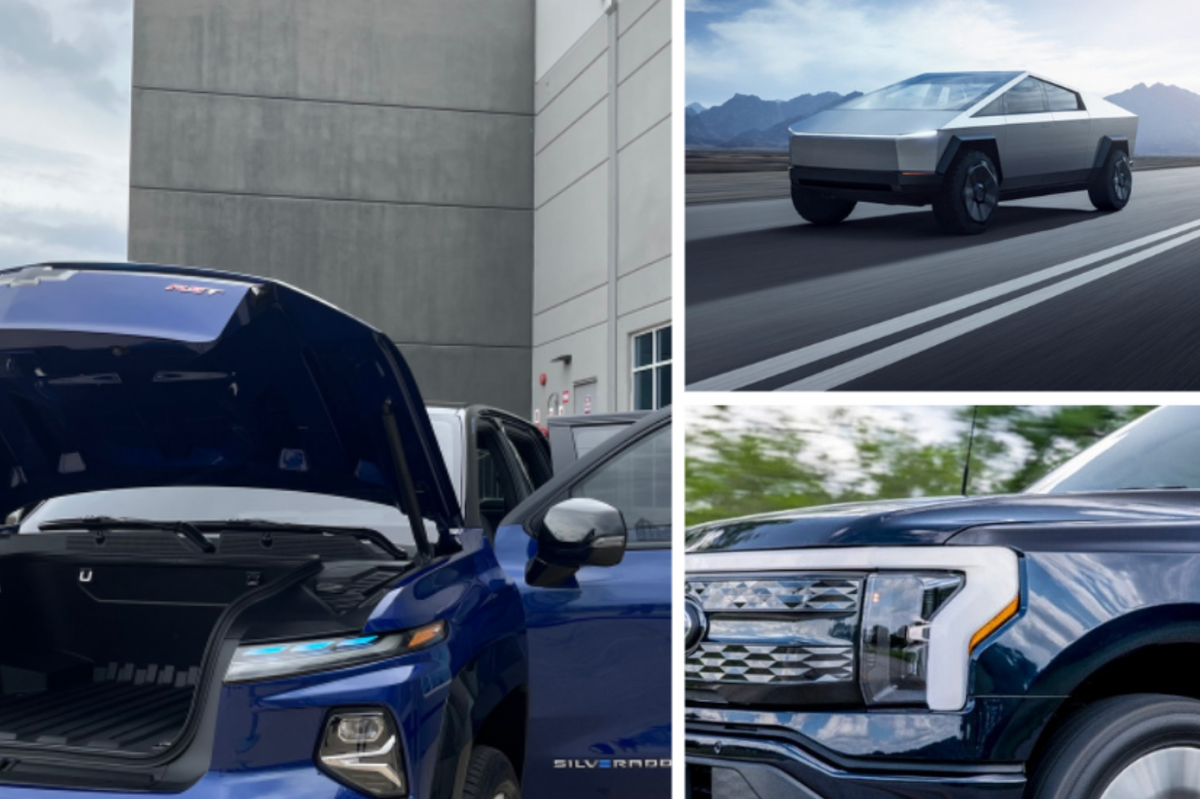 General Motors stepped onto Tesla's turf this week by bringing the 2024 Chevy Silverado EV to Austin for a showing. It's driving up competition in an increasingly hot market for electric pickups, which include the Cybertruck and Ford's F-150 Lightning.
"Especially here in Austin, there's a really, really high interest in electric vehicles and keeping that zero-emissions goal in mind," said Rachel Reid, a spokesperson for General Motors. "And then just like anywhere in Texas, trucks are something that people use in their daily lives for things from carrying different furniture or anything from a job site or even just having the family in the backseat and being able to carry something along with them."
Pickups play a major role in Texas culture, so much that the Texas Standard notes auto companies sometimes approach their marketing strategy by the regions of North, East, West and Texas. So, here's a look at the pickup options in the coming years if you're looking to go electric.
Production site and release schedule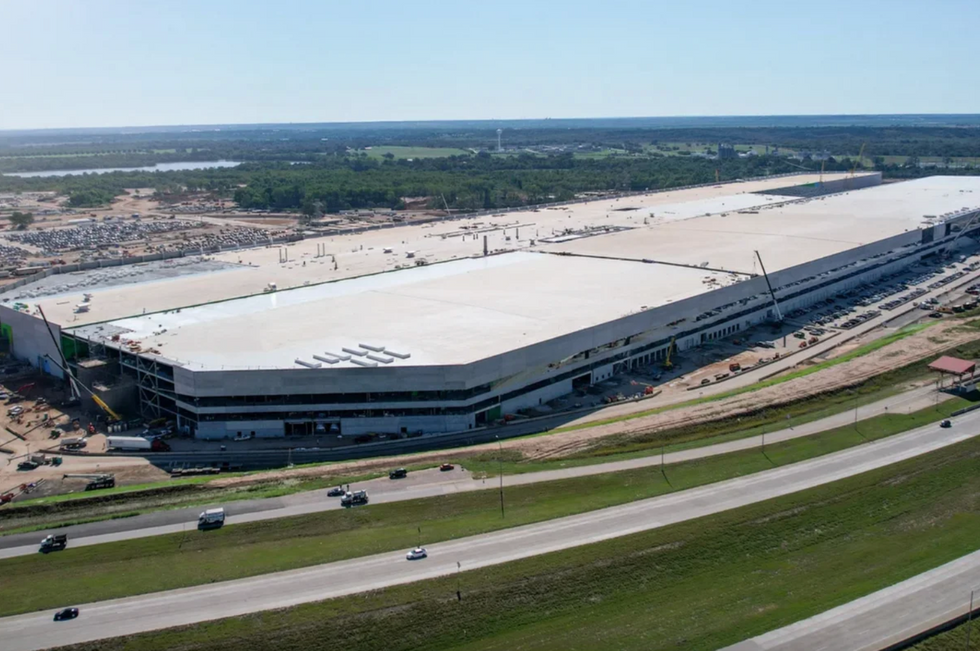 The Silverado is being made at the company's first fully dedicated EV assembly plant in Detroit, Michigan. Known as Factory ZERO, it's named as such to reflect the company's vision of a world with zero crashes, emissions or congestion.
The Cybertruck, meanwhile, will be produced at Giga Texas. At the recent opening of the factory in southeast Travis County, CEO Elon Musk addressed delays on the truck and said it would be out in 2023.
Orders are closed for the 2022 F-150 Lightning, but 2023 versions are just around the corner. They are being produced at Ford's EV center within their Rouge Complex in Dearborn, Michigan
Cost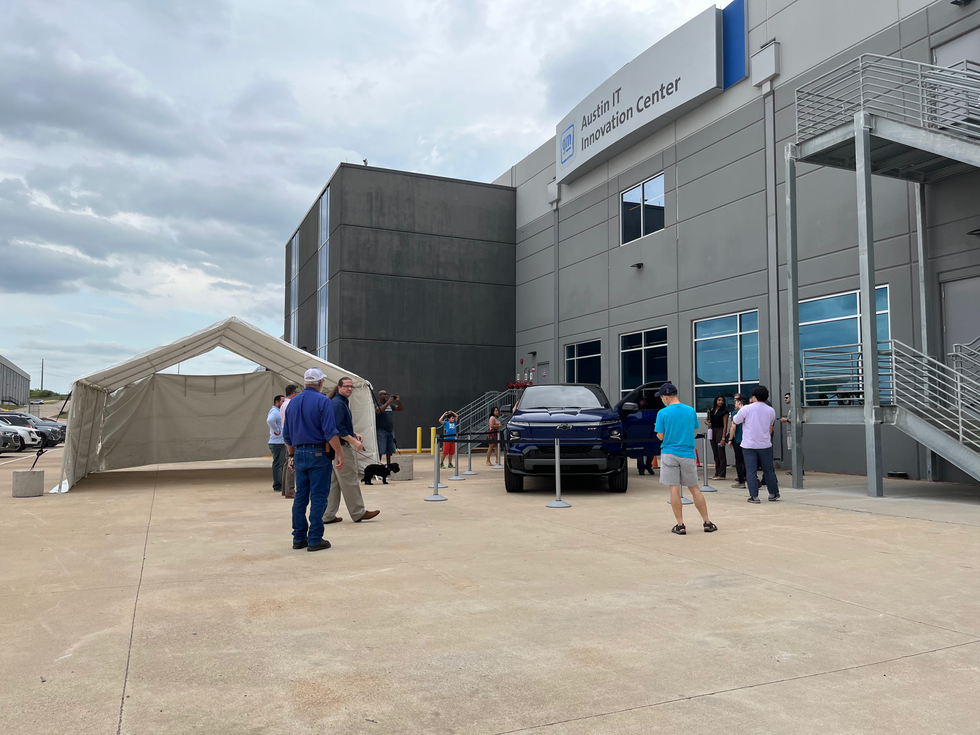 The Silverado has an estimated MSRP starting at $39,900 with a reservation cost of $100. Depending on which feature options are added, the truck could end up costing around $80,000.
The Cybertruck also requires a reservation cost of $100 and a final price varies by the number of electric motors. So the price ranges from $39,900 for a single motor and $69,900 for a tri motor.
This year's F-150s ranged in price from $39,974 to $90,874.
Autonomous features
You'll have to be at the wheel and alert no matter which car you choose since no vehicle is fully autonomous.
Chevrolet has compatible roads that drivers can use their driver-assisted technology, known as Super Cruise which includes adaptive cruise control, lane centering and hands-free operation with an attentive driver.
The Cybertruck order site doesn't appear to have many details on what its tech will include, but Tesla has previously made plans to launch a new self-driving computer with the pickup.
The more expensive Lightning models have Blue Cruise available, which is Ford's hands-free driving system that can be used on prequalified sections of divided highways. It includes a driver-facing camera to ensure the driver has their eyes on the road and Ford has said there's potential for future enhancements.
Charging time and range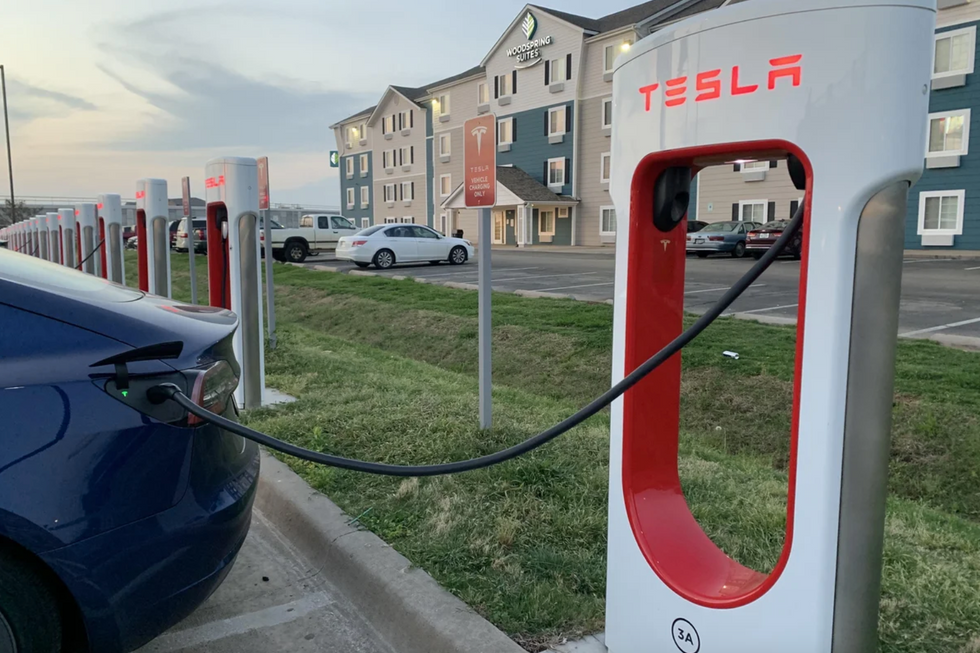 If you're looking to take some road trips outside of Austin, then this is one of the critical factors you'll consider while EV shopping.
The Chevy is estimated to reach 400 miles of range. With a 10 minute charge on a fast charger, it'll be able to get about 100 miles of range.
It will vary by battery pack, but the Environmental Protection Agency shows the Lightning as capable of traveling between 230 and 320 mile range.
It's yet to be realized, but Tesla is currently boasting the highest of the three with up to 500 miles of range on its Cybertruck.
Screens and storage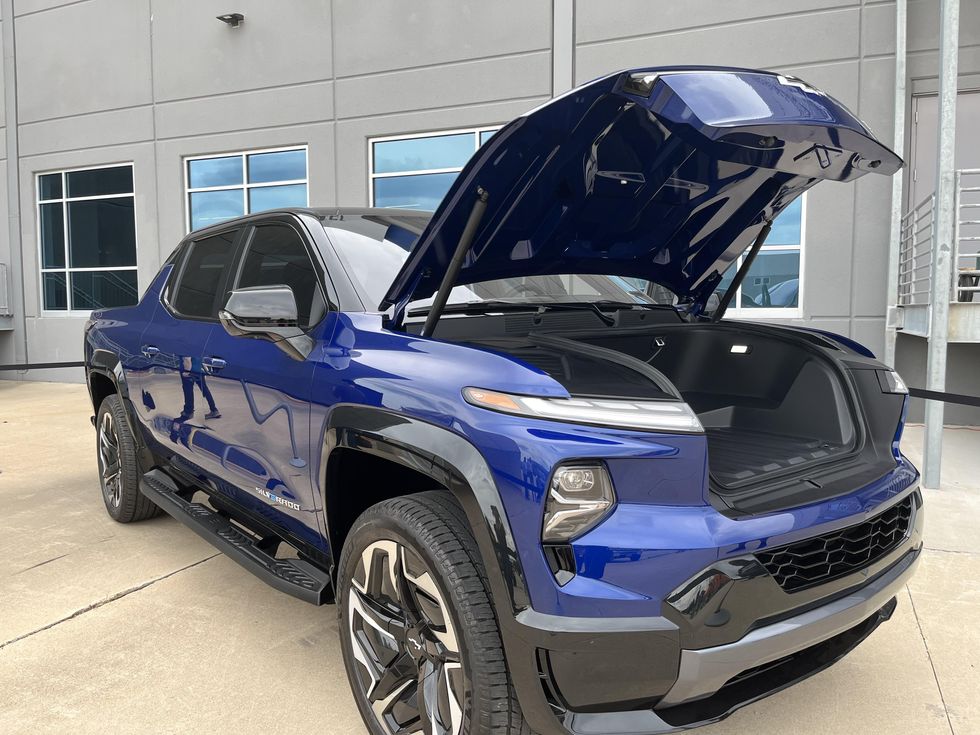 Of course, there are things you can do to keep busy while charging.
Generally, Tesla screens can display navigation, apps and a media player where you can access the radio and streaming services.
When it comes to loading up the vehicle, the Cybertruck flexes enough storage in the back for a motorcycle that you can transport up with a ramp.
The Silverado has a screen above the wheel that functions as a traditional dashboard and another larger screen. Chevy also replaced the space up front where an internal combustion engine would be with a "frunk."
The Lightning also has a frunk, with Insider listing it as one of the reasons it's perfect for road trips.