Get connected with our daily update
A jackrabbit hops across the field as an employee on break plucks and samples arugula straight from the garden bed.
It may not look like the traditional U.S headquarters of a 9,000-employee international software company, but thanks to a pandemic pivot, a day at the office is also now a day on the farm for Austin-based employees of Zoho.
---
When three years ago Zoho purchased 375 acres in Del Valle off Highway 71, the global tech company intended to create a traditional corporate campus for its 85 local workers. But after employees expressed great satisfaction in working in a small garden they created on-site in February 2020, Zoho scrapped its plans and instead decided to embrace the land with a working farm. Rather than creating new buildings, the company is utilizing its existing structures, including an old farmhouse, as office space.
"We had met with a couple different architecture firms and design firms and they showed us super fancy beautiful renderings. It just really didn't feel like us," said Zoho Operations Manager Tom Philipps. "Why pay an architecture firm a ton of money to build a campus when we can build it ourselves? We have buildings we can renovate, we have spaces where we can build our own and, even better yet, let's do it all in the midst of a functioning organic farm."
The farm has expanded–it now includes five plots and an orchard–that Zoho recently hired two full-time staff members, Logan Pettyjohn and Brandon Connor, who are dedicated exclusively to working the fields.
"We've got to teach these tech guys what farming is and what it takes," joked Connor as he surveyed the orchard with his Blue Heeler, Eli, last week. "This is the right company to do it. Working with the people that have been around the farm has been incredible. Everybody just kind of pulled their community into it and it's just been a labor of love."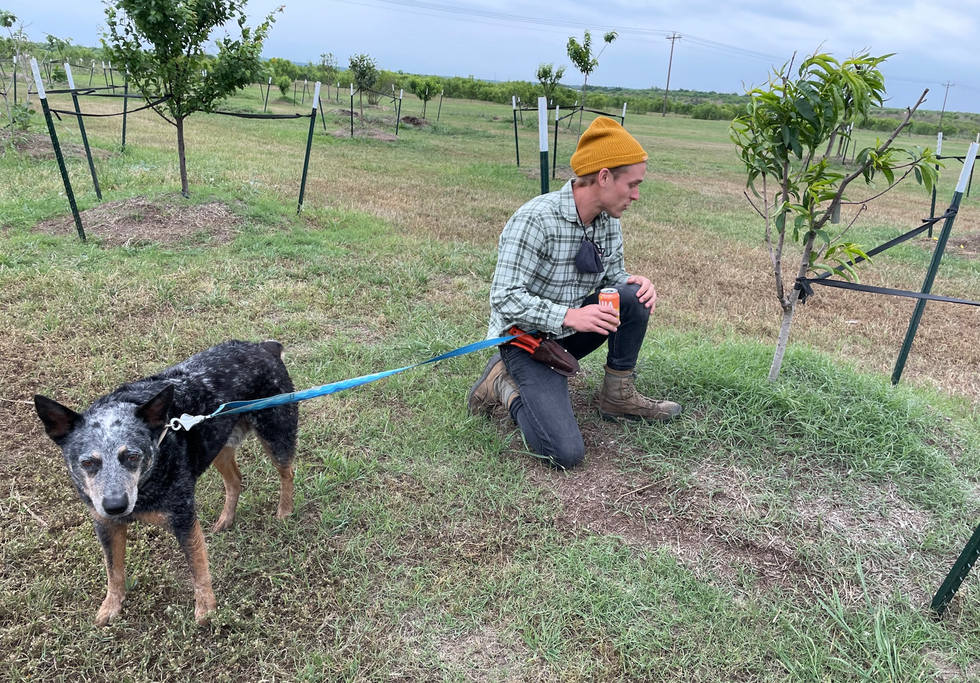 Brandon Connor, farm operations coordinator, and his dog, Eli, check on Zoho's on-site orchard. (Kristin Finan)
Zoho employees are still primarily working from home due to the pandemic but are welcome to visit the farm whenever they'd like, including to pick up produce, which is harvested twice a week and includes lettuce, beets, spinach, turnips, radishes, peppers, cantaloupe, watermelon, strawberries, apples, pears, pumpkins and squash.
"We don't use pesticides, so you can pick and eat anything," Philipps said.
The farm currently yields about 40 pounds of produce a week and will yield more than 200 over the summer, Philipps said. Food that doesn't go to employees and their families or friends is shared with the Central Texas Food Bank and other community organizations.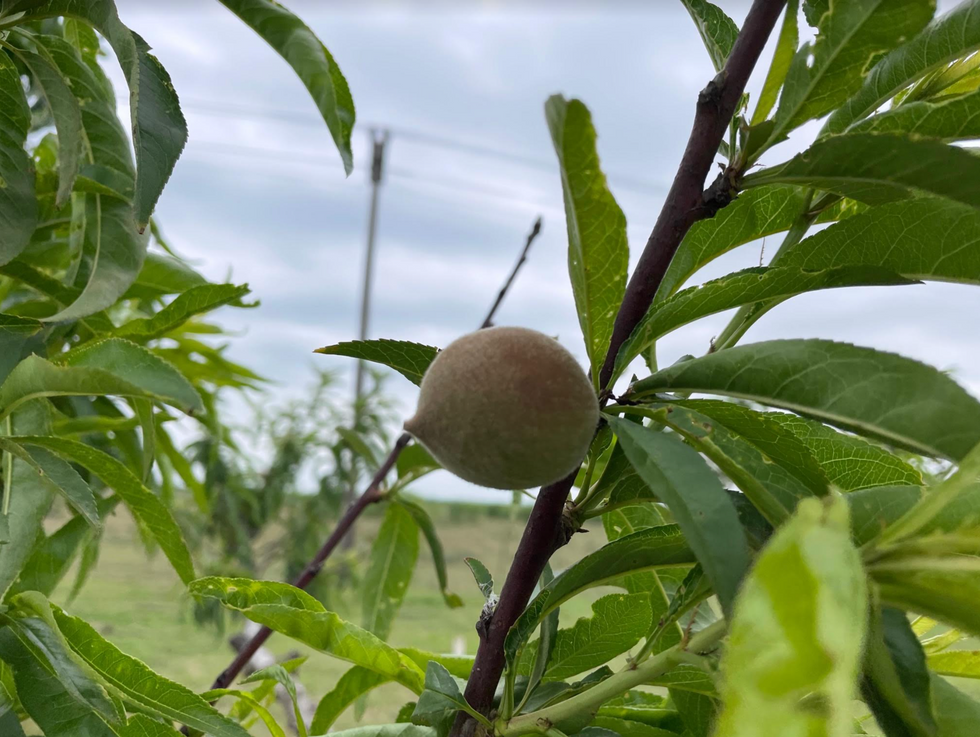 Zoho's on-site orchard features a variety of trees, including peach, pear and apple. (Kristin Finan)
Prior to the pandemic, most Zoho employees worked out of a rented office space in southeast Austin. That lease will expire at the end of May, Philipps said, and headquarters will shift completely to the farm.
Under the direction of COO Raju Vegesna, Zoho has also opened satellite offices in cities including Bastrop and New Braunfels with a goal of empowering talent and offering increased technical job opportunities in more rural areas.
"We're finding tons of incredibly qualified applicants that told us point blank, 'I used to have to go to Houston or Austin to do this work,'" Philipps said. "We've coined the term transnational localism. You want folks to live a well-rounded life."
The farm has also opened up new avenues for employee bonding, from the recipes and photos that are swapped on the Zoho group chat—Philipps recently whipped up an apple crisp using fresh green apples—to the meetings that take place under the breezy outdoor gazebo adjacent to the farm. Employees are also encouraged to experiment with their passions on the land, Philipps said. He said one coworker is drawing up plans to create a playscape where employees' children can play while another is hoping to create a butterfly garden.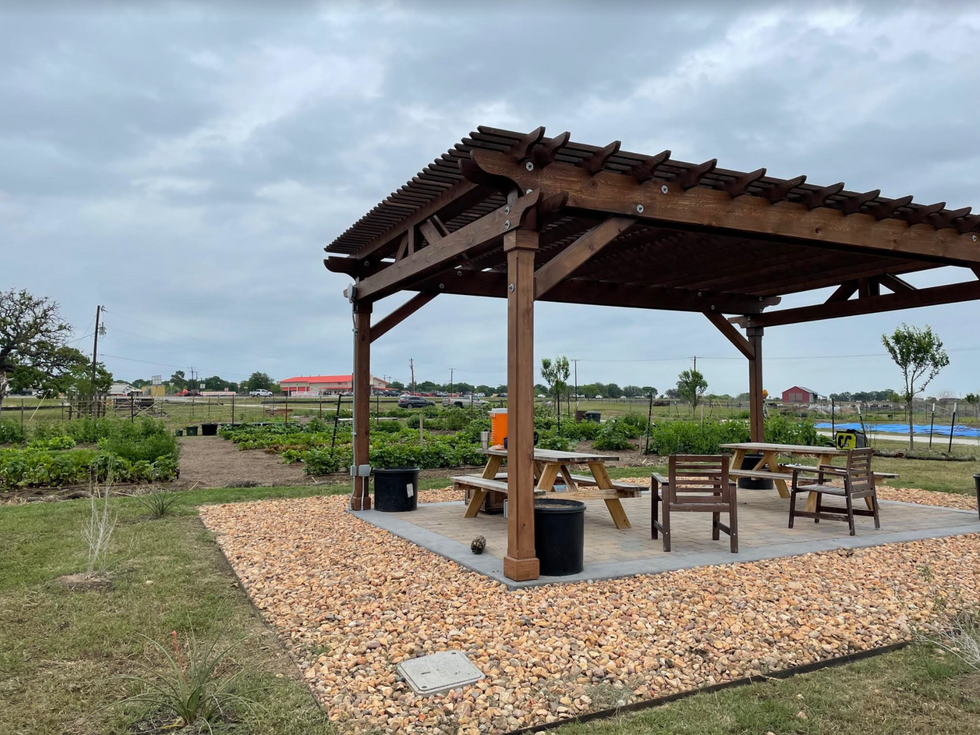 The gazebo adjacent to the farm at Zoho is available for meetings. (Kristin Finan)
"The sky's the limit in the future," Philipps said. "We're excited to see how it evolves, but we're also pretty proud of what we've scraped together in a little over a year."
As more businesses move to Austin, could this be a model that other companies embrace?
"Absolutely this is within a company's capacity to do," Philipps said. "It's just a matter of what your priorities are and what your employees are interested in."
Akins Early College High School, 10701 S. 1st St., is on lockdown as district police investigate a report of an "armed subject," Austin ISD Police Chief Ashley Gonzalez tweeted at 10:11 a.m. Wednesday.
As of 11:56 a.m., the involved parties have been identified and located. Students and staff are safe, Gonzalez tweeted, and no shots have been fired as of 11:09 a.m.
Parents are asked to refrain from going to campus.
This post will be updated as more information becomes available.
The Taylor Police Department is investigating an apparent murder-suicide that left four people dead on Tuesday.
Officers responded to a call at around 1 p.m. for a welfare check at 616 Symes St. in Taylor, Texas, where the Taylor Fire Department helped force entry into the home since it was locked, police said. Once inside, officers found four dead bodies. The names of the victims have not been released as police continue to contact relatives, but officers revealed they consisted of a 45-year-old woman, a 20-year-old woman, an 18-year-old man and a 57-year-old man.
Police believe the deaths to be a murder-suicide and are investigating with the help of the Williamson County Sheriff's Office and the Texas Rangers.
Later that day, another murder was reported in Taylor, which police say is unrelated.
Police responded to a shooting at 2100 Whistling Way around 4 p.m. Tuesday. They said a family member found 33-year-old Jonathan Hitch with a gunshot wound to his head. It is being investigated as a suspicious death.
No matter how long you've been in Austin, Samuel Grey Horse has probably been here longer than you and the spirit of his indigenous ancestors walked the land far before anyone living did. Born and raised in the capital city in 1961, the city has grown and changed all around him.
You've probably seen or heard of Grey Horse before—he's been called the "Sixth Street Cowboy" due to his penchant for riding his horses through the city streets, dressing up as Santa Claus during the holidays and making national news back in 2011 when he received a DUI while riding his mule down Sixth Street.
"I remember when I could see the capital from anywhere," Grey Horse told Austonia during a visit to his East Austin ranch. "I never thought or imagined that I would see Austin like this."
Now, living with his three horses, mule and dogs in East Austin on "the road that time forgot," Grey Horse lives the "Native" lifestyle; he cares for his horses, tends to his garden, holds sacred prayer ceremonies, writes music, sings with legendary musicians and occasionally films with Richard Linklater, director of "Dazed and Confused."
Just as Austin changed over the years, so too did Grey Horse. On June 26, 2010, he was in an accident that he credits for changing his life. While riding a racing horse, Grey Horse's saddle came loose and dragged him underneath for 150 yards. By the time they had stopped, Grey Horse had 12 broken ribs, collapsed lungs, a broken neck, broken clavicle, cracked skull, broken wrist and went into a coma.
"I had all the things done to me but that's how the universe teaches you," Grey Horse said. "They said I would never ride a horse again or walk correctly, but no, I don't live in that world, because where I went to with my coma. I was living in another world, in the other world's illusion."
His road to recovery was long, arduous, miraculous and aided by his horses: Big Tex, Big Red and mule Mula, who have all been in his care for well over a decade. Grey Horse said they took care of his "energy" when he needed them most. Despite the pain that ensued from horses, his accident drew the cross-species family together.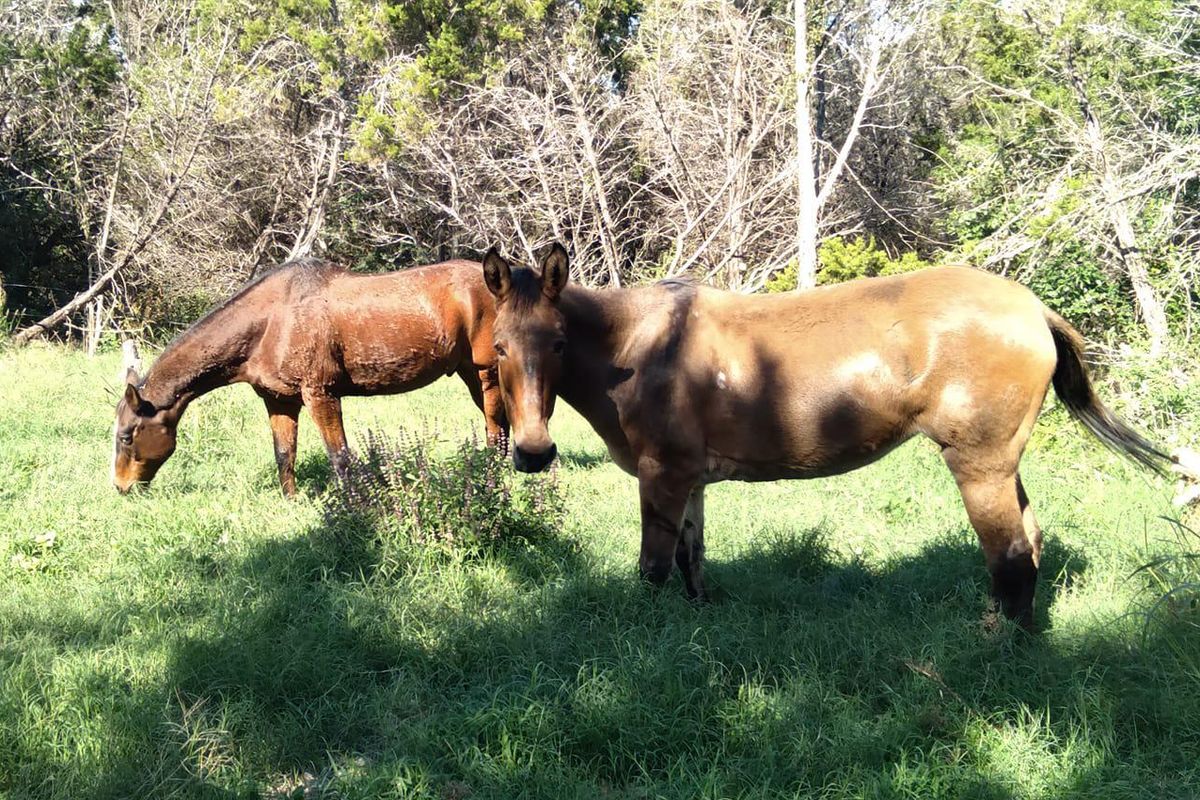 Big Red and Mula have been living with Grey Horse for 16 and 14 years, respectively. (Sam Grey Horse/Instagram)
"I ride them around town and share them with everybody because everything has a purpose," Grey Horse said. "You don't throw something away just because it's a little beat up. I was all beat up."
The winters are still painful for his joints but he powers through so he can bring joy to the people of Downtown Austin in his Santa Claus costume every year.

"I can't hurt because I'm Santa Claus, and I got to be Santa for the kids and everybody. I give them inspiration and energy, I make millions happy downtown," Grey Horse said. "I sing often with a cordless mic, my horses dance and they're happy. If I can make one person happy that makes a difference."
Though it was never his intention, a career in music found Grey Horse and it felt right due to his mother telling him as a child he would be a singer one day. Grey Horse recently returned from his tour with The Greyhounds and Sir Woman across Texas, Arkansas and Oklahoma.
(Laura Figi/Austonia)
His original song, "Crow Dog," is a tribute to his life and the people who have passed along their loving energy in it.

Show biz can't get enough of Grey Horse, who also models for Patagonia and Levi's; he taught Joe Jonas how to ride a horse for a video shoot. He is now working with a British filmmaker on a documentary, and was featured on episode 10 of Linklater's "That Animal Rescue Show."
"I sing with Grammy winners, which is very special to me, and I write songs about my life. Very magical stuff," Grey Horse said. "(The tour) was one of the best runs we've done for now—people are out and want to get out and the energy the guys bring is amazing."

You're certain to see Grey Horse around town if you spend some time near The Continental Club on South Congress or the Texas Capitol into the night. Until then, tok sha.
"There are no words for goodbye in my language, it's 'tok sha,'" Grey Horse said. "It means I'll see you again. I'll see you soon. I'll see you in the next life."