Austonia AM
100% Austin news, info, and entertainment, straight to your inbox at 6 a.m. every morning.
In five minutes, you're fully informed and ready to start another great day in our city.
Get connected with our daily update
A jackrabbit hops across the field as an employee on break plucks and samples arugula straight from the garden bed.
It may not look like the traditional U.S headquarters of a 9,000-employee international software company, but thanks to a pandemic pivot, a day at the office is also now a day on the farm for Austin-based employees of Zoho.
---
When three years ago Zoho purchased 375 acres in Del Valle off Highway 71, the global tech company intended to create a traditional corporate campus for its 85 local workers. But after employees expressed great satisfaction in working in a small garden they created on-site in February 2020, Zoho scrapped its plans and instead decided to embrace the land with a working farm. Rather than creating new buildings, the company is utilizing its existing structures, including an old farmhouse, as office space.
"We had met with a couple different architecture firms and design firms and they showed us super fancy beautiful renderings. It just really didn't feel like us," said Zoho Operations Manager Tom Philipps. "Why pay an architecture firm a ton of money to build a campus when we can build it ourselves? We have buildings we can renovate, we have spaces where we can build our own and, even better yet, let's do it all in the midst of a functioning organic farm."
The farm has expanded–it now includes five plots and an orchard–that Zoho recently hired two full-time staff members, Logan Pettyjohn and Brandon Connor, who are dedicated exclusively to working the fields.
"We've got to teach these tech guys what farming is and what it takes," joked Connor as he surveyed the orchard with his Blue Heeler, Eli, last week. "This is the right company to do it. Working with the people that have been around the farm has been incredible. Everybody just kind of pulled their community into it and it's just been a labor of love."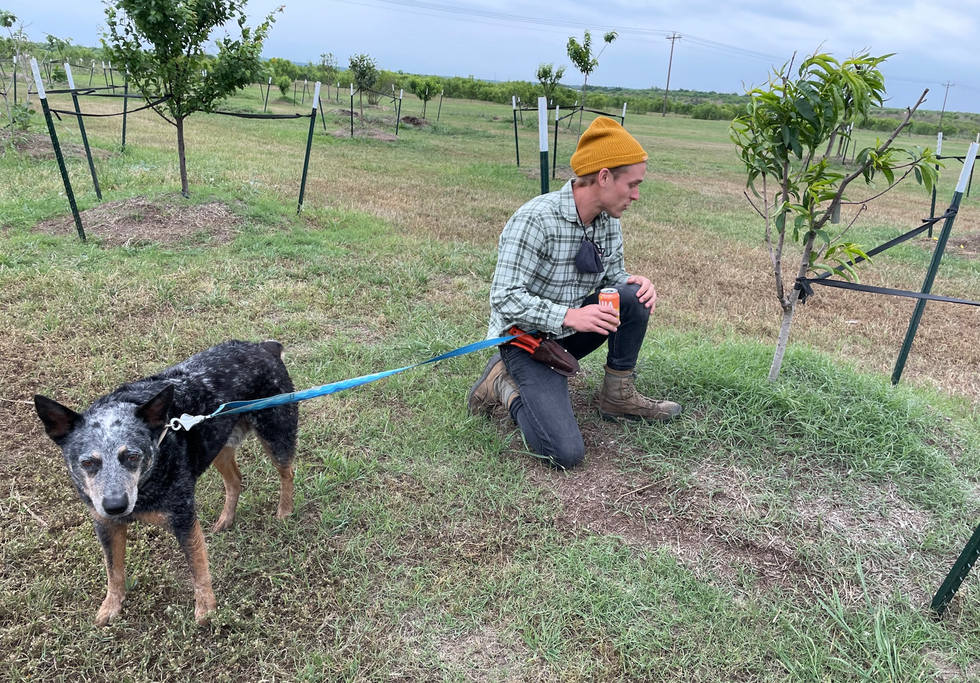 Brandon Connor, farm operations coordinator, and his dog, Eli, check on Zoho's on-site orchard. (Kristin Finan)
Zoho employees are still primarily working from home due to the pandemic but are welcome to visit the farm whenever they'd like, including to pick up produce, which is harvested twice a week and includes lettuce, beets, spinach, turnips, radishes, peppers, cantaloupe, watermelon, strawberries, apples, pears, pumpkins and squash.
"We don't use pesticides, so you can pick and eat anything," Philipps said.
The farm currently yields about 40 pounds of produce a week and will yield more than 200 over the summer, Philipps said. Food that doesn't go to employees and their families or friends is shared with the Central Texas Food Bank and other community organizations.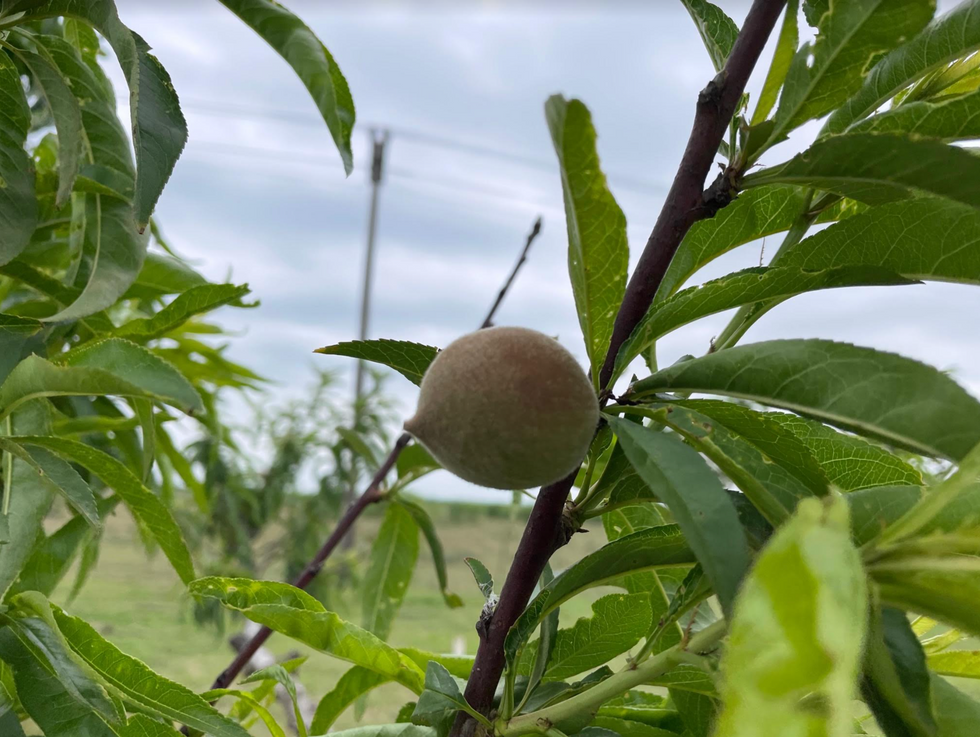 Zoho's on-site orchard features a variety of trees, including peach, pear and apple. (Kristin Finan)
Prior to the pandemic, most Zoho employees worked out of a rented office space in southeast Austin. That lease will expire at the end of May, Philipps said, and headquarters will shift completely to the farm.
Under the direction of COO Raju Vegesna, Zoho has also opened satellite offices in cities including Bastrop and New Braunfels with a goal of empowering talent and offering increased technical job opportunities in more rural areas.
"We're finding tons of incredibly qualified applicants that told us point blank, 'I used to have to go to Houston or Austin to do this work,'" Philipps said. "We've coined the term transnational localism. You want folks to live a well-rounded life."
The farm has also opened up new avenues for employee bonding, from the recipes and photos that are swapped on the Zoho group chat—Philipps recently whipped up an apple crisp using fresh green apples—to the meetings that take place under the breezy outdoor gazebo adjacent to the farm. Employees are also encouraged to experiment with their passions on the land, Philipps said. He said one coworker is drawing up plans to create a playscape where employees' children can play while another is hoping to create a butterfly garden.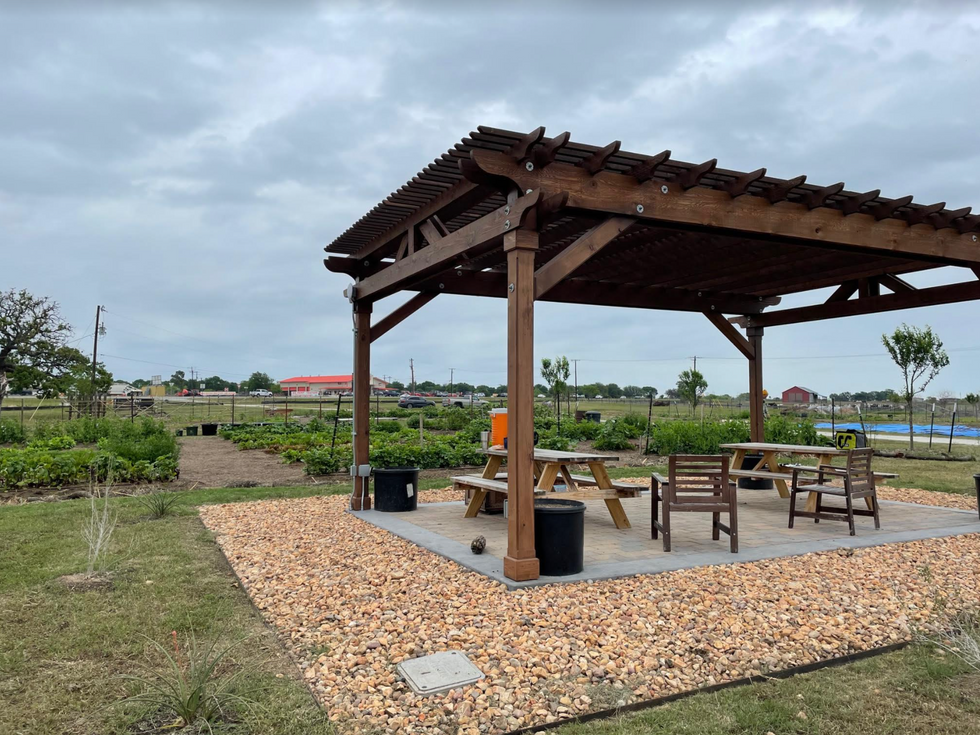 The gazebo adjacent to the farm at Zoho is available for meetings. (Kristin Finan)
"The sky's the limit in the future," Philipps said. "We're excited to see how it evolves, but we're also pretty proud of what we've scraped together in a little over a year."
As more businesses move to Austin, could this be a model that other companies embrace?
"Absolutely this is within a company's capacity to do," Philipps said. "It's just a matter of what your priorities are and what your employees are interested in."
Ingredients:
1 1/2 oz of hibiscus-infused Tito's Handmade Vodka
2 oz sparkling water
1 oz fresh lime juice
3/4 oz simple syrup
1 tsp allspice dram
Directions: Add infused Tito's Handmade Vodka, lime juice, and simple syrup to a shaker with ice. Shake and strain into a glass over fresh ice. Top with sparkling water, and garnish with a lime slice. Enjoy!
A week after Texas added two congressional seats and California lost one, state officials reported a population decline in 2020 for the first time in the Golden State's history.
California fell by over 182,000 people from January 2020 to January 2021, dropping almost 0.5% to cap out at around 39.5 million people. It is still the nation's most populous state.
For over thirty years, California has seen more people leave than move in from other states, state officials said, with 6.1 million people moving out and 4.9 million coming in last year. Immigration and births kept California growing, but the state saw a shrink in international migration in 2020 due to COVID and the White House's hold on visas.
Of the steady flow of ex-Californians moving to other states, more are moving to Texas than any other state. Many are relocating to Austin, which has been labeled a "little California" by billionaire resident Elon Musk and continues to grow astronomically.
Meanwhile, California cities including Los Angeles, San Diego, San Jose and San Francisco saw a population decline.
With immigration and state migration on the decline, the Golden State was also hit with a spike in deaths- 51,000 people died from COVID in 2020, and all but seven of the state's counties saw death rates higher than the three-year average.
Still, the California Department of Finance said a "slightly positive annual growth" can be expected next year as the state recovers from COVID deaths and political repercussions.