Austonia AM
100% Austin news, info, and entertainment, straight to your inbox at 6 a.m. every morning.
In five minutes, you're fully informed and ready to start another great day in our city.
Get connected with our daily update
(Emma Freer/Austonia)
President Donald Trump and his supporters have recently adopted a stance on an issue critical to many Austinies: local land-use regulations, or zoning laws.
---
Zoning determines how land can be used throughout a city, including what can be built, where it can be built and how much of it can be built.
On Aug. 12, Trump tweeted: "The 'suburban housewife' will be voting for me. They want safety & are thrilled that I ended the long running program where low income housing would invade their neighborhood."
Less than two weeks later, Mark and Patricia McCloskey—a St. Louis couple facing charges for waving guns at Black Lives Matter protesters marching past their mansion—gave a prerecorded speech that directly referenced zoning policy at the Republican National Convention.

"(Democrats) want to abolish the suburbs altogether by ending single-family zoning," Patricia said, claiming that doing so "would bring crime, lawlessness and low-quality apartments into thriving suburban neighborhoods."
Jake Wegmann, an assistant professor at the University of Texas at Austin School of Architecture, said this type of rhetoric is new—at least on the national level.
"It is absolutely a new thing for zoning to be mentioned in the context of a presidential campaign," he told Austonia. "But I guess my caution is that the politics of land use reform don't map neatly onto a left-versus-right political spectrum, in my view."
A local look
This plays out in Austin, where all 11 members of City Council are self-identified Democrats and yet typically vote 7-4 on land use items, with the majority supporting urbanist policies and the minority favoring preservationist ones.
Such a split has proven challenging as the city continues its nearly decade-long process to rewrite its land use code, which was last updated in the mid-1980s. Although it is currently on hold due to a lawsuit, the code rewrite—which has cost more than $10 million to date—is a critical issue, and one on which many of the 20 candidates for Austin City Council have an opinion.
Opponents say a rewrite would pander to developers, destroy neighborhood character and accelerate gentrification.
Fred Lewis is the president of Community Not Commodity, a local organization that sued the city over the current rewrite process and was a vocal critic of its previous effort, dubbed CodeNEXT.
"The marketplace is not going to build modest, middle-class housing," he told Austonia last month, adding that he feels the rewrite is instead about satiating "developer greed."
Supporters, on the other hand, argue that the city's current code stands in the way of more equitable, sustainable development, at best, and is racist and classist, at worst.
David and Courtney Whitworth co-own the Central Austin infill home building company Whitworth Homes. David believes the current code prevents the construction of denser, more affordable residences.
"What bothers me is we have a code that only allows Mercedes," he said. "If only our code would allow Kias, we wouldn't have to be subsidizing people into Mercedes."
Despite finding themselves on opposite sides of the land use debate, many candidates—and Austin residents—find themselves in the same political party.
This may be because zoning is a local issue that, until recently, was rarely discussed by national politicians.
Researchers at Stanford University wrote about the challenge of ascertaining the politics of zoning reform in a 2018 paper.
"Such policies tend to benefit the poor and working class—generally aligning with Democrats' concerns—but they also involve an embrace and a trust of private commercial interests (including real estate developers) who tend to be associated with the Republican party," they wrote.
Wegmann went further, mapping out a matrix in which the x-axis was the American political spectrum and the y-axis went from zoning reform at the top to the status quo at the bottom.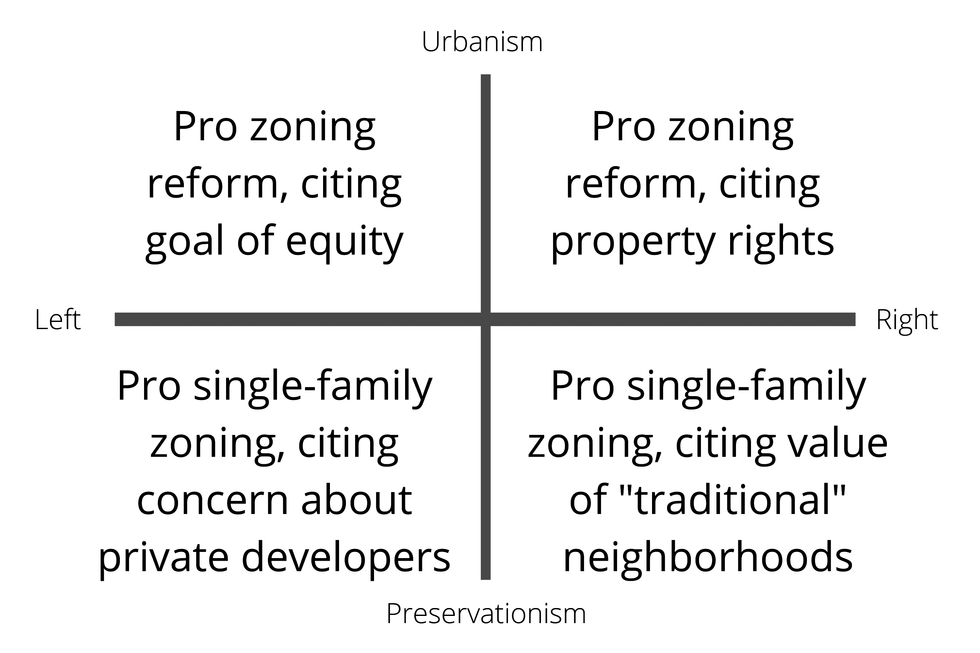 In the upper left quadrant, Democrats who support zoning reform may cite a desire to desegregate cities, while Democrats who oppose it would argue that increased density benefits private developers, Wegmann said.

In the upper right quadrant, Republicans who favor zoning reform may appeal to property rights, while opponents feel "single-family houses preserve a nurturing atmosphere for traditional, nuclear families," he added.
This dynamic presents the opportunity for an odd bedfellows coalition, Wegmann said, similar to the bipartisan support for criminal justice reform in recent years.
But it has also divided those who purport to share the same values.
A case study
District 10 City Council Member Alison Alter describes herself as a progressive Democrat and tends to vote with the preservationist minority on land use issues.
"What people want is to have a say in how the growth happens," she said of some Austinites' opposition to a new code. "They don't want us to just unleash it and rubber stamp it. They want us to guide it."
For Alter, such guidance means ensuring that new development prioritizes affordability and environmental friendliness and honors neighborhood character and property owners' rights.
"I think we need to require more than density," she said.
Alter presented a hypothetical scenario to make her point: Say council is presented with a zoning case that proposes redeveloping a 171-unit apartment building made up of mostly two-, three- and four-bedrooms with a 486-unit building with mostly studios and one-bedrooms. The replacement would increase housing stock, but it could also decrease the number of people living there and displace the working families who had found a home in the existing building.
Because of cases like this, Alter is skeptical that density is the panacea that some zoning reform proponents say it is.
"I don't think we should just be trusting when the developers say that when they're going to do things it will all work out well," she said.
Alter's colleague, District 1 Council Member Natasha Harper-Madison, recently argued in favor of increased density for different reasons.
During an Oct. 13 meeting, council members discussed a rezoning application that would have upzoned a lot in the Montopolis neighborhood from a single-family designation to one that would have allowed townhomes and condos.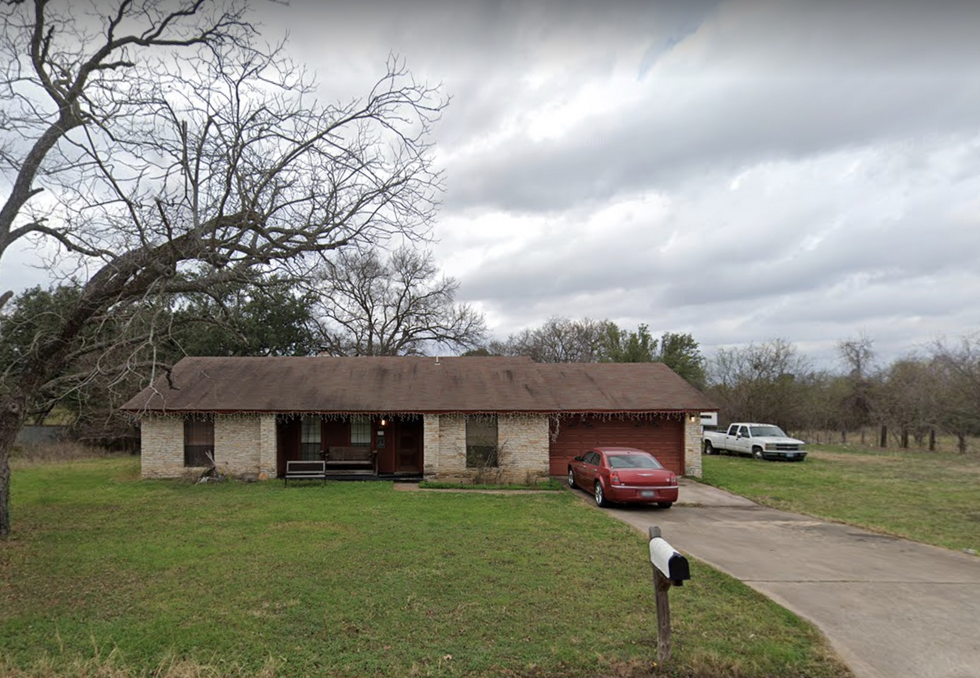 The rezoning application concerned the lot at 508 Kemp St. in the Montopolis neighborhood. (Google Maps)
Harper-Madison supported the change—and used the discussion to talk about zoning more broadly.

"It's a little known fact that the legacy of single-family zoning is absolutely rooted in racism," she said, pointing to racial covenants used by neighborhood developments in California during the early 20th century.
Although she acknowledged the concerns some Austinites have about increased density—especially those who feel their neighborhoods are "bearing the brunt of the load," while others are left largely unaffected—she argued that leaving the Montopolis lot as is would enable the construction of an even more expensive single-family home and eliminate the 17 affordable units proposed in its place.
"I often get asked, 'How can I be an effective anti-racist?'" Harper-Madison said. "One answer should be to ditch that not-in-my-backyard mentality (and) embrace more dense, missing-middle housing types to accommodate more residents with less land (and) more affordable housing right in your neighborhood."
Wegmann, the UT professor, said the recent Black Lives Matter protests have accelerated an existing reevaluation of zoning norms. But he anticipates it's still a long way off before America's "dominant (housing) practice" changes.
"It might take decades," he said. "But I guess what's different is that it's beginning to be seriously challenged in a few places. And I see some evidence that it could spread further."
This article has been updated to clarify Alter's hypothetical.

More on zoning: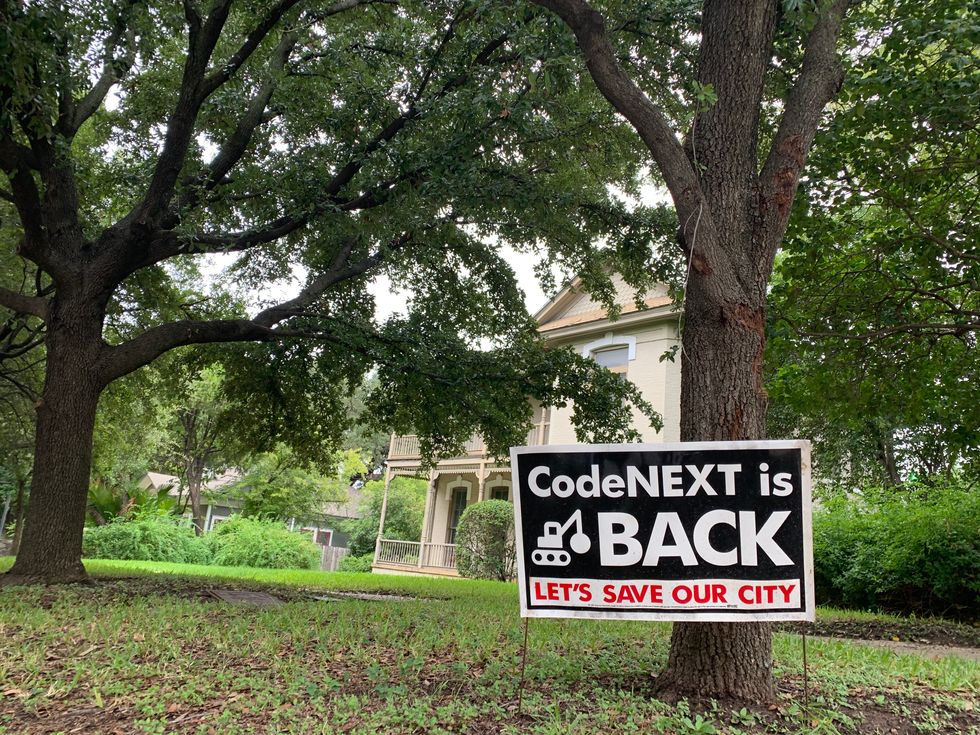 Austin land use code rewrite stalls amid pandemic, lawsuit—but both sides say a solution is possible (Emma Freer)
(Pexels)
Curiosity into cryptocurrency has grown nationwide with 63% reportedly "crypto curious," or those wanting to learn more about it but have not started investing, according to Gemini, a digital currency exchange and custodian platform. The platform reports 14%, or 21.2 million, Americans currently own cryptocurrency with 68% of owners buying within the last two years.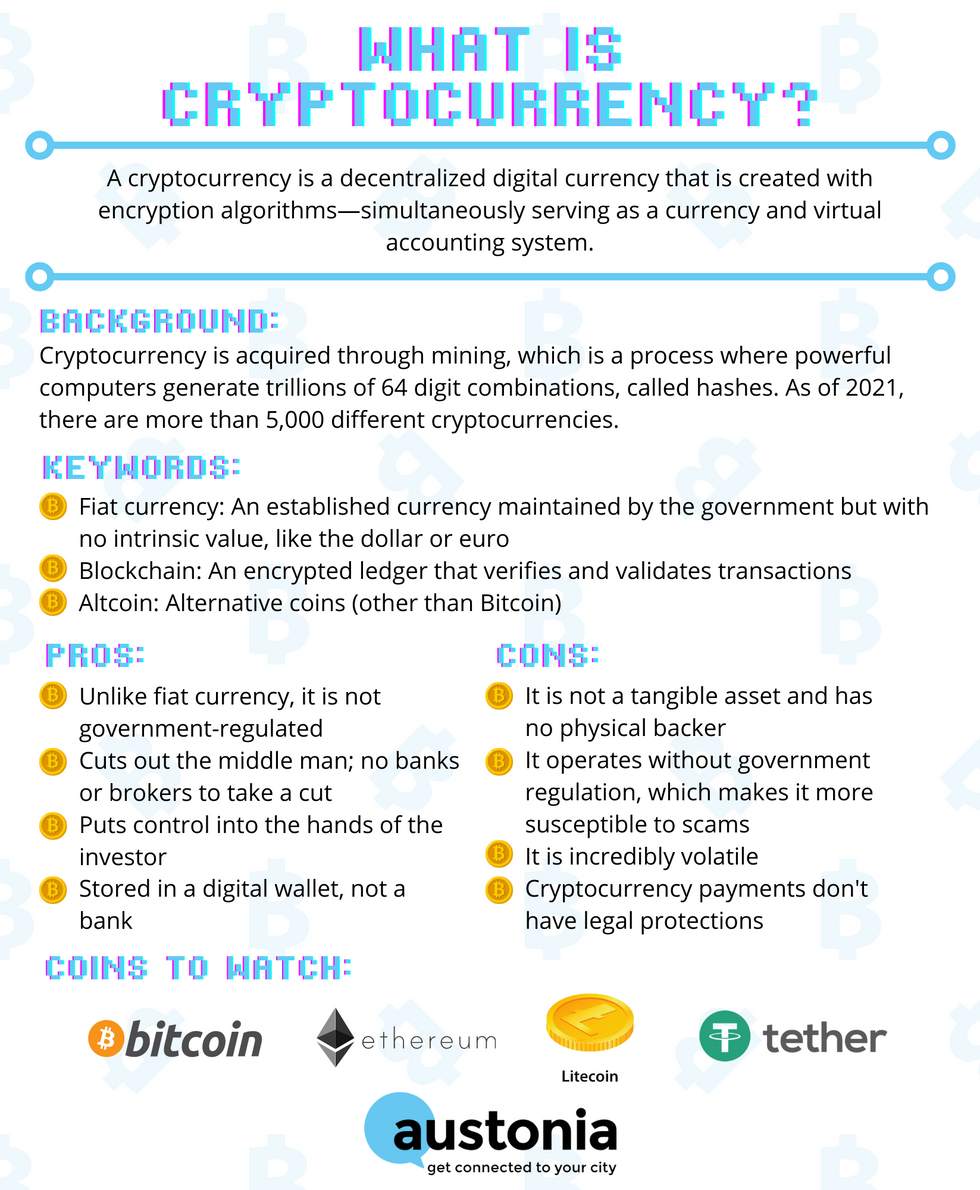 (Laura Figi/Austonia)
Who is buying in?

Sam Nassar, a Texas State University accounting graduate student, started investing in cryptocurrency in July 2020, although he kept up with crypto trends before that. At 23 years old, Nassar said the decision to take the plunge and invest was born from quarantine boredom.
"I've always been intrigued in technology, and I've always been an early adopter, so I just decided to start to invest in it and understand kind of a little bit of behind it," Nassar said. "I do believe in the technology and I know it's so useful and truly is the future"
Since then he has invested over $700 in Bitcoin, Ethereum, Litecoin, Tether, Cardano, Chainlink and Internet Computer.
Cryptocurrency interest is heavily skewed toward younger men with the biggest percentage primarily between the ages of 25 and 44.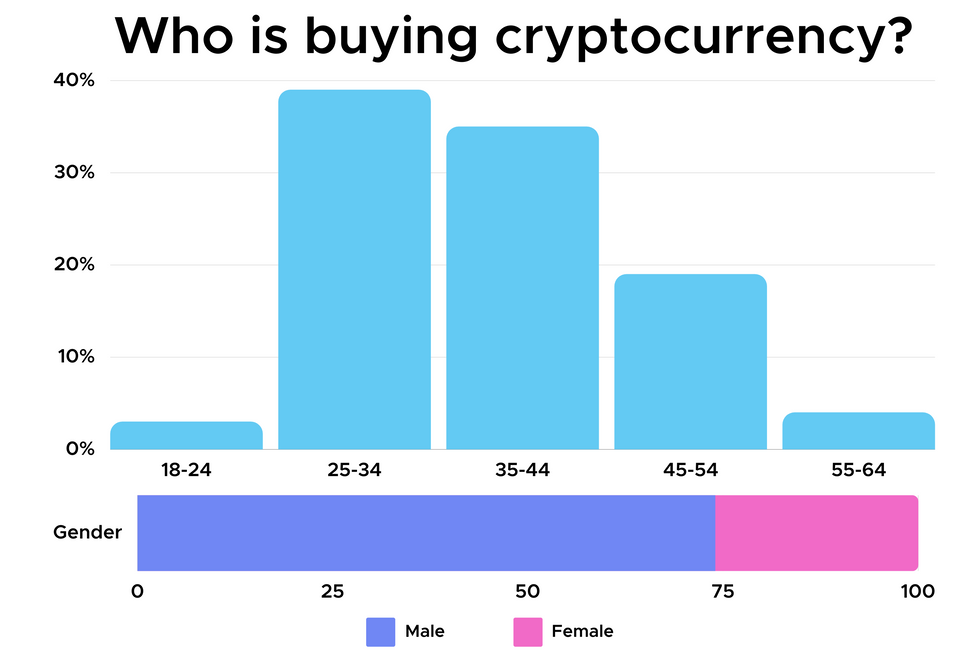 (Laura Figi/Austonia)
Likewise, 26-year-old, Liam Duddy, a South Austin salesman, started to involve himself in cryptocurrency after hearing the buzz about Bitcoin and how much money people were making off of it.

"I was like wow, so you're telling me it only takes me one of these little coins if I can get a hold of them and I have 30 grand," Duddy said. "That opened up a whole different world of all these different kinds of coins you can buy into."
Why are they investing?
For Nassar, cryptocurrency is about being part of the technology of the future. Nassar is studying to be a Certified Public Accountant and believes cryptocurrency, blockchain technology and innovations like smart contracts, or self-executing contracts programs, have the capacity to completely change the industry he wants to work in.
"You're going to have to have specialized auditors that understand blockchain technology in order to truly audit it, otherwise fraud can occur," Nassar said. "I think it really is the future. I really do think that that's another reason I'm investing into it, because I do believe that technology."
Cryptocurrency is about the gains for Duddy, who originally invested $400 and saw a $2,000 return when he invested in Bitcoin and Chainlink. Although he does see value in the future of blockchain technology, Duddy also has fun with it.

"Right now there's not a whole lot (of real-world application), it's not as easy to pay with, but if I have it and it's going up, you have one of them it's worth $50,000 U.S. dollars you can buy a car," Duddy said. "I guess you look at it as something fun to start off with."
What's their advice for new investors?
Do your research before investing
Use a platform meant for cryptocurrency
Don't just listen to Elon Musk's predictions
Look before you leap
Both Nassar and Duddy recommend using an app like Coinbase or Gemini, to track your cryptocurrency.
Finally, don't let the volatility scare you but do make sure you do your research before you sink your life savings into an unregulated currency.
"At the end of the day it's like gambling," Duddy said.
From Your Site Articles
Related Articles Around the Web
Texas Gov. Greg Abbott announced Monday that Texas will opt out of further federal unemployment benefits related to the pandemic effective June 26, citing the number of current job openings and concern about potentially fraudulent unemployment claims. The benefits include a $300 weekly supplement.
"The Texas economy is booming and employers are hiring communities across the state," Abbott said in a statement. "According to the Texas Workforce Commission, the number of job openings in Texas is almost identical to the number of Texans who are receiving unemployment jobs."
TWC listed 837,273 job openings as of Monday afternoon compared to 226,849 unemployment insurance claims filed statewide between March 31 and May 1. An estimated 1 million Texans were unemployed as of March, according to latest estimates released by the state agency.
Some local business owners, including Doc's Backyard Grill owner Charles Milligan, suspect unemployment benefits are deterring Austinites from returning to work. But others agree with economists who say multiple factors are at play, including health concerns and child care availability.
We're seeing lots of posts about how nobody wants to work right now. Just wanted to share our experience.

We received over 60 resumes for a taproom bartender position we posted last week. Every applicant we've set up an interview with has shown up.

People want 𝘨𝘰𝘰𝘥 work.
— Austin Beerworks (@AustinBeerworks) May 11, 2021
Abbott also cited fraudulent unemployment claims. Between March 2020 and April 2021, TWC received 4.48 million unemployment benefit applications, 611,000 or around 14% of which were tagged as suspicious. Most of those tagged were blocked before any benefits were paid out, according to an April 29 press release.

Federal law requires the effective date of such benefits change to be at least 30 days after the U.S. Department of Labor is notified.
From Your Site Articles
Related Articles Around the Web
Is it just us, or is the current Austin mask situation confusing? Are we supposed to wear a mask or not, and where? And should we wear one anyway, even if not requested or required?
Austin health orders requiring masks expire Tuesday. What then?
Take our three-question quiz, and tell us what you're thinking.