Austonia AM
100% Austin news, info, and entertainment, straight to your inbox at 6 a.m. every morning.
In five minutes, you're fully informed and ready to start another great day in our city.
Get connected with our daily update
(Emma Freer/Austonia)
President Donald Trump and his supporters have recently adopted a stance on an issue critical to many Austinies: local land-use regulations, or zoning laws.
---
Zoning determines how land can be used throughout a city, including what can be built, where it can be built and how much of it can be built.
On Aug. 12, Trump tweeted: "The 'suburban housewife' will be voting for me. They want safety & are thrilled that I ended the long running program where low income housing would invade their neighborhood."
Less than two weeks later, Mark and Patricia McCloskey—a St. Louis couple facing charges for waving guns at Black Lives Matter protesters marching past their mansion—gave a prerecorded speech that directly referenced zoning policy at the Republican National Convention.

"(Democrats) want to abolish the suburbs altogether by ending single-family zoning," Patricia said, claiming that doing so "would bring crime, lawlessness and low-quality apartments into thriving suburban neighborhoods."
Jake Wegmann, an assistant professor at the University of Texas at Austin School of Architecture, said this type of rhetoric is new—at least on the national level.
"It is absolutely a new thing for zoning to be mentioned in the context of a presidential campaign," he told Austonia. "But I guess my caution is that the politics of land use reform don't map neatly onto a left-versus-right political spectrum, in my view."
A local look
This plays out in Austin, where all 11 members of City Council are self-identified Democrats and yet typically vote 7-4 on land use items, with the majority supporting urbanist policies and the minority favoring preservationist ones.
Such a split has proven challenging as the city continues its nearly decade-long process to rewrite its land use code, which was last updated in the mid-1980s. Although it is currently on hold due to a lawsuit, the code rewrite—which has cost more than $10 million to date—is a critical issue, and one on which many of the 20 candidates for Austin City Council have an opinion.
Opponents say a rewrite would pander to developers, destroy neighborhood character and accelerate gentrification.
Fred Lewis is the president of Community Not Commodity, a local organization that sued the city over the current rewrite process and was a vocal critic of its previous effort, dubbed CodeNEXT.
"The marketplace is not going to build modest, middle-class housing," he told Austonia last month, adding that he feels the rewrite is instead about satiating "developer greed."
Supporters, on the other hand, argue that the city's current code stands in the way of more equitable, sustainable development, at best, and is racist and classist, at worst.
David and Courtney Whitworth co-own the Central Austin infill home building company Whitworth Homes. David believes the current code prevents the construction of denser, more affordable residences.
"What bothers me is we have a code that only allows Mercedes," he said. "If only our code would allow Kias, we wouldn't have to be subsidizing people into Mercedes."
Despite finding themselves on opposite sides of the land use debate, many candidates—and Austin residents—find themselves in the same political party.
This may be because zoning is a local issue that, until recently, was rarely discussed by national politicians.
Researchers at Stanford University wrote about the challenge of ascertaining the politics of zoning reform in a 2018 paper.
"Such policies tend to benefit the poor and working class—generally aligning with Democrats' concerns—but they also involve an embrace and a trust of private commercial interests (including real estate developers) who tend to be associated with the Republican party," they wrote.
Wegmann went further, mapping out a matrix in which the x-axis was the American political spectrum and the y-axis went from zoning reform at the top to the status quo at the bottom.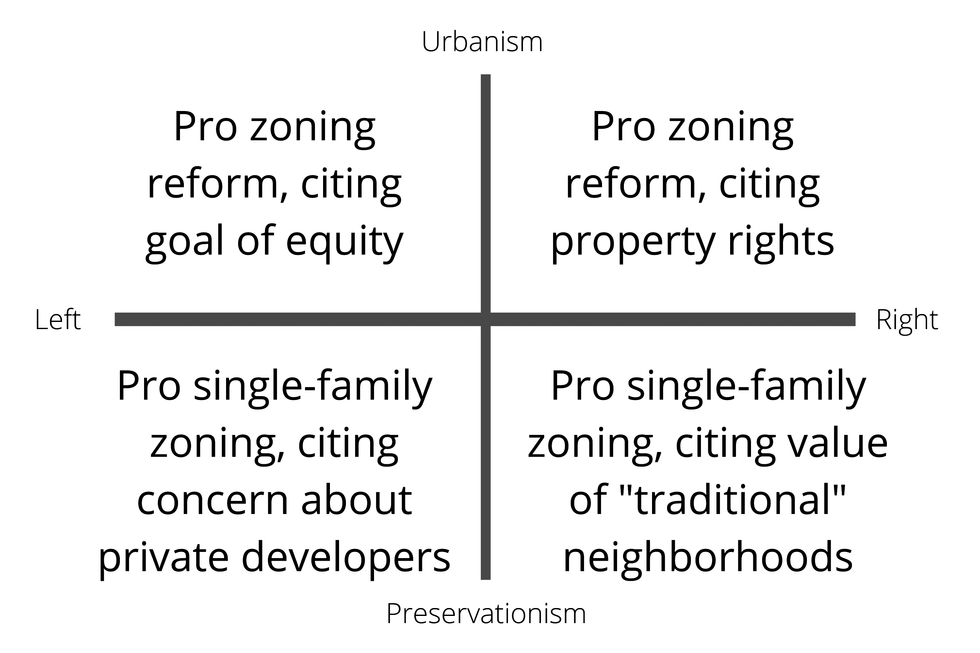 In the upper left quadrant, Democrats who support zoning reform may cite a desire to desegregate cities, while Democrats who oppose it would argue that increased density benefits private developers, Wegmann said.

In the upper right quadrant, Republicans who favor zoning reform may appeal to property rights, while opponents feel "single-family houses preserve a nurturing atmosphere for traditional, nuclear families," he added.
This dynamic presents the opportunity for an odd bedfellows coalition, Wegmann said, similar to the bipartisan support for criminal justice reform in recent years.
But it has also divided those who purport to share the same values.
A case study
District 10 City Council Member Alison Alter describes herself as a progressive Democrat and tends to vote with the preservationist minority on land use issues.
"What people want is to have a say in how the growth happens," she said of some Austinites' opposition to a new code. "They don't want us to just unleash it and rubber stamp it. They want us to guide it."
For Alter, such guidance means ensuring that new development prioritizes affordability and environmental friendliness and honors neighborhood character and property owners' rights.
"I think we need to require more than density," she said.
Alter presented a hypothetical scenario to make her point: Say council is presented with a zoning case that proposes redeveloping a 171-unit apartment building made up of mostly two-, three- and four-bedrooms with a 486-unit building with mostly studios and one-bedrooms. The replacement would increase housing stock, but it could also decrease the number of people living there and displace the working families who had found a home in the existing building.
Because of cases like this, Alter is skeptical that density is the panacea that some zoning reform proponents say it is.
"I don't think we should just be trusting when the developers say that when they're going to do things it will all work out well," she said.
Alter's colleague, District 1 Council Member Natasha Harper-Madison, recently argued in favor of increased density for different reasons.
During an Oct. 13 meeting, council members discussed a rezoning application that would have upzoned a lot in the Montopolis neighborhood from a single-family designation to one that would have allowed townhomes and condos.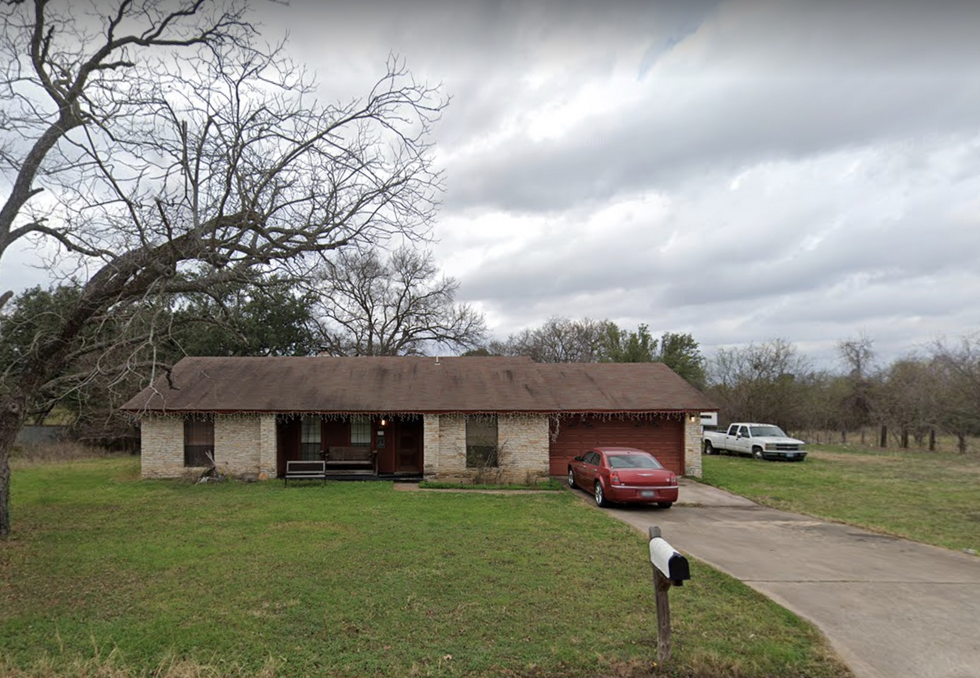 The rezoning application concerned the lot at 508 Kemp St. in the Montopolis neighborhood. (Google Maps)
Harper-Madison supported the change—and used the discussion to talk about zoning more broadly.

"It's a little known fact that the legacy of single-family zoning is absolutely rooted in racism," she said, pointing to racial covenants used by neighborhood developments in California during the early 20th century.
Although she acknowledged the concerns some Austinites have about increased density—especially those who feel their neighborhoods are "bearing the brunt of the load," while others are left largely unaffected—she argued that leaving the Montopolis lot as is would enable the construction of an even more expensive single-family home and eliminate the 17 affordable units proposed in its place.
"I often get asked, 'How can I be an effective anti-racist?'" Harper-Madison said. "One answer should be to ditch that not-in-my-backyard mentality (and) embrace more dense, missing-middle housing types to accommodate more residents with less land (and) more affordable housing right in your neighborhood."
Wegmann, the UT professor, said the recent Black Lives Matter protests have accelerated an existing reevaluation of zoning norms. But he anticipates it's still a long way off before America's "dominant (housing) practice" changes.
"It might take decades," he said. "But I guess what's different is that it's beginning to be seriously challenged in a few places. And I see some evidence that it could spread further."
This article has been updated to clarify Alter's hypothetical.

More on zoning: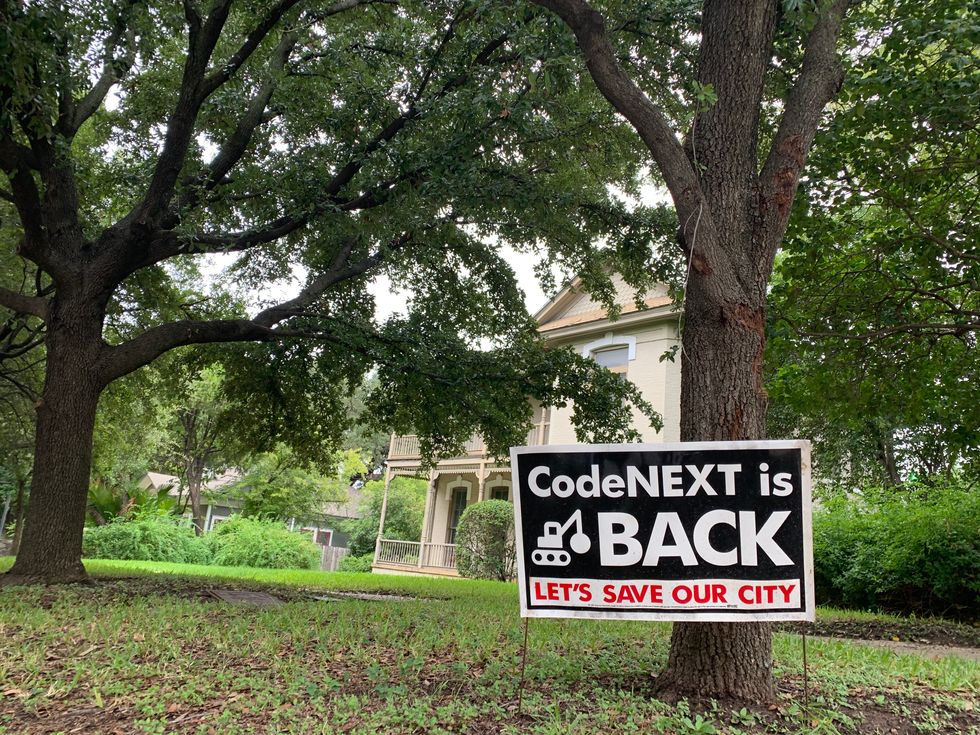 Austin land use code rewrite stalls amid pandemic, lawsuit—but both sides say a solution is possible (Emma Freer)
Nearly two decades after her debut with the University of Texas and 17 years after her first Olympic gold, softball icon Cat Osterman stepped off the Olympic pitcher's mound for the last time with a silver medal to take back home.
Osterman, a three-time Olympian who has been called the "Michael Jordan of softball," will officially retire from the international realm at 38 after a decorated career that included Olympic golds, years of retirement and plenty of adversity—from a worldwide pandemic to dashed gold-medal dreams.
Osterman and her crew left Tokyo on a bittersweet note on Tuesday with a silver medal in hand.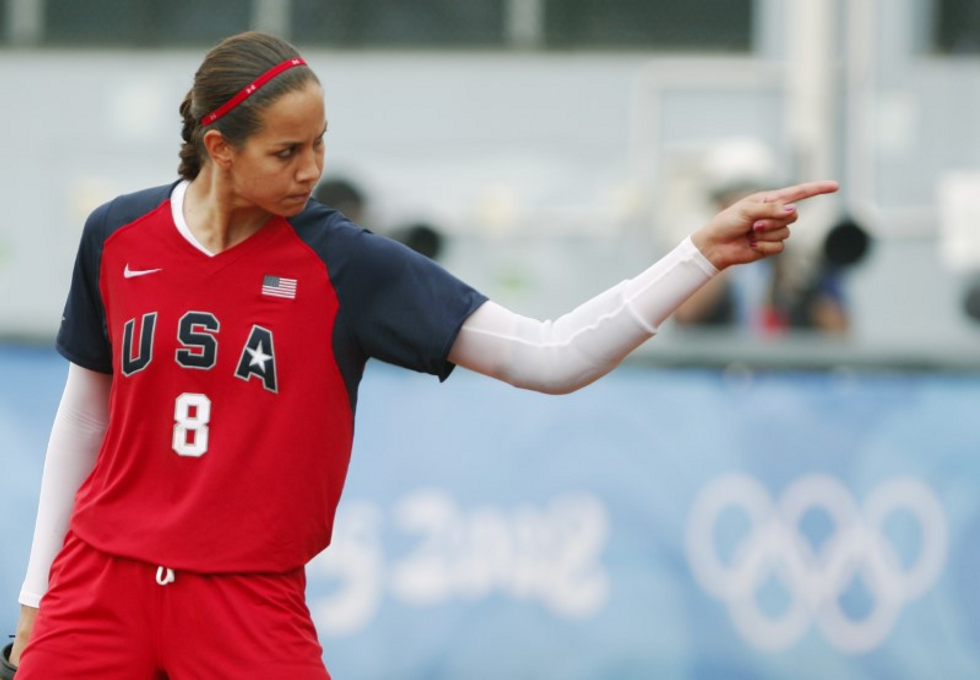 Osterman with Team USA in 2008. (Antoni Majewski/Twitter)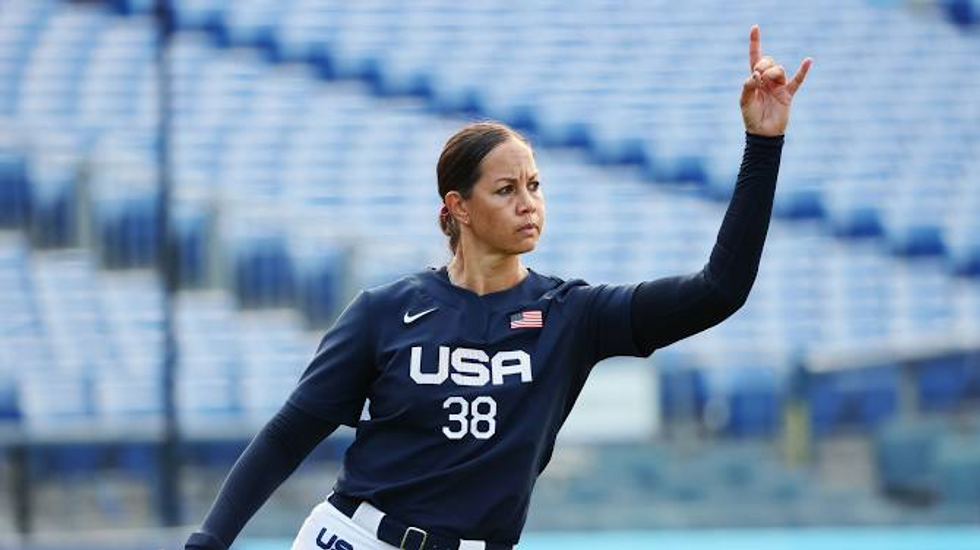 Osterman in the final in 2021. (Antoni Majewski/Twitter)
After a year of sparse in-person training and over a decadelong hiatus, Team USA and Osterman flew to the finals. In five games, the team beat Italy (2-0), Canada (1-0), Mexico (2-0), Australia (2-1), and Japan (2-1).
Deja vu struck in the final match. On one side, Osterman and fellow 2008 Olympic teammate Monica Abbott took the mound; on the other was the 39-year-old Yukiko Ueno, a familiar foe who helped the team beat Team USA last go-round.
"Just like 13 years ago," Ueno said in a press conference, "we were facing each other in the final."
Ueno, who had lost hopes at gold to Osterman in '04, outpitched her longtime opponent with six scoreless innings as Team USA was held to just three hits. The same team that squandered their gold-medal hopes 13 years before had done it once again.
"There's a little bit of disappointment in not bringing home the gold since that's the eye on the prize when you go over there and you know you have a shot at it," Osterman told Austonia. "But more than anything, I'm very proud of the way our team handled everything that was part of this journey and not just the six games."

It's that very loss at the 2008 Olympics that partially motivated Osterman to get back on the mound. She officially put down the glove in 2015 after six seasons with the USSSA Pride, took time with family and began coaching at Texas State University.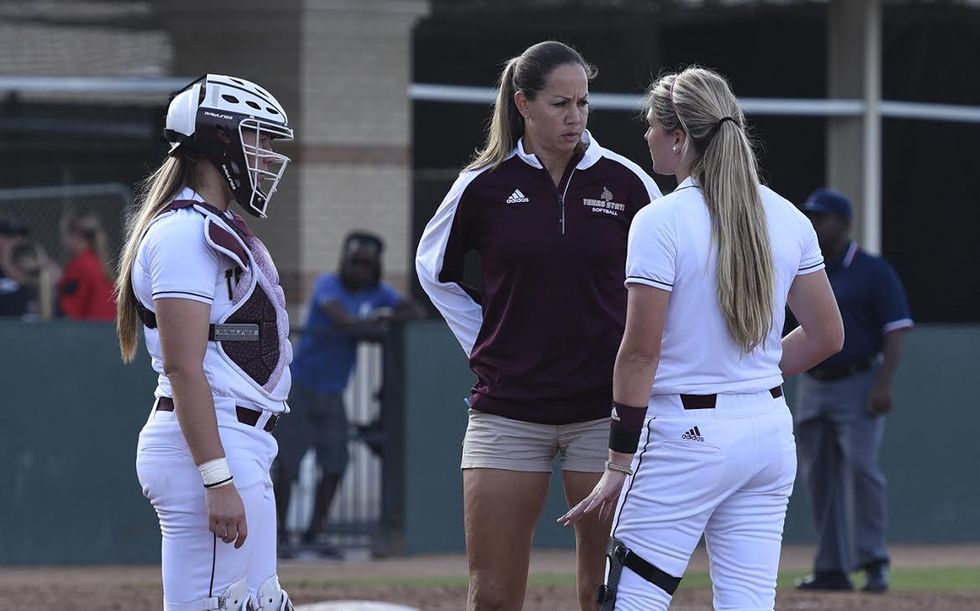 Osterman helped ace Randi Rupp to greatness while a coach at Texas State University. (Active Voice Health/Twitter)
She thought her Olympic endeavors were well over—until talks of reinstating softball into the Games reentered the conversation.
"It wasn't until 2016 or 2017, that it ever crossed my mind to possibly put the USA uniform on again," Osterman said. "After the World Championships in 2010, I walked away, and I thought that my career on the international stage was done. So this was a pleasant kind of new opportunity."
Three years after facing any competition, Osterman was on the field once more with world-class athletes. Some, like Osterman and Abbott, had been playing together long enough to form a formidable "Fire and Ice" duo on the mound. Others had just graduated college.

Osterman said playing with a younger generation of athletes was one of the most rewarding aspects of this year's Games.
"It can be very different when you have 24- and 38-year-olds on the same field," Osterman said. "The adversity put us in some challenging positions and we came through with flying colors. And this group will forever be special just because what we had to go through is so different."
While on the mound, Osterman's job was to give the team a calm start. Off of the field, she felt her role had much of the same effect: she knew that new Olympic feeling, and she served as a deep breath to her first-time teammates.
"There's no words to explain how nervous and excited you get knowing that the whole world can be watching," Osterman. "I think using those emotions and figuring out how to get all our butterflies lined up and going in the right direction, so that way we were all moving together, was kind of my role outside of pitching."
We've heard her retire once before, but this time Osterman said she's gone for good—even from coaching. After her final time with Team USA on Sept. 27, she plans on returning to Austin, where she'll look to work for a nonprofit.
A gold and two silvers will have to do for one of the most decorated athletes in U.S. softball history.
"To be able to say you're a three-time Olympic medalist is a pretty special deal, right?" Osterman. "I played for a long time. But those are the pinnacle, in my mind, and kind of what elicits the dream to keep playing."
Austin is already the Live Music Capital of the World and a major tech hub, but is Tinseltown the next stop for ATX?
Two major Hollywood film studios, HBO and Netflix, have reportedly signed separate short-term leases in Central Texas for parts of this year, ahead of upcoming projects in Central Texas.
According to a report by Austin Business Journal, HBO leased about 110,000 square feet for a year in Kyle Crossing, 1980 Kohlers Crossing in Kyle, about 20 minutes South of Austin. Netflix has leased 20,000 square feet in East Austin, 2008 Alexander Ave, for between 12-18 months.
HBO will film a true-crime series in Lockhart and use the leased space for storage. Netflix will use its space for production but has yet to reveal more details of the shoot.
It is unclear how many people will be stationed at each location—no Austin jobs were posted by the companies as of Monday.
This isn't Austin's first experience in the glamorous world of film; around 400 Central Texans were hired for the AMC production of "Fear of the Walking Dead;" and the CW's "Walker," a reboot of Walker, Texas Ranger, hired Austin actors.
Additionally, Hollywood film production company Line 204 Studios announced in June plans to plant a 546-acre film studio and movie-making facility in Bastrop.
Hospitals are facing a "significant" increase in admissions of pregnant women due to COVID-19 complications, Austin-Travis County health officials say, revealing what could be a long-term side effect of the virus.
Austin-Travis County Health Authority Dr. Desmar Walkes met with three maternal medicine specialists on Monday morning to warn of yet another COVID-19 Delta variant concern: severe cases of the disease affecting unvaccinated mothers-to-be.
The doctors said unvaccinated pregnant women face an increased risk of preterm births, long-term effects, preeclampsia, ICU stays, stillbirths, being put on life support and even death if they are unvaccinated.
"We are really concerned that we are not getting that population of folks to hear this message of the safety of vaccines, so today we're assembled, one and all to say, wear a mask and please get vaccinated," Walkes said. "Vaccinations are the way to prevent severe disease and hospitalizations and death."
Medical Director of Maternal Fetal Medicine at St. David's Women's Center of Texas Dr. Kimberly DeStefano said 95% of pregnant women admitted with COVID-19 are unvaccinated, stressing that all pregnant and lactating women should get the vaccine not only to protect themselves but to protect their babies from infection, which can be passed through breastmilk or birth.
"We know that the earlier in pregnancy you are vaccinated, the more antibodies are present at the time of birth for the infant," DeStefano said. "This is something that's very important, both during the pregnancy and postpartum."
Catching COVID-19 while pregnant can cause adverse effects on the baby, particularly because it increases the risk of preterm births. Baylor Scott & White Maternal Obstetrics Chief of Maternal Medicine Dr. Jessica Ehrig, said that preterm births are one of the "biggest impacts" on childhood development.
"We know that (preterm births) can have long-term effects depending on how early a baby's born," Ehrig said. "It increases the risk for long term respiratory issues, for blindness sometimes (and) for neurologic development delays."
Since mid-July, COVID-19 hospitalizations have been on a steep rise that sent the city back to recommending Stage 4 guidelines. As the seven-day rolling average of hospitalizations surpassed 50 admissions, Stage 5 guidelines could be on the horizon. The city reported 54 new admissions and 546 total new cases on Friday.
Delta is more contagious than chickenpox, Walkes said, and even vaccinated individuals can catch and spread the virus without symptoms. The group of doctors asked everyone, especially pregnant women, to mask while in public as local hospitals pass the Stage 5 threshold.