Get connected with our daily update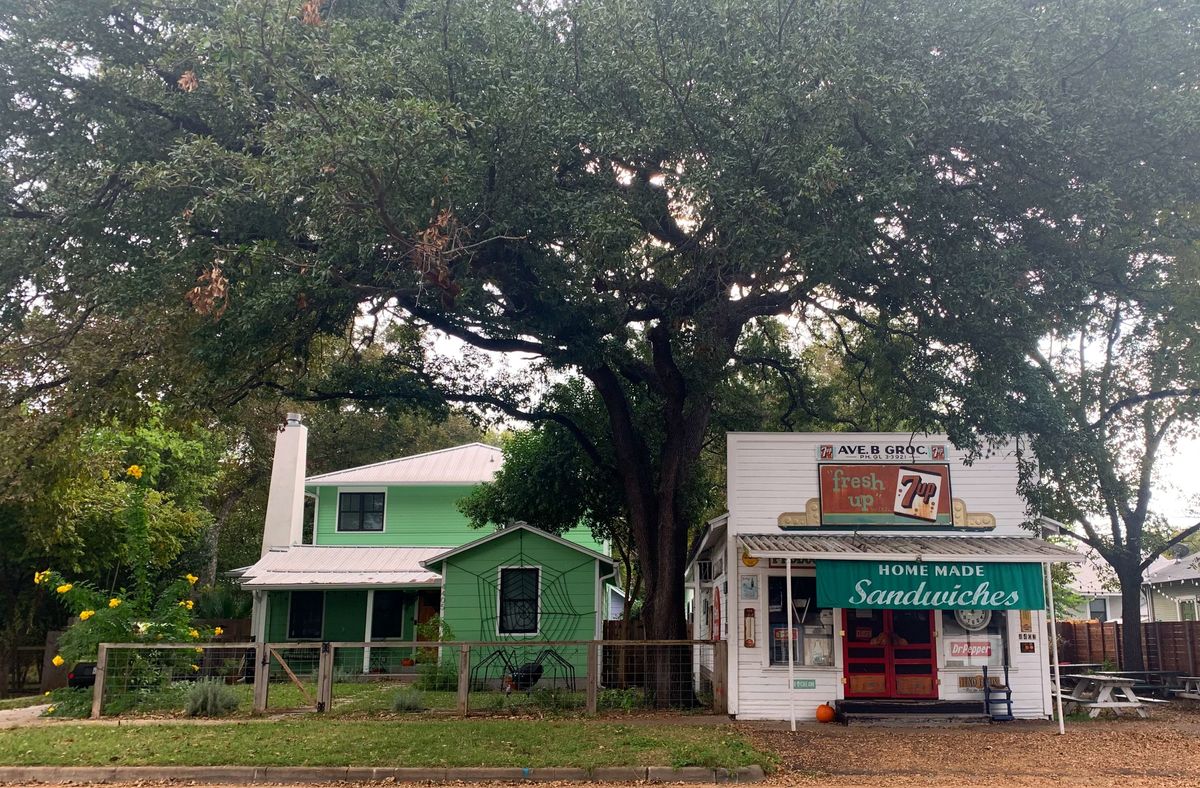 (Emma Freer/Austonia)
President Donald Trump and his supporters have recently adopted a stance on an issue critical to many Austinies: local land-use regulations, or zoning laws.
---
Zoning determines how land can be used throughout a city, including what can be built, where it can be built and how much of it can be built.
On Aug. 12, Trump tweeted: "The 'suburban housewife' will be voting for me. They want safety & are thrilled that I ended the long running program where low income housing would invade their neighborhood."
Less than two weeks later, Mark and Patricia McCloskey—a St. Louis couple facing charges for waving guns at Black Lives Matter protesters marching past their mansion—gave a prerecorded speech that directly referenced zoning policy at the Republican National Convention.

"(Democrats) want to abolish the suburbs altogether by ending single-family zoning," Patricia said, claiming that doing so "would bring crime, lawlessness and low-quality apartments into thriving suburban neighborhoods."
Jake Wegmann, an assistant professor at the University of Texas at Austin School of Architecture, said this type of rhetoric is new—at least on the national level.
"It is absolutely a new thing for zoning to be mentioned in the context of a presidential campaign," he told Austonia. "But I guess my caution is that the politics of land use reform don't map neatly onto a left-versus-right political spectrum, in my view."
A local look
This plays out in Austin, where all 11 members of City Council are self-identified Democrats and yet typically vote 7-4 on land use items, with the majority supporting urbanist policies and the minority favoring preservationist ones.
Such a split has proven challenging as the city continues its nearly decade-long process to rewrite its land use code, which was last updated in the mid-1980s. Although it is currently on hold due to a lawsuit, the code rewrite—which has cost more than $10 million to date—is a critical issue, and one on which many of the 20 candidates for Austin City Council have an opinion.
Opponents say a rewrite would pander to developers, destroy neighborhood character and accelerate gentrification.
Fred Lewis is the president of Community Not Commodity, a local organization that sued the city over the current rewrite process and was a vocal critic of its previous effort, dubbed CodeNEXT.
"The marketplace is not going to build modest, middle-class housing," he told Austonia last month, adding that he feels the rewrite is instead about satiating "developer greed."
Supporters, on the other hand, argue that the city's current code stands in the way of more equitable, sustainable development, at best, and is racist and classist, at worst.
David and Courtney Whitworth co-own the Central Austin infill home building company Whitworth Homes. David believes the current code prevents the construction of denser, more affordable residences.
"What bothers me is we have a code that only allows Mercedes," he said. "If only our code would allow Kias, we wouldn't have to be subsidizing people into Mercedes."
Despite finding themselves on opposite sides of the land use debate, many candidates—and Austin residents—find themselves in the same political party.
This may be because zoning is a local issue that, until recently, was rarely discussed by national politicians.
Researchers at Stanford University wrote about the challenge of ascertaining the politics of zoning reform in a 2018 paper.
"Such policies tend to benefit the poor and working class—generally aligning with Democrats' concerns—but they also involve an embrace and a trust of private commercial interests (including real estate developers) who tend to be associated with the Republican party," they wrote.
Wegmann went further, mapping out a matrix in which the x-axis was the American political spectrum and the y-axis went from zoning reform at the top to the status quo at the bottom.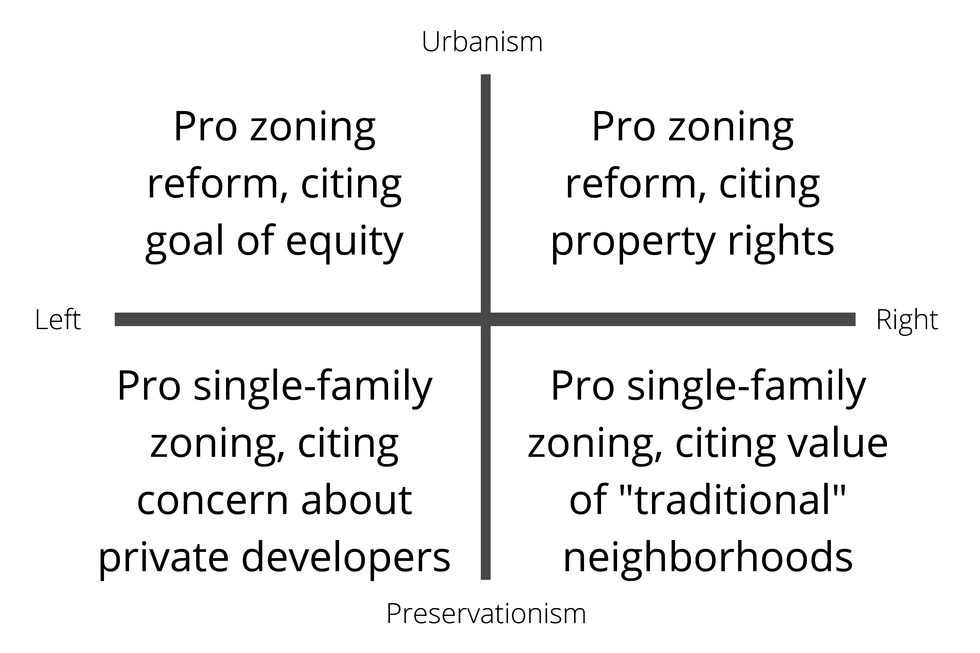 In the upper left quadrant, Democrats who support zoning reform may cite a desire to desegregate cities, while Democrats who oppose it would argue that increased density benefits private developers, Wegmann said.

In the upper right quadrant, Republicans who favor zoning reform may appeal to property rights, while opponents feel "single-family houses preserve a nurturing atmosphere for traditional, nuclear families," he added.
This dynamic presents the opportunity for an odd bedfellows coalition, Wegmann said, similar to the bipartisan support for criminal justice reform in recent years.
But it has also divided those who purport to share the same values.
A case study
District 10 City Council Member Alison Alter describes herself as a progressive Democrat and tends to vote with the preservationist minority on land use issues.
"What people want is to have a say in how the growth happens," she said of some Austinites' opposition to a new code. "They don't want us to just unleash it and rubber stamp it. They want us to guide it."
For Alter, such guidance means ensuring that new development prioritizes affordability and environmental friendliness and honors neighborhood character and property owners' rights.
"I think we need to require more than density," she said.
Alter presented a hypothetical scenario to make her point: Say council is presented with a zoning case that proposes redeveloping a 171-unit apartment building made up of mostly two-, three- and four-bedrooms with a 486-unit building with mostly studios and one-bedrooms. The replacement would increase housing stock, but it could also decrease the number of people living there and displace the working families who had found a home in the existing building.
Because of cases like this, Alter is skeptical that density is the panacea that some zoning reform proponents say it is.
"I don't think we should just be trusting when the developers say that when they're going to do things it will all work out well," she said.
Alter's colleague, District 1 Council Member Natasha Harper-Madison, recently argued in favor of increased density for different reasons.
During an Oct. 13 meeting, council members discussed a rezoning application that would have upzoned a lot in the Montopolis neighborhood from a single-family designation to one that would have allowed townhomes and condos.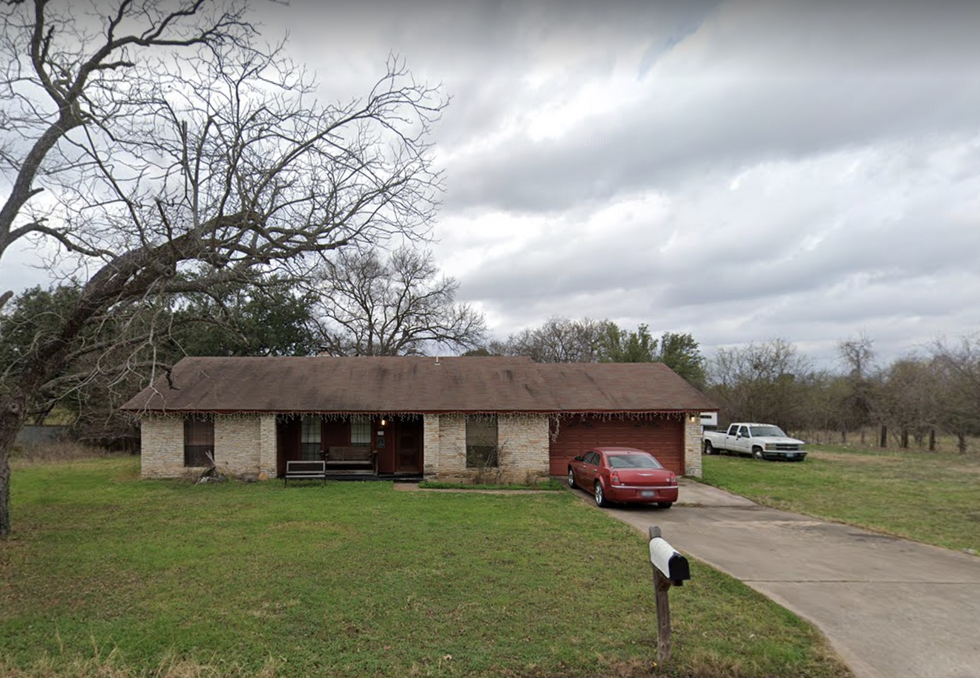 The rezoning application concerned the lot at 508 Kemp St. in the Montopolis neighborhood. (Google Maps)
Harper-Madison supported the change—and used the discussion to talk about zoning more broadly.

"It's a little known fact that the legacy of single-family zoning is absolutely rooted in racism," she said, pointing to racial covenants used by neighborhood developments in California during the early 20th century.
Although she acknowledged the concerns some Austinites have about increased density—especially those who feel their neighborhoods are "bearing the brunt of the load," while others are left largely unaffected—she argued that leaving the Montopolis lot as is would enable the construction of an even more expensive single-family home and eliminate the 17 affordable units proposed in its place.
"I often get asked, 'How can I be an effective anti-racist?'" Harper-Madison said. "One answer should be to ditch that not-in-my-backyard mentality (and) embrace more dense, missing-middle housing types to accommodate more residents with less land (and) more affordable housing right in your neighborhood."
Wegmann, the UT professor, said the recent Black Lives Matter protests have accelerated an existing reevaluation of zoning norms. But he anticipates it's still a long way off before America's "dominant (housing) practice" changes.
"It might take decades," he said. "But I guess what's different is that it's beginning to be seriously challenged in a few places. And I see some evidence that it could spread further."
This article has been updated to clarify Alter's hypothetical.

More on zoning: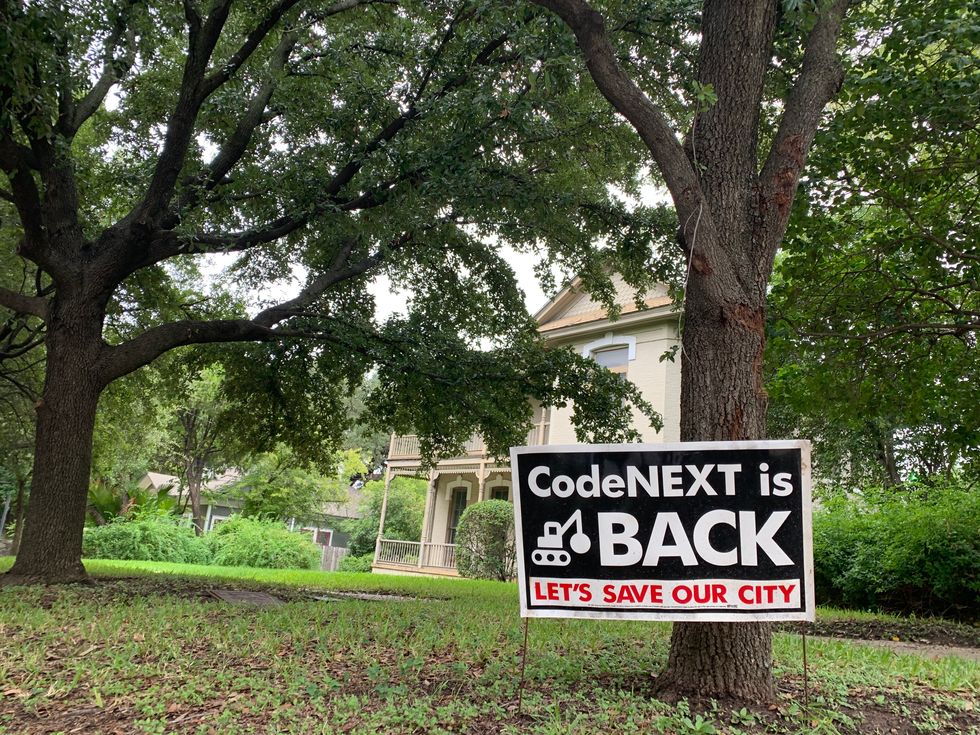 Austin land use code rewrite stalls amid pandemic, lawsuit—but both sides say a solution is possible(Emma Freer)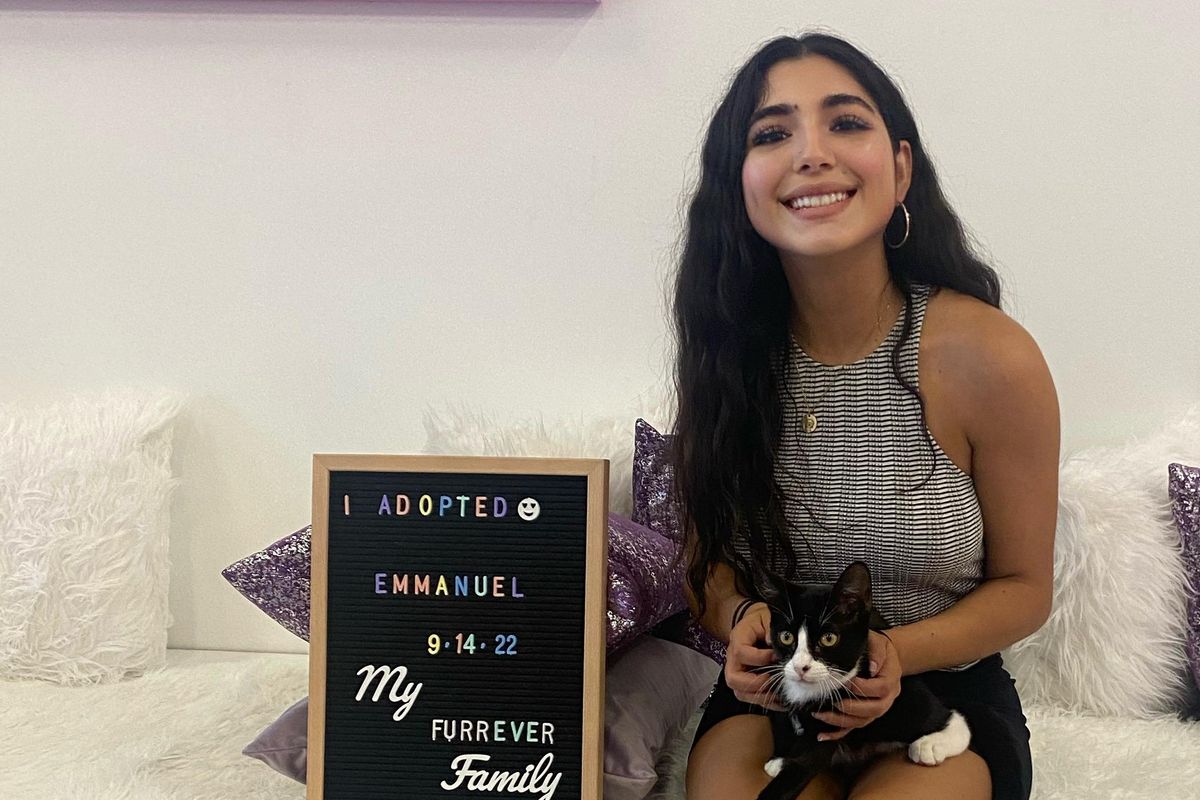 Purr-fecto Cat Lounge
Timmy and Tommy are ready to play.
As the 2-month-old white-and-tabby brothers swat feather wands, chase toys and generally hold court inside Purr-fecto Cat Lounge, a half-dozen potential adoptive parents look on lovingly, trying to get their attention.
"This is kind of like the speed dating of cats," said Lupita Foster, owner of Purr-fecto Cat Lounge. "I intentionally didn't put in any tables. That's why we call it a lounge instead of a cat café because we have these lounge areas where you can sit and relax and cuddle."
Foster, who has owned a cleaning company, Enviromaids, for 18 years, was inspired to open Purr-fecto Cat Lounge after adopting her own cat, Romeo, from a local shelter.
"When you want to adopt a cat, you have to spend a lot of time with them to get their personality," Foster said. "I wanted to do something to help the community and something that makes me feel good, that warms my heart. A business with a purpose. This was a perfect idea."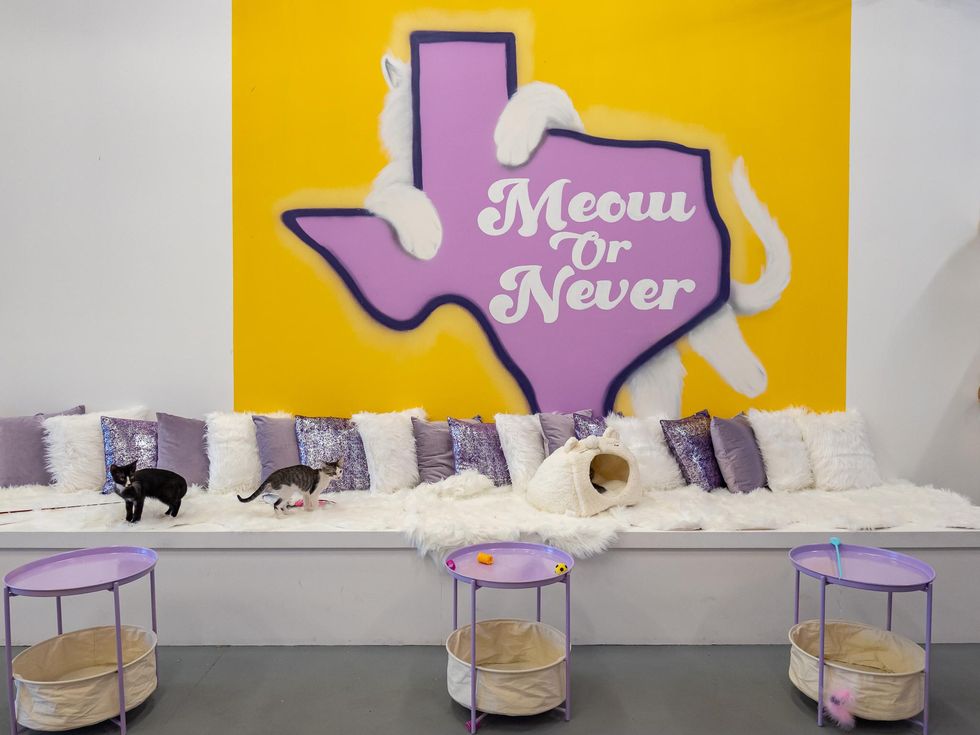 Actually, a purr-fect idea.
Inspired in part by a cat lounge she visited in Los Angeles, Foster began laying the groundwork for the business in late 2021 and officially opened the doors of Purr-fecto Cat Lounge, located at 2300 S. Lamar Blvd., in July 2022. Since then, she's worked with rescue organizations such as Fuzzy Texan Animal Rescue and Sunshine Fund Cat Rescue to facilitate nearly 100 cat adoptions.
At any given time, there are 10-15 cats living in the space, which features an ideal blend of calm, cool corners and adorably Instagrammable backdrops with phrases such as "I want to spend all my 9 lives with you."
Lina Martinez, 32, learned about Purr-fecto Cat Lounge from a friend's Instagram post and made an appointment to visit two days later.
"My first impression was, 'AWW!'" Martinez said. "The kittens were to die for. I felt happy and at peace – just what I needed."
Visitors to the cat lounge pay $15 for a 30-minute CATXperience session or $30 for a 70-minute session that is spent getting to know the personalities of each cat. Foster said the first thing she typically sees from visitors to the lounge is a smile.
"Everybody that enters the door is smiling," she said. "And we've seen people who have cried because they can't have kids and they decide to go and adopt a cat instead."
Foster said she loves bringing in cats who might not have a chance to be adopted at traditional shelters. She told the story of one cat named Izzy, who was partially blind, who was adopted by a family that had a deaf cat at home.
"Izzy was not going to get adopted anywhere else, but she's extremely beautiful," she said. "If she was in a cage in a rescue and you tell people she's blind, she was probably going to be overlooked. But visiting our space, she doesn't seem like she's blind. She knows her way around. She moves around perfectly."
Although Martinez, who had been casually looking for a pet to adopt since moving to Austin nearly four years ago, was interested in a cat named Ruby that she had seen on Purr-fecto's social media, at the lounge she instead found herself drawn to 5-month-old mixed breed Tuxedo cat.
"I thought he was a star," she said. "He worked the room and introduced himself to everyone. When I laid down to pet Ruby, he ran from the other side of the room and cuddled with me. It was game over. He got me."
And she, of course, got him, complete with a commemorative photo that read "My Furrever Family" the day she took him home. Although his original name was Emmanuel, she renamed him Sullivan after her favorite DJ.
"Purr-fecto is special because of the amount of effort and love they put into taking care of the cats," Martinez said, "and finding them good homes and making possible adopters feel at home."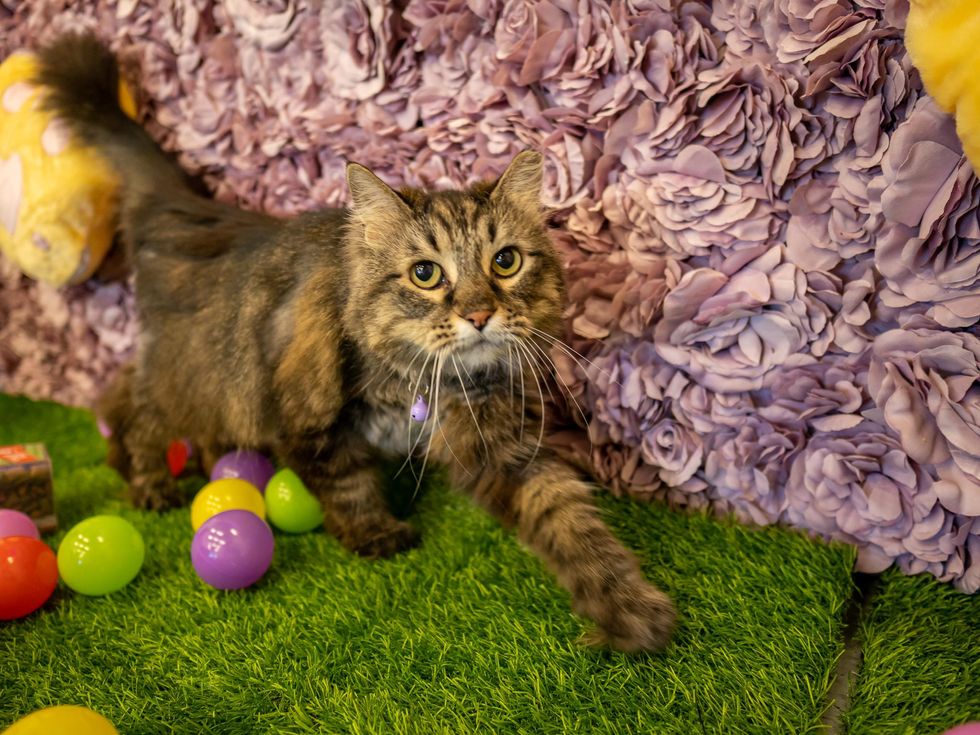 Foster, who spent a recent Thursday hosting a group of teenagers in foster care at the lounge, several of whom expressed interest in working there, said the best part about her new endeavor is that her heart is always full.
"I just feel complete," she said. "I always felt as an entrepreneur that I was missing something. I knew I accomplished a lot, but in my heart I was missing a little connection with the community. Now I'm creating connections between humans and pets and that's amazing. I'm creating family bonds. It's just about love, you know. And we need that."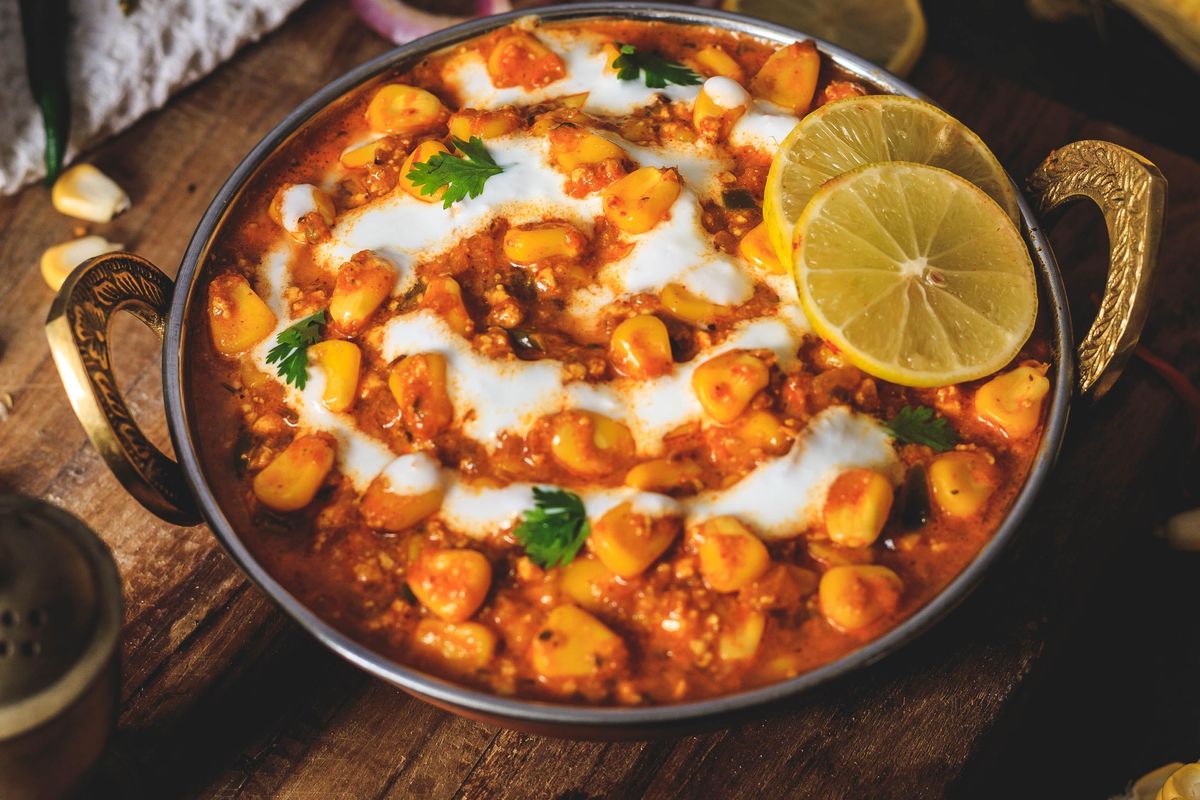 We all have those cravings for an amazing butter chicken or some authentic dosas with coconut chutney, but when I was thinking about where I wanted to go to satisfy my taste buds I realized that my list of great Indian food around Austin was surprisingly short. After doing some research and asking around, here is your list of the best Indian restaurants around town.
This restaurant claims to have the most authentic South Indian food, and from what I've heard, the claims might be true! Their menu features the traditional South Indian dishes of Idlis, Vadas, a variety of Dosas, and more.
If you're looking for an Indian and Tex-Mex fusion cozy restaurant, then look no further! Nasha on East 7th Street prides itself on its specialty margaritas, Tikka con Queso, Biryani, and more creative dishes!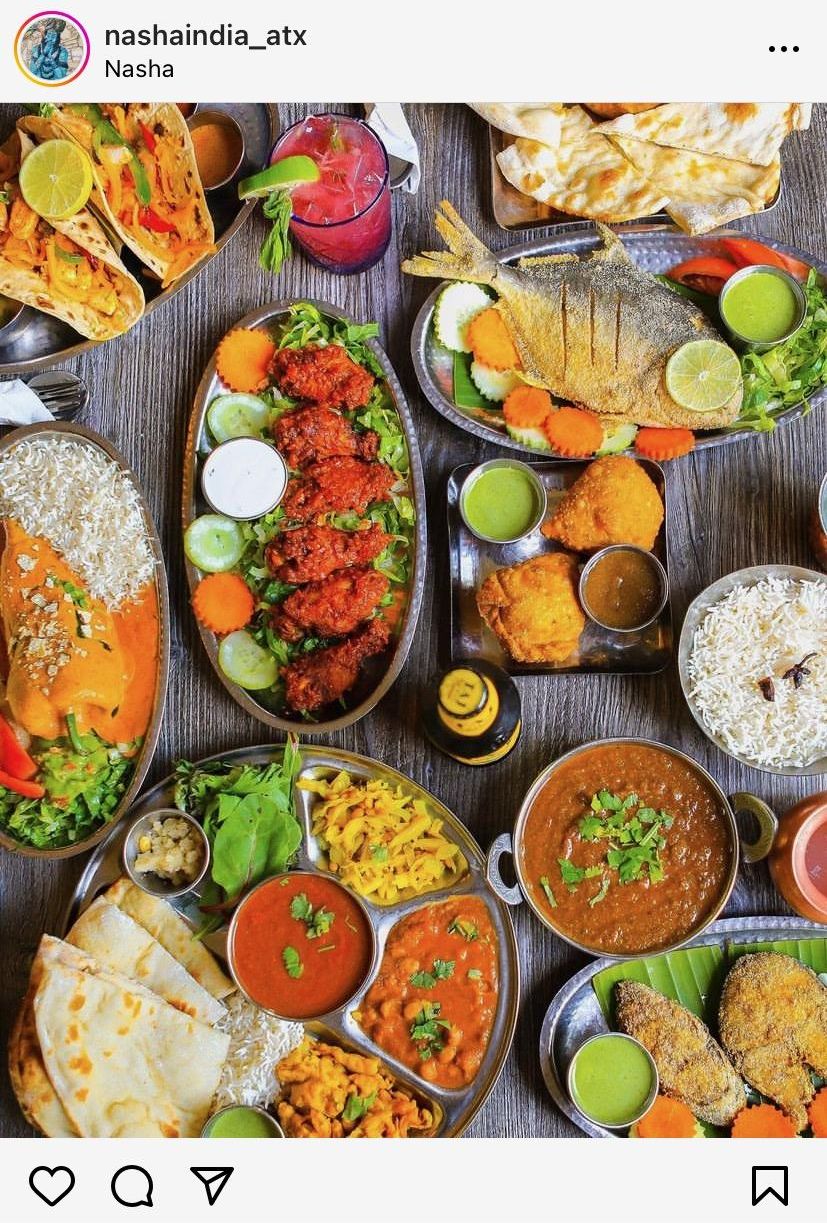 Austin Chai Wala is a personal favorite of mine, with the best masala chai I have ever had in Austin. The quaint truck in Rosedale Market features a unique blend of South Asian cuisine, including Masala Fries, Paratha Wraps, Samosas, and a delicious Mango Lassi.


This Round Rock Restaurant is known for its South Indian food, and its pakoras, a deep-fried North Indian street food filled with vegetables like potatoes or peas. Great stop for comfort food!
The best about this restaurant is its ambiance, and if you're a UT student then it is just a stone's throw away from campus. The Brick wall setting and extensive wine selection make it a great choice for a date night or a treat-yourself dinner.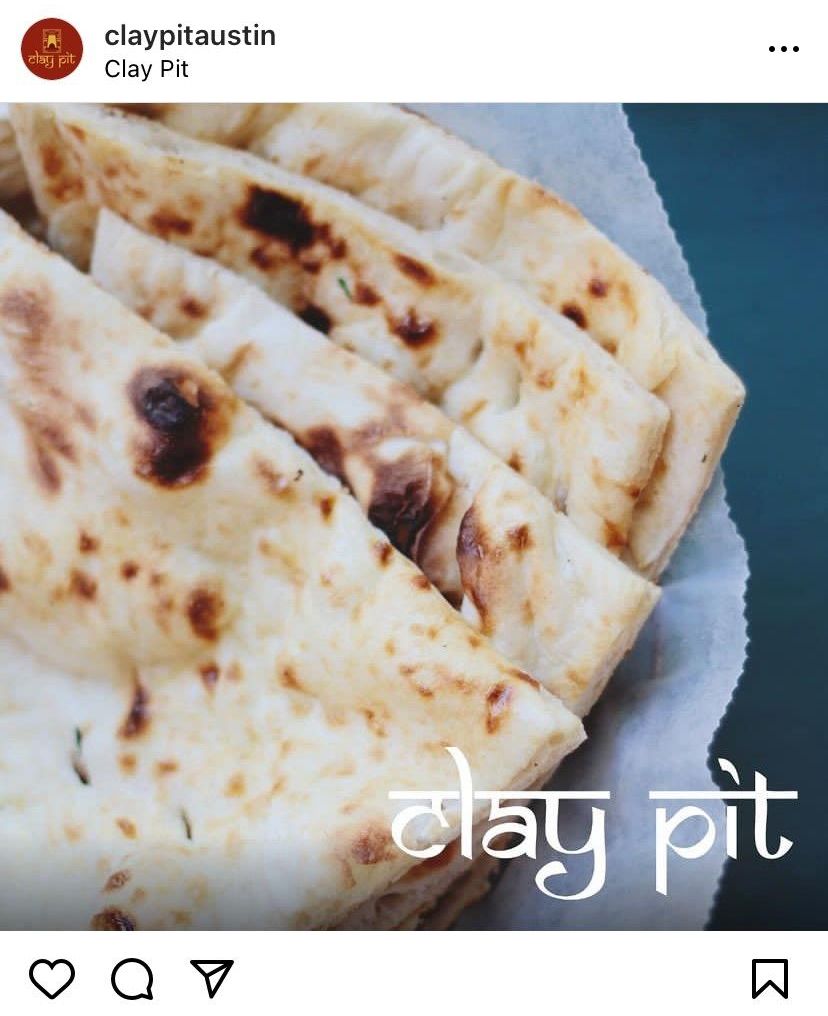 Named after one of the best spices used in Indian cooking, Saffron specializes in a fusion of Himalayan Nepali and Indian cooking. Stop by for some amazing Paneer Tikka, delicious Tandoori meat, or Nepalese fried rice dishes.
This little food truck on Burnet focuses on keeping the authentic South Indian Dosa recipe while embracing modern twists. Check out their menu offering signature dosas, street bites like Samosas, and their original "Doffles", dosa waffle sweet bites.