Austonia AM
100% Austin news, info, and entertainment, straight to your inbox at 6 a.m. every morning.
In five minutes, you're fully informed and ready to start another great day in our city.
Get connected with our daily update
They say everything is bigger and better in Texas, and one convenience store takes this motto—66, 335 square feet of space—seriously.
Across Texas, the site of friendly Bucky the beaver means a must-stop detour through the aisles and aisles of goodies, from beaver nuggets to 20-plus options of beef jerky.
---
The cult favorite is more than just a convenience store and travel spot. The store, with its world records and extremely clean restrooms, has become an undeniable rite of passage when becoming a Texan.
If you bypass gas stations because you're waiting to stop at Buc-ee's instead, you're definitely from Texas.

— Texas Humor (@Texas Humor)1498525320.0
So why is it that Texans love Buc-ee's so much?
It could be the friendly smile of Bucky the mascot, the smell of candied pecans, the variety of fun treats and merch. Or maybe, it's that it has the cleanest restrooms. It's hard to say how exactly Buc-ee's stole the heart of millions.
The first Buc-ee's opened in 1982 in Lake Jackson by co-founders Don Wasek and Arch "Beaver" Aplin. Bucky, the beaver mascot, was named by Aplin after combining his childhood nickname Beaver, the name of his Labrador Retriever Buck, and a mascot from Ipana, a toothpaste manufacturer in the 50s named Bucky the beaver.
Since then, Buc-ee's has expanded to 32 locations throughout Texas and has even delighted folks in Louisiana, Florida, Alabama, Georgia and soon Kentucky and North Carolina with its out-of-state locations.

Martin Loya, general manager at the New Braunfels Buc-ee's, worked as a store director at Academy Sports + Outdoors for 16 years before switching over to the beaver side. Loya said he was not having as much fun at his last job as he does at the New Braunfels store, where customers from all over the country come in excited to be in the iconic store.

"This is a great company," Loya said. "The pay is great, there are benefits straight off the bat. We are the Disney of convenience stores."
Although locals make it a habit to visit the New Braunfels Buc-ee's location, Loya said he sees more tourists visiting the store. Recently, a large group touring all the Buc-ee's locations stopped at the New Braunfels store to take photos and tour it.
Tour of the World's Largest Gas Station and Convenience Store | Buc-ee's in New Braunfels, Texas
From miles away, the quirky, yellow billboards entice you to make a stop. Whether you're in dire need of a bathroom stop, filling up your tank or needing some grub, Buc-ee's is the homeland for all the things you didn't know you needed or wanted—all 24 hours of the day.
And, it's all too familiar of an experience to make a "quick stop" and spend hours perusing the store like a kid in a candy store. But some don't kid themselves and make it a planned stop on their trip across the great state.
Alexis and Gabe Jones made a much-anticipated stop at the New Braunfels Buc-ee's after visiting family in Central Texas. "I love Bucee's!" Alexis said, very excited to be visiting the beaver store.
The couple, who live in Idaho, left the snow and cold for sunny and warm weather and of course, Bucky the beaver. Alexis, who has been a big fan of the mascot and all things Bucee's, said she loves how massive and unique the convenience store is.
Gabe, who had first heard of Buc-ee's from Alexis and an unknown beaver keychain, did not understand the "hype," but found he enjoyed his first time visiting the store. From buying fresh foods to memorabilia and souvenirs, the couple left the store feeling accomplished and in the good ol' Buc-ee's spirit.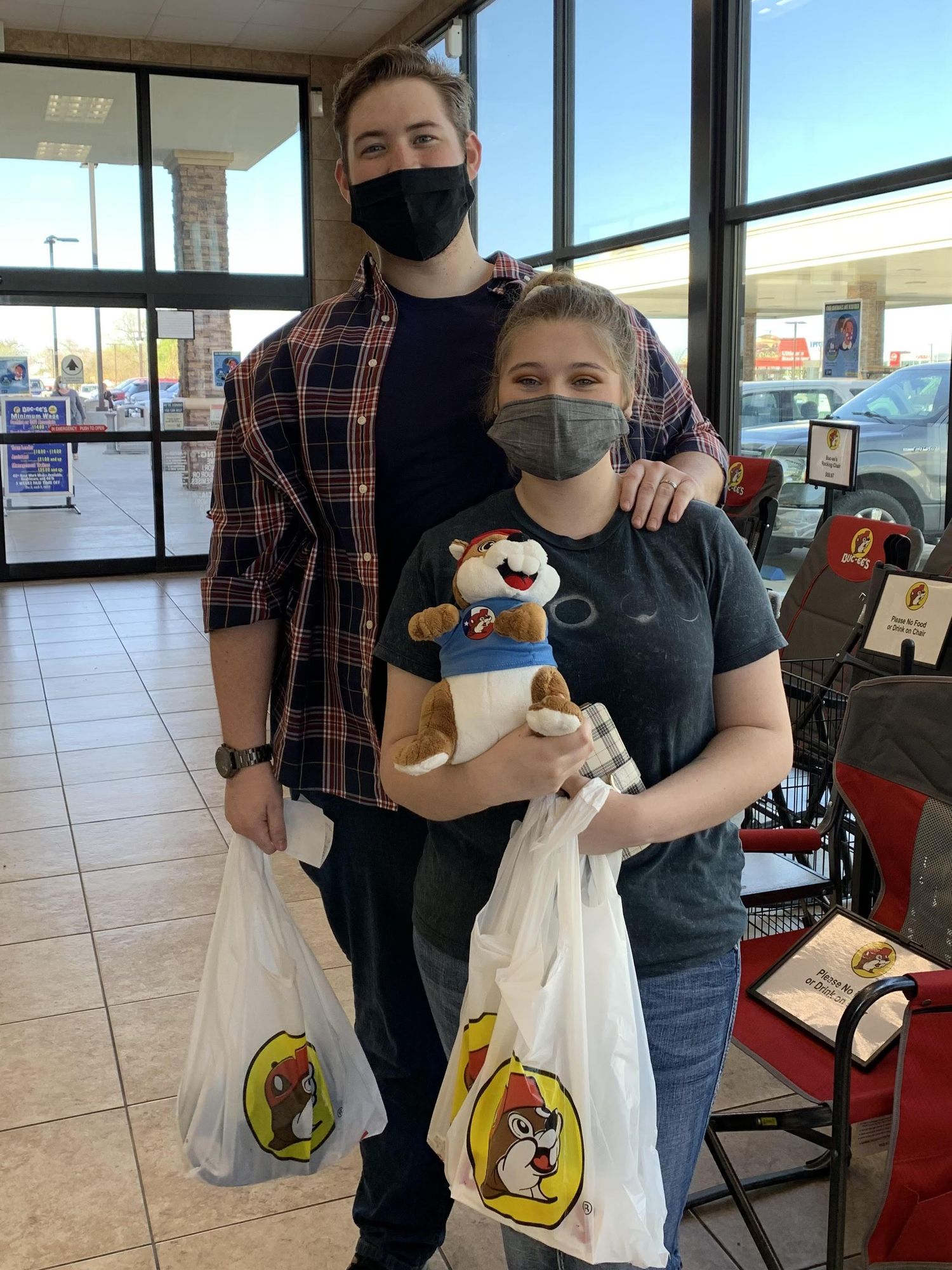 Gabe and Alexis Jones at Buc-ee's in New Braunfels. (Isabella Lopes/Austonia)
"It's like a mall," Gabe said. "There's Hobby Lobby over here, Walmart over there and everything else there. I recommend everyone to visit Buc-ee's."

To top off the love and support Texans and newcomers hold for Buc-ee's, the convenience store holds two world records that puts it on the international map. The New Braunfels Buc-ee's location holds the title of the world's largest convenience store at 66,335 square feet with over 1,000 parking spots and 120 gas pumps. And any Texan who has driven through I-10 has seen the world's largest car wash in Katy with 225 feet of conveyor, the car wash is more of a playland for cars and has all kinds of scrubbers, different washes and multi-colored foam.
As the perfect place for all travelers, Texans are lucky they don't have to be traveling to visit a Buc-ee's near them.
In a scene that seemed to mark the pandemic's triumphant end, over 20,000 mostly maskless fans packed into Q2 Stadium for Austin FC's debut at Austin's first professional sports stadium in June. That mask-free utopia couldn't have been possible even a month before, and it may not be possible once more as Austin and the CDC returns to mask recommendations again for the first time since May.
Austin returned to Stage 4 restrictions on July 23 as case rates tripled since the beginning of the month and hospital beds once again filled with COVID patients. The spike comes after the highly contagious Delta variant was detected in Travis County. In its Stage 4 announcement, APH said its recommendations will not affect large events, such as Austin FC games, from operating.
More recently, the CDC updated its recommendation for vaccinated people on Wednesday, saying that all people in high-risk areas—including Austin with more than 50 COVID cases per 100,000 people—wear masks.
With businesses reinstating mask policies and new fear in the air, Q2's carefree party atmosphere may be affected. The club released the following statement to Austonia: "Austin FC encourages all guests to observe Austin Public Health's recommendations and take appropriate action based on individual circumstances."
After Austin voters passed Proposition B, reinstating a ban on public camping, City Council directed staff to look into possible sanctioned campsites where homeless residents could live legally. Now two members are asking to shelve discussion on the controversial topic.
Staff presented dozens of possible sanctioned campsites across each fo the 10 council districts in late May, following the election. But members mostly pushed back on the proposed locations, citing cost, wildfire risk and lack of transparency as concerns.
With updated criteria, staff recommended two sites—one in District 1 and the other in District 8—for further review last week. After being briefed on the options during Tuesday's work session, Mayor Pro Tem Natasha Harper-Madison, who represents District 1, and Council Member Paige Ellis, who represents District 8, issued a joint statement proposing "a pause" on further discussion of temporary sanctioned encampments.
"We are not convinced that these sites would be a cost-effective solution, but rather a band-aid tactic when we need to be supporting the long-term strategy to get folks off the street permanent," they said. "It is our responsibility to look at the situation holistically and objectively, and to spend out city's limited resources on solutions we know can work."
Homeless Strategy Officer Dianna Grey noted that the two locations were imperfect and would require a lot of time and money to outfit as sanctioned campsites during the briefing.
City staff and homeless experts have previously raised concerns about sanctioned encampments, saying they are expensive to maintain, challenging to manage and hard to close, even when intended to to be temporary.
In 2019, staff declined to make recommendations for such sites despite being directed by council to do so, citing 2018 guidance from the U.S. Interagency Council on Homelessness. "Neither authorized encampments nor parking areas provide housing for people experiencing homelessness," staff wrote in a memo. "Rather, each option detracts from the staff resources assigned to addressing this moral imperative."

But with Prop B being enforced and too few shelter beds and affordable units for the estimate unsheltered homeless population in Austin, the city is facing the same predicament that prompted District 9 Council Member Kathie Tovo to pursue possible sanctioned campsites in the first place: "When individuals in encampments ask where they should go, we need to have places to suggest," she said at a May 6 council meeting.
Don't lose your mask just yet—the Centers for Disease Control and Prevention announced it is now recommending masks in areas that are surging as cases rise nationwide and the Delta variant looms.
The CDC announced Tuesday that even fully vaccinated individuals should mask up indoors if their community is experiencing substantial transmission—defined as areas with more than 50 cases per 100,000 people. Travis County is sitting at an average of 94.59 cases per 100,000 over the past seven days, falling into the highest risk category, according to the CDC.
#DeltaVariant surging in U.S. New data show Delta much more contagious than previous versions of #COVID19. Unvaccinated people: get vaccinated & mask until you do. Everyone in areas of substantial/high transmission should wear a mask, even if vaccinated. https://t.co/tt49zOEC8N
— CDC (@CDCgov) July 27, 2021
After two COVID-19 recommendation stage jumps in the last two weeks, from Stage 2 to Stage 4, Austin-area cases are the highest they have been since February. The seven-day average for cases is on an upward trend, reaching 226 on Tuesday.
The CDC is also recommending that all students K-12 wear masks indoors, regardless of vaccination status. A May executive order by Gov. Greg Abbott prohibits schools from requiring masks, regardless of vaccination status. Austin ISD is "strongly" encouraging students to wear masks.
Although vaccinated individuals are still protected against the most severe symptoms of the variant, infections are spreading rapidly and now make up 83% of confirmed cases in the U.S. At least a dozen cases of the delta variant have been confirmed in the Austin area, though there are likely more since testing for it is limited.
CDC Director Dr. Rochelle Walensky said that hospital admissions are "almost exclusively" coming from people who are unvaccinated but those who are vaccinated can still catch and spread the virus.
"Unlike the alpha variant that we had back in May, where we didn't believe that if you were vaccinated you could transmit further, this is different now with the Delta variant," Walensky said. "That leads us to believe that the breakthrough infections, rare that they are, have the potential to pool and transmit at the same with the same capacity as an unvaccinated person."
Research suggests those who become infected carry 1,000 times more of the virus than other variants and could stay contagious for longer.
The announcement comes on the heels of the Biden administration ramping up cautionary measures in the face of the Delta variant. Just last week, the CDC said it had no plans to change its May guidance of vaccinated not having to wear masks unless there was a significant change in the data. Officials met on Sunday night to review new evidence,
according to reports.